News articles on green

---
Mongabay.com news articles on green in blog format. Updated regularly.






Highest rate of CO2 emissions growth since 1990

(12/04/2009) Between 1990 and 2005 Vietnam had the highest rate of emissions growth among countries that emitted more than 100 million tons of CO2 in any year during the past three decades, according to mongabay.com's analysis of emissions data from the Oak Ridge National Laboratory's Carbon Dioxide Information Analysis Center (CDIAC).
Indonesia: Kalimantan's Lowland Peat Forests Explained

(12/04/2009) Earth's tropical rainforests are a critical component of the world's carbon cycle yet cover only about 12% of its terrestrial land. Accounting for 40% of the world's terrestrial carbon and 50% of the world's gross primary productivity,[1]. the production of organic compounds primarily through photosynthesis, tropical rainforests also are one of the engines driving Earth's atmospheric circulation patterns.
Extinctions on the rise in the Galapagos: fishing and global warming devastating islands' species

(12/03/2009) We may never see again the Galapagos black-spotted damselfish, the beautiful 24-rayed sunstar, or the Galapagos stringweed. These species from Galapagos waters may all very well be extinct. Other species are on the brink, such as the Galapagos penguin and the Floreana cup coral. A new report in Global Change Biology reveals that in just a matter of decades, overfishing and climate change has devastated the Galapagos' unique and famous ecosystems.
Cheap REDD isn't the best conservation strategy for biodiversity

(12/03/2009) The lowest-cost approach to compensating reductions in emissions from deforestation and degradation under a proposed UN program (REDD) isn't necessarily the best approach for biodiversity conservation, report researchers writing in the journal Science.
Forgotten Species: the haunting whistle of the Anjouan scops-owl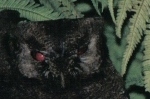 (12/03/2009) I know a two-year-old who is already an owl expert. My friends' daughter, Harper, can identify all of North America's owls by photos or drawings; even more impressive she can identify them by call. There is one owl call, however, that she may never hear. The Anjouan-scops owl, native to Anjouan island apart of the Comoros island chain, is on the verge of extinction. It is so rare that for over a century it was believed to have already vanished.
Paper provider for fashion gurus drops APP due to deforestation across Indonesia

(12/02/2009) One by one, the fashion industry's biggest companies are leaving Asian Pulp and Paper (APP)—and deforestation in Indonesia—behind. The newest defector is PAK 2000, a packaging company for fashion products. After a sustained campaign by the Rainforest Action Network (RAN) and fashion companies buying from PAK 2000, the New Hampshire-based company, has announced that it is severing all ties with APP by the end of the year. The announcement means that big famous companies—from Versace to J. Crew—will have an easier time avoiding paper products that cause rainforest destruction.
Has Canada become the new climate villain (yes, that's right, Canada)?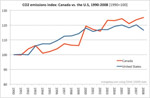 (12/02/2009) In 2007 American delegates to a climate summit in Bali were booed outright for obstructing a global agreement on climate change. Then in a David versus Goliath moment they were famously scolded by a negotiator from Papua New Guinea, Kevin Conrad. "If for some reason you are not willing to lead, leave it to the rest of us. Please get out of the way," Conrad told the American delegates. However, much has changed in two years: the United States, under a new administration, is no longer the climate change pariah. The US has recently announced emissions cuts, negotiated successfully with China on the issue, and will be attending—Obama included—the Climate Change Summit in Copenhagen next week. Obama and his team probably don't need to worry about being booed or remonstrated this time around, but that role may instead go to Canada.
Indonesia could double oil palm plantation area

(12/02/2009) Indonesia has 18 million hectares of land suitable for oil palm cultivation, nearly twice the 9.7 million hectares that have already been allocated for plantations, said Agriculture Minister Suswono said at the opening of the 5th Indonesian Palm Oil Conference in Bali.
World leaders falling over themselves to show up at Copenhagen

(12/01/2009) If you're a world leader and you won't be in Copenhagen next week you might feel out of the loop. Currently 98 heads of state have agreed to attend the Climate Change Summit in Copenhagen—nearly half of the 192 member nations of the UN.
Face-to-face with what may be the last of the world's smallest rhino, the Bornean rhinoceros

(12/01/2009) Nothing can really prepare a person for coming face-to-face with what may be the last of a species. I had known for a week that I would be fortunate enough to meet Tam. I'd heard stories of his gentle demeanor, discussed his current situation with experts, and read everything I could find about this surprising individual. But still, walking up to the pen where Tam stood contentedly pulling leaves from the hands of a local ranger, hearing him snort and whistle, watching as he rattled the bars with his blunted horn, I felt like I was walking into a place I wasn't meant to be. As though I was treading on his, Tam's space: entering into a cool deep forest where mud wallows and shadows still linger. This was Tam's world; or at least it should be.
Blogging wildlife rangers drive microconservation

(12/01/2009) Wildlife Direct, a group that promotes conservation through blogging by rangers and scientists, has won mongabay.com's "Innovation in Conservation Award" for 2009. The prize, which includes a cash donation and and prominent placement on the mongabay.com web site and newsletter for the month of December, is granted each year to an organization using an unconventional and highly effective approach to conserving forests and biodiversity.
World requires radical new economic models to fight poverty and mitigate global warming

(11/30/2009) A new report calls for a radical re-envisioning of current economic models in order to tackle poverty, mitigate and adapt to climate change, and solve other environmental problems. The report was crafted by the New Economics Foundation (NEF) and the International Institute for Environment and Development (IIED) and was supported by The Working Group on Climate Change and Development, which includes a wide variety of well-known groups, including environmental, religious, and anti-poverty organizations.
Americans throw away enough food every year to feed 200 million adults

(11/30/2009) The amount of food Americans throw away has risen by approximately 50 percent since 1974 according to a new study in PLoS ONE. American now waste on average 1400 calories per person everyday, equaling 150 trillion calories a year nationwide. Considering that the average person requires approximately 2,000 calories a day, this means that the US could feed over 200 million adults every year with the food that ends up in the trash. Currently, the UN estimates that one billion people—an historical record—are going hungry worldwide.
Zoos call for deeper emission cuts to save life on Earth

(11/30/2009) To save species around the world zoos say deeper emission cuts are needed than governments are currently proposing. Over 200 zoos worldwide have signed a petition calling on governments to set the target of atmospheric carbon below 350 parts per million (ppm) far lower than most government targets.
Ethnographic maps built using cutting-edge technology may help Amazon tribes win forest carbon payments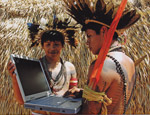 (11/29/2009) A new handbook lays out the methodology for cultural mapping, providing indigenous groups with a powerful tool for defending their land and culture, while enabling them to benefit from some 21st century advancements. Cultural mapping may also facilitate indigenous efforts to win recognition and compensation under a proposed scheme to mitigate climate change through forest conservation. The scheme—known as REDD for reducing emissions from deforestation and degradation—will be a central topic of discussion at next month's climate talks in Copenhagen, but concerns remain that it could fail to deliver benefits to forest dwellers.
No-shows among South American leaders at Amazon summit

(11/27/2009) A summit between South American leaders to devise a plan to save the Amazon, failed to come up with a "common stance" on deforestation, as five of the eight invited leaders failed to show up to the meeting, reports Al Jazeera.
A fair deal for forest people: working to ensure that REDD forests bear fruit for local communities
(11/27/2009) As world leaders meet to thrash out the next incarnation of the Kyoto climate agreement, the world waits with baited breath to see how greenhouse gas emissions from forests might be included. Despite the high powered nature of these important global decisions, the success of REDD will ultimately be decided by humble forest dependent communities, living in developing countries and perhaps currently oblivious to the negotiations taking place. Dr Julie Fischer, Communities Specialist on Fauna & Flora International and Macquarie Capital's Carbon Forests Taskforce, explains why REDD will fail unless it adequately accounts for, or indeed is steered by, these communities.
In midst of poaching crisis, illegal rhino horn tops gold

(11/25/2009) Rhino poaching has hit a fifteen-year high, and the rising price for black-market rhino horn is likely the reason why. For the first time in a decade rhino horn is worth more than gold: a kilo of rhino horn is worth approximately 60,000 US dollars while gold is a little over 40,600 US dollars.
Sushi lovers may be eating Critically Endangered species without knowing it

(11/24/2009) Restaurants sampled in New York and Colorado are serving up bluefin tuna without informing their customers know they are dining on an endangered species, according to a new study in PLoS ONE. Using DNA barcoding researchers from the Sackler Institute for Comparative Genomics at the American Museum of Natural History found that nearly a third of tuna sampled in one restaurant in Colorado and thirty restaurants in New York served bluefin tuna, and nine of the restaurants did not label the tuna as bluefin.
REDD may not be enough to save Sumatra's endangered lowland rainforests

(11/24/2009) A prominent REDD project in Aceh Indonesia probably won't be enough to save Northern Sumatra's endangered lowland rainforests from logging and conversion to oil plantations and agriculture, report researchers writing in Environmental Research Letters. The study highlights the contradiction between the Ulu Masen conservation project; which involves Flora and Fauna International, Bank of America, and Australia-based Carbon Conservation, a carbon trading company and the continuing road expansion, and establishment of oil palm plantations in the region.
Transmitters implanted in orangutans for tracking after release into the wild

(11/23/2009) For the first time transmitters have been implanted in orangutans to track their daily movements. The Sabah Wildlife Department (SWD) has implanted transmitters into three orangutans that have been released back into the wild from Sepilok Orangutan Rehabilitation Center in the Malaysian state of Sabah on the island of Borneo.
Videos and Photos: over 17,000 species discovered in waters beyond the sun's reach
(11/23/2009) Deep, deep below the ocean's surface, in a world of ever-present darkness, one would expect few, if any, species would thrive. However, recent expeditions by the Census of Marine Life (CoML) have found an incredible array of strange, diverse, and amazing creatures. To date a total of 17,650 species are now known to live in frigid, nearly lightless waters beyond the photic zone—where enough light occurs for photosynthesis—approximately 200 meters deep. Nearly 6,000 of these occur in even harsher ecosystems, below depths of 1,000 meters or 0.62 miles down.
Global warming will increase likelihood of civil war in Africa by 55 percent

(11/23/2009) There have been many warnings by policymakers that rising temperatures in Africa could lead to civil conflict, however a new study in Proceedings of the National Academy of Sciences is the first to uncover empirical evidence for these warnings and quantify them. The results—that higher temperatures increased the likelihood of civil war in sub-Saharan Africa by over 50 percent—took aback even the researchers.
Reforestation: Challenges and Opportunities

(11/23/2009) Deforestation in the Brazilian Amazon is a timeless issue that has been propounded into the public knowledge sphere since I was a child. Always eager to learn the actuality of environmental propaganda, I have been tracking reforestation practices since 2001. I first ground-truthed the realities of sustainable development in Costa Rica the summer after my freshman year at Vassar. We visited various national parks throughout the country and had the opportunity to conduct interviews with locals surrounding Monteverde on the impacts of ecotourism. This program was conducted through the School for Field Studies. My impressions were of surprise and delight at how eco-conscious Ticos appeared to be.
Google – the new eye in the sky for protecting forests?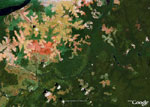 (11/22/2009) Google looks set to play a part in a called-for "new environmental world order" by satellite-monitoring the rates of deforestation of tropical rainforests and pinpointing illegal logging and land misuse, Google's Northern and Central Europe head Philipp Schindler has revealed. Schindler made the announcement in London on November 19 at a meeting at St James's Palace hosted by the Prince's Rainforests Project about a new climate change reduction mechanism, REDD (Reduced Emissions from Deforestation and Degradation). An inter-governmental report produced this month by an Informal Working Group (IWG) for Interim Funding of REDD has outlined an initiative to save the CO2 equivalent of the annual emissions of the US over five years by rewarding developing countries for reducing deforestation, with payments on a performance basis.
Deforestation emissions should be shared between producer and consumer, argues study
(11/19/2009) Under the Kyoto Protocol the nation that produces carbon emission takes responsibility for them, but what about when the country is producing carbon-intensive goods for consumer demand beyond its borders? For example while China is now the world's highest carbon emitter, 50 percent of its growth over the last year was due to producing goods for wealthy countries like the EU and the United States which have, in a sense, outsourced their manufacturing emissions to China. A new study in Environmental Research Letters presents a possible model for making certain that both producer and consumer share responsibility for emissions in an area so far neglected by studies of this kind: deforestation and land-use change.





Oil palm workers still below poverty line, despite Minister's statements

(11/19/2009) On October 19th, Plantation Industries and Commodities Minister Tan Sri Bernard Dompok told parliament that oil palm harvesters and rubber tappers are living above Malaysia's national poverty line, according to a story in the Malaysian Insider. But now representatives of the workers are saying Dompok lied.





After years of controversy: Flores 'hobbits' are a new species of humans

(11/19/2009) When the 'hobbits' were discovered in 2003 they made news worldwide, sparking visions of a world our small relations lived among giant rats, dwarf elephants, and lizards bigger than the Komodo dragon. The small hominin fossils discovered on the island of Flores in Indonesia proved just how little modern humans knew about our deep ancestry. While researchers instantly claimed that the 'hobbits' were a new species of hominin other scientists disagreed: they argued that the 'hobbits' were modern humans that had been dwarfed by disease. A new study inSignificance hopes to put the controversy to rest.





REDD may increase the cost of conservation of non-forest ecosystems

(11/19/2009) Policy-makers designing a climate change mitigation mechanism that will reduce emissions from deforestation and degradation (REDD) aren't doing enough to ensure that the scheme protects biodiversity outside carbon-dense ecosystems, argues an editorial published in Current Biology by a group of scientists.









Using fish as livestock feed threatens global fisheries

(11/18/2009) Fish doesn't just feed humans. Millions of tons of fish are fed every year to chickens, pigs, and even farmed fish even in the midst of rising concerns over fish stocks collapses around the world. Finding an alternative to fish as livestock feed would go a long way toward preventing the collapse of fish populations worldwide according to a new paper in Oryx.





Oceans' ability to sequester carbon diminishing

(11/18/2009) A new study—the first of its kind—has completed an annual accounting of the oceans' intake of carbon over the past 250 years, and the news is troubling. According to the study, published in Nature, the oceans' ability to sequester carbon is struggling to keep-up with mankind's ever-growing emissions. Since 2000 researchers estimate that while every year the oceans continue to sequester more anthropogenic carbon emission, the overall proportion of carbon taken in by the oceans is declining.





Pygmy hippo shot and killed in…Australia

(11/17/2009) Hunters going after pigs in Australia's Northwest Territories got a big surprise when they shot an animal they mistook for a pig, only to find out it was a pygmy hippopotamus, reports the Northwest Territory News.





Record year for CO2 emissions, even with economic slowdown

(11/17/2009) 8.7 billion tons of carbon dioxide was emitted into the earth's atmosphere in 2008, a growth of 2 percent despite the economic crisis. This averages out to each person contributing a record high of 1.3 tons of carbon, according to a report in the journal Nature Science. While the global recession slowed the growth of fossil fuel emissions for the first time this decade, it did not lower emissions altogether.




Page 1 | Page 2 | Page 3 | Page 4 | Page 5 | Page 6 | Page 7 | Page 8 | Page 9 | Page 10 | Page 11 | Page 12 | Page 13 | Page 14 | Page 15 | Page 16 | Page 17 | Page 18 | Page 19 | Page 20 | Page 21 | Page 22 | Page 23 | Page 24 | Page 25 | Page 26 | Page 27 | Page 28 | Page 29 | Page 30 | Page 31 | Page 32 | Page 33 | Page 34 | Page 35 | Page 36 | Page 37 | Page 38 | Page 39 | Page 40 | Page 41 | Page 42 | Page 43 | Page 44 | Page 45 | Page 46 | Page 47 | Page 48 | Page 49 | Page 50 | Page 51 | Page 52 | Page 53 | Page 54 | Page 55 | Page 56 | Page 57 | Page 58 | Page 59 | Page 60 | Page 61 | Page 62 | Page 63 | Page 64 | Page 65 | Page 66 | Page 67 | Page 68 | Page 69 | Page 70 | Page 71 | Page 72 | Page 73 | Page 74 | Page 75 | Page 76 | Page 77 | Page 78 | Page 79 | Page 80 | Page 81 | Page 82 | Page 83 | Page 84 | Page 85 | Page 86 | Page 87 | Page 88 | Page 89 | Page 90 | Page 91 | Page 92 | Page 93 | Page 94 | Page 95 | Page 96 | Page 97 | Page 98 | Page 99 | Page 100 | Page 101 | Page 102 | Page 103 | Page 104 | Page 105 | Page 106 | Page 107 | Page 108 | Page 109 | Page 110 | Page 111 | Page 112 | Page 113 | Page 114 | Page 115 | Page 116 | Page 117 | Page 118 | Page 119 | Page 120 | Page 121 | Page 122 | Page 123 | Page 124 | Page 125 | Page 126 | Page 127 | Page 128 | Page 129 | Page 130 | Page 131 | Page 132 | Page 133 | Page 134 | Page 135 | Page 136 | Page 137 | Page 138 | Page 139 | Page 140 | Page 141 | Page 142 | Page 143 | Page 144 | Page 145 | Page 146 | Page 147 | Page 148 | Page 149 | Page 150 | Page 151 | Page 152 | Page 153 | Page 154 | Page 155 | Page 156 | Page 157 | Page 158 | Page 159 | Page 160 | Page 161 | Page 162 | Page 163 | Page 164 | Page 165 | Page 166 | Page 167 | Page 168 | Page 169 | Page 170 | Page 171 | Page 172 | Page 173 | Page 174 | Page 175 | Page 176 | Page 177 | Page 178 | Page 179 | Page 180 | Page 181 | Page 182 | Page 183 | Page 184 | Page 185 | Page 186 | Page 187 | Page 188 | Page 189 | Page 190 | Page 191 | Page 192 | Page 193 | Page 194 | Page 195 | Page 196 | Page 197 | Page 198 | Page 199 | Page 200 | Page 201 | Page 202 | Page 203 | Page 204 | Page 205 | Page 206 | Page 207 | Page 208 | Page 209 | Page 210 | Page 211