News articles on green

---
Mongabay.com news articles on green in blog format. Updated regularly.






Will hydrocarbon biofuels replace gasoline and ethanol?

(08/13/2009) In a Perspectives piece in Science, John R. Regalbuto argues that the world will soon see a revolution in biofuels, but not those made from corn. Instead Regalbuto, program director of Catalysis and Biocatalysis at the National Science Foundation, says that the future of biofuels is in substances that can be converted into hydrocarbons, such as switch grass, woody biomass, corn stover, and even algae.
Amazon stores 10 billion tons of carbon in 'dead wood'

(08/12/2009) Old growth forests in the Amazon store nearly 10 billion tons of carbon in dead trees and branches, a total greater than global annual emissions from fossil fuel combustion, according to scientists who have conducted the first pan-Amazon analysis of "necromass."
Boreal forests in wealthy countries being rapidly destroyed

(08/12/2009) Boreal forests in some of the world's wealthiest countries are being rapidly destroyed by human activities — including mining, logging, and purposely-set fires — report researchers writing in Trends in Ecology and Evolution.
Issues around palm oil development prove complex, controversial
(08/12/2009) A new report from published by the Center for International Forestry Research (CIFOR) highlights the benefits — and controversies — of large-scale expansion of oil palm agriculture in Southeast Asia. The review, titled "The impacts and opportunities of oil palm in Southeast Asia: What do we know and what do we need to know?", notes that while oil palm is a highly productive and profitable crop, there are serious concerns about its environmental and social impact when established on disputed land or in place of tropical forests and peatlands.
Northern India's water is vanishing due to agriculture, human consumption

(08/12/2009) It's a disaster in the making: a new study by NASA and UC Irvine has found that the groundwater beneath northern India has been vanishing at a rate of a foot per year during the last decade. In total 109 cubic kilometers (26 cubic miles) has been lost in six years time—three times the size of Lake Mead in the United States.
Historical deforestation in Madagascar may not be as bad as commonly believed

(08/12/2009) The long-held assumption that Madagascar has lost 90 percent of its forest cover due to fire and slash-and-burn agriculture may be overstated, argues new research published in Conservation Letters. Analyzing 6000-year pollen records in four sites, Malika Virah-Sawmy of Oxford University found evidence that vegetation in southeast Madagascar has for millennia been a mosaic of forests, woodlands and savannas, rather than continuous forests as generally believed. Virah-Sawmy says the findings demonstrate the importance of conserving Madagascar's remaining ecosystems as a buffer against climate change.
Climate change will challenge US military

(08/11/2009) US military intelligence analysts claim that climate change will present significant strategic issues around the world. The increased occurrences and severity of storms, droughts, resource shortages, and the spread of disease are all linked to climate change.
Lessons from the crisis in Madagascar, an interview with Erik Patel
(08/11/2009) On March 17th of this year the President of Madagascar, Marc Ravalomanana, resigned his post. This made way for Andry Rajoelina, mayor of Madagascar's capital, to install himself as president with help from the military. The unrest and confusion that usually accompanies such a coup brought disaster on many of Madagascar's biological treasures. Within days of Ravalomanana's resignation, armed gangs, allegedly funded by Chinese traders, entered two of Madagascar's world-renowned national parks, Marojejy and Masoala parks, and began to log rosewood, ebonies, and other valuable hardwoods. The pillaging lasted months but the situation began to calm down over the summer. Now that the crisis in Madagascar has abated—at least for the time being—it's time to take stock. In order to do so, Mongabay spoke to Erik Patel, an expert on the Critically Endangered Silky Sifaka and frequent visitor to Madagascar, to find out what the damage looks like firsthand and to see what lessons might be learned.
New carnivorous plant big enough to swallow a rat

(08/11/2009) A newly discovered carnivorous plant in the central Philippines is large enough to catch a rat, according to a story by the BBC. Nepenthes attenboroughii, named after naturalist and broadcast David Attenborough, is a member of the pitcher plant family, so-called because it is shaped like a large pitcher. The plant preys on insects and animals that fall into its gaping maw.
Brazil's environment minister Minc to step down

(08/11/2009) Brazil's environment minister Carlos Minc will step down in March to run for deputy in the Rio de Janeiro state legislature in general elections next October, reports Reuters.
Photos: hundreds of new species discovered in Himalayan region, threatened by climate change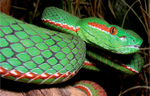 (08/10/2009) Scientists from a variety of organizations have found over 350 new species in the Eastern Himalayas, including a flying frog, the world's smallest deer, and a gecko which has walked the earth for 100-million-years, according to a new report by the World Wildlife Fund (WWF). The report, entitled Where World's Collide, warns that these rare biological treasures, as well as numerous other species, are threatened in the Eastern Himalayas by climate change.
Farmers have poor understanding of role of wildlife in protecting crops

(08/10/2009) Environmental conservation depends, to a large degree, on public acceptance. Understanding people's opinions on ecosystems and wildlife can be very helpful in designing programs that aim to benefit both the environment and society. A new study, published in Tropical Conservation Science, interviewed organic shade-coffee farmers in Cuetzalan, Mexico, to understand how they perceive the wild animals that live in their fields, as well as their knowledge of the ecological roles these species play in maintaining ecosystem services.
Priorities in global bird conservation 'misplaced'

(08/10/2009) Bird conservation is misplacing its priorities by focusing on non-threatened bird species in developed countries, rather than threatened species from tropical nations, report researchers writing in Tropical Conservation Science.
Better species distribution modeling needed for the tropics

(08/10/2009) In order to conserve the world's biodiversity we need to know where species are found. We also need to predict where they might be found if the climate changes or human activity alters habitats. One way of gaining such knowledge is through field studies. Such work on the ground produces lists of species and adds to museum collections. However many tropical areas have not yet been visited by scientists. Even the most detailed studies from the best known areas of the tropics are far from exhaustive. This means that accurate distribution maps are not available for many tropical species. In order to address the problem increasingly sophisticated computer models have been designed that aim to predict where species might occur based on current knowledge. These models can often add a great deal of value to the limited information available. However, models are only as good as the data from which they are built.
Earthworm diversity in Vietnam

(08/10/2009) Central Vietnam is a region that suffers from hostile climate (drought, flooding) and sandy soils that are low in fertility. As a consequence of these conditions, the regions is less favored for agricultural development than the Mekong River Delta. Soils fertility is a function of the quantity and quality of organic matter transformed by soil organisms, like earthworms, which are commonly viewed as bio-indicators of soils fertility.
Gorillas orphaned by bushmeat trade set free on island
(08/10/2009) The Fernan-Vaz Gorilla Project has set free six young gorillas on an island outside of Loango National Park in Gabon. The release marks a new stage in the rehabilitation of the gorillas. The six western lowland gorillas, ranging from two to seven years of age, were orphaned when their respective parents were killed for bushmeat. The island provides a refuge from poachers and other predators where the gorillas are able to acclimate to the wild in safety.







New website consolidates national red lists for endangered species

(08/09/2009) The Zoological Society of London (ZSL) has brought together national red lists from around the world for the first time in one location. From the cliff tiger beetle in the United Kingdom (classified as 'rare') to the Asian elephant in Sir Lanka (considered 'vulnerable') the website (www.nationalredlists.org) brings together data on over 50,000 species from 40 countries.





Large Trees Declining in Yosemite

(08/07/2009) A recent study by the U.S Geological Survey (USGS) indicates a substantial decline in the number of large-diameter trees in Yellowstone National Park. Between the 1930s and the 1990s there was a 24% decline in large diameter trees.











Amazon deforestation falls in June

(08/05/2009) Deforestation in the Brazilian Amazon during June dropped at least 4.4 percent to the year earlier period, keeping Brazil on pace for the lowest forest loss since annual record-keeping began in 1988.





Millenium Project's "State of the Future" Report Cites 21st Century Threats

(08/05/2009) The United Nations Millenium Project has recently published its 2009 "State of the Future" report. The publication states that 50% of the global population is at risk of social conflict and violence due to unemployment from the recent recession, as well as pervasive threats such as lack of water, food, and energy resources. The report also cites the cumulative effects of climate change and poor environmental and economic conditions as contributing, problematic issues.





Imbalance in Earth's Biogeochemical Cycles

(08/05/2009) Scientists are currently meeting at the 94th annual Ecological Society of America (ESA) symposium in New Mexico to discuss, among other topics, the massive upset of the natural biogeochemical cycles of the Earth System.





Chinese factory closes following cadmium pollution protest

(08/05/2009) The Xianghe Chemical Factory in China was closed after protests from local residents in the central Human Province. The plant had recently been the target of several widely-covered "mass-incidents" of violent protest. Nearly 1,000 protestors called for immediate closure of the plant last week.





Did malaria come from chimps?

(08/03/2009) Malaria may have jumped from chimpanzees to humans much like AIDS did, report researchers writing in Proceedings of the National Academy of Sciences.





Madagascar issues fines for timber stolen from national parks during political crisis

(08/03/2009) Authorities in Madagascar have blocked shipment of 176 containers of rosewood and other valuable timber from Vohémar port, pending payment of 72 million Malagasy ariary ($37,500) in fines reports Noro Niaina of Les Nouvelles. The wood was illegally harvested from Marojejy and Masoala National Parks during the chaos that followed a March military coup on the Indian Ocean island nation.





Turning wasteland into rainforest

(07/31/2009) The highly touted reforestation project launched by orangutan conservationist Willie Smits in Indonesian Borneo is detailed in this week's issue of Science.









Forest people set up logging blockades in Borneo

(07/31/2009) Indigenous Penan have set up roadblocks in Malaysian Borneo to stop loggers from encroaching on their rainforest land, reports Survival International, an indigenous rights' group.





Monsanto GM Corn a Disaster in South Africa

(07/31/2009) Three different varieties of genetically modified (GM) corn provided by the Monsanto Corporation to farmers in South Africa have been reported to be failing to seed. The company claims that "less than 25 percent" of the seeds were susceptible to the problem, and that the crop failure was caused by "underfertilization processes in the laboratory."





Increasing pollution in US beaches

(07/31/2009) A recent water quality assessment by the Natural Resources Defense Council cites that the levels of ocean pollution required more than 20,000 mandatory closing and advisory days at beaches across the United States this year. Pollution and contamination levels have not been diminishing, and this was the fourth consecutive year for beach closures to reach record numbers.





Brazil returns massive shipment of waste to the UK

(07/31/2009) Brazil has charged $419,000 in fines to import companies Stefenon Estrategia e Marketing, Bes Assessoria e Comercio Exterior and Alphatec for their attempted illegal importing of some 1,600 tons of waste. The assorted waste containers arrived in Brazilian ports in 89 shipping containers in November and are filled with rotting food products, diapers, medical waste, cleaning product containers, and computer parts, among other items.





Global fisheries begin to show signs of recovery where management is strong

(07/30/2009) New research reveals hopeful signs that overfished marine ecosystems can recover provided adequate protections. The two-year study, publish in the journal Science, found that efforts to reduce overfishing are beginning to succeed in five of the ten large marine ecosystems examined, suggesting that "sound management can contribute to the rebuilding of fisheries."







REDD shouldn't neglect biodiversity say scientists

(07/30/2009) Schemes to mitigate climate change by protecting tropical forests must take into account biodiversity conservation, said two leading scientific organizations at the conclusion of a four day meeting in Marburg, Germany.





Coal demand cools

(07/30/2009) The U.S. coal sector will need to cut production 50 million tons this year due to falling demand, reports The Wall Street Journal. The cuts come in addition to even larger reductions earlier in the year.





Photo: First bald Asian songbird discovered

(07/30/2009) Researchers have discovered a bald species of songbird in a remote part of Laos, reports the Wildlife Conservation Society. The "Bare-faced Bulbul" is the first new species of bulbul – a family of about 130 species – described in Asia in over 100 years.




Page 1 | Page 2 | Page 3 | Page 4 | Page 5 | Page 6 | Page 7 | Page 8 | Page 9 | Page 10 | Page 11 | Page 12 | Page 13 | Page 14 | Page 15 | Page 16 | Page 17 | Page 18 | Page 19 | Page 20 | Page 21 | Page 22 | Page 23 | Page 24 | Page 25 | Page 26 | Page 27 | Page 28 | Page 29 | Page 30 | Page 31 | Page 32 | Page 33 | Page 34 | Page 35 | Page 36 | Page 37 | Page 38 | Page 39 | Page 40 | Page 41 | Page 42 | Page 43 | Page 44 | Page 45 | Page 46 | Page 47 | Page 48 | Page 49 | Page 50 | Page 51 | Page 52 | Page 53 | Page 54 | Page 55 | Page 56 | Page 57 | Page 58 | Page 59 | Page 60 | Page 61 | Page 62 | Page 63 | Page 64 | Page 65 | Page 66 | Page 67 | Page 68 | Page 69 | Page 70 | Page 71 | Page 72 | Page 73 | Page 74 | Page 75 | Page 76 | Page 77 | Page 78 | Page 79 | Page 80 | Page 81 | Page 82 | Page 83 | Page 84 | Page 85 | Page 86 | Page 87 | Page 88 | Page 89 | Page 90 | Page 91 | Page 92 | Page 93 | Page 94 | Page 95 | Page 96 | Page 97 | Page 98 | Page 99 | Page 100 | Page 101 | Page 102 | Page 103 | Page 104 | Page 105 | Page 106 | Page 107 | Page 108 | Page 109 | Page 110 | Page 111 | Page 112 | Page 113 | Page 114 | Page 115 | Page 116 | Page 117 | Page 118 | Page 119 | Page 120 | Page 121 | Page 122 | Page 123 | Page 124 | Page 125 | Page 126 | Page 127 | Page 128 | Page 129 | Page 130 | Page 131 | Page 132 | Page 133 | Page 134 | Page 135 | Page 136 | Page 137 | Page 138 | Page 139 | Page 140 | Page 141 | Page 142 | Page 143 | Page 144 | Page 145 | Page 146 | Page 147 | Page 148 | Page 149 | Page 150 | Page 151 | Page 152 | Page 153 | Page 154 | Page 155 | Page 156 | Page 157 | Page 158 | Page 159 | Page 160 | Page 161 | Page 162 | Page 163 | Page 164 | Page 165 | Page 166 | Page 167 | Page 168 | Page 169 | Page 170 | Page 171 | Page 172 | Page 173 | Page 174 | Page 175 | Page 176 | Page 177 | Page 178 | Page 179 | Page 180 | Page 181 | Page 182 | Page 183 | Page 184 | Page 185 | Page 186 | Page 187 | Page 188 | Page 189 | Page 190 | Page 191 | Page 192 | Page 193 | Page 194 | Page 195 | Page 196 | Page 197 | Page 198 | Page 199 | Page 200 | Page 201 | Page 202 | Page 203