News articles on green

---
Mongabay.com news articles on green in blog format. Updated regularly.






Mapping local communities' efforts to protect forests in Indonesia
(02/05/2015) Local and indigenous communities play an important role managing and protecting forests. Research published in 2014 by World Resources Institute and the Rights and Resources Initiative concluded that community-managed forests experienced an average deforestation rate that is eleven times lower than land outside their borders.
Chemical clues in fossil shells may help us understand today's ocean acidification
(02/04/2015) As atmospheric CO2 levels rise, so too do those in the sea, leading to ocean acidification that outpaces that of any other time in tens of millions of years. Some effects of ocean acidification are imminent, like the fact that calcified organisms such as corals and shellfish will have access to less and less of the chemical components they need to build their shells and skeletons.
Communities create timber company to protect Sumatran forest
(02/04/2015) To reduce logging pressures on the surrounding forest, several villages in the Lampung province of Sumatra have been conducting an experiment in community managed timber plantations on public lands. For the last 10 years, instead of logging the forest, members of the local timber cooperative have planted thousands of seedlings such as white teak and acacia in and among the surrounding villages.
The Amazon's oil boom: concessions cover a Chile-sized bloc of rainforest
(02/04/2015) Hungry for oil revenue, governments and fossil fuel companies are moving even further into one of the world's last great wildernesses, according to a new study in the journal Environmental Research Letters. The total area set aside for oil and gas in the Western Amazon has grown by 150,000 square kilometers since 2008, now totaling more than 730,000 square kilometers—an area the size of Chile.
Super-rare carnivore photographed in Yosemite after missing for nearly a century
(02/03/2015) For years, biologists believed the Sierra Nevada fox was down to a single population of around 20 animals in California's Lassen Volcanic National Park. But then in 2010, biologists found a small population near Sonora Pass. Now, more good news: last week, scientists documented the first Sierra Nevada fox in Yosemite National Park in nearly 100 years.
Palm oil major makes deforestation-free commitment

(02/03/2015) IOI Corporation officially committed to what its subsidiary, palm oil trader IOI Loders Croklaan, pledged last November: it will no longer source palm oil linked to deforestation and human rights abuses.
Sulawesi communities build big, unique houses by sustainably managing forests
(02/03/2015) Layuk Sarungallo sits in front of a large Tongkonan, the traditional house of the Toraja people characterized by sweeping roofs that resemble a boat or a buffalo horn arching toward the sky. The locals still use traditional construction methods, maintaining their houses with wood, bamboo and reeds.
Rapid development threatening traditional farms, forests in West Papua
(02/03/2015) Through a system of community protected areas and family agricultural rotation, the indigenous people of Demaisi in West Papua have maintained their way of life and the health of the forest for as long as anyone can remember. But now this system is under threat as government-fostered development moves into the region.
Mercury fish: gold mining puts downstream communities at risk in Peru
(02/02/2015) Artisanal, often illegal gold-mining, has swept across portions of the Peruvian Amazon over last decade, driven in part by a rising price in gold. The unregulated industry has resulted in widespread deforestation leading to an environmental disaster. Now a new study finds that mercury pollution has moved rapidly downstream and could be impacting communities at least 560 kilometers away.
Pollutants threaten long-term survival of wandering albatross
(02/02/2015) Seabirds, aerial ocean predators, are known to amass harmful contaminants over their lifespan. Scientists believe this exposure to pollutants negatively impacts survival rates as well as reproduction, therefore contributing to large-scale population declines. Although previously these assumptions were largely theoretical, recent research involving blood samples from wandering albatrosses points to new conclusions.
Scientists discover fanged frogs that give birth to tadpoles
(02/02/2015) Scientists have discovered a new species of fanged frog that is the world's only known frog able to give birth to tadpoles. If that wasn't enough, L. larvaepartus also fertilizes its eggs internally, a reproductive strategy of which only a few amphibian species are capable.
Swimming against the stream: a rare crocodile captivates researchers
(02/02/2015) The Sunda gharial looks like 'just an odd crocodile' according to Robert Stuebing. He would know. Stuebing and his team have recently published an article in the International Zoo Yearbook outlining habitat information and threats to the Sunda gharial at Lake Mesangat in Indonesian Borneo.
Scientists rediscover endangered Andean toad in Ecuador
(01/30/2015) In 1970 researchers uncovered the Tandayapa Andean toad, previously unknown to science, in the Pichincha Province of Ecuador. Given that only a single individual was discovered, even after further exploration in the following years, the toad was soon presumed to be extinct. Forty-two years later, however, a research team rediscovered the species in Manduriacu, Ecuador.
When is a forest a forest? How definitions affect monitoring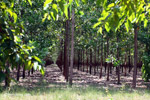 (01/29/2015) What exactly is a forest? With forest definitions differing from country to country, and primary forests, secondary forests, and even tree plantations all perceived collectively as "tree cover" by satellite data, how does one accurately keep tabs on land changes?
Videos: new film series highlights bringing Gorongosa back to life

(01/29/2015) Tracking lions, photographing bats, collecting insects, bringing elephants home: it's all part of a day's work in Gorongosa National Park. This vast wilderness in Mozambique was ravaged by civil war. However, a unique and ambitious 20-year-effort spearheaded by Greg Carr through the Gorongosa Restoration Project is working to restore this rich and little-studied African wilderness.
Community tourism fills niche around Tambopata National Reserve
(01/29/2015) When Víctor Zambrano retired from the military and returned to his family's old homestead outside the fast-growing jungle town of Puerto Maldonado in Peru, he got an unpleasant surprise. Strangers had moved in and cleared the trees to raise cattle. As Zambrano tells it, he ran up the Peruvian flag, chased the invaders off, and set to work planting 19,000 native tree seedlings.
Scientists discover that fish larvae make sounds
(01/29/2015) For the first time, marine biologists have recorded evidence of fish larvae in the ocean producing sounds. The study focused on the grey snapper (Lutjanus griseus) living in the waters of the northern Florida Keys reef tract. The field of acoustic ecology, which studies animals and their interaction and relationship with sounds in their environment, has often focused on juvenile and adult fish while overlooking fish larvae.
Radical transparency: tracking deforestation through satellite imagery
(01/28/2015) Floating softly through the vacuum of space, the Landsat 7 satellite has faithfully provided imaging of the entirety of earth's surface, every 16 days, since 1999. Now a series of technological developments has made this silent spectator a dominant force in tracking forests worldwide.
Monarch butterfly population rises a little, but still perilously low
(01/28/2015) The world's migrating monarch butterfly population has bounced back slightly from its record low last year, but the new numbers are still the second smallest on record. According to WWF-Mexico and the Mexican government, butterflies covered 2.79 acres (1.13 hectares) in nine colonies this year in the Mexican forests where the insects overwinter.
China tries out logging ban in northeastern province
(01/28/2015) China's Heilongjiang province, which borders Russia to its north and east, contains 18.5 million hectares of state forest - more natural forest than any other province in the country. However, since the mid-twentieth century, Heilongjiang has had over 600 million cubic meters of timber extracted from its woodlands. Now, China is trying out a complete ban on commercial logging in the province's state-owned forests.
Adorbs: scientists capture first photos of African golden cat kittens
(01/28/2015) The African golden cat is arguably the continent's least known feline, inhabiting dense tropical forests, almost never seen, and, of course, long-upstaged by Africa's famous felines. But a few intrepid scientists are beginning to uncover the long-unknown lives of these wild cats. Researchers working in Uganda's Kibale National Park have captured remarkable photos of African golden cats...with kittens.
With local help, hawksbill sea turtles make a comeback in Nicaragua
(01/28/2015) Hawksbill sea turtles, a reptile listed as the highest threat level by the IUCN Red List of Endangered Species, are making a momentous local comeback in Nicaragua's Pearl Cays. This Critically Endangered turtle, although reduced to 85 percent of their historical numbers, has shown a nesting increase of over 200 percent from just 154 nests to 468 nests in the last 14 years.
China's recent forest tenure reforms threaten panda habitat
(01/27/2015) Since the 1950s, plantations and second-growth forests in China have been locally managed by village communities as collective forests, which today account for 58 percent of China's forestland. Many of these collective forests lie within mountainous rural areas, some of which are also home to the 1,600 or so wild giant pandas (Ailuropoda melanoleuca) that survive today.
Suspects acquitted in shocking murder of sea turtle conservationist

(01/27/2015) Yesterday, the seven men accused of brutally murdering Jairo Mora Sandoval on a beach in Costa Rica two years ago were acquitted of the crime. Sandoval's murder shocked the Central American country—long known for the progressive protection of its lush rainforests and sweeping beaches—but the judge who acquitted the accused cited reasonable doubt and a investigation marred by mistakes.
Deforestation may be ramping up in Papua, West Papua
(01/27/2015) Despite being covered in commodity concessions and becoming a focal point for the Indonesian government's palm oil development in the country's eastern half, the provinces of Papua and West Papua have, rather mysteriously, recorded very low deforestation rates compared to the rest of the archipelago. However, emerging data, reports, and photos suggest the region's forest loss may be escalating.
Rogue cop missing from jail

(01/27/2015) An Indonesian police official busted for illegal logging in West Papua has been missing from jail for nearly a year after being granted permission to seek medication treatment, reports the The Jakarta Post.
Financial pledges for REDD+ slow to be disbursed, finds report
(01/27/2015) Only a small fraction of the $7.3 billion pledged under the Reducing Emissions from Deforestation and Degradation (REDD+) program has actually been disbursed, find a new report that tracked REDD+ finance in seven countries. The report, published by Forest Trends, analyzed REDD+ financial flows between 2009 and 2012 in Brazil, Colombia, Ecuador, Ghana, Liberia, Tanzania and Vietnam
Accounting for natural capital on financial exchanges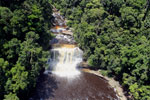 (01/26/2015) Last month, Norway's stock exchange, the Oslo Børs, introduced a way for investors to use their money to promote sustainability. A new list by the stock exchange highlights green bonds, financial products issued by companies to raise capital for environmentally friendly projects. Notably, the list requires that issuing companies obtain and publicize outside opinions on the projects' environmental features.
Brazil's soy moratorium dramatically reduced Amazon deforestation
(01/23/2015) The moratorium on forest conversion established by Brazilian soy giants in 2006 dramatically reduce deforestation for soy expansion in the Amazon, and have been more effective in cutting forest destruction than the government's land use policy in the region, finds a study published today in the journal Science.
Sumatran community grows crops, aids conservation through 'village forests'
(01/23/2015) The rolling green hills covered in rice paddies and coffee plantations give Semende in the Muara Enim regency of South Sumatra a welcome and hospitable feeling. However, behind the peaceful pastoral veil, is a history of rampant forest encroachment and land conflict in the Barisan mountains.
Conservationists ask, 'Is nuclear the way to go?'
(01/23/2015) Nuclear power at times faces antagonism from the environmental community, with opponents arguing that it produces harmful radioactive waste, leads to the proliferation of nuclear arms, and brings forth lethal disasters. Scientists from Australia say it's time to get past myths about nuclear; they suggest that implementing nuclear power at a larger scale is a positive compromise for fulfilling both energy supply and conservation needs.
Half of Borneo's mammals could lose a third of their habitat by 2080
(01/22/2015) Borneo consistently makes the list of the world's "biodiversity hotspots" – areas full of a wide variety of forms of life found nowhere else, but which are also under threat. To better understand the hazards, a study published today in the journal Current Biology examines the effects of climate change and deforestation in the coming decades on mammals living on the island.
1,215 rhinos butchered in South Africa in 2014
(01/22/2015) 1,215: that's the total number of rhinos butchered last year in South Africa for their horns. The number represents another annual record—the seventh in a row—topping last year's total by 195 rhinos. South Africa houses the bulk of the world's rhinos (around 80 percent), but has also become the center of the illegal poaching trade.
Indigenous territories play dual role as homelands and protected areas
(01/22/2015) Indigenous communities claim—and scientific evidence increasingly shows—that indigenous forested territories are as well protected as, or better protected than, government-designated parks. In areas under pressure from roads or development projects, deforestation rates are sometimes even lower in indigenous territories than in official protected areas.
Sundarbans still reeling from effects of December oil spill
(01/21/2015) Last month, an estimated 350,000 liters of fuel oil spilled into the Sundarbans delta on the Bay of Bengal. An oil tanker that had collided with a cargo vessel on December 9th sank into the Shela River, spilling its oil into a protected sanctuary for the rare and endangered Irrawaddy dolphins (Orcaella brevirostris) and the Ganges river dolphins (Platanista gangetica).
Sumatran village protects environment through agroforestry
(01/21/2015) The forest behind Indudur village clings to the steep hillside. The topography itself is enough to protect it from most common threats of development. However, the area is under attack by a more pernicious force: a lack of interest by the younger generation in earning their living here. The difficulty of life compels many to migrate out, leaving the village dominated by older people.
Environmental wisdom: keeping indigenous stories alive
(01/21/2015) Enchanted lakes and magic hills: how traditional stories support conservation and abundance. 'Long ago, when animals were gente...' Those words, uttered countless times by indigenous Amazonian storytellers, blur the boundary between humans and other creatures in the forests and rivers, revealing a different view of the way human and non-human worlds intertwine.





Video: clouded leopards and elephants grace drowned forest in Thailand

(01/21/2015) Camera trap video from Khlong Saeng Wildlife Sanctuary in southern Thailand has revealed an impressive array of wildlife, including scent-marking clouded leopards and a whole herd of Asian elephant. The camera traps were set by HabitatID, an organization devoted to using remote camera traps to prove to government officials that wildlife still flourishes in forgotten places.




Page 1 | Page 2 | Page 3 | Page 4 | Page 5 | Page 6 | Page 7 | Page 8 | Page 9 | Page 10 | Page 11 | Page 12 | Page 13 | Page 14 | Page 15 | Page 16 | Page 17 | Page 18 | Page 19 | Page 20 | Page 21 | Page 22 | Page 23 | Page 24 | Page 25 | Page 26 | Page 27 | Page 28 | Page 29 | Page 30 | Page 31 | Page 32 | Page 33 | Page 34 | Page 35 | Page 36 | Page 37 | Page 38 | Page 39 | Page 40 | Page 41 | Page 42 | Page 43 | Page 44 | Page 45 | Page 46 | Page 47 | Page 48 | Page 49 | Page 50 | Page 51 | Page 52 | Page 53 | Page 54 | Page 55 | Page 56 | Page 57 | Page 58 | Page 59 | Page 60 | Page 61 | Page 62 | Page 63 | Page 64 | Page 65 | Page 66 | Page 67 | Page 68 | Page 69 | Page 70 | Page 71 | Page 72 | Page 73 | Page 74 | Page 75 | Page 76 | Page 77 | Page 78 | Page 79 | Page 80 | Page 81 | Page 82 | Page 83 | Page 84 | Page 85 | Page 86 | Page 87 | Page 88 | Page 89 | Page 90 | Page 91 | Page 92 | Page 93 | Page 94 | Page 95 | Page 96 | Page 97 | Page 98 | Page 99 | Page 100 | Page 101 | Page 102 | Page 103 | Page 104 | Page 105 | Page 106 | Page 107 | Page 108 | Page 109 | Page 110 | Page 111 | Page 112 | Page 113 | Page 114 | Page 115 | Page 116 | Page 117 | Page 118 | Page 119 | Page 120 | Page 121 | Page 122 | Page 123 | Page 124 | Page 125 | Page 126 | Page 127 | Page 128 | Page 129 | Page 130 | Page 131 | Page 132 | Page 133 | Page 134 | Page 135 | Page 136 | Page 137 | Page 138 | Page 139 | Page 140 | Page 141 | Page 142 | Page 143 | Page 144 | Page 145 | Page 146 | Page 147 | Page 148 | Page 149 | Page 150 | Page 151 | Page 152 | Page 153 | Page 154 | Page 155 | Page 156 | Page 157 | Page 158 | Page 159 | Page 160 | Page 161 | Page 162 | Page 163 | Page 164 | Page 165 | Page 166 | Page 167 | Page 168 | Page 169 | Page 170 | Page 171 | Page 172 | Page 173 | Page 174 | Page 175 | Page 176 | Page 177 | Page 178 | Page 179 | Page 180 | Page 181 | Page 182 | Page 183 | Page 184 | Page 185 | Page 186 | Page 187 | Page 188 | Page 189 | Page 190 | Page 191 | Page 192 | Page 193 | Page 194 | Page 195 | Page 196 | Page 197 | Page 198 | Page 199 | Page 200 | Page 201 | Page 202 | Page 203 | Page 204 | Page 205 | Page 206 | Page 207 | Page 208 | Page 209 | Page 210 | Page 211 | Page 212 | Page 213 | Page 214