News articles on green

---
Mongabay.com news articles on green in blog format. Updated regularly.








New bird uncovered in South American conflict region, researchers urge protection
(05/28/2015) For many years, study skins of a bird languished in a dusty drawer in the Smithsonian Institution National Museum of Natural History, classified hurriedly (and erroneously,) as Scytalopus atratus nigricans, a songbird found in lower montane forests. Recently, scientists rediscovered the bird on the Venezuelan slopes of the Perijá Mountains, and were able to use twenty-first century techniques to describe its genetics, ecology and appearance. In doing so, they identified it as a new species: the Perijá tapaculo.
Together we stand: A policy approach to reducing food loss in West Africa
(05/28/2015) West African countries have recognized that when it comes to food security, no nation is an island. Since achieving independence, West African countries have strived for regional integration. By building strong political and economic ties, the 15 member nations of the Economic Community of West African States (ECOWAS) aimed to maximize economic development and minimize inter-country conflict.
120,000 dead: half of the world's saiga die in less than a month

(05/28/2015) No one knows what's killing them, but scientists estimate that almost half of the world's saiga (Saiga tatarica) have perished since May 10th. To date, researchers on-the-ground unofficially estimate that 120,000 saiga have died in Kazakhstan from what appears to be a wildly virulent disease, although no cause has been ruled out.
GAR, Wilmar punish palm oil supplier for clearing rainforest in New Guinea
(05/28/2015) Palm oil trader Golden Agri-Resources announced today that it would suspend purchases of crude palm oil from plantation developer Austindo Nusantara Jaya Agri, which was outed in an NGO report last week for the third time in the past year for clearing forest in Indonesia's West Papua province, in violation of Golden Agri's no-deforestation commitment. Wilmar has also frozen its dealings with the company, though Asian Agri and Musim Mas, which also buy from it, have given no indication they will do the same.
Ghosts of problems past and present loom over Nigerian palm oil plans
(05/28/2015) Palm oil giant Wilmar has set up shop in Nigeria in a big way, with plans to operate over 30,000 hectares in the country's Cross River State. Some say the project is little more than a land grab, has caused environmental damage and seen people turned off their land and lose their livelihoods in areas such as Ibiae and Biase.
China unveils plans for huge railway in South America
(05/27/2015) China is looking to add another rung to its investment presence in Latin America, with an announcement of plans to build an expansive railway bisecting the continent from Brazil to Peru. The bid has raised the hackles of conservation groups, which are concerned the railway will run through sensitive ecosystems, harm threatened wildlife, and affect indigenous communities.
Uganda's elephant population has risen 600% since its 1980s low
(05/27/2015) In the 1980s, Uganda's elephants looked like they were on their way to extinction. The country had only about 700-800 elephants left, all in a single park; poachers had exterminated the rest. But a new survey as a part of the Great Elephant Census has confirmed that Uganda is today a bright spot in the current ivory poaching crisis. The country has more than 5,000 elephants and growing.
Amazon deforestation speeding global warming
(05/27/2015) Human activity has destroyed huge swaths of the Amazon rainforest's biomass as trees are cleared to make way for pasture, soy fields, and other developments. Now, a new study has determined how much that destruction has contributed to climate change.
Drone Herders: Tanzanian rangers and researchers use UAVs to protect elephants and crops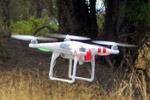 (05/27/2015) HEC, otherwise known as human elephant conflict, is a centuries-old problem responsible for the deaths of untold numbers of elephants. This ongoing battle between African farmers trying to grow crops and hungry elephants foraging for a meal, has motivated conservationists to find solutions for protecting the largest and one of the most intelligent land animals on the planet. Scientists' most recent effort -- Unmanned Aerial Vehicles (UAVs), frisbee-sized remote controlled quad-helicopters -- may provide the answer that researchers have been looking for.
'Green' hydropower dam fuels charges of gross human rights violations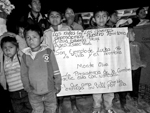 (05/27/2015) A hydropower project planned on Guatemala's Icbolay River has resulted in major human rights abuses, advocacy groups are charging. The 24-megawatt Santa Rita dam is backed by the World Bank and several European banks, as well as the Guatemalan government. In spite of the alleged abuses, the dam's owner has been granted approval to earn carbon offset credits for the electricity the dam would generate that could be traded under the European Union's Emission Trading System.
Up to 11 stunningly colorful chameleon species discovered in Madagascar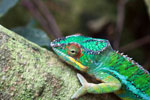 (05/26/2015) The panther chameleon, a lizard prized in the pet trade for its remarkable color changing abilities, may actually represent 11 different species, report researchers writing in the journal Molecular Ecology. Analyzing the genetics of more than 300 individual panther chameleons, Swiss and Malagasy researchers make a case that different color morphs of Furcifer pardalis may be distinct species.
Cash prizes offered for solutions to wildlife poaching crisis
(05/26/2015) A coalition has launched an initiative, the Wildlife Crime Tech Challenge to spark and drive investment in innovative science and technology solutions to help reduce the damage caused by wildlife trafficking. The initiative is backed by the US Agency for International Development (USAID), the National Geographic Society, the Smithsonian Institution, and TRAFFIC.
Mozambique loses almost 10,000 elephants in just five years
(05/26/2015) Mozambique has lost nearly half of its elephants to relentless, brutal, and highly-organized poaching in just five years, according to a new government survey. In 2010, the country was home to an estimated 20,000 pachyderms, today it houses just 10,300.
Nepal's rhino population rises by 72% in ten years

(05/26/2015) A new survey in Nepal counted 645 one-horned rhinos, up from 375 animals ten years ago and 534 animals in 2011. This represent a rise of 72 percent over the last ten years, an impressive feat given that the world's rhinos are facing a savage poaching crisis.
Offshore drilling proposed in Belize's spectacular marine areas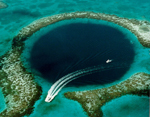 (05/26/2015) The government of Belize has proposed opening up most of the country's marine area, including seven UNESCO World Heritage Sites, to offshore drilling for oil and gas, according to the Associated Press. Belize currently has a voluntary moratorium on any such drilling.
Palm oil activist murdered in Jakarta
(05/23/2015) An Indonesian activist who opposed unbridled oil palm expansion was stabbed to death by a group of men before dawn this morning outside a nightclub in South Jakarta. Whether the attack was related to his activism or the spontaneous result of a barroom brawl is not yet clear. But Indonesian media are reporting that one of the assailants shouted that he was a soldier as he brandished the knife that killed Jopi Peranginangin, the 39-year-old head of campaigns for Sawit Watch, which strives for social and ecological justice in the palm oil industry.
Mining and Energy Contracts under Investigation as Corruption Scandals Rock Guatemala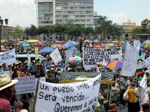 (05/22/2015) The Guatemalan cabinet ministers for the environment, the interior, and energy and mines stepped down May 21 amid corruption scandals and massive protests. Investigations into alleged irregularities in mining, energy, and other environmental project contracts and permits have been thrust back into the spotlight. Mining and energy projects in the country have faced intense community resistance, which has often become the target of crackdowns by state and corporate security forces.
New hope for the world's most endangered zebra
(05/22/2015) Writer and conservation biologist Nika Levikov embarked on the team's latest field mission led by Davidson, to the arid savannah landscape of northern Kenya to help find Grevy's zebras and attach GPS collars. This sub-population has never before been formally documented. With GPS, their movements can be tracked and scientists can learn more about this most endangered zebra species.
Consumer choice: Shade-grown coffee and cocoa good for the birds, farmers, ecosystems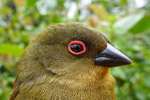 (05/22/2015) The next time you order that "wake up" cup of Joe or reach for a sweet treat, you may want to consider whether those coffee or cocoa beans were grown in the shade or open sun. Choosing the shade grown variety can offer huge benefits to tropical birds, their ecosystems and farmers says a new study by Cagan Şekercioğlu published in the Journal of Ornithology.
Photos from the front: the California oil spill in pictures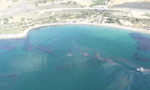 (05/21/2015) On Tuesday, an underground oil pipeline burst near Goleta, California, spilling crude oil into the Pacific, soiling beaches, killing marine animals, and coating birds in oil. Photographers captured scenes of the unfolding spill and clean-up response, even as the extent of the damage remains under investigation.
Timber 'mass graves' uncovered as Malaysian authorities pursue illegal loggers

(05/21/2015) A crackdown on illegal logging in Peninsular Malaysia's largest continuous forest complex has uncovered three timber 'mass graves' – burial sites where valuable logs have been stashed beneath tons of earth to hide evidence. The loggers apparently made haste in fleeing the hilly terrain where they left the timber. A joint operation by Malaysia's antigraft agency and Forestry Department found parts of logs sticking out of the ground and the red earth still unsettled, indications their quarry had hurriedly concealed the felled trees.
Indonesia sinks 41 foreign vessels in a single day to counter illegal fishing
(05/21/2015) The Indonesian Maritime Affairs and Fisheries Ministry redefined fireworks yesterday. In coordination with the national navy, it blew up 41 illegal foreign fishing vessels to commemorate National Resurgence Day, the birthday of the country's first native political party. The mass sinking brings to 60 the number of boats new administration of President Joko "Jokowi" Widodo has scuttled on charges of illegal, underreported and unregulated (IUU) fishing.
Primary rainforest cleared for massive palm oil plantations in Peru
(05/20/2015) More than 9,400 hectares of closed-canopy Amazonian rainforest has been removed for two oil palm plantations in the Peruvian region of Ucayali since 2011, according to scientists working for MAAP, the Monitoring of the Andean Amazon Project. The two plantations are linked to Czech entrepreneur Dennis Melka.
VICE's 'Indonesia's Palm Bomb' presents a tragic view of palm oil driven deforestation from the frontlines
(05/20/2015) For the sixth episode of its third season, HBO's Emmy-winning news series, VICE, focused its lens on Indonesia's palm oil industry. The episode, entitled, 'Indonesia's Palm Bomb', follows VICE correspondent, Ben Anderson, as he investigates the environmental and social impact of widespread (and, at times, illegal) deforestation on wildlife and indigenous communities in Sumatra.
Sumatran tiger found dead in a pig trap
(05/20/2015) Authorities in the Indonesian province of West Sumatra buried the rotting carcass of a critically endangered female tiger that died after being ensnared by a pig trap on a rubber plantation earlier this month. The creature, a mother who was probably teaching her young to hunt, was found covered in wounds, its neck entangled in wire.
Golden Agri takes another hit as sustainability guru suspends its membership
(05/20/2015) The charity that Indonesia's Golden Agri-Resources has enlisted to devise and implement its zero-deforestation and community-engagement commitments suspended its cooperation with the palm oil giant yesterday, following breaches of the policies they had designed together. A few hours later, Golden Agri announced the resignation of its chief sustainability officer.
Tennis star responds to rainforest advocates

(05/20/2015) Roger Federer has responded to two Indonesian activists who asked the tennis star to use his influence to encourage Credit Suisse to end its relationship with a controversial logging company, reports the Bruno Manser Fund.
High pressure: is U.S. policy deterring illegal wood imports?
(05/19/2015) Some countries, such as the U.S., have imposed legislation at the consumer level, banning the import of illegally sourced wood through their borders. A new study finds that such legislation can be effective, with a 2008 amendment to the Lacey Act significantly reducing the influx of illegal wood into the U.S.
62M ha of Latin American forests cleared for agriculture since 2001
(05/19/2015) Over 62 million hectares (240,000 square miles) of forest across Latin America — an area roughly the size of Texas or the United Kingdom — were cleared for new croplands and pastureland between 2001 and 2013, find a study published in Environmental Research Letters.
West Africa's weakest links: Supply chain defects are behind worst food waste

(05/19/2015) For produce raised on some of Senegal's most fertile cropland, the shortest route to the richest urban markets runs through another country. This geographic reality, with its multiple logistical hurdles, illustrates the food security challenges facing Senegal and the wider West African region. The trouble with feeding people here is not so much the availability of food but its accessibility. The difficulties arise not just in agricultural production but also in inefficient food delivery systems – in harvesting, storage, processing and transport.
Luxury hotel chain linked to destruction of rainforests
(05/19/2015) The Mandarin Oriental hotel chain has landed in environmentalists' crosshairs for the practices of its sister company Astra Agro Lestari, a rapidly expanding palm oil producer with fully developed plantations on an area larger than Singapore. The new She's Not a Fan campaign – a play off Mandarin's celebrity-fan endorsement drive – launched yesterday with a petition calling on Astra to stop destroying forests and elephant habitat. Multinational conglomerate Jardine Matheson owns both firms.
Peru eyes the Amazon for one of world's most powerful dams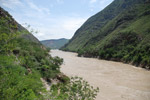 (05/18/2015) Peru is proposing a huge hydroelectric dam in the Amazon that, if built, will be one of the most powerful on Earth, do significant harm to the environment, and flood the homes of thousands of people. The proposed mega-dam would be constructed at the Pongo de Manseriche, a spectacular gorge on the free flowing Marañón River, the main source of the Amazon River.
China's investment in Latin America taking toll on the environment, setting the stage for conflict
(05/18/2015) China has been investing heavily in Latin America's natural resources and crude oil. Recently, the country even pledged to invest $250 billion over the next decade to strengthen its presence in the region, and compete with the U.S. But this increasing Chinese trade and investment in Latin America is also increasing environmental and social conflict, finds a new report published by Boston University.
Malaysian palm oil body encourages fiction over fact
(05/17/2015) In this commentary, David Dellatore, Program Manager at the Sumatran Orangutan Society, questions the value of the Malaysian Palm Oil Council's essay-writing contest which will pay contributors to conclude that palm oil is not a driver of deforestation
What's the current deforestation rate in the Amazon rainforest?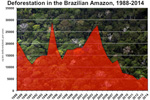 (05/15/2015) Nearly two-thirds of the Amazon rainforest is located in Brazil, making it the biggest component in the region's deforestation rate. Helpfully, Brazil also has the best systems for tracking deforestation, with the government and Imazon, a national civil society organization, releasing updates on a quarterly and monthly basis using MODIS satellite data, respectively. Both the Brazilian government and Imazon release more accurate data on an annual basis using higher resolution Landsat satellite imagery.
Weapons trafficking experts target criminal wildlife trade networks
(05/15/2015) An outfit usually associated with investigating arms dealers and weapons traffickers is applying its advanced network mapping capabilities to go after wildlife trafficking syndicates. This week Washington D.C.-based C4ADS unveiled the Environmental Crimes Fusion Cell, a unit which consists of a team of analysts, network mapping technology provided by software company Palantir, and a network of NGOs and enforcement agencies. The unit analyses wildlife trade data to provide actionable intelligence to pursue and apprehend traffickers.
U.S. gov't gives conditional approval for offshore Arctic drilling
(05/15/2015) Earlier this week, the Bureau of Ocean Energy Management (BOEM) approved Shell Gulf of Mexico Inc.'s multi-year Exploration Plan for the Chukchi Sea off the northern Alaska coast. Environmental groups have raised concerns over the approval, saying drilling in the area threatens wildlife, puts workers at risk, and will further contribute to global warming.
New genetic analysis aims to guide restoration of overharvested Myanmar teak forests
(05/15/2015) Teak is one of the most valued tropical hardwoods for its beauty, durability, and versatility. Teak trees naturally occur in the Indo-Pacific region, where a long history of exploitation, along with deforestation, has led to declines in the species. A recent study published in mongabay.com's open-access journal, Tropical Conservation Science, analyzes the genetic makeup of teak in Myanmar, its largest stronghold, and uses the results to offer advice about how Myanmar teak should be conserved.
Price trends a reliable, cheap indicator of wildlife declines, finds study
(05/15/2015) Market prices can provide an equally reliable indicator of wildlife declines as field data for a thirtieth of the price, according to a new study analyzing Sumatra's pet bird trade. The researchers found that species that were increasing in price but decreasing in trade volume were likely to have been identified by the ornithologists they surveyed beforehand as undergoing population declines.
Satellite images show deforestation on fringes of UNESCO World Heritage Site in Cameroon
(05/14/2015) In the push to become a middle-income country in the next two decades, Cameroon has courted investments in its vast natural resource wealth in the form of mining, logging and large-scale agriculture. But deforestation revealed by a recent Greenpeace Africa investigation highlights a lack of coordination in determining how to use the country's land.
South African Airways bans all wildlife trophies from flights
(05/14/2015) Trophy hunters may need to find another flight home, as South African Airlines (SAA) has announced a new ban on any wildlife trophies from their flights. The debate over trophy hunting in Africa is rising as many of the continent's most beloved mammals—including lions, elephants, rhinos, and giraffes—face precipitous declines.






Page 1 | Page 2 | Page 3 | Page 4 | Page 5 | Page 6 | Page 7 | Page 8 | Page 9 | Page 10 | Page 11 | Page 12 | Page 13 | Page 14 | Page 15 | Page 16 | Page 17 | Page 18 | Page 19 | Page 20 | Page 21 | Page 22 | Page 23 | Page 24 | Page 25 | Page 26 | Page 27 | Page 28 | Page 29 | Page 30 | Page 31 | Page 32 | Page 33 | Page 34 | Page 35 | Page 36 | Page 37 | Page 38 | Page 39 | Page 40 | Page 41 | Page 42 | Page 43 | Page 44 | Page 45 | Page 46 | Page 47 | Page 48 | Page 49 | Page 50 | Page 51 | Page 52 | Page 53 | Page 54 | Page 55 | Page 56 | Page 57 | Page 58 | Page 59 | Page 60 | Page 61 | Page 62 | Page 63 | Page 64 | Page 65 | Page 66 | Page 67 | Page 68 | Page 69 | Page 70 | Page 71 | Page 72 | Page 73 | Page 74 | Page 75 | Page 76 | Page 77 | Page 78 | Page 79 | Page 80 | Page 81 | Page 82 | Page 83 | Page 84 | Page 85 | Page 86 | Page 87 | Page 88 | Page 89 | Page 90 | Page 91 | Page 92 | Page 93 | Page 94 | Page 95 | Page 96 | Page 97 | Page 98 | Page 99 | Page 100 | Page 101 | Page 102 | Page 103 | Page 104 | Page 105 | Page 106 | Page 107 | Page 108 | Page 109 | Page 110 | Page 111 | Page 112 | Page 113 | Page 114 | Page 115 | Page 116 | Page 117 | Page 118 | Page 119 | Page 120 | Page 121 | Page 122 | Page 123 | Page 124 | Page 125 | Page 126 | Page 127 | Page 128 | Page 129 | Page 130 | Page 131 | Page 132 | Page 133 | Page 134 | Page 135 | Page 136 | Page 137 | Page 138 | Page 139 | Page 140 | Page 141 | Page 142 | Page 143 | Page 144 | Page 145 | Page 146 | Page 147 | Page 148 | Page 149 | Page 150 | Page 151 | Page 152 | Page 153 | Page 154 | Page 155 | Page 156 | Page 157 | Page 158 | Page 159 | Page 160 | Page 161 | Page 162 | Page 163 | Page 164 | Page 165 | Page 166 | Page 167 | Page 168 | Page 169 | Page 170 | Page 171 | Page 172 | Page 173 | Page 174 | Page 175 | Page 176 | Page 177 | Page 178 | Page 179 | Page 180 | Page 181 | Page 182 | Page 183 | Page 184 | Page 185 | Page 186 | Page 187 | Page 188 | Page 189 | Page 190 | Page 191 | Page 192 | Page 193 | Page 194 | Page 195 | Page 196 | Page 197 | Page 198 | Page 199 | Page 200 | Page 201 | Page 202 | Page 203 | Page 204 | Page 205 | Page 206 | Page 207 | Page 208 | Page 209 | Page 210 | Page 211 | Page 212