News articles on green

---
Mongabay.com news articles on green in blog format. Updated regularly.






Man selling eagles on Facebook arrested in Indonesia

(07/07/2015) Police in Indonesia's second city of Surabaya, a hotbed of wildlife trafficking, seized 16 eagles of various types from a trafficker who was using Facebook to connect with potential customers. A tip alerted the authorities to the trafficker. They used the Internet to confirm his activities before moving to arrest him at his house in Surabaya's Bubutan area.
Tanzanian study says education, better signing could reduce animal vehicle collisions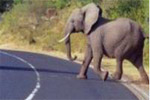 (07/06/2015) Animal vehicle collisions (AVCs) take an incredible toll on wildlife worldwide. In the United States, for example, as many as 1.5 million deer, moose, and other ungulates are annually involved in vehicle crashes, with all yearly U.S. wildlife collisions costing $1 billion and causing 29,000 human injuries. Still, drivers and the media tend to downplay these costs to world wildlife and automotive safety.
'Land sparing' vs. 'land sharing': scientists weigh in on how to improve biodiversity on farms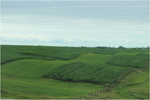 (07/06/2015) To protect natural ecosystems, some conservationists advocate 'land sparing,' in which farmers intensify agricultural practices to boost yields, theoretically enabling them to forgo expansion into natural areas. Others advocate 'land sharing,' in which farmers take over more land but use more environmentally friendly practices. Researchers studied the relative effects of the two approaches on biodiversity.
US ambassador reiterates commitment to controversial Okinawa air base, a setback for endangered dugong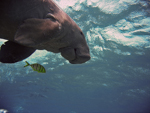 (07/06/2015) A longstanding plan to relocate a major US airbase on the Japanese island of Okinawa has provoked local ire. Opponents claim the development will cause catastrophic environmental damage and seal the fate in the region of the iconic dugong, a cousin of the manatee. Hopes of a long-awaited breakthrough were frustrated recently when a meeting between the US ambassador to Japan and the anti-air base governor of Okinawa ended with the US reiterating its commitment to the new base.
First Resources the latest palm oil giant to announce zero-deforestation commitment
(07/03/2015) Palm oil giant First Resources has committed to eliminate deforestation and rights abuses from its supply chain, making it the first palm producer operating primarily at the grower level to do so. The policy is the latest in a wave of sustainability commitments from corporations that produce, trade and use palm oil. To realize its new commitment, First Resources will have to resolve numerous land disputes its operations are involved in with local communities in Indonesia.
Can a wild fishery be bred? Indonesia's plan to restock its oceans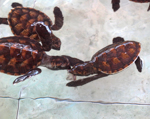 (07/02/2015) The Indonesian government is planning to restock depleted marine animals in its national oceans. But restocking schemes there and abroad have had mixed results, and the government has released few details about the plan, raising questions about its sustainability.
Happy July 4th weekend: new red, white, and blue species discovered

(07/02/2015) An independent researcher has described a spectacular red, white, and blue crayfish just in time for the fourth of July. The new species, named Cherax pulcher, was first discovered in Japanese pet shops by Christian Lukhaup before he finally tracked down the animal to creeks in remote West Papua, Indonesia.
Damming Dissent: Community leaders behind bars in Guatemala after opposing hydro projects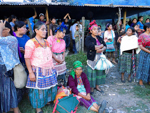 (07/02/2015) The Guatemalan government has granted concessions for several hydroelectric dams in the department of Huehuetenango without consulting the local Mayan population or obtaining their consent, activists charge. Communities resisting the dam projects have been experiencing a multi-pronged crackdown, including arrests and at least three murders.
Brazilian police and scientists team up to crack down on illegal timber trade
(07/01/2015) Seven years ago, Brazil's São Paulo State Environmental Police set out to crack down on the illegal timber trade. In 2011, during one of their most ambitious inspection operations, officers inspected nearly 350 trucks and more than 60 lumberyards in just two days. Discovering an array of violations, they responded by delivering 50 violation notices and issuing BRL $2.2 million (USD $1.4 million) in fines.
Scientists raise population estimate for world's most endangered sloth

(07/01/2015) There may be more pygmy sloths than believed, according to a new paper in the Journal of Mammalogy. Scientists originally estimated a population of less than 500 pygmy sloths on Escudo de Veraguas Island off the coast of Panama, the only place in the world where these diminutive sloths survive.
Indonesian tycoon bears responsibility for devastating mud volcano, contends new research

(07/01/2015) A mud volcano responsible for displacing more than 40,000 people in Indonesia's East Java province was caused by an oil and gas company owned by one of the country's richest tycoons, and not by an earthquake as company executives and some scientists have claimed, according to new research out of Austraila's Adelaide University that aspires to put to matter to rest.
'Criminalization' of local people in Indonesian province rife amid oil palm, coal booms
(07/01/2015) A coalition of local NGOs in Indonesia's East Kalimantan province is campaigning for an end to the criminalization of residents who oppose plantation and mining projects on their land. The issue was a theme in the government's recently concluded national inquiry into land conflicts affecting indigenous peoples, and last week President Joko Widodo promised to secure the release of indigenous citizens who had been criminalized.
Dilma disappoints with weak rainforest target

(06/30/2015) Brazilian President Dilma Rousseff disappointed environmentalists with what they call weak commitments on reducing deforestation and supporting renewable energy announced today during her visit to the White House.
Using DNA evidence to pinpoint poaching zones
(06/30/2015) A study published last week in Science showed that most of the ivory being trafficked today comes from two areas in Africa: savanna elephant ivory from southeast Tanzania in East Africa and forest elephant ivory from the meeting point of Gabon, the Republic of Congo, Cameroon, and Central African Republic.
Taking technology out in the cold: working to conserve snow leopards
(06/30/2015) Conservation work is important not just in tropical rainforests, but also in snow-covered peaks and steep slopes, the home of snow leopards and a number of unusual ungulates, including blue sheep and Asiatic ibex. When these and other native prey are scarce, snow leopards may resort to eating more livestock, which turns herders against them.
Palm oil plantations used to 'reforest' parts of Brazil despite being wildlife deserts
(06/30/2015) A recent study systematically documented bird biodiversity within oil palm plantations, finding they contain fewer species than secondary forest and even cattle pasture. As oil palm grows as a commodity in Brazil – and can legally even be used to "reforest" land – how can a country that has made big gains in reducing deforestation in recent years balance this powerhouse industry with environmental welfare?
Into the great unknown: The ability of global forests to store carbon is at risk
(06/30/2015) The world's tropical and subtropical forests absorb 1.1 trillion kg. of carbon from the atmosphere every year, storing it in soil and living and dead biomass. Amazonian forests alone store more carbon than any other ecosystem on earth. That's important because any carbon that is stored in biomass is carbon not being released to the atmosphere and contributing to climate change.
U.S. to remove extinct cougar from Endangered Species Act

(06/30/2015) The U.S. government has declared the Eastern cougar extinct more than 80 years after its a believed a hunter in Maine wiped out the last individual. Scientists still dispute whether the Eastern cougar was a distinct subspecies, but either way officials believe the original population that roamed much of the Eastern U.S. and Canada is gone—and has been for decades.
'Sea change' in clothing industry means more protections for forests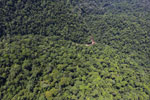 (06/30/2015) Sateri has become the latest major viscose producer to adopt a new wood- and pulp-sourcing policy aimed at removing deforestation from its supply chain. The company, the world's third-largest viscose producer, joins Aditya Birla and Lenzing, the two biggest, in making commitments to stop buying wood pulp from natural or endangered forests.
Big reserve expansion gives tigers a boost in India
(06/29/2015) A hundred years ago, there were thirteen times as many tigers in the world as there are today, ranging from Turkey across the Eurasian continent to the eastern coast of Russia. The 13 countries that contain the world's last tigers today - a mere, 2,500 mature individuals - are challenged with increasing protected tiger habitat to prevent crowding and inbreeding, while facing extreme funding and space constraints. One state in India, however, has found a cost-effective way to give tigers more room.
Lions return to Rwanda

(06/29/2015) After 15 years, the roar of lions will once again be heard in Rwanda. Today the NGO, African Parks, will begin moving seven lions from South Africa to Rwanda's Akagera National Park. It was here that Rwanda's last lions were poisoned by cattle herders after the Rwandan genocide left the park wholly unmanaged.
Corporations rush to make zero-deforestation commitments, but is it working?
(06/29/2015) Every year, more companies pledge to stop using ingredients whose production cause tropical deforestation. Retailers and brands making voluntary commitments – mostly involving palm oil – include Johnson & Johnson, Unilever, Colgate and Wilmar, the world's largest palm oil trader. Among 2014 joiners were Cargill, Krispy Kreme, Dunkin's Donuts and Baskin' Robbins, with 2015 bringing the addition of McDonald's, Archer Daniels Midland and Yum! Brands (owner of Pizza Hut, KFC, and Taco Bell).
Chinese turtle heist sends rare Philippine species to brink of extinction, international rescue underway
(06/29/2015) On Friday, June 19, Philippine authorities raided a warehouse on the island of Palawan and confiscated more than 4,000 live, illegally harvested rare turtles, only days before they were to be shipped to foreign food and pet markets. The massive haul included over 3,800 critically endangered Philippine forest turtles – animals in very poor health and showing signs of severe neglect from long captivity.
After two decades, Indonesia publishes plan for tackling invasive species
(06/29/2015) Twenty years after ratifying a legally binding UN convention which obligates parties to deal with invasive alien species, considered to be main direct drivers of biodiversity loss across the globe, Indonesia has drawn up a national strategic plan on the matter. The plan outlines steps to mitigate invasive species through policy, institution-building, information management, research and education, capacity-building and public awareness.
NGOs, activists fret new role for Indonesia's spy agency
(06/29/2015) A mysterious new partnership between Indonesia's spy agency and Investment Coordinating Board (BKPM) to boost foreign investment has civil society wary of deepening agrarian conflict in the post-authoritarian country. While little is known about the specifics of the new arrangement, activists point to Indonesia's long history of repression by state security forces to warn that intelligence reports on local sentiment could be manipulated to stymie community opposition to development projects.
Satellite-based forest mapping platform hits its stride

(06/26/2015) Global Forest Watch, a young online forest monitoring and alert system, provides free, near real-time data on deforestation and tree-cover loss around the world. It allows users to create customized interactive maps detailing forest change, concession areas for natural resource extraction and agricultural production, conservation areas, and community land boundaries. The system acts as a research platform, providing country profiles and rankings based on forest statistics, and allowing users to crowdsource forest data and stories.
New reserve in Peru will protect nearly a million acres of pristine forest
(06/26/2015) A tract of Peruvian rainforest bigger than California's Yosemite National Park is officially more protected, with formal declaration of the Maijuna-Kichwa Regional Conservation Area (RCA) made last week in Lima. Those involved with the reserve's formation hope it will safeguard the area's biodiversity as well as the ancestral homeland and way of life of local indigenous communities.
Illegal forest clearing spotted in Aceh's biggest peat swamp
(06/26/2015) Encroachers have been clearing forest at three locations in Aceh's biggest peat swamp since February, the Rawa Singkil Wildlife Reserve, analysis of Landsat satellite imagery by environmental group Greenomics-Indonesia shows. The area is home to the densest population of critically endangered Sumatran orangutans in the Leuser Ecosystem.
Indonesian president pledges to accelerate long-delayed indigenous rights law
(06/26/2015) Indonesian President Joko Widodo reiterated his commitments yesterday to a number of indigenous rights issues at a meeting in Jakarta with the Indigenous Peoples Alliance of the Archipelago (AMAN). He promised to make passing a long-delayed law on indigenous peoples rights a priority; acknowledged the importance of setting up a task force for indigenous issues; agreed to the release, in principle, of indigenous citizens who have been "criminalized," or unfairly prosecuted by the law; and pledged to encourage economic development based on indigenous models as a counterweight to big business.
Do we need to move 'beyond certification' to save forests?
(06/25/2015) Over the past two years dozens of companies have established 'zero-deforestation' or 'deforestation-free' policies for the commodities they source, trade, and produce. The pace of adoption has been staggeringly fast for a business that have been historically slow-moving relative to other industries. Some sectors, like the Indonesian palm oil industry and the Brazilian soy industry, even appear to be nearing a critical mass where the majority of international buyers and traders are now bound by such agreements.
Meager post-Ebola harvests worsen food insecurity in West Africa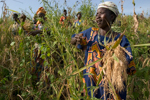 (06/25/2015) The chaos caused by the Ebola outbreak made it much more than a public health issue in affected West African nations. Farmers, who are central to West African economies, suffered, and the effects have hampered the region's efforts to recover from the disease.
Video: camera traps highlight wildlife diversity of 'forgotten' park

(06/25/2015) Things appeared to be on the upswing in Cambodia's vast Virachey National Park in the early 2000s. Conservation groups were surveying the area and the World Bank had committed $5 million in funds. But then the Cambodia government handed out a mining exploration permit covering 90 percent of the park.
Status change to come for Indonesia's partial logging moratorium?
(06/25/2015) Indonesia's Environment and Forestry Ministry might upgrade the partial logging moratorium from a presidential instruction to a government regulation, or PP, later this year, a ministry official said this week. The change would take place after the ministry completes its semiannual revision of the moratorium map for the ninth time in November, according to The Jakarta Post.
Filipino fishermen operating illegally in Indonesia's Sangihe Islands

(06/25/2015) Indonesia's crackdown on illegal, unreported and unregulated (IUU) fishing has so far focused on foreign boats weighing more than 30 gross tons that enter Indonesian waters. But the Indonesian maritime affairs and fisheries minister recently expressed her dismay that in Sangihe, a group of islands directly adjacent to the Philippines, Filipino fishermen are allowed to operate with impunity.
Amazon tribe creates 500-page traditional medicine encyclopedia
(06/24/2015) In one of the great tragedies of our age, indigenous traditions, stories, cultures and knowledge are winking out across the world. Whole languages and mythologies are vanishing, and in some cases even entire indigenous groups are falling into extinction. This is what makes the news that a tribe in the Amazon have created a 500-page encyclopedia of their traditional medicine all the more remarkable.
Indigenous Indonesians file land claim against IndoMet coal project
(06/24/2015) A few months before BHP Billiton's Haju mine is set to begin operations in Indonesia's Central Kalimantan province, residents of nearby Maruwei village have filed a claim for 1,000 hectares of land in the area under a new land rights scheme for indigenous peoples. The scheme, called Dayak Misik and introduced by the provincial government last year, allocates 10 hectares to each village for communal use and five hectares to each household.
On the fence about wildlife fencing: new paper outlines research needed to resolve debate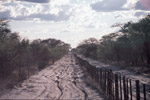 (06/23/2015) Fencing is used to protect wildlife against poaching and human encroachment, and also to protect people and livestock from wildlife. As a conservation strategy, it has proponents as well as detractors. A recent paper by a team of 45 international researchers in the Journal of Applied Ecology questions the wisdom of erecting wildlife fencing in dryland ecosystems. It also seeks to ease decision-making on fencing initiatives by setting a research agenda to answer open questions that will help resolve the debate.
Social-media firestorm defends popular man-eating tiger in India, raising conservation questions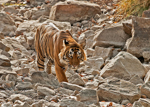 (06/23/2015) On May 8, 56-year-old forest guard Rampal Saini was attacked and killed by a tiger named Ustad with a bite to the neck. Ustad was hugely popular with tourists and had gained a massive online following. But Saini was Ustad's fourth victim in a span of five years, and his death unleashed a heated debate — especially online — about whether the ensuing decision to banish him to captivity was the right one.
Cat update: lion and African golden cat down, Iberian lynx up

(06/23/2015) A new update of the International Union for Conservation of Nature (IUCN) has categorized the West African population of lions—which is considered genetically distinct and separate from East and Central African lions—as Critically Endangered. Based largely on a paper in 2014, the researchers estimate that there are only 121-375 mature lions in West Africa today.
Indonesia to revive controversial sugarcane plan in Aru?
(06/23/2015) The Indonesian agriculture minister's recent comments that the Aru archipelago in the country's eastern waters will be one of three sites for a major new sugarcane initiative has sparked an outcry among civil society groups, as a similar controversial plan was shelved only last year after activists waged a long battle against it.
Controversy emerges over alleged deforestation policy breach by APRIL supplier
(06/23/2015) Less than three weeks after APRIL unveiled a sustainability policy that is supposed to protect natural forests, an environmental group is alleging that one of the Indonesian forestry giant's subsidiaries is already breaching the commitment. But APRIL refuted the claim and says it continues to stand by the policy.
Bengkulu governor orders review of mining permits
(06/23/2015) The governor of Indonesia's Bengkulu province reiterated his commitment to bringing mining in the province under control, as environmentalists urge his administration to crack down on rampant illegality in the sector and the threat it poses to protected areas.
Bunge palm oil supplier plans to clear peatlands for plantations
(06/22/2015) BLD Plantation Bhd, a Malaysian palm oil company, plans to clear some 14,000 hectares of peatlands in Sarawak, on the island of Borneo, potentially putting it in conflict with the deforestation-free sourcing policy established by American agribusiness giant Bunge, say campaigners who filed a grievance over the matter.




Page 1 | Page 2 | Page 3 | Page 4 | Page 5 | Page 6 | Page 7 | Page 8 | Page 9 | Page 10 | Page 11 | Page 12 | Page 13 | Page 14 | Page 15 | Page 16 | Page 17 | Page 18 | Page 19 | Page 20 | Page 21 | Page 22 | Page 23 | Page 24 | Page 25 | Page 26 | Page 27 | Page 28 | Page 29 | Page 30 | Page 31 | Page 32 | Page 33 | Page 34 | Page 35 | Page 36 | Page 37 | Page 38 | Page 39 | Page 40 | Page 41 | Page 42 | Page 43 | Page 44 | Page 45 | Page 46 | Page 47 | Page 48 | Page 49 | Page 50 | Page 51 | Page 52 | Page 53 | Page 54 | Page 55 | Page 56 | Page 57 | Page 58 | Page 59 | Page 60 | Page 61 | Page 62 | Page 63 | Page 64 | Page 65 | Page 66 | Page 67 | Page 68 | Page 69 | Page 70 | Page 71 | Page 72 | Page 73 | Page 74 | Page 75 | Page 76 | Page 77 | Page 78 | Page 79 | Page 80 | Page 81 | Page 82 | Page 83 | Page 84 | Page 85 | Page 86 | Page 87 | Page 88 | Page 89 | Page 90 | Page 91 | Page 92 | Page 93 | Page 94 | Page 95 | Page 96 | Page 97 | Page 98 | Page 99 | Page 100 | Page 101 | Page 102 | Page 103 | Page 104 | Page 105 | Page 106 | Page 107 | Page 108 | Page 109 | Page 110 | Page 111 | Page 112 | Page 113 | Page 114 | Page 115 | Page 116 | Page 117 | Page 118 | Page 119 | Page 120 | Page 121 | Page 122 | Page 123 | Page 124 | Page 125 | Page 126 | Page 127 | Page 128 | Page 129 | Page 130 | Page 131 | Page 132 | Page 133 | Page 134 | Page 135 | Page 136 | Page 137 | Page 138 | Page 139 | Page 140 | Page 141 | Page 142 | Page 143 | Page 144 | Page 145 | Page 146 | Page 147 | Page 148 | Page 149 | Page 150 | Page 151 | Page 152 | Page 153 | Page 154 | Page 155 | Page 156 | Page 157 | Page 158 | Page 159 | Page 160 | Page 161 | Page 162 | Page 163 | Page 164 | Page 165 | Page 166 | Page 167 | Page 168 | Page 169 | Page 170 | Page 171 | Page 172 | Page 173 | Page 174 | Page 175 | Page 176 | Page 177 | Page 178 | Page 179 | Page 180 | Page 181 | Page 182 | Page 183 | Page 184 | Page 185 | Page 186 | Page 187 | Page 188 | Page 189 | Page 190 | Page 191 | Page 192 | Page 193 | Page 194 | Page 195 | Page 196 | Page 197 | Page 198 | Page 199 | Page 200 | Page 201 | Page 202 | Page 203 | Page 204 | Page 205 | Page 206 | Page 207 | Page 208 | Page 209 | Page 210 | Page 211 | Page 212 | Page 213 | Page 214