News articles on green energy

---
Mongabay.com news articles on green energy in blog format. Updated regularly.








Oceans hold vast potential for wind power

(07/09/2008) The North Pacific, Tasmania, New Zealand, Tierra del Fuego in South America, and the mid-latitudes of the Atlantic and Pacific oceans are potential locations for wind power generation, according to new satellite data from NASA.
Whale biomimicry inspires better wind turbines

(07/07/2008) By studying and mimicking the characteristics of the flippers, fins and tails of whales and dolphins, engineers have devised more a efficient way to generate wind power, reports a researcher presenting at the Society for Experimental Biology's Annual Meeting in Marseille, France.
Clean energy gold rush in 2007

(07/01/2008) New investment in renewables and energy efficiency surpassed $148 billion in 2007, rising 60 percent rise from 2006, according to an analysis issued Tuesday July 1 by the UN Environment Programme (UNEP). High oil prices drove the trend.
94% of Americans support solar energy development

(06/11/2008) 94 percent of Americans say it's important for the U.S. to develop and use solar energy, according to a new poll that found support for solar power runs across the political spectrum.
Cellulosic biofuels may be viable alternative to gas within 5 years

(06/02/2008) A new institute in the San Francisco Bay Area is seeking to make cellulosic biofuel an economically viable alternative to corn ethanol and gasoline within the next five years. The Joint BioEnergy Institute (JBEI), a partnership between three national laboratories and three Bay Area universities, was formed in June 2007 after the U.S. Department of Energy awarded the institute a $125 million grant to develop better methods for making liquid biofuels from the natural cellulose in trees and grasses. JBEI researchers expect cellulosic biofuels to yield more energy, produce less greenhouse gases, and have less impact on the environment than other alternatives to gasoline, such as corn ethanol.
Future cities will be more like ecosystems that enrich society and the environment

(05/28/2008) As The World Science Festival continues in New York this week, specialists in vastly diverse fields across scientific disciplines are coming together to talk about ideas, problems and solutions. From Astronomy to Bioacoustics, the dialogues about challenges and opportunities are rich and inspiring. At the front of this year's festival rests the issue of sustainability and how scientists, specialists and society will address the imminent environmental and economic trials we are sure to face in a rapidly changing and uncertain world.
Will earthquake slow dam-building spree in China?

(05/14/2008) Monday's 7.9 magnitude earthquake in Sichuan province left more than 15,000 dead, 26,000 missing, and 64,000 injured, according to state media. The quake also "seriously damaged" two hydroelectric stations in Maoxian county, leading authorities to warn that the dams could burst. More than 2,000 troops were sent to work on the Zipingku Dam, a dam said to be in "great danger" of collapse upriver from Dujiangyan, the city at the quake's epicenter.
46% of Brazil's energy comes from renewable sources

(05/13/2008) Preliminary data from Brazil's energy ministry shows that bioenergy derived from sugar cane surpassed hydroelectric power as Brazil's secondary largest source of energy in 2007, reports Biopact.
Mutant algae may fuel cars

(04/02/2008) Chemically-modified algae may become key to the production of hydrogen gas which seen by researchers as a next-generation fuel source.
Arizona seeks to become the 'Persian Gulf' of solar energy

(02/22/2008) With a Spanish company's plans to dramatically expand solar capacity in the desert southwest of Phoenix, Arizona Governor Janet Napolitano said Arizona could become the "Persian Gulf of solar energy," according to the Associated Press.
New World Record for Solar-to-Grid Conversion Efficiency

(02/13/2008) Sandia National Laboratories and Stirling Energy Systems (SES) set a new solar-to-grid system conversion efficiency record by achieving a 31.25 percent net efficiency, nearly a 2 point gain of the previous record of 29.4 percent set in 1984.
Carbon tax would make China greener and reduce warming risks

(02/07/2008) Driven by booming economic growth and rapid urbanization, China's carbon dioxide emissions are surging. At the same time, forecasts suggest climate change will have an immense impact on the country, with rising sea levels projected to swamp key industrial areas and diminished rainfall reducing agricultural output. Given this outlook, a new policy paper published in Science argues that China will need to embark on a cleaner path to growth, one that is less dependent on coal. The authors say that international assistance in the form of carbon funds could help persuade Chinese leadership to move towards more environmentally-friendly energy technologies.
Biofuels are worsening global warming

(02/07/2008) Converting native ecosystems for production of biofuel feed stocks is worsening the greenhouse gas emissions they are intended to mitigate, reports a pair of studies published in the journal Science. The studies follow a series of reports that have linked ethanol and biodiesel production to increased carbon dioxide emissions, destruction of biodiverse forest and savanna habitats, and water and air pollution.
Indonesia seeks to cut fuel subsidies via biofuels

(01/15/2008) Biofuels will make up 10 percent of Indonesia's fuel transport consumption by 2010 under a plan announced Monday by a senior government official, according to Reuters. The initiative could ease the economic impact of fuel subsidies - currently some of the highest in the world - in Indonesia, while boosting demand for locally produced bioenergy crops including palm oil, jatropha, sugar cane and cassava.
E.U. may ban palm oil biodiesel

(01/15/2008) The E.U. may ban imports of certain biofuel feedstocks that damage the environment, reports The New York Times. Environmentalists say some biofuels like palm oil are driving the destruction of biologically-rich rainforests and may produce more emissions than conventional fossil fuels.
Switchgrass a better biofuel source than corn

(01/07/2008) Switchgrass yields more than 540 percent more energy than the energy needed to produce and convert it to ethanol, making the grassy weed a far superior source for biofuels than corn ethanol, reports a study published in Proceedings of the National Academy of Sciences (PNAS).
New process turns chicken fat into biodiesel

(12/20/2007) Chemical engineers at the University of Arkansas have devised a way to convert chicken fat into biodiesel fuel. The process advances efforts to "develop commercially viable fuel out of plentiful, accessible and low-cost feedstocks and other agricultural by-products," according to the researchers.
Termites may produce cleaner biofuels

(11/23/2007) Termites may be the key to greener, more effective biofuels, report scientists writing in the November 22 edition of the journal Nature.
Wind could supply baseline electrical power

(11/22/2007) Wind power, long considered to be as fickle as wind itself, can be groomed to become a steady, dependable source of electricity and delivered at a lower cost than at present, according to scientists at Stanford University.
Wind power takes a toll on migratory bats

(09/12/2007) The danger of wind turbines to birds has long been known and well documented. Most recently several studies and articles have attempted to place the level of bird casualties in perspective: "More birds killed by cats than wind turbines". But lesser known--and lesser studied--is the effect wind turbines have on bat populations. Collisions between groups of bats and wind turbines have been observed at numerous turbines in America, Australia, and Europe. While these fatalities, sometimes killing hundreds of bats, have been seen for years, their cause remains unknown.
Clean energy will improve health of the world's poor

(09/12/2007) Clean energy will help people live longer and healthier lives reports a study published in The Lancet. The research recommends a switch from fossil fuels towards renewable energy and improved access to electricity for the world's poor.
Guidelines to ensure biofuels production won't hurt the environment

(08/30/2007) Environmentalists have long seen biofuels as a means to improve the sustainability of transportation and energy use since they are a renewable source of energy that can be replenished on an ongoing basis. Further, because biofuels are generally derived from plants, which absorb carbon from the atmosphere as they grow, biofuel production offers the potential to help offset carbon dioxide emissions and mitigate climate change. Nonetheless, in recent years, there has been considerable backlash against biofuels, which are increasingly viewed as a threat to the environment. Green groups now point to large-scale land conversion for energy crops, higher food prices, and a spate to studies that suggest net emissions from corn ethanol are little better than those from fossil fuels, to caution that biofuels can cause more problems than they address.
Florida to cut greenhouse gas emissions 80% by 2050

(07/15/2007) Florida plans to cut greenhouse gas emissions 80 percent from 1990 levels by 2050 according to Charlie Crist, Florida's Republican state governor. Due to its low elevation and hurricane risk, global warming may pose the biggest risk to Florida of any U.S. state.
Miscanthus bests switchgrass as biofuel source

(07/11/2007) In a side-by-side comparison, miscanthus (Miscanthus x giganteus) grass has been shown to be a more productive bioenergy source than switchgrass (Panicum virgatum), according to research presented at the annual meeting of the American Society of Plant Biologists in Chicago.
Home improvement giant bans illegal wood products

(07/08/2007) B&Q, the third largest retailer of home improvement materials, announced that within three years, all Brazilian wood products sold in China would come from certified sources. B&Q has 60 stores in China.
Inflatable concentrators may cut cost of solar below conventional power plants

(07/08/2007) Cool Earth Solar, a Livermore, California-based company developing an innovative way for capturing solar energy, has merged with Radiant Energy, a developer and owner of renewable and clean energy power plants including solar, geothermal, and hydroelectric. Rob Lamkin, CEO of Radiant Energy, says the merger will help ramp up the technology, which uses inflatable solar concentrators to minimize use of refined silicon, a costly ingredient in solar cells. Lamkin says the technology could dramatically reduce the cost solar energy, bringing it below the cost natural gas-fired power plants.
Nobel prize winner debates future of nuclear power

(06/07/2007) Two renowned energy experts sparred in a debate over nuclear energy Wednesday afternoon at Stanford University. Amory Lovins, Chairman and Chief Scientist of the Rocky Mountain Institute, an energy think tank, argued that energy efficiency and alternative energy sources will send nuclear power the way of the dinosaurs in the near future. Dr. Burton Richter, winner of the 1976 Nobel Prize in physics, said that nuclear would play an important part of the future energy portfolio needed to cut carbon emissions to fight global warming.
First U.S. offshore wind farm wins preliminary approval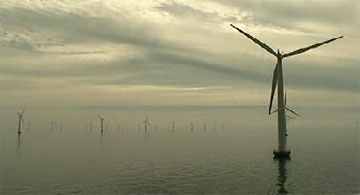 (05/23/2007) The first offshore wind farm in the United States won preliminary approval Tuesday from a panel of Delaware state officials. According to published reports, four Delaware state agencies ordered Delmarva Power, an electric utility, to buy wind-generated power from Bluewater Wind, the wind farm's developer.
Sugar could power hydrogen fuel cars says VTU researcher

(05/22/2007) Sugary carbohydrates could be used to produce low-cost hydrogen to power fuel cells report researchers writing in the May 23 issue of PLoS ONE, the online, open-access journal from the Public Library of Science ( www.plosone.org)
Ancient Amazonian technology could save the world
(05/17/2007) Terra preta, the ancient charcoal-based soil used by ancient Amazonians to create permanently fertile agricultural lands in the rainforest, is getting serious consideration as a means to fight global warming and meet domestic energy demand, reports an article in Scientific American.
Wind energy has promise, but brings concerns, reports study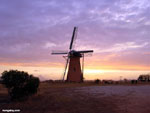 (05/03/2007) While wind-generated energy has the potential to produce clean electricity without carbon dioxide emissions, more research is needed to understand its impact on wildlife says a new report from the National Research Council, a private, nonprofit institution that provides science and technology advice under a congressional charter.
Cleantech investment booms, but energy tech bubble looms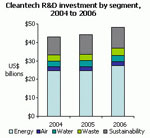 (04/30/2007) Investors are pouring money into clean technology, with spending on R&D rising to $48 billion in 2006, up 9% from 2005, reports a new study by Lux Research, an emerging technology research and advisory firm. However, the report warns that the energy technology sector is showing signs of a bubble, with initial public offering (IPO) values and venture capital deployments more than doubling last year.
Dutch plan restricts biofuels that damage environment
(04/29/2007) The Netherlands has proposed a system to reduce the environmental impact of biofuels production. The country becomes the first in the world to establish such guidelines. Environmentalists have expressed increasing concern for the establishment of energy crops in biodiverse and carbon-rich ecosystems like the peatlands of Indonesia and the Amazon rainforest. They say that conversion of these forests for oil palm and soybeans is threatening endangered species and worsening global warming. Further, they warn, demand for such biomass energy products is driving up prices for food crops.
Dutch will demand rainforest-friendly palm oil
(04/27/2007) In a report scheduled to be released today, the Dutch government will outline criteria for growing biofuels in a more sustainable manner. The guidelines will be closely watched by the rest of Europe, which is currently struggling with the environmental pros and cons of large-scale energy crop production, especially in ecologically-sensitive areas like the Amazon and Indonesian rainforests.
Biodiesel may worsen global warming relative to petroleum diesel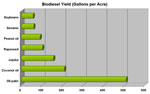 (04/23/2007) Biodiesel made from rapeseed could increase rather than reduce greenhouse emissions compared to conventional diesel fuels, reports a new study published in the journal Chemistry & Industry. Overall the researchers found that petroleum diesel and rapeseed biodiesel, presently the main biofuel used across Europe, have a similar environmental impact. The results suggest that efforts to mitigate climate change through the adoption of rapeseed biodiesel may be of little use beyond energy security.





Ethanol may be greener but have higher health cost

(04/18/2007) Widespread burning of ethanol as fuel may increase the number of respiratory-related deaths and hospitalizations relative to gasoline, according to a new study by Stanford University atmospheric scientist Mark Z. Jacobson. The report comes as mounting environmental concerns cloud the benefits of using ethanol as a green alternative to fossil fuels.




Page 1 | Page 2 | Page 3 | Page 4 | Page 5