News articles on green energy

---
Mongabay.com news articles on green energy in blog format. Updated regularly.










EPA carbon proposal may be crucial step in addressing global climate change

(06/10/2014) The U.S. Environmental Protection Agency's (EPA) June 2nd regulation proposal hit all the expected chords. Following on the heels of a January regulation for new power plants, the Clean Power Plan focuses on all existing electric generation. By 2030, the plan aims to reduce 2005-level carbon dioxide emissions by 30 percent.
Offshore wind farms could blunt hurricane damage
(02/28/2014) Massive offshore wind turbine arrays would reduce hurricane wind speeds and storm surge, reports a study published this week in Nature Climate Change. And while the size (tens of thousands of turbines) and cost (hundreds of billions of dollars) is difficult to imagine, the reduction in storm damage and value of electricity produced would effectively bring the price tag to zero according to the study authors.
Africa to build world's largest dam, but who will benefit?
(12/17/2013) The Congo River traverses the continent of Africa, ending its journey in the Democratic Republic of Congo (DRC) where it spills 1.5 million cubic feet per second into the Atlantic Ocean. Now, plans are underway to harness this tremendous force of water in what promises to be the world's largest hydropower scheme, The Grand Inga.
Featured video: U.S. forests decimated for 'green' bio-energy in Europe

(12/12/2013) Wetland forests in the southern U.S. are becoming the victims of a drive for so-called green energy in Europe, according to activist group Dogwood Alliance, which has produced a new video highlighting the issue. The activists contend that bio-energy that depends on chopping down forests not only devastates vital ecosystems, but actually emits more greenhouse gases than traditional fossil fuels.
Top scientists propose ambitious plans to safeguard world from devastating climate change
(12/05/2013) Two degrees is too much: that's the conclusion of a landmark new paper by top economists and climatologists, including James Hansen formerly of NASA. The paper, appearing in the open-access journal PLoS ONE, argues that global society must aim for only one degree Celsius of warming above pre-industrial levels to avoid the worst impact of climate change, and not the two degrees Celsius agreed on by the world's governments. But given that the world's governments are not yet on track to even achieve the two degree target, how could we lock in just one? A combination of renewable energy, nuclear power, and, most importantly, a rising price on carbon emissions, according to the eighteen scientists.
Coal's future carbon costs may make it more expensive than wind energy
(11/15/2013) At first glance, a recent report from the U.S. White House on the social cost of carbon reads like a daunting economics exam. A small chart poses the first question about the price tag policymakers attach to future greenhouse gas emissions: Does each metric ton of carbon that billows into the air cost $11, $33 or $52? The answer is all of the above.
'Remarkable year': could 2012 mark the beginning of a carbon emissions slowdown?

(10/31/2013) Global carbon dioxide emissions hit another new record of 34.5 billion tons last year, according to a new report by the Netherlands Environment Assessment Agency and the European Commission's Joint Research Centre, but there may be a silver lining. Dubbing 2012 a "remarkable year," the report found that the rate of carbon emission's rise slowed considerably even as economic growth continued upward.
Renewable energy revolution will require better management of metals

(10/30/2013) If we are to avoid catastrophic climate change, scientists say global society will need a rapid and aggressive replacement of fossil fuel energy for renewable, such as solar, wind, geo-thermal, and tidal. While experts say a renewable revolution would not only mitigate climate change but also likely invigorate economies and cut life-threatening pollution, such a revolution would not come without challenges. According to a new commentary piece in Nature Geoscience one of the largest challenges of the renewable revolution will be rising demand for metals, both rare and common.
Indigenous groups protest hydropower congress as controversy hits meeting in Malaysia
(05/22/2013) The opening of the International Hydropower Association (IHA) World Congress in the Malaysian state of Sarawak was marred today by indigenous protests and controversy after a local indigenous leader was barred from attending a pre-conference workshop. Over 300 people from local indigenous people protested the ongoing construction of around a dozen mega-dams in the state that threaten to flood traditional lands, force villages to move, and upend lives in the state. The Sarawak hydropower plans are some of the most controversial in the world—making the choice of Kuching, Sarawak for the IHA meeting an arguably ironic one—with critics contending that the dams are have been mired in political corruption, including kickbacks and bribes. IHA brings together dam builders, banks, and various related organizations worldwide every two years.
'Carbon bubble' could cause next global financial crisis

(04/22/2013) The world could be heading for a major economic crisis as stock markets inflate an investment bubble in fossil fuels to the tune of trillions of dollars, according to leading economists. "The financial crisis has shown what happens when risks accumulate unnoticed," said Lord (Nicholas) Stern, a professor at the London School of Economics. He said the risk was "very big indeed" and that almost all investors and regulators were failing to address it.
Proposed coal plant threatens Critically Endangered Philippine cockatoo
(04/02/2013) One kilometer off the Philippine island of Palawan lies the Rasa Island Wildlife Sanctuary; here forest grows unimpeded from a coral island surrounded by mangroves and coral reefs. Although tiny, over a hundred bird species have been recorded on the island along with a major population of large flying foxes, while in the waters below swim at least 130 species of coral fish, three types of marine turtles, and that curious-looking marine mammal, dugongs. Most importantly, perhaps, the island is home to the world's largest population of Philippine cockatoos (Cacatua haematuropygia), currently listed as Critically Endangered. But, although uninhabited by people, Rasa Island may soon be altered irrevocably by human impacts.
Featured video: moving green, local energy forward in Southeast Asia
(02/25/2013) A new video highlights the work and drive of renewable energy proponents at the inaugural meeting of Southeast Asia Renewable Energy People's Assembly (SEAREPA) in the Malaysian state of Sabah. Held last year, the meeting brought together 80 organizations from 12 countries to discuss the potential and challenges of green energy in the region. The idea of SEAREPA came about after activists in Sabah successfully defeated plans for a coal-fired power plant to be built adjacent to old-growth rainforest and one of the world's most biodiverse coral reefs.
Looking bright: solar power passes 100 gigawatts worldwide

(02/12/2013) The world's installed solar capacity hit 101 gigawatts last year, according to new data from the European Photovoltaic Industry Association (EPIA). Last year alone, saw nearly 30 gigawatts of solar power added around the world.
Paradigm shift needed to avert global environmental collapse, according to author of new book The Blueprint: Averting Global Collapse
(01/10/2013) Global strategist, trained educator, and international lecturer Daniel Rirdan set out to create a plan addressing the future of our planet. His book The Blueprint: Averting Global Collapse, published this year, does just that. "It has been a sixty hour a week routine," Rirdan told mongabay.com in a recent interview. "Basically, I would wake up with the burden of the world on my shoulders and go to sleep with it. It went on like this for eighteen months." It becomes apparent when reading The Blueprint that it was indeed a monumental undertaking.
Google invests $200m in west Texas wind farm

(01/09/2013) Google has made another big renewable energy investment, putting $200 million into a Texas wind farm, said the Internet search giant in a post on its official blog.
'No-one is listening to the entire scientific community': global carbon emissions set to hit new high
(12/03/2012) Global carbon dioxide (CO2) emissions from industrial sources are set to hit a new record high this year according to a new analysis by Global Carbon Project. The analysis in Nature Climate Changes predicts that CO2 emissions will rise another 2.6 percent, hitting 35.6 billion tonnes. The scientists warn that such steep climbs in global emissions year-after-year means that the door is rapidly closing on a global agreement to keep temperatures from rising 2 degree Celsius (3.6 degrees Fahrenheit) above pre-industrial levels.
As Doha Climate Summit kicks off, more ambitious cuts to greenhouse gas emissions needed

(11/26/2012) As the 18th meeting of the UN Framework Convention on Climate Change (UNFCCC) kicks off this morning in oil and gas rich Qatar, the world body warns that much more ambitious greenhouse gas cuts are needed to keep catastrophic climate change at bay. A new report by the UN Environment Program (UNEP) and the European Climate Foundation finds that even if all current emissions pledges are kept, the world will still spew 8 billion tonnes of CO2 equivalent above what is needed by 2020, putting the globe on a fast-track to dangerous climate change.
Micro-hydro and decentralized green energy goals set in Borneo

(11/04/2012) The first ever meeting of the Southeast Asia Renewable Energy People's Assembly (SEAREPA) ended with agreement on 12 future projects, including developing community micro-hydro power and pushing for new policies on decentralized renewable energy in the region. Held in Malaysian state of Sabah on the island, the meeting brought together 130 people from some 80 different groups.
After defeating coal plant, Borneo hosts renewable energy meeting

(10/31/2012) Last year, a coalition of environmentalists and locals won a David-versus-Goliath battle against a massive coal plant in the Malaysian state of Sabah on Borneo. After facing a protracted campaign—including expert analysis of green energy options for Sabah—the state government announced it was scuttling plans to build the coal plant on a beach overlooking the Coral Triangle. Now, victorious grassroots campaigners are hosting the inaugural meeting of the Southeast Asia Renewable Energy People's Assembly (SEAREPA), bringing 80 organizations together to discuss green energy options across southeast Asia.
Will we need to pull carbon out of the atmosphere to save ourselves?
(10/17/2012) This year saw the Arctic sea ice extent fall to a new and shocking low, while the U.S. experienced it warmest month ever on record (July), beating even Dust Bowl temperatures. Meanwhile, a flood of new research has convincingly connected a rise in extreme weather events, especially droughts and heatwaves, to global climate change, and a recent report by the DARA Group and Climate Vulnerability Forum finds that climate change contributes to around 400,000 deaths a year and costs the world 1.6 percent of its GDP, or $1.2 trillion. All this and global temperatures have only risen about 0.8 degrees Celsius (1.44 degrees Fahrenheit) since the early Twentieth Century. Scientists predict that temperatures could rise between 1.1 degrees Celsius (2 degrees Fahrenheit) to a staggering 6.4 degrees Celsius (11.5 degrees Fahrenheit) by the end of the century.
Wind can power the world, says two new studies

(09/10/2012) Wind power is up to the challenge of providing more-than-enough energy for global society, according to two new and unrelated studies. Both studies, one published in Nature Climate Change and the other in the Proceedings of the National Academy of Sciences (PNAS), found that wind power from surface winds alone could produce hundreds of terrawatts (TW) meanwhile current global society uses around 18 TW.
Tigers vs. coal in India: when big energy meets vanishing cats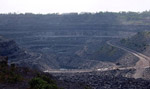 (08/01/2012) Burning coal fuels climate change, causes acid rain, and spreads toxic pollutants into the environment, but now a new Greenpeace report warns that coal may also imperil the world's biggest feline: the tiger. Home to world's largest population of tigers—in this case the Bengal subspecies (Panthera tigris tigris)—India is also the world's third largest coal producer. The country's rapacious pursuit of coal—it has nearly doubled production since 2007—has pushed the industry into tiger territory, threatening to destroy forests and fragment the tiger's already threatened population.
Soccer lights up kids' lives: new technology produces cheap, portable power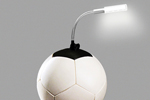 (07/16/2012) Recently, Jessica O. Matthews and Julia Silverman, both Harvard graduates, were awarded Harvard Foundation's Scientists of the Year award for their invention of a soccer ball that converts kinetic energy to electricity. The two women, who were both social science majors, came up with the idea when they were taking an engineering class for non-majors and were required to create a project that would address a social problem.
Scientists: if we don't act now we're screwed
(06/07/2012) Scientists warn that the Earth may be reaching a planetary tipping point due to a unsustainable human pressures, while the UN releases a new report that finds global society has made significant progress on only four environmental issues out of ninety in the last twenty years. Climate change, overpopulation, overconsumption, and ecosystem destruction could lead to a tipping point that causes planetary collapse, according to a new paper in Nature by 22 scientists. The collapse may lead to a new planetary state that scientists say will be far harsher for human well-being, let alone survival.
Another record in global carbon emissions puts globe on track for 'devastating consequences'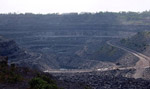 (05/29/2012) Last year global carbon dioxide emissions rose 3.2 percent to a new record of 31.6 gigatons, keeping the planet on track to suffer dangerous climate change, which could propel global crop failures, sea level rise, worsening extreme weather, and mass extinction. According to data from the International Energy Agency (IEA), China's carbon emissions rose the most last year (9.3 percent) while emissions in Europe and the U.S. dipped slightly. China is the currently the world's largest emitter of greenhouse gases, while the U.S. has emitted the most historically.
Consumption, population, and declining Earth: wake-up call for Rio+20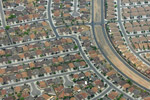 (05/15/2012) Currently, human society is consuming natural resources as if there were one-and-a-half Earths, and not just a single blue planet, according to the most recent Living Planet Report released today. If governments and societies continue with 'business-as-usual' practices, we could be consuming three years of natural resources in 12 months by 2050. Already, this ecological debt is decimating wildlife populations worldwide, disproportionately hurting the world's poor and most vulnerable, threatening imperative resources like food and water, heating up the atmosphere, and risking global well-being.
For Earth Day, 17 celebrated scientists on how to make a better world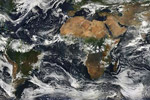 (04/22/2012) Seventeen top scientists and four acclaimed conservation organizations have called for radical action to create a better world for this and future generations. Compiled by 21 past winners of the prestigious Blue Planet Prize, a new paper recommends solutions for some of the world's most pressing problems including climate change, poverty, and mass extinction. The paper, entitled Environment and Development Challenges: The Imperative to Act, was recently presented at the UN Environment Program governing council meeting in Nairobi, Kenya.
Will mega-dams destroy the Amazon?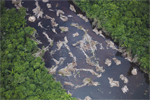 (04/18/2012) More than 150 new dams planned across the Amazon basin could significantly disrupt the ecological connectivity of the Amazon River to the Andes with substantial impacts for fish populations, nutrient cycling, and the health of Earth's largest rainforest, warns a comprehensive study published in the journal PLoS ONE. Scouring public data and submitting information requests to governments, researchers Matt Finer of Save America's Forests and Clinton Jenkins of North Carolina State University documented plans for new dams in Bolivia, Brazil, Colombia, Ecuador, and Peru.
Solar cells cross new threshold

(03/08/2012) Imagine powering your cell phone by leaving it on the window sill. Sounds like science fiction? Actually, this might soon turn into reality. Scientists have been exploring the potential of solar energy for decades. One of the cheapest ways to turn solar energy into electricity is by creating solar cells from organic polymers, which are easily manipulated by scientists. However, such cells are not efficient at converting sunlight to electricity. But now, researchers at UCLA's Department of Materials Science and Engineering have come up with a new type of solar cell that sets the record in changing sunlight into power.
Activists form network to fight Sarawak dam-building spree

(02/15/2012) Last October indigenous groups, local people, and domestic NGOs formed the Save Sarawak's Rivers Network to fight the planned construction of a dozen dams in the Malaysian state on the island of Borneo. The coalition opposes the dam-building plans, known as the Sarawak Corridor of Renewable Energy (SCORE) initiative, due to its impacts on indigenous and river communities, the destruction of pristine rainforest, and the degradation of the state's rivers.
Brazilian mining company connected to Belo Monte dam voted worst corporation

(01/31/2012) The world's second largest mining company, Vale, has been given the dubious honor of being voted the world's most awful corporation in terms of human rights abuses and environmental destruction by the Public Eye Awards. Vale received over 25,000 votes online, likely prompted in part by its stake in the hugely controversial Brazilian mega-dam, Belo Monte, which is being constructed on the Xingu River. An expert panel gave a second award to British bank Barclay's for speculation on food prices, which the experts stated was worsening hunger worldwide.
California sets tough new clean car standards

(01/30/2012) The U.S. state that takes climate change most seriously—California—has unanimously approved new rules dubbed the Advanced Clean Cars program to lower carbon emissions, reduce oil dependence, mitigate health impacts from pollution, and save consumers money in the long-term. According to the new standards, by 2025 cars sold in California must cut greenhouse gas emissions by 34 percent and smog emissions by 75 percent. The program will also require 15.4 percent of all cars sold in California to be zero or near-zero emissions by 2025.
Emissions from palm oil biodiesel highest of major biofuels, says EU

(01/30/2012) Greenhouse gas emissions from palm oil-based biodiesel are the highest among major biofuels when the effects of deforestation and peatlands degradation are considered, according to calculations by the European Commission. The emissions estimates, which haven't been officially released, have important implications for the biofuels industry in Europe.
Sarah Laskow: even renewable energy has a dark side

(01/03/2012) Sarah Laskow is a freelance writer who has covered environmental issues for Grist, GOOD, and Newsweek.com, among others. Raised in New Jersey and educated at Yale where she studied literature, Sarah now lives across the river in Manhattan with her partner. She's done extensive traveling in West Africa, Europe, and Central America. Sarah can be found on twitter as @slaskow.
Top 10 Environmental Stories of 2011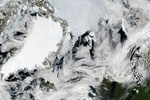 (12/22/2011) Many of 2011's most dramatic stories on environmental issues came from people taking to the streets. With governments and corporations slow to tackle massive environmental problems, people have begun to assert themselves. Victories were seen on four continents: in Bolivia a draconian response to protestors embarrassed the government, causing them to drop plans to build a road through Tipnis, an indigenous Amazonian reserve; in Myanmar, a nation not known for bowing to public demands, large protests pushed the government to cancel a massive Chinese hydroelectric project; in Borneo a three-year struggle to stop the construction of a coal plant on the coast of the Coral Triangle ended in victory for activists; in Britain plans to privatize forests created such a public outcry that the government not only pulled back but also apologized; and in the U.S. civil disobedience and massive marches pressured the Obama Administration to delay a decision on the controversial Keystone XL pipeline, which would bring tar sands from Canada to a global market.
Facebook pledges to go green...someday soon

(12/15/2011) After a massive campaign by Greenpeace to get everyone's favorite social media site to quit coal energy, Facebook has announced a new energy policy and a partnership with Greenpeace. The policy includes a goal "to power all of our operations with clean and renewable energy," however does not go so far as to state it is dropping coal at this time or give a timeline as to when it may do so. Still, Greenpeace is calling the new policy by Facebook a victory.
Mixed reactions to the Durban agreement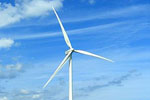 (12/12/2011) Early Sunday morning over 190 of the world's countries signed on to a new climate agreement at the 17th UN Framework Convention on Climate Change (UNFCCC) in Durban, South Africa. The summit was supposed to end on Friday, but marathon negotiations pushed government officials to burn the midnight oil for about 36 extra hours. The final agreement was better than many expected out of the two week summit, but still very far from what science says is necessary to ensure the world does not suffer catastrophic climate change.
Featured video: are hydroelectric dams a solution to climate change?

(11/28/2011) A new video from NGOs International Rivers and Friends of the Earth International argues that a spree of dam building in the tropics is a false solution to the climate crisis. The video has been released to coincide with the UN's 17th Climate Summit now beginning in Durban, South Africa.
IEA warns: five years to slash emissions or face dangerous climate change

(11/13/2011) Not known for alarmism and sometimes criticized for being too optimistic, the International Energy Agency (IEA) has warned that without bold action in the next five years the world will lock itself into high-emissions energy sources that will push climate change beyond the 2 degrees Celsius considered relatively 'safe' by many scientists and officials.
The dam-maker: China involved in 289 dam projects worldwide

(11/06/2011) China is currently involved in 289 hydroelectric projects worldwide, as reported by International Rivers. Most of the dams are built for hydropower, and over half are considered 'large' projects. The list includes completed dams, one currently under construction, and ones in initial planning stages.
Hydroelectric dam still a greenhouse gas source after 10 years

(11/01/2011) Hydroelectric power is often promoted as green energy, yet dams, especially in the tropics, can be significant sources of greenhouse gas emissions. When built, reservoirs trap vegetation, which, as it rots, emits both methane and carbon into the atmosphere. A new study in Science of the Total Environment found that a dam in Lao PDR remained a significant source of greenhouse gas emission even a decade after construction.
Sober up: world running out of time to keep planet from over-heating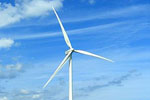 (10/24/2011) If governments are to keep the pledge they made in Copenhagen to limit global warming within the 'safe range' of two degrees Celsius, they are running out of time, according to two sobering papers from Nature. One of the studies finds that if the world is to have a 66 percent chance of staying below a rise of two degrees Celsius, greenhouse gas emissions would need to peak in less than a decade and fall quickly thereafter. The other study predicts that pats of Europe, Asia, North Africa and Canada could see a rise beyond two degrees Celsius within just twenty years.
Judge: work must halt on monster dam, Belo Monte

(09/29/2011) The decades-long fight over Brazilian megadam, the Belo Monte, has taken another U-turn after a judge ordered work to stop immediately since the dam would devastate vital fishing grounds for local people. In June the Brazilian government gave a go-ahead to the $11-17 billion dam, despite large-scale opposition from indigenous groups along the Xingu River and international outcry, including a petition signed by 600,000 people.
Expanding ethanol threatens last remnants of Atlantic Forest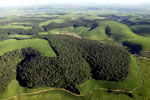 (09/26/2011) Aggressively expanding sugarcane ethanol is putting Brazil's nearly-vanished Atlantic Forest at risk, according to an opinion piece in mongabay.com's open-access journal Tropical Conservation Science. Already down to less than 12 percent of its original extent, the Atlantic Forest—home to over 7,000 species that survive no-where else—is facing a new peril from ethanol, used as an alternative to gasoline and often touted as 'green' or 'environmentally-sustainable'.
Activists worldwide push for leaving the fossil fuel age behind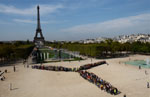 (09/25/2011) On six continents, in over 75 percent of the world's countries, people came out en masse yesterday to attend over 2,000 events to demonstrate the power of renewable energy to combat global climate change. As apart of the 'Moving Planet' campaign organized by 350.org, activists created a giant human-windmill in Paris, gave out bike lessons in Buenos Aires, practiced evacuation measure in the Pacific island of Tuvalu imperiled by rising sea levels, and marched in Cape Town for a strong agreement at the next UN climate meeting hosted in Durban, South Africa.
Germany proves the promise of renewable energy: hits 20 percent renewables

(09/06/2011) As many people in the United States question whether renewable energy is a viable alternative to fossil fuels, Germany now derives 20.8 percent of its electricity from renewable sources—a 15 percent increase since 2000, reports Der Spiegel. In contrast, the United States generates only 10 percent of its electricity from renewable sources, 6 percent of which comes from hydroelectric power, which some environmentalists see as unacceptably damaging.
Has the green energy revolution finally arrived?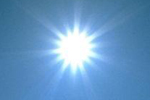 (05/17/2011) When historians look back at the fight to combat climate change—not to mention the struggle to overcome our global addiction to fossil fuels—will 2011 be considered a watershed moment? Maybe. In the last couple months, three countries—each in the top ten in terms of GDP—have suddenly made major renewable energy promises. Germany, Japan, and, just today, Britain are giving speeches and producing plans that, if successful, could be the global tipping point needed to move beyond fossil fuels to, one day, a world run entirely on green.
Violent protests follow approval of massive dam project in Patagonia

(05/16/2011) The wild rivers of Patagonia may soon never be the same. Last week, Chile's Aysén Environmental Review Commission approved the environmental assessment of a five dam proposal on two rivers. The approval, however, is marred in controversy and has set off protests in many cities, including Santiago. Critics say the series of dams will destroy a largely untouched region of Patagonia.
Obama focuses on climate change in Earth Day proclamation

(04/22/2011) After a long absence of speaking directly to the issue of climate change—he did not mention it once in his State of the Union speech in January—US President Barack Obama used his Earth Day proclamation to focus on it.
Opposition rises against Mekong dam as governments ponder decision
(04/13/2011) As the governments of Laos, Thailand, Cambodia, and Vietnam ready to meet on April 19th to decide whether or not to move forward on the Xayaburi Dam, critics of Mekong River hydroelectric project have warned that the dam will devastate freshwater biodiversity and impact the livelihoods of hundreds of thousands, if not more. Last month a coalition of 263 organizations from 51 countries released a letter in opposition of the dam's construction.
Gas from 'fracking' not climate friendly

(04/13/2011) It appears every time a fossil fuels industry claims its energy is 'green' or 'climate-friendly', scientists discover this just isn't so. The most recent culprit is natural gas produced by an already controversial method known as hydraulic fracturing, or fracing, which extracts the gas from shale basins. A new study in Climatic Change has found that the process of fracing is worse than coal over a 20-year period and about equal over 100-years. Coal had long been considered the worst climate offender of all energy options.
World Bank proposes to limit funding to coal plants

(04/05/2011) Following years of criticism from environmentalists and some governments the World Bank has proposed new rules regarding carbon-intensive coal plants, reports the Guardian. The new rules would allow lending for coal-fired plants only to the world's poorest nations and would only lend after other alternatives, such as renewable energy, had been ruled out.
Bats worth billions

(04/03/2011) US agriculture stands to lose billions in free ecosystem services from the often-feared and rarely respected humble bat. According to a recent study in Science bats in North America provide the US agricultural industry at least $3.7 billion and up to a staggering $53 billion a year by eating mounds of potentially pesky insects. Yet these bats, and their economic services, are under threat by a perplexing disease known as white-nose syndrome (WNS) and to a lesser extent wind turbines.
Sustainability takes only cents

(03/30/2011) Real economic global results from decoupling economic growth from unsustainable natural resource management and inefficient industrial processes are the central themes of Cents and Sustainability. Implementing wealth creation strategies at the local, national, and international level is the primary economic theme, or modus operandi, of the 21st Century, as opposed to 20th Century wealth appropriation strategies. This begets the question do concrete auditable examples of wealth creation while sustainably managing natural resources at the national level exist?
Clean energy investments rise 630% in 7 years

(03/29/2011) According to a report by the US Pew Environment Group global clean energy investments, which do not include nuclear power, jumped 630% since 2004. The report detailing 2010 clean energy investments found that China remains the global leader in clean energy, while the US fell from 2nd to 3rd. This is the second year in a row that the US fell: in 2009 it lost first place to China. In all $243 billion were invested in clean energy in 2010.
Bill Clinton takes on Brazil's megadams, James Cameron backs tribal groups

(03/28/2011) Former US President, Bill Clinton, spoke out against Brazil's megadams at the 2nd World Sustainability Forum, which was also attended by former California governor, Arnold Schwarzenegger, and film director, James Cameron, who has been an outspoken critic of the most famous of the controversial dams, the Belo Monte on the Xingu River.
New organization seeks to make biofuels sustainable, but is it possible?

(03/24/2011) Not too long ago policy-makers, scientists, and environmentalists saw biofuels as a significant tool to provide sustainable energy to the world. However, as it became clear that biofuels were not only connected to deforestation, pollution, and greenhouse gas emissions (sometimes exceeding fossil fuels), but also competed with the global food supply and water sources, biofuels no longer seemed like a silver bullet, but a new problem facing the environment and the poor. Still, biofuels have persisted not so much due to perceived environmental benefits, but to entrenched interests by the big agricultural industry, lobbyists, and governments. However, the Roundtable on Sustainable Biofuels (RSB) hopes to begin certifying environmentally friendly biofuels that don't compete with food production or water sources.
World's most controversial dam, Brazil's Belo Monte, back on

(03/06/2011) A recent injunction against controversial dam, Belo Monte, in Brazil has been overturned, allowing the first phase of construction to go ahead. The ruling by a higher court argued that not all environmental conditions must be met on the dam in order for construction to start.
Indigenous leaders take fight over Amazon dams to Europe

(03/02/2011) Three indigenous Amazonian leaders spent this week touring Europe to raise awareness about the threat that a number of proposed monster dams pose to their people and the Amazon forest. Culminating in a press conference and protests in London, the international trip hopes to build pressure to stop three current hydroelectric projects, one in Peru, including six dams, and two in Brazil, the Madeira basin industrial complex and the massive Belo Monte dam. The indigenous leaders made the trip with the NGO Rainforest Foundation UK, including support from Amazon Watch, International Rivers, and Rainforest Concern.
Photo gallery: Borneo paradise saved from beachside coal plant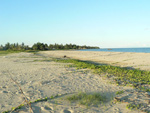 (02/22/2011) Last week the Malaysian government announced it had canceled a plan to build a coal-fired plant in the state of Sabah. The coal plant would have rested on a beach overlooking the Coral Triangle, one of the ocean's most biodiverse ecosystems, and 20 kilometers from Tabin Wildlife Reserve, a rainforest park home to endangered orangutans, Sumatran rhinos, Bornean elephants, and thousands of other species. The cancellation followed a long campaign by a group of environmental and human right organizations dubbed Green SURF (Sabah Unite to Re-power the Future), which argued that the coal plant would have imperiled ecosystems, ended artisanal fishing in the area, hurt tourism, and tarnished Sabah's reputation as a clean-green state.
Coal's true cost in the US: up to half a trillion

(02/20/2011) According to the global market coal is cheap, yet a new study in the Annals of the New York Academy of Sciences finds that the hidden costs of coal are expensive, very expensive. Estimating the hidden costs of coal, such as health and environmental impacts, the study found that burning coal costs the US up to $523 billion a year. Dubbed 'externalities' by economists, the paper argues that these costs are paid by the American public to the tune of $1,698 per person every year.
Environmentalists and locals win fight against coal plant in Borneo

(02/16/2011) Environmentalists, scientists, and locals have won the battle against a controversial coal plant in the Malaysian state of Sabah in northern Borneo. The State and Federal government announced today that they would "pursue other alternative sources of energy, namely gas, to meet Sabah's power supply needs." Proposed for an undeveloped beach on the north-eastern coast of Borneo, critics said the coal plant would have threatened the Coral Triangle, one of the world's most biodiverse marine ecosystems, and Tabin Wildlife Reserve, home to Critically Endangered Sumatran rhinos and Bornean orangutans. Local fishermen feared that discharges from the plant would have imperiled their livelihood.
The ocean crisis: hope in troubled waters, an interview with Carl Safina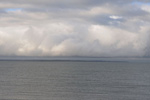 (02/07/2011) Being compared—by more than one reviewer—to Henry Thoreau and Rachel Carson would make any nature writer's day. But add in effusive reviews that compare one to a jazz musician, Ernest Hemingway, and Charles Darwin, and you have a sense of the praise heaped on Carl Safina for his newest work, The View from Lazy Point: A Natural Year in an Unnatural World. Like Safina's other books, The View from Lazy Point focuses on the beauty, poetry, and crisis of the world's oceans and its hundreds-of-thousands of unique inhabitants. Taking the reader on a journey around the world—the Arctic, Antarctic, and the tropics—Safina always returns home to take in the view, and write about the wildlife of his home, i.e. Lazy Point, on Long Island. While Safina's newest book addresses the many ways in which the ocean is being degraded, depleted, and ultimately imperiled as a living ecosystem (such as overfishing and climate change) it also tweezes out stories of hope by focusing on how single animals survive, and in turn how nature survives in an increasingly human world. However, what makes Safina's work different than most nature writing is his ability to move seamlessly from contemporary practical problems to the age-old philosophical underpinnings that got us here. By doing so, he points a way forward.
Is Obama's clean energy revolution possible?

(01/26/2011) Last night US President Barack Obama called for a massive green energy make-over of the world's largest economy. Describing the challenge as 'this generation's Sputnik moment' the US president set a goal of producing 80 percent of America's energy by clean sources by 2035. While this may sound improbable, two recent analyses back the president up, arguing that a global clean energy revolution is entirely possible within a few decades using contemporary technology and without breaking the bank. "Based on our findings, there are no technological or economic barriers to converting the entire world to clean, renewable energy sources," Mark Z. Jacobson, a professor of civil and environmental engineering at Stanford said in a press release. "It is a question of whether we have the societal and political will."
New Zealand: Can you sink a rainbow?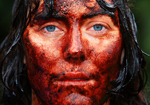 (01/12/2011) In a world wracked by Cold War, New Zealand's Prime Minister, David Lange defends the country's fledgling nuclear free policy by refusing the nuclear warship USS Buchanan's entry into New Zealand's shores. A historic day. He had received an almost unprecedented standing ovation at the Oxford Union Debate four months earlier where he had successfully argued the proposition that "nuclear weapons are morally indefensible". He was held high in the estimations of dedicated environmental group, Greenpeace for doing this, who were also fighting for the cease of nuclear testing and for New Zealand to be a leader in environmental protection. In addition, he was respected by his country for his bold stand.
U.S. Department of Energy makes $1.5B loan to massive solar plant

(12/30/2010) The U.S. Department of Energy has finalized a guarantee to provide a loan of $1.45 billion to Abengoa Solar Inc. which will fund the world's largest parabolic trough concentrating solar plant. The plant is expected to serve 70,000 households and avoid 475,000 tons of carbon dioxide emissions per year.
Formal petition filed against Belo Monte dam

(11/11/2010) The struggle against Brazil's Belo Monte dam on the Xingu River continues as today indigenous groups sent a formal petition to the Inter-American Commission on Human Rights (IACHR) to suspend the dam's construction, stating the dam violates human rights. The dam, which has been contentious in Brazil for decades, would flood 500 square miles of rainforest, lead to the removal of at least 12,000 people in the region, and upturn the lives of 45,000 indigenous people who depend on the Xingu River for survival.
US elects barrage of climate change deniers, threatening support for green energy

(11/03/2010) The US midterm election, which won Republicans the House but safeguarded the Senate for Democrats, has brought in a number of self-proclaimed climate change deniers, ending any likelihood that an energy bill will be passed over the next two years and essentially stumbling the White House's strategy on climate change. Newly elected Republican Senators Rand Paul of Kentucky and Marc Rubio of Florida, both members of the nascent Tea Party, have stated they do not believe in climate change despite that scientists overwhelming agree the Earth is warming due to human impacts.
Majority of Americans confused on climate change basics

(10/17/2010) Most Americans don't understand the basics of climate change, according to a new poll by researchers with Yale. The poll found that over half of Americans deserve an 'F' on basic understanding of climate science and climate change, while only 1% would receive an 'A'.
Humanity consuming the Earth: by 2030 we'll need two planets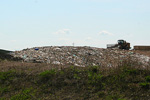 (10/13/2010) Too many people consuming too much is depleting the world's natural resources faster than they are replenished, imperiling not only the world's species but risking the well-being of human societies, according to a new massive study by the World Wildlife Fund (WWF), entitled the Living Planet Report. The report finds that humanity is currently consuming the equivalent of 1.5 planet Earths every year for its activities. This overconsumption has caused biodiversity—in this case, representative populations of vertebrate animals—to fall by 30 percent worldwide since 1970. The situation is more dire in tropical regions where terrestrial species' populations have fallen by 60 percent and freshwater species by 70 percent.
New Google wind project moves clean energy forward in US

(10/12/2010) While the US has fallen far behind China and Europe in clean energy power, an announcement by Google today brings hope to green energy backers. Google is putting its considerable name and a lot of cash behind a $5 billion energy transmission line that would link up proposed wind turbines off the US's East Coast to consumers.
Farms in the sky, an interview with Dickson Despommier
(10/12/2010) To solve today's environmental crises—climate change, deforestation, mass extinction, and marine degradation—while feeding a growing population (on its way to 9 billion) will require not only thinking outside the box, but a "new box altogether" according to Dr. Dickson Despommier, author of the new book, The Vertical Farm. Exciting policy-makers and environmentalists, Despommier's bold idea for skyscrapers devoted to agriculture is certainly thinking outside the box.
Do wind farms drive local warming?

(10/11/2010) Using decades-old data researchers have proven a long-suspected effect of wind turbines: under certain conditions large-scale wind farms can change local weather. Temperatures recorded from a wind farm in San Gorgonio, California in 1989 shows that turbines cooled local temperatures during the day, but warmed them at night. However, researchers in the paper published in the Proceedings of the National Academy of Science say that the impact of wind farms on local temperatures will not be the same everywhere.
Environmental destruction undercuts global economy to the tune of $6.6 trillion

(10/06/2010) The cost of environmental damage to the global economy hit 6.6 trillion US dollars—11 percent of the global GDP—in 2008, according to a new study by the Principles for Responsible (PRI) and UNEP Finance Initiative. If business continues as usual, the study predicts that environmental damage will cost 28 trillion dollars by 2050. The new study undercuts the popular belief that environmental health and economic welfare are at odds.
146 dams threaten Amazon basin

(08/19/2010) Although developers and government often tout dams as environmentally-friendly energy sources, this is not always the case. Dams impact river flows, changing ecosystems indefinitely; they may flood large areas forcing people and wildlife to move; and in the tropics they can also become massive source of greenhouse gases due to emissions of methane. Despite these concerns, the Amazon basin—the world's largest tropical rainforest—is being seen as prime development for hydropower projects. Currently five nations—Brazil, Bolivia, Colombia, Ecuador, and Peru—are planning over 146 big dams in the Amazon Basin. Some of these dams would flood pristine rainforests, others threaten indigenous people, and all would change the Amazonian ecosystem. Now a new website, Dams in Amazonia, outlines the sites and impacts of these dams with an interactive map.
Could biochar save the world?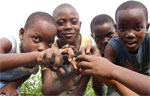 (08/16/2010) Biochar—the agricultural application of charcoal produced from burning biomass—may be one of this century's most important social and environmental revolutions. This seemingly humble practice—a technology that goes back thousands of years—has the potential to help mitigate a number of entrenched global problems: desperate hunger, lack of soil fertility in the tropics, rainforest destruction due to slash-and-burn agriculture, and even climate change. "Biochar is a recalcitrant form of carbon that will stay almost entirely unaltered in soils for very long periods of time. So you can sequester carbon in a simple, durable and safe way by putting the char in the soil. Other types of carbon in soils rapidly turn into carbon dioxide. Char doesn't," managing director of the Biochar Fund, Laurens Rademakers, told mongabay.com in a recent interview.
Visiting the Gulf: how wildlife and people are faring in America's worst environmental disaster, an interview with Jennifer Jacquet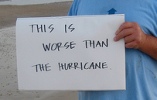 (07/29/2010) "President Obama called it 'the worst environmental disaster America has ever faced.' So I thought I should face it and head to the Gulf"—these are the opening words on the popular blog Guilty Planet as the author, marine biologist Jennifer Jacquet, embarked on a ten day trip to Louisiana. As a scientist, Jacquet was, of course, interested in the impact of the some four million barrels of oil on the Gulf's already depleted ecosystem, however she was as equally keen to see how Louisianans were coping with the fossil fuel-disaster that devastated their most vital natural resource just four years after Hurricane Katrina.
Fishermen express doubts about coal plant overlooking their fishing grounds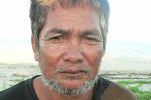 (06/13/2010) Local fishermen in the Malaysian state of Sabah are uncertain of their future, if the government pushes ahead to build a 300 megawatt coal power plant. They have been told they will be moved from their current seaside village to one deeper inland, and while the coal plant will provide manual labor work in its building stages, the fishermen express doubt about the impacts over the long-term effects of the coal plant on their livelihood. "Someone mentioned that maybe we have to move to Sungai Merah, which is quite far from our village. We are also worried because Sungai Merah is not next to the sea like [our village] is," local fishermen, Ali Hia, told Green SURF and Save Sandakan members—two local organizations opposed to the coal plant—who recently visited the seaside village of Kampung Sinakut, site of the proposed coal plant.
EU mandates biofuel environmental standards to protect forests, wetlands

(06/10/2010) The E.U. today moved to establish environmental standards for biofuels used in Europe, requiring biofuels to deliver "substantial reductions" in greenhouse gas emissions and not result in conversion of forests or wetlands, according to a statement from the European Commission.
Left Must Fine Tune Its Position on Cuba Embargo in Light of Oil Spill

(05/26/2010) With no end in sight to the environmental catastrophe in the Gulf of Mexico, some may wonder whether BP's spill could become truly international in scope. That, at least, is the fear in Cuba where people are worried that strong currents could carry the slick to pristine white beaches along the island's northern coast. In a rare moment of cooperation underscoring the grave seriousness posed by the BP spill, the U.S. and Cuban governments have been holding talks on the matter.
Photos reveal paradise-like site for coal plant in Borneo

(05/21/2010) With the world's eyes on the environmental catastrophe in the Gulf of Mexico, many are beginning to ponder the rightness of not just America's, but the world's dependence on fossil fuels. Yet large-scale fossil-fuel energy projects continue to march ahead, including one in the Malaysian state of Sabah on Borneo to build a 300 MW coal plant, which has come under fierce opposition from locals (already the project has been forced to move locations twice). The newest proposal will build the coal plant, as photos below reveal, on an undeveloped beach overlooking the Coral Triangle, one of the world's most biodiverse marine environments, with transmission lines likely running through nearby pristine rainforest that are home to several endangered species, including orangutans and Bornean rhinos.
Who's to blame for the oil spill?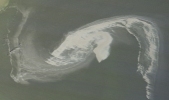 (05/04/2010) America, we deserve the oil spill now threatening the beautiful coast of Louisiana. This disaster is not natural, like the earthquake that devastated Haiti or tsunami that swept Southeast Asia in 2006; this disaster is man-made, American-made in fact, pure and simple. So, while in the upcoming weeks and months—if things go poorly—we may decry the oil-drenched wildlife, the economic loss for the region, the spoiled beeches, the wrecked ecosystems, the massive disaster that could take decades if not longer to recover from, we, as Americans, cannot think smugly that we are somehow innocent of what has happened. You play with fire: you will get burned. You drill for oil 1,500 meters below the surface of the ocean, you open up oil holes across the surface of your supposedly-beloved landscape, sooner or later there will be a spill, and sometimes that spill will be catastrophic.
US emissions from coal could be stopped in 20 years

(05/03/2010) A new study in Environmental Science and Technology (ES&T) concludes that the US could stop all emissions from coal-fired plants within 20 years time using only existing technologies and some that will be ready within the next decade. Such an accomplishment would go a long way toward lowering the US's carbon emissions and mitigating the impact of climate change, according to the researchers.
U.S. approves first offshore wind farm

(04/28/2010) The Obama Administration has approved the nation's first offshore wind farm after more than eight years of legal challenges, reports the Associated Press.
Half a trillion spent on fossil fuel subsidies mostly "a complete waste of money"

(04/22/2010) Despite a warming planet linked to the burning of fossil fuels, governments around the world still spend 500 billion US dollars a year subsidizing fossil fuel industries. A new study from the Global Subsidies Initiative (GSI) of the International Institute for Sustainable Development looks at the difficult political situation behind ending fossil fuel subsidies.
World failing on every environmental issue: an op-ed for Earth Day
(04/22/2010) The biodiversity crisis, the climate crisis, the deforestation crisis: we are living in an age when environmental issues have moved from regional problems to global ones. A generation or two before ours and one might speak of saving the beauty of Northern California; conserving a single species—say the white rhino—from extinction; or preserving an ecological region like the Amazon. That was a different age. Today we speak of preserving world biodiversity, of saving the 'lungs of the planet', of mitigating global climate change. No longer are humans over-reaching in just one region, but we are overreaching the whole planet, stretching ecological systems to a breaking point. While we are aware of the issues that threaten the well-being of life on this planet, including our own, how are we progressing on solutions?
What happened to China?: the nation's environmental woes and its future
(04/01/2010) China has long been an example of what not to do to achieve environmentally sustainability. Ranking 133rd out of 146 countries in 2005 for environmental performance, China faces major environmental problems including severe air and water pollution, deforestation, water-issues, desertification, extinction, and overpopulation. A new article in Science discusses the complex issues that have led to China's environmental woes, and where the nation can go to from here.
James Cameron, in real life, fights to save indigenous groups from massive dam construction in Brazil

(04/01/2010) After creating a hugely successful science-fiction film about a mega-corporation destroying the indigenous culture of another planet, James Cameron has become a surprisingly noteworthy voice on environmental issues, especially those dealing with the very non-fantastical situation of indigenous cultures fighting exploitation. This week Cameron traveled to Brazil for a three-day visit to the Big Bend (Volta Grande) region of the Xingu River to see the people and rainforests that would be affected by the construction of the Belo Monte Hydroelectric Dam. Long-condemned by environmentalists and indigenous-rights groups, the dam would destroy 500 square kilometers of pristine rainforest and force the relocation of some 12,000 people.
Analysis shows Borneo can say 'no' to coal power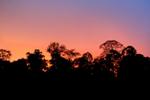 (03/17/2010) Plans for a coal power plant in the Malaysian state of Sabah in northern Borneo have run into stiff opposition. Environmentalists say the coal plant could damage extensive coral reef systems, pollute water supplies, open rainforests to mining, and contribute to global climate change, undercutting Sabah's image as a 'green' destination. The federal government contends that the coal plant is necessary to fix Sabah's energy problems. However, a recent energy audit by the Renewable and Appropriate Energy Laboratory (RAEL) at the University of California Berkeley shows that pollution-intensive coal doesn't have to be in Sabah's future.





Consumers fail at identifying green companies

(02/17/2010) An article today in New Scientist shows that American consumers have a difficult time correctly identifying green companies, often confusing 'greenwashing' for true green credentials or not bestowing enough credit where credit is truly due. By combining data from Earthsense, which polled 30,000 Americans about on their views of 'green' companies, and Trucost which assesses companies global environmental impact, New Scientist was able to discover just how confused American consumers are when it comes to identifying 'green'.




Page 1 | Page 2 | Page 3