News articles on grasslands

---
Mongabay.com news articles on grasslands in blog format. Updated regularly.





Too much of a good thing: fertilizer 'one of the three major drivers of biodiversity loss this century'


(07/14/2014) The world's grasslands are being destabilized by fertilization, according to a paper recently published in the journal Nature. In a study of 41 grassland communities on five continents, researchers found that the presence of fertilizer weakened grassland species diversity.


Good intentions, collateral damage: forest conservation may be hurting grasslands


(07/10/2014) Trees absorb CO2 and trap carbon molecules, and countless are lost as forests are felled around the world. So why not plant as many as we can? A recent paper suggests otherwise; the planting of more trees through international reforestation schemes may actually be harming tropical grasslands, which harbor endemic species and offer unique ecosystem services.


New study finds environmental damage globally may cost more than U.S. GDP


(06/06/2014) A new study added up all the world's ecosystem services – from carbon storage and crop pollination, to recreation and flood mitigation – and found, every year, nature provides $145 trillion in benefits. It also indicates that land use changes, most of which has been caused by humans, may be reducing these benefits by trillions of dollars every year.


Key highland habitat for rare condor protected in Ecuador

(01/24/2014) Conservationists have acquired a 2,800-ha (7,000-acre) property that completes the acquisition of some 108,000 ha of key Andean Condor habitat in Ecuador.


Population growth and associated food demand to take heavy toll on rainforests


(01/16/2014) Human population growth and associated food demand will likely take a heavy toll on tropical ecosystems unless major shifts occur in how crops are produced and consumed, warns a new review published in Trends in Ecology & Evolution. Noting that projections published by the U.N. now forecast the human population to swell to 11 billion before the end of the century, William F. Laurance, Jeffrey Sayer, and Kenneth Cassman highlight potential impacts of agricultural expansion on biodiversity in the tropics.


Good news: Refuge for last blue-throated macaws doubles in size in Bolivia

(01/02/2014) A reserve that is home to the world's largest population of the critically endangered blue-throated macaw (Ara glaucogularis) has been more than doubled in size, reports the American Bird Conservancy (ABC), a group that helped fund the expansion.


Scientists make one of the biggest animal discoveries of the century: a new tapir


(12/16/2013) In what will likely be considered one of the biggest (literally) zoological discoveries of the Twenty-First Century, scientists today announced they have discovered a new species of tapir in Brazil and Colombia. The new mammal, hidden from science but known to local indigenous tribes, is actually one of the biggest animals on the continent, although it's still the smallest living tapir. Described in the Journal of Mammology, the scientists have named the new tapir Tapirus kabomani after the name for 'tapir' in the local Paumari language: Arabo kabomani.


Climate change could kill off Andean cloud forests, home to thousands of species found nowhere else


(09/18/2013) One of the richest ecosystems on the planet may not survive a hotter climate without human help, according to a sobering new paper in the open source journal PLoS ONE. Although little-studied compared to lowland rainforests, the cloud forests of the Andes are known to harbor explosions of life, including thousands of species found nowhere else. Many of these species—from airy ferns to beautiful orchids to tiny frogs—thrive in small ranges that are temperature-dependent. But what happens when the climate heats up?


Zoo races to save extreme butterfly from extinction


(08/15/2013) In a large room that used to house aquatic mammals at the Minnesota Zoo, Erik Runquist holds up a vial and says, 'Here are its eggs.' I peer inside and see small specks, pale with a dot of brown at the top; they look like a single grain of cous cous or quinoa. Runquist explains that the brown on the top is the head cap of the larva, a fact that becomes more clear under a microscope when you can see the encased larva squirm. I'm looking at the eggs of a Poweshiek skipperling, a species that is more imperiled than pandas, tigers, or bluewhales. Once superabundant, only several hundred Poweshiek skipperlings may survive on Earth today and the eggs I'm looking at are the only ones in captivity.


Little NGO takes on goliath task: conserving the vanishing ecosystems of Paraguay


(08/12/2013) Landlocked in the navel of South America, the forests, wetlands and savannahs of Paraguay boast rich biodiversity and endemic species, yet the unique landscapes of Paraguay also face increasing threats, primarily from agricultural expansion. Controlled burns and clear cutting have become common practice as wildlands are converted for soy and cattle production. In some areas this land conversion is rapid: the Paraguayan Chaco, for instance, is being lost at a rate of 10% per year. One organization is working to reverse this trend. Para La Tierra (PLT) is a small NGO dedicated to the conservation of threatened habitats in Paraguay. Located on the Reserva Natural Laguna Blanca, in-between two of South America's most threatened habitats: the Atlantic Forest and the vast topical savannah known as the cerrado, PLT is in a unique position to champion conservation.


Saving the Raja of India's grasslands: new efforts to conserve the Critically Endangered Great Indian Bustard


(06/30/2013) The Great Indian Bustard, one of India's iconic birds, once ranged across most of the Indian subcontinent. Due to a variety of factors, however, the Great Indian Bustard is also now India's rarest bird and faces imminent extinction. The following is an interview with Ramki Sreenivasan, co-founder of Conservation India, a group that recently petitioned the Rajasthan Chief Minister to kick start "Project Bustard."


Higher CO2 levels cause 'greening' from fertilization effect

(05/31/2013) Rising atmospheric carbon dioxide levels has triggered 'greening' in arid regions around the world due to a fertilization effect that has increased plant growth, reports a new study published in Geophysical Research Letters.


Africa's great savannahs may be more endangered than the world's rainforests


(12/04/2012) Few of the world's ecosystems are more iconic than Africa's sprawling savannahs home to elephants, giraffes, rhinos, and the undisputed king of the animal kingdom: lions. This wild realm, where megafauna still roam in abundance, has inspired everyone from Ernest Hemingway to Karen Blixen, and David Livingstone to Theodore Roosevelt. Today it is the heart of Africa's wildlife tourism and includes staunch defenders such as Richard Leakey, Michael Fay, and the Jouberts. Despite this, the ecosystem has received less media attention than imperiled ecosystems like rainforests. But a ground-breaking study in Biodiversity Conservation finds that 75 percent of these large-scale intact grasslands have been lost, at least from the lion's point of view.


Ecological Restoration and Environmental Change: Renewing Damaged Ecosystems - book review

(12/03/2012) Stuart K. Allison, PhD's excellent book Ecological Restoration and Environmental Change: Renewing Damaged Ecosystems clearly explains the current state of affairs regarding ecological restoration. He addresses key issues and challenges to ecosystem restoration science dogma. He questions how we define ecosystem restoration and against which baseline. Baselines are various and can be difficult to define on a species by species level.


Photos: new mammal menagerie uncovered in remote Peruvian cloud forest


(10/03/2012) Every year scientists describe around 18,000 new species, but mammals make up less than half a percent of those. Yet mammal surprises remain: deep in the remote Peruvian Andes, scientists have made an incredible discovery: a rich cloud forest and alpine grassland ecosystem that may be home to no less than eight new mammal species. Although most of these new mammals are currently under study—and have not been officially described yet (a process which can take several years)—lead scientists, Horacio Zeballos of Peru and Gerardo Ceballos of Mexico are certain they have uncovered a small forest, surrounded by deforestation and farmland, that shelters a remarkable menagerie of mammals unknown to scientists until now.


Conflict and perseverance: rehabilitating a forgotten park in the Congo


(09/19/2012) Zebra racing across the yellow-green savannah is an iconic image for Africa, but imagine you're seeing this not in Kenya or South Africa, but in the Democratic Republic of Congo (DRC). Welcome to Upemba National Park: once a jewel in the African wildlife crown, this protected area has been decimated by civil war. Now, a new bold initiative by the Frankfurt Zoological Society (FZS), dubbed Forgotten Parks, is working to rehabilitate Upemba after not only decades of conflict but also poaching, neglect, and severe poverty.


Forest expands 3% in Colombia during 2000s, but loss grows in llanos region

(09/04/2012) Colombia gained nearly 17,000 square kilometers of forest between 2001 and 2010 as forests recovered in mountainous regions in the Andes, reports a new study published in the journal PLoS One.


Chart: Forest loss in Latin America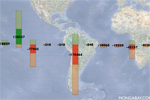 (08/20/2012) Latin America lost nearly 260,000 square kilometers (100,000 square miles) of forest — an area larger than the state of Oregon — between 2001 and 2010, finds a new study that is the first to assess both net forest loss and regrowth across the Caribbean, Central and South America. The study, published in the journal Biotropica by researchers from the University of Puerto Rico and other institutions, analyzes change in vegetation cover across several biomes, including forests, grasslands, and wetlands. It finds that the bulk of vegetation change occurred in forest areas, mostly tropical rainforests and lesser-known dry forests. The largest gains in biome area occurred in desert vegetation and shrublands.


Making reforestation work in abandoned pasturelands

(07/09/2012) Tropical reforestation is not easy, especially in abandoned pasturelands. But a new study in mongabay.com's open access journal Tropical Conservation Science finds that removing grasses prior to and after planting native tree seeds significantly improves the chances of forests to take root. The study site, located in Mexico's Lacandon rainforest, was covered in an invasive African grass (Cynodon plectostachyus).


Exploring Asia's lost world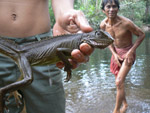 (05/03/2012) Abandoned by NGOs and the World Bank, carved out for rubber plantations and mining by the Cambodian government, spiraling into a chaos of poaching and illegal logging, and full of endangered species and never-explored places, Virachey National Park may be the world's greatest park that has been written off by the international community. But a new book by explorer and PhD student, Greg McCann, hopes to change that. Entitled Called Away by a Mountain Spirit: Journey to the Green Corridor, the book highlights expeditions by McCann into parts of Virachey that have rarely been seen by outsiders and have never been explored scientifically, including rare grasslands that once housed herds of Asian elephants, guar, and Sambar deer, before poachers drove them into hiding, and faraway mountains with rumors of tigers and mainland Javan rhinos.


Scientists unlock indigenous secret to sustainable agriculture in the Amazon's savannas

(04/11/2012) Indigenous populations in the Amazon successfully farmed without the use of fire before the arrival of Europeans, demonstrating a potentially sustainable approach to land management in a region that is increasingly vulnerable to man-made fires.


Conserving Ecuador's Paramos, the alpine tundra ecosystem of the Andes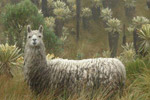 (01/17/2012) Grupo de Trabajo en Páramos del Ecuador (GTP) is a remarkable self-organized group of páramo experts that have met over the past 13 years in Quito, Ecuador. Páramo is an alpine tundra ecosystem which is located in the northern Andes of South America and adjacent southern Central America. Recently, the Grupo de Trabajo en Páramos del Ecuador published an excellent summary of their analysis from the past 13 years. Robert Hofstede, one of the editors of Páramo: Paisaje estudiado, habitado, manejado e institucionalizado, recently sat down with Mongabay.com and discussed the situation of páramo conservation in Ecuador.


Volcano and cloud forests conserved in Ecuador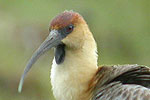 (12/05/2011) Conservation organizations and the Ecuadorian government have succeeded in securing over 250,000 acres (106,000 hectares) of cloud forest and grasslands surrounding the Antisana Volcano for protection. The area, long-used for cattle ranching, is home to Andean condors (Vultur gryphus), cougars (Puma concolor), Andean fox (Lycalopex culpaeus), silvery grebes (Podiceps occipitalis), black-faced ibis (Theristicus melanopis), spectacled bear (Tremarctos ornatus), and three species of endangered frogs. The protected area stretches from 3,900 feet (1,188 meters) to 18,700 feet (5,699 meters) above sea level.


New eco-tour to help save bizarre antelope in 'forgotten' region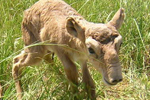 (05/01/2011) Imagine visiting a region that is largely void of tourists, yet has world-class bird watching, a unique Buddhist population, and one of the world's most bizarre-looking and imperilled mammals: the saiga. A new tour to Southern Russia hopes to aid a Critically Endangered species while giving tourists an inside look at a region "largely forgotten by the rest of the world," says Anthony Dancer. Few species have fallen so far and so fast in the past 15 years as Central Asia's antelope, the saiga. Its precipitous decline is reminiscent of the bison or the passenger pigeon in 19th Century America, but conservationists hopes it avoids the fate of the latter.


From the Serengeti to Lake Natron: is the Tanzanian government aiming to destroy its wildlife and lands?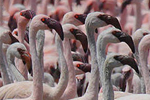 (04/14/2011) What's happening in Tanzania? This is a question making the rounds in conservation and environmental circles. Why is a nation that has so much invested in its wild lands and wild animals willing to pursue projects that appear destined not only to wreak havoc on the East African nation's world-famous wildlife and ecosystems, but to cripple its economically-important tourism industry? The most well known example is the proposed road bisecting Serengeti National Park, which scientists, conservationists, the UN, and foreign governments alike have condemned. But there are other concerns among conservationists, including the fast-tracking of soda ash mining in East Africa's most important breeding ground for millions of lesser flamingo, and the recent announcement to nullify an application for UNESCO Heritage Status for a portion of Tanzania's Eastern Arc Mountains, a threatened forest rich in species found no-where else. According to President Jakaya Kikwete, Tanzania is simply trying to provide for its poorest citizens (such as communities near the Serengeti and the Eastern Arc Mountains) while pursuing western-style industrial development.


Conversion of Brazil's cerrado slows

(04/08/2011) Destruction of Brazil's cerrado, a woody savanna that covers 20 percent of the country, slowed during the 2008-2009, reports Brazil's Ministry of Environment.


Serengeti road project opposed by 'powerful' tour company lobby

(03/16/2011) Government plans to build a road through Serengeti National Park came up against more opposition this week as the Tanzanian Association of Tour Operators (Tato) came out against the project, reports The Citizen. Tato, described as powerful local lobby group by the Tanzanian media, stated that the road would hurt tourism and urged the government to select a proposed alternative route that would by-pass the park. Tato's opposition may signal a shift to more local criticism of the road as opposition against the project has come mostly from international environmentalists, scientists, and governments.


Foreign big agriculture threatens world's second largest wildlife migration

(03/07/2011) As the world's largest migration in the Serengeti plains—including two million wildebeest, zebra, and Thomson's gazelles—has come under unprecedented threat due to plans for a road that would sever the migration route, a far lesser famous, but nearly as large migration, is being silently eroded just 1,370 miles (2,200 kilometers) north in Ethiopia's Gambela National Park. The migration of over one million white-eared kob, tiang, and Mongalla gazelle starts in the southern Sudan but crosses the border into Ethiopia and Gambela where Fred Pearce at Yale360 reports it is running into the rapid expansion of big agribusiness. While providing habitat for the millions of migrants, Gambela National Park's land is also incredibly fertile enticing foreign investment.


First International Serengeti Day hopes to halt road project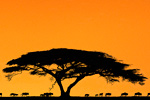 (02/23/2011) On March 19th the conservation organization, Serengeti Watch, is planning the world's first International Serengeti Day to celebrate one of the world's most treasured wildlife ecosystems. But the day also has another goal: bring attention to a Tanzanian government plan to build a road that would essentially cut the ecosystem, threatening the world's largest mammal migration. "The proposed road will be a major commercial route that cuts across a narrow stretch of the Park near the border with Kenya. It goes through a wilderness zone critical to the annual migration of 1.3 million wildebeest and 0.7 million zebras, antelope, and other wildlife. This will involve extracting a strip of land from the Park itself, resulting in both the fragmentation of the ecosystem and the removal of the Serengeti National Park from the list of UN World Heritage Sites," said David Blanton, co-founder of Serengeti Watch, in an interview with mongabay.com.


Complaint lodged at FSC for plantations killing baboons

(02/20/2011) The African environmental group, GeaSphere, has lodged a complaint with the Forest Stewardship Council's (FSC) for certifying tree plantations as sustainable that are culling baboons in South Africa, as first reported by FSC-Watch. The primates are trapped with bait and then shot. According to the complaint, "unofficial numbers from reliable sources state that more than 1000 baboons have been shot over the past 2 years" in Mpumalanga Province. Documents record permits given to cull 1,914 baboons in 13 separate plantations, however Philip Owen of GeaSphere says that plantations have refused to release official data on how many baboons have been killed.


New plan underway to save South America's migratory grassland birds

(12/28/2010) A meeting between government representatives, scientists, and conservationists in Asuncion, Paraguay this month resulted in the adoption of an action plan to provide urgently needed conservation framework for the migratory birds of South America's disappearing grasslands.


Brazil's cerrado wins protection, but will it be enough to save the wildlife-rich grassland?

(09/15/2010) Brazil announced a plan to protect the cerrado, the vast woody savanna that covers 20 percent of the country but has become the nation's biggest single source of carbon emissions due to conversion for agriculture and cattle pasture, reports Brazil's Ministry of the Environment.


U.S. signs debt-for-nature swap with Brazil to protect forests

(08/13/2010) The United States will cut Brazil's debt payments by $21 million under a debt-for-nature that will protect the Latin American country's endangered Atlantic Rainforest (Mata Atlantica), Caatinga and Cerrado ecosystems.


Photo: monster worm is less than a monster

(04/28/2010) Some places have Loch Ness and Bigfoot, but the Palouse prairie of the western United States has the giant Palouse earthworm. Reported to stretch 3 feet long, spit, and—even more strangely—smell like lilies, the earthworm has become apart of the region's folklore and has only been seen a few times since the 1980s leading to concerns that it was gravely endangered and maybe even extinct.


Vlad the Impaler of the bird world now at Bronx Zoo: skewers prey on thorns and barbed wire


(09/15/2009) The loggerhead shrike, also known as the 'butcher bird', employs a feeding strategy that would have been right at home in 15th Century Transylvania. Like the infamous Vlad the Impaler (the brutal prince which Bram Stoker based Dracula off), the loggerhead shrike is truly skilled at impaling. Using its hooked beak to break the spines of insects, lizards, rodents, and even other birds it then impales them on thorns or barbed wire to hold them while it disembodies them. Now, the Wildlife Conservation Society's (WCS) Bronx Zoo has brought the loggerhead shrike into its collection, but the shrike is there to illustrate more than its unique feeding practices.


Emissions from cerrado destruction in Brazil equal to emissions from Amazon deforestation

(09/15/2009) Damage to Brazil's vast cerrado grassland results in greenhouse gas emissions equivalent to those produced by destruction of the Amazon rainforest, said Carlos Minc, the country's Environment Minister.


Brazil to step up efforts to save the cerrado grassland

(09/11/2009) Brazil will try to reduce deforestation of the cerrado, a wooded grassland ecosystem in Brazil that is being destroyed twice as fast as the Amazon rainforest, according to the country's Environment Minister Carlos Minc.


Degraded grasslands better option for palm oil production relative to rainforests, finds study

(12/03/2008) Producing biofuels from oil palm plantations established on degraded grasslands rather than tropical rainforests and peat lands would result in a net removal of carbon from the atmosphere rather than greenhouse gas emissions, report researchers writing in Conservation Biology. The results confirm that benefits to climate from biofuel production depend greatly on the type of land used for feedstocks.


Biofuels can reduce emissions, but not when grown in place of rainforests

(07/22/2008) Biofuels meant to help alleviate greenhouse gas emissions may be in fact contributing to climate change when grown on converted tropical forest lands, warns a comprehensive study published earlier this month in the journal Environmental Research Letters. Analyzing the carbon debt for biofuel crops grown in ecosystems around the world, Holly Gibbs and colleagues report that "while expansion of biofuels into productive tropical ecosystems will always lead to net carbon emissions for decades to centuries... [expansion] into degraded or already cultivated land will provide almost immediate carbon savings." The results suggest that under the right conditions, biofuels could be part of the effort to reduce humanity's carbon footprint.


Some grasslands resilient against climate change, according to 13 year study

(07/07/2008) In Buxton, England--a spa town lying in the county of Derbyshire--scientists have spent 13 years subjecting grasslands to temperature increases and precipitation shifts consistent with climate change predictions. Considered one of the longest studies of climate change on natural ecosystems, the grasslands of Buxton proved surprisingly resilient to most of the effects of climate change.


U.S. grazing lands at risk due to rising CO2 levels

(08/27/2007) Rising carbon dioxide levels could cause significant changes to open grazing lands and rangelands around the world, reports a study published in the journal Proceedings of the National Academy of Sciences (PNAS).