News articles on governments

---
Mongabay.com news articles on governments in blog format. Updated regularly.





Up for grabs: how foreign investments are redistributing land and water across the globe


(04/18/2013) In 2007, the increased human population, increased prices in fuel and transportation costs, and an increased demand for a diversity of food products prompted a Global Food Crisis. Agricultural producers and government leaders world-wide struggled to procure stable food sources for their countries. But the crisis had impacts beyond 2007: it was also the impetus for what we now know as the global land-grabbing phenomenon.


New website tracks protected areas under attack


(01/16/2013) The struggle to safeguard wild lands and species doesn't end when a park or protected area is created. In fact, social scientists and conservationists are increasingly uncovering a global trend whereby even long-established protected areas come under pressure by industrial, governmental, or community interests. This phenomenon, recently dubbed PADDD (which stands for Protected Area Downgrading, Downsizing, and Degazettement), includes protected areas that see their legal status lowered (downgraded), lose a section of their land (downsized), or are abolished entirely (degazetted). Now, a new website from WWF seeks to track PADDD events worldwide.


UNESCO disturbed by gas plans for Peru's Manu National Park


(10/15/2012) Major concerns about the danger posed by gas exploration in a UNESCO World Heritage site in the Amazon rainforest has prompted UNESCO to promise to lobby the Peruvian government. Manu National Park's biological diversity exceeds "that of any other place on Earth," according to UNESCO's website, and is inhabited by indigenous people living in "voluntary isolation" who could be decimated if they come into contact with gas workers.


Greenpeace abandons occupation of Arctic oil drilling rig after workers throw metal at them

(08/26/2012) On Friday the head of Greenpeace, Kumi Naidoo, and five other activists occupied an Arctic oil platform owned by Russian oil and gas giant Gazprom to protest exploiting fossil fuel beds in the Arctic ocean. The action by Greenpeace was short-lived after workers began spraying them with cold water from high-powered hoses and then threw pieces of metal at them, according to Naidoo, who communicated via Twitter during the civil disobedience.


Experts: sustainable logging in rainforests impossible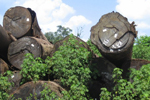 (07/19/2012) Industrial logging in primary tropical forests that is both sustainable and profitable is impossible, argues a new study in Bioscience, which finds that the ecology of tropical hardwoods makes logging with truly sustainable practices not only impractical, but completely unprofitable. Given this, the researchers recommend industrial logging subsidies be dropped from the UN's Reducing Emissions from Deforestation and Forest Degradation (REDD+) program. The study, which adds to the growing debate about the role of logging in tropical forests, counters recent research making the case that well-managed logging in old-growth rainforests could provide a "middle way" between conservation and outright conversion of forests to monocultures or pasture.


Still time to save most species in the Brazilian Amazon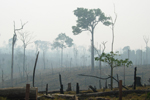 (07/12/2012) Once habitat is lost or degraded, a species doesn't just wink out of existence: it takes time, often several generations, before a species vanishes for good. A new study in Science investigates this process, called "extinction debt", in the Brazilian Amazon and finds that 80-90 percent of the predicted extinctions of birds, amphibians, and mammals have not yet occurred. But, unless urgent action is taken, the debt will be collected, and these species will vanish for good in the next few decades.


Rio+20 and economic perils in Europe: opportunity for linkage

(06/19/2012) This month, momentous events will occur on the global scene that will set the tone for whether 2012 will be a hopeful year or one in which dislocations and disconnects are further exacerbated by political failings. The EU will decide on its fiscal and monetary union that hinges on Greece's recent June election, which backed the political party that wants to stay in the Euro zone, but insists on adjustments to the earlier-negotiated economic rescue package.


Over 700 people killed defending forest and land rights in past ten years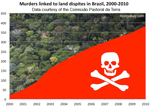 (06/19/2012) On May 24th, 2011, forest activist José Cláudio Ribeiro da Silva and his wife, Maria do Espírito Santo da Silva, were gunned down in an ambush in the Brazilian state of Pará. A longtime activist, José Cláudio Ribeiro da Silva had made a name for himself for openly criticizing illegal logging in the state which is rife with deforestation. The killers even cut off the ears of the da Silvas, a common practice of assassins in Brazil to prove to their employers that they had committed the deed. Less than a year before he was murdered, da Silva warned in a TEDx Talk, "I could get a bullet in my head at any moment...because I denounce the loggers and charcoal producers."


Scientists give world leaders 'Fs' on climate change, biodiversity, and desertification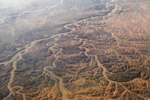 (06/19/2012) It seems world leaders may need to retake environmental studies. As the Rio+20 Summit on Sustainable Development opens, the scientific journal, Nature, has evaluated the progress made on three treaties signed at the Rio Earth Summit in 1992: climate change, biodiversity decline, and desertification. Unfortunately the publication gives progress on all three treaties an 'F', highlighting how little progress has been made on the global environmental crisis.


World failing to meet promises on the oceans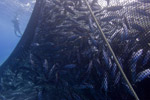 (06/14/2012) Despite a slew of past pledges and agreements, the world's governments have made little to no progress on improving management and conservation in the oceans, according to a new paper in Science. The paper is released just as the world leaders are descending on Rio de Janeiro for Rio+20, or the UN Summit on Sustainable Development, where one of the most watched issues is expected to be ocean policy, in part because the summit is expected to make little headway on other global environmental issues such as climate change and deforestation. But the new Science paper warns that past pledges on marine conservation have moved too slowly or stagnated entirely.


Scientists to Rio+20: save biodiversity to save ourselves


(06/06/2012) World leaders need to do much more to protect the Earth's millions of species for the services they provide, according to a new scientific consensus statement in Nature based on over 1,000 research papers. Written by 17 top ecologists, the statement points out that despite growing knowledge of the importance of biodiversity for human well-being and survival, species continue to vanish at alarming rates. The statement comes just weeks before the UN'S Rio+20 Summit on Sustainable Development, which is supposed to chart a path for a less impoverished and more equitable world including an emphasis on greater environmental protections, but which has been marred by a lack of ambition.


Indigenous rights rising in tropical forests, but big gaps remain


(05/31/2012) In the last twenty years, rights for indigenous forest dwellers have expanded significantly, according to a new report by the Rights and Resources Initiative (RRI). Covering nearly thirty tropical forest countries, the report finds that indigenous people now hold rights to 31 percent of the forest land in these countries, rising from 21 percent in 1992. However, landmark land rights for indigenous people remain imperiled by lack of enforcement, land-grabbing, government ambivalence, and industrial development. The report comes less than a month before the Rio+20 Summit on Sustainable Development, a meeting of global leaders that marks two decades since the Rio Earth Summit.


Featured video: why one scientist is getting arrested over climate change

(05/16/2012) In March 2012 the head of NASA's Goddard Institute for Space Studies and well-known climatologist, James Hansen, spoke at a TED conference to explain what would push a 70-year-old scientist to participate in civil disobedience against mountaintop coal mining and the Keystone Pipeline, even leading to several arrests.


Blood rosewood: Thailand and Cambodia team up to tackle illegal logging crisis and save lives

(04/11/2012) Cambodian and Thai officials have agreed to work together to combat illegal logging of rosewood and resulting violence between Cambodian loggers and Thai rangers, reports MCOT online news. Officials with both nations met on Tuesday and spent three hours discussing the issue.


Judge suspends Brazilian dam that would flood sacred waterfalls

(04/02/2012) A federal judge has suspended the construction of a 1,820 megawatt dam on the Teles Pires River in the Amazon. The judge found that indigenous communities were not properly consulted about the dam, which would flood a sacred site, known as the Seven Waterfalls, as well as imperil the livelihoods of indigenous fishermen.


Africa, China call out Canada for climate betrayal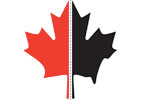 (12/01/2011) Purchasing a full page ad in the Canadian paper the Globe and Mail, a group of African leaders and NGOs is calling on Canada to return to the fold on climate change. Canada has recently all-but-confirmed that after the ongoing 17th UN Summit on Climate Change in Durban, South Africa, it will withdraw entirely from the Kyoto Treaty. The country has missed its targets by a long-shot, in part due to the exploitation of its tar sands for oil, and is increasingly viewed at climate conferences as intractable and obstructive. In the eyes of those concerned about climate change, Canada has gone from hero to villain. Yet notable African activists, including Archbishop Desmond Tutu, are pushing back.


Featured video: new documentary puts human face on logging in Papua New Guinea

(09/27/2011) A new documentary, filmed single-handily by filmmaker David Fedele, covers the impact of industrial logging on a community in Papua New Guinea. Entitled Bikpela Bagarap(or 'Big Damage' in English), the film shows with startling intimacy how massive corporations, greedy government, and consumption abroad have conspired to ruin lives in places like Vanimo, Papua New Guinea.


Big damage in Papua New Guinea: new film documents how industrial logging destroys lives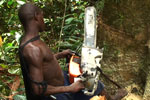 (08/29/2011) In one scene a young man, perhaps not long ago a boy, named Douglas stands shirtless and in shorts as he runs a chainsaw into a massive tropical tree. Prior to this we have already heard from an official how employees operating chainsaws must have a bevy of protective equipment as well as training, but in Papua New Guinea these are just words. The reality is this: Douglas straining to pull the chainsaw out of the tree as it begins to fall while his fellow employees flee the tumbling giant. The new film Bikpela Bagarap('Big Damage') documents the impact of industrial logging on the lives of local people in Papua New Guinea.


Could industrial interests ruin payments for environmental services?

(09/27/2010) One of the biggest ideas in the conservation world over the past decade is Payments for Environmental Services, known as PES, whereby governments, corporations, or the public pays for the environmental services that benefit them (and to date have been free), i.e. carbon, biodiversity, freshwater, etc. For example, Reducing Emissions through Deforestation and Forest Degradation (REDD+) is the largest such proposed PES concept, yet many others are emerging. However, a new study in mongabay.com's open access journal Tropical Conservation Science argues that in order for PES to be effective—and not perversely lead to further harm—decision-makers must consider the danger of paying industrial and commercial interests versus financially supporting local populations, as originally conceived, to safeguard the environment.