News articles on governance

---
Mongabay.com news articles on governance in blog format. Updated regularly.






British government throws out plan to sell forests, apologizes

(02/17/2011) The British government, headed by Tory Prime Minister David Cameron, has tossed out a controversial proposal to sell off significant sections of its forest to the private sector. The plan came under relentless criticism, including 500,000 people who signed a petition against the proposal, and brought together a wide variety of British notables such as actress Dame Judi Dench, poet Carol Anne Duffy, and the Archbishop of Canterbury to oppose the government's plan.
Environmentalists and locals win fight against coal plant in Borneo

(02/16/2011) Environmentalists, scientists, and locals have won the battle against a controversial coal plant in the Malaysian state of Sabah in northern Borneo. The State and Federal government announced today that they would "pursue other alternative sources of energy, namely gas, to meet Sabah's power supply needs." Proposed for an undeveloped beach on the north-eastern coast of Borneo, critics said the coal plant would have threatened the Coral Triangle, one of the world's most biodiverse marine ecosystems, and Tabin Wildlife Reserve, home to Critically Endangered Sumatran rhinos and Bornean orangutans. Local fishermen feared that discharges from the plant would have imperiled their livelihood.
Selling the Forests that Saved Britain

(02/15/2011) I confess that British Prime Minister David Cameron's proposal to auction off all 650,000 acres of England's national forests to the highest bidder came as a bit of a shock to me – especially as the contained such world-famous national treasures as Robin Hood's Sherwood Forest, the Forest of Dean and the New Forest. Although warned by my Irish mother that Tories can never be trusted, Mr. Cameron's passionate pledge to deliver the "greenest government ever" seemed sincere, especially given his ambitious plans to cut Britain's pollution. Anyway, even if he turned out to be as slippery as his predecessors, his deep green Liberal Democratic coalition partners would, I thought, keep the planet high on his priority list.
Cambodia approves titanium mine in world's 'most threatened forest'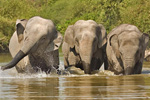 (02/15/2011) The Cambodian government has approved a mine that environmentalists and locals fear will harm wildlife, pollute rivers, and put an end to a burgeoning ecotourism in one of the last pristine areas of what Conservation International (CI) recently dubbed 'the world's most threatened forest'. Prime Minister, Hun Sen, approved the mine concession to the United Khmer Group, granting them 20,400 hectares for strip mining in Cambodia's Cardamom Mountains. The biodiverse, relatively intact forests of the Cardamom Mountains are a part of the Indo-Burma forest hotspot of Southeast Asia, which CI put at the top of their list of the world's most threatened forests. With only 5% of habitat remaining, the forest was found to be more imperiled than the Amazon, the Congo, and even the forests of Indonesia and Malaysia.
India pledges to protect cat-crazy rainforest

(02/14/2011) The Jeypore-Dehing lowland rainforest in Assam, India is home to a record seven wild cat species, more than any other ecosystem on Earth. While it took wildlife biologist Kashmira Kakati two years of camera-trapping to document the seven felines, the announcement put this forest on the map—and may very well save it. A year after the record was announced, officials are promising to pursue permanent preservation status for the forest, which is threatened by logging, poaching, oil and coal industries, and big hydroelectric projects.
A lion's story, an interview with the filmmakers of The Last Lions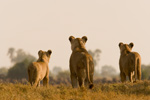 (02/14/2011) The new theatrical film, The Last Lions does not open, as one would expect, with a shot of lions or even an African panorama. Instead the first shot is a view of our planet from space at night. Billions of artificial lights illuminate continent showing just how much humans over the past few thousand years have come to dominate our world. Then comes the lions, but not in person, just in this staggering, and little known, statistic: in the last 50 years we have gone from a population of 450,000 lions to 20,000 today, a 95% decline. While the dramatic story of the The Last Lions follows the perils and tragedies of lion motherhood in one of the world's last untouched places—the Okavango Delta—this statistic hangs over the film, reminding us that the story we are witnessing is on the verge of extinction.
As South Sudan eyes independence, will it choose choose to protect its wildlife?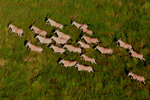 (02/11/2011) After the people of South Sudan have voted overwhelmingly for independence, the work of building a nation begins. Set to become the world's newest country on July 9th of this year, one of many tasks facing the nation's nascent leaders is the conservation of its stunning wildlife. In 2007, following two decades of brutal civil war, the Wildlife Conservation Society (WCS) surveyed South Sudan. What they found surprised everyone: 1.3 million white-eared kob, tiang (or topi) antelope and Mongalla gazelle still roamed the plains, making up the world's second largest migration after the Serengeti. The civil war had not, as expected, largely diminished the Sudan's great wildernesses, which are also inhabited by buffalo, giraffe, lion, bongo, chimpanzee, and some 8,000 elephants. However, with new nationhood comes tough decisions and new pressures. Multi-national companies seeking to exploit the nation's vast natural resources are expected to arrive in South Sudan, tempting them with promises of development and economic growth, promises that have proven uneven at best across Africa.
Leaked government study: road will damage Serengeti wildlife, despite president's assurances

(02/10/2011) Tanzania's President, Jakaya Kikwete, today gave promises that his proposed road project, which will bisect the Serengeti plains, would not hurt one of the world's most famed parks and one of its last great land migrations. "The Serengeti is a jewel of our nation as well as for the international community. […] We will do nothing to hurt the Serengeti and we would like the international community to know this," Kikwete said in a statement reported by the AFP. However, a government environment impact study, leaked to the conservation organization Serengeti Watch, paints a very different picture of how the road will damage the Serengeti. The report includes warnings that the road will 'limit' the migration of the plains' 1.5 million wildebeest and 500,000 other herbivores including zebra.
Half a million people sign petition against Belo Monte, Brazilian mega-dam

(02/08/2011) In a protest today in Brasilia, Brazil, indigenous people delivered a petition to authorities signed by 500,000 people calling on them to cancel the controversial Belo Monte dam. They hope the petition, organized by online activist group Avaaz, will help convince Brazil's new president, Dilma Rousseff, to cancel the project. However, actions by Brazil's first female president have pushed the dam forward.
Arctic fish catch vastly underreported (by hundreds of thousands of metric tons) for 5 decades

(02/07/2011) From 1950 to 2006 the United Nation Food and Agriculture Agency (FAO) estimated that 12,700 metric tons of fish were caught in the Arctic, giving the impression that the Arctic was a still-pristine ecosystem, remaining underexploited by the world's fisheries. However, a recent study by the University of British Colombia Fisheries Center and Department of Earth and Ocean Sciences throws cold water on this widespread belief. According to the study, published in Polar Biology, the total Arctic catch from 1950 to 2006 is likely to have been nearly a million metric tons, almost 75 times the FAO's official record.
The ocean crisis: hope in troubled waters, an interview with Carl Safina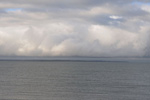 (02/07/2011) Being compared—by more than one reviewer—to Henry Thoreau and Rachel Carson would make any nature writer's day. But add in effusive reviews that compare one to a jazz musician, Ernest Hemingway, and Charles Darwin, and you have a sense of the praise heaped on Carl Safina for his newest work, The View from Lazy Point: A Natural Year in an Unnatural World. Like Safina's other books, The View from Lazy Point focuses on the beauty, poetry, and crisis of the world's oceans and its hundreds-of-thousands of unique inhabitants. Taking the reader on a journey around the world—the Arctic, Antarctic, and the tropics—Safina always returns home to take in the view, and write about the wildlife of his home, i.e. Lazy Point, on Long Island. While Safina's newest book addresses the many ways in which the ocean is being degraded, depleted, and ultimately imperiled as a living ecosystem (such as overfishing and climate change) it also tweezes out stories of hope by focusing on how single animals survive, and in turn how nature survives in an increasingly human world. However, what makes Safina's work different than most nature writing is his ability to move seamlessly from contemporary practical problems to the age-old philosophical underpinnings that got us here. By doing so, he points a way forward.
Bushmeat trade pushing species to the edge in Tanzania

(02/06/2011) Hunters are decimating species in the Uzungwa Scarp Forest Reserve, a part of the Eastern Arc Mountains in Southern Tanzania, according to a new report compiled by international and Tanzanian conservationists. Incorporating three research projects, the report finds that bushmeat hunting in conjunction with forest degradation imperils the ecology of the protected area.
Chief financier of Belo Monte dam ties social and environmental requirements to controversial project

(02/04/2011) The Brazilian National Development Bank (BNDES) has announced it will not grant a $640 million loan for the hugely controversial Belo Monte dam until 40 social and environmental conditions are met. In response, the company contracted to build the dam, Norte Energia, S.A. (NESA), has stated it may drop the bank's loan altogether and seek less discriminating private funding to start construction. Last week the Brazilian government's environmental agency IBAMA announced that the dam had been granted a partial license, an aberration in Brazilian law, to jumpstart construction. But BNDES also says it will not hand out the loan until a full license is granted.
Sarawak's last nomad: indigenous leader and activist, Along Sega, dies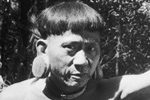 (02/03/2011) Along Sega never knew exactly how old he was, but when he passed away yesterday in a hospital far from the forest where he born, he was likely in his 70s. Leader among the once-nomadic hunter and gatherer Penan people of Borneo and mentor to Swiss activist, Bruno Manser, Along Sega will be remembered for his work to save the Penan's forest—and their lifestyle and culture—from logging companies, supported by the Sarawak government and provided muscle by the state police.
Organizations unite against plan to open Turkey's protected areas to development

(02/01/2011) Last week nearly 200 Turkish organizations banded together to protest a draft law by the government to open up Turkey's protected areas to development. A combination of environmental, health, education, and human rights groups joined outside the Turkish Parliament with signs stating, 'We Won't Give You Anatolia', another name for the region.
'Land grab' fears in Africa legitimate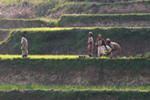 (01/31/2011) A new report by the International Institute for Environment and Development (IIED) has found that recent large-scale land deals in Africa are likely to provide scant benefit to some of the world's poorest and most famine-prone nations and will probably create new social and environmental problems. Analyzing 12 recent land leasing contracts investigators found a number of concerns, including contracts that are only a few pages long, exclusion of local people, and in one case actually giving land away for free. Many of the contracts last for 100 years, threatening to separate local communities from the land they live on indefinitely. "Most contracts for large-scale land deals in Africa are negotiated in secret," explains report author Lorenzo Cotula in a press release. "Only rarely do local landholders have a say in those negotiations and few contracts are publicly available after they have been signed."
Is Obama's clean energy revolution possible?

(01/26/2011) Last night US President Barack Obama called for a massive green energy make-over of the world's largest economy. Describing the challenge as 'this generation's Sputnik moment' the US president set a goal of producing 80 percent of America's energy by clean sources by 2035. While this may sound improbable, two recent analyses back the president up, arguing that a global clean energy revolution is entirely possible within a few decades using contemporary technology and without breaking the bank. "Based on our findings, there are no technological or economic barriers to converting the entire world to clean, renewable energy sources," Mark Z. Jacobson, a professor of civil and environmental engineering at Stanford said in a press release. "It is a question of whether we have the societal and political will."
Asia's last lions lose conservation funds to tigers

(01/24/2011) The last lions of Asia and the final survivors of the Asiatic lion subspecies (Panthera leo persica) are losing their federal conservation funding to tiger programs, reports the Indian media agency Daily News & Analysis (DNA). While the Asiatic lion once roamed Central Asia, the Middle East, and even Eastern Europe, today the subspecies survives only in India's Gir Forest National Park in the north-western state of Gujarat.
'Environmental and social aggression': oil exploration threatens award-winning marine protected area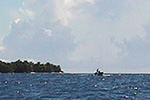 (12/01/2010) The Seaflower Marine Protected Area (MPA), which recently won top honors at the Convention on Biological Diversity (CBD) in Japan, is now under threat by planned oil exploration in the region, according to the Providence Foundation which is devoted to protecting the area. Proposed blocs for exploration by the Colombian government lie in the North Cays adjacent to the park, and perhaps even inside MPA boundaries. Spreading over 65,000 square kilometers (6.5 million hectares), Seaflower MPA lies within the Colombian Caribbean department known as the Archipelago of San Andres, Old Providence and Santa Catalina. This richly diverse Archipelago is home to a known 57 coral species, over 400 fish, and some 150 birds, as well as the ethnic and cultural minority: the Raizal people. The prospect of massive infrastructure or, even worse, oil spills in the area could devastate the park and locals' livelihoods.
Environmentalists: fishing quota could be death sentence for bluefin tuna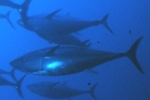 (11/28/2010) Once again, the International Commission for the Conservation of Atlantic Tuna (ICCAT) has flouted warnings from conservationists, evidence from scientists, and even recommendations from the European Commissioner Fisheries and Maritime Affairs in its most recent fishing quota for the Atlantic bluefin tuna. Meeting last week in Paris, ICCAT agreed to a 2011 fishing quota of 12,900 metric tons, 600 less than this year's quota. Yet, environmentalists from a wide-range of organizations have been warning for years that without a moratorium on bluefin fishing—or at least a drastic reduction in quotas—the species is at risk of extinction. ICCAT's own scientists say that the current quota gives the species a 70% chance of recovery.
Good stewards of forests at home outsource deforestation abroad

(11/24/2010) As more nations adopt better laws and policies to save and restore forests at home, they may, in fact, be outsourcing deforestation to other parts of the world, according to a new study in the Proceedings of the National Academy of Sciences (PNAS). Looking at six developing nations where forests are recovering—instead of receding—the study found only one of them did not outsource deforestation to meet local demand for wood-products and food, a process known as 'leakage'.
Tiger summit reaches bold agreement and raises $300 million

(11/24/2010) The summit to save the world's biggest cat, and one of the world's most popular animals, has agreed to a bold plan dubbed the Global Tiger Recovery Program. Meeting in St. Petersburg, 13 nations have set a goal to double the wild tiger's (Panthera tigris) population worldwide by 2022. Given that tiger numbers continue to decline in the wild, this goal is especially ambitious, some may even say impossible. However, organizations and nations are putting big funds on the table: around $300 million has already been pledged, including $1 million from actor, and passionate environmental activist, Leonardo Dicaprio.
Oil, indigenous people, and Ecuador's big idea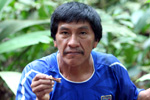 (11/23/2010) Ecuador's big idea—potentially Earth-rattling—goes something like this: the international community pays the small South American nation not to drill for nearly a billion barrels of oil in a massive block of Yasuni National Park. While Ecuador receives hundred of millions in an UN-backed fund, what does the international community receive? Arguably the world's most biodiverse rainforest is saved from oil extraction, two indigenous tribes' requests to be left uncontacted are respected, and some 400 million metric tons of CO2 is not emitted from burning the oil. In other words, the international community is being asked to put money where its mouth is on climate change, indigenous rights, and biodiversity loss. David Romo Vallejo, professor at the University of San Francisco Quito and co-director of Tiputini research station in Yasuni, recently told mongabay.com in an interview that this is "the best proposal so far made to ensure the protection of this incredible site."
50 NGOS tell big oil to get out of uncontacted natives' territory

(11/21/2010) A letter signed by over 50 NGOs is calling on three big oil companies—Perenco, Repsol-YPF, and ConocoPhillips—to withdraw from Peruvian territory inhabited by uncontacted indigenous tribes. The letter states that the oil companies' presence in the area threatens the uncontacted tribe with diseases, for which they have little immunity, and puts the lives of oil company workers in jeopardy, since past encounters have ended in violence.
Rebuttal: Slaughtering farmed-raised tigers won't save tigers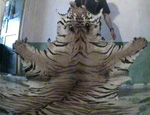 (11/18/2010) A recent interview with Kirsten Conrad on how legalizing the tiger trade could possibly save wild tigers sparked off some heated reactions, ranging from well-thought out to deeply emotional. While, we at mongabay.com were not at all surprised by this, we felt it was a good idea to allow a critic of tiger-farming and legalizing the trade to officially respond. The issue of tiger conservation is especially relevant as government officials from tiger range states and conservationists from around the world are arriving in St. Petersburg to attend next week's World Bank 'Tiger Summit'. The summit hopes to reach an agreement on a last-ditch effort to save the world's largest cat from extinction.
Would legalizing the trade in tiger parts save the tiger?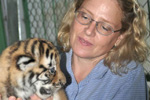 (11/15/2010) Just the mention of the idea is enough to send shivers down many tiger conservationists' spines: re-legalize the trade in tiger parts. The trade has been largely illegal since 1975 under the Convention on International Trade in Endangered Species (CITES). The concept was, of course, a reasonable one: if we ban killing tigers for traditional medicine and decorative items worldwide then poaching will stop, the trade will dry up, and tigers will be saved. But 35 years later that has not happened—far from it. "Words such as 'collapse' are now being used to describe the [tiger's] situation both in terms of population and habitat. Wild tiger numbers continue to drop so that we have about 3,500 today across 13 range states occupying just 7% of their original habitat. It's universally acknowledged that we're losing the battle," Kirsten Conrad, tiger conservation expert, told mongabay.com in a recent interview.
Beyond gloom: solutions to the global coral reef decline

(11/10/2010) The world's coral reefs are in trouble. Due to a variety of factors—including ocean acidification, warming temperatures from climate change, overfishing, and pollution—coral cover has decline by approximately 125,000 square kilometers in the past 50 or so years. This has caused some marine biologists, like Charlie Veron, Former Chief Scientist of the Australian Institute of Marine Science, to predict that coral reefs will be largely extinguished within a century. This year alone, large-scale coral bleaching events, whereby coral lose their symbiotic protozoa and become prone to disease and mortality, were seen off the coasts of Indonesia, the Philippines, and some Caribbean islands. However a new paper in Trends in Ecology and Evolution attempts to dispel the gloom over coral reefs by pointing to strategies, and even some successes, to save them.
Flight of the Monarchs Reveals Environmental Connections across a Continent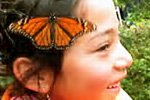 (11/08/2010) As autumn settles across North America, one hallmark of the season is the gentle southward flight of the Monarch Butterflies as they migrate towards the forests that shelter their species during the winter months. Unfortunately, as with other forests across the planet, the Monarch's "over- wintering grounds" in Mexico are suffering from increased human pressures. An innovative conservation group called the ECOLIFE Foundation has stepped up to help safeguard the Monarch's winter forests, and in the process discovered that addressing the Monarch's plight came only after uncovering connections that bind us all. The following article is an interview with Bill Toone, the Executive Director of ECOLIFE.
Will biodiversity agreement save life on Earth?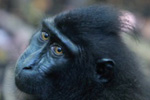 (11/07/2010) On Friday, October 29th, 193 member nations of the Convention on Biological Diversity (CBD) reached a possibly landmark agreement on saving the world's suffering biodiversity in Nagoya, Japan. The agreement was especially notable after nations failed—by all accounts—to live up to the goals from the previous CBD agreement, including stemming the global loss of biodiversity by 2010. According to scientists, the world's species continue to vanish at mass-extinction rates due to habitat loss, deforestation, overconsumption, pollution, climate change, and invasive species. To addresses this crisis the new CBD agreement sets out 20 goals for 2020. But given the global challenges in saving the world's species and the lack-of-teeth in agreement (it is strictly voluntary), will the CBD make a difference or in ten years time will goals be again unmet and life on planet Earth worse off than ever? To answer this mongabay.com turned to a number of experts in the conservation world.
US elects barrage of climate change deniers, threatening support for green energy

(11/03/2010) The US midterm election, which won Republicans the House but safeguarded the Senate for Democrats, has brought in a number of self-proclaimed climate change deniers, ending any likelihood that an energy bill will be passed over the next two years and essentially stumbling the White House's strategy on climate change. Newly elected Republican Senators Rand Paul of Kentucky and Marc Rubio of Florida, both members of the nascent Tea Party, have stated they do not believe in climate change despite that scientists overwhelming agree the Earth is warming due to human impacts.
Former Indonesian REDD+ negotiator arrested on corruption charge

(10/30/2010) Wandojo Siswanto, one of the lead negotiators for Indonesia's delegation at last year's climate talks in Copenhagen and a key architect of its Reduced Emissions from Deforestation and Degradation (REDD) program, has been arrested and charged with receiving bribes.
Undergrads in the Amazon: American students witness beauty and crisis in Yasuni National Park, Ecuador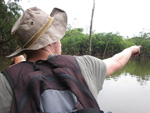 (10/28/2010) Although most Americans have likely seen photos and videos of the world's largest rainforest, the Amazon, they will probably never see it face-to-face. For many, the Amazon seems incredibly remote: it is a dim, mysterious place, a jungle surfeit in adventure and beauty—but not a place to take a family vacation or spend a honeymoon. This means that the destruction of the Amazon, like the rainforest itself, also appears distant when seen from Oregon or North Carolina or Pennsylvania. Oil spills in Ecuador, cattle ranching in Brazil, hydroelectric dams in Peru: these issues are low, if not non-existent, for most Americans. But a visit to the Amazon changes all that. This was recently confirmed to me when I traveled with American college students during a trip to far-flung Yasuni National Park in Ecuador. As a part of a study abroad program with the University of San Francisco in Quito and the Galapagos Academic Institute for the Arts and Sciences (GAIAS), these students spend a semester studying ecology and environmental issues in Ecuador, including a first-time visit to the Amazon rainforest at Tiputini Biodiversity Station in Yasuni—and our trips just happened to overlap.
Foreign corporations devastating Papua New Guinea rainforests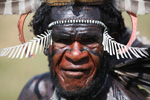 (10/21/2010) A letter in Nature from seven top scientists warns that Papua New Guinea's accessible forest will be lost or heavily logged in just ten to twenty years if swift action isn't taken. A potent mix of poor governance, corruption, and corporate disregard is leading to the rapid loss of Papua New Guinea's much-heralded rainforests, home to a vast array of species found no-where else in the world. "Papua New Guinea has some of the world's most biologically and culturally rich forests, and they're vanishing before our eyes," author William Laurance of James Cook University in Cairns, Australia, said in a statement.
Corporations, conservation, and the green movement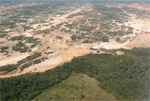 (10/21/2010) The image of rainforests being torn down by giant bulldozers, felled by chainsaw-wielding loggers, and torched by large-scale developers has never been more poignant. Corporations have today replaced small-scale farmers as the prime drivers of deforestation, a shift that has critical implications for conservation. Until recently deforestation has been driven mostly by poverty—poor people in developing countries clearing forests or depleting other natural resources as they struggle to feed their families. Government policies in the '60s, '70s, and '80s had a multiplier effect, subsidizing agricultural expansion through low-interest loans, infrastructure projects, and ambitious colonization schemes, especially in the Amazon and Indonesia. But over the past two decades, this has changed in many countries due to rural depopulation, a decline in state-sponsored development projects, the rise of globalized financial markets, and a worldwide commodity boom. Deforestation, overfishing, and other forms of environmental degradation are now primarily the result of corporations feeding demand from international consumers. While industrial actors exploit resources more efficiently and cause widespread environmental damage, they also are more sensitive to pressure from consumers and environmental groups. Thus in recent years, it has become easier—and more ethical—for green groups to go after corporations than after poor farmers.
Jackpot: how international community could raise $141 billion for biodiversity

(10/20/2010) Leaders from around the world meeting in Nahoya, Japan for the Convention on Biological Diversity (CBD) to discuss solutions to stem the current mass extinction crisis may be in need of a little book: The Little Biodiversity Finance Book. While a recent report by The Economics of Ecosystems and Biodiversity (TEEB) found that degradation of ecosystems—including biodiversity loss—was costing the global economy $2-5 trillion annually, one of the primary threats to wildlife around the world is simply a lack of funds to enact program. But The Little Biodiversity Finance Book says that with the right policy initiatives the burgeoning ecosystem market could be worth $141 billion by 2020.
Already Critically Endangered, bluefin tuna hit hard by BP oil disaster

(10/19/2010) Using satellite data from the European Space Agency, researchers estimate that over 20% of juvenile Atlantic bluefin tuna in the Gulf of Mexico were killed by the BP oil spill. Although that percentage may not seem catastrophic, the losses are on top of an 82% decline in the overall population over the past three decades due to overfishing. The population plunge has pushed the International Union for the Conservation of Nature (IUCN) to categorize the fish as Critically Endangered, its highest rating before extinction.
NGO warns oil exploration in Peru may 'decimate' uncontacted tribes

(10/17/2010) Survival International has warned that oil exploration in northern Peru threatens two uncontacted tribes. The organization, devoted to indigenous rights, has sent a letter to the UN's Special Rapporteur on indigenous peoples, James Anaya, alleging that Peru is "violating international law" by allowing oil companies to explore a region home to uncontacted people, who are especially vulnerable to disease.
The ultimate bike trip: the Amazon rainforest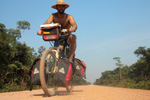 (10/17/2010) Like all commercial roads through rainforests, the 5,300 kilometer long Rodovia Transamazonica (in English, the Trans-Amazonia), brought two things: people and environmental destruction. Opening once-remote areas of the Amazon to both legal and illegal development, farmers, loggers, and miners cut swathes into the forest now easily visible from satellite. But the road has also brought little prosperity: many who live there are far from infrastructure and eek out an impoverished existence in a harsh lonely wilderness. This is not a place even the most adventurous travelers go, yet Doug Gunzelmann not only traveled the entirety of the Transamazonica in 2009, he cycled it. A self-described adventurer, Gunzelmann chose to bike the Transamazonica as a way to test his endurance on a road which only a few before have completed. But Gunzelmann wasn't just out for adrenaline-rushes, he was also deeply interested in the environmental issues related to the Transamazonica. What he found was a story without villains, but only humans—and the Amazon itself—trying to survive in a complex, confusing world.
Humanity consuming the Earth: by 2030 we'll need two planets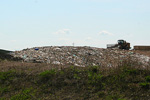 (10/13/2010) Too many people consuming too much is depleting the world's natural resources faster than they are replenished, imperiling not only the world's species but risking the well-being of human societies, according to a new massive study by the World Wildlife Fund (WWF), entitled the Living Planet Report. The report finds that humanity is currently consuming the equivalent of 1.5 planet Earths every year for its activities. This overconsumption has caused biodiversity—in this case, representative populations of vertebrate animals—to fall by 30 percent worldwide since 1970. The situation is more dire in tropical regions where terrestrial species' populations have fallen by 60 percent and freshwater species by 70 percent.
Brazil to auction off large blocks of Amazon rainforest for logging

(10/12/2010) Brazil will auction large blocks of the Amazon rainforest to private timber companies as part of an effort to reduce demand for illegal logging, reports Reuters. The government will grant 1 million hectares (2.5 million acres) of logging concessions by the end of the year, according to Antonio Carlos Hummel, head of Brazil's National Forestry Service. Within four to five years, 11 million hectares will be auctioned.
Can 'boutique capitalism' help protect the Amazon?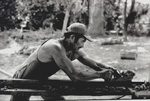 (10/11/2010) Most companies talk green, but few—almost none in fact—actually walk the walk. Sustainable design company, Ecostasy, not only walks the walk, but actually seeks out among the most challenging places to work: the imperiled Brazilian Amazon. Specializing in hand-crafted products by indigenous groups—such as jewelry, pots, and furniture—Ecostasy seeks to balance smart economics, environmental protection, and community development. Make no mistake, however, Ecostasy is not a non-profit, but a rare and refreshing example of a company truly dedicated to changing the world for the better. "In my mind, a virtuous company does not compromise ethical principles for economic interests. For me, being ethical is comprised of conducting oneself with honesty and responsibility to one's constituencies (customers, employees, suppliers), society and the environment," Katherine Ponte, founder of Ecostasy, told mongabay.com in an interview.
'Green' paper company allegedly complicit in land grabs against Chinese communities

(10/07/2010) Finnish paper company, Stora Enso, may lose its green and socially responsible reputation over a new report by Rights and Resources International (RRI) and the Rural Development Institute (RDI). The report finds that the company broke Chinese laws and even worked with middlemen who physically threatened local farmers, all in an effort to lease 120 thousand hectares for a vast eucalyptus plantation in southern China. Just last year, a lawyer working to defend farmers landed in a hospital after being beaten for his involvement.
The Nestlé example: how responsible companies could end deforestation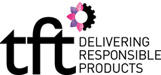 (10/06/2010) The NGO, The Forest Trust (TFT), made international headlines this year after food giant Nestlé chose them to monitor their sustainability efforts. Nestlé's move followed a Greenpeace campaign that blew-up into a blistering free-for-all on social media sites. For months Nestle was dogged online not just for sourcing palm oil connected to deforestation in Southeast Asia—the focus of Greenpeace's campaign—but for a litany of perceived social and environmental abuses and Nestlé's reactions, which veered from draconian to clumsy to stonily silent. The announcement on May 17th that Nestlé was bending to demands to rid its products of deforestation quickly quelled the storm. Behind the scenes, Nestlé and TFT had been meeting for a number of weeks before the partnership was made official. But can TFT ensure consumers that Nestlé is truly moving forward on cutting deforestation from all of its products?
Logging generates more income than ranching in the Amazon

(10/04/2010) New research conducted by Brazil's Federal Rural University of Amazonia (UFRA) found that logging generates more income from cattle grazing and agriculture in the Amazon provided landowners operate under existing social and environmental laws, reports the International Tropical Timber Organization in its bimonthly update.
Fighting poachers, going undercover, saving wildlife: all in a day's work for Arief Rubianto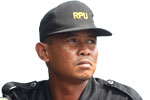 (09/29/2010) Arief Rubianto, the head of an anti-poaching squad on the Indonesian island of Sumatra best describes his daily life in this way: "like mission impossible". Don't believe me? Rubianto has fought with illegal loggers, exchanged gunfire with poachers, survived four days without food in the jungle, and even gone undercover—posing as a buyer of illegal wildlife products—to infiltrate a poaching operation. While many conservationists work from offices—sometimes thousands of miles away from the area they are striving to protect—Rubianto works on the ground (in the jungle, in flood rains, on rock faces, on unpredictable seas, and at all hours of the day), often risking his own life to save the incredibly unique and highly imperiled wildlife of Sumatra.
Rivers worldwide in peril: society treats symptoms, ignores causes
(09/29/2010) Dams, agricultural runoff, pesticides, sewage, mercury pollution from coal plants, invasive species, overconsumption, irrigation, erosion from deforestation, wetland destruction, overfishing, aquaculture: it's clear that the world's rivers are facing a barrage of unprecedented impacts from humans, but just how bad is the situation? A new global analysis of the world's rivers is not comforting: the comprehensive report, published in Nature, finds that our waterways are in a deep crisis which bridges the gap between developing nations and the wealthy west. According to the study, while societies spend billions treating the symptoms of widespread river degradation, they are still failing to address the causes, imperiling both human populations and freshwater biodiversity.




Page 1 | Page 2 | Page 3 | Page 4 | Page 5 | Page 6 | Page 7 | Page 8 | Page 9 | Page 10 | Page 11 | Page 12 | Page 13 | Page 14