News articles on glaciers

---
Mongabay.com news articles on glaciers in blog format. Updated regularly.






Tipping point already reached? West Antarctica in slow-motion, unstoppable melt
(05/14/2014) Two hundred years from now, the planet could look very different. This week two landmark studies revealed that West Antarctica's ice sheet is in a state of seemingly inevitable collapse linked to climate change. The slow-motion collapse would by itself eventually lead to a rise in global levels of 3.6-4.5 meters (12-15 feet).
Plants re-grow after five centuries under the ice

(05/27/2013) While monitoring the retreat of the Teardrop Glacier in the Canadian Arctic, scientists have found that recently unfrozen plants, some of which had been under ice since the reign of Henry VIII, were capable of new growth.
Mount Everest glaciers have shrunk 13% in 50 years

(05/13/2013) Glaciers in the Mount Everest region have shrunk by 13 percent and the snow-line has shifted 180 meters (590 feet) higher during the past 50 years, according to a study that will be presented this week at a conference organized by the American Geophysical Union.
Climate change melting glaciers in the Andes

(01/22/2013) Glaciers are melting faster than ever in the tropical Andes, warns a new study published in The Cryosphere, which puts the blame for vanishing glaciers squarely on climate change. The study — the most comprehensive to date — found that since the 1970s glacier melt in the region has been speeding up, threatening freshwater supplies in Peru and Bolivia.
Greenland and Antarctica ice melt accelerating, pushing sea levels higher
(12/03/2012) A massive team of scientists have used multiple methods to provide the best assessment yet of ice loss at the world's poles, including Greenland and a number of Antarctic ice sheets. Their findings—that all major ice sheets are shrinking but one; that ice loss is speeding up; and that this is contributing to the rise in sea levels—add more evidence to the real-time impacts from global climate change. Melting ice sheets at the poles have raised sea levels 11.1 millimeters, or about 20 percent of observed sea level rise, in the past twenty years, according to the landmark study in Science.
Canadian ice sheet responded rapidly to ancient climate change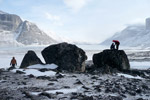 (11/16/2012) Even as glaciers retreat from rising temperatures worldwide, new research says they could bounce back just as suddenly. The study, published Sept. 14 in Science, shows that both small mountain glaciers and large ice sheets grew considerably during a short, 150-year cold spell in Canada 8,200 years ago. The results suggest that massive ice sheets are surprisingly sensitive to brief shifts in seasonal temperatures.
Featured video: Chasing Ice trailer

(09/11/2012) A new film, opening in the U.S. in November, follows the exploits of National Geographic photographer, James Balog, as he attempts to photograph the end of glaciers and great ice sheets, which are diminishing and, in some cases, collapsing under the heat of global climate change. The film, which won a cinematography award at Sundance, documents the lengths one person will go to capture images of a vanishing world.
Greenland suffers record melt

(08/16/2012) Four weeks before Greenland's melting season usually ends, it has already blown past all previous records. By August 8th, nearly a month before cooler weather usually sets in around the world's largest island, the island toppled the past record set in 2010.
Melting ice sheets largest contributor to rising sea levels

(03/08/2011) Researchers expected the shrinking ice sheets of Antarctica and Greenland to eventually become the greatest contributor to the world's rising sea levels; they just didn't expect it to happen so quickly. A new study in Geophysical Research Letters has found that ice sheets have overtaken melting glaciers and ice caps.
Officials point to Russian drought and Asian deluge as consistent with climate change

(08/08/2010) Government officials are pointing to the drought and wildfires in Russia, and the floods across Central and East Asia as consistent with climate change predictions. While climatologists say that a single weather event cannot be linked directly to a warming planet, patterns of worsening storms, severer droughts, and disasters brought on by extreme weather are expected as the planet warms.
'Very dramatic' changes in Greenland: ice loss spreads north

(03/28/2010) Over the past ten years scientists have measured increasing ice loss along southern Greenland. Now a new study in Geophysical Research Letters shows that the ice loss has spread north with likely consequences for global sea level rise.
Photos: Giant iceberg breaks off Antarctica

(02/26/2010) An iceberg the size of Luxembourg broke off from Antarctica after it was hit by another iceberg, reports Reuters. The separation could impact ocean circulation and affect marine life say researchers.
Climate change pushes massive Antarctic glacier past tipping point

(01/14/2010) A new study shows that a major Antarctic glacier has likely passed its tipping point, putting it on track to lose 50 percent of its ice in 100 years. Such a loss is estimated to raise global sea levels by 24 centimeters (9.4 inches), according to the study published in the Proceedings of Royal Society A.
Goodbye, snows of Kilimanjaro
(11/02/2009) The most recent survey among the ice fields atop Mount Kilimanjaro found that the ice atop Africa's most famous mountain could be gone in twenty years—and maybe even sooner. Published in the Proceedings of the National Academy of Science the study was conducted by a team of researchers who first measured the glaciers in 2000. They discovered that between 1912 and 2007, 85 percent of the ice that covered Mount Kilimanjaro vanished. When using 2000 as baseline the mountain has lost 26 percent of its ice.
Summer sea ice likely to disappear in the Arctic by 2015

(08/31/2009) If current melting trends continue, the Arctic Ocean is likely to be free of summer sea ice by 2015, according to research presented at a conference organized by the National Space Institute at Technical University of Denmark, the Danish Meteorological Institute and the Greenland Climate Center.
Cutting greenhouse gases now would save world from worst global warming scenarios
(04/14/2009) If nations worked together to produce large cuts in greenhouse gases, the world would be saved from global warming's worst-case-scenarios, according to a new study from the National Center for Atmospheric Research (NCAR). The study found that, although temperatures are set to rise this century, cutting greenhouse gases by 70 percent the globe could avoid the most dangerous aspects of climate change, including a drastic rise in sea level, melting of the Arctic sea ice, and large-scale changes in precipitation. In addition such cuts would eventually allow the climate to stabilize by the end of the century rather than a continuous rise in temperatures.
Glaciers decline in ice mass for 18th straight year

(01/30/2009) Glaciers worldwide lost ice mass for the 18th consecutive year due to warming temperatures and reduce snowfall, reports the University of Zurich's World Glacier Monitoring Service. Alpine glaciers lost on average 1.3 meters of thickness in 2006 and 0.7 meters in 2007, extending an 11.3-meter (36-foot) retreat since 1980.
Many global warming impacts may be irreversible in next 1000 years

(01/27/2009) Even if greenhouse gas emissions were to cease today, many of the forecast impacts of climate change are already irreversible for at least the next 1000 years, report researchers writing in the journal Proceedings of the National Academy of Sciences.
Antarctica shows net warming over past 50 years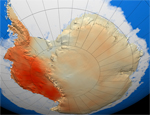 (01/22/2009) Despite a cooling trend in the East Antarctic Ice Sheet, Antarctica has experienced net warming over the past 50 years, report researchers writing in the January 22 edition of Nature. Analyzing data from satellites and weather stations authors led by Eric Steig of the University of Washington (UW) found that "warming in West Antarctica exceeded one-tenth of a degree Celsius per decade for the last 50 years and more than offset the cooling in East Antarctica", according to a statement from UW.
Observed sea level rise, ice melt far outpaces projections
(12/17/2008) Sea levels will rise faster than previously estimated due to rapid melting of glaciers and ice sheets, according to a U.S government report released at the annual meeting of the American Geophysical Union in San Francisco. The report, titled Abrupt Climate Change, incorporates research published since last year's Intergovernmental Panel on Climate Change (IPCC) report, which drew largely from studies dating up to 2006. Most significantly, Abrupt Climate Change suggests that IPCC estimates for future sea level rise (18-58 cm) are conservative, noting that recent observations on sea level rise and loss of sea ice are far outpacing previous projections.
NOAA offers "dramatic evidence" of Arctic warming

(10/16/2008) Fall air temperatures 9°F (5°C) above normal, the second lowest-ever extent of summer sea ice, and the melting of surface ice in Greenland are signs of continued warming in the Arctic, according to the Arctic Report Card, an annual review of Arctic conditions by U.S. National Oceanic and Atmospheric Administration (NOAA) and its partners.
99% of Alaska's large glaciers are retreating

(10/07/2008) The bulk of glaciers in every mountain range and island group in Alaska are retreating, thinning, or stagnating, according to a new book by the U.S. Geological Survey (USGS).
Earth already committed to 2.4-degree C rise from climate change

(09/15/2008) As of 2005 the Earth was already committed to rise of global mean temperatures by 2.4°C (4.3°F), concludes a new study published in the journal Proceedings of the National Academy of Sciences (PNAS). The conclusion is significant because the Intergovernmental Panel on Climate Change (IPCC) has warned that a rise in global temperature by 1 to 3°C will lead to catastrophic consequences, including "widespread loss of biodiversity, widespread deglaciation of the Greenland Ice Sheet, and a major reduction of area and volume of Hindu-Kush-Himalaya-Tibetan glaciers, which provide the head-waters for most major river systems of Asia." These glaciers, predicted to shrink considerably in the next few decades, provide food and water to over two billion people.
Canada's ice shelves lost 23% of their area this summer

(09/03/2008) A 19-square-mile (50 sq km) chuck of ice shelf broke off from Canada's Ellesmere Island in the northern Arctic, reports the Associated Press. The Manhattan-sized ice shelf is now adrift in the Arctic Ocean. It is the largest of more than 83 sq mi (214 sq km) of ice shelf that has broken up in the Canadian Arctic this year.
Dams mask sea level rise - oceans swell faster than previously thought

(03/13/2008) Water held in man-made reservoirs is masking the true extent of sea level rise from melting ice and thermal expansion, report scientists writing in the journal Science. The researchers, from the National Central University in Taiwan, calculate that sea levels would be 30 mm (1.2 inches) higher without water stored behind dams.
Lack of A-bomb signatures suggest 50 years of shrinking Tibetan glaciers

(12/30/2007) Ice cores drilled last year from the summit of a Himalayan ice field lack the distinctive radioactive signals that mark virtually every other ice core retrieved worldwide. That missing radioactivity, originating as fallout from atmospheric nuclear tests during the 1950s and 1960s, routinely provides researchers with a benchmark against which they can gauge how much new ice has accumulated on a glacier or ice field.
Scientists: cut emissions now to avoid climate tipping point

(12/14/2007) Countries need to act soon to cut carbon dioxide emissions if the worst impacts of global warming are to be avoided, warned a panel of scientists speaking Thursday at the fall meeting of the American Geophysical Union in San Francisco.
Future Ice Age Put on the Back Burner

(08/30/2007) Dr Toby Tyrrell of the University of Southampton's School of Ocean and Earth Science at the National Oceanography Centre, Southampton has published a report in the latest edition of New Scientist magazine laying out his research that future ice-ages -- an evolutionary imperative for the planet earth -- could be pushed back some half a million years.
Melting glaciers and ice cap will drive sea level rise

(07/19/2007) Melting glaciers and ice caps will contribute more to global sea level rise this century than the melting of the Greenland and Antarctic ice sheets, reports a study published in the current issue of Science.
Greenpeace pressures China on global warming

(05/30/2007) Greenpeace stepped up the pressure on China to do something about its surging greenhouse gas emissions, launching a campaign that warns melting glaciers could hurt Chinese agriculture and hydroelectric projects. The environmental group cited a Chinese Academy of Sciences' projection that 80 percent of the glaciers in Tibet and the surrounding region could melt by 2035, though other research suggests more moderate melting.
Largest tropical glacier retreating at 200 feet per year in Peru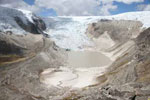 (02/18/2007) Peru's largest glacier is melting rapidly and could complete disappear by 2012 says a glaciologist from Ohio State University. Speaking at the annual meeting of the American Association for the Advancement of Science in San Francisco last week, Dr. Lonnie Thompson said that Peru's Qori Kalis glacier is melting at a rate of some 60 meters (200 feet) per year. Qori Kalis glacier is part of the Quelccaya Ice Cap, the largest body of ice in the tropics.
Melting glaciers, not ice sheets, primarily responsible for rising sea levels

(12/11/2006) A new study says that melting glaciers are contributing more to the global rise in sea levels than melting ice sheets in Greenland and Antarctica. Of the estimated 650 billion tons of ice lost to the oceans annually, some 400 billion tons comes from the melting of small glaciers and icecaps, according to Professor Tad Pfeffer of the Institute of Arctic and Alpine Research at the University of Colorado at Boulder. Only 250 billion tons -- or less than 40 percent -- comes from the melting of the Greenland and Antarctic ice sheets.
Greenland's ice continues to melt

(09/20/2006) Data gathered by a pair of NASA satellites orbiting Earth show Greenland continued to lose ice mass at a significant rate through April 2006, and that the rate of loss is accelerating, according to a new University of Colorado at Boulder study.
Why some Himalayan glaciers aren't melting due to climate change

(08/25/2006) New research into climate change in the Western Himalaya and the surrounding Karakoram and Hindu Kush mountains could explain why many glaciers there are growing and not melting. The findings suggest this area, known as the Upper Indus Basin, could be reacting differently to global warming, the phenomenon blamed for causing glaciers in the Eastern Himalaya, Nepal and India, to melt and shrink.
Alps could lose 80% of glacier cover by 2100

(07/10/2006) The European Alps could lose 80 percent of their glacier cover by the year 2100, if summer air temperatures increase by three degrees Celsius according to a study published in Geophysical Research Letters, a journal of the American Geophysical Union. The research, based on modeling experiments by Swiss scientists, found that should in summer temperature rise more than three degree Celsius, only the largest glaciers and those on the highest mountain peaks could survive into next century.
Last 50 years 'unusually warm', tropical glaciers melting rapidly finds research

(06/27/2006) Researchers studying ancient tropical ice cores have found evidence of two abrupt climate shifts -- one 5000 years ago and one currently underway. The findings, published in the current issue of the journal Proceedings of the National Academy of Science, may have important implications for immediate future since more than two-thirds of the world's population resides in the tropics.
Africa's glaciers gone by 2025

(05/15/2006) Fabled equatorial icecaps will disappear within two decades, because of global warming, a study British and Ugandan scientists has found. In a paper to be published 17 May in Geophysical Research Letters, they report results from the first survey in a decade of glaciers in the Rwenzori Mountains of East Africa. An increase in air temperature over the last four decades has contributed to a substantial reduction in glacial cover, they say.
New glacier history sheds light on climate change

(01/09/2006) University of Alberta research that rewrites the history of glacial movement in northwestern North America over the past 10,000 years offers important clues to climate change in recent millennia.
Alaska's Columbia Glacier shrunk by 9 miles since 1980

(12/08/2005) Alaska's rapidly disintegrating Columbia Glacier, which has shrunk in length by 9 miles since 1980, has reached the mid-point of its projected retreat, according to a new University of Colorado at Boulder study.
75% of Switzerland's glaciers gone by 2050, Europe heats up

(11/30/2005) The four hottest years on record were 1998, 2002, 2003 and 2004. Ten percent of Alpine glaciers disappeared during the summer of 2003 alone. At current rates, three quarters of Switzerland's glaciers will have melted by 2050. Europe has not seen climate changes on this scale for 5 000 years, says a new report by the European Environment Agency.
Global warming shrinks sacred glacier in the Andes

(07/06/2005) The melting of a glacier in the Peruvian Andes due to global climate change is impacting the religious practices of local people, according to an article run last month in The Wall Street Journal.