News articles on fossil fuels

---
Mongabay.com news articles on fossil fuels in blog format. Updated regularly.





Carbon sinks failing to keep up with emissions

(10/22/2007) Atmospheric carbon dioxide (CO2) growth has increased 35 percent faster than expected since 2000, report scientists writing in Proceedings of the National Academy of Sciences. Worryingly, more than half the increase came from a decreased efficiency of natural land and ocean sinks to absorb CO2 from the atmosphere. The reminder came from a slowing in the efficiency of use of fossil fuels.


Brazil to search for oil in the Amazon

(10/21/2007) Brazil's plan to seek oil in the Western Amazon has upset environmentalists, reports the Associated Press (AP). The National Petroleum Agency, or ANP, plans to put US$36 million toward oil and gas exploration in Acre, a state bordering Bolivia, according to Brazilian state media Agencia Brasil, but environmental officials say no impact study has been done to assess how the plan could affect the Amazon.


Carbon tax, not subsidies, will spur nuclear power

(09/09/2007) A U.S. carbon tax, not government subsidies, should be used to spur investment in nuclear power, says The Economist.


U.S. has 957 billion tons on government land

(09/05/2007) Wednesday, U.S. government agencies announced the country has about 957 billion tons in coal reserves on federal lands. More than half the total lies in Montana and Wyoming. Additional reserves are found on private lands.


With Corn ethanol more costly than oil, is Jatropha a better biofuel?

(08/24/2007) Jatropha may be a more economic biofuel than corn-based ethanol, reported the The Wall Street Journal on Friday, citing research from Goldman Sachs.


Imported LNG could have 35% higher GHG emissions than coal

(08/23/2007) A team of Carnegie Mellon University researchers report that the choices U.S. officials make today could limit how the nation's future energy needs are met and could cost consumers billions in idle power plants and associated infrastructure systems.


conservation more effective than biofuels for fighting global warming

(08/15/2007) Conserving forests and grasslands may be a more effective land-use strategy for fighting climate change than growing biofuel crops argues a new paper published in the journal Science. Comparing emissions from various fuel crops versus carbon storage in natural ecosystems, Renton Righelato and Dominick Spracklen write that "forestation of an equivalent area of land would sequester two to nine times more carbon over a 30-year period than the emissions avoided by the use of the biofuel."


Global warming will slow, then accelerate reports ground-breaking model

(08/09/2007) Global warming will slow during the next few years but then accelerate with at least half of the years after 2009 warmer than 1998, the warmest year on record, reports a new study that is the first to incorporate information about the actual state of the ocean and the atmosphere, rather than the approximate ones most models use. The research, published by a team of scientists from the Hadley Center in the United Kingdom, appears in the current issue of the journal Science.


Industrial pollution has caused Arctic warming since 1880s

(08/09/2007) Industrial soot emissions have been warming the Arctic since at the least the 1880s, reports a new study that examined "black carbon" levels in the Greenland ice sheet over the past 215 years. The research is published in current issue of the journal Science.


100 years ago: oil shortages spur need for alternative fuels

(08/08/2007) The fuels committee of the Motor Union of Great Britain and Ireland has issued a valuable report on motor-car fuels... a famine in petrol appears to be inevitable in the near future, owing to the fact that demand is increasing at a rate much greater than the rate of increase of the supply. In 1904 the consumption of petrol in the United Kingdom was 12,000,000 gallons; in 1907 it had risen to 27,000,000 gallons... the committee discusses in the report other possible fuels. The supply is divided into two parts. The first includes all fuels limited in quantity...The second group contains one item only - alcohol - and it is evident from the whole tone of the report that the committee expects to find in denatured vegetable spirits the fuel of the future.


Economics of next generation biofuels

(08/08/2007) 'Second generation' biorefineries -- those making biofuel from lignocellulosic feedstocks like straw, grasses and wood -- have long been touted as the successor to today's grain ethanol plants, but until now the technology has been considered too expensive to compete. However, recent increases in grain prices mean that production costs are now similar for grain ethanol and second generation biofuels, according to a paper published in the first edition of Biofuels, Bioproducts & Biorefining.


20 coal projects canceled as global warming fears mount

(07/25/2007) Coal-fired power plants are fast being shelved as environmental concerns mount, reports the Wall Street Journal.


Plug-in hybrid electric vehicles will cut pollution, emissions, oil use

(07/20/2007) Plug-in hybrid electric vehicles (PHEVs) could reduce greenhouse gas emissions and improve air quality significantly by 2050, reports a new study by The Electric Power Research Institute (EPRI) and the Natural Resources Defense Council (NRDC).


Corn ethanol is not the solution to energy independence

(07/18/2007) A new report claims that corn ethanol will not significantly offset U.S. fossil fuel consumption without "unacceptable" environmental and economic consequences.


Ford Motor to introduce plug-in hybrids, but lags behind rivals

(07/10/2007) Monday Ford Motor Co. announced a partnership with utility Southern California Edison to test a fleet of plug-in hybrid (PHEV) vehicles in an effort to make the technology more accessible to consumers, reduce petroleum-related emissions and improve the cost-effectiveness of the nation's electricity grid.


McDonald's bolsters eco credentials with recycled biodiesel



(07/09/2007) McDonald's Corp. (Public, NYSE:MCD), the fast-food chain, has bolstered its 'green' credentials by announcing that its UK distribution fleet will be powered by biodiesel made of recycled cooking oil from its restaurants. While the move is expected to save only around 1,675 tons of carbon annually, environmentalists say it sets an important precedent for the parent company and the fast-food industry as a whole.


Inflatable concentrators may cut cost of solar below conventional power plants



(07/08/2007) Cool Earth Solar, a Livermore, California-based company developing an innovative way for capturing solar energy, has merged with Radiant Energy, a developer and owner of renewable and clean energy power plants including solar, geothermal, and hydroelectric. Rob Lamkin, CEO of Radiant Energy, says the merger will help ramp up the technology, which uses inflatable solar concentrators to minimize use of refined silicon, a costly ingredient in solar cells. Lamkin says the technology could dramatically reduce the cost solar energy, bringing it below the cost natural gas-fired power plants.


China will not commit to CO2 limits

(07/06/2007) China will not commit to binding greenhouse gas emissions cuts, reports the BBC. Lu Xuedu, deputy director-general of China's Office of Global Environmental Affairs, told British parliamentarians that China does not presently have the "capability to make those commitments."


Cuba Energy Crisis Solved

(07/05/2007) Cuba may be overcoming its intermittent energy crisis, according to a top U.N. official. Power shortages and brownouts have long been a problem in the small communist island nation, but it was daily 16 hour-electricity cuts in 2004 that finally forced the government to act. Its efforts are apparently paying off.


Fuel efficiency boost wins unanimous Senate support

(06/22/2007) The U.S. Senate voted Thursday to raise fuel economy standards for cars and light trucks as part of the new energy bill.


Google to be carbon neutral by year end

(06/20/2007) Google Inc. aims to be carbon neutral by the end of 2007, according to a statement posted on the Official Google Blog. The search giant plans to fight global warming by investing in and using renewable energy sources; reducing energy consumption by maximizing efficiency, and purchasing carbon offsets for the greenhouse gas emissions that it cannot reduce directly.


Amazon.com, eBay rank worst for global warming efforts

(06/20/2007) Amazon.com and eBay rank at the bottom of the list when it comes to reducing their impact on climate, reports a new analysis from Climate Counts, a nonprofit that works to promote responsible climate policy among corporations. Microsoft and Yahoo rank at the top of Internet and software companies rated, while Google is in the middle of the pack.


$100 billion invested in renewable energy in 2006

(06/20/2007) $100 billion poured into renewable energy and energy efficiency in 2006, a 25 percent jump from 2005, reports a new analysis by the UN Environment Programme (UNEP).


Most Americans back a $10 monthly global warming tax

(06/20/2007) 73 percent of Americans back a $10-per-month charge to underwrite renewable energy production reports a new survey by New Scientist Magazine, Stanford University and Resources for the Future, an independent think tank. The research indicates that 85 percent of Americans believe global warming in currently happening.


China surpasses the U.S. in CO2 emissions

(06/20/2007) China has surpassed the United States as the world's largest producers of greenhouse gas emissions, reports the Netherlands Environmental Assessment Agency (EEA), a group that advises the Dutch government.


Google will put $10M towards plug-in hybrid cars

(06/19/2007) Google.org, Google Inc.'s philanthropic arm, today unveiled an initiative to convert hybrid cars to plug-in hybrid vehicles (PHEVs), a move that will cut carbon dioxide emissions, reduce oil use, and help stabilize the electrical grid.


Carbon capture and storage could help combat global warming

(06/12/2007) While solar power and hybrid cars have become popular symbols of green technology, Stanford researchers are exploring another path for cutting emissions of carbon dioxide, the leading greenhouse gas that causes global warming.


Nobel prize winner debates future of nuclear power

(06/07/2007) Two renowned energy experts sparred in a debate over nuclear energy Wednesday afternoon at Stanford University. Amory Lovins, Chairman and Chief Scientist of the Rocky Mountain Institute, an energy think tank, argued that energy efficiency and alternative energy sources will send nuclear power the way of the dinosaurs in the near future. Dr. Burton Richter, winner of the 1976 Nobel Prize in physics, said that nuclear would play an important part of the future energy portfolio needed to cut carbon emissions to fight global warming.


Dirty snow may warm Arctic as much as GHG emissions

(06/07/2007) Dirty snow from soot and forest fires is responsible for one-third or more of Arctic warming reports a new study from researchers at the University of California at Irvine (UCI) and the National Center for Atmospheric Research in Boulder.


U.S. refuses to talk global warming cuts at G8 summit

(06/06/2007) President Bush said he opposed setting firm targets for greenhouse gas cuts at a G8 summit but said that his proposal to fight climate change would not undermine U.N. efforts, as critics have claimed.


Extortion or global warming mitigation?

(05/24/2007) Marketwatch reported more details on Ecuador's proposal to forgo development of Amazonian oil fields in exchange for payments from industrialized nations. Last month Ecuadorian President Rafael Correa said that if the South American country is compensated with half of the forecasted lost revenues, it will not exploit oil in Yasuni National Park, setting aside the area for wildlife and indigenous people. Correa said the cost would be about $350 million per year.


CO2 emissions growth surges as global energy efficiency falls

(05/21/2007) Worldwide growth in carbon dioxide emissions has doubled since the close of the 1990s, reports a study published in the early on-line edition of the Proceedings of the National Academy of Sciences. The findings suggest that the global economy is more dependent on fossil fuels than ever before, with carbon intensity--the amount of carbon needed to produce a unit of economic output--decreasing after a period of increases.


Calpine may benefit from global warming limits

(05/16/2007) Power generator Calpine will be well-positioned when the regularlory environment for carbon dioxide emissions shifts and federal caps are introduced, reports the Wall Street Journal.


California sues Bush administration over fuel standards

(05/14/2007) Monday California sued the Bush administration for "illegally adopting 'dangerously misguided' gas mileage rules." In a lawsuit backed by 11 states, the suit alleges that the Highway Traffic Safety Administration's new mileage standards violate federal law by ignoring both the environment environmental impact on oil use and the country's growing dependence on imported oil.


Carbon dioxide emissions lag 25% behind 2012 targets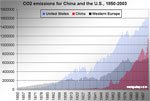 (05/08/2007) The world is far behind carbon dioxide emissions targets set by the Kyoto Protocol reports the Little Green Data Book 2007, an annual publication put out by the World Bank. The publication notes that global carbon dioxide emissions have risen 19 percent since 1990, more than 25 percent behind goals set forth under the Kyoto Protocol, which called for a 5.2 percent reduction from 1990 levels.


Reps Lott and Stevens oppose fuel efficiency bill

(05/08/2007) Tuesday the U.S. Senate Commerce Committee approved a bill that would raise the passenger fleet automobile fuel standard to an average 35 miles per gallon by 2020, reports Reuters.


China finds 7.5 billion barrel oilfield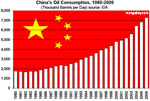 (05/08/2007) PetroChina, Asia's largest oil and gas producer, announced the discovery of a 7.5 billion barrel oil field off the northeast coast of China. The find, in an undersea field in Bohai Bay, is the largest in Asia in four decades and will boost China's known oil reserves by 20 percent. Nevertheless, the discovery will not be enough to offset China's oil imports, which have surged in recent years due to a booming economy and rapid adoption of automobiles.


Cost of stabilizing climate 0.1% per year


(05/04/2007) The Intergovernmental Panel on Climate Change (IPCC) released its long awaiting installment on climate change mitigation, arguing that the costs of offsetting global warming will be much lower than some claim. The IPCC estimates that emissions can be reduced rapidly using existing technology at a cost of 3 percent of GDP, or 0.12 percent per year over the next 25 years, though new technologies could further reduce this cost. While the projections are encouraging, they may be conservative. Some analysts, including the well-respected Amory Lovins of the Rocky Mountain Institute, have calculated that emissions targets that would stabilize the climate could be achieved at no net cost and possibly even a profit. Even McKinsey & Company, a leading management consulting firm, agrees, putting the net cost of reducing emissions by 46 percent at zero.


U.S. and China fight plan to slow global warming

(04/30/2007) Claiming that costs of fighting global warming will be higher than consensus estimates, China and the United States are fighting plans to slow climate change, according to the Associated Press (AP). The countries also say the impacts of climate change will not be as severe as projected and want to raise the emissions cap of atmospheric carbon dioxide levels from 430 parts per million (ppm) proposed by the European Union to 445 ppm. Current CO2 levels stand around 381 ppm.


Ecuador: pay us not to develop Amazon oil reserves

(04/27/2007) Ecuador says it will wait a year to see whether the international community takes its offer to forsake development of a giant oil field in the Amazon rainforest in exchange for compensation, reports the Environmental News Service.


Chevron shareholders may be liable for billions in environmental damages

(04/25/2007) The lead lawyer in the landmark environmental lawsuit against Chevron in Ecuador is in California to warn that the oil major has failed to prepare for a possible multi-billion dollar damages bill within the coming months


To fight warming, Canada will ban incandescent light bulbs by 2012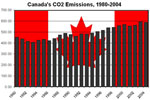 (04/25/2007) In an effort to fight greenhouse gas emissions, Canada plans to ban use of incandescent light bulbs by 2012, said Natural Resources Minister Gary Lunn. Canada follows Australia as the second country to announce a ban on the inefficient bulbs. California legislators have proposed a similar ban for 2012.


Biodiesel may worsen global warming relative to petroleum diesel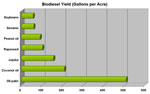 (04/23/2007) Biodiesel made from rapeseed could increase rather than reduce greenhouse emissions compared to conventional diesel fuels, reports a new study published in the journal Chemistry & Industry. Overall the researchers found that petroleum diesel and rapeseed biodiesel, presently the main biofuel used across Europe, have a similar environmental impact. The results suggest that efforts to mitigate climate change through the adoption of rapeseed biodiesel may be of little use beyond energy security.


Renewable chemicals for green plastics gain ground

(04/19/2007) A bio-plastics revival is furthering driving up commodity prices according to an article in today's Wall Street Journal. The article reports that high oil prices are leading manufacturers to substitute agricultural produce-based plastics for petroleum-based plastics.


Ethanol may be greener but have higher health cost

(04/18/2007) Widespread burning of ethanol as fuel may increase the number of respiratory-related deaths and hospitalizations relative to gasoline, according to a new study by Stanford University atmospheric scientist Mark Z. Jacobson. The report comes as mounting environmental concerns cloud the benefits of using ethanol as a green alternative to fossil fuels.


Palo Alto aims to cut CO2 emissions 80% by 2050

(04/15/2007) The city of Palo Alto, California aims to cut greenhouse gas emissions significantly in coming years, joining a growing number of U.S. cities that have pledged to cut emissions by 80 percent by 2050. The goal, set forth in Green Ribbon task force report last year, was discussed by a panel of experts convening at Stanford University Sunday.


Measures to drive adoption of super efficient cars in the U.S.


(04/11/2007) To reduce its growing dependence on foreign oil the United States could implement relatively low-cost measures to put millions of super efficient vehicles on American highways, said energy efficiency expert Amory Lovins of the Rocky Mountain Institute in a speech at Stanford University. The measures could significantly cut oil usage, help fight climate change, and make U.S. roads safer.


ConocoPhillips becomes first U.S. oil major to call for CO2 limits

(04/11/2007) This week ConocoPhillips became the first major U.S. oil firm to call for a legally-binding emissions cap. The Houston-based company said it would join the U.S. Climate Action Partnership (USCAP), a coalition of corporations seeking to influence future climate policy.


Concentrating solar power better option than nuclear

(04/10/2007) Regarding Nuclear power plants are financially risky given high costs, there is absolutely no need for nuclear power in the US because there is a simple mature technology that can deliver huge amounts of clean energy without any of the headaches of nuclear power.


TXU hopes to build nuclear reactors instead of coal-fired power plants

(04/10/2007) Texas energy company TXU will abandon plans to build coal-fired power planets and will instead focus on building the largest nuclear power plants in the United States according to an article from The Wall Street Journal. Despite reduced emissions of greenhouse gases, the decision will likely prove controversial due to the high cost of nuclear energy. Without substantial subsidies nuclear energy is rarely cost-competitive with coal or renewable power sources.



Page 1 | Page 2 | Page 3 | Page 4 | Page 5 | Page 6 | Page 7 | Page 8 | Page 9