News articles on forests

---
Mongabay.com news articles on forests in blog format. Updated regularly.





Amazon deforestation damaging critical ecosystem services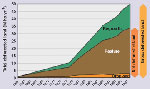 (02/08/2007) Human disturbance of the Amazon rainforest is more extensive than previously thought say a team of scientists writing in the current edition of the journal Frontiers in Ecology. Reviewing recent research on the Amazon ecosystem, they note that human activities are affecting the health of the forest and impacting the ecological goods and services the Amazon provides mankind.


Just how bad is the biodiversity extinction crisis?



(02/06/2007) In recent years, scientists have warned of a looming biodiversity extinction crisis, one that will rival or exceed the five historic mass extinctions that occurred millions of years ago. Unlike these past extinctions, which were variously the result of catastrophic climate change, extraterrestrial collisions, atmospheric poisoning, and hyperactive volcanism, the current extinction event is one of our own making, fueled mainly by habitat destruction and, to a lesser extent, over-exploitation of certain species. While few scientists doubt species extinction is occurring, the degree to which it will occur in the future has long been subject of debate in conservation literature. Looking solely at species loss resulting from tropical deforestation, some researchers have forecast extinction rates as high as 75 percent. Now a new paper, published in Biotropica, argues that the most dire of these projections may be overstated. Using models that show lower rates of forest loss based on slowing population growth and other factors, Joseph Wright from the Smithsonian Tropical Research Institute in Panama and Helene Muller-Landau from the University of Minnesota say that species loss may be more moderate than the commonly cited figures. While some scientists have criticized their work as "overly optimistic," prominent biologists say that their research has ignited an important discussion and raises fundamental questions about future conservation priorities and research efforts. This could ultimately result in more effective strategies for conserving biological diversity, they say.


98% of orangutan habitat in Borneo, Sumatra gone by 2022


(02/06/2007) A report from the United Nations Environment Programme (UNEP) today warns that illegal logging is rapidly destroying the last remaining habitat for orangutans in Borneo and Sumatra. The report says that up to 98 percent may be destroyed by 2022 without urgent action.


Brazil calls out rich countries on global warming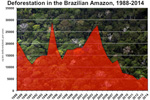 (02/06/2007) Reuters reports that Brazilian President Luiz Inacio Lula da Silva criticized wealthy countries for their contributions to global warming and told them to stay out of Brazil's business when it comes to the fate of the Amazon rainforest.


Indonesia wants to be paid for slowing deforestation

(01/31/2007) Indonesia voiced support for a proposal by a coalition of developing countries seeking compensation for forest conservation, according to a report from Reuters. Rachmat Witoelar, Indonesia's minister of the environment, told Reuters that poor countries should be paid for conserving forests and the services they provide the world.


Savvy environmentalists challenge corporations to go green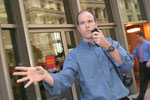 (01/29/2007) Increasing rates of tropical deforestation in the 1970s and 1980s helped trigger the rise of several forest activist groups specifically interested in rainforests. Among the earliest of these organizations was the Rainforest Action Network (RAN). Founded in 1985 by Randall Hayes, RAN lead its first direct campaign in 1987 against Burger King, which at the time was using beef raised on deforested lands in Central America. In response to the nationwide boycott, which caused sales to drop 12%, Burger King canceled $35 million worth of beef contracts from the region and announced they would no longer import beef from the rainforest. Hailed as a major victory for rainforest protection, RAN initiated consumer boycotts of other firms engaged in destructive practices, eventually developing an effective strategy for promoting change at the corporate level. Today San Francisco-based RAN has expanded well beyond its original mission of protecting rainforests. Recently dubbed "the most savvy environmental agitators in the business" by the Wall Street Journal, the small but efficient organization (36 staff members and a $3 million budget) pressures some of the world's largest and most respected firms -- including Citigroup, Bank of America, JP Morgan Chase, Goldman Sachs, Home Depot, and Boise Cascade -- to adopt wide-ranging green policies that impact everything from where they source their energy to how they finance development projects.


Canada pledges $30 million for Great Bear Rainforest

(01/22/2007) Canada announced a $30 million plan to protect the Great Bear Rainforest, a 16-million-acre temperate rainforest on British Columbia's Pacific coast. The forest is the largest intact temperate rainforest left on Earth and is home to the 290-foot (90 meter) tall Sitka spruce, black bears, grizzlies and eagles.


Lavender and symbiotic fungi key to Cypress reforestation in Morocco

(01/20/2007) Cypress reforestation efforts are unsuccessful without dual cultivation with lavender or mycorrhizal fungi, according to researchers studying replanting programs in Morocco.


Leaf study could produce better global warming models

(01/18/2007) A new study on rotting leaves could produce more accurate climate models say researchers writing in the January 19 issue of the journal Science.


Impact of new forest law in India unknown

(12/21/2006) A new law giving land rights to millions of poor Indian forest dwellers is stirring debate in the conservation community according to a report from Reuters.


Are Brazil nuts really sustainable?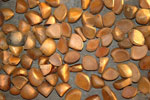 (12/20/2006) A lot of rainforest conservation initiatives embrace sustainably harvested non-timber forest products (NTFPs) like seeds and nuts as a means to provide income to locals without harming the forest. Operating on the premise that such products are eco-friendly, hundreds of outfits ranging from Whole Foods to the Body Shop to Ben & Jerry's Homemade Ice Cream tout their use of sustainably harvested Brazil nuts and related products. But really, how sustainable are these products?


Forests need good soil to sequester more carbon

(12/14/2006) Soil nutrition is key to helping forests absorb more carbon under elevated CO2 conditions according to new research by scientists with the USDA Forest Service and Duke University. "The researchers found that trees can only increase wood growth from elevated CO2 if there is enough leaf area to support that growth," reported the Southern Research Station of the USDA Forest Service in a statement. "Leaf area, in turn, is limited by soil nutrition; without adequate soil nutrition, trees respond to elevated CO2 by transferring carbon below ground, then recycling it back to the atmospheric through respiration."


President Museveni again moves against Uganda's forests

(12/12/2006) Ugandan president Yoweri Museveni has again taken action against rainforest conservation in Uganda, moving to hand a protected forest reserve over to private agricultural interests intent on clearing trees, according to a report from Reuters.


Who pays for Amazon rainforest conservation?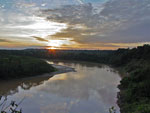 (12/12/2006) Last Monday, Brazil created the world's largest rainforest protected area in the northern Amazon. Covering more than 15 million hectares (57,915 square miles) -- or an area larger than England -- the network of seven new protected reserves has been met with praise by environmental groups. Instrumental in the development of the conservation project has been an organization that most people wouldn't associate with rainforest conservation but certainly should: the Gordon and Betty Moore Foundation.


Brazil creates world's largest rainforest reserve

(12/05/2006) Brazil created the world's largest expanse of protected tropical rainforest in Para, the state where American nun Dorothy Stang was murdered after trying to protect land rights of rural poor. The network of seven new protected areas covers an expanse of 15 million hectares (57,915 square miles) -- or an area larger than England -- and links to existing reserves to form a vast conservation corridor in the northern Amazon, one of the most biodiverse regions on the planet.


Nairobi talks made progress on forest conservation for global warming emissions credits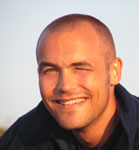 (12/05/2006) Tropical deforestation is one of the largest sources of human-produced greenhouse gases yet it has no place in existing climate agreements. This has been a point of contention in negotiations as the United States has objected to some developing countries -- notably Brazil and Indonesia -- to be getting an apparent "free ride" on deforestation-related emissions in addition to emissions from fossil fuel sources. Recent negotiations have looked at this issue from a different perspective, one where developing countries would be paid by industrialized countries for reducing their deforestation rates. Globally the payoff could be immense, extending well beyond helping mitigate global warming emissions to safeguard biodiversity and important ecological services. Leading scientists have called such plans a "win-win" scenario for all parties and even the World Bank and U.N. have voiced support for the concept.


Logging roads lead to disease, social breakdown in Ecuador rainforest communities

(12/04/2006) Logging roads are linked to increased incidence of diarrheal disease and new social problems among communities along the Ecuadorian coast, according to a new study published in the Online Early Edition of Proceedings of the National Academy of Sciences (PNAS) for the week of December 4-8, 2006. Lead by Joseph Eisenberg, assistant professor of epidemiology at the University of Michigan School of Public Health, an international team of researchers examined diarrheal infections and social networks in 21 villages recently connected to a new government-constructed road network in the Choco rainforest of coastal Ecuador. They found that the new roads bring colonists to the region and allow villagers to travel more easily between villages and larger cities. Increased mobility increases the spread of bacteria, viruses and parasites according to Eisenberg.


Forest fires worsen mercury contamination in fish

(12/04/2006) Forest fires can worsen mercury accumulation in fish according to a paper published in the early online edition of the Proceedings of the National Academy of Sciences (PNAS) for the week of December 4-8, 2006.


Are old-growth forests storing more carbon than before?

(12/04/2006) Old-growth forests in China are storing more carbon than previously believed. The finding could have implications for fighting global warming through forest conservation, though some researchers caution that the results may not be representative of tropical forests as a whole.


Canopy research is key to understanding rainforests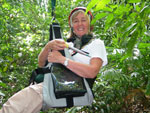 (11/28/2006) Home to perhaps half the world's terrestrial species, rainforests are the most biodiverse ecosystems on the planet. However, when one strolls through the forest, this biodiversity is rarely apparent for the simple reason that most activity in the rainforest occurs in the canopy, a layer of overlapping branches and leaves some 60-120 feet off the ground. Here, a wealth of ecological niches creates opportunities for plants and animals, including species generally considered to be ground-dwellers: crabs, kangaroos, and even earthworms. Beyond housing biodiversity, the canopy is the power source of the rainforest, with billions of tree leaves acting as miniature solar panels to convert sunlight into energy through photosynthesis. Since the rate of photosynthesis of canopy trees is so high, these plants generate higher yields of fruits, seeds, flowers, and leaves which attract and support a wide diversity of animal life. Further, as the principal site of the interchange of heat, water vapor, and atmospheric gases, the canopy also plays an important role in regulating regional and global climate.


Fragmentation killing species in the Amazon rainforest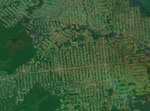 (11/27/2006) Forest fragmentation is rapidly eroding biodiversity in the Amazon rainforest and could worsen global warming according to research to be published this week in the journal Proceedings of the National Academy of Sciences. "Rainforest trees can live for centuries, even millennia, so none of us expected things to change too fast. But in just two decades-a wink of time for a thousand year-old tree-the ecosystem has been seriously degraded." said Dr. William Laurance, a scientist at the Smithsonian Tropical Research Institute in Panama and leader of the international team of scientists that conducted the research.


Mexico's rainforests depend on government conservation efforts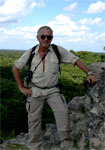 (11/21/2006) Few people realize that Mexico is home to the northernmost extent of rainforests that once extended clear down to the Amazon Basin. Though diminished in extent to about 30 percent of their original range, these rainforests are still characterized by high levels of biodiversity, including such charismatic species as jaguar, howler and spider monkeys, and macaws. These forests are also inhabited by indigenous people who live in ways largely unchanged since the arrival of Columbus in the 15th century. While still threatened by encroachment and illegal activities, in recent years the Mexican government and an assortment of environmental organizations has made progress in protecting these forests. Particularly active in these conservation efforts is the Los Tuxtlas Biological Station (Estacion de Biologia Tropical Los Tuxtlas del Instituto de Biologia Universidad Nacional Autonoma de Mexico) based in Veracruz (southern Mexico). In November 2006, Dr. Alejandro Estrada, senior research scientist at Los Tuxtlas and a leading authority on these forests, answered some questions on Mexico's remaining rainforests and conservation efforts in the country.


New species of orchids discovered in Papua New Guinea

(11/17/2006) Last month, environmental group WWF announced the discovery of eight orchid species previously unknown to science in the tropical forests of Papua New Guinea (PNG). PNG, which covers roughly half the island of New Guinea, has the more species of orchid than any country in the world.


Forest fires may cool climate

(11/17/2006) Boreal forest fires may actually cool climate according to research published in tomorrow's issue of the journal Science. Researchers at the Univerisity of California, Irvine (UCI), found that cooling may occur in regions where burned trees -- and reduced canopy cover -- exposes more snow, which reflects the sun's rays back into space. This effect may outweight the climate warming impact of the grenhouse gases released by forest burning.


Indonesia may seek rainforest conservation compensation to fight global warming

(11/16/2006) Indonesia may soon join the Coalition of Rainforest Nations in seeking compensation for rainforest conservation, according to a report from the International Tropical Timber Organization (ITTO), a timber industry group.


Amazon Indians use Google Earth, GPS to protect forest home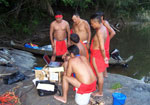 (11/15/2006) Deep in the most remote jungles of South America, Amazon Indians are using Google Earth, Global Positioning System (GPS) mapping, and other technologies to protect their fast-dwindling home. Tribes in Suriname, Brazil, and Colombia are combining their traditional knowledge of the rainforest with Western technology to conserve forests and maintain ties to their history and cultural traditions, which include profound knowledge of the forest ecosystem and medicinal plants. Helping them is the Amazon conservation Team (ACT), a nonprofit organization working with indigenous people to conserve biodiversity, health, and culture in South American rainforests.


U.S. stymies attempt to crack down on illegal logging

(11/14/2006) Monday the United States stymied an attempt by timber exporting and importing nations to establish new trade rules to tackle illegal logging, according to a report from Reuters. The news agency said that the U.S. may have neutered the initiative by insisting that all agreements had to be voluntary and failing to show up a Houses of Parliament meeting where proposals for the 2008 G8 summit in Tokyo were being developed.


New study confirms continuing forest loss in most countries

(11/14/2006) Forest cover continues to shrink in most countries around the world, though forest expansion in some countries gives hope that net deforestation may be peaking, according to a study published this week in Proceedings of the National Academy of Sciences.


Mining in Venezuelan Amazon threatens biodiversity, indigenous people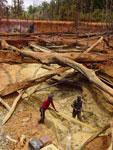 (11/09/2006) Troubles are mounting in one of Earth's most beautiful landscapes. Deep in the Venezuelan Amazon, among ancient forested tabletop mountains known as tepuis, crystalline rivers, and breathtaking waterfalls, illegal gold miners are threatening one of world's largest remaining blocks of wilderness, one that is home to indigenous people and strikingly high levels of biological diversity. As the situation worsens -- a series of attacks have counted both miners and indigenous people as victims -- a leading scientific organization has called for the Venezuelan government to take action.


British firm looks to Amazon rainforest for new drugs

(11/02/2006) A British drug discovery company has partnered with a Brazilian firm to look for medicines from Amazonian and Atlantic rainforests according to a news release from the University of Newcastle upon Tyne.


Avoided deforestation could send $38 billion to third world under global warming pact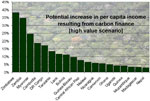 (11/01/2006) Avoided deforestation will be a hot point of discussion at next week's climate meeting in Nairobi, Kenya. Already a coalition of 15 rainforest nations have proposed a plan whereby industrialized nations would pay them to protect their forests to offset greenhouse gas emissions. Meanwhile, last month Brazil -- which has the world's largest extent of tropical rainforests and the world's highest rate of forest loss -- said it promote a similar initiative at the talks. At stake: potentially billions of dollars for developing countries. When trees are cut greenhouse gases are released into the atmosphere -- roughly 20 percent of annual emissions of such heat-trapping gases result from deforestation and forest degradation. Avoided deforestation is the concept where countries are paid to prevent deforestation that would otherwise occur. Policymakers and environmentalists alike find the idea attractive because it could help fight climate change at a low cost while improving living standards for some of the world's poorest people and preserving biodiversity and other ecosystem services. A number of prominent conservation biologists and development agencies including the World Bank and the U.N. have already endorsed the idea.


Indians are key to rainforest conservation efforts says renowned ethnobotanist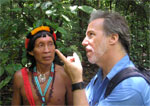 (10/31/2006) Tropical rainforests house hundreds of thousands of species of plants, many of which hold promise for their compounds which can be used to ward off pests and fight human disease. No one understands the secrets of these plants better than indigenous shamans -medicine men and women - who have developed boundless knowledge of this library of flora for curing everything from foot rot to diabetes. But like the forests themselves, the knowledge of these botanical wizards is fast-disappearing due to deforestation and profound cultural transformation among younger generations. The combined loss of this knowledge and these forests irreplaceably impoverishes the world of cultural and biological diversity. Dr. Mark Plotkin, President of the non-profit Amazon conservation Team, is working to stop this fate by partnering with indigenous people to conserve biodiversity, health, and culture in South American rainforests. Plotkin, a renowned ethnobotanist and accomplished author (Tales of a Shaman's Apprentice, Medicine Quest) who was named one of Time Magazine's environmental "Hero for the Planet," has spent parts of the past 25 years living and working with shamans in Latin America. Through his experiences, Plotkin has concluded that conservation and the well-being of indigenous people are intrinsically linked -- in forests inhabited by indigenous populations, you can't have one without the other. Plotkin believes that existing conservation initiatives would be better-served by having more integration between indigenous populations and other forest preservation efforts.


World Bank says carbon trading will save rainforests

(10/24/2006) Monday the World Bank endorsed carbon trading as a way to save tropical rainforests which are increasingly threatened by logging, agricultural development, subsistence agriculture, and climate change itself. The World Bank report comes on the heels of a proposal by a coalition of developing countries to seek compensation from industrialized countries for conserving their rainforests to fight global warming. Brazil is expected to announce a similar plan at upcoming climate talks in Nairobi.


Largest seizure of illegally logged Amazon rainforest timber announced by authorities

(10/23/2006) IBAMA, Brazil's environmental agency, announced the largest seizure ever of illegally logged timber from the Amazon rainforest. During a week-long operation -- code named Kojima -- in late September, authorities impounded nearly 15,000 cubic meters of unlicensed wood in the Amazonian state of Para. The agency said it was probably the largest seizure ever in the state. Para was the state where last year Sister Dorothy Stang, an American nun who worked with rural poor, was killed by gunman associated with local plantation owners. In response to the murder, the Brazilian government sent in the army to quell violence in the region and promised to step up environmental monitoring efforts.


Global warming could cause catastrophic die-off of Amazon rainforest by 2080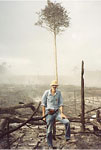 (10/23/2006) For the Amazon, there is an immense threat looming on the horizon: climate change could well cause most of the Amazon rainforest to disappear by the end of the century. Dr. Philip Fearnside, a Research Professor at the National Institute for Research in the Amazon in Manaus, Brazil and one of the most cited scientists on the subject of climate change, understands the threat well. Having spent more than 30 years in Brazil and now recognized as one of the world's foremost experts on the Amazon rainforest, Fearnside is working to do nothing less than to save this remarkable ecosystem. Fearnside believes saving the Amazon will require a fundamental shift in perception where the Amazon is recognized as an asset beyond the current price of mahogany, soybeans, or cattle, where its value is only unlocked by its destruction. The Amazon is far worth more than this he says. It can play a key role in fighting climate change while providing economic sustenance for millions through sustainable agriculture and rational utilization of its renewable products. It can serve as a storehouse for biodiversity while at the same time ensuring reliable water supplies and moderating regional temperature and precipitation. In short, maintaining the Amazon as a viable ecosystem makes sense economically and ecologically -- it is in our best interest to preserve this resource while we still can.


In search of rare, high elevation monkeys in China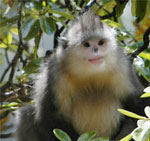 (10/19/2006) High in the cloud-shrouded Yunling mountains of northwestern Yunnan and southeastern Tibet (southwestern China) lives one of the world's most elusive monkeys, the Yunnan golden or snub-nosed monkey (Rhinopithecus bieti). Despite dwelling the most extreme environment of any monkey species -- high-altitude evergreen forests at elevations from 3000 - 4500 m (9800 - 14,800 feet) where temperatures may fall below freezing for several months in a row -- today there are less than 2000 of Yunnan snub-nosed monkeys remaining. Hunting and habitat loss has brought the species, which is limited to a single mountain range and fragmented into 15 small sub-populations at risk to genetic bottlenecks and inbreeding depression, to the brink of extinction.


Brazil says no to rainforest privatization plan, asks Gore for help

(10/18/2006) On Tuesday Brazil rejected a alleged British proposal to fight climate change by 'privatizing' parts of the Amazon rainforest, according to Reuters. In an editorial published on the opinion page of Folha de S.Paulo newspaper, Environment Minister Marina Silva and Foreign Minister Celso Amorim said that the Amazon was 'not for sale'. Their comments were expected since Brazil has long objected to internationalization of the Amazon, seeing such attempts as a threat to its sovereignty. The 'Amazon privatization' report, which originally appeared in Britain's Sunday Telegraph newspaper on October 1, 2006, said that David Miliband, Britain's Environment Secretary, planned to propose an initiative that would turn parts of the Amazon into an 'international trust' wherein credible buyers could lockup parts of the rainforest for preservation. However, shortly after the article was published, Miliband's office strongly rejected the story.


Rainforests face myriad of threats says leading Amazon scholar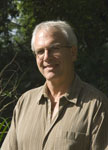 (10/17/2006) The world's tropical rainforests are in trouble. Spurred by a global commodity boom and continuing poverty in some of the world's poorest regions, deforestation rates have increased since the close of the 1990s. The usual threats to forests -- agricultural conversion, wildlife poaching, uncontrolled logging, and road construction -- could soon be rivaled, and even exceeded, by climate change and rising levels of carbon dioxide in the atmosphere. Understanding these threats is key to preserving forests and their ecological services for current and future generations. William F. Laurance, a distinguished scholar and president of the Association for Tropical Biology and conservation (ATBC) -- the world's largest scientific organization dedicated to the study and conservation of tropical ecosystems, is at the forefront of this effort.


Borneo and Sumatra burn as forest fires rage

(10/05/2006) Forest fires are again buring across Borneo and Sumatra (Indonesia) according to satellite images released this week by NASA.


Privatize the Amazon rainforest says UK minister

(10/02/2006) At a summit this week in Mexico, David Miliband, Britain's Environment Secretary, will propose a plan to "privatize" the Amazon to allow the world's largest rainforest to be bought by individuals and groups, according to a report in the Telegraph newspaper online. The scheme, which has been endorsed by Prime Minister Tony Blair, would seek to protect the region's biodiversity while mitigating greenhouse gas emissions to fight global warming.


Photos of newly discovered species in Brazil's Amazon rainforest

(09/28/2006) Brazil has announced the creation of a Amapa State Forest, a 5.7 million acre Amazon protected area larger than the state of New Jersey. According to conservation International (CI), "the designation protects a crucial section of the Amapa Biodiversity Corridor of northern Brazil, which includes some of the most pristine remaining Amazon forest." The Amapa Biodiversity Corridor -- which includes a variety of ecosystems including tropical forests, mangrove swamps, savannah, and wetlands -- is home to more than 1,700 species of animals and plants, including 430 species of birds, 104 species of amphibians, 124 reptile species and 127 mammal species, including 62 bat species, according to biological surveys conducted by conservation International (CI) and the Amapa State Institute for Research. At the core of the Amapa Biodiversity Corridor is Tumucumaque National Park, the world's largest tropical forest park.


Boreal forests worth $250 billion per year worldwide

(09/25/2006) Boreal forests provide services worth $250 billion per year globally according to estimates by Canadian researchers. Mark Anielski, an Edmonton economist, says that environmental services from the boreal -- including carbon capture and storage, water filtration and waste treatment, biodiversity maintenance, and pest control -- are worth about $160 per hectare, or $93 billion per year in Canada alone.


California sues Bush administration forest law repeal

(09/21/2006) Yesterday California sued the Bush Administration over its repeal of the Clinton Administration's "Roadless Rule". According to a release from state Attorney General Bill Lockyer, "The Northern Federal District of California ruled the U.S. Forest Service violated federal environmental laws by stripping national forest roadless areas of protection from road-building and logging without performing any environmental analysis of the consequences. The court ordered the immediate reinstatement of protections for nearly 50 million acres of remaining undeveloped forests."


More carbon dioxide may help some trees weather ice storms

(08/15/2006) The increased levels of carbon dioxide in the atmosphere predicted for later this century may reduce the damage that future ice storms will cause to commercially important loblolly pine trees, according to a new study.


Most of world's forests could be gone by 2100

(08/15/2006) New research claims that more than half the world's largest forests will be lost if global temperatures rise by an average of 3 degrees or more by the end of the century.The study, published in the current Proceedings of the National Academy of Sciences, says that a warmer climate also increases the risk of extreme floods, forest fires and droughts.


46 arrested for illegal Amazon logging

(08/11/2006) The Associated Press reports that 46 people, including 16 agents of the federal environmental protection agency, were arrested for allegedly operating illegal logging operations in the Amazon rainforest and southern Brazil.


Forest fires have high cost to health

(08/10/2006) Forest fires have a huge impact on human health according to a new study from the University of Alberta in Edmonton, Canada which attempted to put a pricetag on the actual economic losses caused by a 2001 fire that burned 116,000 hectares of forest land and settlements Chisholm, Alberta.


Small farmers good, big farmers bad for forest conservation say researchers

(08/08/2006) DResearchers presenting today at two symposia at the Ecological Society of America meeting in Memphis, Tennessee argue that the rural farmers are not necessarily at odds with efforts to preserve biodiversity in developing countries.


Climate Change Threatens Pacific Ocean Mangroves

(08/07/2006) Action is needed to conserve mangroves in the Pacific amid concern that rising sea levels, linked with climate change, are set to drown large areas of these precious and economically important ecosystems.


Tsunami reconstruction drives illegal logging in Indonesia

(08/06/2006) Tsunami reconstruction efforts are continuing to boost illegal logging and deforestation in Indonesia according to a new article published by the Associated Press.



Page 1 | Page 2 | Page 3 | Page 4 | Page 5 | Page 6 | Page 7 | Page 8 | Page 9 | Page 10 | Page 11 | Page 12 | Page 13 | Page 14 | Page 15 | Page 16 | Page 17 | Page 18 | Page 19 | Page 20 | Page 21 | Page 22 | Page 23 | Page 24 | Page 25 | Page 26 | Page 27 | Page 28 | Page 29 | Page 30 | Page 31 | Page 32 | Page 33 | Page 34 | Page 35 | Page 36 | Page 37 | Page 38 | Page 39 | Page 40 | Page 41 | Page 42 | Page 43 | Page 44 | Page 45