News articles on forestry

---
Mongabay.com news articles on forestry in blog format. Updated regularly.






Endangered species trafficking: What did Gibson Guitar know?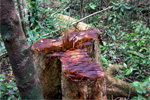 (07/07/2011) A motion filed last month by the U.S. Department of Justice alleges Gibson Guitar knew it was trafficking in endangered timber when it was busted by the U.S. Fish and Wildlife Service in November 2009, reports the Environmental Investigation Agency (EIA).
Is the Ministry of Forestry undermining Indonesia's logging moratorium?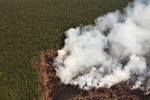 (06/28/2011) Indonesia's Ministry of Forestry is already undermining the moratorium on new forestry concessions on peatlands and in primary forest areas, alleges a new report from Greenomics-Indonesia. The report, The Toothless Moratorium, claims that a new decree from the Ministry of Forestry converts 81,490 hectares of forest protected under the moratorium into logging areas. The area affected is larger than Singapore.
Pictures: Turquoise 'dragon' among 1,000 new species discovered in New Guinea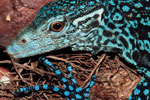 (06/27/2011) Scientists discovered more than 1,000 previously unknown species during a decade of research in New Guinea, says a new report from WWF. While the majority of 1,060 species listed are plants and insects, the inventory includes 134 amphibians, 71 fish, 43 reptiles, 12 mammals, and 2 birds. Among the most notable finds: a woolly giant rat, an endemic subspecies of the silky cuscus, a snub-fin dolphin, a turquoise and black 'dragon' or monitor lizard, and an 8-foot (2.5-m) river shark.
FSC mulls controversial motion to certify plantations responsible for recent deforestation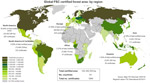 (06/24/2011) Members of the Forest Stewardship Council (FSC), meeting in Malaysia this week for its General Assembly, will consider various changes to the organization, including a vote on a controversial motion that would open the door—slightly at first—to sustainable-certification of companies that have been involved in recent forest destruction for pulp and paper plantations. Known as Motion 18, the change is especially focusing on forestry in places where recent deforestation has been rampant, such as Indonesia and Malaysia.
U.S. tribes to explore forest carbon opportunities

(06/22/2011) Tribes in Washington state will participate in a pilot project to test the feasibility of developing forest carbon projects on tribal lands, reports EcoAnalytics, a carbon advisory firm involved in the deal.
Indonesia to investigate palm oil company that allegedly breached moratorium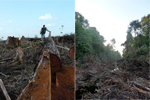 (06/21/2011) Indonesia's REDD+ Task Force will investigate charges that PT Menteng Jaya Sawit Perdana (PT Menteng), a palm oil company owned by Malaysia-based Kuala Lumpur Kepong Berhad (KLK), has cleared peat forest in breach of the country's newly-signed moratorium on the granting of new forestry licenses on peatlands and in primary forest areas. The allegation was levied by the Environmental Investigation Agency, an international NGO, and Telapak, an Indonesian group, after an on-the-ground undercover investigation. EIA and Telapak found that PT Menteng had cleared peat forest near Sampit in Indonesia's Central Kalimantan province without securing proper licenses.
Indonesia's moratorium undermines community forestry in favor of industrial interests
(06/21/2011) Indonesia's moratorium on new concessions in primary forest areas and peatlands "completely ignores" the existence of community forestry management licenses, jeopardizing efforts to improve the sustainability of Indonesia's forest sector and ensure benefits from forest use reach local people, say environmentalists. According to Greenomics-Indonesia, a Jakarta-based NGO, community and village forestry licenses are not among the many exemptions spelled under the presidential instruction that defines the moratorium. The instruction, issued last month, grants exemptions for industrial developers and allows business-as-usual in secondary forest areas by the pulp and paper, mining and palm oil industries.
Ahead of meeting, Forest Stewardship Council (FSC) loses another supporter

(06/19/2011) The forest organization, FERN, has pulled its support from the Forest Stewardship Council (FSC), reports FSC-Watch. FERN has quit the increasingly troubled organization due to FSC pursuing carbon credits through forestry. The FSC loses FERN just weeks before its 6th General Assembly, in which FSC partners—including private corporations and some environmental groups—will meet to debate current practices.
How do we save Africa's forests?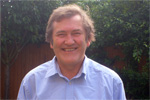 (06/19/2011) Africa's forests are fast diminishing to the detriment of climate, biodiversity, and millions of people of dependent on forest resources for their well-being. But is the full conservation of Africa's forests necessary to mitigate global climate change and ensure environmental stability in Africa? A new report by The Forest Philanthropy Action Network (FPAN), a non-profit that provides research-based advice on funding forest conservation, argues that only the full conservation of African forests will successfully protect carbon stocks in Africa.
Indonesia's forest moratorium

(06/17/2011) World Resource Institute's summary of key elements, and unanswered questions, in Indonesia's recent moratorium on new forest permits.
Barbie, Legos, other toys linked to destruction of Indonesia's rainforests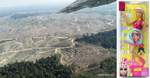 (06/07/2011) Some of the world's largest and most prominent toy-makers are sourcing their packaging materials from companies linked to large-scale destruction of Indonesia's rainforests, alleges a new report from Greenpeace. The report, How APP is Toying with Extinction, is based on forensic analysis of toy packaging from Mattel, which manufacturers Barbie and Hot Wheels toys; Disney, which makes a variety of toys linked to its movies; Hasbro, which produces GI Joe, Star Wars, and Sesame Street toys and various games like Monopoly and Scrabble; and Lego, which makes the iconic plastic building blocks. The analysis found traces of mixed-tropical hardwood (MTH) and acacia fiber which are principally sourced from Asia Pulp & Paper (APP), an umbrella paper products brand that sources from several companies that have been linked to rainforest destruction in Sumatra.
Interview with Indonesian climate official on rainforest logging moratorium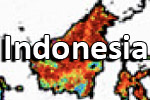 (06/03/2011) In May, Indonesia President Susilo Bambang Yudhoyono issued a presidential instruction laying out the specifications for a two-year moratorium on new concessions in primary forests and peatlands. The moratorium aims to create a window for Indonesia to enact reforms needed to slow deforestation and forest degradation under its Letter of Intent with Norway, which would pay the Southeast Asian nation up to a billion dollars for protecting forests.
Government cracks down on illegal logging in Madagascar

(06/02/2011) Authorities in Madagascar seized roughly a thousand logs during an ongoing operation in the northeastern part of the country, which has been besieged by illegal logging, reports l'Express de Madagascar. Seven people were arrested.
Lack of clarity complicates Indonesia's logging moratorium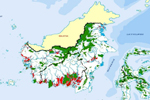 (05/27/2011) Lack of clarity makes it difficult to assess whether Indonesia's moratorium on new logging concessions in primary forest areas and peatlands will actually reduce greenhouse gas emissions from deforestation, according to a new comprehensive assessment of the instruction issued last week by Indonesian President Susilo Bambang Yudhoyono. The analysis, conducted by Philip Wells and Gary Paoli of Indonesia-based Daemeter Consulting, concludes that while the moratorium is "potentially a powerful instrument" for achieving the Indonesian president's goals of 7 percent annual growth and a 26 percent reduction in greenhouse gas emissions from a projected 2020 baseline, the language of the moratorium leaves significant areas open for interpretation, potentially offering loopholes for developers.
Shipping firm pledges to disconnect itself from rainforest destruction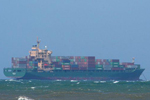 (05/25/2011) The Danish shipping giant Maersk pledged this week to stop purchasing containers with floors made from uncertified tropical hardwood, reports Deutsche Welle press. In an effort to reduce illegal logging and combat climate change, the company will be turning to recycled plastic, bamboo, and tropical wood certified by the Forest Stewardship Council (FSC) for its flooring. The Copenhagen-based firm is the first cargo company to transition to 'green containers' as part of a sustainable business strategy.
Indonesia's moratorium allows mining in protected forests

(05/23/2011) Indonesia's mining industry expects the just implemented moratorium on new forestry concessions in primary forests and peatlands to open up protected areas to underground coal and gold mining, reports the Jakarta Globe.
Locals clash with 'sustainable' FSC logging company in the Congo

(05/22/2011) Two separate protests against logging companies by local communities have turned violent in the Democratic Republic of Congo (DRC), leaving at least one dead. According to Greenpeace, one of the companies involved in the violence, Sodefor, is sustainably certified by the Forest Stewardship Council (FSC). Given that the industry in DRC is rife with social conflict and corruption, Greenpeace is advocating that FSC place a moratorium on certifying new industrial-style logging concessions in the central African nation.
Indonesia's moratorium disappoints environmentalists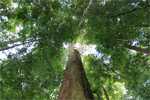 (05/20/2011) The moratorium on permits for new concessions in primary rainforests and peatlands will have a limited impact in reducing deforestation in Indonesia, say environmentalists who have reviewed the instruction released today by Indonesian President Susilo Bambang Yudhoyono. The moratorium, which took effect January 1, 2011, but had yet to be defined until today's presidential decree, aims to slow Indonesia's deforestation rate, which is among the highest in the world. Indonesia agreed to establish the moratorium as part of its reducing emissions from deforestation and degradation (REDD) agreement with Norway. Under the pact, Norway will provide up to a billion dollars in funds contingent on Indonesia's success in curtailing destruction of carbon-dense forests and peatlands.
Debate over rainforest conservation gets heated

(05/18/2011) A debate over the need to conserve forests versus converting them for industrial use grew heated last week at Australian National University (ANU). A forum brought together policy experts, scientists, and a forestry lobbyist to discuss Australia's role in overseas forestry. But an exchange between William F. Laurance, an ecologist at James Cook University, and Alan Oxley, a former former Australian trade ambassador who lobbies on behalf of forestry interests, became the focus of the event.
Is Indonesia losing its most valuable assets?
(05/16/2011) Deep in the rainforests of Malaysian Borneo in the late 1980s, researchers made an incredible discovery: the bark of a species of peat swamp tree yielded an extract with potent anti-HIV activity. An anti-HIV drug made from the compound is now nearing clinical trials. It could be worth hundreds of millions of dollars a year and help improve the lives of millions of people. This story is significant for Indonesia because its forests house a similar species. In fact, Indonesia's forests probably contain many other potentially valuable species, although our understanding of these is poor. Given Indonesia's biological richness — Indonesia has the highest number of plant and animal species of any country on the planet — shouldn't policymakers and businesses be giving priority to protecting and understanding rainforests, peatlands, mountains, coral reefs, and mangrove ecosystems, rather than destroying them for commodities?
Australia forest destruction connected to local products

(05/15/2011) Some of Australia's most popular stores are driving the destruction of native forests, according to a report by a new environmental group Markets for Change (MFC). Furniture, building materials, and paper products were found to be coming at the expense of native forests in Australia and being sold by over 30 businesses in the country, such as Freedom Furniture, Bunnings, Officeworks, Staples, Target, Coles, and Woolsworths.
Ten-year-old takes on KFC for destroying US forests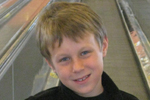 (05/15/2011) Cole Rasenberger's quest to save forests in the US South started as a school assignment to 'be an activist' about something important to him. However, after learning from Dogwood Alliance that coastal forests in North Carolina are being destroyed to make throw-away paper packaging for big fast food companies—such as McDonalds and KFC—Cole Rasenberger, at the age of 8, became more than an activist; he became an environmental leader! He started by targeting McDonalds directly. With the help of 25 friends, and his elementary school administration, he got every student in his school to sign postcards to McDonalds. In all, Cole sent 2,250 postcards to McDonalds.
Google Earth animation reveals Indonesian forest targeted for destruction by pulp and paper companies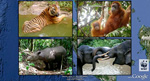 (05/14/2011) A new animation created using Google Earth offers a tour of an area of forest slated for destruction by logging companies. The animation, created by WWF-Indonesia and David Tryse, with technical assistance from Google Earth Outreach, highlights the rainforest of the Bukit Tigapuluh landscape in Sumatra, the only island in the world that is home to Sumatran tigers, elephants, rhinos, and orangutans. All of these species are considered endangered or critically endangered due to habitat destruction or poaching.
A new front in the war over palm oil?

(05/09/2011) A new study for the U.K. government found that in 2009 Britain imported at least 1.65 million metric tons of palm oil-related products for production of food, fuel, and cosmetics. Notably, the DEFRA study concluded Britain's consumption of palm kernel — typically considered a byproduct of palm oil production — was actually higher than its palm oil demand and accounted for roughly 10 percent of global palm kernel output.
China's log, sawnwood imports jump

(05/05/2011) China imported $6.1 billion worth of logs in 2010, a 22.4 percent increase over 2009, according to the country's customs bureau.
7 conglomerates control 9M ha of land in Indonesia

(05/05/2011) Efforts to slow deforestation in Indonesia should include curtailing further expansion of forestry holdings by giant conglomerates, says an Indonesian activist group. Analyzing data from the Ministry of Forest's Production Forest Utilization Quarterly Report, Jakarta-based Greenomics-Indonesia found that seven conglomerates in Indonesia control more than 9 million hectares of land, including large forest concessions that will likely be exempt from any moratorium on forest clearing established under the country's Reducing Emissions from Deforestation and Degradation (REDD) program. The extent of holdings could complicate Indonesia's efforts to reduce emissions from logging and plantation development.
Scientists urge Papua New Guinea to declare moratorium on massive forest clearing

(04/19/2011) Forests spanning an area larger than Costa Rica—5.6 million hectares (13.8 million acres)—have been handed out by the Papua New Guinea government to foreign corporations, largely for logging. Granted under government agreements known as Special Agricultural and Business Leases (SABLs), the land leases circumvent the nation's strong laws pertaining to communal land ownership. Now, the Association for Tropical Biology and Conservation (ATBC), the world's largest professional society devoted to studying and conserving tropical forests, is urging the Papua New Guinea government to declare a moratorium on SABLs.
Pro-deforestation group calls for weakening of U.S. law against illegal logging

(04/14/2011) A group that lobbies on behalf of forestry conglomerates in Indonesia and Malaysia is calling on the U.S. to roll back legislation intended to fight illegal logging. World Growth International, a Washington D.C.-based group that portrays itself as a humanitarian organization, yet consistently pushes policies that favor industrial forestry interests over those of rural communities, has submitted formal comments to the United States Department of Agriculture, Animal and Plant Health Inspection Service's (APHIS) review of the implementation of the revised Lacey Act provisions that prohibit trade in illegally logged wood products, including timber and paper.
Election cycle linked to deforestation rate in Indonesia

(04/14/2011) Increased fragmentation of political jurisdictions and the election cycle contribute to Indonesia's high deforestation rate according to analysis published by researchers at the London School of Economics (LSE), the Massachusetts Institute of Technology (MIT), and South Dakota State University (SDSU). The research confirms the observation that Indonesian politicians in forest-rich districts seem repay their election debts by granting forest concessions.
Greenpeace says McKinsey's REDD+ work could encourage deforestation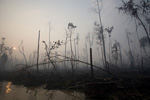 (04/07/2011) One of the world's top consultancies, McKinsey & Co., is providing advice to governments developing 'Reducing Emissions from Deforestation and Degradation' (REDD+) programs that could increase risks to tropical forests, claims a new report published by Greenpeace. The report, Bad Influence – how McKinsey-inspired plans lead to rainforest destruction, says that McKinsey's REDD+ cost curve and baseline scenarios are being used to justify expansion of industrial capacity in Indonesia, Papua New Guinea, Democratic Republic of Congo, and Guyana.
Japan disaster to put logging pressure on rainforests in Indonesia, Malaysia

(04/05/2011) The tragic earthquake and tsunami that hit Japan last month is likely to boost wood imports into the recovering nation, adding increased pressure on the already imperiled rainforests of Southeast Asia. Even before the disaster, Japan was the world's number one importer of wood chips and plywood and the second largest importer of logs. Japan usually imports plywood from China, Malaysia, and Indonesia, however the forests of Southeast Asia are facing tremendous loss due to logging and clearing for industrial-scale agriculture, such as palm oil.
World Bank to resume lending to palm oil sector after 18-month moratorium

(04/03/2011) After a two-year moratorium triggered by complaints over social conflict between local communities and palm oil companies, the World Bank has announced the adoption of a framework to restart lending to the palm oil sector. The framework was developed after months of consultations with stakeholders, including the private sector, NGOs, farmers, indigenous communities, development experts, and governments.
New World Growth report contains 'false and misleading' information
(03/31/2011) A new report from World Growth International, a lobby group for industrial forestry interests, contains 'false and misleading' information on the economic impact of reducing Indonesia's deforestation rate, says an Indonesian environmental group. The report, released today, claims that reducing deforestation in Indonesia will cost the country 3.5 million jobs annually by slowing expansion in the forestry sector.






Page 1 | Page 2 | Page 3 | Page 4 | Page 5 | Page 6 | Page 7 | Page 8 | Page 9 | Page 10 | Page 11 | Page 12 | Page 13 | Page 14 | Page 15 | Page 16 | Page 17 | Page 18 | Page 19 | Page 20 | Page 21 | Page 22