News articles on forestry

---
Mongabay.com news articles on forestry in blog format. Updated regularly.












Barbie, Legos, other toys linked to destruction of Indonesia's rainforests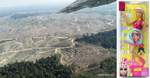 (06/07/2011) Some of the world's largest and most prominent toy-makers are sourcing their packaging materials from companies linked to large-scale destruction of Indonesia's rainforests, alleges a new report from Greenpeace. The report, How APP is Toying with Extinction, is based on forensic analysis of toy packaging from Mattel, which manufacturers Barbie and Hot Wheels toys; Disney, which makes a variety of toys linked to its movies; Hasbro, which produces GI Joe, Star Wars, and Sesame Street toys and various games like Monopoly and Scrabble; and Lego, which makes the iconic plastic building blocks. The analysis found traces of mixed-tropical hardwood (MTH) and acacia fiber which are principally sourced from Asia Pulp & Paper (APP), an umbrella paper products brand that sources from several companies that have been linked to rainforest destruction in Sumatra.
Interview with Indonesian climate official on rainforest logging moratorium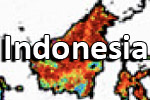 (06/03/2011) In May, Indonesia President Susilo Bambang Yudhoyono issued a presidential instruction laying out the specifications for a two-year moratorium on new concessions in primary forests and peatlands. The moratorium aims to create a window for Indonesia to enact reforms needed to slow deforestation and forest degradation under its Letter of Intent with Norway, which would pay the Southeast Asian nation up to a billion dollars for protecting forests.
Government cracks down on illegal logging in Madagascar

(06/02/2011) Authorities in Madagascar seized roughly a thousand logs during an ongoing operation in the northeastern part of the country, which has been besieged by illegal logging, reports l'Express de Madagascar. Seven people were arrested.
Lack of clarity complicates Indonesia's logging moratorium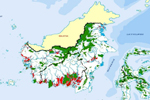 (05/27/2011) Lack of clarity makes it difficult to assess whether Indonesia's moratorium on new logging concessions in primary forest areas and peatlands will actually reduce greenhouse gas emissions from deforestation, according to a new comprehensive assessment of the instruction issued last week by Indonesian President Susilo Bambang Yudhoyono. The analysis, conducted by Philip Wells and Gary Paoli of Indonesia-based Daemeter Consulting, concludes that while the moratorium is "potentially a powerful instrument" for achieving the Indonesian president's goals of 7 percent annual growth and a 26 percent reduction in greenhouse gas emissions from a projected 2020 baseline, the language of the moratorium leaves significant areas open for interpretation, potentially offering loopholes for developers.
Shipping firm pledges to disconnect itself from rainforest destruction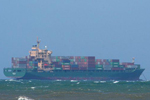 (05/25/2011) The Danish shipping giant Maersk pledged this week to stop purchasing containers with floors made from uncertified tropical hardwood, reports Deutsche Welle press. In an effort to reduce illegal logging and combat climate change, the company will be turning to recycled plastic, bamboo, and tropical wood certified by the Forest Stewardship Council (FSC) for its flooring. The Copenhagen-based firm is the first cargo company to transition to 'green containers' as part of a sustainable business strategy.
Indonesia's moratorium allows mining in protected forests

(05/23/2011) Indonesia's mining industry expects the just implemented moratorium on new forestry concessions in primary forests and peatlands to open up protected areas to underground coal and gold mining, reports the Jakarta Globe.
Locals clash with 'sustainable' FSC logging company in the Congo

(05/22/2011) Two separate protests against logging companies by local communities have turned violent in the Democratic Republic of Congo (DRC), leaving at least one dead. According to Greenpeace, one of the companies involved in the violence, Sodefor, is sustainably certified by the Forest Stewardship Council (FSC). Given that the industry in DRC is rife with social conflict and corruption, Greenpeace is advocating that FSC place a moratorium on certifying new industrial-style logging concessions in the central African nation.
Indonesia's moratorium disappoints environmentalists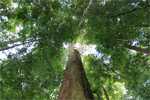 (05/20/2011) The moratorium on permits for new concessions in primary rainforests and peatlands will have a limited impact in reducing deforestation in Indonesia, say environmentalists who have reviewed the instruction released today by Indonesian President Susilo Bambang Yudhoyono. The moratorium, which took effect January 1, 2011, but had yet to be defined until today's presidential decree, aims to slow Indonesia's deforestation rate, which is among the highest in the world. Indonesia agreed to establish the moratorium as part of its reducing emissions from deforestation and degradation (REDD) agreement with Norway. Under the pact, Norway will provide up to a billion dollars in funds contingent on Indonesia's success in curtailing destruction of carbon-dense forests and peatlands.
Debate over rainforest conservation gets heated

(05/18/2011) A debate over the need to conserve forests versus converting them for industrial use grew heated last week at Australian National University (ANU). A forum brought together policy experts, scientists, and a forestry lobbyist to discuss Australia's role in overseas forestry. But an exchange between William F. Laurance, an ecologist at James Cook University, and Alan Oxley, a former former Australian trade ambassador who lobbies on behalf of forestry interests, became the focus of the event.
Is Indonesia losing its most valuable assets?
(05/16/2011) Deep in the rainforests of Malaysian Borneo in the late 1980s, researchers made an incredible discovery: the bark of a species of peat swamp tree yielded an extract with potent anti-HIV activity. An anti-HIV drug made from the compound is now nearing clinical trials. It could be worth hundreds of millions of dollars a year and help improve the lives of millions of people. This story is significant for Indonesia because its forests house a similar species. In fact, Indonesia's forests probably contain many other potentially valuable species, although our understanding of these is poor. Given Indonesia's biological richness — Indonesia has the highest number of plant and animal species of any country on the planet — shouldn't policymakers and businesses be giving priority to protecting and understanding rainforests, peatlands, mountains, coral reefs, and mangrove ecosystems, rather than destroying them for commodities?
Australia forest destruction connected to local products

(05/15/2011) Some of Australia's most popular stores are driving the destruction of native forests, according to a report by a new environmental group Markets for Change (MFC). Furniture, building materials, and paper products were found to be coming at the expense of native forests in Australia and being sold by over 30 businesses in the country, such as Freedom Furniture, Bunnings, Officeworks, Staples, Target, Coles, and Woolsworths.
Ten-year-old takes on KFC for destroying US forests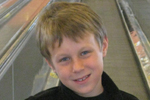 (05/15/2011) Cole Rasenberger's quest to save forests in the US South started as a school assignment to 'be an activist' about something important to him. However, after learning from Dogwood Alliance that coastal forests in North Carolina are being destroyed to make throw-away paper packaging for big fast food companies—such as McDonalds and KFC—Cole Rasenberger, at the age of 8, became more than an activist; he became an environmental leader! He started by targeting McDonalds directly. With the help of 25 friends, and his elementary school administration, he got every student in his school to sign postcards to McDonalds. In all, Cole sent 2,250 postcards to McDonalds.
Google Earth animation reveals Indonesian forest targeted for destruction by pulp and paper companies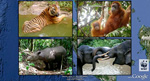 (05/14/2011) A new animation created using Google Earth offers a tour of an area of forest slated for destruction by logging companies. The animation, created by WWF-Indonesia and David Tryse, with technical assistance from Google Earth Outreach, highlights the rainforest of the Bukit Tigapuluh landscape in Sumatra, the only island in the world that is home to Sumatran tigers, elephants, rhinos, and orangutans. All of these species are considered endangered or critically endangered due to habitat destruction or poaching.
A new front in the war over palm oil?

(05/09/2011) A new study for the U.K. government found that in 2009 Britain imported at least 1.65 million metric tons of palm oil-related products for production of food, fuel, and cosmetics. Notably, the DEFRA study concluded Britain's consumption of palm kernel — typically considered a byproduct of palm oil production — was actually higher than its palm oil demand and accounted for roughly 10 percent of global palm kernel output.
China's log, sawnwood imports jump

(05/05/2011) China imported $6.1 billion worth of logs in 2010, a 22.4 percent increase over 2009, according to the country's customs bureau.
7 conglomerates control 9M ha of land in Indonesia

(05/05/2011) Efforts to slow deforestation in Indonesia should include curtailing further expansion of forestry holdings by giant conglomerates, says an Indonesian activist group. Analyzing data from the Ministry of Forest's Production Forest Utilization Quarterly Report, Jakarta-based Greenomics-Indonesia found that seven conglomerates in Indonesia control more than 9 million hectares of land, including large forest concessions that will likely be exempt from any moratorium on forest clearing established under the country's Reducing Emissions from Deforestation and Degradation (REDD) program. The extent of holdings could complicate Indonesia's efforts to reduce emissions from logging and plantation development.
Scientists urge Papua New Guinea to declare moratorium on massive forest clearing

(04/19/2011) Forests spanning an area larger than Costa Rica—5.6 million hectares (13.8 million acres)—have been handed out by the Papua New Guinea government to foreign corporations, largely for logging. Granted under government agreements known as Special Agricultural and Business Leases (SABLs), the land leases circumvent the nation's strong laws pertaining to communal land ownership. Now, the Association for Tropical Biology and Conservation (ATBC), the world's largest professional society devoted to studying and conserving tropical forests, is urging the Papua New Guinea government to declare a moratorium on SABLs.
Pro-deforestation group calls for weakening of U.S. law against illegal logging

(04/14/2011) A group that lobbies on behalf of forestry conglomerates in Indonesia and Malaysia is calling on the U.S. to roll back legislation intended to fight illegal logging. World Growth International, a Washington D.C.-based group that portrays itself as a humanitarian organization, yet consistently pushes policies that favor industrial forestry interests over those of rural communities, has submitted formal comments to the United States Department of Agriculture, Animal and Plant Health Inspection Service's (APHIS) review of the implementation of the revised Lacey Act provisions that prohibit trade in illegally logged wood products, including timber and paper.
Election cycle linked to deforestation rate in Indonesia

(04/14/2011) Increased fragmentation of political jurisdictions and the election cycle contribute to Indonesia's high deforestation rate according to analysis published by researchers at the London School of Economics (LSE), the Massachusetts Institute of Technology (MIT), and South Dakota State University (SDSU). The research confirms the observation that Indonesian politicians in forest-rich districts seem repay their election debts by granting forest concessions.
Greenpeace says McKinsey's REDD+ work could encourage deforestation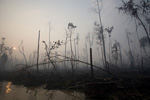 (04/07/2011) One of the world's top consultancies, McKinsey & Co., is providing advice to governments developing 'Reducing Emissions from Deforestation and Degradation' (REDD+) programs that could increase risks to tropical forests, claims a new report published by Greenpeace. The report, Bad Influence – how McKinsey-inspired plans lead to rainforest destruction, says that McKinsey's REDD+ cost curve and baseline scenarios are being used to justify expansion of industrial capacity in Indonesia, Papua New Guinea, Democratic Republic of Congo, and Guyana.
Japan disaster to put logging pressure on rainforests in Indonesia, Malaysia

(04/05/2011) The tragic earthquake and tsunami that hit Japan last month is likely to boost wood imports into the recovering nation, adding increased pressure on the already imperiled rainforests of Southeast Asia. Even before the disaster, Japan was the world's number one importer of wood chips and plywood and the second largest importer of logs. Japan usually imports plywood from China, Malaysia, and Indonesia, however the forests of Southeast Asia are facing tremendous loss due to logging and clearing for industrial-scale agriculture, such as palm oil.
World Bank to resume lending to palm oil sector after 18-month moratorium

(04/03/2011) After a two-year moratorium triggered by complaints over social conflict between local communities and palm oil companies, the World Bank has announced the adoption of a framework to restart lending to the palm oil sector. The framework was developed after months of consultations with stakeholders, including the private sector, NGOs, farmers, indigenous communities, development experts, and governments.
New World Growth report contains 'false and misleading' information
(03/31/2011) A new report from World Growth International, a lobby group for industrial forestry interests, contains 'false and misleading' information on the economic impact of reducing Indonesia's deforestation rate, says an Indonesian environmental group. The report, released today, claims that reducing deforestation in Indonesia will cost the country 3.5 million jobs annually by slowing expansion in the forestry sector.
Photos: Visiting Gunung Palung in Indonesian Borneo
(03/30/2011) A description of mongabay.com's Rhett Butler's recent visit to Gunung Palung National Park in West Kalimantan, Indonesian Borneo. In my travels in Kalimantan, the forest of Gunung Palung around Cabang Panti ranks among the best. Within 24 hours of arriving I had already seen wild orangutans, red leaf monkeys, gibbons, bearded pigs, a variety of lizards and frogs, a cobra (a little too close for comfort), and an innumerable diversity of insects.
German bank dumps palm oil company stock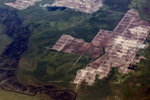 (03/25/2011) DWS, a fund management company run by Deutsche Bank, has dropped all Wilmar International stock from its financial products over concerns that the palm oil giant has failed to produce palm oil in a responsible manner despite being a member of the Roundtable on Sustainable Palm Oil (RSPO), a eco-certification initiative. The move follows a campaign by Robin Wood, a German activist group.
Involving communities in forest governance boosts biodiversity, local income

(03/24/2011) Involving local communities in the governance of forest resources boosts economic returns and biodiversity relative to areas where locals have little participation, report researchers writing in Science. The findings have implications for efforts to protect and sustainably manage forests under the reducing emissions from deforestation and degradation (REDD) mechanism.
Pro-deforestation group criticizes palm oil giant for sustainability pact

(03/24/2011) World Growth International, a group that advocates on behalf of industrial forestry interests, has criticized Golden Agri Resources (GAR), Indonesia's largest palm oil producer, for signing a forest policy that aims to protect high conservation value and high carbon stock forest and requires free, prior informed consent (FPIC) in working with communities potentially affected by oil palm development. In a newsletter published March 10, World Growth International claimed that GAR's agreement "could severely hamper the company's growth" by limiting where it can establish new plantations and says that negotiating with multiple stakeholders "will delay and complicate any investment by the company." World Growth International concludes by implying that GAR may renege on its commitment. But Peter Heng, Managing Director, Communications and Sustainability at GAR, disagreed with World Growth International's assessment.
5 million hectares of Papua New Guinea forests handed to foreign corporations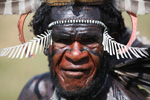 (03/23/2011) During a meeting in March 2011 twenty-six experts—from biologists to social scientists to NGO staff—crafted a statement calling on the Papua New Guinea government to stop granting Special Agricultural and Business Leases. According to the group, these leases, or SABLs as they are know, circumvent Papua New Guinea's strong community land rights laws and imperil some of the world's most intact rainforests. To date 5.6 million hectares (13.8 million acres) of forest have been leased under SABLs, an area larger than all of Costa Rica. "Papua New Guinea is among the most biologically and culturally diverse nations on Earth. [The country's] remarkable diversity of cultural groups rely intimately on their traditional lands and forests in order to meet their needs for farming plots, forest goods, wild game, traditional and religious sites, and many other goods and services," reads the statement, dubbed the Cairns Declaration. However, according to the declaration all of this is threatened by the Papua New Guinea government using SABLs to grant large sections of land without going through the proper channels.
What is the current status of REDD+?
(03/23/2011) The Reducing Emissions from Deforestation and Degradation (REDD) mechanism is supposed to be the great hope for saving the world's forests. Advocates say REDD — now known as REDD+ — could finally create financial incentives for keeping forests standing instead of chopping them down for timber, pulp and paper, cattle, palm oil, and rubber. At the same time, REDD could generate benefits for the rural poor, while safeguarding biodiversity and other ecosystem services. But the devil is in the details. Ensuring that REDD is properly designed, funded, and implemented means that progress has been slower than some supporters have hoped. A poorly designed REDD may be worse than no REDD at all. So where does that leave REDD now? Mongabay asked John-O Niles, the Director of the Tropical Forest Group, for his thoughts on the current status of REDD policy.
Palm oil company gives up land contested by local communities as part of sustainability pledge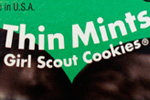 (03/21/2011) An Indonesia palm oil company has relinquished part of its plantation concession to communities that traditionally use the land as part of its commitment to sustainability principles under the Roundtable on Sustainable Palm Oil (RSPO), reports the Forest Peoples Programme. The move is a response to a new procedure that could reduce conflict between palm oil developers and forest-dependent communities.
Pulp and paper firms urged to save 1.2M ha of forest slated for clearing in Indonesia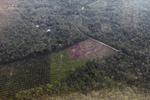 (03/17/2011) Indonesian environmental groups launched a urgent plea urging the country's two largest pulp and paper companies not to clear 800,000 hectares of forest and peatland in their concessions in Sumatra. Eyes on the Forest, a coalition of Indonesian NGOs, released maps showing that Asia Pulp and Paper (APP) and Asia Pacific Resources International Limited (APRIL) control blocks of land representing 31 percent of the remaining forest in the province of Riau, one of Sumatra's most forested provinces. Much of the forest lies on deep peat, which releases large of amount of carbon when drained and cleared for timber plantations.
Open source forest accounting methodology for REDD projects developed

(03/17/2011) Avoided Deforestation Partners, a forest conservation group, has coordinated the development of an "open source" forest carbon accounting methodology that could help speed projects aiming to reduce greenhouse gas emissions from deforestation and degradation. The group says the new protocols could substantially reduce the cost of establishing forest carbon conservation projects under the REDD mechanism. Carbon accounting and methodology costs can easily top $100,000, making it difficult for small projects to win certification.
Fighting illegal logging in Indonesia by giving communities a stake in forest management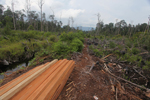 (03/10/2011) Over the past twenty years Indonesia lost more than 24 million hectares of forest, an area larger than the U.K. Much of the deforestation was driven by logging for overseas markets. According to the World Bank, a substantial proportion of this logging was illegal. Curtailing illegal logging may seem relatively simple, but at the root of the problem of illegal logging is something bigger: Indonesia's land policy. Can the tide be turned? There are signs it can. Indonesia is beginning to see a shift back toward traditional models of forest management in some areas. Where it is happening, forests are recovering. Telapak understands the issue well. It is pushing community logging as the 'new' forest management regime in Indonesia. Telapak sees community forest management as a way to combat illegal logging while creating sustainable livelihoods.
Report: corruption in Sarawak led to widespread deforestation, violations of indigenous rights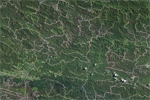 (03/10/2011) At the end of this month it will be 30 years since Abdul Taib Mahmud came to power in the Malaysian state of Sarawak. Environmentalists are using the occasion, along with new revelations, to highlight corruption and nepotism they say have characterized his regime. Chief Minister Taib and his decades-long administration are no strangers to such allegations, but a new report from the indigenous-rights group Bruno Manser Fund (BMF)—amid criticism from independent media sources, such as Sarawak Report and Radio Free Sarawak—are adding fuel to the fire. Most recently, the report describes in great detail how the tropical timber trade in Sarawak has undercut indigenous groups while toppling some of the world's greatest rainforests, all at the expense of the Sarawak people.




Page 1 | Page 2 | Page 3 | Page 4 | Page 5 | Page 6 | Page 7 | Page 8 | Page 9 | Page 10 | Page 11 | Page 12 | Page 13 | Page 14 | Page 15 | Page 16 | Page 17 | Page 18 | Page 19 | Page 20 | Page 21 | Page 22