News articles on forestry

---
Mongabay.com news articles on forestry in blog format. Updated regularly.






NASA satellite image shows extent of logging in Pacific Northwest

(02/22/2012) New satellite and space radar images by NASA shows the decline of forests in the Pacific Northwest, specifically in Washington and Oregon. Lost to development, agriculture, and large-scale logging, the maps apart of the National Biomass and Carbon Dataset (NBCD) show the patchy, fragmented nature of the forests in the two U.S. states.
Some toilet paper production destroys Indonesian rainforests, endangering tigers and elephants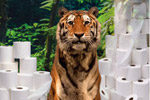 (02/09/2012) American consumers are unwittingly contributing to the destruction of endangered rainforests in Sumatra by purchasing certain brands of toilet paper, asserts a new report published by the environmental group WWF. The report, Don't Flush Tiger Forests: Toilet Paper, U.S. Supermarkets, and the Destruction of Indonesia's Last Tiger Habitats, takes aim at two tissue brands that source fiber from Asia Pulp & Paper (APP), a paper products giant long criticized by environmentalists and scientists for its forestry practices on the Indonesian island of Sumatra. The brands — Paseo and Livi — are among the fastest growing, in terms of sales, in the United States.
Indonesia to require loggers prove their concessions free of overlapping claims

(02/02/2012) Applicants for forest concessions in Indonesia will soon be required to prove there aren't overlapping claims on their holdings, reports The Jakarta Globe. The move, which offers the potential to reduce land disputes between forest developers and local communities, could complicate investments in the forestry sector in Indonesia.
Sinar Mas Group seeks 'backdoor' public listing in Singapore

(01/27/2012) Sinar Mas Group, an Indonesia-based conglomerate, is working on a deal to list its Indonesian coal assets on the Singapore Exchange by swapping shares with a small forestry firm that is already listed on the stock market, reports Reuters. The move would enable Sinar Mas Group to more easily raise capital for expansion.
Logging of primary rainforests not ecologically sustainable, argue scientists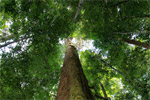 (01/25/2012) Tropical countries may face a risk of 'peak timber' as continued logging of rainforests exceeds the capacity of forests to regenerate timber stocks and substantially increases the risk of outright clearing for agricultural and industrial plantations, argues a trio of scientists writing in the journal Biological Conservation. The implications for climate, biodiversity, and local economies are substantial.
Sumatran elephant population plunges; WWF calls for moratorium on deforestation

(01/24/2012) The Sumatran elephant subspecies (Elephas maximus sumatranus) was downgraded to critically endangered on IUCN's Red List of Threatened Species on Tuesday, prompting environmental group WWF to call for an immediate moratorium on destruction of its rainforest habitat, which is being rapidly lost to oil palm estates, timber plantations for pulp and paper production, and agricultural use.
Economic slowdown leads to the pulping of Latvia's forests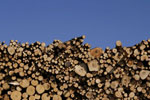 (01/23/2012) The economic crisis has pushed many nations to scramble for revenue and jobs in tight times, and the small Eastern European nation of Latvia is no different. Facing tough circumstances, the country turned to its most important and abundant natural resource: forests. The Latvian government accepted a new plan for the nation's forests, which has resulted in logging at rates many scientists say are clearly unsustainable. In addition, researchers contend that the on-the-ground practices of state-owned timber giant, Latvijas Valsts meži (LVM), are hurting wildlife and destroying rare ecosystems.
National Association of Music Merchants does 'disservice' to members by misleading them on illegal logging law, says letter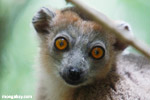 (01/19/2012) The National Association of Music Merchants is doing a 'disservice' to its members by misrepresenting the provisions and spirit of the Lacey Act, a law that aims to curb illegal logging abroad, states a letter published by a coalition of environmental groups. The letter, issued Thursday, urges the National Association of Music Merchants to reconsider its support for the RELIEF Act (HR 3210), introduced by Representatives Marsha Blackburn (R-TN), Mary Bono Mack (R-CA), and Jim Cooper (D-TN) last October. The RELIEF Act would weaken key provisions of the Lacey Act aimed to ensure that illegally sourced wood products aren't imported into the United States.
Levi's new forest policy excludes fiber from suppliers linked to deforestation

(01/17/2012) Levi Strauss & Company had issued a new policy that will exclude fiber from controversial sources from its products. The move will effectively bar Asia Pulp & Paper (APP) as a supplier, according to the Rainforest Action Network, a green group that is campaigning to reform APP's sourcing practices, which the NGO says come at the expense of rainforests in Sumatra.
Rainforests need massive finance, but REDD must be well-designed to succeed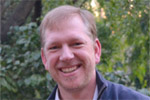 (01/17/2012) A proposed mechanism to reduce greenhouse gas emissions by protecting tropical forests has evolved considerably since it started to gain momentum during the 2005 climate talks in Montreal. Known then as 'avoided deforestation', the concept was simple: pay tropical forest countries to keep their forests standing. Since then, the concept has broadened to include activities beyond strict forest conservation, including reducing logging and fire, protecting carbon-dense peatlands, encouraging better forest management practices in existing forest concessions, and promoting reforestation and afforestation. A prominent voice in the discussion around REDD since its inception is the environmental activist group Greenpeace. Mongabay recently caught up with Roman Czebiniak, Greenpeace International's Political Advisor on Climate Change and Forests, for an update on the organization's position on REDD as well as recent developments in the forest carbon policy arena.
Camera traps snap first ever photo of Myanmar snub-nosed monkey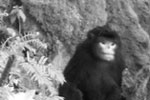 (01/10/2012) In 2010 researchers described a new species of primate that reportedly sneezes when it rains. Unfortunately, the new species was only known from a carcass killed by a local hunter. Now, however, remote camera traps have taken the first ever photo of the elusive, and likely very rare, Myanmar snub-nosed monkey (Rhinopithecus strykeri), known to locals as mey nwoah, or 'monkey with an upturned face'. Locals say the monkeys are easy to locate when it rains, because the rain catches on their upturned noses causing them to sneeze.
Extreme mouth-sewing protest in Indonesia leads to logging inquiry

(01/09/2012) A protest in which 28 Indonesian sewed their mouths shut has led to an inquiry into a logging concession on Padang Island. The Ministry of Forestry has formed a mediation team to look into the controversial concession, reports Kompas. Around a hundred natives of Padang Island rallied for weeks against the logging concession held by PT Riau Andalan Pulp and Paper (RAPP), which covers 37 percent of the island's total land.
Mouths are sewn shut in protest against deforestation in Indonesia

(01/03/2012) Twenty-eight Indonesians have taken the extreme measure of sewing their mouths shut in a protest turned hunger-strike against a forest concession on Padang Island, reports the Jakarta Globe. Around a hundred protesters, mostly natives of Padang Island, have camped outside the Indonesian Senate building since December 19th to protest a logging concession held by PT Riau Andalan Pulp and Paper (RAPP) on their island, which lies off the east coast of Sumatra.
Top 10 Environmental Stories of 2011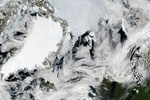 (12/22/2011) Many of 2011's most dramatic stories on environmental issues came from people taking to the streets. With governments and corporations slow to tackle massive environmental problems, people have begun to assert themselves. Victories were seen on four continents: in Bolivia a draconian response to protestors embarrassed the government, causing them to drop plans to build a road through Tipnis, an indigenous Amazonian reserve; in Myanmar, a nation not known for bowing to public demands, large protests pushed the government to cancel a massive Chinese hydroelectric project; in Borneo a three-year struggle to stop the construction of a coal plant on the coast of the Coral Triangle ended in victory for activists; in Britain plans to privatize forests created such a public outcry that the government not only pulled back but also apologized; and in the U.S. civil disobedience and massive marches pressured the Obama Administration to delay a decision on the controversial Keystone XL pipeline, which would bring tar sands from Canada to a global market.
New analysis supports claim that paper giant cleared part of its tiger sanctuary in Indonesia

(12/21/2011) Asia Pulp & Paper (APP)'s supplier PT Ruas Utama Jaya has indeed cleared an area of forest it pledged to set aside as a tiger conservation reserve in Sumatra reports a legal analysis by Greenomics, an Indonesian environmental group. The Greenomics' analysis supports allegations originally set forth in a report published last week by Eyes on the Forest, a coalition of green groups, and seems to refute a press release issued by APP that called the deforestation allegations 'fiction'.
WWF: Asia Pulp & Paper misleads public about its role in destroying Indonesia's rainforests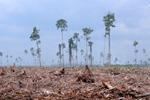 (12/16/2011) Asia Pulp & Paper (APP) continues to mislead the public about its role in destroying rainforests and critical tiger habitat across the Indonesian island of Sumatra, alleges a new report from Eyes on the Forest, a coalition of Indonesian environmental groups including WWF-Indonesia. The report, titled The truth behind APP's Greenwash, is based on analysis of satellite imagery as well as public and private documentation of forest cleared by logging companies that supply APP, which is owned by the Indonesian conglomerate, Sinar Mas Group (SMG). The report concludes APP's fiber suppliers have destroyed 2 million hectares of forest in Sumatra since 1984.
REDD advances—slowly—in Durban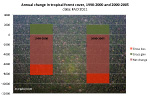 (12/15/2011) A program proposed to reduce greenhouse gas emissions from deforestation and degradation made mixed progress during climate talks in Durban. Significant questions remain about financing and safeguards to protect against abuse, say forestry experts. REDD+ aims to reduce deforestation, forest degradation, and peatland destruction in tropical countries. Here, emissions from land use often exceed emissions from transportation and electricity generation. Under the program, industrialized nations would fund conservation projects and improved forest management. While REDD+ offers the potential to simultaneously reduce emissions, conserve biodiversity, maintain other ecosystem services, and help alleviate rural poverty, concerns over potential adverse impacts have plagued the program since its conception.
Paper commitments for the Indonesian industry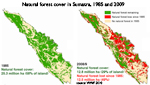 (12/13/2011) The Indonesian group Asia Pulp & Paper (APP) has been the target of many NGOs for years due to its alleged negative impacts on tropical forests. This culminated in a spectacular campaign launched by Greenpeace in 2011 based on Ken "dumping" Barbie. The rationale was that toy brand Mattel was accused of using APP paper products linked to the clear-cutting of natural forests in the Indonesian archipelago. APP organized a counter-attack in the media with the daily publication of advertisements promoting its sustainable development practices. Journalists from all over the world were also invited to attend guided tours of APP concessions to demonstrate their conservation efforts, and a number of articles were subsequently written.
NGOs call for arrest of Malaysian leader for corruption, money laundering

(12/12/2011) A coalition of Malaysian and international NGOs are calling for the arrest of Sarawak chief minister Abdul Taib Mahmud and 14 family members for alleged abused of power, corruption, and money laundering, reports the Bruno Manser Fund, a group that has signed the letter urging action.
Tool to track U.S. REDD+ finance released

(12/09/2011) A new online tool allows anyone to check U.S. government financial pledges made toward reducing emissions from deforestation and forest degradation (REDD+) programs in developing countries.
Agriculture group to spend 10 years on forest research

(12/07/2011) Recognizing the global importance of the world's vanishing forests, a 10-year-long research program will focus on the interconnection between agriculture and forests. Conducted by CGIAR, a global agriculture group concerned with sustainability, the research program will look at ways to decrease forest loss and degradation.
Jump-starting REDD finance: $3 billion Forest Finance Facility needed to halve deforestation within a decade

(12/06/2011) How to finance a means to reduce deforestation, which contributes emissions equivalent to the entire transport sector combined, has had some encouragement at the UN Climate meeting in Durban this week. An à la carte approach, where no source is ruled out, is emerging, leaving the door open to private sector finance for the first time. And with progress imminent in two other crucial areas of safeguards and reference levels, REDD+, a novel mechanism to halt deforestation, is once more likely to be the biggest winner.
Report questions legitimacy of Asia Pulp & Paper's conservation initiatives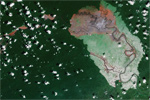 (11/22/2011) A new report by an Indonesian environmental group casts doubt on Asia Pulp & Paper's commitment to sustainability. In its corporate social responsibility reports and advertisements, Asia Pulp & Paper (APP), one of Indonesia's largest pulp and paper suppliers, has touted several forest reserves as indicators of its commitment to environmental stewardship. APP has portrayed these as voluntary, goodwill efforts to conserve Sumatra's endangered wildlife. But in a new report, Greenomics-Indonesia, a Jakarta-based NGO, says that at best these projects represent compliance with existing Indonesian laws or are in areas where commercial exploitation isn't viable.
Photos: five wild cat species documented in Sumatran forest imperiled by logging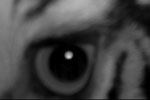 (11/16/2011) A single forest corridor in Sumatra has yielded camera trap photos of five wild cats species, including the Critically Endangered Sumatran tiger (Panthera tigris sumatrae). Photos were also taken of the Sunda clouded leopard (Neofelis diardi), the marbled cat (Pardofelis marmorata), the Asian golden cat (Pardofelis temminckii), and the leopard cat (Prionailurus bengalensis). The five species were all filmed by a WWF camera trap survey in a single forest corridor linking the forest of Bukit Tigapuluh and the Rimbang Baling Wildlife Sanctuary in Riau Province. Unfortunately this forest remains unprotected.
Cooper-Blackburn bill seeks exemptions for illegal wood imports

(11/05/2011) A proposed bill would gut the Lacey Act, undermining an amendment that bans import of illegally logging forest products, says a coalition of environmentalists and woodworkers in a letter addressed to members of Congress. The bill, introduced last month by Jim Cooper, Marsha Blackburn, and Mary Bono Mack, would grant an exemption to pulp and paper importers from Lacey Act requirements, while reducing fines for non-compliance to a pittance for "first time" offenders no matter the size of the infraction.
Indonesian palm oil giant seeks $200 m for expansion

(10/28/2011) Royal Golden Eagle, the parent Indonesia-based conglomerate for pulp and paper producer APRIL and palm oil giant Asian Agri Group, is looking to raise $200 million for expansion, reports Debtwire.
Malaysian sustainable timber certification fails Dutch standards
(10/23/2011) An independent panel in the Netherlands has found that the Malaysian Timber Certification Scheme (MTCS) falls short of Dutch standards for sustainable forestry. The final decision comes after a series of judgements and appeals with the latest panel concluding that MTCS still allows natural forest to be destroyed for monoculture plantation and that the scheme ignores the rights of indigenous people.
Why is Indonesia afraid of Greenpeace?
(10/18/2011) Last week Indonesian immigration officials in Jakarta blocked Greenpeace director John Sauven from entering the country. Sauven, who two weeks earlier had obtained the proper business visa for his visit from the Indonesian embassy in London, was scheduled to convene with his team in Jakarta, travel to the island of Sumatra, and meet with officials and Indonesian businesses at a forestry conference. The following day, Greenpeace campaigner Andrew Tait was harassed by unknown individuals who attempted to serve him with a deportation warrant.
Should public or private money finance efforts to save forests?
(10/11/2011) The 11th Rights and Resources Initiative Dialogue on Forests, Governance and Climate Change in London, which will focus on The Status and Role of Public and Private Finance to Reduce Forest Loss and Degradation. The goal of the RRI Dialogue is to examine the current state of public and private financial mechanisms for REDD+ and adaptation and contribute to developing an updated vision for the optimal design and deployment of finance to reduce forest loss and degradation - while respecting the rights and development needs of local people. RRI has partnered with Mongabay.com to present two diverging viewpoints on issues to be discussed at length at the dialogue, featuring Vicky Tauli-Corpuz (Executive Director, Tebtebba) and Scott Poynton (Executive Director, The Forest Trust).
Activists protest Australian forest destruction from top of the Sydney Opera House

(10/09/2011) A series of actions protesting forest destruction in Australia led to seven arrests last week. Led by a new NGO, The Last Stand, the activists targeted Australian retail giant Harvey Norman for allegedly being complicit in the destruction of native forests in Australia, which harbor many imperiled species found no-where else.
Paper suppliers risk damaging Indonesia's reputation, argues report

(10/07/2011) Indonesia needs to re-evaluate forest areas and peatlands granted for pulp and paper plantations to reduce the risk of damaging the international reputation of its forest products and undermining its commitment to greenhouse gas emissions reductions, argues a new report published by an Indonesian activist group.
Featured video: new documentary puts human face on logging in Papua New Guinea

(09/27/2011) A new documentary, filmed single-handily by filmmaker David Fedele, covers the impact of industrial logging on a community in Papua New Guinea. Entitled Bikpela Bagarap(or 'Big Damage' in English), the film shows with startling intimacy how massive corporations, greedy government, and consumption abroad have conspired to ruin lives in places like Vanimo, Papua New Guinea.
Old-growth forests are irreplaceable for sustaining biodiversity
(09/14/2011) Old growth rainforests should be a top conservation priority when it comes to protecting wildlife, reports a new comprehensive assessment published in the journal Nature. The research examined 138 scientific studies across 28 tropical countries. It found consistently that biodiversity level were substantially lower in disturbed forests.
Logged rainforests are a cheap conservation option
(09/14/2011) With old-growth forests fast diminishing and land prices surging across Southeast Asia due to rising returns from timber and agricultural commodities, opportunities to save some of the region's rarest species seem to be dwindling. But a new paper, published in the journal Conservation Letters, highlights an often overlooked opportunity for conservation: selectively logged forests.
Palm oil, poverty, and conservation collide in Cameroon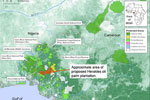 (09/13/2011) Industrial palm oil production is coming to Africa, its ancestral home. And like other places where expansion has occurred rapidly, the crop is spurring hope for economic development while generating controversy over its potential impacts. The world's most productive oil seed has been a boon to southeast Asian economies, but the looming arrival of industrial plantations in Africa is raising fears that some of the same detriments that have plagued leading producers Malaysia and Indonesia—deforestation, greenhouse gas emissions, biodiversity loss, conflicts with local people, social displacement, and poor working conditions—could befall one of the world's most destitute regions. While there is no question that oil palm is a highly lucrative crop that can contribute to economic development, there is also little doubt that conversion of native forests for plantations exacts a heavy toll on the environment. The apparent conflict seems to pit agroindustrial goliaths against greens, with communities falling somewhere in between. But Herakles, a New York-based investment firm planning to construct a 60,000-hectare plantation in the Central African country of Cameroon, says its approach will bridge this gap between economic development and the environment. Social and environmental campaigners are skeptical.





Indonesia to launch REDD+ agency to tackle deforestation

(09/13/2011) Indonesia will establish a REDD+ agency to support the country's efforts to reduce emissions from deforestation and forest degradation, according to a statement released by Indonesian President Susilo Bambang Yudhoyono's office.




Page 1 | Page 2 | Page 3 | Page 4 | Page 5 | Page 6 | Page 7 | Page 8 | Page 9 | Page 10 | Page 11 | Page 12 | Page 13 | Page 14 | Page 15 | Page 16 | Page 17 | Page 18 | Page 19 | Page 20 | Page 21 | Page 22