News articles on forestry

---
Mongabay.com news articles on forestry in blog format. Updated regularly.










Featured video: local communities successfully conserve forests in Ethiopia

(04/17/2013) A participatory forest management (PFM) program in Ethiopia has made good on forest preservation and expansion, according a recent article and video interview (below) from the Guardian. After 15 years, the program has aided one community in expanding its forest by 9.2 percent in the last decade, while still allowing community access to forest for smallscale logging in Ethiopia's Bale Mountains.
Fighting deforestation—and corruption—in Indonesia
(04/11/2013) The basic premise of the Reducing Emissions from Deforestation and Degradation (REDD+) program seems simple: rich nations pay tropical countries for preserving their forests. Yet the program has made relatively limited progress on the ground since 2007, when the concept got tentative go-ahead during U.N. climate talks in Bali. The reasons for the stagnation are myriad, but despite the simplicity of the idea, implementing REDD+ is extraordinarily complex. Still the last few years have provided lessons for new pilot projects by testing what does and doesn't work. Today a number of countries have REDD+ projects, some of which are even generating carbon credits in voluntary markets. By supporting credibly certified projects, companies and individuals can claim to "offset" their emissions by keeping forests standing. However one of the countries expected to benefit most from REDD+ has been largely on the sidelines. Indonesia's REDD+ program has been held up by numerous factors, but perhaps the biggest challenge for REDD+ in Indonesia is corruption.
6 lessons for stopping deforestation on the frontier
(04/09/2013) In 1984, at the tail end of the Brazilian dictatorship, I took up residence in a frontier town called Paragominas in the eastern Amazon. I went to study rainforests and pasture restoration, but soon became captivated as well by the drama of the frontier itself. Forests were hotly contested among cattle ranchers, smallholder communities, land speculators and more than a hundred logging companies, sometimes with fatal results. If we are to meet rising global demand for food, conserve tropical forests, and mitigate climate change at the pace that is necessary, we must become much better at taming aggressive, lawless tropical forest frontiers where people are making a lot of money cutting forests down.
Yum! Brands announces 'greener' paper policy

(04/08/2013) After a prolonged campaign by environmental activists, the world's largest fast food company has announced a new sourcing policy that will shift it toward greener packaging materials.
Investigation clears APP of deforestation allegations in Borneo
(04/04/2013) Two logging companies that supply Asia Pulp & Paper (APP) with timber have not violated the Indonesian forestry giant's new zero deforestation commitment, according to a field investigation by The Forest Trust, a conservation group. The investigation was a direct response to allegations raised in a report published last week by Relawan Pemantau Hutan Kalimantan (RPHK), a consortium of local NGOs in West Kalimantan, the western-most province in Indonesian Borneo. The RPHK report found evidence of active clearing within two concession areas linked to Asia Tani Persada (ATP) and Daya Tani Kalbar (DTK), companies that supply APP with timber for its pulp mills.
Jumping the gun? Confusion over APP deforestation report
(03/29/2013) On Thursday AFP reported that green groups have accused Indonesian forestry giant Asia Pulp & Paper (APP) of breaking its commitment to stop clearing natural forests and peatlands. But that's not entirely accurate. What the coalition of environmental groups in Indonesian Borneo actually reported was clearing by two companies that supply APP with fiber, not deforestation by APP-owned companies.
Conservation scientists: Aceh's spatial plan a risk to forests, wildlife, and people
(03/22/2013) A group of biologists and conservation scientists meeting in Sumatra warned that potential changes to Aceh's spatial plan could undermine some of the ecological services that underpin the Indonesian province's economy and well-being of its citizens. After its meeting from March 18-22 in Banda Aceh, the Asia chapter of the Association for Tropical Biology and Conservation (ATBC) issued a declaration [PDF] highlighting the importance of the region's tropical forest ecosystem, which is potentially at risk due to proposed changes to its spatial plan.
APP conservation policy came after it pulped most of its forests
(03/19/2013) Asia Pulp & Paper's widely heralded forest conservation policy came after the forestry giant had already cleared nearly all of the legally protected forests within its concessions in Sumatra, alleges a new report published by Greenomics, an Indonesian environmental group.
Dozens arrested after community fights deforestation by paper company in Indonesia

(03/07/2013) Dozens of villagers from Indonesia's North Sumatra province traveled to Jakarta this week to demand the release of 16 farmers who remain in detention after conflicts erupted between indigenous communities in Humbang Hasundutan district and PT Toba Pulp Lestari, a unit of the pulp and paper giant Asia Pacific Resources International Holdings (APRIL).
Forests under fire: Australia's imperiled south west
(03/05/2013) In the far southwestern corner of Western Australia, beyond the famed wineries in the shadow of the Margaret River, lies an ecosystem like no other, the South West ecoregion. This part of Australia has been identified as one of 34 global biodiversity hotspots, home to rare endemic flora and fauna like the Carnaby's black cockatoo, numbat (banded anteaters), woylie (brush-tailed bettong), mainland quokka and over 1500 plant species, most found nowhere else. Unfortunately, this unique habitat is being increasingly fragmented and its inhabitants threatened by a number of forces, including climate change, dieback, fires and logging. And, on the eve of the Western Australia's state elections, the future of the South West hangs in the balance.
Saving forests by stemming agricultural sprawl
(03/01/2013) I'm fortunate to travel the world helping conserve habitats for some of the world's most iconic species. When I visit places like the Amazon and Sumatra, I'm still awestruck by their diversity and pristine beauty. I'm also reminded how threatened they are. Our growing demand for food and fiber is fueling deforestation in resource-rich regions of the world. As environmentalists, if we don't change where and how we produce food and fiber, we can turn off the lights and go home. There won't be any biodiversity left to protect.
Malaysian NGOs boldly demand forest conservation action in Borneo
(02/28/2013) In an unusually bold statement catalyzed by the deaths of 14 rare elephants, six Malaysian NGOs today called on the Sabah state government to pursue 'a more conservation focused agenda' in managing the state's forests. The demand comes shortly after the death of 14 endangered pygmy elephants — thought poisoned by an oil palm plantation developer — thrust Sabah's environmental problems into the international spotlight.
Selective logging changes character of tropical forest

(02/28/2013) Selective logging is usually considered less harmful than other forestry practices, such as clear cutting, but a new study in mongabay.com's open access journal Tropical Conservation Science has found that even selective logging has a major impact on tropical forests lasting decades. Comparing trees in two previously logged sites and two unlogged sites in northeast India, researchers found less tree diversity in selectively logged forests with trees dispersed by birds proved especially hard-hit.
Is APP deal a sign of a changing forestry sector?

(02/15/2013) Asia Pulp & Paper (APP), one of the world's largest paper companies, announced earlier this month that it will no longer cut down natural forests in Indonesia and will demand similar commitments from its suppliers. The announcement was received with guarded optimism by Greenpeace, Rainforest Action Network, World Wildlife Fund, and other NGOs who have waged a persistent campaign to change APP's forest policies.
After Indonesian paper giant commits to no deforestation, pressure mounts on its biggest competitor
(02/12/2013) After Indonesian paper giant Asia Pulp & Paper's announcement last week that it will no longer source fiber produced from destruction of tropical rainforests, environmental groups are now urging Indonesia's other major paper company to make a similar commitment. On Tuesday, WWF echoed Greenpeace's call for Asia Pacific Resources International Limited (APRIL) to eliminate deforestation from its supply chain. Like APP, APRIL has been linked to large-scale conversion of Sumatra's endangered rainforests for industrial tree plantations to produce pulp and paper.
The beginning of the end of deforestation in Indonesia?
(02/05/2013) Asia Pulp & Paper, a forestry giant that has been widely criticized for its role in driving deforestation and contributing to social conflict in Indonesia, today announced a zero deforestation policy that could have a dramatic impact on efforts to slow the Southeast Asian nation's high rate of deforestation. The policy, which went into effect February 1, is ambitious enough that one of APP's most vocal critics and agitators, Greenpeace, will suspend its highly-damaging campaign against the paper giant. The campaign against APP has cost the paper giant tens of millions of dollars in lost business since 2009. The new policy targets several of the major criticisms against APP, including deforestation, degradation of high carbon peatlands, conservation of critical wildlife habitat, and social conflict with local communities.
Controversial research outlines physics behind how forests may bring rain
(01/30/2013) It took over two-and-a-half-years for the journal Atmospheric Chemistry and Physics to finally accept a paper outlining a new meteorological hypothesis in which condensation, not temperature, drives winds. If proven correct, the hypothesis could have massive ramifications on global policy—not to mention meteorology—as essentially the hypothesis means that the world's forest play a major role in driving precipitation from the coast into a continent's interior. The theory, known as the biotic pump, was first developed in 2006 by two Russian scientists, Victor Gorshkov and Anastassia Makarieva of the St. Petersburg Nuclear Physics, but the two have faced major pushback and delays in their attempt to put the theory before the greater scientific community.
HarperCollins establishes policy barring paper sourced from rainforest destruction
(01/29/2013) HarperCollins has established a policy that excludes paper sourced from destruction of tropical rainforests and old growth forests. The revised policy, posted on its web site earlier this month, is a response to a campaign by the Rainforest Action Network (RAN), an activist group that is targeting companies linked to clearing of Indonesian rainforests and peatlands for pulp and paper production:
Large blocks of Sumatra's endangered rainforest may be put up for mining, logging
(01/28/2013) The Indonesian province of Aceh on the western tip of the island of Sumatra may be preparing to lift the protected status of key areas of lowland rainforest potentially ending its bid to earn carbon credits from forest conservation and putting several endangered species at increased risk, according to reports.
Scientists point to research flaw that has likely exaggerated the impact of logging in tropical forests
(01/23/2013) The impact of logging on tropical forest species has likely been exaggerated by statistical problems, according to a new study in Conservation Biology. Reviewing 77 studies on how logging affects tropical biodiversity, scientists found that 67 percent were flawed by a technical problem known as 'pseudoreplication.' The debate over logging in tropical forests has garnered significant attention recently as some scientists argue that well-managed logging areas can actually retain impressive numbers of species, while others say logging does irreparable harm to the ecosystem's ecology.
Dead tigers, dead people: logging by paper industry worsens human-tiger conflict in Sumatra, alleges report
(01/10/2013) Destruction of rainforests and peatlands on the Indonesian island of Sumatra by the pulp and paper industry is worsening conflict between tigers and humans, including fatal encounters, alleges a new report published by a coalition of environmental groups in Riau, Sumatra. The report looks specifically at five concessions operated by companies that supply wood to Asia Pulp & Paper (APP) and its corporate parent, the Sinar Mas Group (SMG). The report says that the majority of human-tiger conflict incidents in Riau between 1997 and 2009 occurred within these concessions.
Paradigm shift needed to avert global environmental collapse, according to author of new book The Blueprint: Averting Global Collapse
(01/10/2013) Global strategist, trained educator, and international lecturer Daniel Rirdan set out to create a plan addressing the future of our planet. His book The Blueprint: Averting Global Collapse, published this year, does just that. "It has been a sixty hour a week routine," Rirdan told mongabay.com in a recent interview. "Basically, I would wake up with the burden of the world on my shoulders and go to sleep with it. It went on like this for eighteen months." It becomes apparent when reading The Blueprint that it was indeed a monumental undertaking.
The year in rainforests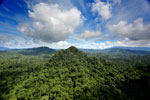 (12/31/2012) 2012 was another year of mixed news for the world's tropical forests. This is a look at some of the most significant tropical rainforest-related news stories for 2012. There were many other important stories in 2012 and some were undoubtedly overlooked in this review. If you feel there's something we missed, please feel free to highlight it in the comments section. Also please note that this post focuses only on tropical forests.
Paper giant breaks pledge to end rainforest logging in Sumatra, says group
(12/26/2012) Pulp and paper giant Asia Pacific Resources International Limited (APRIL) continues to destroy large areas of rainforests and peatlands despite a commitment to end natural forest logging by 2009, says a new report issued by a coalition of Indonesian environmental groups. The Eyes on the Forest report finds that APRIL and its suppliers cleared at least 140,000 hectares (346,000 acres) of natural forest between 2008 and 2011 in Riau, accounting for 27 percent of all forest loss in the province during the period. Some of the area cleared by APRIL and its subsidiaries consisted of deep peat swamp forest, which stores massive amount of carbon.
Greenpeace says U.S. logging company has broken landmark boreal forest agreement

(12/06/2012) When a long-fought peace was reached between nine environmental groups and 20 logging companies in 2010 for the vast Canadian boreal forest, it was dubbed the "world's largest conservation agreement." However, now that agreement is being shaken. A dispute between Greenpeace and U.S. logging company, Resolute Forest Products, over alleged logging in critical caribou habitat has resulted in the activist group abandoning the agreement.
Asia Pulp & Paper hires top U.S. lobbyist to help 'green' its image
(12/05/2012) Indonesian forestry giant Asia Pulp & Paper (APP) has hired a top U.S. official to help it work through trade and environmental issues. In November, APP announced it had retained Stuart Eizenstat of Covington & Burling, a U.S.-based law firm, to help 'ensure APP's trade and sustainability compliance in North America'. Eizentstat's hiring is notable because he led the U.S. delegation that negotiated the Kyoto Protocol and has served in a number of high-level government positions, including U.S. Ambassador to the European Union; Under Secretary of Commerce for International Trade; Under Secretary of State for Economic, Business and Agricultural Affairs; and Deputy Secretary of the Treasury in the Clinton Administration.
Indonesia lost 8.8m ha of forest in the 2000s, generating 7 billion tons of CO2

(12/02/2012) Indonesia's greenhouse gas emissions from deforestation could have been reduced by hundreds of millions of tons had a moratorium on new concessions in high carbon forest areas and peatlands been implemented earlier, reported a researcher presenting at a forests conference on the sideline of climate talks in Doha.
5 years in, debates over REDD+ continue
(11/28/2012) An initiative that aims to slow global warming by paying developing countries to protect and better manage their forests is expected to be an important storyline during climate talks in Doha this week and next. REDD+ (Reducing Emissions from Deforestation and Degradation), as the mechanism is known, has grown in complexity since it gained momentum during the 2005 climate talks in Montreal, but is arguably moving forward faster than other areas of climate negotiations. Still, many elements of REDD+ continue to be as hotly debated today as they were five years ago when it got the conceptual OK from the U.N. These include the process for establishing baselines to measure reductions in emissions, safeguards to protect against adverse outcomes for biodiversity and forest-dependent communities, and financing and markets.







Australia outlaws illegally-logged wood from abroad

(11/21/2012) In another blow to illegal loggers, Australia has passed the Illegal Logging Prohibition Bill, joining the U.S. in outlawing the importation of illegal logged timber from abroad. The new legislation makes it a criminal offense for Australian businesses to import timber from illegal operations. The Australian government estimates that $400 million worth of illegal timber products are sold in the country each year often as outdoor furniture and wood for decks






Page 1 | Page 2 | Page 3 | Page 4 | Page 5 | Page 6 | Page 7 | Page 8 | Page 9 | Page 10 | Page 11 | Page 12 | Page 13 | Page 14 | Page 15 | Page 16 | Page 17 | Page 18 | Page 19 | Page 20 | Page 21 | Page 22