News articles on forestry

---
Mongabay.com news articles on forestry in blog format. Updated regularly.





7-year old nature guide becomes Belize environmental hero as adult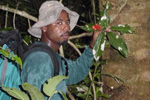 (11/16/2007) Each year hundreds of thousands of nature-oriented tourists visit Belize to see the Central American country's spectacular coral reefs, biodiverse rainforests, and ancient Mayan ruins. However few visitors realize that Belize's natural resources are at risk. Timber and oil extraction, agricultural encroachment, coastal development, pollution and unrestrained tourism are all increasing threats to Belizean ecosystems. Unless something is done to address these concerns, within a generation these pressures could present considerable problems for Belize. Dr. Colin Young, head of the environmental science program at Galen University in Belize, says that while he is greatly concerned about these issues, there is still time to ensure healthy forests and reefs in Belize.


Law enforcement key to saving Borneo's rainforests



(11/13/2007) In an interview with mongabay.com, Dr. Rhett Harrison, a Smithsonian Tropical Research Institute (STRI) associate researcher and Secretary for the Asia-Pacific Chapter of ATBC, says that law enforcement could be the key to safeguarding biodiversity contained in Borneo's lowland parks. Harrison says there may be opportunities for conservationists to work with oil palm to developers to ensure that existing forests are not converted for plantations and that palm oil can be produced in a sustainable manner. He also adds that carbon offsets may eventually offer a means to fund conservation and sustainable development efforts in areas that still have standing forest.


Planned logging of Woodlark Island for biofuels opposed by islanders and scientists

(11/12/2007) On Woodlark Island, one-hundred and seventy miles from Papua New Guinea, a struggle is occurring between islanders and biofuel company Vitroplant Ltd. The company is planning to clear much of the island's forest for oil palm plantations to produce biofuels. Vitorplant Ltd.'s contract specifies that they would deforest 60,000 hectares of land for plantations; Woodlark Island is 85,000 hectares in total, meaning over 70% of the island would be converted. Last week, one hundred islanders (out of a total population of 6,000) traveled to the capital of Milne Bay Province, Alotau, to voice their concern over the plans to turn their forested island into plantations.


Greenwashing the palm oil industry

(11/12/2007) A new report from Greenpeace alleges that members of the Roundtable on Sustainable Palm Oil -- an industry-driven initiative to clean up palm oil production -- are using palm oil derived by clearing endangered rainforests and draining carbon-rich peatlands on the Indonesian island of Sumatra.


Oil palm does not store more carbon than forests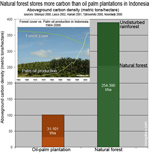 (11/08/2007) Officials from the Indonesian ministry of agriculture and the palm oil industry are distributing materials that misrepresent the carbon balance oil palm plantations, according to accounts from people who have seen presentations by members of the Indonesian Palm Oil Commission. Ministry of agricultural officials are apparently arguing that oil palm plantations store and sequester many times the amount of CO2 as natural forests and therefore converting forests for plantations is the best way to fight climate change. In making such claims, these Indonesian officials are ignoring data that show the opposite, putting the credibility of the oil palm industry at risk, and undermining efforts to slow deforestation and reign in greenhouse gas emissions.


Subtle threats could ruin the Amazon rainforest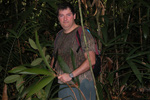 (11/07/2007) While the mention of Amazon destruction usually conjures up images of vast stretches of felled and burned rainforest trees, cattle ranches, and vast soybean farms, some of the biggest threats to the Amazon rainforest are barely perceptible from above. Selective logging -- which opens up the forest canopy and allows winds and sunlight to dry leaf litter on the forest floor -- and 6-inch high "surface" fires are turning parts of the Amazon into a tinderbox, putting the world's largest rainforest at risk of ever-more severe forest fires. At the same time, market-driven hunting is impoverishing some areas of seed dispersers and predators, making it more difficult for forests to recover. Climate change -- an its forecast impacts on the Amazon basin -- further looms large over the horizon.


Carbon-negative bioenergy to cut global warming could drive deforestation

(11/06/2007) A proposed mechanism for generating carbon-negative bioenergy -- an energy source that reduces atmospheric carbon dioxide levels -- could drive large-scale deforestation in the tropics and undermine efforts to conserve forests for carbon offsets says a biofuel expert.


WSJ inquiry pushes FSC to cancel logging certification in endangered forest

(10/30/2007) An inquiry by The Wall Street Journal prompted the Forest Stewardship Council (FSC), an environmental body that runs a widely accepted "green" labeling system for forestry products, to revoke certification for a Singapore-based Asia Pulp & Paper Co. (APP) project on the Indonesian island of Sumatra.


Avoided deforestation beats timber, palm oil, in tax revenue for Indonesia

(10/29/2007) Indonesia could more than double its tax revenue by protecting forests and selling the resulting carbon emission credits instead of timber and palm oil, a University of Michigan researcher told Bloomberg.


Does palm oil alleviate rural poverty in Malaysia?



(10/23/2007) While it is often argued that the economic benefits of oil palm plantations outweigh the environmental costs of converting biodiverse ecosystems to monocultures, new analysis suggests that the role of plantations in reducing rural poverty may be overstated.


World Bank offers $300M for forest conservation, emissions reductions

(10/15/2007) Tropical forest countries will be eligible for payments for preventing deforestation under a program unveiled last week by the World Bank.


Environmentalists and palm oil producers should work together

(09/25/2007) Environmentalists and palm-oil producers are increasingly at odds. Greens groups say palm oil is driving the conversion of tens of thousands of hectares of peatlands and lowland forest in Indonesia, putting wildlife at risk, increasing the vulnerability of forests to fires, and triggering large emissions of greenhouse gases.


Carbon for forests will help Aceh recover from war, tsunami

(09/18/2007) Carbon credits through forest conservation will play an important role in Aceh's recovery from decades of civil war and the devastating 2004 tsunami, which left more than 167,000 people dead and 500,000 homeless in the Indonesia province, said Aceh governor Irwandi Jusuf in meeting in San Francisco.


Do Costa Rica's payments for environmental services work?

(09/17/2007) While Costa Rica is now known as a world leader for conservation policies and ecotourism, the Central American country had some of the world's highest deforestation rates prior to establishing its reputation. Clearing for cattle pasture and agriculture destroyed much of the country's biodiverse rainforests in the 1960s and 1970s.


Australia puts $100M toward protecting forest in Borneo

(09/09/2007) Australian and Indonesian ministers signed a AU$100 million ($82M) deal to protect highly threatened forests on the island of Borneo, according to the Sydney Morning Herald. Funds will go towards conservation and rehabilitation of degraded forests and peatlands.


Indonesia misses reforestation target for 2007

(09/09/2007) Indonesia has missed its forest rehabilitation target by a wide margin due to lack of funds, reports the Jakarta Post.


Can remittances and globalization help the environment?

(09/05/2007) Globalization and other economic trends appear to be helping the degraded forests of El Salvador recover, reports new research that evaluated the impact of global trade, land policy changes, and remittances on forest cover. The study, by Susanna B. Hecht of University of California at Los Angeles and Sassan S. Saatchi of the California Institute of Technology, used socioeconomic data, land-use surveys, and satellite imagery to document significant increases in the area of El Salvador covered by both light woodlands and forest since peace accords were signed in the warn-torn country in 1992.


NGOs should use palm oil to drive conservation

(08/29/2007) Environmentalists view the expansion of oil palm plantations in southeast Asia as one of the greatest threats to the region's forests and biodiversity. Campaigners say oil palm is driving the conversion of tens of thousands of hectares of peatlands and lowland forest in Indonesia and Malaysia, putting wildlife at risk, increasing the vulnerability of the forests to fires, and triggering large emissions of greenhouse gases. Pressure from these groups have in recent months convinced European policymakers to reconsider sourcing energy crop production to the region.


Temperate forests not a fix for global warming

(08/10/2007) Carbon sequestration projects in temperate regions -- already facing doubts by scientists -- were dealt another blow by Duke University-led research that found pine tree stands grown under elevated carbon dioxide conditions only store significant amounts of carbon when they receive sufficient amounts of water and nutrients.


"Virgin" rain forests of Costa Rica a misnomer

(07/25/2007) Radiocarbon dating of montane forest soils in Costa Rica uncovered evidence of charcoal that shows its otherwise "virgin" tropical forests are less than 200 years old. The findings, published in the journal Biotropica, have implications for the re-establishment of rain forests after clearing.


Is peat swamp worth more than palm oil plantations?

(07/16/2007) Could peat swamp be worth more intact for their carbon value than palm oil plantations for their oil? Quick analysis suggests yes, though binding limits on emissions will be needed to trigger the largest ever flow of money from the industrialized world to developing countries. At stake: the bulk of the world's biodiversity.


NASA images show expansion of logging in Congo rainforest

(07/15/2007) New high resolution images of logging roads in the Congo region of Africa are helping researchers understand the expansion of industrial logging in Central Africa.


China's paper recycling industry can help shield forests from destruction

(07/15/2007) China's massive paper recycling capacity is helping shield global forests worldwide from destruction by supporting an international market for wastepaper as an alternative to pulpwood, says a new report released by Forest Trends, an international forestry organization. Nevertheless, wastepaper alone is not enough to meet demand from China's growing paper industry.


Poverty and corruption reduce effectiveness of rainforest parks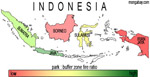 (07/09/2007) Poverty and corruption are linked to higher incidence of fire in tropical forest reserves, reports a new study published in the journal Ecological Applications. Poor, corrupt countries -- like Cambodia, Guatemala, Paraguay, and Sierra Leone -- have the least effective parks when measured in terms of the incidence of fire relative to surrounding "buffer" areas. The findings have significant implications for rainforest conservation efforts.


Environmentalists winning fight against illegal ramin timber trade

(07/08/2007) A global crackdown on the illegal ramin timber trade appears to be working, reports a Japanese environmental group.


Home improvement giant bans illegal wood products

(07/08/2007) B&Q, the third largest retailer of home improvement materials, announced that within three years, all Brazilian wood products sold in China would come from certified sources. B&Q has 60 stores in China.


Norway bans tropical timber

(07/02/2007) Concerned about rising deforestation rates, Norway has banned the use of tropical timber in all public buildings, reports the Rainforest Foundation Norway.


Researchers create mutant midget trees through genetic modification

(06/18/2007) Researchers have genetic modification to manipulate the growth in height of trees, a development that could lead to miniature trees and a variety of new ornamental plants, reports Oregon State University.


An interview with author and eco-lodge pioneer Jack Ewing



(06/12/2007) In 1970 a young man went to Costa Rica, a place he initially confused with Puerto Rico, on an assignment to accompany 150 head of cattle. 37 years and several lifetimes' worth of adventures later, Jack Ewing runs a eco-lodge that serves as a model for a country now considered the world leader in nature travel.


98% of orangutan habitat gone in next 15 years



(06/11/2007) Indonesia is losing more than 2.1 million hectares (5.2 million acres) of forest a year to illegal loggers, states a new report from the U.N. Environment Program (UNEP). The report, which estimates the value of illicit timbering at $4 billion annually, warns that 98 percent of Indonesia's lowland forests will be gone by 2022, putting species like the orangutan at risk of extinction in the wild. The report, Last stand of the Orang-utan: State of Emergency, was released Monday at the Convention on International Trade in Endangered Species meeting in The Hague.


Chinese demand drives global deforestation

(06/10/2007) From outside, Cameroon's Ngambe-Tikar forest looks like a compact, tangled mass of healthy emerald green foliage. But tracks between the towering tropical hardwood trees open up into car park-sized clearings littered with logs as long as buses. Forestry officers say the reserve is under attack from unscrupulous commercial loggers who work outside authorized zones and do not respect size limits in their quest for maximum financial returns.


Logging roads rapidly expanding in Congo rainforest

(06/07/2007) Logging roads are rapidly expanding in the Congo rainforest, report researchers who have constructed the first satellite-based maps of road construction in Central Africa. The authors say the work will help conservation agencies, governments, and scientists better understand how the expansion of logging is impacting the forest, its inhabitants, and global climate.


Can cattle ranchers and soy farmers save the Amazon?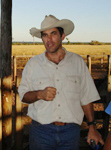 (06/06/2007) John Cain Carter, a Texas rancher who moved to the heart of the Amazon 11 years ago and founded what is perhaps the most innovative organization working in the Amazon, Alianca da Terra, believes the only way to save the Amazon is through the market. Carter says that by giving producers incentives to reduce their impact on the forest, the market can succeed where conservation efforts have failed. What is most remarkable about Alianca's system is that it has the potential to be applied to any commodity anywhere in the world. That means palm oil in Borneo could be certified just as easily as sugar cane in Brazil or sheep in New Zealand. By addressing the supply chain, tracing agricultural products back to the specific fields where they were produced, the system offers perhaps the best market-based solution to combating deforestation. Combining these approaches with large-scale land conservation and scientific research offers what may be the best hope for saving the Amazon.


Globalization could save the Amazon rainforest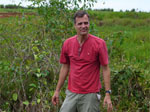 (06/03/2007) The Amazon basin is home to the world's largest rainforest, an ecosystem that supports perhaps 30 percent of the world's terrestrial species, stores vast amounts of carbon, and exerts considerable influence on global weather patterns and climate. Few would dispute that it is one of the planet's most important landscapes. Despite its scale, the Amazon is also one of the fastest changing ecosystems, largely as a result of human activities, including deforestation, forest fires, and, increasingly, climate change. Few people understand these impacts better than Dr. Daniel Nepstad, one of the world's foremost experts on the Amazon rainforest. Now head of the Woods Hole Research Center's Amazon program in Belem, Brazil, Nepstad has spent more than 23 years in the Amazon, studying subjects ranging from forest fires and forest management policy to sustainable development. Nepstad says the Amazon is presently at a point unlike any he's ever seen, one where there are unparalleled risks and opportunities. While he's hopeful about some of the trends, he knows the Amazon faces difficult and immediate challenges.


Tasmania agrees to logging moratorium

(05/30/2007) Forestry Tasmania, the forest service of Tasmania, has signed an agreement with environmental activists to cease logging activities in the Upper Florentine Valley of the island. The moratorium will last through federal elections this in October..


Indonesia could earn $100-$180 million from carbon trading

(05/28/2007) Indonesia says it hopes to soon see millions of dollars from carbon trading, reports the International Tropical Timber Organization (ITTO) in its latest update.


U.S. tropical timber imports fall by half in 2006

(05/28/2007) Tropical lumber imports into the United States fell from 353,985 cubic meters in 2005 to 176,806 cubic meters in 2006, reports the International Tropical Timber Organization (ITTO) in its latest update. Tropical timber made up only 12 percent of U.S. hardwood lumber imports by volume for the year.


China tropical log imports jump at Jiangsu port

(05/16/2007) Logs imports through Zhangjiagang Port in Jiangsu Province, China have increased significantly in 2007, reports the International Tropical Timber Organization (ITTO) in its bi-weekly update.


Peru makes progress on illegal mahogany logging

(05/16/2007) Last month Inrena, Peru's environmental agency, implemented regulations for mahogany loggers that will now require forest concession holders to replant ten times the logged amount of trees. Overall, the initiative calls for the production and establishment of one million of mahogany plantlets over 5 years.


US tropical hardwood imports fall 24% since 2002

(05/16/2007) The United States is importing considerable less tropical hardwood according to the International Tropical Timber Organization's (ITTO) Tropical Timber Market Report.


Reducing tropical deforestation will help fight global warming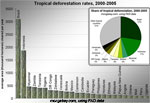 (05/10/2007) Scientists have lent support to a plan by developing countries to fight global warming by reducing deforestation rates. Tropical deforestation releases more than 1.5 billion metric tons of carbon into the atmosphere every year, though in some years, like the 1997-1998 el Nino year when fires released some 2 billion tons of carbon from peat swamps alone in Indonesia, emissions are more than twice that. Writing in the journal Science, an international team of scientists argue that the Reducing Emissions from Deforestation (RED) initiative, launched in 2005 by the United Nations Framework Convention on Climate Change, is scientifically and technologically sound, and that political and economic challenges facing the plan can be overcome.


Massive oil palm expansion planned by Indonesia's richest man

(05/08/2007) Indonesia's richest man plans to spend $4 billion to expand his company's palm oil, energy, and pulp and paper holdings, according to a report from Reuters.


Malaysia will reforest 4000 ha of forest in Borneo

(05/07/2007) Malaysia plans to rehabilitate 4000 hectares (10,000 acres) of damaged forest is Sabah state, on the island of Borneo, reports the Associated Press. The environmental restoration and management plan for the Ulu Semaga-Malua forests will cost $58 million.


Indonesia will plant 2 billion trees in 2007

(05/07/2007) Indonesia plans to rehabilitate 59.2 million hectares (146 million acres) of damaged forest throughout Indonesia, according to Malam Sambat Kaban, Indonesia's Forestry Minister.


Indonesia may import timber due to supply shortage

(05/07/2007) Indonesia, the world's largest exporter of tropical timber, may need to import wood from neighbors due to supply shortages caused by a crack down on illegal logging and resource depletion, reports the International Tropical Timber Organization (ITTO).


ITTO has failed to end tropical forest destruction says Greenpeace

(05/07/2007) Greenpeace activists today abseiled from the top of the Crowne Plaza hotel in downtown Port Moresby, where delegates were gathering for the start of the 42nd International Tropical Timber Organization's (ITTO) committee meeting, and unfurled a banner which read 'ITTO Stop Forest Destruction'.


U.S. could offset 20% of emissions through reforestation of marginal lands



(05/03/2007) Reforesting marginal agricultural land could significantly slow the increase of carbon in the atmosphere reports a new study based on NASA data, though it would be no magic bullet in fighting global warming since temperate forests have been shown to increase regional temperatures by absorbing more sunlight. Still, reforestation has the potential to offer other ancillary benefits including watershed services and erosion control.


China to push for sustainable logging overseas


(04/25/2007) In a surprising move, China has developed guidelines for the establishment of sustainable forest plantations abroad by Chinese firms, according to the International Tropical Timber Organization's (ITTO) April 1 Tropical Timber Market Report. The move comes as China faces increasing criticism from environmental groups for pillaging the world's forests to feed its rapidly growing economy.


Indonesia urges rich countries to ban illegally logged wood products


(04/25/2007) Indonesia has urged rich countries not to buy products made from illegally logged timber, echoing a similar call from Malaysia last month, according to the International Tropical Timber Organization's (ITTO) April 1 Tropical Timber Market Report.


Illegal logging in Malaysia due to gangsters

(04/25/2007) The Malaysian government has blamed "gangsters" for illegal logging syndicates in the country. Malaysia's deforestation rate has leapt by 86 percent since the close of the 1990s, according to data from the U.N.



Page 1 | Page 2 | Page 3 | Page 4 | Page 5 | Page 6 | Page 7 | Page 8 | Page 9 | Page 10 | Page 11 | Page 12 | Page 13 | Page 14 | Page 15 | Page 16 | Page 17 | Page 18