News articles on forestry

---
Mongabay.com news articles on forestry in blog format. Updated regularly.






Rainforest fungus generates biodiesel, may drive energy of the future

(11/04/2008) A fungus recently discovered in the Patagonian rainforest has shocked biologists and environmentalists: the fungus produces gas almost identical to diesel. In a paper announcing the discovery in Microbiology, scientists state that they believe the fungus, called Gliocladium roseum, could become an incredibly efficient green energy source.
Rainforest agriculture preserves bird biodiversity in India

(11/04/2008) Conservation of biodiversity and agriculture have long been considered conflicting interests. Numerous studies have shown that when agricultural replaces a forest, biodiversity greatly suffers. However a new study finds it doesn't have to be that way.
Forest certification system needs reform to ensure sustainability - report

(11/04/2008) Demand for wood products is ultimately one of the largest drivers of global deforestation through both direct clear-cutting and selective logging, which increases a forest's vulnerability to fire and subsequent clearing and disturbance by other actors, including hunters, subsistence farmers, land speculators, ranchers and agro-industrial firms. Reducing the detrimental environmental impacts of meeting wood demand is critical to protecting the world's forests as healthy, productive and resilient ecosystems.
Indonesia to audit all timber operations to cut illegal logging

(10/17/2008) The Indonesian Forestry Ministry has announced a policy that requires timber companies to have their wood stocks audited to ensure the wood is derived from sustainably managed forests, reports The Jakarta Post. The measure is expected to curtail illegal logging in a country where a large proportion of timber is of illicit origin.
Rainforest Action Network to review support for FSC certification

(10/16/2008) The Rainforest Action Network (RAN) said it would review its support for the Forest Stewardship Council (FSC), a forest products certification standard, over concerns regarding its certification of destructive logging operations. The announcement comes after a bitter campaign waged against RAN by Ecological Internet, a forest activist group.
Breakthrough may enable reforestation using mahogany

(10/16/2008) Brazilian researchers are closer to developing a way to establish large-scale mahogany plantations, reports the ITTO in its bi-monthly update. Scientists at the Federal Rural University of Amazonia (UFRA) have found that planting a matrix of mahogany with cedar reduces the incidence of the Hypsipyla grandella caterpillar, a chief pest of mahogany that has doomed previous attempts to reforest with the valuable hardwood species.
Brazil to have high resolution imagery for 86% of the Amazon by year end

(10/15/2008) Brazil will have high resolution imagery for 86 percent of its Amazon territory by the end of the year, according to Reuters. The images will help the country protect the Amazon rainforest and prosecute alleged environmental crimes, including illegal logging and agricultural expansion.
UK government: rainforests are weapon against global warming

(10/15/2008) Protecting tropical forests will simultaneously reduce carbon emissions, support poverty reduction and help preserve biodiversity and other forest services, says a new report commissioned by the British government. The report — dubbed the "Eliasch Review" after the lead author, Johan Eliasch, a multimillionaire Swede who runs a sports equipment company and owns 162,000 hectares (400,000 acres) of rainforest in the Brazilian Amazon — takes a comprehensive look at the role forests can play in mitigating climate change. It concludes: "Urgent action to tackle the loss of global forests needs to be a central part of any future international deal on climate change"
Environmental crime worth $10 billion per year

(10/13/2008) Environmental crime is generating $10 billion a year in revenue for gangsters and criminal syndicates reports the Environmental Investigation Agency (EIA) in a paper released today.
Indonesian governors agree to protect Sumatra's endangered forests

(10/09/2008) The ten governors of Sumatra — along with four federal ministers — have signed an agreement to protect forests and other ecosystems on the Indonesian island, according to WWF. The announcement is significant because Sumatra is a biodiversity hotspot — home to rare and endemic wildlife — that is under great threat from logging and expansion oil palm plantations. The island has lost 48 percent of its forest cover since 1985.
Forest conservation can fight climate change and poverty

(10/08/2008) The Forests Dialogue — a coalition consisting of more than 250 representatives of governments, forestry companies, trade unions, environmental and social groups, international organizations, forest owners, indigenous peoples and forest-community groups — has issued guiding principles for including forests in climate change negotiations.
Eco-friendly shade-grown coffee buffers farmers against climate change

(10/03/2008) Shade-grown coffee plantations will be more resistant to climate change than conventional plantations, report researchers writing in the journal Bioscience. Shade grown coffee is already lauded for its environmental benefits including supporting high levels of biodiversity and requiring less fertilizers and pesticides.
Monoculture tree plantations are "green deserts" not forests, say activists

(09/19/2008) A number of environmental and social organizations have declared September 21st: International Day against Monoculture Tree Plantations to highlight the social upheaval and environmental degradation ૼ including impacts on global biodiversity and climate change — wrought by industrial plantations.
Commercial bushmeat trade is devastating wildlife

(09/15/2008) Commercial killing of rainforest wildlife is putting biodiversity at risk and reducing sources of protein for rural populations, warns a new report from the Center for International Forestry Research (CIFOR) and the Secretariat of the Convention on Biological Diversity (CDB).
Regrowing the Amazon rainforest will require help from bats and birds

(09/15/2008) As large tracts of Amazon rainforest are degraded by industrial logging and cleared for cattle pasture and agriculture, other deforested areas are abandoned and being reclaimed by forest. Understanding this recolonization of degraded forest lands by pioneer species will critical to efforts to rehabilitate restore forests around the world.
Loss of wildlife is threatening biodiverse forests in northeastern India

(09/15/2008) Logging, agricultural expansion, and hunting of large birds and mammals in the tropical forests of northeastern India may be reducing the capacity of the biologically-rich ecosystem to regenerate itself, report researchers writing in the open-access journal Tropical Conservation Science.
Teak wood may be improved by greater genetic diversity

(09/15/2008) Molecular genetics is an important tool not only in basic studies of phylogeny, genetic variation, and relatedness among others, but also for managing tropical forest resources that have important commercial value.
Rainforest conversion to oil palm causes 83% of wildlife to disappear

(09/15/2008) Conversion of primary rainforest to an oil palm plantation results in a loss of more than 80 percent of species, reports a new comprehensive review of the impacts of growing palm oil production. The research is published in the journal Trends in Ecology and Evolution.
Old growth forests are giant carbon sinks, helping offset emissions

(09/11/2008) Old growth forests are important carbon sinks that help global warming, reports a study published in the journal Nature. The results run counter to claims by the forestry industry that old growth forests are carbon neutral or even net emitters of carbon dioxide.
Prince Charles says hedge funds could save rainforests

(09/11/2008) Prince Charles renewed his call to protect rainforests for the services they provide humanity. Speaking Wednesday at a black-tie dinner in London, Charles compared the need to protect forests to fighting a war.
Ghana becomes first country to sign sustainable timber pact with the E.U.

(09/04/2008) The European Union has signed a sustainable forestry deal with Ghana that would stop imports of illegally-harvested timber from the West African nation, according to a statement released by the European Forest Institute. The agreement comes under the European Commission's 2003 Action Plan on Forest Law Enforcement, Governance and Trade (FLEGT), which seeks to address illicit timber imports. The regulation requires chain-of-custody documentation for timber to be imported into the E.U.
Independent of climate, forest cover in southern Amazon may fall to 20% by 2016

(09/03/2008) Forest cover in the "Arc of Deforestation" of southern Amazonia will decline to around 20 percent 2016 due to continued logging and conversion of forests for cattle pasture and soy farms, report researchers writing in the journal Environmental Conservation. Analyzing high resolution satellite data from 1984 through 2004 for the Alta Floresta region in northern Mato Grosso, Fernanda Michalski, Carlos Peres and Iain Lake of the University of East Anglia found that forest cover declined from from 91.1 percent to 41.7 percent between 1984 and 2004. They note that while the deforestation rate has slowed to around 2 percent per year since peaking at more than 8 percent annually in late 1980s to mid-1990s, renewed expansion of road networks will enable loggers to increasingly exploit remaining forests, leading to degradation and likely eventual conversion for agricultural use. Overall Michalski and colleagues forecast that forest cover in Alta Floresta will fall to 21 percent by 2016, a decline of 77 percent since 1984.
Indian protesters win land rights battle against Peru's President Garcia

(08/31/2008) Peru's Congress rejected two decrees by President Alan García that made it easier for foreign developers to buy Amazon rainforest land. The repeal came just two days after lawmakers struck a deal with indigenous rights groups whose protests over the law had shut down oil and gas operations. The groups were worried that the laws weakened their land rights in favor of loggers, miners, and drillers.
Amazon deforestation jumps 69% in 2008

(08/31/2008) Deforestation in the Brazilian Amazon increased 69 percent in the past 12 months as high commodity prices have driven forest conversion for ranches and cropland, according to preliminary figures released by Brazil's National Institute for Space Research (INPE). The increase comes after three consecutive years of declining deforestation in Brazil.
Pre-Colombian Amazonians lived in sustainable 'urban' society

(08/28/2008) Researchers have uncovered new evidence to support the controversial theory that parts of the Amazon were home to dense 'urban' settlements prior to the arrival of Europeans in the 15th century. The study is published this Friday in the journal Science. Conducting archeological excavations and aerial imagery across a number of sites in the Upper Xingu region of the Brazilian Amazon, a team of researchers led by Michael Heckenberger found evidence of a grid-like pattern of 150-acre towns and smaller villages, connected by complex road networks and arranged around large plazas where public rituals would take place.
Two large populations of endangered monkeys discovered in Cambodia

(08/28/2008) Conservationists have discovered "surprisingly large populations" of two globally threatened primates in a protected area in Cambodia. Surveys by scientists with the Bronx Zoo-based Wildlife Conservation Society (WCS) and the Cambodian government counted 42,000 black-shanked douc langurs and 2,500 yellow-cheeked crested gibbons in Cambodia's Seima Biodiversity Conservation Area.
Biofuels 200 times more expensive than forest conservation for global warming mitigation

(08/27/2008) The British government should end subsidies for biofuels and instead use the funds to slow destruction of rainforests and tropical peatlands argues a new report issued by a U.K.-based think tank. The study, titled "The Root of the Matter" and published by Policy Exchange, says that "avoided deforestation" would be a more cost-effective way to address climate change, since land use change generates more emissions than the entire global transport sector and offers ancillary benefits including important ecosystem services.
Malaysian logging scandal may delay trade negotiations with the E.U.

(08/25/2008) Sarawak's Chief Minister, Taib Mahmud, has been linked to a timber trade scheme involving illegal imports of Indonesian logs and which were then re-exported as Malaysian timber to other countries, including China, Taiwan, and Japan, reports the Indonesian newspaper Tribun Pontianak. An environmental group is using the scandal as the basis for a request for the E.U. to delay timber trade talks with Malaysia.
Markets could save rainforests: an interview with Andrew Mitchell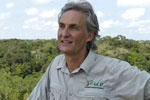 (08/17/2008) Markets may soon value rainforests as living entities rather than for just the commodities produced when they are cut down, said a tropical forest researcher speaking in June at a conservation biology conference in the South American country of Suriname. Andrew Mitchell, founder and director of the London-based Global Canopy Program (GCP), said he is encouraged by signs that investors are beginning to look at the value of services afforded by healthy forests.




Page 1 | Page 2 | Page 3 | Page 4 | Page 5 | Page 6 | Page 7 | Page 8 | Page 9 | Page 10 | Page 11 | Page 12 | Page 13 | Page 14 | Page 15 | Page 16 | Page 17 | Page 18 | Page 19 | Page 20 | Page 21 | Page 22