News articles on forestry

---
Mongabay.com news articles on forestry in blog format. Updated regularly.






Commission on Climate and Tropical Forests forms to advise Congress, Obama on forest conservation
(06/18/2009) Leaders in business, government, advocacy, conservation, global development, science and national security have formed a commission to "provide bipartisan recommendations to Congress and the President about how to reduce tropical deforestation through U.S. climate change policies," according to a statement released by the newly established group, named the Commission on Climate and Tropical Forests.
Cameroon rainforest given 30 days to be conserved or sold off for logging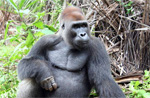 (06/18/2009) An 830,000-hectare tract of rainforest in Cameroon has been granted a 30-day reprieve from logging following a 4-week exploratory expedition that turned up large populations of lowland gorillas, forest elephants, mandrills, and chimpanzees, according to expedition leader Mike Korchinsky, founder of the conservation group Wildlife Works. The Cameroonian government has given Wildlife Works, which pioneered the first forest-based carbon project in Kenya, 30 days to come up with a competitive proposal to logging. The group is now scrambling to secure necessary funding to finance the early stages of the project.
New report predicts dire consequences for every U.S. region from global warming
(06/17/2009) Government officials and scientists released a 196 page report detailing the impact of global warming on the U.S. yesterday. The study, commissioned in 2007 during the Bush Administration, found that every region of the U.S. faces large-scale consequences due to climate change, including higher temperatures, increased droughts, heavier rainfall, more severe weather, water shortages, rising sea levels, ecosystem stresses, loss of biodiversity, and economic impacts.
Forest fires burn in Sumatra

(06/15/2009) Fires set by developers in Sumatra are causing a choking haze to spread across the island and over to Malaysia, reducing visibility and raising health concerns, reports Reuters.
Climate pact must halt deforestation and industrial logging of old-growth forests, exclude carbon credits for forest conservation, say activists
(06/09/2009) A global framework on climate change must immediately halt deforestation and industrial logging of the world's old-growth forests, while protecting the rights of forest communities and indigenous groups, said a broad coalition of activist groups in a consensus statement issued today at U.N. climate talks in Bonn Germany. The statement said the successor treaty to the Kyoto Protocol should not include mechanisms that allow industrialized countries to "offset" their emissions by purchasing carbon credits from reducing deforestation in developing countries, a position that puts the coalition at odds with larger environmental groups who say a market-based approach with tradable credits is the only way to generate enough money fund forest protection on a global scale.
Brazil to sanction illegal colonization in 230,000 sq mi of Amazon rainforest

(06/08/2009) Brazil moved a step closer to passing a controversial law that would allow landowners who illegally deforested land in the Amazon to get legal title to these holdings. Environmentalists say HB 458 — which now only needs the signature of President Lula, an avid supporter — will legitimize years of illegal colonization and may promote new deforestation.
Reducing emissions from deforestation in developing countries
(06/02/2009) Global forest covers around 30 per cent of the Earth's land surface (nearly 4 billion hectares). Forests provide valuable ecosystem services and goods, serve as a habitat for a wide range of flora and fauna and hold a significant standing stock of global carbon. The total carbon content of forests has been estimated at 638 Gt for 2005, which is more than the amount of carbon in the entire atmosphere. Deforestation, mainly conversion of forests for agriculture activities, has been estimated at an alarming rate of 13 million hectares per year (in the period 1990-2005).
Brazil's plan to save the Amazon rainforest
(06/02/2009) Accounting for roughly half of tropical deforestation between 2000 and 2005, Brazil is the most important supply-side player when it comes to developing a climate framework that includes reducing emissions from deforestation and forest degradation (REDD). But Brazil's position on REDD contrasts with proposals put forth by other tropical forest countries, including the Coalition for Rainforest Nations, a negotiating block of 15 countries. Instead of advocating a market-based approach to REDD, where credits generated from forest conservation would be traded between countries, Brazil is calling for a giant fund financed with donations from industrialized nations. Contributors would not be eligible for carbon credits that could be used to meet emission reduction obligations under a binding climate treaty.
Political infighting in Brazil threatens the Amazon rainforest
(06/01/2009) Brazil's Environment Minister Carlos Minc accused other government agencies of working to undermine environmental laws in favor of Amazon development projects, report Reuters and the Associated Press. His charge comes a year after his predecessor, Senator Marina Silva, resigned due to the same opposition from development interests. Minc has taken an active role in battling Amazon deforestation, reducing credit access to illegal loggers and ranchers, seizing agricultural products and cattle produced on illegally deforested lands, and pushing for new protected areas. His efforts have angered powerful development interests and at times have put his at odds with President Lula, who is promoting new road and hydroelectric projects.
Orangutan guerrillas fight palm oil in Borneo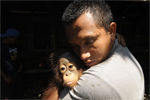 (06/01/2009) Despite worldwide attention and concern, prime orangutan habitat across Sumatra and Borneo continues to be destroyed by loggers and palm oil developers, resulting in the death of up to 3,000 orangutans per year (of a population less than 50,000). Conservation groups like Borneo Orangutan Survival report rescuing record numbers of infant orangutans from oil palm plantations, which are now a far bigger source of orphaned orangutans than the illicit pet trade. The volume of orangutans entering care centers is such that these facilities are running out of room for rescued apes, with translocated individuals sometimes waiting several months until suitable forest is found for reintroduction. Even then they aren't safe; in recent months loggers have started clearing two important reintroduction sites (forests near Bukit Tigapuluh National Park in Sumatra and Mawas in Central Kalimantan). Meanwhile across half a dozen rehabilitation centers in Malaysia and Indonesia, more than 1,000 baby orangutans—their mothers killed by oil palm plantation workers or in the process of forest clearing—are being trained by humans for hopeful reintroduction into the wild, assuming secure habitat can be found. Dismayed by the rising orangutan toll, a grassroots organization in Central Kalimantan is fighting back. Led by Hardi Baktiantoro, the Center for Orangutan Protection (COP) has mounted a guerrilla-style campaign against companies that are destroying orangutan habitat in Kalimantan, the Indonesian part of Borneo.
Excluding forest carbon from climate policy will spur massive deforestation
(05/28/2009) Failure to develop policies that account for emissions from land use change will lead to widespread deforestation and higher costs for addressing climate change, warn researchers writing in the journal Science. Using a computer model that incorporates economics, energy, agriculture, land-use changes, emissions and concentrations of greenhouse gases, a team of researchers from the Department of Energy's Pacific Northwest National Laboratory (PNNL) and the University of Maryland found that efforts to limit atmospheric carbon dioxide levels while ignoring emissions from terrestrial sources would lead to nearly a complete loss of unmanaged forests by 2100, resulting largely from increased expansion of bioenergy crops. Meanwhile placing a value ("tax") on terrestrial carbon emissions equivalent to that on industrial and fossil fuel emissions would lead to an increase in forest cover.
New rainforest reserve in Congo benefits bonobos and locals

(05/25/2009) A partnership between local villages and conservation groups, headed up by the Bonobo Conservation Initiative (BCI), has led to the creation of a new 1,847 square mile (4,875 square kilometer) reserve in the Democratic Republic of Congo (DRC). The reserve will save some of the region's last pristine forests: ensuring the survival of the embattled bonobo—the least-known of the world's four great ape species—and protecting a wide variety of biodiversity from the Congo peacock to the dwarf crocodile. However, the Kokolopori Bonobo Reserve is worth attention for another reason: every step of its creation—from biological surveys to reserve management—has been run by the local Congolese NGO and villages of Kokolopori.
Did Malaysia cancel plans for palm oil development in the Amazon?

(05/21/2009) The Malaysian government's federal land agency (FELDA) is now denying its well-documented plan to develop oil palm plantations in the Amazon rainforest, reports Ecological Internet, a forest advocacy group that carried out a campaign against the project.
Asia's conversion of forests for industrial rubber plantations hurts the environment
(05/21/2009) Policies promoting industrial rubber plantations over traditional swidden, or slash-and-burn, agriculture across Southeast Asia may carry significant environmental consequences, including loss of biodiversity, reduction of carbon stocks, pollution and degradation of local water supplies, report researchers writing in Science. Conducting field work in the Xishuangbanna prefecture of China's Yunnan province and assessing broader regional trends, Alan Ziegler of the National University of Singapore and colleagues argue that policies favoring agricultural intensification over small-scale slash-and-burn have encouraged the rapid expansion of rubber plantations across more than 500,000 hectares (1,930 square miles) of montane forest in China, Laos, Thailand, Vietnam, Cambodia, and Myanmar. Despite widespread perception among authorities that "swidden cultivation is a destructive system that leads only to forest loss and degradation", the researchers found that the transition to industrial plantations has not necessarily been a boon to the environment.
Green groups, corporations call for forest conservation to counter global warming
(05/20/2009) A group of leading U.S. businesses and environmental groups today formed a coalition calling for the inclusion of forest conservation in domestic cap-and-trade legislation. The pact endorses policies that would allow companies to receive credit for reducing emissions by financing activities that protect forests in tropical countries. It also calls for five percent of proceeds from the auctioning of greenhouse gas emissions allowances under a cap-and-trade system to go towards funding forest conservation projects.
APP, Sinar Mas plan to log habitat of critically endangered orangutans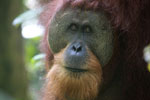 (05/20/2009) Asia Pulp & Paper and Sinar Mas Group have acquired a license to clear hundreds of hectares of unprotected rainforest near Bukit Tigapuluh National Park on the Indonesian island of Sumatra, report environmental groups who say the activity threatens a population of critically endangered orangutans that have been re-introduced into the wild. The companies intend to log the concession for timber and plant it for industrial timber and oil palm plantations.
The EU and Republic of Congo announce system to eradicate illegal logging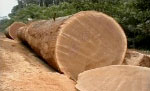 (05/11/2009) The Republic of Congo and the EU have announced a new system to ensure that by 2011 no illegal timber will reach European Union member nations from the Republic of Congo. Under the system all wood products will be required to carry a license showing that the timber was obtained legally.
Global warming could turn forests from sink to source of carbon emissions
(04/16/2009) Rising temperatures could reverse the role forests play in mitigating climate change, turning them into net sources of greenhouse gases, reports a new assessment by the International Union of Forest Research Organizations (IUFRO). The report, titled "Adaptation of Forests and People to Climate Change – A Global Assessment" and authored by 35 forestry scientists, examined the potential impacts of climate change across the world's major forest types as well as the capacity of forest biomes to adapt to climate shifts. Among the conclusions: a 2.5-degree-C rise in temperatures would eliminate the net carbon sequestering function of global forests. Presently forests worldwide capture about a quarter of carbon emissions.
Rainforest conservation gains in U.S. and U.N. climate proposals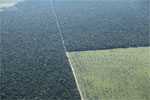 (04/14/2009) A proposed mechanism for reducing emissions from deforestation and degradation (REDD) figures prominently in the draft climate bill released last month by Congressmen Henry Waxman and Ed Markey as well as a U.N. document posted last week following a climate meeting in Bonn, Germany. Deforestation is the source of roughly 20 percent of greenhouse gas emissions from human activities.
Carbon credits from forest conservation would crash carbon market, says Greenpeace
(03/30/2009) Inclusion of forest conservation in a market-based mechanism for reducing greenhouse gas emissions would crash carbon prices by swamping the market with cheap credits, claims a new report from Greenpeace. The environmental group said low carbon prices would "derail global efforts to tackle global warming" and cause "developing countries losing out on billions of dollars a year for investment in clean energy technologies".
Can carbon credits from REDD compete with palm oil?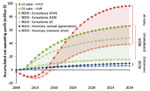 (03/30/2009) Reducing emissions from deforestation and degradation (REDD) is increasingly seen as a compelling way to conserve tropical forests while simultaneously helping mitigate climate change, preserving biodiversity, and providing sustainable livelihoods for rural people. But to become a reality REDD still faces a number of challenges, not least of which is economic competition from other forms of land use. In Indonesia and Malaysia, the biggest competitor is likely oil palm, which is presently one of the most profitable forms of land use. Oil palm is also spreading to other tropical forest areas including the Brazilian Amazon.
REDD in Indonesia could evict forest people from their lands, warns U.N. committee

(03/23/2009) In a letter released today, the United Nations Committee on the Elimination of Racial Discrimination expressed concern that a scheme to promote forest conservation in Indonesia via the Reduced Emissions from Deforestation and Forest Degradation (REDD) mechanism could increase conflict over land if the government doles out forest-carbon concessions in the same manner that it has with logging concessions. In the worst cases, forest people could be denied access rights to their traditional territories say indigenous rights' groups.
Will palm oil drive deforestation in the Amazon?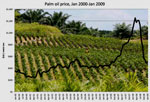 (03/23/2009) Already a significant driver of tropical forest conversion across southeast Asia, oil palm expansion could emerge as threat to the Amazon rainforest due to a proposed change in Brazil's forest law, new infrastructure, and the influence of foreign companies in the region, according to researchers writing in the open-access journal Tropical Conservation Science. William F. Laurance, a senior scientist at the Smithsonian Tropical Research Institute (STRI) in Panama City, Panama, and Rhett A. Butler, founder of environmental science web site Mongabay.com, warn that oil palm expansion in the Brazilian Amazon is likely to occur at the expense of natural forest as a result of a proposed revision to the forest code which requires land owners to retain 80 percent forest on lands in the Amazon. The new law would allow up to 30 percent of this reserve to consist of oil palm.
Economic crisis hurts forestry sector, sustainability initiatives

(03/16/2009) The global economic crisis has slowed demand for timber products and may undermine efforts to improve the environmental performance of forestry, reports the U.N. Food and Agriculture Organization (FAO) in its biannual "State of the World's Forests 2009", released today.
Historic US law now extends to illegal logging

(03/11/2009) Enacted in 1900 by William F. McKinley the Lacey Act is the oldest wildlife protection law in the US; for a over a century it has protected animals from being illegally hunted and trafficked. An amendment made last year has now extended the law to protect plants for the first time, making it possible for the US to support efforts abroad and at home to combat illegal logging.
ACCOR hotel chain linked to destructive logging in Borneo?

(02/23/2009) ACCOR, one of Europe's leading hotel groups, is cooperating with a Malaysian logging company blamed for destructive logging and attacks on Penan indigenous communities in Sarawak, claims an environmental group that has long campaigned on behalf of Borneo's forest people. The Switzerland-based Bruno Manser Fund reports that NOVOTEL is jointly building a 4.5-star hotel in the Sarawak capital of Kuching with the Malaysian tropical timber company, Interhill.
New fire record for Borneo, Sumatra shows dramatic increase in rainforest destruction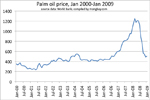 (02/22/2009) Destruction of rainforests and peatlands is making Indonesia more susceptible to devastating forest fires, especially in dry el Niño years, report researchers writing in the journal Nature Geoscience. Constructing a record of fires dating back to 1960 for Sumatra and Kalimantan (on the island of Borneo) using airport visibility records to measure aerosols or "haze" prior to the availability of satellite data, Robert Field of the University of Toronto and colleagues found that the intensity and scale of fires has increased substantially in Indonesia since the early 1990s, coinciding with rapid expansion of oil palm plantations and industrial logging.
Illegal timber trade to face tough penalties in the E.U.
(02/18/2009) Companies dealing in illegal timber may soon face stiff penalties under a proposed E.U. regulation. The European Parliament voted Monday to impose penalties on companies who use or trade illegally sourced timber. National authorities will have the power to impound timber of illegal origin, fine companies, and even shut down particularly egregious violators. Penalties will be "at least five times the value of the timber products" under the proposal, which will be voted on in April at Parliament's plenary session and then later by EU agriculture ministers.
Pricing emissions from farming, logging could shift land use towards conservation

(02/15/2009) Putting a price tag on carbon dioxide emissions resulting from various land use practices could dramatically change the way that land is used, including reducing deforestation and limiting agricultural expansion on carbon-rich lands, said a researcher presenting at the annual meeting of the American Association for the Advancement of Science.
Payments for eco services could save the Amazon

(02/12/2009) Paying for the ecological services provided by the Amazon rainforest could be the key to saving it, reports a new analysis from WWF. The study, Keeping the Amazon forests standing: a matter of values, tallied the economic value of various ecosystem services afforded by Earth's largest rainforest. It found that standing forest is worth, at minimum, $426 per hectare per year.
Carbon market surges 84% in 2008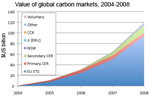 (02/12/2009) The value of the global carbon market surged 84 percent to $118 billion in 2008 despite the worldwide financial crisis, reports New Carbon Finance. Data from the market research firm shows that transaction volume for carbon dioxide emissions allowances reached four billion tons for the year, an increase of 42 percent over 2007.
New model uses carbon credits, sustainable palm oil to save Indonesia's rainforests
(02/05/2009) The World Resources Institute (WRI) has launched an innovative avoided deforestation model that aims to deter conversion of Indonesian rainforest for oil palm plantations. The project, dubbed "POTICO" (Palm Oil, TImber, Carbon Offsets), integrates sustainable palm oil, FSC-certified timber, and carbon offsets in order to "divert new oil palm plantations onto degraded lands and bring the forests that were slated for conversion into certified sustainable forestry".
Norway to pay Guyana to save its rainforests
(02/05/2009) Norway will provide financial support for Guyana's ambitious plan to conserve its rainforests, reports the Guyana Chronicle. Meeting in Oslo, Norway on Tuesday, Guyana President Bharrat Jagdeo and Norwegian Prime Minister Jens Stoltenberg signed a Memorandum of Understanding agreeing to establish a partnership to reduce greenhouse gas emissions from deforestation and forest degradation (REDD). The leaders will push for the incorporation of a REDD mechanism that includes low deforestation countries like Guyana in a post-2012 climate change agreement.
Heart of Borneo conservation initiative at risk from Indonesian development plan

(02/04/2009) Indonesia's Defense Minister Juwono Sudarsono is pushing a proposal to develop economic zones along the border between Malaysia and Kalimantan "as soon as possible" for national security reasons, reports the Jakarta Globe. The plan — which Juwono claims is to protect Indonesia's sovereignty — would undermine the historic Heart of Borneo conservation initiative signed in 2007 by spurring massive expansion of logging, plantation development, and road construction in the biologically-rich region.
Gore pushes for avoided deforestation to save rainforests during testimony

(01/29/2009) In testimony before the Senate Foreign Relations Committee on Wednesday, former Vice President Al Gore urged lawmakers to move swiftly on a cap-and-trade climate bill as well as the economic stimulus package. Among many recommendations, Gore repeatedly emphasized the importance of forest conservation in fighting climate change, mentioning "deforestation" more than a dozen times.
Beef drives 80% of Amazon deforestation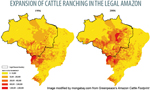 (01/29/2009) Nearly 80 percent of land deforested in the Amazon from 1996-2006 is now used for cattle pasture, according to new maps released today in a report by Greenpeace at the World Social Forum in Belem, Brazil. The report, Amazon Cattle Footprint: Mato Grosso: State of Destruction, confirms that cattle ranching is the primary driver of deforestation in Earth's largest rainforest: the Brazilian Amazon.







Guidelines on how to establish an avoided deforestation project

(01/22/2009) Deforestation presently accounts for nearly 20 percent of anthropogenic greenhouse gas emissions — a share larger than that from the global transportation sector. Given this contribution, reducing deforestation is widely seen as a key component in plans to slow climate change and a number of proposals to include forestry in a post-Kyoto climate agreement are presently on the table. Anticipating the emergence of a market for forest carbon as a result of this framework, 'avoided deforestation' projects are already sprouting up in tropical countries around the world. Supporters say these initiatives offer the potential to protect forests and biodiversity while simultaneously delivering benefits to rural communities that have so far been lost out while their natural resources have been plundered by developers. While avoided deforestation seems to offers great promise, developing a project that meets still emerging standards is a complex and costly endeavor. A new book, published in five languages, seeks to untangle the forest carbon market and thereby facilitate new avoided deforestation projects.





High coffee prices spurred deforestation in Sumatra but effective law enforcement slowed forest loss

(01/22/2009) Law enforcement efforts can significantly deter deforestation in protected areas despite high pressure from agricultural expansion, reports a new study that assessed the effectiveness of conservation in Bukit Barisan Selatan National Park in southern Sumatra, Indonesia. However the research suggests that conservation needs extend beyond law enforcement to be effective in the long-run.






Page 1 | Page 2 | Page 3 | Page 4 | Page 5 | Page 6 | Page 7 | Page 8 | Page 9 | Page 10 | Page 11 | Page 12 | Page 13 | Page 14 | Page 15 | Page 16 | Page 17 | Page 18 | Page 19 | Page 20 | Page 21