News articles on forestry

---
Mongabay.com news articles on forestry in blog format. Updated regularly.






Palm oil lobby group launches public relations push to counter environmental complaints

(11/02/2009) A report released by World Growth International in late September claimed that environmentalists are waging a "morally indefensible" campaign against palm oil. The report accurately highlighted the high productivity of oil palm — the world's highest-yielding commercial oilseed — and noted that the crop has created jobs and driven rural development in Malaysia and Indonesia. Critically, World Growth also downplayed chief concerns about the rapid expansion of oil palm cultivation across southeast Asia, notably worries that palm oil production is contributing to deforestation, putting endangered wildlife like the orangutan at risk, and adversely affecting climate. To make its case, the report made some questionable claims, asserting that oil palm plantations sequester more carbon than natural forests and that deforestation is driven by poverty rather than industrial activities.
Without reinstatement of key provision, REDD could subsidize large-scale forest destruction

(11/02/2009) The elimination of a key provision from the negotiating text for the Reducing Emissions from Deforestation and Degradation in developing countries (REDD) mechanism could turn the proposed climate change mitigation scheme into a subsidy for large-scale conversion of natural forests to industrial plantations, warned environmentalists today at the resumption of U.N. climate change negotiations in Barcelona.
Illegal logging trade from Myanmar to China slows, but doesn't stop

(10/28/2009) The illegal wood trade from Myanmar to China has slowed, but it still threatens Myanmar's tropical forests and species, according to a new report by Global Witness. From 2005 and 2008 improved border controls into China led to a drop in imports of logs and sawn wood by 70 percent.
Rosewood traffickers busted in Madagascar

(10/28/2009) Authorities in Madagascar have sacked a local official, arrested several businessmen, and issued fines following the discovery of illegally harvested rosewood logs aboard a ship, reports L'Express de Madagascar.
Business and conservation groups team up to conserve and better manage US's southern forests

(10/15/2009) A new project entitled Carbon Canopy brings together multiple stakeholders—from big business to conservation organizations to private landowners—in order to protect and better manage the United State's southern forests. The program intends to employ the emerging US forest carbon market to pay private forest owners for conservation and restoration efforts while making certain that all forest-use practices subscribes to the standards of the Forest Stewardship Council (FSC).
Palm oil developers in Papua New Guinea accused of deception in dealing with communities

(09/25/2009) Papua New Guinea, the independent eastern half of the world's second largest island (New Guinea), houses one of the planet's last frontier forests. These forests support a wealth of plants and animals as well as the Earth's most diverse assemblage of cultures—some 830 languages are spoken in Papua New Guinea (PNG), representing more than 12 percent of the world's 6,900. But PNG's forests are fast-changing. Between 1972 and 2002 PNG lost more than 5 million hectares of forest, trailing only Brazil and Indonesia among tropical countries. Forest loss has been primarily a consequence of industrial logging and subsistence agriculture, but large-scale agroindustry—especially development of oil palm plantations—has emerged as an important new driver of land use change. Dozens of international companies have set up operations in the country over the past decade, including Cargill, an agribusiness giant based in Minneapolis. While Cargill says it is committed to sustainable and responsible palm oil production across its three plantations in PNG, the firm has been targeted by local and international NGOs, which claim it has polluted rivers and deceived local communities into signing agreements they do not understand. Some landowners say they are receiving few of the benefits oil palm promised to deliver, while losing their independence—they are now reliant on an export-oriented crop they can't eat. Opposition to further oil palm expansion is now growing, especially in Oro Provice, where Cargill's plantations are based.
Could agroforestry solve the biodiversity crisis and address poverty?, an interview with Shonil Bhagwat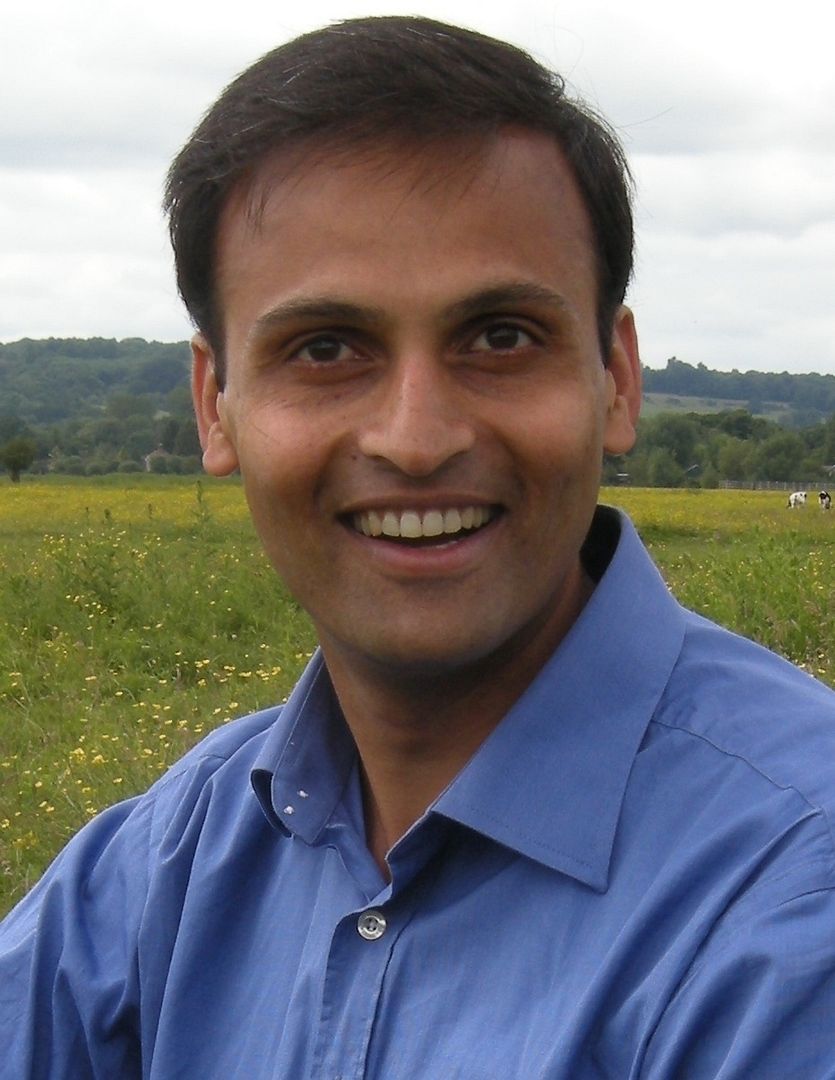 (09/24/2009) With the world facing a variety of crises: climate change, food shortages, extreme poverty, and biodiversity loss, researchers are looking at ways to address more than one issue at once by revolutionizing sectors of society. One of the ideas is a transformation of agricultural practices from intensive chemical-dependent crops to mixing agriculture and forest, while relying on organic methods. The latter is known as agroforestry or land sharing—balancing the crop yields with biodiversity. Shonil Bhagwat, Director of MSc in Biodiversity, Conservation and Management at the School of Geography and the Environment, Oxford, believes this philosophy could help the world tackle some of its biggest problems.
Roads are enablers of rainforest destruction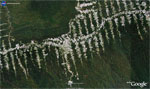 (09/24/2009) Chainsaws, bulldozers, and fires are tools of rainforest destruction, but roads are enablers. Roads link resources to markets, enabling loggers, farmers, ranchers, miners, and land speculators to convert remote forests into economic opportunities. But the ecological cost is high: 95 percent of deforestation in the Brazilian Amazon occurs within 50-kilometers of a road; in Africa, where logging roads are rapidly expanding across the Congo basin, the bulk of bushmeat hunting occurs near roads. In Laos and Sumatra, roads are opening last remnants of intact forests to logging, poaching, and plantation development. But roads also cause subtler impacts, fragmenting habitats, altering microclimates, creating highways for invasive species, blocking movement of wildlife, and claiming animals as roadkill. A new paper, published in Trends in Evolution and Ecology, reviews these and other impacts of roads on rainforests. Its conclusions don't bode well for the future of forests.
Palm oil both a leading threat to orangutans and a key source of jobs in Sumatra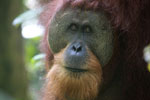 (09/24/2009) Of the world's two species of orangutan, a great ape that shares 96 percent of man's genetic makeup, the Sumatran orangutan is considerably more endangered than its cousin in Borneo. Today there are believed to be fewer than 7,000 Sumatran orangutans in the wild, a consequence of the wildlife trade, hunting, and accelerating destruction of their native forest habitat by loggers, small-scale farmers, and agribusiness. Gunung Leuser National Park in North Sumatra is one of the last strongholds for the species, serving as a refuge among paper pulp concessions and rubber and oil palm plantations. While orangutans are relatively well protected in areas around tourist centers, they are affected by poorly regulated interactions with tourists, which have increased the risk of disease and resulted in high mortality rates among infants near tourist centers like Bukit Lawang. Further, orangutans that range outside the park or live in remote areas or on its margins face conflicts with developers, including loggers, who may or may not know about the existence of the park, and plantation workers, who may kill any orangutans they encounter in the fields. Working to improve the fate of orangutans that find their way into plantations and unprotected community areas is the Orangutan Information Center (OIC), a local NGO that collaborates with the Sumatran Orangutan Society (SOS).
EU biofuels policy undermines governance in Indonesia, alleges report
(09/21/2009) Indonesian authorities are failing to prevent illegal logging and conversion of protected areas for oil palm cultivation used to supply the European market with supposedly "green" biofuels, alleges a new report from Milieudefensie (Friends of the Earth Netherlands) and WALHI KalBar (Friends of the Earth Indonesia, West Kalimantan). The report, "Failing governance - Avoiding responsibilities", claims that European biofuel policies have driven reckless oil palm expansion in Ketapang District, West Kalimantan, resulting in illegal issuance of development permits and land conflicts, thereby undermining governance structures.
Fashion labels drop APP after party highlights the plight of Indonesian forests

(09/21/2009) The fashion world has been rocked: not by the newest designer or the most shocking outfit, but by the continuing destruction of forests in Indonesia. On September 15th, the Rainforest Action Network (RAN) helped open New York City's styling Fashion Week with a party to encourage fashion designers to take a closer look at the paper bags they give customers.
Carbon Financing and Community Forestry

(09/20/2009) Deforestation and forest degradation contribute some 20 percent of global greenhouse gas emissions. Forest-related mitigation measures are now recognized to be amongst the most practical and cost-effective interventions to slow global warming – as well as providing a host of other environmental products and services. However, rural poverty, weak law enforcement, and escalating demand for food and fuel continue to drive forest destruction at an alarming rate – in the Asia-Pacific region alone, some 3.7 million hectares of natural forest are lost every year. This also threatens millions of already vulnerable rural livelihoods, often undermining traditional rights to vital forest resources.
Independent review finds logging company has abused rights of indigenous Penan in Borneo
(09/15/2009) An independent review of Interhill Logging found that the Sarawak logging company has regularly violated forest laws and abused the rights of the indigenous Penan peoples. The review, conducted by French tourism giant ACCOR, found that Interhill Logging had not received free, prior, and informed consent from the local Penan people for its logging operations; the logging being done by Interhill "is very definitely not sustainable"; the company is not fully compiling with Sarawak's Natural Resources and Environment Board; and Interhill is providing no long-term benefits to the Penan peoples.
Concerns over deforestation may drive new approach to cattle ranching in the Amazon
(09/08/2009) While you're browsing the mall for running shoes, the Amazon rainforest is probably the farthest thing from your mind. Perhaps it shouldn't be. The globalization of commodity supply chains has created links between consumer products and distant ecosystems like the Amazon. Shoes sold in downtown Manhattan may have been assembled in Vietnam using leather supplied from a Brazilian processor that subcontracted to a rancher in the Amazon. But while demand for these products is currently driving environmental degradation, this connection may also hold the key to slowing the destruction of Earth's largest rainforest.
Crowned sifaka population on the verge of local extinction: dispatch from the field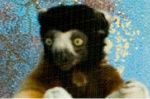 (09/08/2009) A small group of crowned sifaka lemurs Propithecus coronatus have been located in the corridor d'Amboloando-Dabolava, Miandrivazo district-Madagascar, but are immediately threatened with local extinction. The small, fragmented, and isolated forest shelters a group of only six adults and one baby. Interviews with local people revealed that once several groups of the species resided in the corridor, and even last year, about 20 individuals were still found there. However, within one year, the population dropped from 20 to 6 individuals.
Vietnam outsources deforestation to neighboring countries
(09/02/2009) Taking a cue from its much larger neighbor to the north, Vietnam has outsourced deforestation to neighboring countries, according to a new study that quantified the amount of displacement resulting from restrictions on domestic logging. Like China, Vietnam has experienced a resurgence in forest cover over the past twenty years, largely as a result a forestry policies that restricted timber harvesting and encouraged the development of processing industries that turned raw log imports into finished products for export. These measures contributed to a 55 percent of Vietnam's forests between 1992 and 2005, while bolstering the country's stunning economic growth. But the environmental benefit of the increase in Vietnam's forest cover is deceptive: it came at the expense of forests in Laos, Cambodia, and Indonesia. Authors Patrick Meyfroidt and Eric F. Lambin of the Universite Catholique de Louvain in Belgium calculate that 39 percent of Vietnam's forest regrowth between 1987 and 2006 was effectively logged in other countries. Half of the wood imports into Vietnam were illegal.
Retailers Costco and Amazon.com flunk sustainable paper use, WalMart and Target fare little better

(08/27/2009) Every year forests are destroyed for the production of paper: habitat is lost, greenhouse gases are released, species are impacted, and fresh water sources damaged. Some companies have begun to move towards more sustainable paper production, seeking paper sources stamped by the Forest Stewardship Council (FSC) and increasing the use of recycled paper, however other companies in the industry have yet to change their way. The 3rd annual report card conducted by Dogwood Alliance and Forest Ethics focuses both on the companies who continue to make progress toward sustainable paper production—and those who don't.
Trees sprout across farmland worldwide

(08/26/2009) Half the planet's farmed landscapes have significant tree cover, reports a new satellite-based study. The research, conducted by the Consultative Group on International Agricultural Research's World Agroforestry Centre found that tree cover exceeds 10 percent on more than 1 billion hectares of farmland, indicating that agroforestry is a "vital part" of worldwide agricultural production. 320 million hectares of forested agricultural land are found in Latin America, 190 million hectares in sub-Saharan Africa and 130 million hectares in Southeast Asia.
Environmental disappointments under Obama

(08/24/2009) While the President has been bogged down for the last couple months in an increasingly histrionic health-care debate-which has devolved so far into ridiculousness that one doesn't know whether to laugh or cry-environmental decisions, mostly from the President's appointees have still been coming fast and furious. However, while the administration started out pouring sunshine on the environment (after years of obfuscated drudgery under the Bush administration), they soon began to move away from truly progressive decisions on the environment and into the recognizable territory of playing it safe-and sometimes even stupid.
Rehabilitation not enough to solve orangutan crisis in Indonesia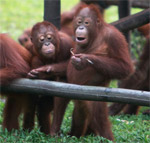 (08/20/2009) A baby orangutan ambles across the grass at the Borneo Orangutan Survival Foundation's Nyaru Menteng rehabilitation center in Central Kalimantan, in the heart of Indonesian Borneo. The ape pauses, picks up a stick and makes his way over to a plastic log, lined with small holes. Breaking the stick in two, he pokes one end into a hole in an effort to extract honey that has been deposited by a conservation worker. His expression shows the tool's use has been fruitful. But he is not alone. To his right another orangutan has turned half a coconut shell into a helmet, two others wrestle on the lawn, and another youngster scales a papaya tree. There are dozens of orangutans, all of which are about the same age. Just outside the compound, dozens of younger orangutans are getting climbing lessons from the Borneo Orangutan Survival Foundation (BOS) staff, while still younger orangutans are being fed milk from bottles in a nearby nursery. Still more orangutans—teenagers and adults—can be found on "Orangutan Island" beyond the center's main grounds. Meanwhile several recently wild orangutans sit in cages. This is a waiting game. BOS hopes to eventually release all of these orangutans back into their natural habitat—the majestic rainforests and swampy peatlands of Central Kalimantan, on the island of Borneo. But for many, this is a fate that may never be realized.
Weak forest definition may undermine REDD efforts

(08/20/2009) The weak definition of what constitutes forest under the United Nations Framework Convention on Climate Change (UNFCCC) puts the effectiveness of a proposed mechanism for reducing emissions from deforestation and degradation (REDD) at risk, argue researchers writing in the journal Conservation Letters.
Sears catalogue continues to harm boreal forest and caribou

(08/17/2009) Sears Holding Company, most known for their ubiquitous catalogues, continues to stall on releasing a more environmental paper policy, according to the nonprofit environmental organization ForestEthics. Sears' long delay to implement a more forest-friendly policy is adding pressure to already threatened caribou populations and deforesting forests in Canada, where the company sources much of its paper.
Will hydrocarbon biofuels replace gasoline and ethanol?

(08/13/2009) In a Perspectives piece in Science, John R. Regalbuto argues that the world will soon see a revolution in biofuels, but not those made from corn. Instead Regalbuto, program director of Catalysis and Biocatalysis at the National Science Foundation, says that the future of biofuels is in substances that can be converted into hydrocarbons, such as switch grass, woody biomass, corn stover, and even algae.
Issues around palm oil development prove complex, controversial
(08/12/2009) A new report from published by the Center for International Forestry Research (CIFOR) highlights the benefits — and controversies — of large-scale expansion of oil palm agriculture in Southeast Asia. The review, titled "The impacts and opportunities of oil palm in Southeast Asia: What do we know and what do we need to know?", notes that while oil palm is a highly productive and profitable crop, there are serious concerns about its environmental and social impact when established on disputed land or in place of tropical forests and peatlands.
LUSH cosmetics launches campaign against palm oil
(08/10/2009) LUSH Cosmetics, a leading cosmetics-maker, will no longer use palm oil due to environmental concerns over its production. LUSH, which is now selling a palm oil-free soap, has launched a two-pronged campaign to make consumers aware of the impacts of palm cultivation on tropical forests and encourage other consumer-products companies, including Procter & Gamble, Unilever and Nestle, to reformulate their products using alternatives to palm oil.
Turning wasteland into rainforest

(07/31/2009) The highly touted reforestation project launched by orangutan conservationist Willie Smits in Indonesian Borneo is detailed in this week's issue of Science.
Forest people set up logging blockades in Borneo

(07/31/2009) Indigenous Penan have set up roadblocks in Malaysian Borneo to stop loggers from encroaching on their rainforest land, reports Survival International, an indigenous rights' group.
Burning by Asia Pulp & Paper contributes to haze in Indonesia, Malaysia

(07/28/2009) One quarter of fire hotspots recorded in the Indonesia province of Riau on the island of Sumatra in 2009 have occurred in concessions affiliated with Sinar Mas Group's Asia Pulp & Paper (APP), according to new analysis by Eyes on the Forest, a coalition of environmental groups. The fires are contributing to the "haze" that is affecting air quality and causing health problems in Malaysia.
Are we on the brink of saving rainforests?
(07/22/2009) Until now saving rainforests seemed like an impossible mission. But the world is now warming to the idea that a proposed solution to help address climate change could offer a new way to unlock the value of forest without cutting it down.Deep in the Brazilian Amazon, members of the Surui tribe are developing a scheme that will reward them for protecting their rainforest home from encroachment by ranchers and illegal loggers. The project, initiated by the Surui themselves, will bring jobs as park guards and deliver health clinics, computers, and schools that will help youths retain traditional knowledge and cultural ties to the forest. Surprisingly, the states of California, Wisconsin and Illinois may finance the endeavor as part of their climate change mitigation programs.
Can non-timber forest products help conserve the Amazon?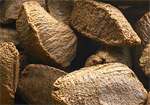 (07/20/2009) Industrial-scale logging and resource exploitation continue to plague the South American rainforests, contributing to their systematic destruction. Today, indigenous inhabitants and other local residents of the rainforests and their surrounding areas, faced with the enormous pressures of the global economy, often find themselves in a crucible. Many of their opportunities for supporting themselves and their families financially involve logging or other large-scale operations that deplete and ultimately decimate the forests. In order to make even a marginal living, local people often find themselves forced to participate in the destruction of the very ecosystems that they live in and depend on.
Malaysia's rainforests being insidiously replaced with plantations of clones
(07/20/2009) Rainforests once managed for selective logging in Malaysia are now being are clear-felled and replaced with latex-timber clones, rubber trees that yield latex and can be harvested for timber, reports the Malaysian Star. Up to 80 percent of Malaysia's remaining forest cover could be at risk. Journalist Tan Cheng Li reports that permanent forest reserves in Selandor and Johor have already been cleared for rubber plantations, while other reserves are now being targeted. Permanent forest reserves are forest areas that have been set aside for selective logging under sustainable forest management. They account for 82 percent of Malaysia's remaining forest cover.
Temperate forests store more carbon than tropical forests, finds study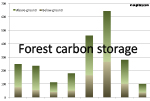 (07/17/2009) Temperate forests trump rainforests when it comes to storing carbon, reports a new assessment of global forest carbon stocks published July 14th in Proceedings of the National Academy of Sciences (PNAS). The findings have important implications for efforts to mitigate climate change by protecting forests. Sampling and reviewing published data from nearly 100 forest sites around the world, Heather Keith, Brendan G. Mackey, and David B. Lindenmayer of Australian National University found that Australia's temperate Eucalyptus forests are champions of carbon storage, sequestering up to 2,844 metric tons of carbon per hectare, a figure that far exceeds previous estimates. These forests, located in the Central Highlands of Victoria in southeastern Australia, are dominated by giant Mountain Ash (Eucalyptus regnans) trees, which can reach a height of 320 feet and live for more than 350 years. They are also favored by the timber industry. Mountain Ash forests have been widely logged across Australia, with only limited old-growth stands remaining.
Indonesia releases revenue sharing rules for REDD forest carbon projects

(07/13/2009) Indonesia has released revenue sharing rules for forest carbon projects, reports Reuters. According to a document released by the forestry ministry, the profit-sharing depends on the type of forest ownership or permit, ranging from 10 to 50 percent for the government, 20 to 70 percent for local communities, and 20 to 60 percent for developers. Projects in areas classified as "protected forest" would see 50 percent go to the government, 20 percent to local communities, and 30 percent to developers, while for projects in indigenous forest the breakdown would be 10% to the government, 70 percent to the community, and 20 percent to the developer.
Environmental groups increasingly powerful, says researcher
(07/12/2009) With deforestation increasingly driven by industrial actors, rather than subsistence farmers, tropical timber managers should be aware of the growing clout of environmental groups in swaying public opinion, says a forest expert from the Smithsonian Tropical Research Institute, writing in the International Tropical Timber Organization's July Tropical Forest Update.






Page 1 | Page 2 | Page 3 | Page 4 | Page 5 | Page 6 | Page 7 | Page 8 | Page 9 | Page 10 | Page 11 | Page 12 | Page 13 | Page 14 | Page 15 | Page 16 | Page 17 | Page 18 | Page 19 | Page 20 | Page 21 | Page 22 | Page 23