News articles on forestry

---
Mongabay.com news articles on forestry in blog format. Updated regularly.





DR Congo, Indonesia, PNG, Tanzania, Vietnam win REDD funding for forest conservation

(03/20/2009) The United Nation's REDD Program has approved $18 million in support of forest conservation projects in five pilot countries: Democratic Republic of Congo, Indonesia, Papua New Guinea, Tanzania, and Viet Nam.


Economic crisis hurts forestry sector, sustainability initiatives

(03/16/2009) The global economic crisis has slowed demand for timber products and may undermine efforts to improve the environmental performance of forestry, reports the U.N. Food and Agriculture Organization (FAO) in its biannual "State of the World's Forests 2009", released today.


Historic US law now extends to illegal logging

(03/11/2009) Enacted in 1900 by William F. McKinley the Lacey Act is the oldest wildlife protection law in the US; for a over a century it has protected animals from being illegally hunted and trafficked. An amendment made last year has now extended the law to protect plants for the first time, making it possible for the US to support efforts abroad and at home to combat illegal logging.


ACCOR hotel chain linked to destructive logging in Borneo?

(02/23/2009) ACCOR, one of Europe's leading hotel groups, is cooperating with a Malaysian logging company blamed for destructive logging and attacks on Penan indigenous communities in Sarawak, claims an environmental group that has long campaigned on behalf of Borneo's forest people. The Switzerland-based Bruno Manser Fund reports that NOVOTEL is jointly building a 4.5-star hotel in the Sarawak capital of Kuching with the Malaysian tropical timber company, Interhill.


24% of Papua New Guinea's rainforest destroyed or degraded by logging in 30 years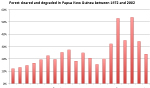 (02/23/2009) Nearly one quarter of Papua New Guinea's rainforests were damaged or destroyed between 1972 and 2002, report researchers writing in the journal Biotopica. The results, which were published in a report last June, show that Papua New Guinea is losing forests at a much faster rate than previously believed. Over the 30-year study period 15 percent of Papua New Guinea's tropical forests were cleared and 8.8 percent were degraded through logging.


New fire record for Borneo, Sumatra shows dramatic increase in rainforest destruction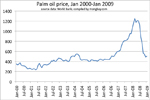 (02/22/2009) Destruction of rainforests and peatlands is making Indonesia more susceptible to devastating forest fires, especially in dry el Niño years, report researchers writing in the journal Nature Geoscience. Constructing a record of fires dating back to 1960 for Sumatra and Kalimantan (on the island of Borneo) using airport visibility records to measure aerosols or "haze" prior to the availability of satellite data, Robert Field of the University of Toronto and colleagues found that the intensity and scale of fires has increased substantially in Indonesia since the early 1990s, coinciding with rapid expansion of oil palm plantations and industrial logging.


Indonesia confirms that peatlands will be converted for plantations

(02/19/2009) Indonesia's Minister for the Environment has approved a decree that will allow the conversion of carbon-rich peatlands for oil palm plantations, reports The Jakarta Post.


Illegal timber trade to face tough penalties in the E.U.


(02/18/2009) Companies dealing in illegal timber may soon face stiff penalties under a proposed E.U. regulation. The European Parliament voted Monday to impose penalties on companies who use or trade illegally sourced timber. National authorities will have the power to impound timber of illegal origin, fine companies, and even shut down particularly egregious violators. Penalties will be "at least five times the value of the timber products" under the proposal, which will be voted on in April at Parliament's plenary session and then later by EU agriculture ministers.


Deforestation jumps 55% in Vietnam province

(02/18/2009) Deforestation increased 55 percent during the past year in Vietnam's Dak Nong province, reports the Vietnam News Agency.


Pricing emissions from farming, logging could shift land use towards conservation

(02/15/2009) Putting a price tag on carbon dioxide emissions resulting from various land use practices could dramatically change the way that land is used, including reducing deforestation and limiting agricultural expansion on carbon-rich lands, said a researcher presenting at the annual meeting of the American Association for the Advancement of Science.


Japanese paper firms contribute to destruction of old-growth forests in Tasmania

(02/15/2009) A new report released by Australian conservation groups The Wilderness Society and Still Wild, Still Threatened shows that despite claims to the contrary, Japanese paper manufacturers are the purchasers of wood chips derived from the destruction of Tasmania's old growth forests.


Payments for eco services could save the Amazon



(02/12/2009) Paying for the ecological services provided by the Amazon rainforest could be the key to saving it, reports a new analysis from WWF. The study, Keeping the Amazon forests standing: a matter of values, tallied the economic value of various ecosystem services afforded by Earth's largest rainforest. It found that standing forest is worth, at minimum, $426 per hectare per year.


Carbon market surges 84% in 2008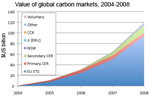 (02/12/2009) The value of the global carbon market surged 84 percent to $118 billion in 2008 despite the worldwide financial crisis, reports New Carbon Finance. Data from the market research firm shows that transaction volume for carbon dioxide emissions allowances reached four billion tons for the year, an increase of 42 percent over 2007.


Indonesian ecolabeling initiative providing cover for rainforest destruction

(02/10/2009) The Indonesian Ecolabel Institute is facilitating rainforest destruction by issuing "sustainable forest management certificates" to companies that convert natural and peatlands into industrial timber estates, allege national environmental groups.


Boy Scouts of America have logged 34,000 acres of forest in 20 years

(02/06/2009) A nationwide review of the Boy Scouts of America by Hearst newspapers has shown that one-third of Boy Scouts' councils have been involved in logging to raise funds for the beleaguered organization.


New model uses carbon credits, sustainable palm oil to save Indonesia's rainforests


(02/05/2009) The World Resources Institute (WRI) has launched an innovative avoided deforestation model that aims to deter conversion of Indonesian rainforest for oil palm plantations. The project, dubbed "POTICO" (Palm Oil, TImber, Carbon Offsets), integrates sustainable palm oil, FSC-certified timber, and carbon offsets in order to "divert new oil palm plantations onto degraded lands and bring the forests that were slated for conversion into certified sustainable forestry".


Norway to pay Guyana to save its rainforests


(02/05/2009) Norway will provide financial support for Guyana's ambitious plan to conserve its rainforests, reports the Guyana Chronicle. Meeting in Oslo, Norway on Tuesday, Guyana President Bharrat Jagdeo and Norwegian Prime Minister Jens Stoltenberg signed a Memorandum of Understanding agreeing to establish a partnership to reduce greenhouse gas emissions from deforestation and forest degradation (REDD). The leaders will push for the incorporation of a REDD mechanism that includes low deforestation countries like Guyana in a post-2012 climate change agreement.


Heart of Borneo conservation initiative at risk from Indonesian development plan



(02/04/2009) Indonesia's Defense Minister Juwono Sudarsono is pushing a proposal to develop economic zones along the border between Malaysia and Kalimantan "as soon as possible" for national security reasons, reports the Jakarta Globe. The plan — which Juwono claims is to protect Indonesia's sovereignty — would undermine the historic Heart of Borneo conservation initiative signed in 2007 by spurring massive expansion of logging, plantation development, and road construction in the biologically-rich region.


Malaysian government says forest reserve 'plundered' for oil palm development

(02/03/2009) Responding to allegations by the Human Rights Commission of Malaysia (Suhakam) that indigenous people have been forced from their lands (a charge it denied), the Sabah Forestry Department said that more than 30 percent of Mt. Pock And Tanjong Nagos Forest Reserves were "plundered" by "people with means to plant illegal oil palm including companies" up until 2001. The statement is noteworthy in that leaders of the Malaysian Palm Oil Council, the marketing and lobbying arm of the Malaysian palm oil industry, have maintained that oil expansion has not taken place at the expense of natural forest in Malaysia.


Gore pushes for avoided deforestation to save rainforests during testimony

(01/29/2009) In testimony before the Senate Foreign Relations Committee on Wednesday, former Vice President Al Gore urged lawmakers to move swiftly on a cap-and-trade climate bill as well as the economic stimulus package. Among many recommendations, Gore repeatedly emphasized the importance of forest conservation in fighting climate change, mentioning "deforestation" more than a dozen times.


Beef drives 80% of Amazon deforestation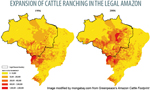 (01/29/2009) Nearly 80 percent of land deforested in the Amazon from 1996-2006 is now used for cattle pasture, according to new maps released today in a report by Greenpeace at the World Social Forum in Belem, Brazil. The report, Amazon Cattle Footprint: Mato Grosso: State of Destruction, confirms that cattle ranching is the primary driver of deforestation in Earth's largest rainforest: the Brazilian Amazon.


Logging may be linked to landslide deaths in Malaysia says environmental group

(01/27/2009) Three people were killed and seven injured when a landslide swept through a logging camp in the Upper Limbang region of the Malaysian state of Sarawak. The Bruno Manser Fund, an NGO that campaigns on behalf of Sarawak's indigenous people, links the landslide to logging.


Guidelines on how to establish an avoided deforestation project

(01/22/2009) Deforestation presently accounts for nearly 20 percent of anthropogenic greenhouse gas emissions — a share larger than that from the global transportation sector. Given this contribution, reducing deforestation is widely seen as a key component in plans to slow climate change and a number of proposals to include forestry in a post-Kyoto climate agreement are presently on the table. Anticipating the emergence of a market for forest carbon as a result of this framework, 'avoided deforestation' projects are already sprouting up in tropical countries around the world. Supporters say these initiatives offer the potential to protect forests and biodiversity while simultaneously delivering benefits to rural communities that have so far been lost out while their natural resources have been plundered by developers. While avoided deforestation seems to offers great promise, developing a project that meets still emerging standards is a complex and costly endeavor. A new book, published in five languages, seeks to untangle the forest carbon market and thereby facilitate new avoided deforestation projects.


High coffee prices spurred deforestation in Sumatra but effective law enforcement slowed forest loss

(01/22/2009) Law enforcement efforts can significantly deter deforestation in protected areas despite high pressure from agricultural expansion, reports a new study that assessed the effectiveness of conservation in Bukit Barisan Selatan National Park in southern Sumatra, Indonesia. However the research suggests that conservation needs extend beyond law enforcement to be effective in the long-run.


Indonesia lifts ban on logging of natural forests for pulp and paper

(01/22/2009) Indonesia has reversed a ban on paper and pulp companies from harvesting wood from natural forests, reports the International Tropical Timber Organization in its Tropical Timber Market Report for Jan 1-15.


Gabon bans harvest of four tropical hardwood species

(01/22/2009) Gabon has banned the harvest of four valuable hardwoods according to the International Tropical Timber Organization's Tropical Timber Market Report for Jan 1-15.


How to establish a REDD project

(01/22/2009) New guide offers insight on establishing projects for the emerging avoided deforestation or REDD market.


Congo cancels logging contracts covering 13M hectares

(01/21/2009) Democratic Republic of Congo (DRC) canceled nearly 60 percent of the country's timber contracts following a review of 156 logging concessions granted in recent years, reports Reuters. The anti-corruption probe found that 91 deals covering nearly 13 million of hectares of forest were granted under questionable circumstances or during a moratorium on logging contracts following the 1998-2003 civil war.


Secondary forest should become new conservation initiative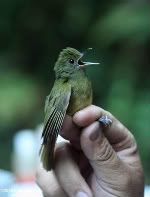 (01/19/2009) "I want to convince you we need to go beyond primary forests to preserve biodiversity", Robin Chazdon told an audience at the National Natural History Museum during a symposium on the tropics. Chazdon, a professor of ecology and evolutionary biology at the University of Connecticut, has been studying secondary growth forests for over eighteen years. Secondary forests are those forests in the process of regrowth after being used for agriculture or logging. In her study area of NE Costa Rica, many of these forests were converted to pastures in the 1970s and 1980s, but have since been abandoned. In her presentation Chazdon argued that to preserve biodiversity numerous types of human-impacted landscapes, such as secondary forest, require attention by the conservation community.


How to save the Amazon rainforest


(01/04/2009) Environmentalists have long voiced concern over the vanishing Amazon rainforest, but they haven't been particularly effective at slowing forest loss. In fact, despite the hundreds of millions of dollars in donor funds that have flowed into the region since 2000 and the establishment of more than 100 million hectares of protected areas since 2002, average annual deforestation rates have increased since the 1990s, peaking at 73,785 square kilometers (28,488 square miles) of forest loss between 2002 and 2004. With land prices fast appreciating, cattle ranching and industrial soy farms expanding, and billions of dollars' worth of new infrastructure projects in the works, development pressure on the Amazon is expected to accelerate. Given these trends, it is apparent that conservation efforts alone will not determine the fate of the Amazon or other rainforests. Some argue that market measures, which value forests for the ecosystem services they provide as well as reward developers for environmental performance, will be the key to saving the Amazon from large-scale destruction. In the end it may be the very markets currently driving deforestation that save forests.


Rainforest conservation more important than developing electric cars

(01/01/2009) For all the fuss that is made about Tesla and the coming generation of electric cars, policy-makers should not overlook the importance of tropical forest conservation.


Amazon rainforest damage surges 67% in 2008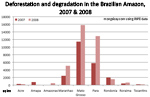 (12/20/2008) The area of rainforest in the process of being deforested — razed but not yet cleared — surged in the Brazilian Amazon during 2008, according to new figures released by Brazil's National Institute for Space Research (INPE). The announcement comes shortly after the Brazilian government reported a 4 percent increase in forest clearing for the year. Using an advanced satellite system that tracks changes in vegetation cover INPE found that 24,932 square kilometers of Amazon forest was damaged between August 2007 and July 2008, an increase of 10,017 square kilometers -- 67 percent -- over the prior year. The figure is in addition to the 11,968 square kilometers of forest that were completely cleared, indicating that at least 36,900 square kilometers of forest were damaged or destroyed during the year. The sum does not include areas that may have been selectively logged for commercial timber.


Wood chemistry used to track origin of timber

(12/18/2008) A researcher is using carbon and oxygen isotopes to track the origin of timber as part of a worldwide effort to develop methods to combat illegal logging.


Computer hackers are helping illegal loggers destroy the Amazon rainforest

(12/12/2008) Computer hackers are helping illegal loggers destroy the Amazon rainforest by breaking into the Brazilian government's timber tracking system and altering the records so as to increase logging allocations, reports Greenpeace.


Deal on forests falls short

(12/11/2008) A deal reached Wednesday in Poznan to include forests in future climate treaties is a positive step but falls short of the progress needed to get the REDD (reducing emissions from deforestation and degradation) mechanism on track for incorporation into the framework that will succeed the Kyoto Protocol, say environmentalists speaking from the talks.


Rainforests continue to fall but hope may rest in a market solution

(12/11/2008) Environmentalists attempting to preserve the vanishing Amazon rain forest now confront a stark paradox: Never before have they succeeded in protecting so much of the world's largest tropical forest, yet never before has so much of it simultaneously been destroyed. The key question today is whether new models of conservation — including an increasingly popular, market-based program known as REDD — will be able to reverse the steady loss of tropical forests, not only in the Amazon, but also in Indonesia, Borneo, and Africa's Congo basin, where virgin woodlands continue to be razed at an unprecedented rate.


Macedonians plant six million trees—in one day

(12/10/2008) While the world meets in Poznan, Poland to discuss actions related to global warming, the small Republic of Macedonia has already achieved an impressive goal. On November 19th, thousands of Macedonians took part in planting trees in a massive reforestation effort. Altogether they planted six million trees: three trees for every citizen of the country.


Indigenous people win voice in climate negotiations

(12/10/2008) Negotiators at U.N. climate conference have struck a deal to give forest-dependent people a voice in determining the role forest conservation will play future agreements to reduce greenhouse gas emissions, reports the Associated Press (AP). The agreement clears a key obstacle that had been blocking progress on reducing emissions from deforestation and degradation (REDD), a mechanism that would compensate tropical countries for protecting their forest cover.


Tropical species face high extinction risk

(12/10/2008) Tropical plant species face an inherently high extinction risk due to small populations and restricted ranges relative to temperate species, reports research published in PLoS ONE. These traits leave them vulnerable to habitat disturbance and climate change.


What allows rainforests to grow so wildly?

(12/10/2008) Molybdenum, a rare trace element, is the secret to rainforests' lush growth, reports research published in the journal Nature Geoscience.


Africa calls for "full-range" of bio-carbon as climate solution

(12/10/2008) A coalition of 26 African countries is calling for the inclusion of carbon credits generated through afforestation, reforestation, agroforestry, reduced soil tillage, and sustainable agricultural practices in future climate agreements.


Finland, Sweden push for loophole that would drive destruction of peatlands around the world

(12/09/2008) Finland and Sweden are pushing for a loophole in the E.U.'s Renewable Energy Directive that would open up vast tracts of peatlands around the world to development for biofuels production. The move could have drastic consequences for climate and biodiversity, warns Wetlands International, an environmental group.


New standards ensure forest carbon projects protect indigenous people, biodiversity

(12/08/2008) The Climate, Community & Biodiversity Alliance (CCBA) has released its second edition of its CCB Standard for certifying land-based carbon offset projects.


Peru seeks $200 million to save its rainforests

(12/08/2008) Peru is seeking $200 million in international contributions over the next ten years to cut deforestation to zero, reports BBC News.


In Poznan, France pushes initiative to save rainforests

(12/08/2008) As talks for incorporating forest conservation into an international climate treaty stall in Poznan, Poland due to technical debates, France has proposed an aggressive effort to address deforestation and forest degradation through the establishment of a Global Forest Carbon Mechanism (GFCM) and potential inclusion of forestry projects in the E.U.'s emissions trading scheme (ETS) beginning in 2013.


Linking rural health care to forest conservation proving a success in Borneo

(12/08/2008) Health in Harmony was today awarded mongabay.com's annual "Innovation in Conservation" award for its unique approach to conservation which combats illegal logging by providing healthcare and sustainable livelihoods to communities living around Gunung Palung National Park in Kalimantan, on the island of Borneo. The award includes a cash grant and prominent placement on the mongabay.com web site and newsletter for the month of December. Health in Harmony is working to break an impoverishing cycle of illegal logging and deforestation by offering healthcare rewards to encourage the villagers to protect the national park, rather than log it. The effort seems to be paying off: since launching a 'forests-for-healthcare' incentive program in September, 18 of 21 communities have signed a moratorium of understanding agreeing to participate.


Little progress on avoided deforestation at climate meeting in Poland

(12/05/2008) Climate talks in Poland are failing to make progress on a proposed mechanism to reduce greenhouse gas emissions from deforestation, reports a forest policy group from the negotiations.


REDD faces challenges but can succeed, says report

(12/05/2008) The Center for International Forestry Research (CIFOR), a forest policy think tank, today released its assessment on the proposed REDD (reducing emissions from deforestation and degradation) mechanism for slowing climate change.


WWF criticizes Brazil's plan to cut Amazon deforestation

(12/04/2008) WWF criticized Brazil's plan to reduce Amazon deforestation to 5,740 square kilometers per year as being "short on ambition and detail". In a statement issued Wednesday, WWF said that Brazil's proposed fund for conserving the Amazon would still result in the annual loss of an area forest the size of Rhode Island.


Rainforest canopy-penetrating technology gets boost for forest carbon monitoring

(12/04/2008) A tool for monitoring tropical deforestation has gotten a boost from the one of the world's largest supporters of Amazon conservation. The Gordon and Betty Moore Foundation has awarded the Carnegie Institution's Department of Global Ecology with a $1.6-million grant to expand and improve its tropical forest monitoring tool known as the Carnegie Landsat Analysis System Lite (CLASLite).



Page 1 | Page 2 | Page 3 | Page 4 | Page 5 | Page 6 | Page 7 | Page 8 | Page 9 | Page 10 | Page 11 | Page 12 | Page 13 | Page 14 | Page 15 | Page 16 | Page 17 | Page 18 | Page 19 | Page 20 | Page 21