News articles on forestry

---
Mongabay.com news articles on forestry in blog format. Updated regularly.








Australia cracks down on illegal timber

(12/16/2010) The Australian government has announced the creation of new legislation which will put further restrictions on the import of foreign wood products in effort to halt the flow of illegally logged timber. Taking effect next year, the laws will require importers to disclose the sources of all timber products, even paper.
Logging, palm oil giant hires U.S. ambassador as lobbyist

(12/09/2010) Sinar Mas Group, the sprawling Indonesian conglomerate that has interests in coal mining, logging and wood-pulp production, palm oil plantations, real estate, and other industries, has hired Cameron Hume, the former U.S. ambassador to Indonesia, as an adviser, according to Detik.com. Ambassador Hume stepped down from his post at the embassy in August.
Guyana: where's the money pledged for saving rainforests?

(12/09/2010) Funds ostensibly set aside to reward tropical countries for protecting their rainforests are being held up, threatening to exhaust the political capital needed to advance the proposed reducing emissions from deforestation and degradation (REDD) mechanism before it even gets off the ground, warned the president of Guyana during a lively panel organized by Avoided Deforestation Partners on the sidelines of UN climate talks in Cancun, Mexico.
Can RED Hot California Heat Up A Sedated Cancun?
(12/07/2010) In his concession speech after the 2010 mid-term elections, President Obama said that prospects for meaningful U.S. climate change legislation are doubtful and will be for years. With the US and the international community unable to take even modest steps to combat global warming, the State of California has stepped up in a big, big way. Despite record unemployment rates, deficits and unemployment, California voters trounced a measure that would have suspended AB 32, California's landmark climate change law. California's AB 32 cap and trade program will soon be the biggest market for compliance emission reductions outside of Europe. In the wreckage of the Copenhagen talks and the new political landscape in America, California is the most dynamic jurisdiction for climate change implementation.
Pulp plantations destroying Sumatra's rainforests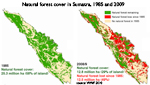 (11/30/2010) Indonesia's push to become the world's largest supplier of palm oil and a major pulp and paper exporter has taken a heavy toll on the rainforests and peatlands of Sumatra, reveals a new assessment of the island's forest cover by WWF. The assessment, based on analysis of satellite imagery, shows Sumatra has lost nearly half of its natural forest cover since 1985. The island's forests were cleared and converted at a rate of 542,000 hectares, or 2.1 percent, per year. More than 80 percent of forest loss occurred in lowland areas, where the most biodiverse and carbon-dense ecosystems are found.
Leading model undervalues true cost of reducing deforestation, says report

(11/25/2010) A widely used representation of greenhouse gas emissions abatement costs doesn't reflect the true costs of forest conservation, making the proposed reducing emissions from deforestation and degradation (REDD) mechanism seem cheaper than it actually is, argues a new report from the Rainforest Foundation UK.
Indonesia's forest protection plan at risk, says report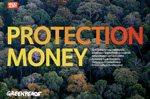 (11/25/2010) Industrial interests are threatening to undermine Norway's billion dollar partnership with Indonesia, potentially turning the forest conservation deal into a scheme that subsidizes conversion of rainforests and peatlands for oil palm and pulp and paper plantations, logging concessions, and energy production, claims a new report from Greenpeace.
Good stewards of forests at home outsource deforestation abroad

(11/24/2010) As more nations adopt better laws and policies to save and restore forests at home, they may, in fact, be outsourcing deforestation to other parts of the world, according to a new study in the Proceedings of the National Academy of Sciences (PNAS). Looking at six developing nations where forests are recovering—instead of receding—the study found only one of them did not outsource deforestation to meet local demand for wood-products and food, a process known as 'leakage'.
Bad books: US paper products are breaking the law and devastating rainforests

(11/18/2010) Everyone knows books are made of paper, but few think of where that paper comes from. However, two new reports may change that. Both the Rainforest Action Network (RAN) and the World Resources Institute (WRI) have found that some paper used in books, including popular children's books, is linked to forest devastation in Indonesian, even targeting endangered trees that have been harvested illegally.
Scientists call upon Indonesia to recognize value of secondary forests

(11/18/2010) A group of scientists have called upon the governments of Indonesia and Norway to recognize the conservation value of logged-over and "degraded" forests under their partnership on reducing emissions from deforestation and degradation. The letter urges the Indonesian government to extend protection to forest areas that may not be pristine but still serve as important carbon sinks, house endangered wildlife, and provide livelihoods for communities.
Extensive logging, lemur hunting in Madagascar national park despite moratorium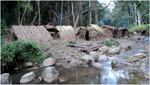 (11/16/2010) A biological survey in Northeastern Madagascar has turned up evidence of extensive logging in Masoala National Park, a UNESCO World Heritage Site renowned for its biologically-rich rainforest. The findings suggest that harvesting of valuable hardwoods—including rosewood, ebony, and palissander—continues despite an official ban on the logging and export of timber.
Local efforts block attempt to ship illegal rosewood from Madagascar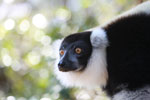 (11/10/2010) Authorities in Madagascar successfully blocked an attempt to ship illegally logged rosewood from the port of Vohemar over the weekend, according to local reports. The incident, while isolated, suggests citizens, the Waters and Forests Administration, local media, and shipping companies are having an impact on slowing the rosewood trade that has devastated Madagascar's rainforest parks, wildlife, and rural communities.
Indonesia to launch rival palm oil certification standard
(11/10/2010) The Indonesian government is moving closer to launching its own certification system to ensure less damaging palm oil production, reports the Jakarta Post. The scheme would rival the Roundtable on Sustainable Palm Oil, a multi-stakeholder body that has been developing criteria since 2004 and began shipping certified sustainable palm oil (CSPO) in 2008.
U.S. companies should help drive push toward sustainable palm oil
(11/09/2010) U.S. companies should take a leadership role in helping ensure that palm oil production is sustainable and does not come at the cost of forests, climate, and communities, argues a new report published ahead of the annual meeting of the Roundtable on Sustainable Palm Oil (RSPO). The report, published by the National Wildlife Federation (NWF), says that while the U.S. is only a minor consumer of palm oil, its demand for the vegetable oil is fast rising, increasing four-fold since 2006. Palm oil, which is among the cheapest of vegetables owing to its high yield, is now found in up to 50 percent of packaged retail food products.
Deforestation jumps, but Guyana nonetheless qualifies for REDD payment

(11/07/2010) Guyana's deforestation rate over the past 12 months was roughly three times the average annual rate over the prior 20 year period, but was still well below the baseline under the recent $250 million forest conservation partnership with Norway, according to a new report released by Guyana Forestry Commission's REDD+ Monitoring Reporting and Verification System (MRVS).
Illegal logging rampant in Vietnam

(11/01/2010) Illegal logging is rampant in Vietnam, according to a new report from the the Ministry of Agriculture and Rural Development's General Forestry Department.
UK government plan to sell off half its forests faces stiff criticism

(11/01/2010) The UK's Department for Environment, Food, and Rural Affairs (Defra) has announced plans to sell up to 150,000 hectares of its forest to the private sector—over half of its forests in England—touching off harsh criticism from environmentalists, including the UK's Green Party.
Former Indonesian REDD+ negotiator arrested on corruption charge

(10/30/2010) Wandojo Siswanto, one of the lead negotiators for Indonesia's delegation at last year's climate talks in Copenhagen and a key architect of its Reduced Emissions from Deforestation and Degradation (REDD) program, has been arrested and charged with receiving bribes.
Scientists blast greenwashing by front groups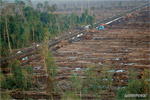 (10/27/2010) A group of prominent scientists has published an open letter challenging the objectivity of World Growth International, an NGO that claims to operate on behalf of the world's poor, and its leader Alan Oxley, a former trade diplomat who also chairs ITS Global, a marketing firm. The letter, published online in several forums, slams World Growth and ITS Global as a front groups for forestry companies. The scientists note that while the groups have not disclosed their sources of funding, they assert ITS receives funding from Sinar Mas, an Indonesian conglomerate that controls Asia Pulp & Paper (APP), a forest products brand, and Sinar Mas Agro Resources & Technology, a palm oil firm, among other companies.
Picture: new monkey discovered in Myanmar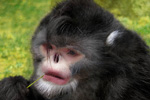 (10/26/2010) Hunters' reports have led scientists to discover a new species of monkey in the northern forests of Myanmar. Discovered by biologists from the Myanmar Biodiversity and Nature Conservation Association with support from primatologists with Fauna & Flora International (FFI) and the People Resources and Biodiversity Foundation, the strange looking primate is a member of the snub-nosed monkey family, adding a fifth member to this unmistakably odd-looking group of Asian primates. However, the species survives in only a small single population, threatened by Chinese logging and hunting.
The $1M bed: why Madagascar's rainforests are being destroyed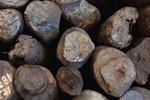 (10/26/2010) Consumer demand for rosewood furniture and musical instruments is driving illegal logging in Madagascar's national parks, endangering wildlife and undermining local community livelihoods, according to a new report from the Environmental Investigation Agency (EIA) and Global Witness. The report, based on more than a year of investigations, shows that Madagascar's valuable hardwoods—including ebony, pallisander, and rosewood—are being illegally harvested from rainforest parks and trafficked to Asia, Europe, and the United States. The vast majority of timber however ends up in China, where it is converted into luxury furniture.
Foreign corporations devastating Papua New Guinea rainforests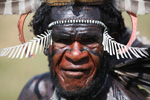 (10/21/2010) A letter in Nature from seven top scientists warns that Papua New Guinea's accessible forest will be lost or heavily logged in just ten to twenty years if swift action isn't taken. A potent mix of poor governance, corruption, and corporate disregard is leading to the rapid loss of Papua New Guinea's much-heralded rainforests, home to a vast array of species found no-where else in the world. "Papua New Guinea has some of the world's most biologically and culturally rich forests, and they're vanishing before our eyes," author William Laurance of James Cook University in Cairns, Australia, said in a statement.
Corporations, conservation, and the green movement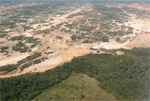 (10/21/2010) The image of rainforests being torn down by giant bulldozers, felled by chainsaw-wielding loggers, and torched by large-scale developers has never been more poignant. Corporations have today replaced small-scale farmers as the prime drivers of deforestation, a shift that has critical implications for conservation. Until recently deforestation has been driven mostly by poverty—poor people in developing countries clearing forests or depleting other natural resources as they struggle to feed their families. Government policies in the '60s, '70s, and '80s had a multiplier effect, subsidizing agricultural expansion through low-interest loans, infrastructure projects, and ambitious colonization schemes, especially in the Amazon and Indonesia. But over the past two decades, this has changed in many countries due to rural depopulation, a decline in state-sponsored development projects, the rise of globalized financial markets, and a worldwide commodity boom. Deforestation, overfishing, and other forms of environmental degradation are now primarily the result of corporations feeding demand from international consumers. While industrial actors exploit resources more efficiently and cause widespread environmental damage, they also are more sensitive to pressure from consumers and environmental groups. Thus in recent years, it has become easier—and more ethical—for green groups to go after corporations than after poor farmers.
The ultimate bike trip: the Amazon rainforest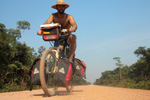 (10/17/2010) Like all commercial roads through rainforests, the 5,300 kilometer long Rodovia Transamazonica (in English, the Trans-Amazonia), brought two things: people and environmental destruction. Opening once-remote areas of the Amazon to both legal and illegal development, farmers, loggers, and miners cut swathes into the forest now easily visible from satellite. But the road has also brought little prosperity: many who live there are far from infrastructure and eek out an impoverished existence in a harsh lonely wilderness. This is not a place even the most adventurous travelers go, yet Doug Gunzelmann not only traveled the entirety of the Transamazonica in 2009, he cycled it. A self-described adventurer, Gunzelmann chose to bike the Transamazonica as a way to test his endurance on a road which only a few before have completed. But Gunzelmann wasn't just out for adrenaline-rushes, he was also deeply interested in the environmental issues related to the Transamazonica. What he found was a story without villains, but only humans—and the Amazon itself—trying to survive in a complex, confusing world.
Satellites show fragmented rainforests significantly drier than intact forest
(10/13/2010) A new study in Biological Conservation has shown that edge forests and forest patches are more vulnerable to burning because they are drier than intact forests. Using eight years of satellite imagery over East Amazonia, the researchers found that desiccation (extreme dryness) penetrated anywhere from 1 to 3 kilometers into forests depending on the level of fragmentation.
Brazil to auction off large blocks of Amazon rainforest for logging

(10/12/2010) Brazil will auction large blocks of the Amazon rainforest to private timber companies as part of an effort to reduce demand for illegal logging, reports Reuters. The government will grant 1 million hectares (2.5 million acres) of logging concessions by the end of the year, according to Antonio Carlos Hummel, head of Brazil's National Forestry Service. Within four to five years, 11 million hectares will be auctioned.
Can 'boutique capitalism' help protect the Amazon?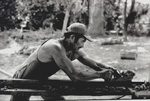 (10/11/2010) Most companies talk green, but few—almost none in fact—actually walk the walk. Sustainable design company, Ecostasy, not only walks the walk, but actually seeks out among the most challenging places to work: the imperiled Brazilian Amazon. Specializing in hand-crafted products by indigenous groups—such as jewelry, pots, and furniture—Ecostasy seeks to balance smart economics, environmental protection, and community development. Make no mistake, however, Ecostasy is not a non-profit, but a rare and refreshing example of a company truly dedicated to changing the world for the better. "In my mind, a virtuous company does not compromise ethical principles for economic interests. For me, being ethical is comprised of conducting oneself with honesty and responsibility to one's constituencies (customers, employees, suppliers), society and the environment," Katherine Ponte, founder of Ecostasy, told mongabay.com in an interview.
Photos: Massive logjam in Borneo blocks Malaysia's longest river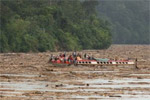 (10/10/2010) A massive 50-km-long (30-mi) logjam has blocked the Rajang river in Sarawak, Malaysian Borneo, bringing river traffic to a standstill and posing a threat to riverbank communities, reports Malaysian state media, Bernama. The Rajang, Malaysia's longest river, is presently unnavigable, according to Bernama. The source of the logs and debris is believed to be the Baleh River and upper tributaries of the Rajang. Heavy rain reportedly triggered a landslide or landslides at log ponds at a major timber camp.
'Green' paper company allegedly complicit in land grabs against Chinese communities

(10/07/2010) Finnish paper company, Stora Enso, may lose its green and socially responsible reputation over a new report by Rights and Resources International (RRI) and the Rural Development Institute (RDI). The report finds that the company broke Chinese laws and even worked with middlemen who physically threatened local farmers, all in an effort to lease 120 thousand hectares for a vast eucalyptus plantation in southern China. Just last year, a lawyer working to defend farmers landed in a hospital after being beaten for his involvement.
Rainforest loss slows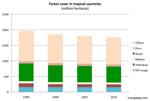 (10/07/2010) Deforestation rates in tropical countries dropped significantly during the first decade of the 21st century relative to the 1990s, reveals new data released by the Food and Agriculture Organization of the United Nations (FAO). FAO figures show deforestation across 121 tropical countries averaged 9.34 million hectares per year between 2000 and 2010, down from 11.33 million hectares per year in the 1990s. The decline has accelerated since 2005 due Brazil's dramatic reduction of deforestation in the Brazilian Amazon, which peaked at 27,772 square kilometers in 2004 but is expected to come in at less than 8,000 for 2010.
Loss of old growth forest continues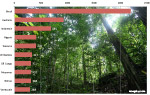 (10/06/2010) A new global assessment of forest stocks by the U.N. Food and Agriculture Organization (FAO) shows continuing loss of primary forests since 2005 despite gains in the extent of protected areas. FAO's Global Forest Resources Assessment 2010 reveals some 13 million hectares of forest were cleared between 2000 and 2010, down from around 16 million hectares per year during the 1990s. Loss of primary forest—mostly a consequence of logging—averaged 4.2 million hectares per year, down from 4.7 million hectares per year in the 1990s.
The Nestlé example: how responsible companies could end deforestation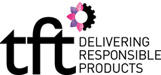 (10/06/2010) The NGO, The Forest Trust (TFT), made international headlines this year after food giant Nestlé chose them to monitor their sustainability efforts. Nestlé's move followed a Greenpeace campaign that blew-up into a blistering free-for-all on social media sites. For months Nestle was dogged online not just for sourcing palm oil connected to deforestation in Southeast Asia—the focus of Greenpeace's campaign—but for a litany of perceived social and environmental abuses and Nestlé's reactions, which veered from draconian to clumsy to stonily silent. The announcement on May 17th that Nestlé was bending to demands to rid its products of deforestation quickly quelled the storm. Behind the scenes, Nestlé and TFT had been meeting for a number of weeks before the partnership was made official. But can TFT ensure consumers that Nestlé is truly moving forward on cutting deforestation from all of its products?
Logging generates more income than ranching in the Amazon

(10/04/2010) New research conducted by Brazil's Federal Rural University of Amazonia (UFRA) found that logging generates more income from cattle grazing and agriculture in the Amazon provided landowners operate under existing social and environmental laws, reports the International Tropical Timber Organization in its bimonthly update.
Asia Pulp & Paper fumbles response to deforestation allegations by Greenpeace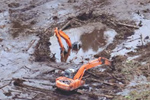 (09/28/2010) A new audit that seems to exonerate Asia Pulp & Paper from damaging logging practices in Indonesia was in fact conducted by the same people that are running its PR efforts, raising questions about the much maligned company's commitment to cleaning up its operations. The audit slams Greenpeace, the activist group that accused Asia Pulp & Paper (APP) of illegal and destructive logging in Sumatra in its July 2010 report, How Sinar Mas is Pulping the Planet. It runs through each of the claims laid out in the Greenpeace report, arguing some are speculative or improperly cited. But the audit doesn't actually deny that APP is clearing forests and peatlands for pulp plantations. In fact, the audit effectively confirms that the company is indeed engaged in conversion of 'deep' peat areas, but argues that this activity isn't illegal under Indonesian law.
Indonesia is the 3rd largest GHG emitter but reducing deforestation offers big opportunity, says government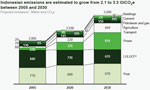 (09/28/2010) Indonesia's greenhouse gas emissions reached 2.1 billion tons of carbon dioxide in 2005, making it the world's third largest emitter of greenhouse gases, but offering opportunities to substantially reduce emissions through forest conservation, reduced use of fire, protection of peatlands, and better forest management, reports a series of studies released earlier this month by the country's National Climate Change Council (DNPI).





Ugandan forest being stripped for fuel wood

(09/27/2010) A new study in the open access journal of Tropical Conservation Science finds that the Kasagala forest reserve in central Uganda is losing important tree species and suffering from low diversity of species. Researchers believe that forest degradation for charcoal and firewood has put heavy pressure on this ecosystem.





Financial crisis pummels wildlife and people in the Congo rainforest

(09/27/2010) Spreading over three central African nations—Cameroon, Central African Republic, and Republic of Congo—the Sangha tri-national landscape is home to a variety of actors: over 150,000 Bantu people and nearly 20,000 pygmies; endangered species including forest elephants and gorillas; and, not least, the Congo rainforest ecosystem itself, which here remains largely intact. Given its interplay of species-richness, primary rainforest, and people—many of whom are among the poorest in the world—the landscape became internationally important in 2002 when under the Congo Basin Forest Partnership (CBFP) conservation groups and development agencies agreed to work together to preserve the ecosystems while providing development in the region.






Page 1 | Page 2 | Page 3 | Page 4 | Page 5 | Page 6 | Page 7 | Page 8 | Page 9 | Page 10 | Page 11 | Page 12 | Page 13 | Page 14 | Page 15 | Page 16 | Page 17 | Page 18 | Page 19 | Page 20 | Page 21 | Page 22