News articles on forest people

---
Mongabay.com news articles on forest people in blog format. Updated regularly.





Secrets of the Amazon: giant anacondas and floating forests, an interview with Paul Rosolie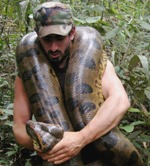 (03/10/2010) At twenty-two Paul Rosolie has seen more adventure than many of us will in our lifetime. First visiting the Amazon at eighteen, Rosolie has explored strange jungle ecosystems, caught anaconda and black caiman bare-handed, joined indigenous hunting expeditions, led volunteer expeditions, and hand-raised a baby giant anteater. "Rainforests were my childhood obsession," Rosolie told Mongabay.com. "For as long as I can remember, going to the Amazon had been my dream […] In those first ten minutes [of visiting], cowering under the bellowing calls of howler monkeys, I saw trails of leaf cutter ants under impossibly large, vine-tangled trees; a flock of scarlet macaws crossed the sky like a brilliant flying rainbow. I saw a place where nature was in its full; it is the most amazing place on earth."


Asia's biggest logging company accused of bribery, violence in Papua New Guinea

(02/08/2010) A local organization in Papua New Guinea, known as Asples Madang, is fighting against one of the region's biggest industrial loggers, Rimbunan Hijau (RH) chaired by billionaire Tiong Hiew King. Aspeles Madang has accused Malaysian company, RH, of acquiring land illegally and of using brute force and bribery in its dealing with locals.


Real-life Avatar: court blocks destruction of indigenous community in Borneo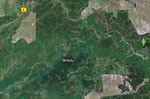 (01/27/2010) A court in the Malaysian state of Sarawak has issued an injunction to block the continued destruction of the Iban village of Sungai Sekabai, reports the Bruno Manser Fund (BMF), an indigenous rights groups. Last week Sarawak state police demolished 39 Iban homes in a dramatic escalation of land dispute between the community and a state-backed palm oil developer.


Failure of Copenhagen may spur dodgy REDD deals, says report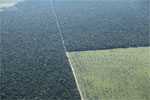 (01/26/2010) Lack of a clear framework and rules for a proposed climate change mitigation mechanism known as Reducing Emissions from Deforestation and Forest Degradation (REDD) could jeopardize its effectiveness and put forest-dependent communities at risk of exploitation, cautions a new report released by an environmental rights policy group. In "THE END OF THE HINTERLAND: Forests, Conflict and Climate Change", the Washington-based Rights and Resources Initiative (RRI) warns that without clear rules to address land tenure and forests rights issues, REDD could increase conflict by boosting the perceived value of forest land. Forest communities — which have much to gain under a well-designed and well-implemented mechanism — are particularly at risk.


Indigenous in Borneo win "landmark" court ruling over land rights

(01/21/2010) A Malaysian court has ruled in favor of indigenous communities in a dispute over land rights just two days after authorities "arbitrarily" destroyed 25 Iban homes in the village of Sungai Sekabai in Sarawak (Malaysian Borneo), reports the Bruno Manser Fund, a rights group.


Malaysian police destroy homes in Borneo indigenous community

(01/20/2010) Malaysian authorities yesterday destroyed two dozen homes in an indigenous Iban community near the town of Bintulu in Sarawak, alleges a human rights group.


World of Avatar: in real life



(01/13/2010) A number of media outlets are reporting a new type of depression: you could call it the Avatar blues. Some people seeing the new blockbuster film report becoming depressed afterwards because the world of Avatar, sporting six-legged creatures, flying lizards, and glowing organisms, is not real. Yet, to director James Cameron's credit, the alien world of Pandora is based on our own biological paradise—Earth. The wonders of Avatar are all around us, you just have to know where to look.


Dams a 'monument of corruption': Baru Bian, new leader of Sarawak's People's Justice Party

(01/12/2010) In an interview with the Bruno Manser Fond, the new leader of the Malaysian state Sarawak's People's Justice Party (PKR), Baru Bian, spoke out against the state government's plans for mega-dams in the middle of the rainforest, as well as continued rainforest destruction and corruption.


Uncontacted natives confirmed in Brazil

(01/10/2010) An uncontacted tribe of about 60 people has been confirmed by FUNAI (Brazil's Indigenous Affairs Department) in the Indigenous Territory of Arariboia, located in the eastern Amazonian state, Maranhao.


Ecuador to be paid to leave oil in the ground

(12/23/2009) Ecuador will establish a trust fund for receiving payments to leave oil reserves unexploited in Yasuni National Park, one of the world's most biodiverse rainforest reserves, reports the UN Development Programme, the agency that will administer the fund.


Brazil establishes 20,000 sq mi of new indigenous reserves in the Amazon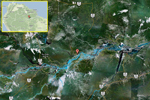 (12/23/2009) On Monday, Brazil decreed nine new indigenous reserves covering 51,000 square kilometers (19,700 square miles) of the Amazon rainforest, an areas larger than Denmark or Switzerland, reports the AFP. Five of the reserves are located in the state of Amazonas, two are in Pará, one is in Roraima, and another is in Mato Grosso do Sul. The protected areas house about seven thousand Indians from 29 ethnic groups, according to FUNAI (Fundação Nacional do Índio), Brazil's indigenous affairs agency.


The real Avatar story: indigenous people fight to save their forest homes from corporate exploitation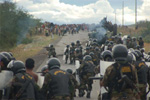 (12/22/2009) In James Cameron's newest film Avatar an alien tribe on a distant planet fights to save their forest home from human invaders bent on mining the planet. The mining company has brought in ex-marines for 'security' and will stop at nothing, not even genocide, to secure profits for its shareholders. While Cameron's film takes place on a planet sporting six-legged rhinos and massive flying lizards, the struggle between corporations and indigenous people is hardly science fiction.


Malaysia to allow logging in indigenous 'peace park' to proceed

(12/17/2009) Malaysia, the country with the fastest rate of greenhouse gas emissions growth since 1990 among middle and upper income countries, will allow logging to proceed in a contested rainforest area in Sarawak, on the island of Borneo.


Rainforest tribe sues the Malaysian government for enabling deforestation

(12/10/2009) Five Penan rainforest communities are suing the Sarawak state government and the Malaysian timber giant Samling for violation of their native customary rights, reports the Bruno Manser Fund, a group that works on behalf of indigenous groups in Malaysia.


Cattle company bulldozing UNESCO site, threatening uncontacted natives



(12/09/2009) A Brazilian ranching company is bulldozing land within UNESCO Chaco Biosphere Reserve in Paraguay, home to the only uncontacted natives outside of the Amazon in South America. While the UNESCO status provides no legal protections to the area, it is meant as an international marker to protect the tribe of the Ayoreo-Totobiegosode and the forest they inhabit.


Brazilian tribe owns carbon rights to Amazon rainforest land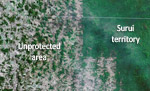 (12/09/2009) A rainforest tribe fighting to save their territory from loggers owns the carbon-trading rights to their land, according to a legal opinion released today by Baker & McKenzie, one of the world's largest law firms. The opinion, which was commissioned by Forest Trends, a Washington, D.C.-based forest conservation group, could boost the efforts of indigenous groups seeking compensation for preserving forest on their lands, effectively paving the way for large-scale indigenous-led conservation of the Amazon rainforest. Indigenous people control more than a quarter of the Brazilian Amazon.


Malaysian land minister attacks credibility of young indigenous rape victims

(12/07/2009) Speaking to the BBC, James Masing, Sarawak Minister for Land Development, dismissed claims by Penan girls and women who said they had been sexually abused and raped by logging workers in a remote jungle area.


Rainforest tribe declares 'peace park' to defend lands from logging in Sarawak

(11/30/2009) In an attempt to block destructive logging of their traditional land, a group of indigenous Penan has declared a "peace park" in the Upper Baram region of Sarawak in Malaysian Borneo, reports the Bruno Manser Fund.


Ethnographic maps built using cutting-edge technology may help Amazon tribes win forest carbon payments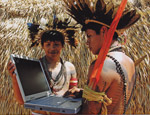 (11/29/2009) A new handbook lays out the methodology for cultural mapping, providing indigenous groups with a powerful tool for defending their land and culture, while enabling them to benefit from some 21st century advancements. Cultural mapping may also facilitate indigenous efforts to win recognition and compensation under a proposed scheme to mitigate climate change through forest conservation. The scheme—known as REDD for reducing emissions from deforestation and degradation—will be a central topic of discussion at next month's climate talks in Copenhagen, but concerns remain that it could fail to deliver benefits to forest dwellers.


Guyana expedition finds biodiversity trove in area slated for oil and gas development, an interview with Robert Pickles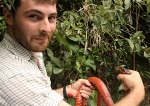 (11/29/2009) An expedition deep into Guyana's rainforest interior to find the endangered giant river otter—and collect their scat for genetic analysis—uncovered much more than even this endangered charismatic species. "Visiting the Rewa Head felt like we were walking in the footsteps of Wallace and Bates, seeing South America with its natural density of wild animals as it would have appeared 150 years ago," expedition member Robert Pickles said to Mongabay.com.


A fair deal for forest people: working to ensure that REDD forests bear fruit for local communities


(11/27/2009) As world leaders meet to thrash out the next incarnation of the Kyoto climate agreement, the world waits with baited breath to see how greenhouse gas emissions from forests might be included. Despite the high powered nature of these important global decisions, the success of REDD will ultimately be decided by humble forest dependent communities, living in developing countries and perhaps currently oblivious to the negotiations taking place. Dr Julie Fischer, Communities Specialist on Fauna & Flora International and Macquarie Capital's Carbon Forests Taskforce, explains why REDD will fail unless it adequately accounts for, or indeed is steered by, these communities.


Efforts to slow climate change may put indigenous people at risk

(11/24/2009) Efforts to slow climate change are putting indigenous people at risk, warns a new report published by Survival International, an indigenous rights' group.


"Responsible" palm oil producers pledge not to develop endangered Sumatra rainforest

(11/13/2009) Members of the Roundtable on Sustainable Palm Oil (RSPO), an initiative developing criteria to improve the environmental performance of palm oil, agreed to declare the Bukit Tigapuluh Ecosystem in Sumatra a 'high conservation value area'. The decision, voted on by RSPO General Assembly members at the group's annual meeting earlier this month in Kuala Lumpur, effectively bans oil palm development of the endangered forest ecosystem by RSPO members.


How rainforest shamans treat disease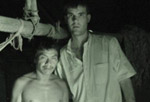 (11/10/2009) Ethnobotanists, people who study the relationship between plants and people, have long documented the extensive use of medicinal plants by indigenous shamans in places around the world, including the Amazon. But few have reported on the actual process by which traditional healers diagnose and treat disease. A new paper, published in the Journal of Ethnobiology and Ethnomedicine, moves beyond the cataloging of plant use to examine the diseases and conditions treated in two indigenous villages deep in the rainforests of Suriname. The research, which based on data on more than 20,000 patient visits to traditional clinics over a four-year period, finds that shamans in the Trio tribe have a complex understanding of disease concepts, one that is comparable to Western medical science. Trio medicine men recognize at least 75 distinct disease conditions—ranging from common ailments like fever [këike] to specific and rare medical conditions like Bell's palsy [ehpijanejan] and distinguish between old (endemic) and new (introduced since contact with the outside world) illnesses. In an interview with mongabay.com, Lead author Christopher Herndon, currently a reproductive medicine physician at the University of California, San Francisco, says the findings are a testament to the under-appreciated healing prowess of indigenous shaman.


Google partners with Amazon tribe

(10/29/2009) The story of an indigenous Amazon tribe that has embraced technology in its fight to protect its homeland and culture is now highlighted as a layer in Google Earth.


Crisis averted for now, Peruvian natives will meet with Hunt Oil

(10/28/2009) Indigenous groups in a dispute with Hunt Oil, over the company performing seismic tests their land, have scheduled a meeting with the Texas based oil corporation, according to Reuters.


Will Ecuador's plan to raise money for not drilling oil in the Amazon succeed?

(10/27/2009) Ecuador's Yasuni National Park is full of wealth: it is one of the richest places on earth in terms of biodiversity; it is home to the indigenous Waorani people, as well as several uncontacted tribes; and the park's forest and soil provides a massive carbon sink. However, Yasuni National Park also sits on wealth of a different kind: one billion barrels of oil remain locked under the pristine rainforest.


Amazonian natives say they will defend tribal lands from Hunt Oil with "their lives"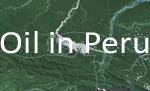 (10/25/2009) Indigenous natives in the Amazon are headed to the town of Salvacion in Peru with a plan to forcibly remove the Texas-based Hunt Oil company from their land as early as today. Peruvian police forces, numbering in the hundreds, are said to be waiting in the town. The crisis has risen over an area known as Lot 76, or the Amarakaeri Communal Reserve. The 400,000 hectare reserve was created in 2002 to protect the flora and fauna of the area, as well as to safeguard watersheds of particular importance to indigenous groups in the region.


Carbon Financing and Community Forestry

(09/20/2009) Deforestation and forest degradation contribute some 20 percent of global greenhouse gas emissions. Forest-related mitigation measures are now recognized to be amongst the most practical and cost-effective interventions to slow global warming – as well as providing a host of other environmental products and services. However, rural poverty, weak law enforcement, and escalating demand for food and fuel continue to drive forest destruction at an alarming rate – in the Asia-Pacific region alone, some 3.7 million hectares of natural forest are lost every year. This also threatens millions of already vulnerable rural livelihoods, often undermining traditional rights to vital forest resources.


Heavy oil pollution remains in Amazon, despite company claiming clean-up is finished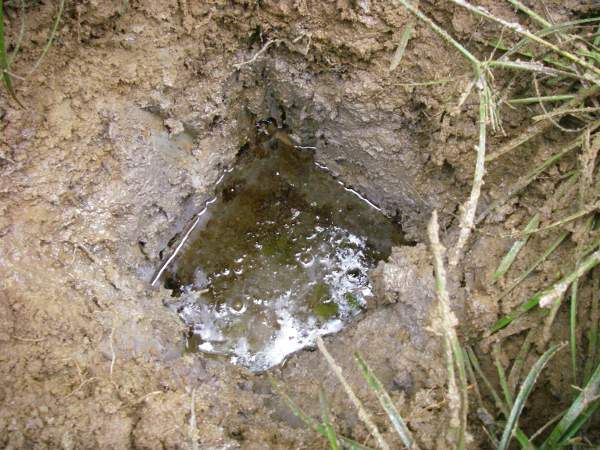 (09/17/2009) A new report shows that the Corrientes region of the Peruvian Amazon, which suffered decades of toxic contamination by Occidental Petroleum (OXY), is far from being cleaned-up. The survey, conducted by US non-profit E-Tech International, found that heavy metals, volatile organic compounds, and hydrocarbons still exist at levels above the safety limits set by Peru and continue to threaten the Achuar indigenous community, who have long fought against the oil companies.


Independent review finds logging company has abused rights of indigenous Penan in Borneo


(09/15/2009) An independent review of Interhill Logging found that the Sarawak logging company has regularly violated forest laws and abused the rights of the indigenous Penan peoples. The review, conducted by French tourism giant ACCOR, found that Interhill Logging had not received free, prior, and informed consent from the local Penan people for its logging operations; the logging being done by Interhill "is very definitely not sustainable"; the company is not fully compiling with Sarawak's Natural Resources and Environment Board; and Interhill is providing no long-term benefits to the Penan peoples.


Oil road transforms indigenous nomadic hunters into commercial poachers in the Ecuadorian Amazon


(09/13/2009) The documentary Crude opened this weekend in New York, while the film shows the direct impact of the oil industry on indigenous groups a new study proves that the presence of oil companies can have subtler, but still major impacts, on indigenous groups and the ecosystems in which they live. In Ecuador's Yasuni National Park—comprising 982,000 hectares of what the researchers call "one of the most species diverse forests in the world"—the presence of an oil company has disrupted the lives of the Waorani and the Kichwa peoples, and the rich abundance of wildlife living within the forest.


Power, profit, and pollution: dams and the uncertain future of Sarawak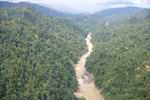 (09/03/2009) Sarawak, land of mystery, legend, and remote upriver tribes. Paradise of lush rainforest and colossal bat-filled caves. Home to unique and bizarre wildlife including flying lemurs, bearcats, orang-utans and rat-eating plants. Center of heavy industry and powerhouse of Southeast Asia. Come again? This jarring image could be the future of Sarawak, a Malaysian state on the island of Borneo, should government plans for a complex of massive hydroelectric dams comes to fruition. The plan, which calls for a network of 12 hydroelectric dams to be built across Sarawak's rainforests by 2020, is proceeding despite strong opposition from Sarawak's citizens, environmental groups, and indigenous human rights organizations. By 2037, as many as 51 dams could be constructed.


Saving Africa's 'unicorn', the okapi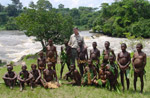 (09/02/2009) The giraffe is one of Africa's most recognizable animals, but its shy and elusive forest cousin, the okapi, was so little known that until just over a century ago the western world believed it was a mythical beast, an African unicorn. Today, a shroud of mystery still envelops the okapi, an animal that looks like a cross between a zebra, a donkey, and a giraffe. But what is known is cause for concern. Its habitat, long protected by its remoteness, was the site of horrific civil strife, with disease, famine, and conflict claiming untold numbers of Congolese over the past decade. Now, as a semblance of peace has settled over Democratic Republic of Congo (DRC), the okapi's prospects have further dimmed, for its home is increasingly seen as a rich source of timber, minerals, and meat to help the war-torn country rebuild. In an effort to ensure that the okapi does not become a victim of economic recovery, the Okapi Conservation Project (OCP) is working to protect the okapi and its habitat. Founded by John Lukas in 1987, well before the conflict, OCP today manages the Okapi Wildlife Reserve, a 13,700-square-kilometer tract of wilderness in the Ituri Forest of northeastern DRC.


Penan tribe to continue blockade against loggers with blowpipes and spears

(09/01/2009) A meeting between the Penan indigenous tribe, Malaysian government officials, and representatives of a logging company ended without an agreement on Friday. After the meeting, a Penan spokesman declared that the group's blockade would continue. Blockaders, dressed in traditional garb, have armed themselves with blowguns and spears.


New Amazonian reserve saves over a million acres in Peru


(08/30/2009) On August 27th Peru's Ministry of the Environment approved the creation of the Matses National Reserve to protect the region's biodiversity, ensure its natural resources, and preserve the home of the Matses indigenous peoples (known as the Mayorunas in Brazil). The park is 1,039,390 acres (or 420,626 hectares) of lowland Amazonian rainforest in eastern Peru. The park is the culmination of over a decade of work by the local non-profit CEDIA (the Center for the Development of the Indigenous Amazonians) funded in part by the Worldland Trust.


World Bank violated environmental rules in lending to palm oil companies, finds internal audit

(08/18/2009) A coalition of indigenous rights' organizations and green groups is calling on the World Bank's International Finance Corporation (IFC) to suspend lending to oil palm plantation developers over revelations by its own internal auditors that the loan-making entity failed to follow its own procedures for protecting against social and environmental abuses.


Photos reveal illegal logging near uncontacted natives in Peru

(08/17/2009) Ariel photos show proof of illegal logging for mahogany occurring in a Peruvian reserve set aside for uncontacted natives. The photos, taken by Chris Fagan from Round River Conservation Studies, show logging camps set-up inside the Murunahua Reserve, meant to protect the uncontacted indigenous group, known as the Murunahua Indians, in the Peruvian Amazon.


Police face murder charges in killing of indigenous protesters in Peru

(08/16/2009) A federal prosecutor in Peru filed murder charges against two police generals and 15 other officers over the deaths of indigenous protesters at a roadblock in June, reports the Associated Press. The Indians were protesting new rules that would have made it easier for foreign developers to exploit oil and gas, timber, and minerals in Peru's Amazon rainforest. The skirmish left 23 police and at least ten protesters dead.


Peru to proceed with oil and gas auctions in the Amazon despite indigenous protests

(08/07/2009) Despite violent protests by indigenous groups over plans to expand oil and gas exploration in the Peru's Amazon rainforest, energy investments in the South American country are expected to increase to $1.5 billion in both 2009 and 2010, reports Reuters.


Peru to raise payment to indigenous communities for Amazon forest conservation


(08/03/2009) Peru's environment minister now says the government will pay indigenous communities 10 sols ($3.30) for every hectare of rainforest they help to preserve, reports the Latin American Herald. Previously Antonio Brack said that communities would see about half that amount. The $3.30-per-hectare figure is low by international standards. Under a proposed mechanism that compensates countries for reducing deforestation (REDD), forest land could be worth $800 or more per hectare for its carbon (225 tons of carbon/ha), depending on its level of threat. Forests in areas of high deforestation would be compensated at a higher rate than inaccessible forests at low-risk of development. But Brack left open the possibility that communities could receive higher payment if parties agree to include REDD compensation in a future climate framework.


Weeks after bloodshed, American oil moves into Peruvian Amazon, putting rainforest, possible archeological site at risk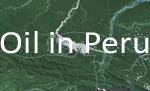 (08/03/2009) Barely six weeks after a dozen Amazon natives were gunned down by the Peruvian Army in the oil town of Bagua for protesting the cozy relationship between Big Oil and the government of President Alan Garcia, I find myself on the banks of the Mother of God River in Salvacion, Peru, wondering if all those folks died in vain. Any day now, the bulldozers will be moving in as Texas-based Hunt Oil Company – with the full go-ahead of the Peruvian government -- fires its first salvo in its assault against the million-acre pristine rainforest wilderness of the little-known and largely unexplored Amarakaeri Communal Reserve.


Forest people set up logging blockades in Borneo

(07/31/2009) Indigenous Penan have set up roadblocks in Malaysian Borneo to stop loggers from encroaching on their rainforest land, reports Survival International, an indigenous rights' group.


Are we on the brink of saving rainforests?


(07/22/2009) Until now saving rainforests seemed like an impossible mission. But the world is now warming to the idea that a proposed solution to help address climate change could offer a new way to unlock the value of forest without cutting it down.Deep in the Brazilian Amazon, members of the Surui tribe are developing a scheme that will reward them for protecting their rainforest home from encroachment by ranchers and illegal loggers. The project, initiated by the Surui themselves, will bring jobs as park guards and deliver health clinics, computers, and schools that will help youths retain traditional knowledge and cultural ties to the forest. Surprisingly, the states of California, Wisconsin and Illinois may finance the endeavor as part of their climate change mitigation programs.


Companies benefit from reducing conflict with local people


(07/08/2009) Mechanisms to mitigate disputes with local communities, can reduce risk for companies seeking to profit from forest use while at the same time helping protect rights of forest people, argues a new report published today by the The Forests Dialogue (TFD), an international group of forest experts from business, environmental, academic and human rights groups.


A New Idea to Save Tropical Forests Takes Flight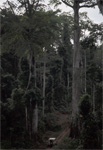 (06/29/2009) Every year, tens of millions of acres of tropical forests are destroyed. This is the most destabilizing human land-use phenomenon on Earth. Tropical forests store more aboveground carbon than any other biome. They harbor more species than all other ecosystems combined. Tropical forests modulate global water, air, and nutrient cycles. They influence planetary energy flows and global weather patterns. Tropical forests provide livelihoods for many of the world's poorest and marginalized people. Drugs for cancer, malaria, glaucoma, and leukemia are derived from rainforest compounds. Despite all these immense values, tropical forests are vanishing faster than any other natural system. No other threat to human welfare has been so clearly documented and simultaneously left unchecked. Since the 1992 Rio Earth Summit (when more than 100 heads of State gathered to pledge a green future) 500 million acres of tropical forests have been cut or burned. For decades, tropical deforestation has been the No. 1 cause of species extinctions and the No. 2 cause of human greenhouse gas emissions, after the burning of fossil fuels. For decades, a few conservation heroes tried their best to plug holes in the dikes, but by and large the most diverse forests on Earth were in serious decline.


War and conservation in Cambodia


(06/21/2009) The decades-long conflict in Cambodia devastated not only the human population of the Southeast Asian country but its biodiversity as well. The conflict led to widespread declines of species in the once wildlife-rich nation while steering traditional society towards unsustainable hunting practices, resulting in a situation where wildlife is still in decline in Cambodia, according to a new study from researchers with the World Wildlife Fund (WWF).


Cameroon rainforest given 30 days to be conserved or sold off for logging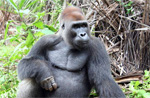 (06/18/2009) An 830,000-hectare tract of rainforest in Cameroon has been granted a 30-day reprieve from logging following a 4-week exploratory expedition that turned up large populations of lowland gorillas, forest elephants, mandrills, and chimpanzees, according to expedition leader Mike Korchinsky, founder of the conservation group Wildlife Works. The Cameroonian government has given Wildlife Works, which pioneered the first forest-based carbon project in Kenya, 30 days to come up with a competitive proposal to logging. The group is now scrambling to secure necessary funding to finance the early stages of the project.


Peru suspends decree that triggered bloody conflict between Indians and police

(06/11/2009) Peruvian lawmakers yesterday suspended a controversial decree that contributed to a bloody conflict between police and indigenous protesters in the country's Amazon region, reports the AFP.


Oil or Death in the Amazon

(06/06/2009) More than 70% of the Peruvian Amazon has been allocated for oil and gas extraction, and the current government of Alan Garcia has been pushing for more. Unfortunately, as usual, these policies are promoted by and only benefit a handful of people, but negatively impact the lives of many. However, Garcia's government did not foresee the potential consequences of their actions.



Page 1 | Page 2 | Page 3 | Page 4 | Page 5