News articles on forest people

---
Mongabay.com news articles on forest people in blog format. Updated regularly.





Norway divests from Malaysian logging company after rainforest destruction

(08/24/2010) The Norwegian Government's pension fund sold all its 16 million shares of Samling Global, a Malaysian timber company, after concluding the firm had committed 'serious transgessions' in logging outside of concession areas and destroying protected rainforests, reports the Bruno Manser Fund. The sale, worth a total of $1.2 million, represents about 0.3 percent of the company's outstanding shares based on today's closing market price in Hong Kong.


146 dams threaten Amazon basin

(08/19/2010) Although developers and government often tout dams as environmentally-friendly energy sources, this is not always the case. Dams impact river flows, changing ecosystems indefinitely; they may flood large areas forcing people and wildlife to move; and in the tropics they can also become massive source of greenhouse gases due to emissions of methane. Despite these concerns, the Amazon basin—the world's largest tropical rainforest—is being seen as prime development for hydropower projects. Currently five nations—Brazil, Bolivia, Colombia, Ecuador, and Peru—are planning over 146 big dams in the Amazon Basin. Some of these dams would flood pristine rainforests, others threaten indigenous people, and all would change the Amazonian ecosystem. Now a new website, Dams in Amazonia, outlines the sites and impacts of these dams with an interactive map.


India's Avatar: decision coming on mine that threatens indigenous group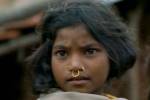 (08/17/2010) In the Indian state of Orissa a drama more wild than James Cameron's imagination has been playing out. An indigenous people, the Dongria Kondh, have spent years protesting the plans of British-based mining giant Vedanta Resources to build a 125-billion-rupee ($2.7 billion) open-cast mine on the Niyamgiri Mountain, which they have long viewed as a deity. Yesterday, the Dongria Kondh won a victory, but not the war: a four-person panel set up by the India's Environment Ministry said the mine should not go ahead as it threatens two tribal groups. Another panel with the Forestry Advisory Council (FAC) will consider this report on August 20th as Environment Minister, Jairam Ramesh, mulls whether or not to approve the mine.


Hunting threatens the other Amazon: where harpy eagles are common and jaguars easy to spot, an interview with Paul Rosolie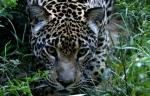 (08/05/2010) If you have been fortunate enough to visit the Amazon or any other great rainforest, you've probably been wowed by the multitude and diversity of life. However, you also likely quickly realized that the deep jungle is not quite what you may have imagined when you were a child: you don't watch as jaguars wrestle with giant anteaters or anacondas circle prey. Instead life in the Amazon is small: insects, birds, frogs. Even biologists will tell you that you can spend years in the Amazon and never see a single jaguar. Yet rainforest guide and modern day explorer Paul Rosolie says there is another Amazon, one so pristine and with such wild abundance that it seems impossible to imagine if not for Rosolie's stories, photos, and soon videos. This is an Amazon where the big animals—jaguars, tapir, anaconda, giant anteaters, and harpy eagles—are not only abundant but visible. Free from human impact and overhunting, these remote places—off the beaten path of tourists—are growing ever smaller and, according to Rosolie, are in danger of disappearing forever.


Mahogany market in US threatening the lives of uncontacted natives in the Amazon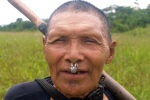 (07/20/2010) Consumers in the US purchasing mahogany furniture may be unwittingly supporting illegal logging in a Peruvian reserve for uncontacted indigenous tribes, imperiling the indigenous peoples' lives. A new report by the Upper Amazon Conservancy (UAC) provides evidence that loggers are illegally felling mahogany trees in the Murunahua Reserve where it is estimated some 200 uncontacted natives live.


Illegal logging declining worldwide, but still 'major problem'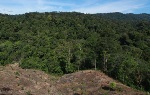 (07/15/2010) A new report by the Chatham House finds that illegal logging in tropical forest nation is primarily on the decline, providing evidence that new laws and international efforts on the issue are having a positive impact. According to the report, the total global production of illegal timber has fallen by 22 percent since 2002. Yet the report also finds that nations—both producers and consumers—have a long way to go before illegal logging is an issue of the past.


Large-scale forest destruction in Sumatra undermines Indonesia's deal with Norway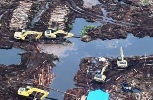 (07/13/2010) While the Indonesian government basks in a recent agreement with Norway to slow deforestation to the tune of a billion US dollars, a new report by Eyes on the Forest shows photographic evidence of largely government sanctioned deforestation that flouts several Indonesia laws. Potentially embarrassing, the report and photos reveal that two companies, Asian Pulp and Paper (APP) and Asia Pacific Resource International (APRIL), have destroyed 5 percent of Riau province's forests since 2009, including deep peatlands, high conservation value forests (HCVF), Critically Endangered Sumatran tiger habitat, and forest within the Giam Siak Kecil- Bukit Batu UNESCO Biosphere Reserve. In total, over 130,000 hectares (an area larger than Hong Kong) of mostly peat forest were destroyed for pulp.


Conservation photography: on shooting and saving the world's largest temperate rainforest, an interview with Amy Gulick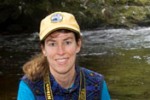 (07/11/2010) Most of the US's large ecosystems are but shadows of their former selves. The old-growth deciduous forests that once covered nearly all of the east and mid-west continental US are gone, reduced to a few fragmented patches that are still being lost. The tall grassy plains that once stretched further than any eye could see have been almost wholly replaced by agriculture and increasing suburbs. Habitats, from deserts to western forests, are largely carved by roads and under heavy impact from resource exploitation to invasive species. Coastal marine systems, once super abundant, have partially collapsed in many places due to overfishing, as well as pollution and development. Despite this, there are still places in the US where the 'wild' in wilderness remains largely true, and one of those is the Tongass temperate rainforest of Southeast Alaska.


Spotted uncontacted native flees, leaving dinner and dish behind

(07/07/2010) The man had set up camp and was preparing to cook live turtles for a meal when he was seen by people he did not know. He hid behind a tree and then fled from the camp into the forest, abandoning his uncooked turtles and a clay pot behind.


Violence a part of the illegal timber trade, says kidnapped activist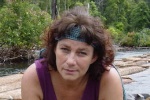 (07/07/2010) The European parliament made a historical move today when it voted overwhelmingly to ban illegal timber from its markets. For activists worldwide the ban on illegal timber in the EU is a reason to celebrate, but for one activist, Faith Doherty of the Environmental Investigation Agency (EIA), the move has special resonance. In early 2000, Doherty and an Indonesian colleague were kidnapped, beaten, and threatened with a gun by illegal loggers in Indonesian Borneo.


Violence at indigenous logging blockade in Borneo

(06/21/2010) A road blockade organized by Penan tribesmen in Malaysian Borneo turned violent over the weekend when a timber company official allegedly struck a native protester, reports the Bruno Manser Fund. Malaysian state police, who arrived in logging company vehicles, subsequently told the Penan to dismantle their blockade, which was established to protest continued logging of rainforest lands.


Environmentalists and indigenous groups condemn plan for six dams in Peruvian Amazon

(06/21/2010) Environmentalists and indigenous groups have come together to condemn a 15 million US dollar plan for six hydroelectric dams in the Peruvian Amazon, signed last week by Brazilian President Luiz Inácio Lula da Silva and Peruvian President, Alan Garcia. While the six dams would produce over 6,000 megawatts, mostly for Brazil, critics say the dams will flood tens of thousands of hectares of rainforest, devastate the lifestyles of a number of indigenous groups, and only serve big Brazilian corporations.


'Prepare for war': tensions rising over Brazil's controversial Belo Monte dam

(05/25/2010) Tensions are flaring after Brazil's approval of the Belo Monte dam project last month to divert the flow of the Xingu River. The dam, which will be the world's third larges, will flood 500 square miles of rainforest, lead to the removal of at least 12,000 people in the region, and upturn the lives of 45,000 indigenous people who depend on the Xingu. After fighting the construction of the dam for nearly thirty years, indigenous groups are beginning to talk of a last stand.


Elephants march in London, trumpeting conservation



(05/17/2010) Although urban Britain is not the native habitat of the Asian elephant, the well-loved pachyderm has invaded London for the summer. Raising awareness and funds for the threatened Asian elephant, 250 fiberglass statues by different artists are being displayed all over London. At the end of the summer the elephants will be auctioned off. All the proceeds from the art parade will go to Elephant Family, a conservation organization whose mission is to save the Asian Elephant from extinction.


One man's mission to save Cambodia's elephants



(05/17/2010) Since winning the prestigious 2010 Goldman Environmental Prize in Asia, Tuy Sereivathana has visited the US and Britain, even shaking hands with US President Barack Obama, yet in his home country of Cambodia he remains simply 'Uncle Elephant'. A lifelong advocate for elephants in the Southeast Asian country, Sereivathana's work has allowed villagers and elephants to live side-by-side. Working with Fauna and Flora International (FFI) he has successfully brought elephant-killing in Cambodia to an end. As if this were not enough, Sereivathana has helped curb the destruction of forests in his native country and built four schools for children who didn't previously have formal education opportunities.


Talking the Amazon rainforest with Avatar's James Cameron

(05/11/2010) Recently, I got an invitation to attend an interesting panel dealing with indigenous issues on Earth Day. The talk, held at the Paley Center for Media in midtown Manhattan, would host a number of Native Americans but also James Cameron, creator of the blockbuster movie Avatar as well as other hits such as Terminator and Titantic. What, you might ask, was a Hollywood director doing at such an event? If you've seen Cameron's movie you know that it deals with a fictional tribe of humanoid creatures called the Na'vi who inhabit the rainforest world of Pandora. In the film, the Na'vi must fight to preserve the forest from a mineral corporation backed up by the U.S. military. Avatar, a true technological feat, brought the Pandora rainforest to movie-going audiences in 3-D. Though Avatar doesn't attempt to teach anything to the audience per se, it does convey a sense of moral outrage.


Taking back the rainforest: Indians in Colombia govern 100,000 square miles of territory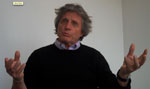 (05/10/2010) Indigenous groups in the Colombian Amazon have long suffered deprivations at the hands of outsiders. First came the diseases brought by the European Conquest, then came abuses under colonial rule. In modern times, some Amazonian communities were virtually enslaved by the debt-bondage system run by rubber traders: Indians could work their entire lives without ever escaping the cycle of debt. Later, periodic invasions by gold miners, oil companies, colonists, and illegal coca-growers took a heavy toll on remaining indigenous populations. Without title to their land, organization, or representation, indigenous Colombians in the Amazon seemed destined to be exploited and abused. But new hope would emerge in the 1980s, thanks partly to the efforts of Martin von Hildebrand, an ethnologist who would help indigenous Colombians eventually win control over 260,000 square kilometers (100,000 square miles) of Amazon rainforest—an area larger than the United Kingdom.


Can markets protect nature?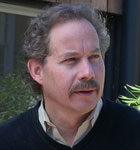 (05/03/2010) Over the past 30 years billions of dollars has been committed to global conservation efforts, yet forests continue to fall, largely a consequence of economic drivers, including surging global demand for food and fuel. With consumption expected to far outstrip population growth due to rising affluence in developing countries, there would seem to be little hope of slowing tropical forest loss. But some observers see new reason for optimism—chiefly a new push to make forests more valuable as living entities than chopped down for the production of timber, animal feed, biofuels, and meat. While are innumerable reasons for protecting forests—including aesthetic, cultural, spiritual, and moral—most land use decisions boil down to economics. Therefore creating economic incentives to maintaining forests is key to saving them. Leading the effort to develop markets ecosystem services is Forest Trends, a Washington D.C.-based NGO that also organizes the Katoomba group, a forum that brings together a wide variety of forest stakeholders, including the private sector, local communities, indigenous people, policymakers, international development institutions, funders, conservationists, and activists.


Oil company to cut 454 kilometers of seismic lines in uncontacted tribe territory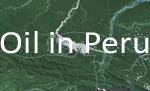 (04/21/2010) Repsol YPF, a Spanish-Argentine oil company, plans to cut 454 kilometers (282 miles) of seismic lines in a territory of the Peruvian rainforest known to be home to uncontacted indigenous peoples, according to a press release from Survival International. To construct seismic lines paths will be cleared in the forest and explosives set-off regularly. Seismic lines allow energy companies to locate oil deposits by creating a cross sectional view of the subsurface.


Off and on again: Belo Monte dam goes forward, protests planned

(04/20/2010) An auction to build the Belo Monte dam, a massive hydroelectric project in Brazil, is going ahead despite two court-ordered suspensions, both of which have been overturned. The dam, which would be the world's third-largest, has been criticized by indigenous groups, environmental organizations, and most recently filmmaker James Cameron who created the wildly popular Avatar.


New report alleges Sarawak government, police, and loggers "act in collusion to harass and intimidate indigenous communities"



(04/15/2010) A new report by JOANGOHutan, the Malaysian Network of Indigenous Peoples and Non-Governmental Organizations, paints an atmosphere of abuse and ambivalence toward indigenous communities embroiled in land disputes in the Malaysian state of Sarawak on the island of Borneo. According to the report, there are currently 140 land dispute cases in limbo in the Sarawak courts. Indigenous groups are fighting loggers, oil palm plantation developers, and the paper industry for their tribal lands, yet indigenous tribes have not found advocates in state government.


James Cameron, in real life, fights to save indigenous groups from massive dam construction in Brazil

(04/01/2010) After creating a hugely successful science-fiction film about a mega-corporation destroying the indigenous culture of another planet, James Cameron has become a surprisingly noteworthy voice on environmental issues, especially those dealing with the very non-fantastical situation of indigenous cultures fighting exploitation. This week Cameron traveled to Brazil for a three-day visit to the Big Bend (Volta Grande) region of the Xingu River to see the people and rainforests that would be affected by the construction of the Belo Monte Hydroelectric Dam. Long-condemned by environmentalists and indigenous-rights groups, the dam would destroy 500 square kilometers of pristine rainforest and force the relocation of some 12,000 people.


Malaysian palm oil grower loses case over damages to rainforest community

(04/01/2010) IOI group suffered a legal setback this week when the Miri High Court — a court for Miri District in Sarawak, a state in Malaysian Borneo — ruled that the palm oil grower is liable for damages caused by the destruction of land belonging to Long Teran Kanan, a Kayan native community. The legal battle has dragged on for 12-years but now represents an important precedent for forest-dependent communities in Malaysia, reports the Bruno Manser Fund, an NGO that campaigns on behalf of Sarawak's forest people.


Spanish oil company develops own rules for contacting uncontacted Amazon tribes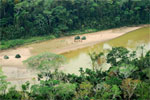 (03/26/2010) Imagine you're in one of the remotest parts of the Amazon rainforest and suddenly you come across members of an uncontacted tribe. What should you do? The experts say, "Turn around. At all costs, make no attempt at contact." Repsol YPF, exploring for oil in northern Peru, has taken a different approach. Despite the extreme vulnerability of the tribes to any form of contact, the company suggests that its workers talk to them in certain instances, and even provides specific phrases to use and conversation topics to address.


Secrets of the Amazon: giant anacondas and floating forests, an interview with Paul Rosolie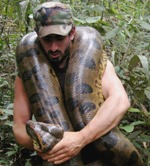 (03/10/2010) At twenty-two Paul Rosolie has seen more adventure than many of us will in our lifetime. First visiting the Amazon at eighteen, Rosolie has explored strange jungle ecosystems, caught anaconda and black caiman bare-handed, joined indigenous hunting expeditions, led volunteer expeditions, and hand-raised a baby giant anteater. "Rainforests were my childhood obsession," Rosolie told Mongabay.com. "For as long as I can remember, going to the Amazon had been my dream […] In those first ten minutes [of visiting], cowering under the bellowing calls of howler monkeys, I saw trails of leaf cutter ants under impossibly large, vine-tangled trees; a flock of scarlet macaws crossed the sky like a brilliant flying rainbow. I saw a place where nature was in its full; it is the most amazing place on earth."


Asia's biggest logging company accused of bribery, violence in Papua New Guinea

(02/08/2010) A local organization in Papua New Guinea, known as Asples Madang, is fighting against one of the region's biggest industrial loggers, Rimbunan Hijau (RH) chaired by billionaire Tiong Hiew King. Aspeles Madang has accused Malaysian company, RH, of acquiring land illegally and of using brute force and bribery in its dealing with locals.


Real-life Avatar: court blocks destruction of indigenous community in Borneo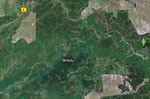 (01/27/2010) A court in the Malaysian state of Sarawak has issued an injunction to block the continued destruction of the Iban village of Sungai Sekabai, reports the Bruno Manser Fund (BMF), an indigenous rights groups. Last week Sarawak state police demolished 39 Iban homes in a dramatic escalation of land dispute between the community and a state-backed palm oil developer.


Failure of Copenhagen may spur dodgy REDD deals, says report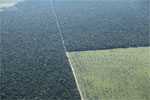 (01/26/2010) Lack of a clear framework and rules for a proposed climate change mitigation mechanism known as Reducing Emissions from Deforestation and Forest Degradation (REDD) could jeopardize its effectiveness and put forest-dependent communities at risk of exploitation, cautions a new report released by an environmental rights policy group. In "THE END OF THE HINTERLAND: Forests, Conflict and Climate Change", the Washington-based Rights and Resources Initiative (RRI) warns that without clear rules to address land tenure and forests rights issues, REDD could increase conflict by boosting the perceived value of forest land. Forest communities — which have much to gain under a well-designed and well-implemented mechanism — are particularly at risk.


Indigenous in Borneo win "landmark" court ruling over land rights

(01/21/2010) A Malaysian court has ruled in favor of indigenous communities in a dispute over land rights just two days after authorities "arbitrarily" destroyed 25 Iban homes in the village of Sungai Sekabai in Sarawak (Malaysian Borneo), reports the Bruno Manser Fund, a rights group.


Malaysian police destroy homes in Borneo indigenous community

(01/20/2010) Malaysian authorities yesterday destroyed two dozen homes in an indigenous Iban community near the town of Bintulu in Sarawak, alleges a human rights group.


World of Avatar: in real life



(01/13/2010) A number of media outlets are reporting a new type of depression: you could call it the Avatar blues. Some people seeing the new blockbuster film report becoming depressed afterwards because the world of Avatar, sporting six-legged creatures, flying lizards, and glowing organisms, is not real. Yet, to director James Cameron's credit, the alien world of Pandora is based on our own biological paradise—Earth. The wonders of Avatar are all around us, you just have to know where to look.


Dams a 'monument of corruption': Baru Bian, new leader of Sarawak's People's Justice Party

(01/12/2010) In an interview with the Bruno Manser Fond, the new leader of the Malaysian state Sarawak's People's Justice Party (PKR), Baru Bian, spoke out against the state government's plans for mega-dams in the middle of the rainforest, as well as continued rainforest destruction and corruption.


Uncontacted natives confirmed in Brazil

(01/10/2010) An uncontacted tribe of about 60 people has been confirmed by FUNAI (Brazil's Indigenous Affairs Department) in the Indigenous Territory of Arariboia, located in the eastern Amazonian state, Maranhao.


Ecuador to be paid to leave oil in the ground

(12/23/2009) Ecuador will establish a trust fund for receiving payments to leave oil reserves unexploited in Yasuni National Park, one of the world's most biodiverse rainforest reserves, reports the UN Development Programme, the agency that will administer the fund.


Brazil establishes 20,000 sq mi of new indigenous reserves in the Amazon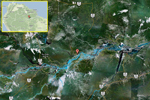 (12/23/2009) On Monday, Brazil decreed nine new indigenous reserves covering 51,000 square kilometers (19,700 square miles) of the Amazon rainforest, an areas larger than Denmark or Switzerland, reports the AFP. Five of the reserves are located in the state of Amazonas, two are in Pará, one is in Roraima, and another is in Mato Grosso do Sul. The protected areas house about seven thousand Indians from 29 ethnic groups, according to FUNAI (Fundação Nacional do Índio), Brazil's indigenous affairs agency.


The real Avatar story: indigenous people fight to save their forest homes from corporate exploitation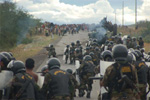 (12/22/2009) In James Cameron's newest film Avatar an alien tribe on a distant planet fights to save their forest home from human invaders bent on mining the planet. The mining company has brought in ex-marines for 'security' and will stop at nothing, not even genocide, to secure profits for its shareholders. While Cameron's film takes place on a planet sporting six-legged rhinos and massive flying lizards, the struggle between corporations and indigenous people is hardly science fiction.


Malaysia to allow logging in indigenous 'peace park' to proceed

(12/17/2009) Malaysia, the country with the fastest rate of greenhouse gas emissions growth since 1990 among middle and upper income countries, will allow logging to proceed in a contested rainforest area in Sarawak, on the island of Borneo.


Rainforest tribe sues the Malaysian government for enabling deforestation

(12/10/2009) Five Penan rainforest communities are suing the Sarawak state government and the Malaysian timber giant Samling for violation of their native customary rights, reports the Bruno Manser Fund, a group that works on behalf of indigenous groups in Malaysia.


Cattle company bulldozing UNESCO site, threatening uncontacted natives



(12/09/2009) A Brazilian ranching company is bulldozing land within UNESCO Chaco Biosphere Reserve in Paraguay, home to the only uncontacted natives outside of the Amazon in South America. While the UNESCO status provides no legal protections to the area, it is meant as an international marker to protect the tribe of the Ayoreo-Totobiegosode and the forest they inhabit.


Brazilian tribe owns carbon rights to Amazon rainforest land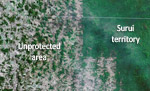 (12/09/2009) A rainforest tribe fighting to save their territory from loggers owns the carbon-trading rights to their land, according to a legal opinion released today by Baker & McKenzie, one of the world's largest law firms. The opinion, which was commissioned by Forest Trends, a Washington, D.C.-based forest conservation group, could boost the efforts of indigenous groups seeking compensation for preserving forest on their lands, effectively paving the way for large-scale indigenous-led conservation of the Amazon rainforest. Indigenous people control more than a quarter of the Brazilian Amazon.


Malaysian land minister attacks credibility of young indigenous rape victims

(12/07/2009) Speaking to the BBC, James Masing, Sarawak Minister for Land Development, dismissed claims by Penan girls and women who said they had been sexually abused and raped by logging workers in a remote jungle area.


Rainforest tribe declares 'peace park' to defend lands from logging in Sarawak

(11/30/2009) In an attempt to block destructive logging of their traditional land, a group of indigenous Penan has declared a "peace park" in the Upper Baram region of Sarawak in Malaysian Borneo, reports the Bruno Manser Fund.


Ethnographic maps built using cutting-edge technology may help Amazon tribes win forest carbon payments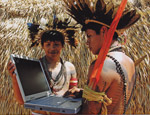 (11/29/2009) A new handbook lays out the methodology for cultural mapping, providing indigenous groups with a powerful tool for defending their land and culture, while enabling them to benefit from some 21st century advancements. Cultural mapping may also facilitate indigenous efforts to win recognition and compensation under a proposed scheme to mitigate climate change through forest conservation. The scheme—known as REDD for reducing emissions from deforestation and degradation—will be a central topic of discussion at next month's climate talks in Copenhagen, but concerns remain that it could fail to deliver benefits to forest dwellers.


Guyana expedition finds biodiversity trove in area slated for oil and gas development, an interview with Robert Pickles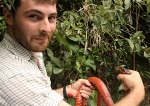 (11/29/2009) An expedition deep into Guyana's rainforest interior to find the endangered giant river otter—and collect their scat for genetic analysis—uncovered much more than even this endangered charismatic species. "Visiting the Rewa Head felt like we were walking in the footsteps of Wallace and Bates, seeing South America with its natural density of wild animals as it would have appeared 150 years ago," expedition member Robert Pickles said to Mongabay.com.


A fair deal for forest people: working to ensure that REDD forests bear fruit for local communities


(11/27/2009) As world leaders meet to thrash out the next incarnation of the Kyoto climate agreement, the world waits with baited breath to see how greenhouse gas emissions from forests might be included. Despite the high powered nature of these important global decisions, the success of REDD will ultimately be decided by humble forest dependent communities, living in developing countries and perhaps currently oblivious to the negotiations taking place. Dr Julie Fischer, Communities Specialist on Fauna & Flora International and Macquarie Capital's Carbon Forests Taskforce, explains why REDD will fail unless it adequately accounts for, or indeed is steered by, these communities.


Efforts to slow climate change may put indigenous people at risk

(11/24/2009) Efforts to slow climate change are putting indigenous people at risk, warns a new report published by Survival International, an indigenous rights' group.


"Responsible" palm oil producers pledge not to develop endangered Sumatra rainforest

(11/13/2009) Members of the Roundtable on Sustainable Palm Oil (RSPO), an initiative developing criteria to improve the environmental performance of palm oil, agreed to declare the Bukit Tigapuluh Ecosystem in Sumatra a 'high conservation value area'. The decision, voted on by RSPO General Assembly members at the group's annual meeting earlier this month in Kuala Lumpur, effectively bans oil palm development of the endangered forest ecosystem by RSPO members.


How rainforest shamans treat disease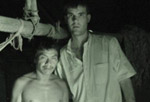 (11/10/2009) Ethnobotanists, people who study the relationship between plants and people, have long documented the extensive use of medicinal plants by indigenous shamans in places around the world, including the Amazon. But few have reported on the actual process by which traditional healers diagnose and treat disease. A new paper, published in the Journal of Ethnobiology and Ethnomedicine, moves beyond the cataloging of plant use to examine the diseases and conditions treated in two indigenous villages deep in the rainforests of Suriname. The research, which based on data on more than 20,000 patient visits to traditional clinics over a four-year period, finds that shamans in the Trio tribe have a complex understanding of disease concepts, one that is comparable to Western medical science. Trio medicine men recognize at least 75 distinct disease conditions—ranging from common ailments like fever [këike] to specific and rare medical conditions like Bell's palsy [ehpijanejan] and distinguish between old (endemic) and new (introduced since contact with the outside world) illnesses. In an interview with mongabay.com, Lead author Christopher Herndon, currently a reproductive medicine physician at the University of California, San Francisco, says the findings are a testament to the under-appreciated healing prowess of indigenous shaman.


Google partners with Amazon tribe

(10/29/2009) The story of an indigenous Amazon tribe that has embraced technology in its fight to protect its homeland and culture is now highlighted as a layer in Google Earth.


Crisis averted for now, Peruvian natives will meet with Hunt Oil

(10/28/2009) Indigenous groups in a dispute with Hunt Oil, over the company performing seismic tests their land, have scheduled a meeting with the Texas based oil corporation, according to Reuters.



Page 1 | Page 2 | Page 3 | Page 4 | Page 5 | Page 6