News articles on forest people

---
Mongabay.com news articles on forest people in blog format. Updated regularly.





Indonesia urged to implement decision recognizing indigenous rights to land


(12/10/2013) Indigenous rights groups are circulating a petition asking the Indonesian government to immediately implement a court ruling that would take management of million of hectares of customary forest out of the hands of the Ministry of Forestry and turn it over to traditional communities. The petition was posted on Change.org by Indigenous Peoples Alliance of the Archipelago (AMAN).


Ecuador's government shuts down indigenous rights organization over oil battle

(12/10/2013) Last Wednesday, the government of Ecuador shutdown the indigenous rights NGO, Fundación Pachamama, in Quito over the group's opposition to oil drilling in indigenous areas. More than a dozen government officials showed up at Pachamama's office with a resolution by the Ministry of Environment that officially dissolved the organization, the first such moved by the government which in June passed an Executive Decree that tightened governmental oversight of the country's NGOs.


Gold mine near controversial Belo Monte dam suspended

(11/22/2013) A gold mining project proposed near the Belo Monte dam site in the Amazon rainforest has been suspended by a Brazilian court, reports Reuters.


Indigenous groups expel workers, blockade another dam in Sarawak


(11/05/2013) Hundreds of tribal people in Sarawak have started blockading a second big hydroelectric dam project being built by a government, which critics accuse of nepotism and corruption. Late last month around 200 native Kenyah, Kayan and Penan people chased away workers and set up a blockade on a road leading to the site of the proposed 1200 megawatt Baram dam.


New corruption allegations in Sarawak energy project

(11/04/2013) An infrastructure company with ties to Sarawak's chief minister has just landed a $196 million contract to build transmission lines, sparking new complaints about cronyism and corruption in the Malaysian Borneo state.


With training, local communities can accurately and cost-effectively measure forest carbon

(10/29/2013) Provided two to three days of training, forest communities can accurately and cost-effectively measure biomass and other data needed to assess REDD+ projects, finds a new study published in the journal Ecology and Society.


'Sustainable' tropical timber trade a misnomer, says group

(10/24/2013) The production and trade in 'sustainable' timber products in Southeast Asia is mostly 'a mirage' due to questionable forestry practices and loopholes in import regulations, alleges a new report from Friends of the Earth International.


Borneo tribesmen block road as controversial rainforest dam impoundment begins

(09/27/2013) Indigenous leaders have set up roadblocks in Malaysian Borneo to protest Sarawak's newest dam, report environmental activists who oppose the project.


Indigenous peoples resume occupation of Brazil's Belo Monte dam site

(09/19/2013) 150 indigenous protesters have once again occupied the Belo Monte dam site in an effort to block the controversial project, reports Amazon Watch, an NGO that is helping lead the fight against the dam.


Japanese firms buying illegal timber from Malaysia's endangered rainforests


(09/10/2013) Japanese companies are failing to keep illegally logged timber from entering their supply chains, international human rights and environmental watchdog Global Witness said in a report released today. The report links several major Japanese firms to logging companies that are destroying tropical rainforests in Malaysian Borneo through illegal and destructive logging practices in Sarawak province.


Amazon rainforest tribe sells REDD+ credits to Brazilian cosmetics giant

(09/10/2013) The Paiter-Suruí, a rainforest tribe that in June became the first indigenous group to generate REDD+ credits under the Verified Carbon Standard (VCS), has now closed their first deal. As reported by Ecosystem Marketplace, Brazilian cosmetics giant Natura Cosméticos has purchased 120,000 tons of carbon offsets from the the Surui Forest Carbon Project in Rondônia, Brazil.


Large-scale opposition among Borneo villagers to deforestation


(09/10/2013) Nearly two-thirds of villagers surveyed across rainforests in Indonesian and Malaysian Borneo are against large-scale deforestation due to the adverse impacts on livelihoods and the environment, finds a comprehensive new study across 185 communities. The research, conducted over a one-year period by an international team of scientists, is published in this week's issue of the journal PLOS ONE. The study found that people who live near forests place the greatest value on the benefits they afford, including medicinal plants, game, clean water, and fiber.


Endangered chimps and forest elephants found in rainforest to be logged for palm oil


(08/08/2013) A biological survey of forests slated for destruction for a palm oil project in Cameroon has uncovered 23 species of large mammals, including the world's most endangered chimpanzee subspecies, the Nigeria-Cameroon chimpanzee (Pan troglodytes ellioti). The project in question, operated by U.S.-based company Herakles Farms, has come under stiff criticism both locally and abroad for threatening one of Africa's most biologically rich forest lands and arguably undercutting local peoples' access to traditional lands.


Activists raise alarm over park that will dispossess Borneo tribe of land

(07/10/2013) Rights activists are warning that a proposal to classify islands forming in the midst of the Bakun Dam reservoir will further deprive indigenous forest people of their traditional land.


Indonesia's president says he will work to register and recognize customary forests

(06/28/2013) Last month, Indonesia's indigenous people won the right to manage their own customary forests after a landmark Constitutional Court ruling struck down a law that had previously given the central government control over indigenous land within the country's forest estate. On Thursday, Indonesian President Susilo Bambang Yudhoyono announced his support for the decision and said he was committed to taking a first step towards its implementation – beginning a process to register and recognize traditional territories.


Why Panama's indigenous pulled out of the UN's REDD program

(06/25/2013) This week in Lombok, Indonesia, the Policy Board of the United Nations climate change program known as UNREDD is addressing the first major test of the 2007 UN Declaration on the Rights of Indigenous Peoples of the United Nations, which recognizes the right of Indigenous People to stop projects in their territories that could endanger their traditions and livelihoods. The National Coordinating Body of the Indigenous People of Panama pulled out of UNREDD's national program in February and have called on the United Nations to close the program.


Indigenous groups protest hydropower congress as controversy hits meeting in Malaysia


(05/22/2013) The opening of the International Hydropower Association (IHA) World Congress in the Malaysian state of Sarawak was marred today by indigenous protests and controversy after a local indigenous leader was barred from attending a pre-conference workshop. Over 300 people from local indigenous people protested the ongoing construction of around a dozen mega-dams in the state that threaten to flood traditional lands, force villages to move, and upend lives in the state. The Sarawak hydropower plans are some of the most controversial in the world—making the choice of Kuching, Sarawak for the IHA meeting an arguably ironic one—with critics contending that the dams are have been mired in political corruption, including kickbacks and bribes. IHA brings together dam builders, banks, and various related organizations worldwide every two years.


In landmark ruling, Indonesia's indigenous people win right to millions of hectares of forest


(05/17/2013) In a landmark ruling, Indonesia's Constitutional Court has invalidated the Indonesian government's claim to millions of hectares of forest land, potentially giving indigenous and local communities the right to manage their customary forests, reports Mongabay-Indonesia. In a review of a 1999 forestry law, the court ruled that customary forests should not be classified as "State Forest Areas". The move is significant because Indonesia's central government has control over the country's vast forest estate, effectively enabling agencies like the Ministry of Forestry to grant large concessions to companies for logging and plantations even if the area has been managed for generations by local people.


Rainforest tribe urges Norwegian king to recall energy executive


(05/13/2013) In an unusual bid to stop a series of dams that will flood their rainforest home, a group of tribesmen in Borneo are urging King Harald V of Norway to call one of his subjects home. The subject is Torstein Dale Sjøtveit, a Norwegian citizen who is the CEO of Sarawak Energy, a Malaysian firm that is building several dams in the state of Sarawak. The hydroelectric projects are controversial because they require the forced displacement of indigenous communities and will flood large tracts of rainforest.


Central America's largest forest under siege by colonists

(05/06/2013) In the last four years, invading land speculators and peasants have destroyed 150,000 hectares (370,000 acres) of rainforest in Nicaragua's Bosawás Biosphere Reserve, according to the Mayangna and Miskito indigenous peoples who call this forest home. Although Nicaragua recognized the land rights of the indigenous people in 2007, the tribes say the government has not done near-enough to keep illegal settlers out despite recent eviction efforts.


Indigenous tribes say effects of climate change already felt in Amazon rainforest


(04/30/2013) Tribal groups in Earth's largest rainforest are already being affected by shifts wrought by climate change, reports a paper published last week in the British journal Philosophical Transactions of the Royal Society B. The paper, which is based on a collection of interviews conducted with indigenous leaders in the Brazilian Amazon, says that native populations are reporting shifts in precipitation patterns, humidity, river levels, temperature, and fire and agricultural cycles. These shifts, measured against celestial timing used by indigenous groups, are affecting traditional ways of life that date back thousands of years.


Featured video: local communities successfully conserve forests in Ethiopia

(04/17/2013) A participatory forest management (PFM) program in Ethiopia has made good on forest preservation and expansion, according a recent article and video interview (below) from the Guardian. After 15 years, the program has aided one community in expanding its forest by 9.2 percent in the last decade, while still allowing community access to forest for smallscale logging in Ethiopia's Bale Mountains.


Panama's indigenous people drop REDD+

(03/19/2013) The National Coordinator of Indigenous Peoples in Panama (COONAPIP) has announced it is withdrawing from the United Nation's REDD+ program following a series of disagreements. The exit of COONAPIP from the negotiating table with UN officials and the Panamanian government will likely be a blow to the legitimacy of REDD+ in the central American country. REDD, or Reducing Emissions from Deforestation and Degradation, is a program to reduce emissions by safeguarding forests.


Tribe rejects payment from electricity company behind destructive Amazon dam

(03/14/2013) Leaders of more than two dozen Kayapó indigenous communities have rejected a $9 million offer from Brazilian state energy company Eletrobras to fund development projects in their region due to the the firm's involvement in the construction of the Belo Monte dam, reports Amazon Watch, an activist group fighting the hydroelectric project.


Photographers threatening the already-abused slender loris


(03/12/2013) Caught in a beam of torchlight, the eyes of the slender loris reflect back a striking glow. In an effort to better understand these shy, nocturnal primates, a team of researchers set out to the Western Ghats of India. The resulting paper: Moolah, Misfortune or Spinsterhood? The Plight of the Slender Loris (Loris lydekkerianus) in Southern India was published in the Journal of Threatened Taxa in January of 2013. Forest walks and interviews with the Kani people, who live in close proximity to the lorises, supported evidence of a surprising new threat to the lorises: photographers.


Parks, indigenous territories are effectively reducing Amazon deforestation


(03/11/2013) Strict conservation areas and indigenous reserves are more effective at reducing deforestation in the Brazilian Amazon relative to 'sustainble-use' areas set up for non-indigenous resource extraction, reports a new study published in the journal Proceedings of the National Academy of Sciences. The research, which involved an international team, compared rates of forest loss between different categories of managed lands using satellite imagery and statistical analysis.


Long lost tribe spotted in the Colombian Amazon

(02/23/2013) The March 2013 issue of Smithsonian magazine features an account of the flight that confirmed the presence of an isolated indigenous tribe in a remote part of the Colombian Amazon.


The beginning of the end of deforestation in Indonesia?


(02/05/2013) Asia Pulp & Paper, a forestry giant that has been widely criticized for its role in driving deforestation and contributing to social conflict in Indonesia, today announced a zero deforestation policy that could have a dramatic impact on efforts to slow the Southeast Asian nation's high rate of deforestation. The policy, which went into effect February 1, is ambitious enough that one of APP's most vocal critics and agitators, Greenpeace, will suspend its highly-damaging campaign against the paper giant. The campaign against APP has cost the paper giant tens of millions of dollars in lost business since 2009. The new policy targets several of the major criticisms against APP, including deforestation, degradation of high carbon peatlands, conservation of critical wildlife habitat, and social conflict with local communities.


World Bank's forestry investments failing to meet conservation, rights, and anti-poverty goals, finds internal audit

(01/30/2013) The World Bank's investments in forestry over the past decade have failed to meet key objectives of reducing poverty, preserving forests, slowing climate change, or benefitting local communities, according to a report developed by its internal auditing body.


Miners win ruling over indigenous groups in Guyana

(01/29/2013) A judge in Guyana's high court has ruled that indigenous groups do not have the right to expel legal miners from their land. The judge, Diana Insanally, found that if the miners in question held a government-approved license than the local community had no right to dispute the mining. The ruling has sparked protests by indigenous groups and is expected to be appealed.


Helping Borneo's indigenous people fight for their forests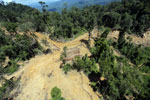 (01/28/2013) In the 1980's and 1990's more timber was removed from the rainforests Borneo than from all of Africa and South America combined. This tragic loss of habitat, with its attendant loss of wildlife and indigenous cultures, has gone largely unrecognized in the United States. Joe Lamb, a Berkeley-based writer, activist, and arborist, has worked to change that.


Colombia to double the size of massive Amazon reserve to include uncontacted tribes' land


(01/10/2013) Colombia may more than double the size of the remote and poorly-known Chiribiquete National Park to make it the biggest protected area in the Colombian Amazon, reports El Espectador. Chiribiquete best known for its unusual rock formations, including mesa-like tepuis and dramatic waterfalls, but also features at least 32 cave painting sites with some 250,000 drawings, making it a key center for indigenous culture.


Uncontacted tribes still exist, but extinction threat looms


(12/11/2012) The world is more interconnected than ever. Globally, there are six billion cell phone subscribers and 900 million Facebook users. Nearly 32 million people follow Lady Gaga on Twitter. Given this content it may seem hard to believe that there remain people who have never had contact with the outside world. Yet such people do exist today. Most of them live in the most remote parts of the world's wildest forests. One of this year's best paperback books takes a close look at one uncontacted group — the Arrow People of the Brazilian Amazon. Written by veteran journalist Scott Wallace, The Unconquered is a gripping first-person account of a journey to learn more about this little-known tribe.


Human rights key to rainforest conservation, argues report

(09/06/2012) Recognizing the rights of forest people to manage their land is critical to reducing deforestation rates and safeguarding global forests, argues a new report published by Rainforest Foundation Norway.


Tigers vs. coal in India: when big energy meets vanishing cats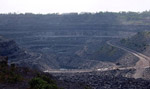 (08/01/2012) Burning coal fuels climate change, causes acid rain, and spreads toxic pollutants into the environment, but now a new Greenpeace report warns that coal may also imperil the world's biggest feline: the tiger. Home to world's largest population of tigers—in this case the Bengal subspecies (Panthera tigris tigris)—India is also the world's third largest coal producer. The country's rapacious pursuit of coal—it has nearly doubled production since 2007—has pushed the industry into tiger territory, threatening to destroy forests and fragment the tiger's already threatened population.


'National scandal:' foreign companies stripped Papua New Guinea of community-owned forests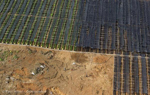 (07/30/2012) Eleven percent of Papua New Guinea's land area has been handed over to foreign corporations and companies lacking community representation, according to a new report by Greenpeace. The land has been granted under controversial government agreements known as Special Agricultural and Business Leases (SABLs), which scientists have long warned has undercut traditional landholding rights in the country and decimated many of Papua New Guinea's biodiverse rainforests. To date, 72 SABLs have been granted—mostly to logging companies—covering an area totaling 5.1 million hectares or the size of Costa Rica.


Brazil decree opens tribal lands to mining, dams in 'national interest'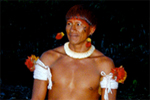 (07/26/2012) A directive signed Monday by Brazil's Solicitor-General could hamper the efforts of indigenous tribes to win government recognition of their traditional lands, reports Survival International, a human rights group focused on native peoples. The directive 'opens up all indigenous areas to mineral, dams, roads, military bases and other developments of 'national interest' without the need to consult with or address concerns of indigenous peoples', according to an expert familiar with the directive.


Indigenous tribes hold 3 engineers hostage over Belo Monte dam

(07/26/2012) Three engineers are being held hostage by the Juruna and Arara indigenous tribes as tensions rise over the on-going construction of the Belo Monte dam in Brazil, reports the Indigenous rights NGO Amazon Watch. The company building the dam, Norte Energia, has confirmed that three of its employees were being held against their will. Tribal groups in the region say the massive dam will upend their way of life, and that construction is already making travel along the Xingu river difficult.


Smartphones promoted as a tool for indigenous forest protection

(07/23/2012) Smartphones beeping in the woods may be a welcome presence that augurs the increased ability of indigenous communities to be stewards of their own biodiverse forests. Representatives of these communities and their supporters have advocated that international conservation policies like Reduced Emissions through Deforestation and Degradation (REDD) be increasingly managed by the communities themselves.


Experts: sustainable logging in rainforests impossible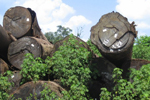 (07/19/2012) Industrial logging in primary tropical forests that is both sustainable and profitable is impossible, argues a new study in Bioscience, which finds that the ecology of tropical hardwoods makes logging with truly sustainable practices not only impractical, but completely unprofitable. Given this, the researchers recommend industrial logging subsidies be dropped from the UN's Reducing Emissions from Deforestation and Forest Degradation (REDD+) program. The study, which adds to the growing debate about the role of logging in tropical forests, counters recent research making the case that well-managed logging in old-growth rainforests could provide a "middle way" between conservation and outright conversion of forests to monocultures or pasture.


Indigenous tribes end occupation of Belo Monte

(07/12/2012) After occupying the construction site of the massive Belo Monte dam for 21 days, some 300 indigenous people have left and gone home. The representatives from nine Amazonian tribes abandoned their occupation after two days of meeting with the dam's builder, the Norte Energia consortium.


Building indigenous resilience in the face of land-grabbing, deforestation in Malaysian Borneo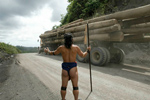 (07/10/2012) In the 1980s images of loincloth-clad tribesmen blockading blocking logging roads in Malaysian Borneo shocked the world. But while their protests captured the spotlight momentarily, Borneo's forests continued to be destroyed at rapid rates, undermining traditional communities that are dependent on these ecosystems for food, shelter, medicine, clean water, and spiritual inspiration. Nomadic tribes are now but a memory in Borneo, but other tribal groups continue to fight for their forests by seeking legal recognition of their lands and blocking destructive projects, including oil palm plantations, logging operations, and large-scale hydroelectric projects. Helping them is The Borneo Project, a Berkeley-based non-profit that works in partnership with indigenous communities and the small non-profits that support them.


Photo: Human canvas on Rio beach protests Brazil's dam-building spree in the Amazon

(06/20/2012) Nearly 1500 people formed a human banner on a beach in Rio de Janeiro today to protest plans to build dozens of dams in the Amazon basin, reports Amazon Watch, an NGO campaigning against Brazil's controversial Belo Monte dam.


Traditional belief in mythical beasts help protect forests

(06/19/2012) Cultural practices including beliefs in mythical beasts and animals that dance have helped maintain forests in the West African country of the Gambia and Malaysian Borneo, said a researcher from Oxford University speaking at the annual meeting of the Association for Tropical Biology and Conservation in Bonito, Brazil.


Sarawak tribe calls on German company to walk away from controversial dam

(06/19/2012) Indigenous people from the Malaysian state of Sarawak have sent a letter to the German company, Fichtner GmbH & Co. KG, demanding that the consulting group halt all activities related to the hugely-controversial Baram dam, reports the NGO Bruno Manser Fund. Critics of the dam and it parent project known as the Sarawak Corridor of Renewable Energy (SCORE) initiative, say the hydroelectric dam will displace 20,000 people and flood 40,000 hectares of primary rainforest.


Indigenous rights rising in tropical forests, but big gaps remain


(05/31/2012) In the last twenty years, rights for indigenous forest dwellers have expanded significantly, according to a new report by the Rights and Resources Initiative (RRI). Covering nearly thirty tropical forest countries, the report finds that indigenous people now hold rights to 31 percent of the forest land in these countries, rising from 21 percent in 1992. However, landmark land rights for indigenous people remain imperiled by lack of enforcement, land-grabbing, government ambivalence, and industrial development. The report comes less than a month before the Rio+20 Summit on Sustainable Development, a meeting of global leaders that marks two decades since the Rio Earth Summit.


Broadcaster for Radio Free Sarawak goes missing in Malaysia

(05/31/2012) Peter John Jaban, a broadcaster on Radio Free Sarawak better known by his on-air pseudonym Papa Orang Utan, was arrested on Thursday Kota Kinabalu International airport, while attempting to board a plane to Miri, Sarawak, reports The Sarawak Report.


Up to 20% of humanity directly dependent on forests

(05/16/2012) Despite a global trend towards urbanization some 1.2-1.7 billion people worldwide remain primarily dependent on forests for their livelihoods, reports a review published by the Forest Peoples Programme. The figures exclude people who are indirectly dependent on forests for the services they provide, including climate regulation, provision of clean water, and carbon sequestration.


Can loggers be conservationists?


(05/10/2012) Last year researchers took the first ever publicly-released video of an African golden cat (Profelis aurata) in a Gabon rainforest. This beautiful, but elusive, feline was filmed sitting docilely for the camera and chasing a bat. The least-known of Africa's wild cat species, the African golden cat has been difficult to study because it makes its home deep in the Congo rainforest. However, researchers didn't capture the cat on video in an untrammeled, pristine forest, but in a well-managed logging concession by Precious Woods Inc., where scientist's cameras also photographed gorillas, elephants, leopards, and duikers.


Exploring Asia's lost world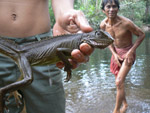 (05/03/2012) Abandoned by NGOs and the World Bank, carved out for rubber plantations and mining by the Cambodian government, spiraling into a chaos of poaching and illegal logging, and full of endangered species and never-explored places, Virachey National Park may be the world's greatest park that has been written off by the international community. But a new book by explorer and PhD student, Greg McCann, hopes to change that. Entitled Called Away by a Mountain Spirit: Journey to the Green Corridor, the book highlights expeditions by McCann into parts of Virachey that have rarely been seen by outsiders and have never been explored scientifically, including rare grasslands that once housed herds of Asian elephants, guar, and Sambar deer, before poachers drove them into hiding, and faraway mountains with rumors of tigers and mainland Javan rhinos.



Page 1 | Page 2 | Page 3 | Page 4 | Page 5