News articles on forest fires

---
Mongabay.com news articles on forest fires in blog format. Updated regularly.






Issues around palm oil development prove complex, controversial
(08/12/2009) A new report from published by the Center for International Forestry Research (CIFOR) highlights the benefits — and controversies — of large-scale expansion of oil palm agriculture in Southeast Asia. The review, titled "The impacts and opportunities of oil palm in Southeast Asia: What do we know and what do we need to know?", notes that while oil palm is a highly productive and profitable crop, there are serious concerns about its environmental and social impact when established on disputed land or in place of tropical forests and peatlands.
LUSH cosmetics launches campaign against palm oil
(08/10/2009) LUSH Cosmetics, a leading cosmetics-maker, will no longer use palm oil due to environmental concerns over its production. LUSH, which is now selling a palm oil-free soap, has launched a two-pronged campaign to make consumers aware of the impacts of palm cultivation on tropical forests and encourage other consumer-products companies, including Procter & Gamble, Unilever and Nestle, to reformulate their products using alternatives to palm oil.
Burning by Asia Pulp & Paper contributes to haze in Indonesia, Malaysia

(07/28/2009) One quarter of fire hotspots recorded in the Indonesia province of Riau on the island of Sumatra in 2009 have occurred in concessions affiliated with Sinar Mas Group's Asia Pulp & Paper (APP), according to new analysis by Eyes on the Forest, a coalition of environmental groups. The fires are contributing to the "haze" that is affecting air quality and causing health problems in Malaysia.
NASA satellite photos reveal Yellowstone's recovery from fires

(06/30/2009) Satellite images released by NASA show a gradual recovery of forests affected by massive fires during the summer of 1988 in Yellowstone National Park. Fires during that hot and dry summer burned nearly 36 percent of the park — some 793,000 of the park's 2,221,800 acres.
NASA images show huge drop in Amazon fires in 2008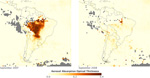 (06/30/2009) New NASA research shows a sharp decline in the amount of smoke over the Amazon during the 2008 burning season, coinciding with a drop in deforestation reported last week by Carlos Minc, Brazil's Environment Minister. Analyzing the aerosol concentrations over the Amazon each September from the past four burning seasons using the Ozone Monitoring Instrument on NASA's Aura satellite, atmospheric scientist Omar Torres of Hampton University and several colleagues found a dramatic decline in airborne particular matter in 2008, indicating reduced incidence of fire in the region. Fire in the Amazon is primarily used by humans for land-clearing to establish cattle pasture, which now accounts for the vast majority of land-use change in the world's largest rainforest.
Saving one of the last tropical dry forests, an interview with Edwina von Gal
(06/29/2009) Often we hear about endangered species—animals or plants on the edge of extinction—however we rarely hear about endangered environments—entire ecosystems that may disappear from Earth due to humankind's growing footprint. Tropical dry forests are just such an ecosystem: with only 2 percent of the world's tropical dry forest remaining it is one of the world's most endangered ecosystems. A newly established organization, the Azuero Earth Project, is working not only to preserve some of the world's last tropical dry forest on the Azuero peninsula in Panama, but also to begin restoration projects hoping to aid both the forest's viability and the local people. Edwina von Gal, a landscape designer, is one of the founders of the Azuero Earth Project, as well as president of the organization.
New report predicts dire consequences for every U.S. region from global warming
(06/17/2009) Government officials and scientists released a 196 page report detailing the impact of global warming on the U.S. yesterday. The study, commissioned in 2007 during the Bush Administration, found that every region of the U.S. faces large-scale consequences due to climate change, including higher temperatures, increased droughts, heavier rainfall, more severe weather, water shortages, rising sea levels, ecosystem stresses, loss of biodiversity, and economic impacts.
Forest fires burn in Sumatra

(06/15/2009) Fires set by developers in Sumatra are causing a choking haze to spread across the island and over to Malaysia, reducing visibility and raising health concerns, reports Reuters.
Fire contributes 20% of global warming emissions

(04/23/2009) Fire accounts for roughly half of greenhouse gas emissions from deforestation and about twenty percent of total emissions from human activities, report researchers writing in the journal Science. The estimates — based on analysis of fire's impact on emissions of carbon dioxide, nitrous oxide, and methane; albedo or the reflectivity of Earth's surface; and release of aerosols and other particulates — suggest fire plays a major large role in climate than conventionally believed.
Reserves with roads still vital for reducing fires in Brazilian Amazon

(04/08/2009) Analyzing ten years of data from on fires in the Brazilian Amazon, researchers found that roads built through reserves do not largely hamper a reserve's important role in reducing the spread of forest fires. The finding is important as Brazil continues a spree of road-building while at the same time paving over existing roads.
Amazonian region likely to become savannah due to burning, deforestation

(03/31/2009) A new analysis shows that the heavily-deforested Amazonian region of Mato Grosso is particularly susceptible to 'savannization' due to repeated burning that has likely depleted the region's soils of precious nutrients. According to the study, published in the Journal of Geophyscial Research, savannization, or the process of tropical ecosystems shifting to savannah, is likely in northern Mato Grosso even if no further deforestation occurs.
Drought threatens the Amazon rainforest as a carbon sink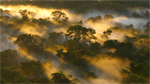 (03/05/2009) Drought in the Amazon is imperiling the rainforest ecosystem and global climate, reports new research published in Science. Analyzing the impact of the severe Amazon drought of 2005, a team of 68 researchers across 13 countries found evidence that rainfall-starved tropical forests lose massive amounts of carbon due to reduced plant growth and dying trees. The 2005 drought — triggered by warming in the tropical North Atlantic rather than el Niño — resulted in a net flux of 5 billion tons of carbon dioxide (CO2) into the atmosphere — more than the combined annual emissions of Japan and Europe — relative to normal years when the Amazon is a net sink for 2 billion tons of CO2.
New fire record for Borneo, Sumatra shows dramatic increase in rainforest destruction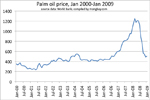 (02/22/2009) Destruction of rainforests and peatlands is making Indonesia more susceptible to devastating forest fires, especially in dry el Niño years, report researchers writing in the journal Nature Geoscience. Constructing a record of fires dating back to 1960 for Sumatra and Kalimantan (on the island of Borneo) using airport visibility records to measure aerosols or "haze" prior to the availability of satellite data, Robert Field of the University of Toronto and colleagues found that the intensity and scale of fires has increased substantially in Indonesia since the early 1990s, coinciding with rapid expansion of oil palm plantations and industrial logging.
Amazon rainforest in big trouble, says UN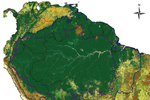 (02/19/2009) Economic development could doom the Amazon warns a comprehensive new report from the United Nations Environment Programme (UNEP). The report — titled GEO Amazonia [PDF-21.3MB] — is largely a synthesis of previously published research, drawing upon studies by more than 150 experts in the eight countries that share the Amazon.
Drought and deforestation in southeast Asia linked to climate change

(12/09/2008) Researchers have linked drought and deforestation in southeast Asia to climate change. Analyzing six years of climate and fire data from satellites, Guido van der Werf and colleagues report that burning of rainforests and peatlands in Indonesia, Malaysia, and Papua New Guinea released an average of 128 million tons of carbon (470 million tons of carbon dioxide - CO2) per year between 2000 and 2006. Fire emissions showed highly variability during the period, but were greatest in dry years, such as those that occur during El Niño events. Borneo was the largest source of fire emissions during the period, averaging 74 million tons per year, followed by Sumatra, which showed a doubling in emissions between 2000 and 2006.
Climate change will cost California billions

(11/14/2008) $2.5 trillion of real estate assets in California are at risk from extreme weather events, sea level rise and wildfires expected to result from climate change over the course of a century, according to a new assessment from UC Berkeley researchers.
Smoke from Amazon fires reduces local rainfall

(08/14/2008) Smoke released by fires set to clear the Amazon rainforest inhibit the formation of clouds, thereby reducing rainfall, report researchers writing in the journal Science. The study provides clues on how aerosols from human activity influence cloud cover and ultimately affect climate.
Land invasions undermine Amazon forest law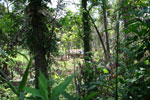 (04/03/2008) Land invasions are undermining a Brazilian law that requires ranchers to keep 80 percent of their land forested, according to reports from the Amazon state of Mato Grosso. A run up in land prices, driven by surging soy and cattle production in the region, combined with a lackadaisical response from law enforcement authorities are blamed for the incursions.
Fire monitoring by satellite becomes key conservation tool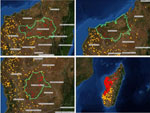 (03/26/2008) Remote sensing is increasingly used as a tool for conservation management. Beyond traditional satellite imagery popularized by Google Earth, new sensing applications are allowing researchers located anywhere in the world to track fires, illegal logging and mining, and deforestation in some of Earth's most isolated regions using a computer or handheld device. The Fire Alert System is one example of an application that is harnessing the power of satellites to deliver key data to conservation managers. Developed by Madagascar's ministry of Environment, the International Resources Group, conservation International using data from the University of Maryland and NASA, the Fire Alert System enables near real-time monitoring of fires anywhere on the island of Madagascar, a hotspot of biological diversity. The system, which sends subscribers regular email alerts on newly-detected burning, will eventually be expanded to include all the world's protected areas, allowing managers to detect not only fires but potentially related activities like road building, logging, and even hunting.
Industry-driven road-building to fuel Amazon deforestation

(03/12/2008) Unofficial road-building will be a major driver of deforestation and land-use change in the Amazon rainforest, according to an analysis published in Philosophical Transactions of the Royal Society B. Improved governance, as exemplified by the innovative MAP Initiative in the southwestern Amazon, could help reduce the future impact of roads, without diminishing economic prospects in the region.
Cellulosic energy may trigger dramatic collapse in the Amazon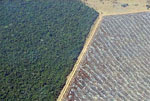 (03/11/2008) Next generation biofuels may trigger the ecological collapse of the Amazon frontier and could have profoundly unexpected economic consequences for the region, warns a paper published in Philosophical Transactions of the Royal Society B. Dr. Donald Sawyer writes that "interacting with climate change and land use, the upcoming stage of cellulosic energy could result in a collapse of the new frontier into vast degraded pasture." The shift could increase the incidence and severity of fires, reduce rainfall in key agricultural zones, exacerbate forest die-back and climate change, and worsen social instability. Sawyer says that while difficult to anticipate, the worst outcomes could likely be avoided be promoting "intensified and more sustainable use" of already cleared areas, minimizing new deforestation, and encouraging "sustainable use of natural resources by local communities."
Emissions from deforestation offset by increased tree growth in the Amazon

(03/10/2008) An increase in carbon sequestration by trees in the Amazon has roughly offset total emissions from deforestation in the region since the 1980s. A new study, published in Philosophical Transactions of the Royal Society B, this trend may slow in the future, causing the world's largest rainforest to become a net source of carbon emissions and therefore contributing to climate change.
Human impacts on primate conservation in central Amazonia

(03/03/2008) Deforestation in the Amazon is a serious concern. In the Brazilian Amazon, forests are cleared for cattle ranches, soybean cultivation, and selective logging practices. A new plan to settle approximately 180 families north of Manaus, the capital city of the state of Amazonas, has created widespread controversy. The land plots would be located within the study site of the longest-running study of forest fragmentation, the Biological Dynamics of Forest Fragments Project (BDFFP). Therefore, the plan would threaten scientific research at the BDFFP and other nearby research sites operated by the Instituto Nacional da Pesquisas de Amazônia (INPA) and Large Scale Biosphere-Atmosphere Experiment in Amazonia (LBA), as well as the future of the Central Amazonian conservation Corridor.
Half the Amazon rainforest will be lost within 20 years

(02/27/2008) More than half the Amazon rainforest will be damaged or destroyed within 20 years if deforestation, forest fires, and climate trends continue apace, warns a study published in Philosophical Transactions of the Royal Society B. Reviewing recent trends in economic, ecological and climatic processes in Amazonia, Daniel Nepstad and colleagues forecast that 55 percent of Amazon forests will be "cleared, logged, damaged by drought, or burned" in the next 20 years. The damage will release 15-26 billion tons of carbon into the atmosphere, adding to a feedback cycle that will worsen both warming and forest degradation in the region. While the projections are bleak, the authors are hopeful that emerging trends could reduce the likelihood of a near-term die-back. These include the growing concern in commodity markets on the environmental performance of ranchers and farmers; greater investment in fire control mechanisms among owners of fire-sensitive investments; emergence of a carbon market for forest-based offsets; and the establishment of protected areas in regions where development is fast-expanding.
Deforestation a greater threat to the Amazon than global warming

(02/25/2008) If past conditions are any indication of future conditions, the Amazon rainforest may survive considerable drying and warming caused by global warming, argue researchers in a paper published in Philosophical Transactions of the Royal Society B.
Global warming - not el Nino - drove severe Amazon drought in 2005

(02/20/2008) One of the worst droughts on record in the Amazon was caused by high temperatures in the Atlantic rather than el Nino. The research, published in Philosophical Transactions of the Royal Society B, suggests that human-driven warming is already affecting the climate of Earth's largest rainforest.
Ancient Amazon fires linked to human populations

(02/20/2008) Analysis of soil charcoal in South America confirms that from a historical perspective, fire is rare in the Amazon rainforest, but when it does occur, it appears linked to human activities. The research, published in Philosophical Transactions of the Royal Society B, is based on dating of soil carbon, which provides a good indication of when fires occurred in Amazonia, according to lead author Mark Bush, head of the Department of Biology at Florida Institute of Technology.
Fire policy is key to reducing the impact of drought on the Amazon

(02/19/2008) Gaining control over the setting of fires for land-clearing in the Amazon is key to reducing deforestation and the impact of severe drought on the region's forests, write researchers in a paper published in Philosophical Transactions of the Royal Society B.
Small Amazon farmers especially vulnerable to climate change

(02/19/2008) Communicating the impact of climate change to small farmers in the Amazon will be key in helping them adapt to higher temperatures, more frequent and intense drought, and greater incidence of forest fires forecast for the region, according to a paper published in Philosophical Transactions of the Royal Society B.
How much would it cost to end Amazon deforestation?

(01/27/2008) With Brazil last week announcing a significant jump in Amazon deforestation during the second half of 2007, the question emerges, how much would it cost to end the destruction of Earth's largest rainforest?
U.S. corn subsidies drive Amazon destruction

(12/13/2007) U.S. corn subsidies for ethanol production are contributing to deforestation of the Amazon rainforest, reports a tropical forest scientist writing in this week's issue of the journal Science.
Beetle droppings help forests recover from fire

(12/04/2007) Armed with a pair of tweezers and a handful of beetle droppings, University of Alberta forestry graduate Tyler Cobb has discovered why the bug-sized dung is so important to areas ravaged by fire.
Could the carbon market save the Amazon rainforest?

(11/29/2007) The global carbon market could play a key role in saving the Amazon from the effects of climate change and economic development, which could otherwise trigger dramatic ecological changes, reports a new paper published in Science. The authors argue that a well-articulated plan, financed by carbon markets, could prevent the worst outcomes for the Amazon forest while generating economic benefits for the region's inhabitants.
Law enforcement key to saving Borneo's rainforests

(11/13/2007) In an interview with mongabay.com, Dr. Rhett Harrison, a Smithsonian Tropical Research Institute (STRI) associate researcher and Secretary for the Asia-Pacific Chapter of ATBC, says that law enforcement could be the key to safeguarding biodiversity contained in Borneo's lowland parks. Harrison says there may be opportunities for conservationists to work with oil palm to developers to ensure that existing forests are not converted for plantations and that palm oil can be produced in a sustainable manner. He also adds that carbon offsets may eventually offer a means to fund conservation and sustainable development efforts in areas that still have standing forest.
Subtle threats could ruin the Amazon rainforest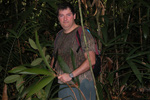 (11/07/2007) While the mention of Amazon destruction usually conjures up images of vast stretches of felled and burned rainforest trees, cattle ranches, and vast soybean farms, some of the biggest threats to the Amazon rainforest are barely perceptible from above. Selective logging -- which opens up the forest canopy and allows winds and sunlight to dry leaf litter on the forest floor -- and 6-inch high "surface" fires are turning parts of the Amazon into a tinderbox, putting the world's largest rainforest at risk of ever-more severe forest fires. At the same time, market-driven hunting is impoverishing some areas of seed dispersers and predators, making it more difficult for forests to recover. Climate change -- an its forecast impacts on the Amazon basin -- further looms large over the horizon.





California fires release 8M tons of CO2

(11/01/2007) Southern California wildfires released 7.9 million metric tons of carbon dioxide in just the one-week period of October 19-26--the equivalent of about 25 percent of the average monthly emissions from all fossil fuel burning throughout California--according to researchers at the National Center for Atmospheric Research (NCAR) and the University of Colorado at Boulder.






Page 1 | Page 2 | Page 3 | Page 4