News articles on flooding

---
Mongabay.com news articles on flooding in blog format. Updated regularly.





Man plants forest, becomes film star


(11/14/2014) Jadav "Molai" Payeng is a 51-year-old man who lives in India's north-eastern state of Assam in the village of Aruna Chapori. A member of Assam's indigenous Mising tribe, Payeng is better known as the "Forest Man" for spending the last 35 years planting a forest bigger than New York City's Central Park.


One man plants forest larger than Central Park


(11/13/2014) Jadav "Molai" Payeng resides in northeast Assam's Jorhat district in the village of Aruna Chapori. Here, for the past 35 years, he has worked to plant trees on a sandbar island in the river near his home—and in the process, single-handedly established a forest larger than New York City's Central Park.


New study finds environmental damage globally may cost more than U.S. GDP


(06/06/2014) A new study added up all the world's ecosystem services – from carbon storage and crop pollination, to recreation and flood mitigation – and found, every year, nature provides $145 trillion in benefits. It also indicates that land use changes, most of which has been caused by humans, may be reducing these benefits by trillions of dollars every year.


Controversial Amazon dams may have exacerbated biblical flooding


(03/16/2014) Environmentalists and scientists raised howls of protest when the Santo Antônio and Jirau Dams were proposed for the Western Amazon in Brazil, claiming among other issues that the dams would raise water levels on the Madeira River, potentially leading to catastrophic flooding. It turns out they may have been right: last week a federal Brazilian court ordered a new environmental impact study on the dams given suspicion that they have worsened recent flooding in Brazil and across the border in Bolivia.


Natural sponges: forests help moderate floods, droughts

(12/20/2013) A new study adds further evidence for the 'sponge effect' of forests.


Drastic cuts to greenhouse gases could save hundreds of U.S. cities from watery grave


(08/01/2013) More than 1,700 American cities and towns – including Boston, New York, and Miami – are at greater risk from rising sea levels than previously feared, a new study has found. By 2100, the future of at least part of these 1,700 locations will be "locked in" by greenhouse gas emissions built up in the atmosphere, the analysis published in the Proceedings of the National Academy of Sciences on Monday found.


Asian cities face high disaster risk with 650,000 killed in 2000s

(11/16/2012) Asia's cities are increasing vulnerable to natural disasters due to climate change, urban expansion, and poor planning, warns a report published this week by the Asian Development Bank. Disasters risk undermining recent economic gains in the region.


It's not just Sandy: U.S. hit by record droughts, fires, and heatwaves in 2012


(11/05/2012) As the devastation wrought by Hurricane Sandy—killing over 100 people and producing upwards of $50 billion in damage along the U.S. East Coast—has reignited a long-dormant conversation on climate change in the media, it's important to note that this is not the only weird and wild weather the U.S. has seen this year. In fact, 2012 has been a year of record-breaking weather across the U.S.: the worst drought in decades, unprecedented heatwaves, and monster forest fires. While climatologists have long stated that it is not yet possible to blame a single extreme weather event on climate change, research is showing that rising temperatures are very likely increasing the chances of extreme weather events and worsening them when they occur.


Forest destruction leads to more floods in temperate regions

(10/04/2012) Keeping forests standing would lessen both the number and size of spring floods in temperate regions, according to a new study in Water Resources Research, by slowing seasonal snow melts. In deforested areas, snow melts faster due to a lack of shade causing at least twice as many, and potentially up to four times as many, flood events. The new research highlights a largely unknown ecosystem service provided by temperate forests: flood mitigation.


Mangroves protect coastal areas against storm damage

(09/07/2012) Mangroves reduce wave height by as much as 66 percent over 100 meters of forest providing a vital buffer against the impacts of storms, tsunamis, and hurricanes, according to a new report published by The Nature Conservancy and Wetlands International.


Climate change increased the probability of Texas drought, African famine, and other extreme weather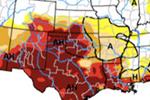 (07/11/2012) Climate change is here and its increasing the chances for crazy weather, according to scientists. A prestigious group of climatologists have released a landmark report that makes the dramatic point that climate change is impacting our weather systems—and in turn our food crops, our economies, and even our lives—here-and-now. The new report in the American Meteorological Society is first of what is intended to be an annual offering that will attempt to tease out the connections between climate change and individual extreme weather events, such as heatwaves, droughts and floods.


As U.S. sees record heat, extreme weather pummels 4 continents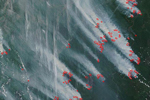 (07/10/2012) It's not only the U.S. that has experienced record-breaking extreme weather events recently, in the last couple months extreme weather has struck around the world with startling ferocity. In addition to the much-covered heatwaves, wildfires, and droughts in the U.S., killer floods struck India, the worst drought yet recorded plagued South Korea, and massive forest fires swept through Siberia to name just a few.


Appeal for help as death toll in Madagascar tops 110 from tropical storm

(03/11/2012) More than 110 are dead and 330,000 homeless after two tropical storms battered Madagascar over the past month, says the island nation's disaster management agency.


Thai king: punish corrupt officials who allowed logging

(02/27/2012) Thailand's King Bhumibol Adulyadej urged the Thai government to punish officials who allowed illegal logging which he blamed for worsening floods last year that left more than 1,000 people dead.


Philippines disaster may have been worsened by climate change, deforestation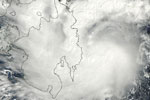 (12/20/2011) As the Philippines begins to bury more than a 1,000 disaster victims in mass graves, Philippine President Benigno Aquino has ordered an investigation into last weekend's flash flood and landslide, including looking at the role of illegal logging. Officials have pointed to both climate change and vast deforestation as likely exacerbating the disaster.


Climate change already worsening weird, deadly, and expensive weather

(11/02/2011) Unprecedented flooding in Thailand, torrential rains pummeling El Salvador, long-term and beyond-extreme drought in Texas, killer snowstorm in the eastern US—and that's just the last month or so. Extreme weather worldwide appears to be both increasing in frequency and intensity, and a new report from the Intergovernmental Panel on Climate Change (IPCC) connects the dots between wilder weather patterns and global climate change.


Reforestation program in China preventing future disasters

(05/13/2011) China's response to large-scale erosion with reforestation is paying off according to a study in the Proceedings of the National Academy of Science (PNAS). The 10-year program, known as Sloping Land Conversion Program (SLCP), is working to turn some 37 million acres back into forest or grasslands after farming on steep slopes in the Yangtze and Yellow River basins had made them perilously susceptible to erosion and flooding.


NASA Photos: beyond Mississippi flood, southern Africa sees record deluges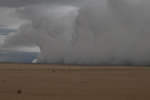 (05/12/2011) While record crests of the Mississippi River are creating havoc in the southern US, this is not the only region in the world facing unprecedented flooding. Huge rain events have produced floods in southern Africa as well, impacting Namibia, Botswana, and South Africa. Since last year rainfall has been above average in much of these regions, including a record deluge this month in Namib Desert, where more rain fell in just one day in than usually does in an entire year.


Are US floods, fires linked to climate change?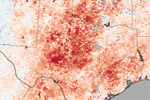 (04/28/2011) The short answer to the question of whether or not on-going floods in the US Midwest and fires in Texas are linked to a warming Earth is: maybe. The long answer, however, is that while it is difficult—some argue impossible—for scientists to link a single extreme weather event to climate change, climate models have long shown that extreme weather events will both intensify and become more frequent as the world continues to heat up. In other words, the probability of such extreme events increases along with global average temperature.


Australia's floods threaten Great Barrier Reef

(01/18/2011) The floods ransacking the Queensland coast have cost 20 lives and $500 million worth of property damage. Now, huge volumes of water are pouring into the ocean, threatening the Great Barrier Reef, which extends for thousands of kilometers off the coast. Although it may take years to know the full consequences of the flooding, Australian scientists are already warning of serious damage. For now, the biggest problems are concentrated on the southern part of the reef, where three overflowing rivers—the Burdekin, the Fitzroy, and the Burnett—have released millions of gallons of heavily polluted water into the sea. So far, prevailing winds have confined the majority of the floodwaters to within 65 kilometers of shore. But in time, the damage may grow to affect the entire reef system.


Climate change linked to 21,000 deaths in nine months

(11/30/2010) Extreme weather events linked to climate change has caused the deaths of 21,000 people worldwide in the first nine months of 2010, according to Oxfam. This is already twice the casualties of 2009. In a new report More than ever: climate talks that work for those that need them most, the organization outlines the casualties of such weather-related disasters, for example devastating floods in Pakistan which killed 2,000 people and affected more than 20 million.


Photos: Massive logjam in Borneo blocks Malaysia's longest river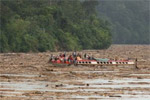 (10/10/2010) A massive 50-km-long (30-mi) logjam has blocked the Rajang river in Sarawak, Malaysian Borneo, bringing river traffic to a standstill and posing a threat to riverbank communities, reports Malaysian state media, Bernama. The Rajang, Malaysia's longest river, is presently unnavigable, according to Bernama. The source of the logs and debris is believed to be the Baleh River and upper tributaries of the Rajang. Heavy rain reportedly triggered a landslide or landslides at log ponds at a major timber camp.


Death toll rises in New Guinea flash floods linked to deforestation

(10/09/2010) The death toll from flash floods in Wasior, West Papua has now topped 100, reports the Jakarta Post.


The true cost of the Commonwealth Games

(09/30/2010) UK newspapers have been flooded this week and last by reports of the Commonwealth Games' venue literally caving in and collapsing, athletes have deemed their village accommodation "filthy" and terrorists have apparently threatened attacks. Thanks to the late monsoon this year, floods are now a fear, and the Games' venue has been choked by a cloud of toxic insect repellent due to further fears of an outbreak of the potentially fatal dengue fever because of mosquitoes being drawn to the floods' stagnant water.


NASA image captures one of the warmest Julys on record

(08/19/2010) The NASA Goddard Institute for Space Studies (GISS) has found that the global average temperature of July 2010 was nearly 1 degree Fahrenheit (0.55 degrees Celsius) higher than average temperatures from July1951-1980. In fact, this July was tied for the warmest on record with July 2005 and 1998.


Officials point to Russian drought and Asian deluge as consistent with climate change

(08/08/2010) Government officials are pointing to the drought and wildfires in Russia, and the floods across Central and East Asia as consistent with climate change predictions. While climatologists say that a single weather event cannot be linked directly to a warming planet, patterns of worsening storms, severer droughts, and disasters brought on by extreme weather are expected as the planet warms.


Freak floods in US predicted by 2009 climate change report

(06/16/2010) A rash of flash floods has struck the US during this spring: Rhode Island, Tennessee, Arkansas, and most recently Oklahoma have all faced devastating floods that have resulted in the loss of property and in some cases tragic deaths. While flash floods have occurred throughout US history, the number of big floods this year appears abnormal at best, but not unexpected by researchers. Climatologists warned last year that an increase in floods and severe storms is very probable as the world warms.


NASA photos show severe flooding in the Amazon

(07/22/2009) Photos released by NASA highlight last month's severe flooding of the Amazon River near the Brazilian city of Manaus.


Near-record flooding in the Amazon

(05/13/2009) Near-record flooding has displaced thousands of people in the Brazilian Amazon, reports the Associated Press.


Rise in sea levels due to global warming could imperil New York City

(03/16/2009) A new study shows that sea levels along the United States' northeastern coast will rise nearly twice as fast during this century than previous predictions. By 2100 the waters around New York city could rise as much as 18 inches, leaving Manhattan particularly vulnerable to flooding from hurricanes and winter storm surges.


Gravitational effects may boost sea level rise by 25% along U.S. coast

(02/05/2009) The melting of the West Antarctic Ice Sheet could cause sea level to rise more than previously predicted for some regions, including the U.S. coastline, report researchers writing in the journal Science.


Climate change will damage forests, creating hardship for rural communities

(11/28/2008) Climate change will transform forests that directly sustain nearly one billion people, warns a report to be released next week at the United Nations Framework Convention on Climate Change (UNFCCC) meeting in Poznán, Poland.


Destruction of wetlands worsens global warming

(07/20/2008) Destruction of wetland ecosystems will generate massive greenhouse gas emissions in coming years, warn experts convening at an international wetlands conference in Brazil.


U.S. flooding to continue well into spring

(03/21/2008) Flooding in the American Midwest is likely to continue, said the U.S. National Weather Service.


Dams can pose security risk to Africa

(10/04/2007) Floods are the most destructive, most frequent and most costly natural disasters on earth. And they are getting worse. In recent weeks, 14 African nations have seen their worst floods in decades. More than a million people have been affected, over 200 drowned, and countless others made homeless across the continent. At least some of this suffering was preventable.


Forests reduce flooding

(10/04/2007) While conventional wisdom holds that forests help buffer against catastrophic flooding, there has been little evidence to support such notions. A 2005 report by the Food and Agricultural Organization of the United Nations (FAO) and the Center for International Forestry Research (CIFOR) cited this lack of evidence and argued that flood mitigation efforts though forest preservation could not be justified on economic grounds. Now, a new study, published in the journal Global Change Biology, suggests that forests do impact the occurrence and severity of destructive flooding. A prominent researcher is already calling the new work a "landmark study" in support of forest conservation.


Flooding in India Leaves 3.5 million Homeless

(09/11/2007) The Indian military has been evacuating thousands of people from Assam, a state in northeastern India, after Monsoon rains flooded rivers. So far, 3.5 million people have been directly affected by the floods, in a state of 27 million. A total of 2,000 villages have been completely submerged by the floods, in some of the worst flooding in years.


Environmental, safety concerns mount over China's Three Gorges Dam

(08/29/2007) Environmental problems are worse than anticipated at China's massive Three Gorges Dam, reports the The Wall Street Journal. A year after its completion, there are rising concerns of pollution, landslides, and flooding.


Floods affect 500 million people per year, will worsen with warming

(08/10/2007) Floods affect 500 million people a year and cause billions of dollars in damage, said U.N. officials Thursday.