News articles on fires

---
Mongabay.com news articles on fires in blog format. Updated regularly.






Unprecedented tundra fire likely linked to climate change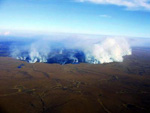 (11/23/2010) A thousand square kilometers of the Alaskan tundra burned in September 2007, a single fire that doubled the area burned in the region since 1950. However, a new study in the Journal of Geophysical Research finds that the fire was even more unprecedented than imagined: sediment cores found that it was the most destructive fire in the area for at least 5,000 years and maybe longer. "If such fires occur every 200 years or every 500 years, it's a natural event," University of Illinois plant biology professor Feng Sheng Hu explains in a press release. "But another possibility is that these are truly unprecedented events caused by, say, greenhouse warming."
Satellites show fragmented rainforests significantly drier than intact forest
(10/13/2010) A new study in Biological Conservation has shown that edge forests and forest patches are more vulnerable to burning because they are drier than intact forests. Using eight years of satellite imagery over East Amazonia, the researchers found that desiccation (extreme dryness) penetrated anywhere from 1 to 3 kilometers into forests depending on the level of fragmentation.
Indigenous tribes, ranchers team to battle Amazon fires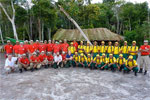 (09/14/2010) Facing the worst outbreak of forest fires in three years, cattle ranchers and indigenous tribesmen in the southern Amazon have teamed up to extinguish nearly two dozen blazes over the past three months, offering hope that new alliances between long-time adversaries could help keep deforestation rates in the Brazilian Amazon on a downward trajectory.
NASA: surge in Amazon fires

(08/31/2010) The number of fire hotspots has surged in the Bolivian and Brazilian parts of the Amazon, reveals data and imagery from NASA.
Jump in fires in Brazil becomes Twitter sensation

(08/27/2010) The number of fires burning in Brazil more than doubled since last year, sparking a Twitter sensation, with more than 120,000 users tweeting messages with the hashtag '#chegadequeimadas' about the fires in a 48 hour window.
NASA image captures one of the warmest Julys on record

(08/19/2010) The NASA Goddard Institute for Space Studies (GISS) has found that the global average temperature of July 2010 was nearly 1 degree Fahrenheit (0.55 degrees Celsius) higher than average temperatures from July1951-1980. In fact, this July was tied for the warmest on record with July 2005 and 1998.
APP refutes Greenpeace charges on deforestation, though audit remains absent

(08/12/2010) Asia Pulp & Paper, which has long been a target of green groups for deforestation and threatening imperiled species, is touting a new audit the pulping company says finds allegations made by environmental NGOs, including Greenpeace and WWF, are "baseless, inaccurate, and without validity". Conducted by the international accounting and auditing firm Mazars, the audit itself has not been released; however Mazars has signed off on the validity of a 24 page document entitled "Getting the Facts Down on Paper".
New NASA images reveal devastating impact of Russian fires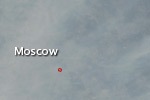 (08/11/2010) A new series of images released by NASA show the extent of smoke hovering over Moscow and Central European Russia, while another image measures the amount of carbon monoxide in the area, a gas which can produce a number of health problems. Russia is in the midst of a full-scale disaster as hundreds of forest and peatland fires are covering part of the world's largest nation in a thick cloud of smoke. Temperatures in Moscow and elsewhere have broken past heat records several times in the last month while a long drought combined with fires have led to the loss of 20 percent of Russia's grain crop, causing Prime Minister Vladimir Putin to ban grain exports. Russian officials say that it;s likely some 15,000 people to date have died from the disaster.
Summer from hell: seventeen nations hit all-time heat records

(08/09/2010) The summer isn't over yet, but already seventeen nations have matched or beaten their all-time heat records. According to Jeff Masters' WunderBlog, Belarus, the Ukraine, Cyprus, Russia, Finland, Qatar, the Sudan, Saudi Arabia, Niger, Chad, Kuwait, Iraq, Pakistan, Colombia, Myanmar, Ascension Island, and the Solomon Islands have all equaled or broken their top temperature records this year. In addition, the hottest temperature ever recorded in Asia was taken in Pakistan at 128 degrees Fahrenheit (53 degrees Celsius); this incredible temperature still has to be reviewed by the World Meteorological Organization (WMO).
Officials point to Russian drought and Asian deluge as consistent with climate change

(08/08/2010) Government officials are pointing to the drought and wildfires in Russia, and the floods across Central and East Asia as consistent with climate change predictions. While climatologists say that a single weather event cannot be linked directly to a warming planet, patterns of worsening storms, severer droughts, and disasters brought on by extreme weather are expected as the planet warms.
Record highs, forest fires, and ash-fog engulf Moscow

(07/27/2010) Moscow and parts of Russia have been hit by record high temperatures and forest fires. Ashen fog from peat forests burning near Moscow has prompted officials to warn elderly and those with heart or bronchial problems to stay inside. Workers should be allowed a siesta to rest in the afternoon, as well, said the Russia's chief health official.
Australian mammals in steady decline even in large National Park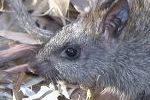 (07/19/2010) Kakadu National Park, one of the Australia's "largest and best-resourced" protected areas, is experiencing a staggering decline in its small mammal population, according to a new study published in Wildlife Research. Spanning nearly 2 million hectares—larger than Fiji—the park lies in tropical northern Australia. 'This decline is catastrophic,' John Woinarski, lead author of the study and expert on Australian mammals, told mongabay.com. 'We know of no comparable case in the world of such rapid and severe decline of a large proportion of native species in a large conservation reserve.'
Peatlands restoration wins support in effort to reduce carbon emissions

(06/10/2010) The body charged with establishing a framework for a global climate treaty will account for emissions from peatlands degradation, a source of roughly 6 percent of greenhouse gas emissions. The decision by the Intergovernmental Panel on Climate Change (IPCC) lays the groundwork for new measures to protect and restore wetlands, says Wetlands International.
As Amazon deforestation rates fall, fires increase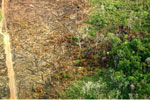 (06/03/2010) While rates of forest loss in the Brazilian Amazon have been on the decline since 2004, the incidence of fire is increasing in the region, undermining some of the carbon emissions savings of reduced deforestation rates, report researchers writing in the journal Science. The paper argues that REDD, a global plan to reduce deforestation and forest degradation, must include measures to eliminate the use of fire from land management in the Amazon.
United States has higher percentage of forest loss than Brazil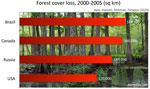 (04/26/2010) Forests continue to decline worldwide, according to a new study in the Proceedings of the National Academy of Science (PNAS). Employing satellite imagery researchers found that over a million square kilometers of forest were lost around the world between 2000 and 2005. This represents a 3.1 percent loss of total forest as estimated from 2000. Yet the study reveals some surprises: including the fact that from 2000 to 2005 both the United States and Canada had higher percentages of forest loss than even Brazil.
Finding forest for the endangered golden-headed lion tamarin

(03/29/2010) Brazil's golden-headed lion tamarin is a small primate with a black body and a bright mane of gold and orange. Listed as Endangered by the IUCN Red List, the golden-headed lion tamarin (Leontopithecus chrysomelas) survives in only a single protected reserve in the largely degraded Atlantic Forest in Brazil. Otherwise its habitat lies in unprotected patches and fragments threatened by urbanization and agricultural expansion. Currently, a natural gas pipeline is being built through prime tamarin habitat.
Global deforestation slows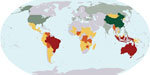 (03/25/2010) Global forest loss has diminished since the 1990s but still remains "alarmingly high", according to a preliminary version of a new assessment from the U.N. Food and Agriculture Organization (FAO). The report, Global Forest Resources Assessment 2010 (FRA 2010), shows that global forest loss slowed to around 13 million hectares per year during the 2000s, down from about 16 million hectares per year in the 1990s. It finds that net deforestation declined from about 8.3 million hectares per year in the 1990s to about 5.2 million hectares per year in the 2000s, a result of large-scale reforestation and afforestation projects, as well as natural forest recovery in some countries and slowing deforestation in the Amazon.
Scientists: new study does not disprove climate change threat to Amazon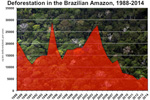 (03/19/2010) Recently, Boston University issued a press release on a scientific study regarding the Amazon's resilience to drought. The press release claimed that the study had debunked the Intergovernmental Panel on Climate Change's (IPCC) theory that climate change could turn approximately 40 percent of the Amazon into savanna due to declining rainfall. The story was picked up both by mass media, environmental news sites (including mongabay.com), and climate deniers' blogs. However, nineteen of the world's top Amazonian experts have issued a written response stating that the press release from Boston University was "misleading and inaccurate".
Will tropical trees survive climate change?, an interview with Kenneth J. Feeley

(09/24/2009) One of the most pressing issues in the conservation today is how climate change will affect tropical ecosystems. The short answer is: we don't know. Because of this, more and more scientists are looking at the probable impacts of a warmer world on the Earth's most vibrant and biodiverse ecosystems. Kenneth J. Feeley, tropical ecologist and new professor at Florida International University and the Center for Tropical Plant Conservation at the Fairchild Tropical Botanic Garden, is conducting groundbreaking research in the tropical forests of Peru on the migration of tree species due to climate change.
Concerns over deforestation may drive new approach to cattle ranching in the Amazon
(09/08/2009) While you're browsing the mall for running shoes, the Amazon rainforest is probably the farthest thing from your mind. Perhaps it shouldn't be. The globalization of commodity supply chains has created links between consumer products and distant ecosystems like the Amazon. Shoes sold in downtown Manhattan may have been assembled in Vietnam using leather supplied from a Brazilian processor that subcontracted to a rancher in the Amazon. But while demand for these products is currently driving environmental degradation, this connection may also hold the key to slowing the destruction of Earth's largest rainforest.
Air pollution in China reduces rainfall

(08/31/2009) Air pollution in eastern China over the past half century has reduced rainfall and exacerbated the risk of drought and crop failures, reports a study published in the Journal of Geophysical Research.
Forest fires set by Borneo dam developer contributes to haze in Malaysia, Singapore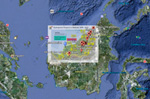 (08/17/2009) The developer of a massive hydroelectric project in Borneo plans to set fire to thousands hectares of logged over rainforest in the dam area, contributing to polluting haze already blanketing the region and raising the risk of forest fires in adjacent areas, reports a local environmental group. The Sarawak Conservation Action Network has learned that Sarawak Hidro Sdn Bhd, the operator of the Bakun Hydroelectric Power Dam project, is in the process of clear-cuting 80,000 hectares (200,000 acres) of rainforest set to be flooded by the dam. The remnants are being torched, in direct violation of Malaysia's laws against open burning.
Boreal forests in wealthy countries being rapidly destroyed

(08/12/2009) Boreal forests in some of the world's wealthiest countries are being rapidly destroyed by human activities — including mining, logging, and purposely-set fires — report researchers writing in Trends in Ecology and Evolution.
LUSH cosmetics launches campaign against palm oil
(08/10/2009) LUSH Cosmetics, a leading cosmetics-maker, will no longer use palm oil due to environmental concerns over its production. LUSH, which is now selling a palm oil-free soap, has launched a two-pronged campaign to make consumers aware of the impacts of palm cultivation on tropical forests and encourage other consumer-products companies, including Procter & Gamble, Unilever and Nestle, to reformulate their products using alternatives to palm oil.
NASA satellite photos reveal Yellowstone's recovery from fires

(06/30/2009) Satellite images released by NASA show a gradual recovery of forests affected by massive fires during the summer of 1988 in Yellowstone National Park. Fires during that hot and dry summer burned nearly 36 percent of the park — some 793,000 of the park's 2,221,800 acres.
NASA images show huge drop in Amazon fires in 2008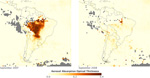 (06/30/2009) New NASA research shows a sharp decline in the amount of smoke over the Amazon during the 2008 burning season, coinciding with a drop in deforestation reported last week by Carlos Minc, Brazil's Environment Minister. Analyzing the aerosol concentrations over the Amazon each September from the past four burning seasons using the Ozone Monitoring Instrument on NASA's Aura satellite, atmospheric scientist Omar Torres of Hampton University and several colleagues found a dramatic decline in airborne particular matter in 2008, indicating reduced incidence of fire in the region. Fire in the Amazon is primarily used by humans for land-clearing to establish cattle pasture, which now accounts for the vast majority of land-use change in the world's largest rainforest.
Saving one of the last tropical dry forests, an interview with Edwina von Gal
(06/29/2009) Often we hear about endangered species—animals or plants on the edge of extinction—however we rarely hear about endangered environments—entire ecosystems that may disappear from Earth due to humankind's growing footprint. Tropical dry forests are just such an ecosystem: with only 2 percent of the world's tropical dry forest remaining it is one of the world's most endangered ecosystems. A newly established organization, the Azuero Earth Project, is working not only to preserve some of the world's last tropical dry forest on the Azuero peninsula in Panama, but also to begin restoration projects hoping to aid both the forest's viability and the local people. Edwina von Gal, a landscape designer, is one of the founders of the Azuero Earth Project, as well as president of the organization.
New report predicts dire consequences for every U.S. region from global warming
(06/17/2009) Government officials and scientists released a 196 page report detailing the impact of global warming on the U.S. yesterday. The study, commissioned in 2007 during the Bush Administration, found that every region of the U.S. faces large-scale consequences due to climate change, including higher temperatures, increased droughts, heavier rainfall, more severe weather, water shortages, rising sea levels, ecosystem stresses, loss of biodiversity, and economic impacts.
Forest fires burn in Sumatra

(06/15/2009) Fires set by developers in Sumatra are causing a choking haze to spread across the island and over to Malaysia, reducing visibility and raising health concerns, reports Reuters.
Fire contributes 20% of global warming emissions

(04/23/2009) Fire accounts for roughly half of greenhouse gas emissions from deforestation and about twenty percent of total emissions from human activities, report researchers writing in the journal Science. The estimates — based on analysis of fire's impact on emissions of carbon dioxide, nitrous oxide, and methane; albedo or the reflectivity of Earth's surface; and release of aerosols and other particulates — suggest fire plays a major large role in climate than conventionally believed.
Mysterious decline of small mammals in Bolivia may be linked to burning Amazon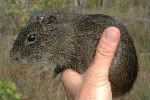 (04/19/2009) During ten years surveying small mammal populations in Bolivia's cerrado, Dr. Louise Emmons with the Smithsonian Institute found that the mammals were suffering precipitous declines, even local extinctions. After ruling out the usual suspects—local fires, rainfall, and flooding—Emmons formed a novel hypothesis regarding the decline. Could a sudden lack of nighttime dew caused by the burning of the Amazon be the cause of the mammal decline?
Reserves with roads still vital for reducing fires in Brazilian Amazon

(04/08/2009) Analyzing ten years of data from on fires in the Brazilian Amazon, researchers found that roads built through reserves do not largely hamper a reserve's important role in reducing the spread of forest fires. The finding is important as Brazil continues a spree of road-building while at the same time paving over existing roads.
Amazonian region likely to become savannah due to burning, deforestation

(03/31/2009) A new analysis shows that the heavily-deforested Amazonian region of Mato Grosso is particularly susceptible to 'savannization' due to repeated burning that has likely depleted the region's soils of precious nutrients. According to the study, published in the Journal of Geophyscial Research, savannization, or the process of tropical ecosystems shifting to savannah, is likely in northern Mato Grosso even if no further deforestation occurs.
New fire record for Borneo, Sumatra shows dramatic increase in rainforest destruction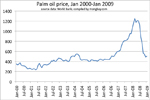 (02/22/2009) Destruction of rainforests and peatlands is making Indonesia more susceptible to devastating forest fires, especially in dry el Niño years, report researchers writing in the journal Nature Geoscience. Constructing a record of fires dating back to 1960 for Sumatra and Kalimantan (on the island of Borneo) using airport visibility records to measure aerosols or "haze" prior to the availability of satellite data, Robert Field of the University of Toronto and colleagues found that the intensity and scale of fires has increased substantially in Indonesia since the early 1990s, coinciding with rapid expansion of oil palm plantations and industrial logging.
Amazon rainforest in big trouble, says UN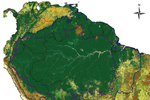 (02/19/2009) Economic development could doom the Amazon warns a comprehensive new report from the United Nations Environment Programme (UNEP). The report — titled GEO Amazonia [PDF-21.3MB] — is largely a synthesis of previously published research, drawing upon studies by more than 150 experts in the eight countries that share the Amazon.
Drought and deforestation in southeast Asia linked to climate change

(12/09/2008) Researchers have linked drought and deforestation in southeast Asia to climate change. Analyzing six years of climate and fire data from satellites, Guido van der Werf and colleagues report that burning of rainforests and peatlands in Indonesia, Malaysia, and Papua New Guinea released an average of 128 million tons of carbon (470 million tons of carbon dioxide - CO2) per year between 2000 and 2006. Fire emissions showed highly variability during the period, but were greatest in dry years, such as those that occur during El Niño events. Borneo was the largest source of fire emissions during the period, averaging 74 million tons per year, followed by Sumatra, which showed a doubling in emissions between 2000 and 2006.
Climate change will cost California billions

(11/14/2008) $2.5 trillion of real estate assets in California are at risk from extreme weather events, sea level rise and wildfires expected to result from climate change over the course of a century, according to a new assessment from UC Berkeley researchers.
Smoke from Amazon fires reduces local rainfall

(08/14/2008) Smoke released by fires set to clear the Amazon rainforest inhibit the formation of clouds, thereby reducing rainfall, report researchers writing in the journal Science. The study provides clues on how aerosols from human activity influence cloud cover and ultimately affect climate.
Heavily-populated Amazon was decimated by old world disease

(06/09/2008) Ecologists and archaeologists agree that when Columbus struck the Americas in 1492 everything changed, but questions persist over the kind of world Columbus and his followers would soon transform. Recently the state of the pre-Columbian Amazon has been under increasing debate among scientists across numerous fields. In a lecture given at the ATBC conference (Association of Tropical Biology and conservation) in Paramaribo, Suriname, Dr. Francis Mayle weighed in on the debate.
Land invasions undermine Amazon forest law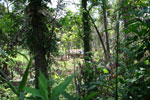 (04/03/2008) Land invasions are undermining a Brazilian law that requires ranchers to keep 80 percent of their land forested, according to reports from the Amazon state of Mato Grosso. A run up in land prices, driven by surging soy and cattle production in the region, combined with a lackadaisical response from law enforcement authorities are blamed for the incursions.




Page 1 | Page 2 | Page 3 | Page 4 | Page 5