News articles on film

---
Mongabay.com news articles on film in blog format. Updated regularly.






Featured video: the Uncharted Amazon trailer
(04/29/2015) The up-coming documentary, Uncharted Amazon, promises to highlight both the little-seen wildlife and the people of the Las Piedras River system in the Peruvian Amazon, one of the most remote wildernesses on the planet.
Photo essay: filming in the remote Amazon
(03/09/2015) You wake up at 4:30 AM, a little before the first rays of tropical sun begin to dance behind the treetops. You put on your wet clothes from the previous day, pack your bag, and pick up your tripod. The jungle is shrouded in a thick mist from the previous nights rain. As you walk, you recognize many of the strange calls that echo between the trees.
The making of Amazon Gold: once more unto the breach
(02/19/2014) When Sarah duPont first visited the Peruvian Amazon rainforest in the summer of 1999, it was a different place than it is today. Oceans of green, tranquil forest, met the eye at every turn. At dawn, her brain struggled to comprehend the onslaught of morning calls and duets of the nearly 600 species of birds resounding under the canopy. Today, the director of the new award-winning film, Amazon Gold, reports that "roads have been built and people have arrived. It has become a new wild west, a place without law. People driven by poverty and the desire for a better life have come, exploiting the sacred ground."
New project works to raise the profile of the world's littlest bear
(12/02/2013) The world's least-known bear also happens to be the smallest: sun bears (Helarctos malayanus), so called for the yellowish horseshoe mark on its chest, are found across Southeast Asia. But despite their telltale markings, super-long tongues, and endearing cuteness, sun bears remain little-studied and little-known compared to many of the region's other large mammals. Now, a new project is working to raise the profile of the sun bears of Borneo—Survival of the Sun Bears—which are a smaller subspecies of the mainland animals.
Making movies to save Uganda's great apes
(07/03/2013) A new series of films aims to protect Uganda's great ape species (mountain gorillas and chimpanzees) by bringing entertaining and educational movies to a rural audience living on the edges of Kibale National Park and Bwindi Impenetrable National Park. Produced with heavy input from locals, these films are acted with an all-Ugandan task to teach those living near great apes about the species and their conservation-needs.
From slash-and-burn to Amazon heroes: new video series highlights agricultural transformation
(01/31/2013) A new series of short films is celebrating the innovation of rural farmers in the Manu region of Peru. Home to jaguars, macaws, and tapirs, the Manu region is also one of the top contenders for the world's most biodiverse place. It faces a multitude of threats from road-building to mining to gas and oil concessions. Still the impact of smallscale slash-and-burn farming—once seen as the greatest threat to the Amazon and other rainforest—may be diminishing as farmers, like the first film's Reynaldo (see below), turn to new ways of farming, ones that preserve the forest while providing a better life overall.
Cute koalas have become 'urban refugees'
(01/28/2013) According to Susan Kelly, koalas have become "urban refugees," under siege by expanding cities that bring with them deforestation, dogs, traffic, and other ills for native wildlife. Director of Global Witness, and writer, producer and director of the new documentary Koala Hospital, Kelly has spent 3 years working to understand the rising threats to one of the world's most beloved marsupials. While Koala Hospital highlights the many perils facing koalas, including climate change due to record fires across Australia, it also looks at the efforts of individuals who work to save koalas one—by—one at Port Macquarie Koala Hospital, taking in patients who have been orphaned, hit by cars, scarred in fires, or attacked by dogs.
Save Lolita: new film urges release of captive killer whale
(01/22/2013) Through his new 90-second PSA, Save Lolita, filmmaker Daniel Azarian wanted to connect people to the plight of Lolita on a deeply human level; the only problem: Lolita is an orca, also known as a killer whale. But the stark, moving PSA succeeds, given the sociability of an individual—human or orca—who was stolen from her family and held in captivity for the past 42 years at Miami's Seaquarium.
Telling the story of the father of sea turtle conservation
(01/21/2013) In 1959, visionary Archer Carr founded the world's first conservation group devoted solely to sea turtles. Working with these marine denizens in Costa Rica, Carr was not only instrumental in changing local views of the turtles—which at the time were being hunted and eaten at unsustainable rates—but also in establishing basic practices for sea turtle conservation today. Now a new film by Two-Head Video, Inc. tells the story of Carr's work and the perils still facing marine turtles today.
Rhino wars: documenting the poaching crisis in South Africa
(01/16/2013) In 2012 a record 668 rhinos were slaughtered by poachers in South Africa for the horns, which are used as scientifically-debunked medicine in Asia. Rhino poaching has hit record levels worldwide over the past few years, but no where is the carnage greater than South Africa, which houses well over half of the world's rhinos. Thus it's no surprise that when student filmmaker, Anne Goodard, arrived in South Africa to film zebra behavior, she quickly became enthralled by the dark and tragic drama surrounding the country's rhinos.
Landmines, chains, and hope: the elephants of Thailand
(01/15/2013) Few animals draw more compassion and awe from people than elephants. Highly intelligent, deeply social, and touchingly sensitive, elephants have much in common with human beings, despite their size and shape. Yet elephants around the world are still often abused and mis-treated, whether to entertain tourists or as victims of human strife. A new film, The Last Elephants in Thailand, sets out to document both the good and bad that elephants encounter in a world dominated by homo sapiens.
Featured video: Chasing Ice trailer

(09/11/2012) A new film, opening in the U.S. in November, follows the exploits of National Geographic photographer, James Balog, as he attempts to photograph the end of glaciers and great ice sheets, which are diminishing and, in some cases, collapsing under the heat of global climate change. The film, which won a cinematography award at Sundance, documents the lengths one person will go to capture images of a vanishing world.
New species threatened by mining dubbed the 'Avatar moth'

(06/19/2012) A new species of moth has been named after one of the world's most popular movie blockbusters: Avatar. Discovered on New Zealand's Denniston Plateau during a biodiversity survey by local NGO Forest & Bird this March, the new moth species is imperiled by plans for a coal mine on the plateau. The name—Avatar moth (Arctesthes avatar)—was chosen by its discoverers from a list of almost 100 entries by the public.
High-tech hell: new documentary brings Africa's e-waste slum to life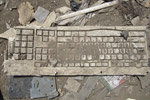 (04/30/2012) Shirtless boys rapidly pull the computer apart, discarding bits and pieces, until they expose the wires, yank them out, and toss them into a fire. Acrid, toxic smoke blooms as the boys prod the wires and the fire strips the plastic around the wires, leaving the sought-after copper. Welcome, to Agbogbloshie, where your technology goes to die. A new film e-wasteland captures the horrors of the world's largest e-waste slum through surreal and staggering images. Shot over three weeks by one-man guerrilla filmmaker, David Fedele, e-wasteland is an entirely visual experience without dialogue or voiceover.
"Don't be so silly" about climate change: Mohamed Nasheed on The Daily Show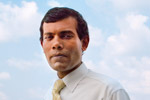 (04/04/2012) Mohamed Nasheed, former president of the Maldives, told the world on The Daily Show Monday night: "Just don't be so silly" about climate change. Nasheed, who in February was forced to resign his presidency, is visiting the U.S. to meet with government officials as well as to push for climate action during the release of a new documentary film about his presidency, entitled The Island President.
Wild orangutans to watch film about orangutans
(02/22/2012) Born to be Wild 3D, an IMAX documentary in part about the plight of orphaned and injured Bornean orangutans (Pongo pygmaeus), will soon be aired in the rainforest that inspired it. Producer Drew Fellman is setting up a screen in the rainforest to screen the film for orphaned orangutans. "They came to be like members of the crew," Fellman told the Associated Press.
Madagascar - The Last Inheritor of Gondwana: Documentary Review

(02/20/2012) Madagascar split from the supercontinent of Gondwana about 150 million years ago. As a result, most of the living creatures in Madagascar are unique to the ecosystems in the island. Madagascar: The Last Inheritor of Gondwana is a documentary that does an excellent job of showing Madagascar's magnificent biodiversity, but falls short in delivering Madagascar's "clear" and "urgent" message.
Featured video: new documentary puts human face on logging in Papua New Guinea

(09/27/2011) A new documentary, filmed single-handily by filmmaker David Fedele, covers the impact of industrial logging on a community in Papua New Guinea. Entitled Bikpela Bagarap(or 'Big Damage' in English), the film shows with startling intimacy how massive corporations, greedy government, and consumption abroad have conspired to ruin lives in places like Vanimo, Papua New Guinea.
Could blockbuster animated movies help save life on Earth?
(09/26/2011) Some scientists may scoff at the idea that animated anthropomorphized animals—from Bambi to Simba to Nemo—could have an important impact on conservation efforts to save real-world species, but a new opinion piece in mongabay.com's open-access journal Tropical Conservation Science argues that conservationists would do well to join forces with the makers of animated blockbusters to help save the world's dwindling biodiversity. The paper points out that a number of recent films focused on imperiled places, such as coral reefs (Finding Nemo) and the Atlantic Forest (Rio), as well as conservation problems like overfishing (Happy Feet) and climate change (Ice Age: the Meltdown).
Big damage in Papua New Guinea: new film documents how industrial logging destroys lives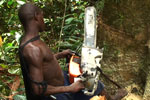 (08/29/2011) In one scene a young man, perhaps not long ago a boy, named Douglas stands shirtless and in shorts as he runs a chainsaw into a massive tropical tree. Prior to this we have already heard from an official how employees operating chainsaws must have a bevy of protective equipment as well as training, but in Papua New Guinea these are just words. The reality is this: Douglas straining to pull the chainsaw out of the tree as it begins to fall while his fellow employees flee the tumbling giant. The new film Bikpela Bagarap('Big Damage') documents the impact of industrial logging on the lives of local people in Papua New Guinea.
Featured video: WWF's Astonish Me

(08/16/2011) Highlighting new species recently discovered around the world, the short film Astonish Me, was created as apart of a happy 50th birthday celebration for conservation organization WWF.
Featured video: Trouble in Lemur Land

(08/08/2011) A new film, Trouble in Lemur Land, showcases the Critically Endangered silky sifaka (Propithecus candidus). With only some 300 silky sifaka's surviving in the wild, this large and distinct lemur is considered one of the top 25 most endangered primates in the world.
A lion's story, an interview with the filmmakers of The Last Lions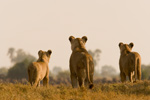 (02/14/2011) The new theatrical film, The Last Lions does not open, as one would expect, with a shot of lions or even an African panorama. Instead the first shot is a view of our planet from space at night. Billions of artificial lights illuminate continent showing just how much humans over the past few thousand years have come to dominate our world. Then comes the lions, but not in person, just in this staggering, and little known, statistic: in the last 50 years we have gone from a population of 450,000 lions to 20,000 today, a 95% decline. While the dramatic story of the The Last Lions follows the perils and tragedies of lion motherhood in one of the world's last untouched places—the Okavango Delta—this statistic hangs over the film, reminding us that the story we are witnessing is on the verge of extinction.
Kite-photography gives new perspective to whale migration

(12/22/2010) A new project sponsored by Nokia uses KAPing - kite aerial photography - to get an innovative look at whale behavior. The project will be taking place in Hawaii and will document the area's annual humpback whale migration.
Yasuni on film: could a documentary save the world's most biodiverse ecosystem?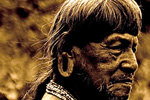 (10/04/2010) How do you save one of the most biologically and culturally diverse places in the world if most people have never heard of it? If you want a big audience—you make a film. This is what wildlife-filmmaker Ryan Killackey is hoping to do with his new movie Yasuni Man. Killackey says the film will show-off the wonders of Yasuni National Park while highlighting the complexity of its biggest threat: the oil industry. "Conceptually, the film resembles a true-life cross between the documentary Crude and the blockbuster Avatar—except it's real and it's happening now," Killackey told mongabay.com.