News articles on featured

---
Mongabay.com news articles on featured in blog format. Updated regularly.





The FSC is the 'Enron of forestry' says rainforest activist



(04/17/2008) On April 7th, Mongabay printed an interview with FSC International Communications Manager, Nina Haase, in which she defended the FSC against criticism leveled at it by various environmental organizations, such as The World Rainforest Movement and Ecological Internet. The interview drew strong reactions on both sides, and Simon Counsell, director of the Rainforest Foundation UK, requested a chance to respond to the FSC's interview in-depth. In his response, he states that the FSC has created a "'race to the bottom' of certification standards", alleging that the "FSC really has become the 'Enron of forestry'".


Saving the world's most recently discovered cat species in Borneo

(04/10/2008) Last year two teams of scientists announced the discovery of a new species of clouded leopard in Borneo. The news came as conservationists launched a major initiative to conserve a large area of forest on an island where logging and oil palm plantations have consumed vast expanses of highly biodiverse tropical rainforest over the past thirty years. Now a pair of researchers are racing against the clock to better understand the behvaior of these rare cats to see how well they adapt to these changes in and around Danum Valley in Malaysia's Sabah state. Andrew Hearn and Joanna Ross run the Bornean Wild Cat and Clouded Leopard Project, an effort that aims to understand and protect Borneo's threatened wild cats, which include the flat-headed cat (Prionailurus planiceps), marbled cat (Pardofelis marmorata) leopard cat (Prionailurus bengalensis) the endemic bay cat (Catopuma badia) and the Bornean clouded leopard (Neofelis nebulosa).


Investing to save rainforests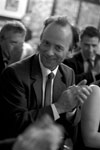 (04/02/2008) Last week London-based Canopy Capital, a private equity firm, announced a historic deal to preserve the rainforest of Iwokrama, a 371,000-hectare reserve in the South American country of Guyana. In exchange for funding a "significant" part of Iwokrama's $1.2 million research and conservation program on an ongoing basis, Canopy Capital secured the right to develop value for environmental services provided by the reserve. Essentially the financial firm has bet that the services generated by a living rainforest — including rainfall generation, climate regulation, biodiversity maintenance and carbon storage — will eventually be valuable in international markets. Hylton Murray-Philipson, director of Canopy Capital, says the agreement — which returns 80 percent of the proceeds to the people of Guyana — could set the stage for an era where forest conservation is driven by the pursuit of profit rather than overt altruistic concerns.


Private equity firm buys rights to ecosystem services of Guyana rainforest

(03/27/2008) A private equity firm has purchased the rights to environmental services generated by 371,000 hectare rainforest reserve in Guyana. Terms of the deal were not disclosed, but the agreement is precedent-setting in that a financial firm is betting that the services generated by a living rainforest — including rainfall generation, climate regulation, biodiversity maintenance and water storage — will eventually see compensation in international markets.


Fire monitoring by satellite becomes key conservation tool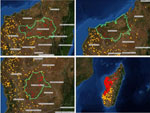 (03/26/2008) Remote sensing is increasingly used as a tool for conservation management. Beyond traditional satellite imagery popularized by Google Earth, new sensing applications are allowing researchers located anywhere in the world to track fires, illegal logging and mining, and deforestation in some of Earth's most isolated regions using a computer or handheld device. The Fire Alert System is one example of an application that is harnessing the power of satellites to deliver key data to conservation managers. Developed by Madagascar's ministry of Environment, the International Resources Group, conservation International using data from the University of Maryland and NASA, the Fire Alert System enables near real-time monitoring of fires anywhere on the island of Madagascar, a hotspot of biological diversity. The system, which sends subscribers regular email alerts on newly-detected burning, will eventually be expanded to include all the world's protected areas, allowing managers to detect not only fires but potentially related activities like road building, logging, and even hunting.


Africa's lions are disappearing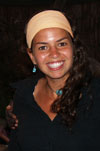 (03/25/2008) The lion is Africa's best known carnivore. Once widely abundant across the continent, recent surveys show that lion populations have plunged from over 100,000 individuals to around 23,000 over the past century. The reason? Lions are poisoned, shot, and speared by locals who see them as a threat to livestock. While lion populations in protected areas remain relatively healthy, conservationists say that without urgent measures, lions may disappear completely from unprotected areas. The Kilimanjaro Lion conservation Project is working to avoid this fate by developing practical measures to encourage coexistence between people, livestock and predators. Key to the effort is reducing livestock losses to lions. Leela Hazzah, a field researcher with the project, says the "Lion Guardians" program at Mbirikani Ranch in Kenya has proved remarkably successful: not a single lion has been killed since its inception in November 2006. The program employs Maasai warriors to monitor lions and help local communities prevent attacks on livestock.


Markets could save forests: An interview with Dr. Tom Lovejoy



(03/20/2008) Market mechanisms are increasingly seen as a way to address environmental problems, including tropical deforestation. In particular, compensation for ecosystem services like carbon sequestration — a concept known by the acronym REDD for "reducing emissions from deforestation and degradation" — may someday make conservation a profitable enterprise in which carbon traders are effectively saving rainforests simply by their pursuit of profit. Protecting rainforests and their resident biodiversity would be an unintentional, but happy byproduct of profit-seeking endeavors.


Amazon environmentalist gunned down in Peru

(03/14/2008) After reporting a truck loaded with mahogany illegally logged from the Amazon rainforest, Don Julio Garcia Agapito, a Peruvian environmentalist was gunned down by unknown assailants on February 26th, 2008. He is survived by his family.


Predator of the world's largest macaw key to its survival

(03/13/2008) In a bizarre biological twist, a new study shows that the Hyacinth Macaw depends on its greatest predator, the Toco Toucan, for continued survival.


Industry-driven road-building to fuel Amazon deforestation

(03/12/2008) Unofficial road-building will be a major driver of deforestation and land-use change in the Amazon rainforest, according to an analysis published in Philosophical Transactions of the Royal Society B. Improved governance, as exemplified by the innovative MAP Initiative in the southwestern Amazon, could help reduce the future impact of roads, without diminishing economic prospects in the region.


Cellulosic energy may trigger dramatic collapse in the Amazon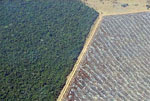 (03/11/2008) Next generation biofuels may trigger the ecological collapse of the Amazon frontier and could have profoundly unexpected economic consequences for the region, warns a paper published in Philosophical Transactions of the Royal Society B. Dr. Donald Sawyer writes that "interacting with climate change and land use, the upcoming stage of cellulosic energy could result in a collapse of the new frontier into vast degraded pasture." The shift could increase the incidence and severity of fires, reduce rainfall in key agricultural zones, exacerbate forest die-back and climate change, and worsen social instability. Sawyer says that while difficult to anticipate, the worst outcomes could likely be avoided be promoting "intensified and more sustainable use" of already cleared areas, minimizing new deforestation, and encouraging "sustainable use of natural resources by local communities."


Emissions from deforestation offset by increased tree growth in the Amazon

(03/10/2008) An increase in carbon sequestration by trees in the Amazon has roughly offset total emissions from deforestation in the region since the 1980s. A new study, published in Philosophical Transactions of the Royal Society B, this trend may slow in the future, causing the world's largest rainforest to become a net source of carbon emissions and therefore contributing to climate change.


Advice for your first visit to the rainforest

(03/03/2008) Harry S. Pariser has been writing travel guides and articles for many years now. His most recent guide is Explore Costa Rica which has extensive information about the nation and its rainforests.


Saving forgotten species: An interview with Carly Waterman, Program Coordinator of EDGE

(02/28/2008) In January 2007 a new conservation initiative arrived with an unusual level of media attention. The attention was due to the fact that the organization was doing things differently—very differently. Instead of focusing their efforts on the usual conservation-mascots like the panda or tiger, they introduced the public to long-ignored animals: photos of the impossibly unique aye-aye and a baby slender loris wrapped around a finger appeared in newsprint worldwide. The new initiative EDGE (Evolutionary Distinct and Globally Endangered), launched by the Zoological Society of London, was not concerned with an animal's perceived popularity, rather the chose their focal species on a combined measurement of a species' biological uniqueness and its vulnerability to extinction. Consequently, they hoped to make celebrities out of animals (big and small) most people had never heard of: the hairy-eared dwarf lemur, anyone?


Half the Amazon rainforest will be lost within 20 years



(02/27/2008) More than half the Amazon rainforest will be damaged or destroyed within 20 years if deforestation, forest fires, and climate trends continue apace, warns a study published in Philosophical Transactions of the Royal Society B. Reviewing recent trends in economic, ecological and climatic processes in Amazonia, Daniel Nepstad and colleagues forecast that 55 percent of Amazon forests will be "cleared, logged, damaged by drought, or burned" in the next 20 years. The damage will release 15-26 billion tons of carbon into the atmosphere, adding to a feedback cycle that will worsen both warming and forest degradation in the region. While the projections are bleak, the authors are hopeful that emerging trends could reduce the likelihood of a near-term die-back. These include the growing concern in commodity markets on the environmental performance of ranchers and farmers; greater investment in fire control mechanisms among owners of fire-sensitive investments; emergence of a carbon market for forest-based offsets; and the establishment of protected areas in regions where development is fast-expanding.


Complete map of world forests to help REDD carbon trading initiative



(02/27/2008) Policymakers, conservationists and scientists have high hopes that REDD, a mechanism for compensating countries for reducing emissions from deforestation and forest degradation, will spur a massive flow of funds to tropical countries, helping preserve rainforests and delivering economic benefits to impoverished rural communities. To date, one of the biggest hurdles for the initiative has been establishing a baseline for deforestation rates -- in order to compensate countries for "avoided deforestation" it first must be known how much forest the country has been losing on a historical basis. Until now, with some notable exceptions, this data was based largely on spotty satellite assessment and surveys of national forestry departments by the U.N. Food and Agricultural Organization.


Carbon trading could protect forests, reduce rural poverty

(02/26/2008) Carbon trading from avoided deforestation (REDD) credits could yield billions of dollars for tropical countries, according to analysis by mongabay.com, a leading tropical forest web site.


Is Guyana's logging deal in its best interests?

(02/21/2008) In January Guyana awarded U.S. timber firm Simon & Shock International a 400,000-hectare (988,400-acre) logging concession near the Brazilian border. Final approval hinges on the completion of an environmental impact survey and a tree inventory. While Simon & Shock International says it plans to conduct selective logging, the firm has not announced whether it will seek Forest Stewardship Council certification, a mark for responsibly-harvested timber. Is there an alternative that can improve the lot for the average Guyanese? There may be. Last fall Guyana's President, Bharrat Jagdeo, hinted at the potential of using the country's forests as a giant carbon offset to counter climate change.


Copper mine triggers controversy in Armenia

(01/28/2008) In Northern Armenia, a company has been given the go-ahead to establish a copper mine in Teghut Forest sparking off a struggle between industry and environmentalists. Teghut Forest spans approximately 29,000 square kilometers--the size of the English channel--and supports a large number of Armenia's native species, including the Syrian Brown Bear and the Short-toed Eagle. The mine will be operated by Armenian Copper Program (ACP). ACP is apart of the Valex group, located in Liechtenstein and co-owned by Russian citizen, Valeri Medzhloumyan. The project will be the largest mine in Armenia, and is estimated to make a hundred million annually for as long as the mining lasts (most likely, less than twenty-five years). Environmentalists believe that the mine will cause large and lasting damage to the region, while government and industry state that the mine's environmental impact will be small while giving the region an economic boost.


55% of the Amazon may be lost by 2030

(01/23/2008) Cattle ranching, industrial soy farming, and logging are three of the leading drivers of deforestation in the Brazilian Amazon. As commodity prices continue to rise, driven by surging demand for biofuels and grain for meat production, the economic incentives for developing the Amazon increase. Already the largest exporter of beef and the second largest producer of soy - with the largest expanse of "undeveloped" but arable land of any country - Brazil is well on its way to rivaling the U.S. as the world's agricultural superpower. The trend towards turning the Amazon into a giant breadbasket seems unstoppable. Nevertheless the decision at the U.N. climate talks in Bali to include "Reducing Emissions From Deforestation and Degradation" (REDD) in future climate treaty negotiations may preempt this fate, says Dr. Daniel Nepstad, a scientist at the Woods Hole Research Institute.


U.S. biofuels policy drives deforestation in Indonesia, the Amazon

(01/17/2008) U.S. incentives for biofuel production are promoting deforestation in southeast Asia and the Amazon by driving up crop prices and displacing energy feedstock production, say researchers.


An interview with primate researcher Dr. Karen Strier: America's largest monkey recovering after brush with extinction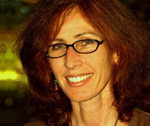 (01/10/2008) The Atlantic forest of Brazil boasts South America's largest primates, the Southern and Northern Muriqui. The muriqui are unique among all primates, because they are not territorial and do not display aggressive behvaior. The IUCN has classified the Southern Muriqui as endangered, while the Nothern Muriqui is critically endangered. Dr. Karen Strier has studied the Northern Muriqui in the field for twenty-five years. A professor of zoology and anthropology at the University of Madison Wisconsin, she is the author of Faces in the Forest: the Endangered Muriqui Monkeys of Brazil and a new textbook entitled Primate behvaioral Ecology.


Rainforest destruction increasingly driven by corporate interests, not poverty



(12/18/2007) Tropical deforestation is increasingly enterprise-driven rather than the result of subsistence agriculture, a trend that has critical implications for the future of the world's forests, says Dr. Thomas Rudel, a researcher from Rutgers University. As urbanization and government-sponsored development programs dwindle in the tropics, industrial logging and conversion for large-scale agriculture -- including oil palm plantations, soy farms, and cattle ranches -- are ever more important causes of forest destruction.


70% of rainforest island to be cleared for palm oil

(12/13/2007) Mongabay.com received information this week that the Malaysian company Vitroplant has been granted the permit it needs to begin developing 70% of Woodlark Island into palm oil plantations. In an e-mail received by one of the opposition leaders to Vitroplant, Dr. Simon Piyuwes said that "the government granted the permit to the oil palm company despite a widespread campaign and pressure from NGOs". In an earlier article Dr. Piyuwes stated that "we [the islanders] do not have money to fight the giant. We only hope for the support from the NGOs, and the mercy of the government to withdraw the project." It seems the government has refused Dr. Piyuwes what he hoped for.


U.S. corn subsidies drive Amazon destruction

(12/13/2007) U.S. corn subsidies for ethanol production are contributing to deforestation of the Amazon rainforest, reports a tropical forest scientist writing in this week's issue of the journal Science.


Rainforest destruction continues in tropical Asia

(12/09/2007) Tropical forests in Asia have been rapidly and extensively destroyed over the past generation, with significant implications for the region's biodiversity and global climate. A new study, published in the December volume of Current Science, finds that Asian forest loss has occurred mostly in poor, corrupt countries that have high population density and robust population growth rates.


Forest carbon may not fully offset fossil carbon, says expert

(12/03/2007) As policymakers meet in Bali, Indonesia to discuss various mechanisms for mitigating greenhouse emissions, a tropical ecologist from Sri Lanka warns that one ton of forest carbon is not equal to one ton of fossil carbon when it comes to using offsets to fight global warming. The implications: considerably larger forest areas (preferably old growth since it has higher carbon values than plantations) would need to be protected and reforested than are presently anticipated by most policymakers.


Could the carbon market save the Amazon rainforest?

(11/29/2007) The global carbon market could play a key role in saving the Amazon from the effects of climate change and economic development, which could otherwise trigger dramatic ecological changes, reports a new paper published in Science. The authors argue that a well-articulated plan, financed by carbon markets, could prevent the worst outcomes for the Amazon forest while generating economic benefits for the region's inhabitants.


Carbon credits for forest conservation concept faces challenges

(11/27/2007) While environmentalists, scientists, development exports, and policymakers across the political spectrum are ethusiastic about the idea of offsetting carbon emissions by preventing deforestation (a concept known as "avoided deforestation" or Reduced Emissions from Deforestation and Degradation (REDD)), the concept still faces many challenges, especially in implementation.


7-year old nature guide becomes Belize environmental hero as adult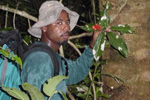 (11/16/2007) Each year hundreds of thousands of nature-oriented tourists visit Belize to see the Central American country's spectacular coral reefs, biodiverse rainforests, and ancient Mayan ruins. However few visitors realize that Belize's natural resources are at risk. Timber and oil extraction, agricultural encroachment, coastal development, pollution and unrestrained tourism are all increasing threats to Belizean ecosystems. Unless something is done to address these concerns, within a generation these pressures could present considerable problems for Belize. Dr. Colin Young, head of the environmental science program at Galen University in Belize, says that while he is greatly concerned about these issues, there is still time to ensure healthy forests and reefs in Belize.


Law enforcement key to saving Borneo's rainforests



(11/13/2007) In an interview with mongabay.com, Dr. Rhett Harrison, a Smithsonian Tropical Research Institute (STRI) associate researcher and Secretary for the Asia-Pacific Chapter of ATBC, says that law enforcement could be the key to safeguarding biodiversity contained in Borneo's lowland parks. Harrison says there may be opportunities for conservationists to work with oil palm to developers to ensure that existing forests are not converted for plantations and that palm oil can be produced in a sustainable manner. He also adds that carbon offsets may eventually offer a means to fund conservation and sustainable development efforts in areas that still have standing forest.


Proposed gold mine proves controversial in French Guiana rainforest

(11/07/2007) Commercial gold mining threatens a key forest reserve and wetland in French Guiana say scientists who warn that exploitation could pollute rivers with toxic compounds, threaten wildlife, and put indigenous populations at risk.


Subtle threats could ruin the Amazon rainforest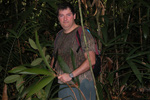 (11/07/2007) While the mention of Amazon destruction usually conjures up images of vast stretches of felled and burned rainforest trees, cattle ranches, and vast soybean farms, some of the biggest threats to the Amazon rainforest are barely perceptible from above. Selective logging -- which opens up the forest canopy and allows winds and sunlight to dry leaf litter on the forest floor -- and 6-inch high "surface" fires are turning parts of the Amazon into a tinderbox, putting the world's largest rainforest at risk of ever-more severe forest fires. At the same time, market-driven hunting is impoverishing some areas of seed dispersers and predators, making it more difficult for forests to recover. Climate change -- an its forecast impacts on the Amazon basin -- further looms large over the horizon.


Carbon-negative bioenergy to cut global warming could drive deforestation

(11/06/2007) A proposed mechanism for generating carbon-negative bioenergy -- an energy source that reduces atmospheric carbon dioxide levels -- could drive large-scale deforestation in the tropics and undermine efforts to conserve forests for carbon offsets says a biofuel expert.


Climbing Africa's second highest mountain

(11/05/2007) Mount Kenya, Africa's second highest mountain, is said to be one of the continent's most beautiful hikes. Located less than three hours' drive from Nairobi, Mount Kenya is accessible and makes for a great add-on for fit travelers looking to do more than the standard safari in Kenya.


Does palm oil alleviate rural poverty in Malaysia?



(10/23/2007) While it is often argued that the economic benefits of oil palm plantations outweigh the environmental costs of converting biodiverse ecosystems to monocultures, new analysis suggests that the role of plantations in reducing rural poverty may be overstated.


2007 Amazon fires among worst ever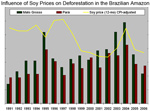 (10/22/2007) By some measures, forest fires in the Amazon are at near-record levels, according to analysis Brazilian satellite data by mongabay.com. A surge in soy and cattle prices may be contributing to an increase in deforestation since last year. Last year environmentalists and the Brazilian government heralded a sharp fall in deforestation rates, the third consecutive annual decline after a peak in 2004. Forest loss in the 2006-2007 season was the lowest since record-keeping began in the late in 1970s. While the government tried to claim credit for the drop, analysts at the time said that commodity prices were a more likely driver of slow down: both cattle and soy prices had declined significantly over the previous months.


Can remittances and globalization help the environment?

(09/05/2007) Globalization and other economic trends appear to be helping the degraded forests of El Salvador recover, reports new research that evaluated the impact of global trade, land policy changes, and remittances on forest cover. The study, by Susanna B. Hecht of University of California at Los Angeles and Sassan S. Saatchi of the California Institute of Technology, used socioeconomic data, land-use surveys, and satellite imagery to document significant increases in the area of El Salvador covered by both light woodlands and forest since peace accords were signed in the warn-torn country in 1992.


Investigation finds evidence of Borneo forest clearing for palm oil

(09/02/2007) An Associated Press investigation found evidence of workers opening up rainforest land for new oil palm plantations in the heart of Borneo.


How private equity can profit from carbon offsets in Indonesia

(08/29/2007) The emerging carbon market for avoided deforestation presents unprecedented opportunities for private equity to make profitable investments that also help protect the environment. Indeed, for the first time, conservation may be associated with positive financial returns. Here's a brief look at how private equity and other investors can capitalize on this opportunity to earn attractive returns while fighting climate change, protecting ecosystem services, and safeguarding endangered species like orangutans.


Indonesia's peatlands may offer U.S. firms global warming offsets

(08/29/2007) The following is modified version of a letter I've used to pitch U.S. companies on the concept of carbon finance in Indonesia's peatlands. Discussions are slow and the critical December U.N. climate meeting is fast approaching, so I'm posting this as a tool to help you get American firms interested in avoided deforestation offsets. Please feel free to use, modify, and distribute this letter widely.


European blood-sucker falls victim to global warming

(08/26/2007) Europe's only known land leech may be on the brink of extinction due to shifts in climate, report researchers writing in the journal Naturwissenschaften. The findings are significant because they suggest that "human-induced climate change without apparent habitat destruction can lead to the extinction of populations of cold-adapted species that have a low colonization ability," according to the authors.


Could peatlands conservation be more profitable than palm oil?

(08/22/2007) This past June, World Bank published a report warning that climate change presents serious risks to Indonesia, including the possibility of losing 2,000 islands as sea levels rise. While this scenario is dire, proposed mechanisms for addressing climate change, notably carbon credits through avoided deforestation, offer a unique opportunity for Indonesia to strengthen its economy while demonstrating worldwide innovative political and environmental leadership. In a July 29th editorial we argued that in some cases, preserving ecosystems for carbon credits could be more valuable than conversion for oil palm plantations, providing higher tax revenue for the Indonesian treasury while at the same time offering attractive economic returns for investors.


Biofuels driving destruction of Brazilian cerrado

(08/21/2007) The cerrado, wooded grassland in Brazil that once covered an area half the size of Europe, is fast being transformed into croplands to meet rising demand for soybeans, sugarcane, and cattle. The cerrado is now disappearing more than twice as the rate as the neighboring Amazon rainforest, according to a Brazilian expert on the savanna ecosystem.


Amazon deforestation in Brazil falls 29% for 2007

(08/13/2007) Deforestation in the Brazilian Amazon fell 29 percent for the 2006-2007 year, compared with the prior period. The loss of 3,863 square miles (10,010 square kilometers) of rainforest was the lowest since the Brazilian government started tracking deforestation on a yearly basis in 1988.


Climate change claims a snail

(08/12/2007) The Aldabra banded snail (Rachistia aldabrae), a rare and poorly known species found only on Aldabra atoll in the Indian Ocean, has apparently gone extinct due to declining rainfall in its niche habitat. While some may question lamenting the loss of a lowly algae-feeding gastropod on some unheard of chain of tropical islands, its unheralded passing is nevertheless important for the simple reason that Rachistia aldabrae may be a pioneer. As climate change increasingly brings local and regional shifts in precipitation and temperature, other species are expected to follow in its path.


Amazon deforestation rate falls to lowest on record

(08/10/2007) Deforestation rates in the Brazilian Amazon for the previous year were the lowest on record, according to preliminary figures released by INPE, Brazil's National Institute of Space Research.


Dr. Marc Van Roosmalen, discover of unknown monkey species, freed in Brazil

(08/08/2007) Dr. Marc van Roosmalen, a renowned primatologist who has discovered seven species of monkeys in the Amazon rainforest, has been freed in Brazil. Dr. van Roosmalen had been charged with illegally keeping wild animals and embezzlement and sentenced to nearly 16 years in prison in a case that was widely criticized by scientists.


Primatologist freed but questions remain for Brazil after "attack on science"

(08/08/2007) While primatologist Dr. Marc van Roosmalen has been freed from prison pending appeal, prominent scientists had stinging criticism for the Brazilian government over its increasingly "hostile" treatment of researchers. Before Roosmalen was released Tuesday, some scientists even threatened "civil disobedience," according to a report in the journal Nature.


Afghanistan's recovery effort drives poaching of rare wildlife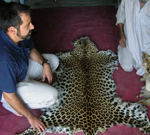 (08/07/2007) Few people associate Afghanistan with wildlife and it would come as a surprise to many that the war-torn, but fledging democracy is home to snow leopards, Persian leopards, five species of bush dog, Marco Polo Sheep, Asiatic Black Bear, Brown Bears, Striped Hyenas, and numerous bird of prey species. While much of this biodiversity has survived despite years of civil strife, Afghanistan's wildlife faces new pressures from the very people who are charged with rebuilding the country: contractors and the development community are driving the trade in rare and endangered wildlife. This development, coupled with lack of laws regulating resource management and growing instability, complicate efforts to protect the country's wildlife. Working to address these challenges is Dr. Alex Dehgan, Afghanistan Country Director for the Wildlife conservation Society (WCS). WCS is working to implement the Afghanistan Biodiversity conservation Program, a three-year project funded by the US Agency for International Development to promote wildlife and resource conservation in the country.



Page 1 | Page 2 | Page 3 | Page 4 | Page 5 | Page 6 | Page 7 | Page 8 | Page 9 | Page 10 | Page 11 | Page 12 | Page 13