News articles on featured

---
Mongabay.com news articles on featured in blog format. Updated regularly.






Forests under fire: Australia's imperiled south west
(03/05/2013) In the far southwestern corner of Western Australia, beyond the famed wineries in the shadow of the Margaret River, lies an ecosystem like no other, the South West ecoregion. This part of Australia has been identified as one of 34 global biodiversity hotspots, home to rare endemic flora and fauna like the Carnaby's black cockatoo, numbat (banded anteaters), woylie (brush-tailed bettong), mainland quokka and over 1500 plant species, most found nowhere else. Unfortunately, this unique habitat is being increasingly fragmented and its inhabitants threatened by a number of forces, including climate change, dieback, fires and logging. And, on the eve of the Western Australia's state elections, the future of the South West hangs in the balance.
Extinction warning: racing to save the little dodo from its cousin's fate
(03/04/2013) Sometime in the late 1600s the world's last dodo perished on the island of Mauritius. No one knows how it spent its final moments—rather in the grip of some invasive predator or simply fading away from loneliness—but with its passing came an icon of extinction, that final breath passed by the last of its kind. The dodo, a giant flightless pigeon, was a marvel of the animal world: now another island ground pigeon, known as the little dodo, is facing its namesake's fate. Found only in Samoa, composed of ten islands, the bird has many names: the tooth-billed pigeon, the Manumea (local name), and Didunculus ("little dodo") strigirostris, which lead one scientist to Christen it the Dodlet. But according to recent surveys without rapid action the Dodlet may soon be as extinct as the dodo.
Asiatic cheetahs: on the road to extinction?
(02/26/2013) Cheetahs (Acinonyx jubatus) are unique among large cats. They have a highly specialized body, a mild temperament, and are the fastest living animals on land. Acinonyx jubatus venaticus, the Asiatic subspecies, is unique among cheetahs and the only member of five currently living subspecies to occur outside of Africa. Listed as Critically Endangered on the IUCN Red List—with a population of between 70 and 100 individuals—the Asiatic cheetah is one of the rarest felines on the planet. But new proposed road through one of its last habitat strongholds may threaten the cat even further.
Warlords, sorcery, and wildlife: an environmental artist ventures into the Congo
(02/25/2013) Last year, Roger Peet, an American artist, traveled to the Democratic Republic of Congo (DRC) to visit one of the world's most remote and wild forests. Peet spent three months in a region that is largely unknown to the outside world, but where a group of conservationists, headed by Terese and John Hart, are working diligently to create a new national park, known as Lomami. Here, the printmaker met a local warlord, discovered a downed plane, and designed a tomb for a wildlife ranger killed by disease, in addition to seeing some of the region's astounding wildlife. Notably, the burgeoning Lomami National Park is home to the world's newest monkey species, only announced by scientists last September.
Jaguars, tapirs, oh my!: Amazon explorer films shocking wildlife bonanza in threatened forest
(02/19/2013) Watching a new video by Amazon explorer, Paul Rosolie, one feels transported into a hidden world of stalking jaguars, heavyweight tapirs, and daylight-wandering giant armadillos. This is the Amazon as one imagines it as a child: still full of wild things. In just four weeks at a single colpa (or clay lick where mammals and birds gather) on the lower Las Piedras River, Rosolie and his team captured 30 Amazonian species on video, including seven imperiled species. However, the very spot Rosolie and his team filmed is under threat: the lower Las Piedras River is being infiltrated by loggers, miners, and farmers following the construction of the Trans-Amazon highway.
Pity the pangolin: little-known mammal most common victim of the wildlife trade
(02/11/2013) Last year tens-of-thousands of elephants and hundreds of rhinos were butchered to feed the growing appetite of the illegal wildlife trade. This black market, largely centered in East Asia, also devoured tigers, sharks, leopards, turtles, snakes, and hundreds of other animals. Estimated at $19 billion annually, the booming trade has periodically captured global media attention, even receiving a high-profile speech by U.S. Secretary of State, Hillary Clinton, last year. But the biggest mammal victim of the wildlife trade is not elephants, rhinos, or tigers, but an animal that receives little notice and even less press: the pangolin. If that name doesn't ring a bell, you're not alone.
The beginning of the end of deforestation in Indonesia?
(02/05/2013) Asia Pulp & Paper, a forestry giant that has been widely criticized for its role in driving deforestation and contributing to social conflict in Indonesia, today announced a zero deforestation policy that could have a dramatic impact on efforts to slow the Southeast Asian nation's high rate of deforestation. The policy, which went into effect February 1, is ambitious enough that one of APP's most vocal critics and agitators, Greenpeace, will suspend its highly-damaging campaign against the paper giant. The campaign against APP has cost the paper giant tens of millions of dollars in lost business since 2009. The new policy targets several of the major criticisms against APP, including deforestation, degradation of high carbon peatlands, conservation of critical wildlife habitat, and social conflict with local communities.
Geneticists discover distinct lion group in squalid conditions
(02/04/2013) They languished behind bars in squalid conditions, their very survival in jeopardy. Outside, an international team of advocates strove to bring worldwide attention to their plight. With modern genetics, the experts sought to prove what they had long believed: that these individuals were special. Like other cases of individuals waiting for rescue from a life of deprivation behind bars, the fate of those held captive might be dramatically altered with the application of genetic science to answer questions of debated identity. Now recent DNA analysis has made it official: this group is special and because of their scientifically confirmed distinctiveness they will soon enjoy greater freedom.
Asian bear farming: breaking the cycle of exploitation (warning: graphic images)
(01/31/2013) In the forests of Asia, bears are being captured. These captives will be sent to bear farms, most unregulated and illegal, where they will be kept alive in a small cage, locked away for life. Their bodies will be used as renewable natural resources, from which profit will be made through the extraction of internal organs and fluids. By surgically inserting a permanent catheter into the bears' gall bladders, "farmers" extract several ounces of their bile. In a cycle of exploitation across east Asia, traditional medicine shops receive these daily shipments of bear bile products, while consumers support the industry through the purchase of these products, sustaining a supply-and-demand chain that puts more and more bears in cages as wild populations dwindle.
Controversial research outlines physics behind how forests may bring rain
(01/30/2013) It took over two-and-a-half-years for the journal Atmospheric Chemistry and Physics to finally accept a paper outlining a new meteorological hypothesis in which condensation, not temperature, drives winds. If proven correct, the hypothesis could have massive ramifications on global policy—not to mention meteorology—as essentially the hypothesis means that the world's forest play a major role in driving precipitation from the coast into a continent's interior. The theory, known as the biotic pump, was first developed in 2006 by two Russian scientists, Victor Gorshkov and Anastassia Makarieva of the St. Petersburg Nuclear Physics, but the two have faced major pushback and delays in their attempt to put the theory before the greater scientific community.
Beyond the resorts: traveling the real and wild Dominican Republic (photos)
(01/29/2013) For its stunning variety of ecosystems, the Dominican Republic is like a continent squished into half an island. Lowland rainforests, cloud forests, pine forests, dry forests, mangroves, savannah, coastal lagoons, salt lakes, a rift valley, karst land formations, four mountain ranges—including the highest mountain in the Caribbean—and not to mention some of the best beaches, snorkeling, and scuba diving in the hemisphere can all be reached within just a few hours drive of the capital, Santo Domingo. Yet, bizarrely, most tourists who visit the Dominican Republic never venture out of their all-inclusive resort, missing out on some of the most stunning landscapes—and accessible wildlife viewing—in the Caribbean.
Living beside a tiger reserve: scientists study compensation for human-wildlife conflict in India
(01/21/2013) During an average year, 87% of households surrounding Kanha Tiger Reserve in Central India report experiencing some kind of conflict with wild animals, according to a new paper in the open-access journal PLOS One. Co-existence with protected, free-roaming wildlife can be a challenge when living at the edge of a tiger reserve. "Local residents most often directly bear the costs of living alongside wildlife and may have limited ability to cope with losses" wrote the authors of the new paper.
Bloodsucking flies help scientists identify rare, hard-to-find mammals
(01/16/2013) Last year scientists released a study that is likely to revolutionize how conservationists track elusive species. Researchers extracted the recently sucked blood of terrestrial leeches in Vietnam's remote Annamite Mountains and looked at the DNA of what they'd been feeding on: remarkably researchers were able to identify a number of endangered and rarely-seen mammals. In fact two of the species gleaned from these blood-meals had been discovered by scientists as late as the 1990s. In the past, trying to find rare and shy jungle animals required many man hours and a lot of funding. While the increasing use of remote camera traps has allowed scientists to expand their search, DNA sampling from leeches could be the next big step in simplifying (and cheapening) the quest for tracking the world's mammals.
In the kingdom of the black panther
(01/15/2013) The black panther has a mythical aura: Rudyard Kipling chose the animal for one of his heroes in the Jungle Book, in the 1970s it became the symbol of an African-American socialist party, while comic guru Stan Lee selected the stunning feline for his first black superhero. But the real black panther isn't an actual species, instead it's a rare dark pigmentation found most commonly in leopards, but also occasionally in jaguars and other wild cats. The rarity of the black panther—not to mention its striking appearance—has added to their mystery. However, recent studies have found that black panthers, in this case 'black leopards,' are astoundingly common in one part of the world: the Malayan peninsula.
Paradigm shift needed to avert global environmental collapse, according to author of new book The Blueprint: Averting Global Collapse
(01/10/2013) Global strategist, trained educator, and international lecturer Daniel Rirdan set out to create a plan addressing the future of our planet. His book The Blueprint: Averting Global Collapse, published this year, does just that. "It has been a sixty hour a week routine," Rirdan told mongabay.com in a recent interview. "Basically, I would wake up with the burden of the world on my shoulders and go to sleep with it. It went on like this for eighteen months." It becomes apparent when reading The Blueprint that it was indeed a monumental undertaking.
Mercury hurts birds and people: what we can learn from studying our feathered friends
(01/07/2013) Birds aren't that different from people. We learn from our parents, just like zebra finches learn songs from their fathers. We are active and noisy during the day, like birds, and we can also be territorial. Also like birds, we try to attract mates through colorful displays and beautiful songs. Birds are sensitive to pollution in their environment just like we are: harmful elements such as mercury wreak similar havoc on human and bird biology alike. Because our species share so many attributes, studying birds illustrates the connections between them and us.
The year in rainforests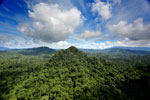 (12/31/2012) 2012 was another year of mixed news for the world's tropical forests. This is a look at some of the most significant tropical rainforest-related news stories for 2012. There were many other important stories in 2012 and some were undoubtedly overlooked in this review. If you feel there's something we missed, please feel free to highlight it in the comments section. Also please note that this post focuses only on tropical forests.
Photos: the top new species discoveries in 2012
(12/26/2012) Thousands of species were described for the first time by scientists in 2012. Some of these were 'cryptic species' that were identified after genetic analysis distinguished them from closely related species, while others were totally novel. Either way, here are some of the "new species" highlights from 2012.
Our favorite nature photos of 2012
(12/24/2012) In the course of reporting for Mongabay.com, I spent time in several countries in 2012, including Indonesia, Brazil, Madagascar, and Malaysia, among others. The following are some of my favorite nature pictures I took in the field. Overall I added more than 20,000 images to the site in 2012. For more, check out travel.mongabay.com, which now has nearly 100,000 captioned photos.
Top 10 Environmental Stories of 2012
(12/18/2012) Below is a quick review of some of the biggest environmental stories of 2012. The 'top stories' are listed in no particular order. Climate change, overpopulation, consumption, and ecological destruction is pushing planet Earth toward a tipping point according to a major study in Nature released over the summer. This could result in a new 'planetary state' that would be far harsher and bleaker than the current one (beginning around 12,000 years ago), which saw the rise and success of human society.
Uncontacted tribes still exist, but extinction threat looms
(12/11/2012) The world is more interconnected than ever. Globally, there are six billion cell phone subscribers and 900 million Facebook users. Nearly 32 million people follow Lady Gaga on Twitter. Given this content it may seem hard to believe that there remain people who have never had contact with the outside world. Yet such people do exist today. Most of them live in the most remote parts of the world's wildest forests. One of this year's best paperback books takes a close look at one uncontacted group — the Arrow People of the Brazilian Amazon. Written by veteran journalist Scott Wallace, The Unconquered is a gripping first-person account of a journey to learn more about this little-known tribe.
Climate Summit in Doha characterized by lack of ambition
(12/09/2012) Ahead of the 18th United Nations Framework Convention on Climate Change (UNFCCC) in Doha, Qatar a variety of reports warned that the world was running out of time to avoid dangerous climate change, and that there was a widening gap between what nations have pledged to do and what the science demanded. A landmark report by the World Bank painted an almost apocalyptic picture of a world in which global temperatures have risen 4 degrees Celsius above pre-industrial levels, including unprecedented heatwaves and droughts, rising sea levels, global agriculture crises, and a stunning loss of species. In addition, scientific studies released near the two week conference found that sea levels were rising 60 percent faster than predicted, forests around the world were imperiled by increasing drought, marine snails were dissolving in the Southern Ocean due to ocean acidification, and ice melt in Greenland and Antarctica was on the rise.
Deforestation rate falls across Amazon rainforest countries
(12/06/2012) The average annual rate of deforestation across Amazon rainforest countries dropped sharply in the second half of the 2000s, reports a comprehensive new assessment of the region's forest cover and drivers of deforestation. While the drop in deforestation in the Brazilian Amazon has been widely reported, several other Amazon countries saw their rates of forest loss drop as well, according to the report, which was published by a coalition of 11 Latin American civil society groups and research institutions that form the Amazonian Network of Georeferenced Socio-Environmental Information (RAISG).
Asia Pulp & Paper hires top U.S. lobbyist to help 'green' its image
(12/05/2012) Indonesian forestry giant Asia Pulp & Paper (APP) has hired a top U.S. official to help it work through trade and environmental issues. In November, APP announced it had retained Stuart Eizenstat of Covington & Burling, a U.S.-based law firm, to help 'ensure APP's trade and sustainability compliance in North America'. Eizentstat's hiring is notable because he led the U.S. delegation that negotiated the Kyoto Protocol and has served in a number of high-level government positions, including U.S. Ambassador to the European Union; Under Secretary of Commerce for International Trade; Under Secretary of State for Economic, Business and Agricultural Affairs; and Deputy Secretary of the Treasury in the Clinton Administration.
Forests, farming, and sprawl: the struggle over land in an Amazonian metropolis
(12/04/2012) The city of Parauapebas, Brazil is booming: built over the remains of the Amazon rainforest, the metropolis has grown 75-fold in less than 25 years, from 2,000 people upwards of 150,000. But little time for urban planning and both a spatial and mental distance from the federal government has created a frontier town where small-scale farmers struggle to survive against racing sprawl, legal and illegal mining, and a lack of investment in environmental protection. Forests, biodiversity, and subsistence farmers have all suffered under the battle for land. In this, Parauapebas may represent a microcosm both of Brazil's ongoing problems (social inequality, environmental degradation, and deforestation) and opportunity (poverty alleviation, reforestation, and environmental enforcement).
Organic farming keeps carbon out of the atmosphere
(11/28/2012) With the worst effects of climate change, we are seeing how pollution hurts both human health and the environment but there is good news: a new study shows that organic farming stores more greenhouse gases in the soil than non-organic farming. By switching to organic methods, many farmers across the globe may be helping to solve the climate crisis at the same time as they improve soil quality and avoid the use of pesticides.
Legislation leaves future of world's largest temperate rainforest up in the air
(11/27/2012) Although unlikely to pass anytime in the near term, recurring legislation that would hand over 80,000 acres of the Tongass Rainforest to a Native-owned logging corporation has put local communities on guard in Southeast Alaska. "The legislation privatizes a public resource. It takes land that belongs to all of us, and that all of us have a say in the use and management of, and it gives that land to a private for-profit corporation," Andrew Thoms, Executive Director of the Sitka Conservation Society, told mongabay.com in a recent interview.
Wolves, mole rats, and nyala: the struggle to conserve Ethiopia's highlands
(11/20/2012) There is a place in the world where wolves live almost entirely off mountain rodents, lions dwell in forests, and freshwater rolls downstream to 12 million people, but the place—Ethiopia's Bale Mountains National Park—remains imperiled by a lack of legal boundaries and encroachment by a growing human population. "Much of the land in Africa above 3,000 meters has been altered or degraded to the point where it isn't able to perform most of the ecosystem functions that it is designed to do. Bale, although under threat and already impacted to a degree by anthropogenic activities, is still able to perform its most important ecosystem functions, and as such ranks among only a handful of representative alpine ecosystems in Africa."
Remembering the Dust Bowl: it could happen again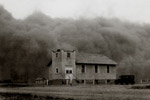 (11/15/2012) The Dust Bowl, a film by Ken Burns and Dayton Duncan, and The Dust Bowl: An Illustrated History, a book authored by Dayton Duncan and Ken Burns, chronicles the worst man-made ecological disaster in American history. Told in first-person narrative by survivors of the Dust Bowl and brought to color through vivid storytelling and over 300 rare archival photos, these two combined efforts must be watched and read by those concerned with our human impact on Earth.
New species of bioluminescent cockroach possibly already extinct by volcanic eruption
(11/14/2012) While new species are discovered every day, Peter Vršanský and company's discovery of a light-producing cockroach, Lucihormetica luckae, in Ecuador is remarkable for many reasons, not the least that it may already be extinct. The new species represents the only known case of mimicry by bioluminescence in a land animal. Like a venomless king snake beating its tail to copy the unmistakable warning of a rattlesnake, Lucihormetica luckae's bioluminescent patterns are nearly identical to the poisonous click beetle, with which it shares (or shared) its habitat.
Controversial wolf hunt moves to the Midwest, 196 wolves killed to date
(11/14/2012) The hugely controversial wolf hunt in the U.S. has spread from the western U.S. (Montana, Idaho, and Wyoming) to the Midwest (Minnesota and Wisconsin) this year. Although the wolf hunt is less than a month old in the region—and only eleven days old in Minnesota—196 animals so far have been shot. As in the west, the wolf hunt has raised hackles among environmentalists along with fierce defenders among hunters. Wolves, which were protected under the the Endangered Species Act (ESA) since 1973, were stripped of that status by legislation in 2009, opening the door—should a state choose—to trophy hunting.
Meet Cape Town's volunteer 'toad shepherds'
(11/08/2012) August marks the last month of winter in South Africa, and, as temperatures begin to rise, activists in Cape Town prepare for a truly unique conservation event. Every year at this time western leopard toads (Amietophrynus pantherinus) endemic to the region and Critically Endangered, embark on a night-time migration through Cape Town from their homes in the city's gardens to the ponds they use as breeding sites—as far as three kilometers away. This season over one hundred volunteers took to the streets, flashlights in hand, to assist the toads in navigating the increasing number of man-made obstacles in their path. Among them was life-long resident and mother, Hanniki Pieterse, who serves as an organizer for volunteers in her area.
It's not just Sandy: U.S. hit by record droughts, fires, and heatwaves in 2012
(11/05/2012) As the devastation wrought by Hurricane Sandy—killing over 100 people and producing upwards of $50 billion in damage along the U.S. East Coast—has reignited a long-dormant conversation on climate change in the media, it's important to note that this is not the only weird and wild weather the U.S. has seen this year. In fact, 2012 has been a year of record-breaking weather across the U.S.: the worst drought in decades, unprecedented heatwaves, and monster forest fires. While climatologists have long stated that it is not yet possible to blame a single extreme weather event on climate change, research is showing that rising temperatures are very likely increasing the chances of extreme weather events and worsening them when they occur.
Above the ocean: saving the world's most threatened birds
(11/01/2012) A life on the ocean is a perilous one for any bird. They must expend energy staying aloft for thousands of miles and learn to be marathon swimmers; they must seek food beneath treacherous waves and brave the world's most extreme climates; they must navigate the perils both of an unforgiving sea and far-flung islands. Yet seabirds, which includes 346 global species that depend on marine ecosystems, have evolved numerous strategies and complex life histories to deal with the challenges of the sea successfully, and they have been doing so since the dinosaur's last stand. Today, despite such a track record, no other bird family is more threatened; yet it's not the wild, unpredictable sea that endangers them, but pervasive human impacts.
Mongabay book of nature essays earns top review

(10/24/2012) A new book of essays by mongabay.com reporter, Jeremy Hance, has earned a starred review from Publisher's Weekly, a top book reviewer for the publishing industry. Hance's book, Life is Good: Conservation in an Age of Mass Extinction, highlights the struggle of species to survive in a rapidly changing world through a series of essays that span the globe. Rarely bestowed, a starred review translates into "outstanding in its genre."
In eco-pact, will controversial paper giant APP turn over a new leaf?
(09/26/2012) Over the past decade-and-a-half there has arguably been no paper supplier as controversial as Asia Pulp & Paper (APP), an umbrella brand for several Indonesian forestry companies. The paper giant has been dogged by allegations that is destroying key wildlife habitat, driving substantial greenhouse gas emissions through the conversion of peat forests, dispossessing local communities of land, and engaging in a heavy-handed campaign to undermine its critics within Indonesia and abroad. Its reputation hasn't be helped by its financial record — in 2001 it defaulted on $13.9 billion in debt, making it difficult for APP to raise money for expansion.
An interview with conservation writer David Quammen
(09/05/2012) David Quammen has done consistent and conscientious reporting from the trenches of ecological and evolutionary research for over thirty years now. Few in the world can claim as intimate and broad an understanding of conservation biology as he can. His books such as The Song of the Dodo and Monster of God match scientific and literary perfection. Nandini Velho and Umesh Srinivasan talk to him about the history of conservation science and what it can seek to create.
Indigenous groups in Panama wait for UN REDD to meet promises
(08/30/2012) A dispute over the implementation of REDD+ (Reducing Emissions from Deforestation and Degradation) in Panama has pitted the United Nations (UN) against the nation's diverse and large indigenous groups. Represented by the National Coordinator of Indigenous Peoples in Panama (COONAPIP), indigenous groups charge that the UN has failed to meet several pledges related to kick-starting REDD+ with their support, including delaying a $1.79 million payment to the group to begin REDD+-related activities. The on-going dispute highlights the perils and complexities of implementing REDD+, especially concerns that the program might disenfranchise indigenous groups who have long been the stewards of their forest territories.
Private reserve safeguards newly discovered frogs in Ecuadorian cloud forest
(08/28/2012) Although it covers only 430 hectares (1,063 acres) of the little-known Chocó forest in Ecuador, the private reserve las Gralarias in Ecuador is home to an incredible explosion of life. Long known as a birder's paradise, the Reserva las Gralarias is now making a name for itself as a hotspot for new and endangered amphibians, as well as hundreds of stunning species of butterfly and moth. This is because the reserve is set in the perfect place for evolution to run wild: cloud forest spanning vast elevational shifts. "The pacific slope cloud forests [...] are among the most endangered habitats in the world," explains Reserva las Gralarias' founder, Jane Lyons, in a recent interview with mongabay.com.
Chart: Forest loss in Latin America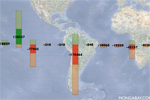 (08/20/2012) Latin America lost nearly 260,000 square kilometers (100,000 square miles) of forest — an area larger than the state of Oregon — between 2001 and 2010, finds a new study that is the first to assess both net forest loss and regrowth across the Caribbean, Central and South America. The study, published in the journal Biotropica by researchers from the University of Puerto Rico and other institutions, analyzes change in vegetation cover across several biomes, including forests, grasslands, and wetlands. It finds that the bulk of vegetation change occurred in forest areas, mostly tropical rainforests and lesser-known dry forests. The largest gains in biome area occurred in desert vegetation and shrublands.
Key mammals dying off in rainforest fragments
(08/15/2012) When the Portuguese first arrived on the shores of what is now Brazil, a massive forest waited for them. Not the Amazon, but the Atlantic Forest, stretching for over 1.2 million kilometers. Here jaguars, the continent's apex predator, stalked peccaries, while tapirs waded in rivers and giant anteaters unearthed termites mounds. Here, also, the Tupi people numbered around a million people. Now, almost all of this gone: 93 percent of the Atlantic Forest has been converted to agriculture, pasture, and cities, the bulk of it lost since the 1940s. The Tupi people are largely vanished due to slavery and disease, and, according to a new study in the open access journal PLoS ONE, so are many of the forest's megafauna, from jaguars to giant anteaters.
Belo Monte mega-dam halted again by high Brazilian court, appeal likely but difficult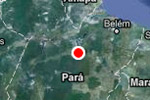 (08/15/2012) A high federal court in Brazil has ruled that work on the Belo Monte dam in the Brazilian Amazon be immediately suspended. Finding that the government failed to properly consult indigenous people on the dam, the ruling is the latest in innumerable twists and turns regarding the massive dam, which was first conceived in the 1970s, and has been widely criticized for its impact on tribal groups in the region and the Amazon environment. In addition the Regional Federal Tribunal (TRF1) found that Brazil's Environmental Impact Assessment was flawed since it was conducted after work on the dam had already begun.
Turning gorilla poachers into conservationists in the Congo [warning: graphic photos]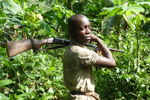 (08/13/2012) Although founded only four years ago, Endangered Species International-Congo, has ambitious plans to protect dwindling Western gorilla populations and aid local people in the Republic of the Congo. The organization, an offshoot of Endangered Species International (ESI), has been spending the last few years studying the bushmeat trade in Pointe-Noire, the country's second largest city, and developing plans for turning hunters into conservationists.
Interview with the new CEO of The GEF, the world's largest funder of environmental projects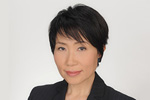 (07/30/2012) The Global Environment Facility or 'GEF' unites 182 government members, in partnership with multiple international institutions, nongovernmental organizations, and the private sector, with the goal of addressing global environmental issues. The following is an interview with Dr. Naoko Ishii of Japan, who was recently elected as the new CEO and Chairperson of the Global Environment Facility, by the unanimous decision of the GEF's governing council.
Industrial logging leaves a poor legacy in Borneo's rainforests
(07/17/2012) For most people "Borneo" conjures up an image of a wild and distant land of rainforests, exotic beasts, and nomadic tribes. But that place increasingly exists only in one's imagination, for the forests of world's third largest island have been rapidly and relentlessly logged, burned, and bulldozed in recent decades, leaving only a sliver of its once magnificent forests intact. Flying over Sabah, a Malaysian state that covers about 10 percent of Borneo, the damage is clear. Oil palm plantations have metastasized across the landscape. Where forest remains, it is usually degraded. Rivers flow brown with mud.
Building indigenous resilience in the face of land-grabbing, deforestation in Malaysian Borneo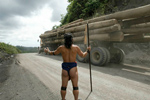 (07/10/2012) In the 1980s images of loincloth-clad tribesmen blockading blocking logging roads in Malaysian Borneo shocked the world. But while their protests captured the spotlight momentarily, Borneo's forests continued to be destroyed at rapid rates, undermining traditional communities that are dependent on these ecosystems for food, shelter, medicine, clean water, and spiritual inspiration. Nomadic tribes are now but a memory in Borneo, but other tribal groups continue to fight for their forests by seeking legal recognition of their lands and blocking destructive projects, including oil palm plantations, logging operations, and large-scale hydroelectric projects. Helping them is The Borneo Project, a Berkeley-based non-profit that works in partnership with indigenous communities and the small non-profits that support them.
In pictures: Rainforests to palm oil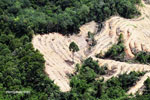 (07/02/2012) In late May I had the opportunity to fly from Kota Kinabalu in Malaysian Borneo to Imbak Canyon and back. These are some of my photos. Historically Borneo was covered by a range of habitats, including dense tropical rainforests, swampy peatlands, and natural grasslands. But its lowland forests have been aggressively logged for timber and then converted for oil palm plantations.
Saving Indonesia's monkey with a heart-shaped bottom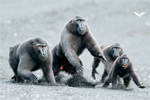 (06/05/2012) North Sulawesi is one of the world's most beautiful places. Verdant forests and stunning coral reefs, combined with high levels of species endemism, make it a top biodiversity hotspot. But pressure on the region's natural resources is mounting. Mining projects, conversion of forests for plantations, overfishing, and the expansion of a commercial bushmeat trade is endangering some of Sulawesi's most charismatic animals, including the distinctive Sulawesi crested black macaque. Found only in North Sulawesi, the crested black macaque could be one of Indonesia's most iconic conservation symbols, but relatively few people know of its existence. And the locals who do may be inclined to eat it as a delicacy.
The rarest rhino's last stand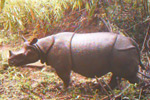 (06/04/2012) Trekking through deep mud and sawgrass we find a stinking wallow. The elite rangers, dressed completely in black despite the tropical heat, mark the site with the GPS unit, measure the mucky puddle's depth, and move on. This is the first sign of one of the planet's rarest animals—the Javan rhino. Only 35 or so remain, including none in captivity. This patch of rainforest and swamp in Ujung Kulon National Park—on the very tip of West Java—is their last and only refuge.





Forest and environmental news in Indonesian

(05/23/2012) Mongabay.com is pleased to announce the launch of Mongabay-Indonesia (mongabay.co.id), an environmental news web site published in Indonesian. The site was officially unveiled Saturday, May 19 at an event in Jakarta.




Page 1 | Page 2 | Page 3 | Page 4 | Page 5 | Page 6 | Page 7 | Page 8 | Page 9 | Page 10 | Page 11 | Page 12 | Page 13 | Page 14 | Page 15 | Page 16