News articles on featured

---
Mongabay.com news articles on featured in blog format. Updated regularly.





Next big idea in forest conservation? The 'double-edged sword' of democracy


(07/03/2014) Dr. Douglas Sheil considers himself an ecologist, but his research includes both conservation and management of tropical forests. Currently teaching at the Norwegian University of Life Sciences (NMBU) Sheil has authored and co-authored over 200 publications including scholarly articles, books, and popular articles on the subject.


On a whim: Equatorial Guinea building new capital city in the middle of the rainforest


(07/02/2014) More than 8,000 hectares of rainforest are under threat as the nation builds a new $600 million capital city from scratch. Called Oyala, and also known as Djibloho, the city is expected be completed by 2020 and house up to 200,000 people -- about an eighth of the entire population of Equatorial Guinea.


On babies and motherhood: how giant armadillos are surprising scientists (photos)


(07/01/2014) Until ten years ago scientist's knowledge of the reproductive habits of the giant armadillo— the world's biggest— were basically regulated to speculation. But a long-term research project in the Brazilian Pantanal is changing that: last year researchers announced the first ever photos of a baby giant armadillo and have since recorded a second birth from another female.


Despite moratorium, Indonesia now has world's highest deforestation rate


(06/29/2014) Despite a high-level pledge to combat deforestation and a nationwide moratorium on new logging and plantation concessions, deforestation has continued to rise in Indonesia, according to a new study published in Nature Climate Change. Annual forest loss in the southeast Asian nation is now the highest in the world, exceeding even Brazil.


Unrelenting population growth driving global warming, mass extinction


(06/26/2014) It took humans around 200,000 years to reach a global population of one billion. But, in two hundred years we've septupled that. In fact, over the last 40 years we've added an extra billion approximately every dozen years. And the United Nations predicts we'll add another four billion—for a total of 11 billion—by century's end.


Despite early headwinds, Indonesia's biggest REDD+ project moves forward in Borneo


(06/26/2014) Just over a year ago, the Indonesian government officially approved the country's first REDD+ forest carbon conservation project: Rimba Raya, which aims to protect more than 64,000 hectares of peat forest in Central Kalimantan. The approval came after years of delays from the Ministry of Forestry and a substantial reduction in the project's concession area. But InfiniteEarth, the firm behind the project, pressed on. Now a year later, Rimba Raya's is not only still in business, but is scaling up its operations.


Is Cameroon becoming the new Indonesia? Palm oil plantations accelerating deforestation


(06/25/2014) The potential for new laws governing the use of forest resources this year in Cameroon promises an opportunity to stem the rapid loss of forest in the biologically diverse country. But the changes may ultimately not be what's needed to save Cameroon's forests.


Discarded cell phones to help fight rainforest poachers, loggers in real-time


(06/24/2014) A technology that uses discarded mobile phones to create a real-time alert system against logging and poaching will soon be deployed in the endangered rainforests of Central Africa. Rainforest Connection (RFCx), a San Francisco-based non-profit startup, is partnering with the Zoological Society of London (ZSL) to install its real-time anti-deforestation technology at sites in Cameroon. 30 RFCx devices — recycled from old Android handsets — will monitor 10,000 hectares or nearly 40 square miles of rainforest, listening for audio signals associated with logging and poaching.


Shot Egyptian vulture leads conservationists to bizarre black-market for bird parts


(06/24/2014) Around 11 AM on Thursday, 27 February 2014, Angoulou Enika was lying hidden in the tall grass on the side of a large water hole in the Sahel region of Niger. He was staying as quiet as he could while aiming his custom-made rifle at an Egyptian vulture which had landed nearby to drink from the water. He took a breath, held it and fired. The large bird fell to its side.


Dying for Fiji's Sea Cucumbers


(06/23/2014) Redfish, Greenfish, Blackfish. Pinkfish, Curryfish, Lollyfish. They sound like Dr. Seuss characters and certainly look like they should be. Yet these sausage-shaped, rubbery animals stippled in fleshy bumps are not fish at all, but an invertebrate in the group that includes sea stars, sea urchins and sand dollars. Sea cucumbers, referred to as 'bêche-de-mer' or 'trepang' when sold as dried food have a high value - an individual in Fiji can fetch about $80 US.


Broken promises no more? Signs Sabah may finally uphold commitment on wildlife corridors


(06/23/2014) Five years ago an unlikely meeting was held in the Malaysian state of Sabah to discuss how to save wildlife amid worsening forest fragmentation. Although the meeting brought together longtime adversaries—conservationists and the palm oil industry—it appeared at the time to build new relationships and even point toward a way forward for Sabah's embattled forests.


Feather forensics: scientist uses genes to track macaws, aid bird conservation


(06/17/2014) When a massive road project connected the ports of Brazil to the shipping docks of Peru in 2011, conservationists predicted widespread impacts on wildlife. Roads are a well-documented source of habitat fragmentation, interfering with access to available habitat for many terrestrial and tree-dwelling species. However, it wasn't clear whether or not birds are able to fly over these barriers.


Camera trap captures first ever video of rarely-seen bird in the Amazon...and much more


(06/17/2014) A camera trap program in Ecuador's embattled Yasuni National Program has struck gold, taking what researchers believe is the first ever film of a wild nocturnal curassow (Nothocrax urumutum). In addition, the program has captured video of other rarely-seen animals, including the short-eared dog and the giant armadillo.


Protecting rainforests could sequester equivalent of a third of global emissions annually


(06/13/2014) liminating deforestation, peatlands and forest degradation, and forest fires in the tropics could reduce global carbon emissions by two billion tons a year, or nearly a fifth, argues a new study published in Global Change Biology. The research analyzed various emissions sources and sinks across the tropics. They found that carbon emissions from activities that damage and destroy forests are nearly counterbalanced by forest regrowth, reforestation, and afforestation.


What's an environmental journalist to do with so much good news?


(06/12/2014) As an environmental journalist covering stories from the great Arctic ice melt to the rhino poaching crisis in Africa, you'll forgive me if sometimes in the morning—before I turn my computer on—I have a sudden desire to spend a few extra minutes in bed or have a leisurely breakfast with my daughter or just sit in the back yard with a cup of tea and a good book.


Next big idea in forest conservation? Learning from innovations to make REDD+ work


(06/12/2014) A scientist at the Center for International Forestry Research (CIFOR) in Brazil, Dr. Amy Duchelle coordinates research on the effectiveness, efficiency, equity, and co-benefits of REDD+ initiatives at the sub-national level in Latin America as part of CIFOR's Gloal Comparative Study on REDD+.


Survey finds huge biological value in Baja California, stalls resort development


(06/11/2014) A recent survey conducted by researchers from the U.S. and Mexico has uncovered staggering levels of biodiversity in the delicate desert environment of Cabo Pulmo in Baja California. Their findings have stymied construction of a proposed $3.6 billion resort, but developers are not giving up.


PhD students 'thrilled' to rediscover mammal missing for 124 years


(06/11/2014) In 1890 Lamberto Loria collected 45 specimens—all female—of a small bat from the wilds of Papua New Guinea. Nearly 25 years later, in 1914, the species was finally described and named by British zoologist Oldfield Thomas, who dubbed it the New Guinea big-eared bat (Pharotis imogene) after its massive ears. But no one ever saw the bat again.


New species has its anus behind its head


(06/09/2014) In the dark caves of southern Indiana in the United States, scientists have discovered a new species of cavefish that are blind, pinkish, and have their anus behind their heads. This peculiar new cavefish is the first to be described in North America in 40 years, and researchers have named it Amblyopsis hoosieri or Hoosier cavefish.


Bears, cats, and mystery mammals: camera traps in 'paper park' prove its worth protecting


(06/09/2014) Can a single photograph change the fate of a park? A new conservation group, HabitatID, believes so, and is putting this belief into action. Setting up camera traps in Cambodia's Virachey National Park, the group hopes that photos of charismatic and endangered species will help reinvigorate protection for a park that has been abandoned by conservation groups and underfunded by the government.


Next big idea in forest conservation? Work locally, relentlessly, and, if necessary, ignore the government


(06/05/2014) In 1997, Gabriella Fredriksson, then a young PhD student, was studying sun bears in East Kalamantan, Indonesia, when massive forest fires broke out in the park. 'It quickly became clear that there was no government agency, NGO, or private company in the area interested in assisting putting out these fires, which were threatening to burn down the entire reserve,' Fredriksson told mongabay.com.


In cutting deforestation, Brazil leads world in reducing emissions


(06/05/2014) Brazil's success in reducing deforestation in the world's largest rainforest has been much heralded, but progress may stall unless farmers, ranchers and other land users in the region are provided incentives to further improve the environmental sustainability of their operations, argues a study published this week in the journal Science.


Oil company breaks agreement, builds big roads in Yasuni rainforest


(06/05/2014) When the Ecuadorian government approved permits for an oil company to drill deep in Yasuni National Park, it was on the condition that the company undertake a roadless design with helicopters doing most of the leg-work. However, a new report based on high-resolution satellite imagery has uncovered that the company, Petroamazonas, has flouted the agreement's conditions, building a massive access road.


Singapore intercepts massive illegal shipment of Madagascar rosewood


(06/03/2014) Authorities in Singapore have made the largest-ever international seizure of rosewood logs, providing further evidence that industrial-scale smuggling of Madagascar's rainforest timber continues despite an official ban on the trade. Details of the seizure remain sparse since the investigation is still active, but leaked correspondence between officials in Madagascar indicates that the shipment amounts to 3,000 tons, or more than 29,000 illicit rosewood logs.


Of jaguars and loggers: new film to showcase one of the least-known regions in the deep Amazon


(06/02/2014) In August, three young filmmakers will go on the expedition of a lifetime. They plan to spend six months filming in one of the most remote, most spectacular, and most endangered ecosystems on the planet: the Las Piedras River system. This unprotected swathe of Amazon jungle contains massive anacondas, prowling jaguars, and even uncontacted indigenous people.


Tipping the scale: how a political economist could save the world's forests


(05/29/2014) Can Elinor Ostrom's revolutionary ideas halt climate change, improve people's livelihoods, and save the world's forests? The Nobel-prize winning economist famously said, 'There's a five-letter word I'd like to repeat and repeat and repeat: Trust.' Mongabay Special Reporting Initiative Fellow Wendee Nicole reports on Ostrom's innovative ideas of global forest conservation.


Trawling: destructive fishing method is turning seafloors to 'deserts'


(05/28/2014) Previous research has linked trawling to significant environmental impacts, such as the harvest of large numbers of non-target species, collectively termed "bycatch," as well as destruction of shallow seabeds. Now, a new study finds this method is also resulting in long-term, far-reaching consequences in the deeper ocean and beyond.


Greenpeace accuses controversial palm oil company and Cameroon government of illegal logging


(05/28/2014) Greenpeace has just accused one of the world's most controversial oil palm companies, Herakles Farms, of colluding with top government officials to sell off illegally logged timber to China. According to a new report, an agreement between Cameroon's Minister of Forestry and Herkales Farms—through a shell company—could torpedo the country's agreement with the EU for better timber management.


Indonesian activist: strong company commitments, media push government on forest issues


(05/23/2014) Indonesia has become notorious for its high rate of forest loss, but there are nascent signs of progress. The central government has implemented a moratorium across some 14.5 million hectares of forest and peatlands, while a handful of Indonesian companies have adopted policies that establish social and environmental safeguards.


Zero-deforestation commitments pose acute challenges for commercial giants in the palm oil industry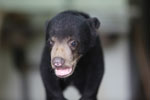 (05/22/2014) The path to zero-deforestation appears to be paved with good intentions, but how successful are these companies in staying on that path? A controversial proposal to construct a refinery in the wildlife-rich Balikpapan Bay in Indonesian Borneo highlights the challenges faced by both palm oil companies and conservationists in the face of zero-deforestation commitments.


Olinguito, tinkerbell, and a dragon: meet the top 10 new species of 2013


(05/22/2014) Out of around 18,000 new species described and named last year, scientists have highlighted ten in an effort to raise awareness about the imperiled biodiversity around us. Each species—from a teddy-bear-like carnivore in the Andes to a microbe that survives clean rooms where spaceships are built—stands out from the crowd for one reason or another.


Epidemic of elephant calf kidnapping hits Sri Lanka, say conservationists


(05/21/2014) In Sri Lanka, an underground wildlife racket has been simmering for a while. And a recent incident has brought it to a boil. On the night of May 1st, a gang attempted to kidnap a wild elephant calf out of the Uduwalawe National Park in Sri Lanka. But tipped off by alert villagers, police and wildlife officers foiled the abduction.


Hope in the Heart of Darkness: huge population of chimpanzees discovered in the DRC


(05/20/2014) A recent study describes a new population of chimpanzees, which forms a continuous cultural group inhabiting an area of at least 50,000 square kilometers (19,000 square miles). The population, estimated to consist of many thousands of individuals, shares a unique set of learned skills that are passed on from generation to generation.


The quiet zoo revolution


(05/19/2014) A quiet zoo revolution has also been occurring over the past twenty-five years. Rather than just stand by the sidelines as species vanish in the wild, many zoos have begun funding on-the-ground conservation efforts. This revolution signals a widening realization by zoos of the positive—and wholly unique—role they could play in combating global mass extinction. But are zoos doing enough?


Connecting forests, saving species: conservation group plans extensive wildlife corridor in Panama


(05/16/2014) With the cooperation of hundreds of ranchers and researchers, Azuero Earth Project aims to replant a swath of tropical dry forest, connecting the dry tropical forest on the coast to cloud forest further inland. The trees along the 140-kilometer (80-mile) wildlife corridor will create a continuous habitat for the Critically Endangered Azuero spider monkey (Ateles geoffroyi azuerensis) and improve the soil for people who farm and ranch along the way.


Former Miss South Pacific steps into new conservation role


(05/15/2014) Alisi Rabukawaqa, an articulate, vibrant, 26-year-old Fijian known in Oceania as Miss South Pacific 2011, has set her sights on a novel conservation program in Fiji. The Conservation Officer program, created in 2013, supports natural resource management within villages in Fiji and links them with the government arm overseeing the needs of indigenous Fijians. Mongabay.org Special Reporting Initiative Fellow Amy West sits down for an interview.


New report reveals human rights abuses by corporations, governments in the Amazon


(05/14/2014) Regnskogfondet (the Rainforest Foundation of Norway) recently released a 52-page report that gives an in-depth account of the conflicts activists and indigenous peoples (IPs) are having with corporations and governmental agencies. It relays a situation that does not look good.


'Simmering conflict': the delicate balancing act of protecting India's wilderness


(05/13/2014) The Western Ghats of southern India, one of the world's top biodiversity hotspots, is a 1600-kilometer (1000-mile) mountain chain that runs parallel to the western coast of the Indian subcontinent. It traverses six states and is home to as many as 250 million people. In an interview with mongabay.com, M.D. Madhusudan of the Nature Conservation Foundation discusses the importance and challenges of establishing protected areas in India.


Special Report: Lake Toba indigenous people fight for their frankincense forest


(05/08/2014) It was a cool and foggy day in Dolok Ginjang forest, but that did not stop villagers of Pandumaan and Sipituhuta in North Sumatra from heading to work to extract frankincense from the trunks of its tall trees. Frankincense, an aromatic tree resin used in perfumes and incense, is the primary source of income for local people in the area. However, that routine has been disrupted for the past few years as land conflict has erupted between villagers and wood pulp producer PT Toba Pulp Lestari over the forest area.


Underwater horrors: shells of marine life melting off the coast of the U.S.


(05/08/2014) It could be the plot of a horror movie: humans wake up one day to discover that chemical changes in the atmosphere are dissolving away parts of their bodies. But for small marine life known as sea butterflies, or pteropods, this is what's happening off the West Cost of the U.S. Increased carbon in the ocean is melting away shells of sea butterflies.


Almost 90 percent of Republic of the Congo's lowland forests open to logging


(05/06/2014) Although the Republic of the Congo has opened up nearly 90 percent of its lowland forests to logging, the majority of the logging occurring in the country is still illegal, according to a new report from the Chatham House. In fact the UK policy institute finds that illegal logging in the Republic of the Congo may make up as much as 70-75 percent of the industry.


Seeing the Forest for the Trees: How 'One Health' Connects Humans, Animals, and Ecosystems


(05/05/2014) The emerging One Health movement recognizes the inextricable connections between human, animal, and ecosystem health and is leading not only to new scientific research but also to projects that help people rise out of poverty, improve their health, reduce conflicts with wildlife, and preserve ecosystems. Mongabay.org SRI Fellow Wendee Nicole reports.


A sketch of the yeti: saving the Himalayan brown bear


(05/01/2014) Overall, the brown bear is one of the most widespread and numerous bear species in the world. However, a subspecies called the Himalayan brown bear is not so fortunate. It occupies higher reaches of the Himalayas in remote, mountainous areas of Pakistan, Nepal, Tibet and India. Its populations are small and isolated, and it is extremely rare in many parts of its range.


Saudi Prince kills two percent of global population of endangered bird


(05/01/2014) In a three week hunting safari between January 11th and 31st of this year, Saudi Arabian Prince Fahd bin Sultan bin Abdulaziz Al Saud and his party allegedly shot down 2,100 Asian Houbara bustards (Chlamydotis macqueenii) in Balochistan, Pakistan. Scientists aren't certain how many Houbara bustards survive today, but their best estimate is around 100,000 and declining.


Dangerous work: how one man empowered communities and stopped a coal mine


(04/29/2014) For many years, Ramesh Agrawal has worked to spread awareness of the environmental repercussions of India's coal industry to local residents, empowering them with information and speaking out on their behalf. In 2012, his tireless efforts shut down development of a major coal mine, which would have been the largest in the state of Chhattisgarh.


Loggers plan to clear 20 percent of tropical island paradise


(04/28/2014) Seven years ago, a palm oil company set its eyes on Woodlark Island—a small rainforest island nearly 200 miles off the coast of Papua New Guinea—but was rebuked by the local populace. But locals and conservationists who spoke to mongabay.com at the time felt that wouldn't be the end of it: they were right. Recently, a company, Karridale Limited, has landed machinery on the island.


The remarkable story of how a bat scientist took on Russia's most powerful...and won


(04/28/2014) In a country increasingly known for its authoritarian-style crackdown on activists and dissidents, a bat scientist has won a number of impressive victories to protect the dwindling forests of the Western Caucasus. For his efforts, Gazaryan was awarded today with the Goldman Environmental Prize, often called the Nobel Prize for the environment, along with five other winners around the world.


APP commits to conserve, restore 1M ha of Indonesian forest; WWF pledges support


(04/28/2014) Asia Pulp & Paper (APP), Indonesia's largest pulp and paper company and a long-time target of environmental campaigners, has committed to protect and restore a million hectares of forest across Indonesia. The pledge, which represents an area equivalent to the total plantation area from which it sourced pulp in 2013, was immediately welcomed by WWF, which until today has remained one of APP's staunchest critics.


Next big idea in forest conservation? Crowdsourced forest monitoring


(04/25/2014) In the Brazilian Amazon, deforestation alerts are being submitted via smartphones. On the ground technicians send alerts to a database stored in 'the cloud.' This information is added to maps, which, along with satellite imagery, are used to inform law enforcement. And the speed of this process is getting real results.


Illegal logging makes up 70 percent of Papua New Guinea's timber industry


(04/22/2014) Corruption, weak governance, and powerful timber barons are illegally stripping the forests of Papua New Guinea, according to a new report from the Chatham House. The policy institute finds that 70 percent of logging in Papua New Guinea is currently illegal, despite the fact that 99 percent of land is owned by local indigenous communities.



Page 1 | Page 2 | Page 3 | Page 4 | Page 5 | Page 6 | Page 7 | Page 8 | Page 9 | Page 10 | Page 11 | Page 12 | Page 13 | Page 14 | Page 15 | Page 16