News articles on featured

---
Mongabay.com news articles on featured in blog format. Updated regularly.





Saving big cats depends on science, practical interventions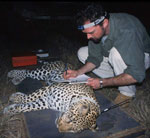 (05/21/2007) Big cats are some of Earth's largest and most threatened predators. Long persecuted as perceived threats to livestock and humans, hunted for their skins and purported medicinal values, and losing critical habitat to deforestation and conversion for agriculture, big cat populations have dwindled around the world for the past century. Given these trends, it should come as no surprise that big cats have become the focus of conservation efforts. Not only are large predators often the most vulnerable to human pressures and the first to disappear from ecosystems, but efforts to conserve them effectively help protect thousands of other species that share their habitat. At the forefront of these efforts in Dr. Luke Hunter, a biologist with the Wildlife conservation Society (WCS) where he heads their Great Cats Program. In a May 2007 interview with mongabay.com, Hunter discussed strategies for conserving carnivores and offered insight for students interested in pursuing careers in conservation science.


Ancient Amazonian technology could save the world


(05/17/2007) Terra preta, the ancient charcoal-based soil used by ancient Amazonians to create permanently fertile agricultural lands in the rainforest, is getting serious consideration as a means to fight global warming and meet domestic energy demand, reports an article in Scientific American.


U.S. ethanol may drive Amazon deforestation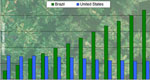 (05/17/2007) Ethanol production in the United States may be contributing to deforestation in the Brazilian rainforest said a leading expert on the Amazon. Dr. Daniel Nepstad of the Woods Hole Research Center said the growing demand for corn ethanol means that more corn and less soy is being planted in the United States. Brazil, the world's largest producer of soybeans, is more than making up for shortfall, by clearing new land for soy cultivation. While only a fraction of this cultivation currently occurs in the Amazon rainforest, production in neighboring areas like the cerrado grassland helps drive deforestation by displacing small farmers and cattle producers, who then clear rainforest land for subsistence agriculture and pasture.


Reducing tropical deforestation will help fight global warming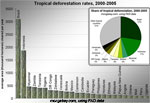 (05/10/2007) Scientists have lent support to a plan by developing countries to fight global warming by reducing deforestation rates. Tropical deforestation releases more than 1.5 billion metric tons of carbon into the atmosphere every year, though in some years, like the 1997-1998 el Nino year when fires released some 2 billion tons of carbon from peat swamps alone in Indonesia, emissions are more than twice that. Writing in the journal Science, an international team of scientists argue that the Reducing Emissions from Deforestation (RED) initiative, launched in 2005 by the United Nations Framework Convention on Climate Change, is scientifically and technologically sound, and that political and economic challenges facing the plan can be overcome.


conservation is saving lemurs and helping people in Madagascar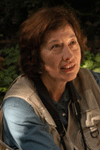 (05/07/2007) Madagascar, an island nation that lies off the coast of southeastern Africa, has long been famous for its unique and diverse species of wildlife, especially lemurs--primates found nowhere else on the planet. In recent years, the island country has also become world-renowned for conservation efforts that are succeeding in spite of extraordinary pressures from a poor population that relies heavily on forest burning for basic subsistence. A large part of this success is due to the early efforts of Patricia Wright, a primatologist who has been working in the country for more than 20 years. Wright led the effort to launch the country's leading protected area and helped Madagascar become a leading global example of conservation despite its economic adversity.


Better forest policies would reduce illegal logging in the Amazon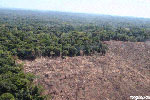 (05/06/2007) Brazil could improve sustainable forest management, reduce illegal logging, and perhaps cuts deforestation by introducing coherent policies for timber operations in the Amazon rainforest argues a new paper published in Frontiers in Ecology. However, successful implementation of sustainable timber production will require overcoming significant biological and political hurdles, suggest the authors.


Commercial hunting may be biggest threat to tropical rainforests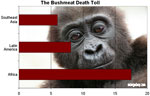 (05/01/2007) Commercial hunting is decimating wildlife populations across the tropics and may be one of the gravest threats presently facing rainforests, reports a series of studies published in the May issue of the journal Biotropica. The research reveals that large-scale loss of wildlife is already affecting forest health and regeneration.


Soybeans may worsen drought in the Amazon rainforest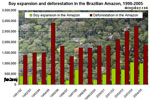 (04/18/2007) The rapid expansion of soybean cultivation in the Amazon may be having a larger impact on climate than previously believed, according to research published last week in Geophysical Research Letters. Using experimental plots in the Amazon, a team of scientists led by Marcos Costa from the Federal University of Vicosa in Brazil found that clearing for soybeans increases the reflectivity or albedo of land, reducing rainfall by as much as four times relative to clearing for pasture land.


Frogs avoid damaging UV-B radiation, reducing extinction risk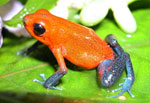 (04/18/2007) Poison arrow frogs appear to make special effort to avoid exposure to damaging ultraviolet-B radiation, according to research published in the journal Biotropica. The findings are significant in light of increasing levels of UV-B radiation due to ozone depletion.


Bad news for frogs; amphibian decline worse than feared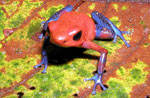 (04/16/2007) Chilling new evidence suggests amphibians may be in worse shape than previously thought due to climate change. Further, the findings indicate that the 70 percent decline in amphibians over the past 35 years may have been exceeded by a sharp fall in reptile populations, even in otherwise pristine Costa Rican habitats. Ominously, the new research warns that protected areas strategies for biodiversity conservation will not be enough to stave off extinction. Frogs and their relatives are in big trouble.


Cell phones, text-messaging revolutionalize conservation approaches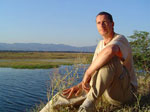 (04/15/2007) Cell phones have been adopted at a pace unmatched by any technology in the history of mankind. While conventional use of these devices continues to be the expand, mobile phones are also increasingly being viewed as tools for conservation and development. Ken Banks, currently a Visiting Fellow on the Reuters Digital Vision Program at Stanford University, understands this well. Banks established kiwanja.net as hub for the latest information on how technology, in particular mobile phones, can be applied to tackle issues of economic empowerment, conservation, education, human rights and poverty alleviation.


Could global deforestation fight climate change?


(04/09/2007) While many climate change mitigation schemes rely on reforestation schemes to sequester carbon dioxide from the atmosphere, those located in temperate regions may actually be warming the planet, worsening global change, reports a new study published in the April 9-13 online edition of the Proceedings of the National Academy of Sciences. Surprisingly, the research suggests that global-scale deforestation would produce a net cooling effect, but that forest preservation efforts and reforestation in the tropics is more effective in cooling the planet.


Palm oil doesn't have to be bad for the environment


(04/04/2007) As traditionally practiced in southeast Asia, oil palm cultivation is responsible for widespread deforestation that reduces biodiversity, degrades important ecological services, worsens climate change, and traps workers in inequitable conditions sometimes analogous to slavery. This doesn't have to be the case. Following examples set forth by the Roundtable on Sustainable Palm Oil and firms like Golden Hope Plantations Berhad, a Malaysian palm oil producer, oil palm can be cultivated in a manner that helps mitigate climate change, preserves biodiversity, and brings economic opportunities to desperately poor rural populations.


Eco-friendly palm oil could help alleviate poverty in Indonesia


(04/03/2007) The Associated Press (AP) recently quoted Marcel Silvius, a climate expert at Wetlands International in the Netherlands, as saying palm oil is a failure as a biofuel. This would be a misleading statement and one that doesn't help efforts to devise a workable solution to the multiplicity of issues surrounding the use of palm oil.


Congo forest elephants declining from logging roads, illegal ivory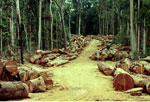 (04/02/2007) Fast-expanding logging roads in the Congo basin are becoming 'highways of death' for the fierce but elusive forest elephant, according to a new study published in the journal Public Library of Science. Logging roads both provide access to remote forest areas for ivory poachers and serve as conduits of advancing human settlement.


Extinction, like climate change, is complicated


(03/26/2007) Extinction is a hotly debated, but poorly understood topic in science. The same goes for climate change. When scientists try to forecast the impact of global change on future biodiversity levels, the results are contentious, to say the least. While some argue that species have managed to survive worse climate change in the past and that current threats to biodiversity are overstated, many biologists say the impacts of climate change and resulting shifts in rainfall, temperature, sea levels, ecosystem composition, and food availability will have significant effects on global species richness.


Climate change will cause biomes to shift and disappear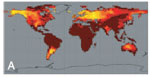 (03/26/2007) Many of the world's local climates could be radically changed if global warming trends continue, reports a new study published in the early online edition of the journal Proceedings of the National Academy of Sciences. The authors warn that current climates may shift and disappear, increasing the risk of biodiversity extinction and other ecological changes.


Global warming may cause biodiversity extinction

(03/21/2007) Extinction is a hotly debated, but poorly understood topic in science. The same goes for climate change. When scientists try to forecast the impact of global change on future biodiversity levels, the results are contentious, to say the least. While some argue that species have managed to survive worse climate change in the past and that current threats to biodiversity are overstated, many biologists say the impacts of climate change and resulting shifts in rainfall, temperature, sea levels, ecosystem composition, and food availability will have significant effects on global species richness.


Biodiversity extinction crisis looms says renowned biologist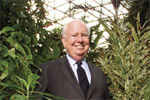 (03/12/2007) While there is considerable debate over the scale at which biodiversity extinction is occurring, there is little doubt we are presently in an age where species loss is well above the established biological norm. Extinction has certainly occurred in the past, and in fact, it is the fate of all species, but today the rate appears to be at least 100 times the background rate of one species per million per year and may be headed towards a magnitude thousands of times greater. Few people know more about extinction than Dr. Peter Raven, director of the Missouri Botanical Garden. He is the author of hundreds of scientific papers and books, and has an encyclopedic list of achievements and accolades from a lifetime of biological research. These make him one of the world's preeminent biodiversity experts. He is also extremely worried about the present biodiversity crisis, one that has been termed the sixth great extinction.


Ecuadorian brothers show conservation-based microentrepreneurship possible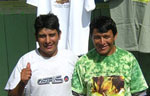 (03/07/2007) Tropical rainforests are declining across most of the world. Since the close of the 1990s deforestation rates have only accelerated as growing levels of consumption and consistent population growth paint an increasingly bleak future for the world's forests and their resident biodiversity. These trends make it easy to lose hope. As such, stories that show local people earning a livelihood from biodiversity conservation are an inspiration.


World's only blue lizard heads toward extinction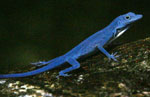 (03/07/2007) High above the forest floor on the remote Colombian island of Gorgona lives a lizard with brilliant blue skin, rivaling the color of the sky. Anolis gorgonae, or the blue anole, is a species so elusive and rare, that scientists have been unable to give even an estimate of its population. Due to the lizard&spod;s isolated habitat and reclusive habits, researchers know little about the blue anole, but are captivated by its stunning coloration.


Billion Tree Campaign gets pledges totaling 562M trees since January

(03/06/2007) The UN Environment Programme (UNEP) announced that its 'Billion Tree Campaign' has so-far achieved commitments to plant 562,769,095 trees, following a pledge of 250 million trees by the Ministry of Environment and Natural Resources of Mexico.


Panama Canal port projects threaten mangroves


(03/06/2007) Port development and land speculation in Panama is turning some of the Caribbean's most productive mangrove forests into landfill. The landfill would be used for container storage near the city of Colon, at the mouth of the Panama Canal. But local scientists say the transformation could have unintended environmental consequences.


Philosophical shift in conservation reintegrates humans in nature



(02/28/2007) Humans are among the most successful of Earth's organisms. Living in every habitable, and sometimes uninhabitable, space, humans dominate the planet's surface and have become a global force that alters natural ecosystems, species distribution, and climate. Virtually no wilderness areas have escaped man's influence. While past conservation efforts have focused on preserving "pristine" wilderness, it is increasingly apparent that few such areas exist. Recognizing this, present conservation efforts are increasingly looking at how human use fits into protected areas management. A new paper published in Biodiversity conservation traces this shift in conservation philosophy since the 19th century. Reviewing the history of four main conservation approaches, Michelle Kalamandeen, a biologist at the University of Guyana, and Lindsey Gillson, a botanist at the University of Cape Town, conclude that current conservation efforts are integrating elements of each philosophy, resulting in a new conservation ethic that uses alternative criteria for designating and managing protected areas, and recognizes the importance of man's influence in wilderness areas.


Balloon technology could cut cost of solar energy 90% by 2010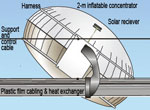 (02/21/2007) With high energy prices and mounting concerns over human-induced climate change, there is intense interest in renewable energy, especially solar, which produces no pollution and is readily available in the form of sunlight. In recent years, however, the solar energy market has been hampered by supply shortages of refined silicon, the critical resource needed for solar cell fabrication. Further, because solar installations traditionally require a large surface area to capture as much sunlight as possible, solar arrays often take up real estate, occupying land used agricultural production and other purposes. Without government subsidies, solar is not presently viable in many areas.


Hiking through Myanmar, the country better known as Burma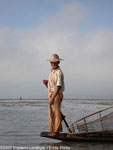 (02/18/2007) The recent history of Myanmar is rather grim. After gaining independence from the British in 1948, the country suffered a series of military takeovers, and has basically been under the dictatorship of a military junta for the past 50 years. At several points during this time, the people have taken to the streets to peacefully protest the military regime. The last major fight for democracy occurred in 1988, and climaxed with the first democratically held election since independence. The National League for Democracy (NLD), spearheaded by the charismatic Aung San Suu Kyi, won by an overwhelming 84% of the vote. Sadly, regardless of their promises, the military junta had no intention of relinquishing their power, and imprisoned the major leaders of the NLD.


Amazon deforestation damaging critical ecosystem services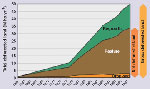 (02/08/2007) Human disturbance of the Amazon rainforest is more extensive than previously thought say a team of scientists writing in the current edition of the journal Frontiers in Ecology. Reviewing recent research on the Amazon ecosystem, they note that human activities are affecting the health of the forest and impacting the ecological goods and services the Amazon provides mankind.


Lemurs at risk due to invasion of feral beasts, global warming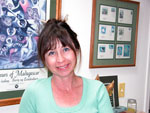 (02/07/2007) The lemurs of Madagascar are among the world's most threatened primates. Extensive habitat destruction, hunting, and the introduction of alien species have doomed dozens of species to extinction since humans first arrived on the island within the past 2000 years. Most of the casualties were Madagascar's largest lemurs -- today the biggest lemur is but a fraction of the gorilla-sized giants that once ruled the island. Despite this relative impoverishment of megafauna, Madagascar still boasts nearly 90 kinds of lemurs, all of which are unique to the island (save one species that was probably introduced to some nearby islands). Lemurs display a range of unusual behvaiors from singing like a whale (the indri) to sashaying across the sand like a ballet dancer (the sifaka). Interest in lemurs has helped Madagascar become a global conservation priority, though they are still at risk. Continued deforestation, scattered hunting, and looming climate change all pose significant threats to some lemur populations. One largely unexamined threat comes from introduced species such as the Indian civet and mongoose, but especially dogs and cats that have become feral.


Just how bad is the biodiversity extinction crisis?



(02/06/2007) In recent years, scientists have warned of a looming biodiversity extinction crisis, one that will rival or exceed the five historic mass extinctions that occurred millions of years ago. Unlike these past extinctions, which were variously the result of catastrophic climate change, extraterrestrial collisions, atmospheric poisoning, and hyperactive volcanism, the current extinction event is one of our own making, fueled mainly by habitat destruction and, to a lesser extent, over-exploitation of certain species. While few scientists doubt species extinction is occurring, the degree to which it will occur in the future has long been subject of debate in conservation literature. Looking solely at species loss resulting from tropical deforestation, some researchers have forecast extinction rates as high as 75 percent. Now a new paper, published in Biotropica, argues that the most dire of these projections may be overstated. Using models that show lower rates of forest loss based on slowing population growth and other factors, Joseph Wright from the Smithsonian Tropical Research Institute in Panama and Helene Muller-Landau from the University of Minnesota say that species loss may be more moderate than the commonly cited figures. While some scientists have criticized their work as "overly optimistic," prominent biologists say that their research has ignited an important discussion and raises fundamental questions about future conservation priorities and research efforts. This could ultimately result in more effective strategies for conserving biological diversity, they say.


Global warming is a threat to fly fishing in the United States


(02/01/2007) An estimated thirty-five million Americans fly fish. George Black is one of them. Black, based in New York City, has written two books on the subject: Casting a Spell: The Bamboo Fly Rod and the American Pursuit of Perfection and The Trout Pool Paradox: The American Lives of Three Rivers. He has also written for the New York Times, the Los Angeles Times, and a number of other publications as well as authoring three books on foreign affairs.


Savvy environmentalists challenge corporations to go green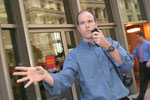 (01/29/2007) Increasing rates of tropical deforestation in the 1970s and 1980s helped trigger the rise of several forest activist groups specifically interested in rainforests. Among the earliest of these organizations was the Rainforest Action Network (RAN). Founded in 1985 by Randall Hayes, RAN lead its first direct campaign in 1987 against Burger King, which at the time was using beef raised on deforested lands in Central America. In response to the nationwide boycott, which caused sales to drop 12%, Burger King canceled $35 million worth of beef contracts from the region and announced they would no longer import beef from the rainforest. Hailed as a major victory for rainforest protection, RAN initiated consumer boycotts of other firms engaged in destructive practices, eventually developing an effective strategy for promoting change at the corporate level. Today San Francisco-based RAN has expanded well beyond its original mission of protecting rainforests. Recently dubbed "the most savvy environmental agitators in the business" by the Wall Street Journal, the small but efficient organization (36 staff members and a $3 million budget) pressures some of the world's largest and most respected firms -- including Citigroup, Bank of America, JP Morgan Chase, Goldman Sachs, Home Depot, and Boise Cascade -- to adopt wide-ranging green policies that impact everything from where they source their energy to how they finance development projects.


Time is running out for French Guiana's rainforests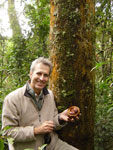 (12/19/2006) Understanding relationships between plants and animals is key to understanding rainforest ecology. Dr. Pierre-Michel Forget of the Museum National d'Histoire Naturelle in France is a renowned expert on the interdependency between rainforest trees and seed disperses. Author of dozens of papers on tropical forest ecology, Dr Forget is increasingly concerned about deforestation and biodiversity loss in forests of the Guiana Shield region of Northern South America. In particular he sees the invasion of informal gold miners, known as garimpeiros, as a significant threat to forests in French Guiana, Suriname, Guyana and Venezuela.


Europe's largest tropical rainforest invaded by gold miners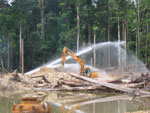 (12/19/2006) As Europe frets over climate change and deforestation, threats to "Europe's largest tropical rainforest" are mounting, according to reports from French Guiana. While French Guiana is best known for its infamous Devil's Island penal colony and as the main launch site for the European Space Agency, which is responsible for more than 50% of the state's economy activity, most of the territory is covered with lowland tropical rainforest. French Guiana's forests are biologically rich with some 1,064 known species of amphibians, birds, mammals and reptiles, and 5,625 species of vascular plants according to figures from the World conservation Monitoring Center.


President Museveni needs to do what's best for Uganda


(12/15/2006) In recent months Ugandan president Yoweri Museveni has moved to destroy some of Uganda's last remaining primary rainforests to give land to politically-connected plantation owners. Personally intervening in two disputes, one in Mabira Forest Reserve and the other on Bugala island in Lake Victoria, Museveni has argued that his country urgently needs such projects to industrialize and bring a better quality of life to Ugandans. He would be wrong.


Who pays for Amazon rainforest conservation?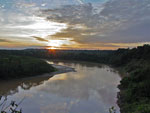 (12/12/2006) Last Monday, Brazil created the world's largest rainforest protected area in the northern Amazon. Covering more than 15 million hectares (57,915 square miles) -- or an area larger than England -- the network of seven new protected reserves has been met with praise by environmental groups. Instrumental in the development of the conservation project has been an organization that most people wouldn't associate with rainforest conservation but certainly should: the Gordon and Betty Moore Foundation.


Hotspot conservation will not protect global biodiversity

(12/11/2006) The concept of biological hotspots has served as a fundamental principle guiding conservation efforts over the past generation. A new study, published in the Dec. 15 online edition of the Proceedings of the National Academy of Sciences (PNAS), argues this may be a mistake and that conservation efforts based on hotspots will not effectively preserve biodiversity.


Ebola kills thousands of gorillas in African park

(12/07/2006) The Ebola virus, a nasty hemorrhagic fever that causes massive organ failure and bleeding, is killing thousands of endangered gorillas across Central African forests according to new research published in the journal Science. While the findings suggests that even in strictly protected wildlife sanctuaries gorillas are not safe, the research provides insight on how to control Ebola outbreaks among wild gorillas (Gorilla gorilla) and chimpanzees (Pan troglodytes).


Nairobi talks made progress on forest conservation for global warming emissions credits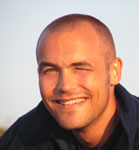 (12/05/2006) Tropical deforestation is one of the largest sources of human-produced greenhouse gases yet it has no place in existing climate agreements. This has been a point of contention in negotiations as the United States has objected to some developing countries -- notably Brazil and Indonesia -- to be getting an apparent "free ride" on deforestation-related emissions in addition to emissions from fossil fuel sources. Recent negotiations have looked at this issue from a different perspective, one where developing countries would be paid by industrialized countries for reducing their deforestation rates. Globally the payoff could be immense, extending well beyond helping mitigate global warming emissions to safeguard biodiversity and important ecological services. Leading scientists have called such plans a "win-win" scenario for all parties and even the World Bank and U.N. have voiced support for the concept.


Canopy research is key to understanding rainforests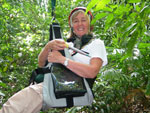 (11/28/2006) Home to perhaps half the world's terrestrial species, rainforests are the most biodiverse ecosystems on the planet. However, when one strolls through the forest, this biodiversity is rarely apparent for the simple reason that most activity in the rainforest occurs in the canopy, a layer of overlapping branches and leaves some 60-120 feet off the ground. Here, a wealth of ecological niches creates opportunities for plants and animals, including species generally considered to be ground-dwellers: crabs, kangaroos, and even earthworms. Beyond housing biodiversity, the canopy is the power source of the rainforest, with billions of tree leaves acting as miniature solar panels to convert sunlight into energy through photosynthesis. Since the rate of photosynthesis of canopy trees is so high, these plants generate higher yields of fruits, seeds, flowers, and leaves which attract and support a wide diversity of animal life. Further, as the principal site of the interchange of heat, water vapor, and atmospheric gases, the canopy also plays an important role in regulating regional and global climate.


Fragmentation killing species in the Amazon rainforest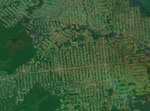 (11/27/2006) Forest fragmentation is rapidly eroding biodiversity in the Amazon rainforest and could worsen global warming according to research to be published this week in the journal Proceedings of the National Academy of Sciences. "Rainforest trees can live for centuries, even millennia, so none of us expected things to change too fast. But in just two decades-a wink of time for a thousand year-old tree-the ecosystem has been seriously degraded." said Dr. William Laurance, a scientist at the Smithsonian Tropical Research Institute in Panama and leader of the international team of scientists that conducted the research.


Responsible tourism: How to travel ethically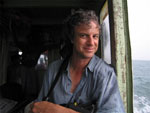 (11/27/2006) Ecotourism is hot. Travel companies everywhere are slapping eco-friendly labels on their tours and hotels to attract green-minded visitors. Alas some "ecotourism" is not really good for the environment or local people. That three-week round-the-world eco-tour via private jet for just $42,950 will generate a lot of greenhouse gases as you're flying between plush lodges that import food and staff from other places. Likewise those wood carvings purchased in tourist centers may come not from indigenous artisans but a factory turning endangered rainforest hardwoods into throwaway tourist items. Heavy anchors dropped on reefs are good neither for the coral reef ecosystem nor the sustainability of the local tourism industry. So what's a true "ecotourist" to do? Is it really possible to travel without trampling culture and tradition and further soiling the environment?


Mexico's rainforests depend on government conservation efforts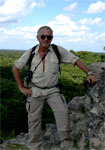 (11/21/2006) Few people realize that Mexico is home to the northernmost extent of rainforests that once extended clear down to the Amazon Basin. Though diminished in extent to about 30 percent of their original range, these rainforests are still characterized by high levels of biodiversity, including such charismatic species as jaguar, howler and spider monkeys, and macaws. These forests are also inhabited by indigenous people who live in ways largely unchanged since the arrival of Columbus in the 15th century. While still threatened by encroachment and illegal activities, in recent years the Mexican government and an assortment of environmental organizations has made progress in protecting these forests. Particularly active in these conservation efforts is the Los Tuxtlas Biological Station (Estacion de Biologia Tropical Los Tuxtlas del Instituto de Biologia Universidad Nacional Autonoma de Mexico) based in Veracruz (southern Mexico). In November 2006, Dr. Alejandro Estrada, senior research scientist at Los Tuxtlas and a leading authority on these forests, answered some questions on Mexico's remaining rainforests and conservation efforts in the country.


Amazon Indians use Google Earth, GPS to protect forest home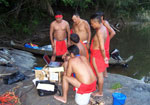 (11/15/2006) Deep in the most remote jungles of South America, Amazon Indians are using Google Earth, Global Positioning System (GPS) mapping, and other technologies to protect their fast-dwindling home. Tribes in Suriname, Brazil, and Colombia are combining their traditional knowledge of the rainforest with Western technology to conserve forests and maintain ties to their history and cultural traditions, which include profound knowledge of the forest ecosystem and medicinal plants. Helping them is the Amazon conservation Team (ACT), a nonprofit organization working with indigenous people to conserve biodiversity, health, and culture in South American rainforests.


Mining in Venezuelan Amazon threatens biodiversity, indigenous people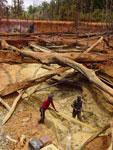 (11/09/2006) Troubles are mounting in one of Earth's most beautiful landscapes. Deep in the Venezuelan Amazon, among ancient forested tabletop mountains known as tepuis, crystalline rivers, and breathtaking waterfalls, illegal gold miners are threatening one of world's largest remaining blocks of wilderness, one that is home to indigenous people and strikingly high levels of biological diversity. As the situation worsens -- a series of attacks have counted both miners and indigenous people as victims -- a leading scientific organization has called for the Venezuelan government to take action.


Conserving wildlife in Tanzania, Africa's most biodiverse country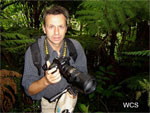 (11/09/2006) With ecosystems ranging from Lake Tanganyika to Mt. Kilimanjaro, Tanzania is the most biodiverse country in Africa. Though Tanzania is world famous for its safari animals, the country is also home to two major biodiversity hotspots: coastal forests of Eastern Africa and the montane forests of the Eastern Arc Mountains. Tanzania has set aside nearly a quarter of its land mass in a network of protected areas and more than one-sixth of the country's income is derived from tourism, much of which comes from nature-oriented travel. Despite these conservation achievements, Tanzania's wildlands and biodiversity are not safe. Fueled by surging population growth and poverty, subsistence agriculture, fuelwood collection, and timber extraction have fragmented and degraded extensive areas that are nominally protected as parks. Hunting and unsustainable use of forest products have further imperiled ecosystems and species. In the near future, climate change looms as a major threat not only to Mt. Kilimanjaro's glaciers, which are expected to disappear within ten years, but also to Tanzania's many endemic plants and animals found in its montane forests. Working to better understand these threats and safeguard Tanzania's biodiversity for future generations is Tim Davenport, Country Director for the Wildlife conservation Society (WCS) in Tanzania.


Sri Lanka's rainforests fast-disappearing but hope remains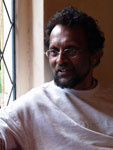 (11/07/2006) Sri Lanka, an island off the southern-most point of India, is known as a global biodiversity hotspot for its high number of species in a relatively limited area. However this biological richness is highly threatened by one of the highest deforestation rates of primary forests in the world. In that period, the country lost more than 35 percent of its old-growth forest cover, while total forest cover was diminished by almost 18 percent. Worse, since the close of the 1990s, deforestation rates have increased by more than 25 percent. Dr Ranil Senanayake, chairman of Rainforest Rescue International, a grassroots environmental organization based in Sri Lanka, says that the key to saving the island's last forests is to "reintroduce the concept of sustainable livelihood" to the people living in and around the island's rainforests by establishing "commercially viable projects that explore the social and cultural relationships between people and ecology."


Lemur conservation in Madagascar requires poverty alleviation initiatives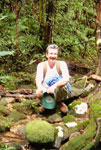 (11/05/2006) Madagascar, an island larger than France that lies off the southeastern coast of Africa, is perhaps best known for its lemurs--primates that look something like a cat crossed with a squirrel and a dog. Lemurs, which are found naturally only in Madagascar, serve as a charismatic representation of the island's biodiversity and its problems. Since the arrival of humans some 2000 years ago from southeast Asia, Madagascar has lost all of its mega fauna and more than 90 percent of its wildlands. Today forest clearing for agriculture and hunting continues to put lemurs and other endemic species at risk. The good news is that because of Madagascar's biodiversity, the island has become a top priority for global conservation. At the forefront of these efforts is the Madagascar Fauna Group (MFG), an international consortium of zoos and related organizations that work to protect Madagascar's wildlife and ecosystems, and the Duke University Lemur Center, the one of the world's leading lemur research facilities. Charlie Welch, currently a research scientist at the Duke University Lemur Center, recently answered some questions on his experiences in lemur conservation. Welch, along with his wife Andrea Katz, has worked in Madagascar for 17 years and helped transform conservation efforts in the country.


Avoided deforestation could send $38 billion to third world under global warming pact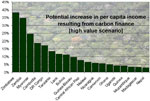 (11/01/2006) Avoided deforestation will be a hot point of discussion at next week's climate meeting in Nairobi, Kenya. Already a coalition of 15 rainforest nations have proposed a plan whereby industrialized nations would pay them to protect their forests to offset greenhouse gas emissions. Meanwhile, last month Brazil -- which has the world's largest extent of tropical rainforests and the world's highest rate of forest loss -- said it promote a similar initiative at the talks. At stake: potentially billions of dollars for developing countries. When trees are cut greenhouse gases are released into the atmosphere -- roughly 20 percent of annual emissions of such heat-trapping gases result from deforestation and forest degradation. Avoided deforestation is the concept where countries are paid to prevent deforestation that would otherwise occur. Policymakers and environmentalists alike find the idea attractive because it could help fight climate change at a low cost while improving living standards for some of the world's poorest people and preserving biodiversity and other ecosystem services. A number of prominent conservation biologists and development agencies including the World Bank and the U.N. have already endorsed the idea.


Indians are key to rainforest conservation efforts says renowned ethnobotanist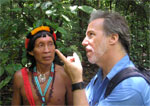 (10/31/2006) Tropical rainforests house hundreds of thousands of species of plants, many of which hold promise for their compounds which can be used to ward off pests and fight human disease. No one understands the secrets of these plants better than indigenous shamans -medicine men and women - who have developed boundless knowledge of this library of flora for curing everything from foot rot to diabetes. But like the forests themselves, the knowledge of these botanical wizards is fast-disappearing due to deforestation and profound cultural transformation among younger generations. The combined loss of this knowledge and these forests irreplaceably impoverishes the world of cultural and biological diversity. Dr. Mark Plotkin, President of the non-profit Amazon conservation Team, is working to stop this fate by partnering with indigenous people to conserve biodiversity, health, and culture in South American rainforests. Plotkin, a renowned ethnobotanist and accomplished author (Tales of a Shaman's Apprentice, Medicine Quest) who was named one of Time Magazine's environmental "Hero for the Planet," has spent parts of the past 25 years living and working with shamans in Latin America. Through his experiences, Plotkin has concluded that conservation and the well-being of indigenous people are intrinsically linked -- in forests inhabited by indigenous populations, you can't have one without the other. Plotkin believes that existing conservation initiatives would be better-served by having more integration between indigenous populations and other forest preservation efforts.


Bacteria can generate renewable energy from pollution, help fight global warming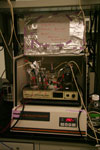 (10/26/2006) Currently, most energy production generates carbon dioxide, a potent greenhouse gas that contributes to global warming and local pollution. At the same time that carbon dioxide concentrations are rising in the atmosphere, fueling higher temperatures, burgeoning population growth of humans and livestock is producing ever-increasing amounts of organic pollution and waste. Now researchers at the Center for Biotechnology at the Biodesign Institute of Arizona State University are working on a way to solve both problems using bacteria to convert organic wastes into a source of electricity. Bruce Rittmann, Director of the Center for Environmental Biotechnology at the Biodesign Institute, and his team of researchers are developing microbial fuel cells (MFC) that can oxidize organic pollutants and create electricity from pollution.



Page 1 | Page 2 | Page 3 | Page 4 | Page 5 | Page 6 | Page 7 | Page 8 | Page 9 | Page 10 | Page 11 | Page 12