News articles on featured

---
Mongabay.com news articles on featured in blog format. Updated regularly.





Scientists demand release of renowned monkey discoverer in Brazil

(08/06/2007) A prominent group of scientists have issued a petition to free world-renowned primatologist Marc van Roosmalen from Brazilian prison after he was charged with illegally keeping monkeys without a permit and other crimes. The scientists have called his imprisonment an "attack on the practice and profession of biological science in Brazil."


Is peat swamp worth more than palm oil plantations?

(07/16/2007) Could peat swamp be worth more intact for their carbon value than palm oil plantations for their oil? Quick analysis suggests yes, though binding limits on emissions will be needed to trigger the largest ever flow of money from the industrialized world to developing countries. At stake: the bulk of the world's biodiversity.


Ford Motor to introduce plug-in hybrids, but lags behind rivals

(07/10/2007) Monday Ford Motor Co. announced a partnership with utility Southern California Edison to test a fleet of plug-in hybrid (PHEV) vehicles in an effort to make the technology more accessible to consumers, reduce petroleum-related emissions and improve the cost-effectiveness of the nation's electricity grid.


Poverty and corruption reduce effectiveness of rainforest parks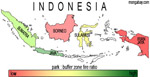 (07/09/2007) Poverty and corruption are linked to higher incidence of fire in tropical forest reserves, reports a new study published in the journal Ecological Applications. Poor, corrupt countries -- like Cambodia, Guatemala, Paraguay, and Sierra Leone -- have the least effective parks when measured in terms of the incidence of fire relative to surrounding "buffer" areas. The findings have significant implications for rainforest conservation efforts.


McDonald's bolsters eco credentials with recycled biodiesel



(07/09/2007) McDonald's Corp. (Public, NYSE:MCD), the fast-food chain, has bolstered its 'green' credentials by announcing that its UK distribution fleet will be powered by biodiesel made of recycled cooking oil from its restaurants. While the move is expected to save only around 1,675 tons of carbon annually, environmentalists say it sets an important precedent for the parent company and the fast-food industry as a whole.


Inflatable concentrators may cut cost of solar below conventional power plants



(07/08/2007) Cool Earth Solar, a Livermore, California-based company developing an innovative way for capturing solar energy, has merged with Radiant Energy, a developer and owner of renewable and clean energy power plants including solar, geothermal, and hydroelectric. Rob Lamkin, CEO of Radiant Energy, says the merger will help ramp up the technology, which uses inflatable solar concentrators to minimize use of refined silicon, a costly ingredient in solar cells. Lamkin says the technology could dramatically reduce the cost solar energy, bringing it below the cost natural gas-fired power plants.


How to save the world's oceans from overfishing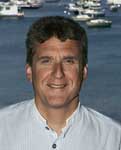 (07/08/2007) Global fishing stocks are in trouble. After expanding from 18 millions tons in 1950 to around 94 million tons in 2000, annual world fish catch has leveled off and may even be declining. Scientists estimate that the number of large predatory fish in the oceans has fallen by 90 percent since the 1950s, while about one-quarter of the world's fisheries are overexploited, depleted, or recovering from depletion. Despite these dire trends, the situation is changing. Today some of the world's largest environmental groups are focused on addressing the health of marine life and oceans, while sustainable fisheries management is at the top of the agenda for intergovenmental bodies. At the forefront of these efforts is Mike Sutton, director of the Monterey Bay Aquarium's conservation program: the Center for the Future of the Oceans. The aquarium, which has long been recognized as one of the world's most important marine research facilities, is pioneering new strategies for protecting the planet's oceans. Sutton says the approach has four parts: establishing new marine protected areas, pushing for ocean policy reform, promoting sustainable seafood, and protecting wildlife and marine ecosystems.


Mangroves more threatened than rainforests

(07/05/2007) Destruction of mangrove forests could leave the world deprived of their important ecological services by the end of a century, warns an international team of scientists writing in the July 6th issue of the journal Science.


760,000 Chinese a year die from pollution

(07/04/2007) 760,000 Chinese die prematurely each year from polluted air and water, according to estimates to be released by the World Bank.


450 years of Amazon research reviewed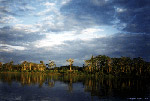 (07/02/2007) Research on the Peruvian Amazon is largely inaccessible to the people who could make most use of it, reports a comprehensive review of 2,202 texts published over the past 450 years on the Madre de Dios region of southwestern Peru. The study recommends the establishment of "a Web-based digital library for Neotropical nature" to make research more widely available.


Forest disturbance reduces biodiversity in the Amazon rainforest


(07/02/2007) Two new studies in the Amazon rainforest show that plantation forests and second-growth forests have lower species counts for butterflies, reptiles, and amphibians than adjacent primary forest areas. The research has important implications for conservation of tropical biodiversity in a world where old-growth forest is increasingly replaced by secondary forests, industrial plantations, and agricultural landscapes.


Rare and mysterious forests of Sulawesi 80% gone

(06/28/2007) Roughly 80 percent of Sulawesi's richest forests have been degraded and destroyed for agriculture, logging, and mining, reports a ground-breaking assessment of the Indonesian island's forests.


World's largest movement has no leader but 100M employees

(06/11/2007) The world's largest movement has no name, no leader, and no ideology, but may directly involve more than 100 million people, said a green business pioneer.


98% of orangutan habitat gone in next 15 years



(06/11/2007) Indonesia is losing more than 2.1 million hectares (5.2 million acres) of forest a year to illegal loggers, states a new report from the U.N. Environment Program (UNEP). The report, which estimates the value of illicit timbering at $4 billion annually, warns that 98 percent of Indonesia's lowland forests will be gone by 2022, putting species like the orangutan at risk of extinction in the wild. The report, Last stand of the Orang-utan: State of Emergency, was released Monday at the Convention on International Trade in Endangered Species meeting in The Hague.


Google helps protect Amazon rainforest

(06/10/2007) Google is working with a indigenous tribe deep in the Amazon rainforest to protect their lands from illegal encroachment, reports the San Francisco Chronicle. For the first time, Google has confirmed details of the project. Working in conjuction with the Amazon conservation Team, Google Earth's technology is being used to monitor illegal mining and logging that threaten the lands of the Surui tribe in Brazil. Google is working with satellite providers to significantly improve image resolution in some of the most remote parts of the Amazon basin.


Logging roads rapidly expanding in Congo rainforest

(06/07/2007) Logging roads are rapidly expanding in the Congo rainforest, report researchers who have constructed the first satellite-based maps of road construction in Central Africa. The authors say the work will help conservation agencies, governments, and scientists better understand how the expansion of logging is impacting the forest, its inhabitants, and global climate.


Nobel prize winner debates future of nuclear power

(06/07/2007) Two renowned energy experts sparred in a debate over nuclear energy Wednesday afternoon at Stanford University. Amory Lovins, Chairman and Chief Scientist of the Rocky Mountain Institute, an energy think tank, argued that energy efficiency and alternative energy sources will send nuclear power the way of the dinosaurs in the near future. Dr. Burton Richter, winner of the 1976 Nobel Prize in physics, said that nuclear would play an important part of the future energy portfolio needed to cut carbon emissions to fight global warming.


Dorothy Stang fought for social equity in the Amazon

(06/07/2007) Murder is not a pleasant place to start an article. Destruction of enormous amounts of virgin forest also does not help improve ones feelings and thoughts. Leaving out millions of people and talking about only the rights of thousands is pretty discouraging if you wish to be transparent, progressive and see a future for a beautiful country with enormous potential.


Can cattle ranchers and soy farmers save the Amazon?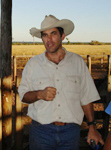 (06/06/2007) John Cain Carter, a Texas rancher who moved to the heart of the Amazon 11 years ago and founded what is perhaps the most innovative organization working in the Amazon, Alianca da Terra, believes the only way to save the Amazon is through the market. Carter says that by giving producers incentives to reduce their impact on the forest, the market can succeed where conservation efforts have failed. What is most remarkable about Alianca's system is that it has the potential to be applied to any commodity anywhere in the world. That means palm oil in Borneo could be certified just as easily as sugar cane in Brazil or sheep in New Zealand. By addressing the supply chain, tracing agricultural products back to the specific fields where they were produced, the system offers perhaps the best market-based solution to combating deforestation. Combining these approaches with large-scale land conservation and scientific research offers what may be the best hope for saving the Amazon.


Globalization could save the Amazon rainforest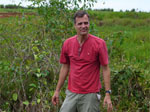 (06/03/2007) The Amazon basin is home to the world's largest rainforest, an ecosystem that supports perhaps 30 percent of the world's terrestrial species, stores vast amounts of carbon, and exerts considerable influence on global weather patterns and climate. Few would dispute that it is one of the planet's most important landscapes. Despite its scale, the Amazon is also one of the fastest changing ecosystems, largely as a result of human activities, including deforestation, forest fires, and, increasingly, climate change. Few people understand these impacts better than Dr. Daniel Nepstad, one of the world's foremost experts on the Amazon rainforest. Now head of the Woods Hole Research Center's Amazon program in Belem, Brazil, Nepstad has spent more than 23 years in the Amazon, studying subjects ranging from forest fires and forest management policy to sustainable development. Nepstad says the Amazon is presently at a point unlike any he's ever seen, one where there are unparalleled risks and opportunities. While he's hopeful about some of the trends, he knows the Amazon faces difficult and immediate challenges.


Plan to bring lions, elephants to U.S. excludes Africans


(05/22/2007) Writing in the June 2007 Scientific American one of the scientists who helped put forth a radical proposal to reintroduce historical megafauna -- including camels, cheetah, elephants, and lions -- revisits the scheme, reviewing its basic points and refuting some of the criticism the plan received from the general public and other conservation biologists.


Saving big cats depends on science, practical interventions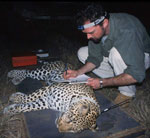 (05/21/2007) Big cats are some of Earth's largest and most threatened predators. Long persecuted as perceived threats to livestock and humans, hunted for their skins and purported medicinal values, and losing critical habitat to deforestation and conversion for agriculture, big cat populations have dwindled around the world for the past century. Given these trends, it should come as no surprise that big cats have become the focus of conservation efforts. Not only are large predators often the most vulnerable to human pressures and the first to disappear from ecosystems, but efforts to conserve them effectively help protect thousands of other species that share their habitat. At the forefront of these efforts in Dr. Luke Hunter, a biologist with the Wildlife conservation Society (WCS) where he heads their Great Cats Program. In a May 2007 interview with mongabay.com, Hunter discussed strategies for conserving carnivores and offered insight for students interested in pursuing careers in conservation science.


U.S. ethanol may drive Amazon deforestation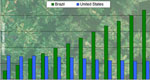 (05/17/2007) Ethanol production in the United States may be contributing to deforestation in the Brazilian rainforest said a leading expert on the Amazon. Dr. Daniel Nepstad of the Woods Hole Research Center said the growing demand for corn ethanol means that more corn and less soy is being planted in the United States. Brazil, the world's largest producer of soybeans, is more than making up for shortfall, by clearing new land for soy cultivation. While only a fraction of this cultivation currently occurs in the Amazon rainforest, production in neighboring areas like the cerrado grassland helps drive deforestation by displacing small farmers and cattle producers, who then clear rainforest land for subsistence agriculture and pasture.


Ancient Amazonian technology could save the world


(05/17/2007) Terra preta, the ancient charcoal-based soil used by ancient Amazonians to create permanently fertile agricultural lands in the rainforest, is getting serious consideration as a means to fight global warming and meet domestic energy demand, reports an article in Scientific American.


Reducing tropical deforestation will help fight global warming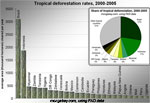 (05/10/2007) Scientists have lent support to a plan by developing countries to fight global warming by reducing deforestation rates. Tropical deforestation releases more than 1.5 billion metric tons of carbon into the atmosphere every year, though in some years, like the 1997-1998 el Nino year when fires released some 2 billion tons of carbon from peat swamps alone in Indonesia, emissions are more than twice that. Writing in the journal Science, an international team of scientists argue that the Reducing Emissions from Deforestation (RED) initiative, launched in 2005 by the United Nations Framework Convention on Climate Change, is scientifically and technologically sound, and that political and economic challenges facing the plan can be overcome.


conservation is saving lemurs and helping people in Madagascar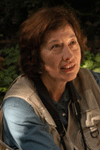 (05/07/2007) Madagascar, an island nation that lies off the coast of southeastern Africa, has long been famous for its unique and diverse species of wildlife, especially lemurs--primates found nowhere else on the planet. In recent years, the island country has also become world-renowned for conservation efforts that are succeeding in spite of extraordinary pressures from a poor population that relies heavily on forest burning for basic subsistence. A large part of this success is due to the early efforts of Patricia Wright, a primatologist who has been working in the country for more than 20 years. Wright led the effort to launch the country's leading protected area and helped Madagascar become a leading global example of conservation despite its economic adversity.


Better forest policies would reduce illegal logging in the Amazon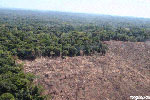 (05/06/2007) Brazil could improve sustainable forest management, reduce illegal logging, and perhaps cuts deforestation by introducing coherent policies for timber operations in the Amazon rainforest argues a new paper published in Frontiers in Ecology. However, successful implementation of sustainable timber production will require overcoming significant biological and political hurdles, suggest the authors.


Commercial hunting may be biggest threat to tropical rainforests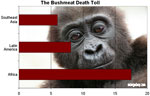 (05/01/2007) Commercial hunting is decimating wildlife populations across the tropics and may be one of the gravest threats presently facing rainforests, reports a series of studies published in the May issue of the journal Biotropica. The research reveals that large-scale loss of wildlife is already affecting forest health and regeneration.


Frogs avoid damaging UV-B radiation, reducing extinction risk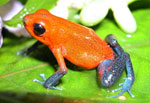 (04/18/2007) Poison arrow frogs appear to make special effort to avoid exposure to damaging ultraviolet-B radiation, according to research published in the journal Biotropica. The findings are significant in light of increasing levels of UV-B radiation due to ozone depletion.


Soybeans may worsen drought in the Amazon rainforest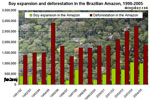 (04/18/2007) The rapid expansion of soybean cultivation in the Amazon may be having a larger impact on climate than previously believed, according to research published last week in Geophysical Research Letters. Using experimental plots in the Amazon, a team of scientists led by Marcos Costa from the Federal University of Vicosa in Brazil found that clearing for soybeans increases the reflectivity or albedo of land, reducing rainfall by as much as four times relative to clearing for pasture land.


Bad news for frogs; amphibian decline worse than feared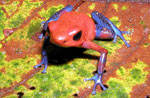 (04/16/2007) Chilling new evidence suggests amphibians may be in worse shape than previously thought due to climate change. Further, the findings indicate that the 70 percent decline in amphibians over the past 35 years may have been exceeded by a sharp fall in reptile populations, even in otherwise pristine Costa Rican habitats. Ominously, the new research warns that protected areas strategies for biodiversity conservation will not be enough to stave off extinction. Frogs and their relatives are in big trouble.


Cell phones, text-messaging revolutionalize conservation approaches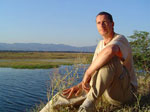 (04/15/2007) Cell phones have been adopted at a pace unmatched by any technology in the history of mankind. While conventional use of these devices continues to be the expand, mobile phones are also increasingly being viewed as tools for conservation and development. Ken Banks, currently a Visiting Fellow on the Reuters Digital Vision Program at Stanford University, understands this well. Banks established kiwanja.net as hub for the latest information on how technology, in particular mobile phones, can be applied to tackle issues of economic empowerment, conservation, education, human rights and poverty alleviation.


Could global deforestation fight climate change?


(04/09/2007) While many climate change mitigation schemes rely on reforestation schemes to sequester carbon dioxide from the atmosphere, those located in temperate regions may actually be warming the planet, worsening global change, reports a new study published in the April 9-13 online edition of the Proceedings of the National Academy of Sciences. Surprisingly, the research suggests that global-scale deforestation would produce a net cooling effect, but that forest preservation efforts and reforestation in the tropics is more effective in cooling the planet.


Palm oil doesn't have to be bad for the environment


(04/04/2007) As traditionally practiced in southeast Asia, oil palm cultivation is responsible for widespread deforestation that reduces biodiversity, degrades important ecological services, worsens climate change, and traps workers in inequitable conditions sometimes analogous to slavery. This doesn't have to be the case. Following examples set forth by the Roundtable on Sustainable Palm Oil and firms like Golden Hope Plantations Berhad, a Malaysian palm oil producer, oil palm can be cultivated in a manner that helps mitigate climate change, preserves biodiversity, and brings economic opportunities to desperately poor rural populations.


Eco-friendly palm oil could help alleviate poverty in Indonesia


(04/03/2007) The Associated Press (AP) recently quoted Marcel Silvius, a climate expert at Wetlands International in the Netherlands, as saying palm oil is a failure as a biofuel. This would be a misleading statement and one that doesn't help efforts to devise a workable solution to the multiplicity of issues surrounding the use of palm oil.


Congo forest elephants declining from logging roads, illegal ivory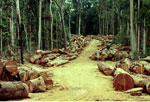 (04/02/2007) Fast-expanding logging roads in the Congo basin are becoming 'highways of death' for the fierce but elusive forest elephant, according to a new study published in the journal Public Library of Science. Logging roads both provide access to remote forest areas for ivory poachers and serve as conduits of advancing human settlement.


Climate change will cause biomes to shift and disappear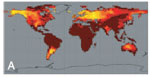 (03/26/2007) Many of the world's local climates could be radically changed if global warming trends continue, reports a new study published in the early online edition of the journal Proceedings of the National Academy of Sciences. The authors warn that current climates may shift and disappear, increasing the risk of biodiversity extinction and other ecological changes.


Extinction, like climate change, is complicated


(03/26/2007) Extinction is a hotly debated, but poorly understood topic in science. The same goes for climate change. When scientists try to forecast the impact of global change on future biodiversity levels, the results are contentious, to say the least. While some argue that species have managed to survive worse climate change in the past and that current threats to biodiversity are overstated, many biologists say the impacts of climate change and resulting shifts in rainfall, temperature, sea levels, ecosystem composition, and food availability will have significant effects on global species richness.


Global warming may cause biodiversity extinction

(03/21/2007) Extinction is a hotly debated, but poorly understood topic in science. The same goes for climate change. When scientists try to forecast the impact of global change on future biodiversity levels, the results are contentious, to say the least. While some argue that species have managed to survive worse climate change in the past and that current threats to biodiversity are overstated, many biologists say the impacts of climate change and resulting shifts in rainfall, temperature, sea levels, ecosystem composition, and food availability will have significant effects on global species richness.


Biodiversity extinction crisis looms says renowned biologist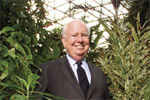 (03/12/2007) While there is considerable debate over the scale at which biodiversity extinction is occurring, there is little doubt we are presently in an age where species loss is well above the established biological norm. Extinction has certainly occurred in the past, and in fact, it is the fate of all species, but today the rate appears to be at least 100 times the background rate of one species per million per year and may be headed towards a magnitude thousands of times greater. Few people know more about extinction than Dr. Peter Raven, director of the Missouri Botanical Garden. He is the author of hundreds of scientific papers and books, and has an encyclopedic list of achievements and accolades from a lifetime of biological research. These make him one of the world's preeminent biodiversity experts. He is also extremely worried about the present biodiversity crisis, one that has been termed the sixth great extinction.


Ecuadorian brothers show conservation-based microentrepreneurship possible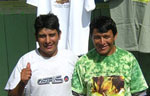 (03/07/2007) Tropical rainforests are declining across most of the world. Since the close of the 1990s deforestation rates have only accelerated as growing levels of consumption and consistent population growth paint an increasingly bleak future for the world's forests and their resident biodiversity. These trends make it easy to lose hope. As such, stories that show local people earning a livelihood from biodiversity conservation are an inspiration.


World's only blue lizard heads toward extinction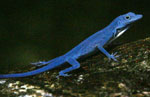 (03/07/2007) High above the forest floor on the remote Colombian island of Gorgona lives a lizard with brilliant blue skin, rivaling the color of the sky. Anolis gorgonae, or the blue anole, is a species so elusive and rare, that scientists have been unable to give even an estimate of its population. Due to the lizard&spod;s isolated habitat and reclusive habits, researchers know little about the blue anole, but are captivated by its stunning coloration.


Panama Canal port projects threaten mangroves


(03/06/2007) Port development and land speculation in Panama is turning some of the Caribbean's most productive mangrove forests into landfill. The landfill would be used for container storage near the city of Colon, at the mouth of the Panama Canal. But local scientists say the transformation could have unintended environmental consequences.


Billion Tree Campaign gets pledges totaling 562M trees since January

(03/06/2007) The UN Environment Programme (UNEP) announced that its 'Billion Tree Campaign' has so-far achieved commitments to plant 562,769,095 trees, following a pledge of 250 million trees by the Ministry of Environment and Natural Resources of Mexico.


Philosophical shift in conservation reintegrates humans in nature



(02/28/2007) Humans are among the most successful of Earth's organisms. Living in every habitable, and sometimes uninhabitable, space, humans dominate the planet's surface and have become a global force that alters natural ecosystems, species distribution, and climate. Virtually no wilderness areas have escaped man's influence. While past conservation efforts have focused on preserving "pristine" wilderness, it is increasingly apparent that few such areas exist. Recognizing this, present conservation efforts are increasingly looking at how human use fits into protected areas management. A new paper published in Biodiversity conservation traces this shift in conservation philosophy since the 19th century. Reviewing the history of four main conservation approaches, Michelle Kalamandeen, a biologist at the University of Guyana, and Lindsey Gillson, a botanist at the University of Cape Town, conclude that current conservation efforts are integrating elements of each philosophy, resulting in a new conservation ethic that uses alternative criteria for designating and managing protected areas, and recognizes the importance of man's influence in wilderness areas.


Balloon technology could cut cost of solar energy 90% by 2010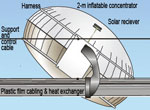 (02/21/2007) With high energy prices and mounting concerns over human-induced climate change, there is intense interest in renewable energy, especially solar, which produces no pollution and is readily available in the form of sunlight. In recent years, however, the solar energy market has been hampered by supply shortages of refined silicon, the critical resource needed for solar cell fabrication. Further, because solar installations traditionally require a large surface area to capture as much sunlight as possible, solar arrays often take up real estate, occupying land used agricultural production and other purposes. Without government subsidies, solar is not presently viable in many areas.


Hiking through Myanmar, the country better known as Burma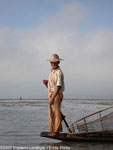 (02/18/2007) The recent history of Myanmar is rather grim. After gaining independence from the British in 1948, the country suffered a series of military takeovers, and has basically been under the dictatorship of a military junta for the past 50 years. At several points during this time, the people have taken to the streets to peacefully protest the military regime. The last major fight for democracy occurred in 1988, and climaxed with the first democratically held election since independence. The National League for Democracy (NLD), spearheaded by the charismatic Aung San Suu Kyi, won by an overwhelming 84% of the vote. Sadly, regardless of their promises, the military junta had no intention of relinquishing their power, and imprisoned the major leaders of the NLD.


Amazon deforestation damaging critical ecosystem services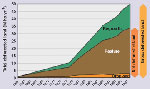 (02/08/2007) Human disturbance of the Amazon rainforest is more extensive than previously thought say a team of scientists writing in the current edition of the journal Frontiers in Ecology. Reviewing recent research on the Amazon ecosystem, they note that human activities are affecting the health of the forest and impacting the ecological goods and services the Amazon provides mankind.


Lemurs at risk due to invasion of feral beasts, global warming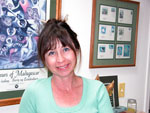 (02/07/2007) The lemurs of Madagascar are among the world's most threatened primates. Extensive habitat destruction, hunting, and the introduction of alien species have doomed dozens of species to extinction since humans first arrived on the island within the past 2000 years. Most of the casualties were Madagascar's largest lemurs -- today the biggest lemur is but a fraction of the gorilla-sized giants that once ruled the island. Despite this relative impoverishment of megafauna, Madagascar still boasts nearly 90 kinds of lemurs, all of which are unique to the island (save one species that was probably introduced to some nearby islands). Lemurs display a range of unusual behvaiors from singing like a whale (the indri) to sashaying across the sand like a ballet dancer (the sifaka). Interest in lemurs has helped Madagascar become a global conservation priority, though they are still at risk. Continued deforestation, scattered hunting, and looming climate change all pose significant threats to some lemur populations. One largely unexamined threat comes from introduced species such as the Indian civet and mongoose, but especially dogs and cats that have become feral.


Just how bad is the biodiversity extinction crisis?



(02/06/2007) In recent years, scientists have warned of a looming biodiversity extinction crisis, one that will rival or exceed the five historic mass extinctions that occurred millions of years ago. Unlike these past extinctions, which were variously the result of catastrophic climate change, extraterrestrial collisions, atmospheric poisoning, and hyperactive volcanism, the current extinction event is one of our own making, fueled mainly by habitat destruction and, to a lesser extent, over-exploitation of certain species. While few scientists doubt species extinction is occurring, the degree to which it will occur in the future has long been subject of debate in conservation literature. Looking solely at species loss resulting from tropical deforestation, some researchers have forecast extinction rates as high as 75 percent. Now a new paper, published in Biotropica, argues that the most dire of these projections may be overstated. Using models that show lower rates of forest loss based on slowing population growth and other factors, Joseph Wright from the Smithsonian Tropical Research Institute in Panama and Helene Muller-Landau from the University of Minnesota say that species loss may be more moderate than the commonly cited figures. While some scientists have criticized their work as "overly optimistic," prominent biologists say that their research has ignited an important discussion and raises fundamental questions about future conservation priorities and research efforts. This could ultimately result in more effective strategies for conserving biological diversity, they say.



Page 1 | Page 2 | Page 3 | Page 4 | Page 5 | Page 6 | Page 7 | Page 8 | Page 9 | Page 10 | Page 11 | Page 12 | Page 13