News articles on farming

---
Mongabay.com news articles on farming in blog format. Updated regularly.






Rainforest fungus generates biodiesel, may drive energy of the future

(11/04/2008) A fungus recently discovered in the Patagonian rainforest has shocked biologists and environmentalists: the fungus produces gas almost identical to diesel. In a paper announcing the discovery in Microbiology, scientists state that they believe the fungus, called Gliocladium roseum, could become an incredibly efficient green energy source.
Rainforest agriculture preserves bird biodiversity in India

(11/04/2008) Conservation of biodiversity and agriculture have long been considered conflicting interests. Numerous studies have shown that when agricultural replaces a forest, biodiversity greatly suffers. However a new study finds it doesn't have to be that way.
U.S. Fish and Wildlife Service program restores bird habitat on farms and ranches

(10/28/2008) Matt Filsinger is driving his white pickup headed northeast from Sterling to look at two of his projects. This self-described introvert speaks enthusiastically about his job. "Ducks, ducks, ducks – that's what I love!" says Filsinger, grinning broadly. Filsinger is a wildlife biologist with the Partners for Fish and Wildlife Program of the U.S. Fish and Wildlife Service. He works with private landowners to set aside land and create attractive habitat for imperiled species. Specifically, he designs wetlands to attract waterfowl. Partners for Fish and Wildlife is a successful program that has been around since 1987. Landowners, including farmers and ranchers, form partnerships with the program because they reap a variety of benefits from it. Nonprofit organizations such as Ducks Unlimited, Audubon and the Rocky Mountain Bird Observatory are also partners. Collaboration between the federal government and private landowners is essential to preserving habitat and species, as 73 percent of the country's land is privately owned, and most wildlife lives on that land.
Eco-friendly shade-grown coffee buffers farmers against climate change

(10/03/2008) Shade-grown coffee plantations will be more resistant to climate change than conventional plantations, report researchers writing in the journal Bioscience. Shade grown coffee is already lauded for its environmental benefits including supporting high levels of biodiversity and requiring less fertilizers and pesticides.
Pollination worth $216 billion/yr for food production

(09/16/2008) Pollination services provided by insects are worth $216 billion (€153 billion) a year reports a new study published in Ecological Economics. The figure represents about 9.5 percent of the total value of world agricultural food production.
Did prehistoric farmers drive early global warming?

(09/03/2008) In 2003 William Ruddiman put forth a controversial theory: 7,000 years ago the rise of agriculture spawned large-scale climatic changes. According to Ruddiman, the felling of forests for fields throughout Europe and Asia caused a rise in carbon dioxide, while the flooded fields for rice released methane gas. This combination of large amounts of carbon dioxide and methane entering the atmosphere caused the globe to warm, preventing the planet from entering another ice age.
There is enough water for everyone provided it is well-managed and distributed

(08/21/2008) An increasingly-popular view of our future is an exponentially thirsty world where billions lack access to fresh water, leading to widespread famine and wars over water instead of oil. If this sounds like science fiction, the UN has predicted that by 2050 seven billion people will suffer from water scarcity. Putting that number in perspective: today's entire global population is not yet seven billion people.
Markets could save rainforests: an interview with Andrew Mitchell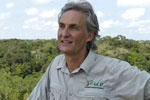 (08/17/2008) Markets may soon value rainforests as living entities rather than for just the commodities produced when they are cut down, said a tropical forest researcher speaking in June at a conservation biology conference in the South American country of Suriname. Andrew Mitchell, founder and director of the London-based Global Canopy Program (GCP), said he is encouraged by signs that investors are beginning to look at the value of services afforded by healthy forests.
Marine 'dead zones' double every decade

(08/14/2008) Dead zones have spread across the ocean at alarming rates. Currently 415 sites, usually along coastlines, have shown signs of seasonal to persistent hypoxia—a severe lack of oxygen. In a new essay in Science, researchers Robert Diaz and Rutger Rosenberg argue that marine dead zones have "become a major worldwide environmental problem". Marine dead zones now occupy a portion of the ocean equal to that of the United Kingdom and continue to grow, doubling every decade since the 1960s and showing no sign of abating.
Climate change to hurt Brazil's farm exports by 2020

(08/11/2008) Climate change could have a significant impact on thye value of Brazil's agricultural exports according to a study presented Monday at an agribusiness conference in Sao Paulo, reports the Financial Times.
Corporations become prime driver of deforestation, providing clear target for environmentalists
(08/05/2008) The major drivers of tropical deforestation have changed in recent decades. According to a forthcoming article, deforestation has shifted from poverty-driven subsistence farming to major corporations razing forests for large-scale projects in mining, logging, oil and gas development, and agriculture. While this change makes many scientists and conservationists uneasy, it may allow for more effective action against deforestation. Rhett A. Butler of Mongabay.com, a leading environmental science website focusing on tropical forests, and William F. Laurance of the Smithsonian Tropical Research Institute in Panama believe that the shift to deforestation by large corporations gives environmentalists and concerned governments a clear, identifiable target that may prove more responsive to environmental concerns.





Future threats to the Amazon rainforest

(07/31/2008) Between June 2000 and June 2008, more than 150,000 square kilometers of rainforest were cleared in the Brazilian Amazon. While deforestation rates have slowed since 2004, forest loss is expected to continue for the foreseeable future. This is a look at past, current and potential future drivers of deforestation in the Brazilian Amazon.





Facing criticism, biofuels industry forms new lobby group to influence lawmakers

(07/25/2008) Under attack by politicians, aid groups, and environmentalists for driving up food prices and fueling destruction of ecologically sensitive habitats, some of the world's largest agroindustrial firms have formed a lobby group to influence consumers and lawmakers to support continued subsidies for biofuel production, reports Reuters.







Biofuels can reduce emissions, but not when grown in place of rainforests

(07/22/2008) Biofuels meant to help alleviate greenhouse gas emissions may be in fact contributing to climate change when grown on converted tropical forest lands, warns a comprehensive study published earlier this month in the journal Environmental Research Letters. Analyzing the carbon debt for biofuel crops grown in ecosystems around the world, Holly Gibbs and colleagues report that "while expansion of biofuels into productive tropical ecosystems will always lead to net carbon emissions for decades to centuries... [expansion] into degraded or already cultivated land will provide almost immediate carbon savings." The results suggest that under the right conditions, biofuels could be part of the effort to reduce humanity's carbon footprint.





Orangutans persist in islands amid a sea of oil palm plantations

(07/17/2008) Orangutan are surviving in forest islands in a sea of oil palm plantations in Malaysia, reports a new survey by a government-backed conservation initiative. The finding underscores the need to protect critical forest areas for the endangered primates as forest continues to fall in southeast Asia at a rate that is the highest of any of the world's tropical forest regions.





Amazon deforestation forecast for 2008 revised downward

(07/17/2008) Deforestation in the Brazilian Amazon fell sharply in the month of May (1,096 square kilometers) compared to May a year-ago (1,222 square kilometers), according to preliminary satellite data announced by the country's environment minister on Tuesday. Brazilian Environment Minister Carlos Minc said a preliminary analysis by the government's National Space Research Institute (INPE) showed 1,096 square kilometers (423 square miles) of rain forest were cut down in May, down from 1,123 square kilometers (434 square miles) in April.







Using farm waste for ethanol may hurt crop yields in some areas

(07/15/2008) Cellulosic ethanol proponents have pushed the idea of using farm waste as a way to boost biofuel production without impacting food crops, but such conversion may carry a hidden cost in areas with insufficient rainfall or lacking irrigation, warns a soil scientist from Washington State University.





U.S. dead zones may reach record levels this summer

(07/15/2008) "Dead zones" in the Gulf of Mexico and Chesapeake Bay will likely expand to record levels this summer due to rising rising agricultural runoff in part triggered by large-scale flooding in the Midwest, according to a forecast by a researcher from the University of Michigan.











Does logging contribute to AIDS deaths in Africa?

(06/14/2008) Logging activities in tropical Africa may pose hidden health risks to wildlife and humans according to a veterinary pathobiologist speaking at a scientific conference in Paramaribo, Suriname.







Nestle Chairman: Biofuels are "ethically indefensible"

(06/14/2008) The emergence and expansion of biofuels produced from food crops has exacerabted world's agriculture and water crisis and is a bigger short-term threat than global warming, argued Peter Brabeck-Letmathe in an editorial published Thursday in the Wall Street Journal Asia.





Amazon beef producer creates eco-certified meat product with help of scientists

(06/08/2008) Independencia Alimentos SA, Brazil's fifth-largest beef producer, will create an "eco-certified", branded beef product from the Amazon's Xingu region. Certification will be based on criteria established by Alian?a da Terra, an Brazilian NGO that seeks to improve the environmental performance of ranchers and beef producers in the world's largest rainforest. The new beef product will include a per-kilo "ecosystem service fee" — calculated with the help of scientists at the Woods Hole Research Center — to facilitate a financial reward for the producer's environmental stewardship.





Big Farms Can Make the Leap to Organic Farming, Study Suggests

(06/04/2008) Large fruit and vegetable growers can adopt the methods of small-scale organic farms while maintaining crop yields, keeping pests in check, and improving the health of their soil, researchers report in the July 2008 issue of Agriculture, Ecosystems and Environment.





Food miles are less important to environment than food choices, study concludes

(06/02/2008) Shoppers concerned about the environment should not place "buying local" at the top of their list of priorities when purchasing food, according to a study published online on April 16 in the journal Environmental Science & Technology. The fuel burned in transporting food items from farm to marketplace creates just a small percentage of the total greenhouse gas emissions associated with the food. Instead, consumers should shift their diets to include more foods that require less energy to produce in the first place.





Cellulosic biofuels may be viable alternative to gas within 5 years

(06/02/2008) A new institute in the San Francisco Bay Area is seeking to make cellulosic biofuel an economically viable alternative to corn ethanol and gasoline within the next five years. The Joint BioEnergy Institute (JBEI), a partnership between three national laboratories and three Bay Area universities, was formed in June 2007 after the U.S. Department of Energy awarded the institute a $125 million grant to develop better methods for making liquid biofuels from the natural cellulose in trees and grasses. JBEI researchers expect cellulosic biofuels to yield more energy, produce less greenhouse gases, and have less impact on the environment than other alternatives to gasoline, such as corn ethanol.





Forest carbon credits could guide development in Congo

(05/28/2008) An initiative to reduce greenhouse gas emissions by offering carbon credits to countries that reduce deforestation may be one of the best mechanisms for promoting sustainable development in Central Africa says a remote sensing expert from the Woods Hole Research Center (WHRC). Dr. Nadine Laporte, an associate scientist with WHRC who uses remote sensing to analyze land use change in Africa, says that REDD could protect forests, safeguard biodiversity, and improve rural livelihoods in Democratic Republic of Congo (DRC) and other Central African nations.







46% of Brazil's energy comes from renewable sources

(05/13/2008) Preliminary data from Brazil's energy ministry shows that bioenergy derived from sugar cane surpassed hydroelectric power as Brazil's secondary largest source of energy in 2007, reports Biopact.





China to push for overseas acquisition of farmland to improve food security

(05/13/2008) Worries over food security may drive China to seek agricultural lands abroad, according to a report from the Financial Times. Under a proposal by the Ministry of Agriculture, Chinese companies will be encouraged to acquire farmland overseas. The initiative would make foreign land acquisition by Chinese agricultural firms a central government policy.





Massive deforestation of mangroves may have worsened scale of disaster in Burma

(05/13/2008) Weeks after the devastating cyclone Nagris struck Myanmar's Irrawaddy Delta on May 2nd, scientists and the media are debating the role in the scale of the disaster played by the region's deforestation of mangroves. According to recent studies, mangrove forests act as a buffer against the effect's of tropical storms like Nagris, though scientists don't yet fully understand the relationship between storm mitigation and mangroves.





Amazon farming technique may fight global warming

(04/11/2008) Fifteen hundred years ago, tribes people from the central Amazon basin mixed their soil with charcoal derived from animal bone and tree bark. Today, at the site of this charcoal deposit, scientists have found some of the richest, most fertile soil in the world. Now this ancient, remarkably simple farming technique seems far ahead of the curve, holding promise as a carbon-negative strategy to rein in world hunger as well as greenhouse gases.





Bats protect crops from insects

(04/04/2008) Bats eat as many insects at night as birds do during the day, according to research published in the journal Science.





Ocean dead zones have nearly quadrupled since 1994

(04/03/2008) Coastal areas worldwide are suffering from over-enrichment of their waters by nitrogen and phosphorus, finds a new study from the World Resources Institute (WRI). This over-enrichment, known as eutrophication, causes numerous environmental problems, eventually devastating coastal environments. In overly nutrient-rich waters phytoplankton, micro- and macroalgae grow to excessive portions; these 'algal blooms' diminish subaquatic vegetation, damage coral reefs, and deplete populations of fish, shellfish, marine mammals, and sea birds. In the worst case scenarios the massive algal blooms form hypoxic or dead zones due to loss of oxygen in the water, essentially condemning the ecosystem.







Corn planting to drop 8% in 2008

(03/31/2008) The UDSA's National Agricultural Statistics Service (NASS) expects American farmers to plant 86 million acres of corn in 2008, down 8 percent from last year. The news comes amid record high prices for competitive crops including soybeans and wheat.





Corn ethanol is worsening the Gulf dead zone

(03/10/2008) Proposed legislation that will expand corn-ethanol production in the United States will worsen the growing "dead zone" in the Gulf of Mexico and hurt marine fisheries, report researchers writing in the Proceedings of the National Academy of Sciences (PNAS).






Page 1 | Page 2 | Page 3 | Page 4 | Page 5 | Page 6 | Page 7 | Page 8 | Page 9