News articles on farming

---
Mongabay.com news articles on farming in blog format. Updated regularly.






Bolivia's aggressive agricultural development plans threaten forests
(06/08/2015) Bolivia's government, supported by some small and most large producers, pushes to expand agricultural lands at the expense of the nation's environment. In April 2015, small-scale Bolivian farmers gathered for a summit with stakeholders from a very different part of the agricultural sector: commercial farmers who oversee vast farms and watch international exchange markets just as closely as the weather.
Empowering women in order to save the harvest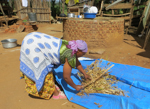 (04/16/2015) There are plenty of technological challenges to reducing food waste in sub-Saharan Africa, but a challenge that might prove more important to overcome is gender inequality. Women are responsible for nearly half of agricultural labor in sub-Saharan Africa, with some estimates reaching up to 90 percent. But they often don't have the authority to make financial decisions for their families, even when it comes to managing or selling the crops they've grown themselves.
Low crop prices means time is ripe for new forest protection programs
(03/27/2015) Today, conservation compliance is a U.S. policy between governments and farmers that reward farmers with federal subsidies for good conservation practices on designated vulnerable lands. But economist Clayton Ogg believes it could now be used to save forests in countries like Brazil, China, India, and Indonesia. "The main drivers for deforestation in recent years are high crop prices. However, as crop prices fall to more normal levels, farmers depend very heavily on government subsidies, and the subsidies become the major driver for deforestation," Ogg told mongabay.com.
Humans cause erosion one hundred times faster than normal
(03/05/2015) Experts have long linked deforestation and intensive farming to worsening erosion rates around the world. Although studied extensively, determining erosion rates due to human-induced activities has rarely been quantified by scientists. However, new research conducted by geologists finds that erosion rates in the southeastern United States increased one hundred times after the arrival of European colonists in the 1700s due to tree clearing and unsustainable agriculture practices.
To keep big cats out, use a cat door
(02/26/2015) As a hunter searches for prey, heat radiates off the sun stroked horizon distorting the landscape. At the snap of a twig and a rustle in thorny acacia the hunter is off. Keen eyed hearing pinpoint its prey: the cheetah spots an impala and immediately gives chase. The chase won't last long though. The impala lives on a farm and is protected by a high fence to keep predators out. But these fences aren't fool proof.
How termites hold back the desert
(02/05/2015) Some termite species erect massive mounds that look like great temples springing up from the world's savannas and drylands. But aside from their aesthetic appeal—and incredible engineering—new research in Science finds that these structures do something remarkable for the ecosystem: they hold back the desert.
Brazil's soy moratorium dramatically reduced Amazon deforestation
(01/23/2015) The moratorium on forest conversion established by Brazilian soy giants in 2006 dramatically reduce deforestation for soy expansion in the Amazon, and have been more effective in cutting forest destruction than the government's land use policy in the region, finds a study published today in the journal Science.
Success of 'land sparing' will depend on global economics, regulations
(12/16/2014) Agriculture is the primary driver of tropical deforestation. Indeed, most global food production occurs in the tropics, including important commodity crops such as sugarcane, soybeans, palm oil, and beef. Recent estimates indicate that forest clearing for agriculture contributes significantly to greenhouse gas emissions. This fuels concern over how to balance food production for a growing population with climate change mitigation through conserving tropical forests.
Ending deforestation won't stop carbon emissions from land use change

(11/17/2014) Even if the world stopped cutting down forests, carbon dioxide emissions from land use change would still pose a major challenge, according to a new paper in Nature Climate Change. The research finds that eliminating deforestation would mean agriculture would be pushed into non-forest ecosystems and still release significant quantities of carbon dioxide.
Shifting the way the world shops (commentary)
(11/17/2014) If you are what you eat, then just as true, you are what you buy. From organic, fair-trade, responsible palm oil, Wildlife Friendly, and most recently deforestation-free, consumers can cast their lot with a variety of eco-friendly labels and define who they are by what they buy. It gives someone in New York City the chance to contribute to forest protection in Indonesia by using their wallets to influence the sustainability of the supply chain that serves them with goods.
Brazil unlikely to sustain gains in reducing deforestation without new incentives for ranchers, says study
(10/09/2014) Cattle ranchers that drive the vast majority of forest clearing in the Brazilian Amazon are unlikely to be held at bay indefinitely unless they are afforded new incentives for keeping trees standing, argues new analysis published by an economic research group. The findings suggest that Brazil's recent progress in reducing deforestation — annual forest loss in the region has dropped by roughly 80 percent since 2004 — could easily be reversed.
Cargill commits to zero deforestation across entire global supply chain: all commodities
(09/24/2014) Cargill, one of the world's largest agricultural companies, has extended its zero deforestation commitment for palm oil to all commodities it produces. The commitment, announced Tuesday at the United Nations Climate Summit in New York, is the most far-reaching zero deforestation policy ever established, covering Cargill's sprawling global empire of businesses, including palm oil, sugar, soy, cattle, and cocoa.
Forests as important as farming for some rural communities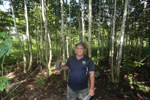 (07/14/2014) Forests have long been assumed to provide an important source of income for many of the world's poor. But determining exactly how forests contribute to rural economies – such as how much income is derived from forests, or how poverty relates to deforestation – has been difficult to pinpoint.
Booming populations, rising economies, threatened biodiversity: the tropics will never be the same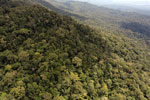 (07/07/2014) For those living either north or south of the tropics, images of this green ring around the Earth's equator often include verdant rainforests, exotic animals, and unchanging weather; but they may also be of entrenched poverty, unstable governments, and appalling environmental destruction. A massive new report, The State of the Tropics, however, finds that the truth is far more complicated.
A taste for wildlife: what's driving bushmeat hunting in Tanzania?
(06/25/2014) Barbed-wire snares, spent shotgun shells, the lingering smell of gunpowder, and strips of curing meat: glimpses from a bushmeat hunt. Bushmeat hunting is the illegal hunting of wildlife for food and income. A new study reports regular bushmeat consumption by a large proportion of Tanzania's tribal populations. Co-authors Silvia Ceppi and Martin Nielson were hunting for their own answers: who was eating bushmeat and why?
Commodity eco-certification skyrockets, but standards slip

(05/01/2014) The volume of commodities produced under various social and environmental certification standards jumped 41 percent in 2012, far outpacing the 2 percent growth across conventional commodity markets, finds a comprehensive new assessment of the global certification market.
Next big idea in forest conservation? Integrating demand for food with the need to save wild areas
(02/28/2014) Will it be possible safeguard the world's remaining rainforests while feeding billions of more mouths, many demanding more meat and richer diets? Dr. Mitchell Aide's is a tropical ecologist interested in how patterns of land use and biodiversity are affected by economic and demographic changes. Addressing food production and policy, Aide believes, as well as the Millennium Development Goals related to hunger, poverty, and sustainability are critical to conservation.
Migrating monarch butterflies hit shockingly low numbers
(01/31/2014) The monarch butterfly population overwintering in Mexico this year has hit its lowest numbers ever, according to WWF-Mexico. Monarch butterflies covered just 0.67 hectares in Mexico's forest, a drop of 44 percent from 2012 already perilously low population. To put this in perspective the average monarch coverage from 1994-2014 was 6.39 or nearly ten times this year's. For years conservationists feared that deforestation in Mexico would spell the end of the monarch migration, but now scientists say that agricultural and policy changes in the U.S. and Canada—including GMO crops and habitat loss—is strangling off one of the world's great migrations.
Bee-harming pesticides may impact human nervous system

(12/23/2013) Neonicotinoid pesticides, which have been increasingly blamed for the collapse of bee populations, may also impact human's developing nervous system, according to a review of research by the European Food Safety Authority (EFSA). The EFSA says that current safety guidelines for two pesticides—acetamiprid and imidacloprid—may be too lax to protect humans, especially the developing brains of unborn children
Asian elephants depend on shifting cultivation during the dry season

(12/16/2013) Asian elephants (Elephas maximus) have co-existed with human practices for thousands of years, including shifting cultivation. Shifting agriculture encompasses a variety of different practices that involve abandoning plots for periods of time to allow natural vegetation to grow. The practice consists of cutting and burning the natural vegetation at the end of the dry season and cultivating with the rains. Harvesting is completed by the end of the wet season.
Humans are not apex predators, but meat-eating on the rise worldwide
(12/05/2013) A new paper in Proceedings of the National Academy of Sciences has measured the "trophic level" of human beings for the first time. Falling between 1 and 5.5, trophic levels refer to where species fit on the food chain. Apex predators like tigers and sharks are given a 5.5 on trophic scale since they survive almost entirely on consuming meat, while plants and phytoplankton, which make their own food, are at the bottom of the scale. Humans, according to the new paper, currently fall in the middle: 2.21. However, rising meat-eating in countries like China, India, and Brazil is pushing our trophic level higher with massive environmental impacts.
Mangrove ecosystems being obliterated in Myanmar
(11/27/2013) Mangrove cover in Myanmar's Ayeyarwady Delta declined by nearly two-thirds between 1978 and 2011, leaving coastal areas more vulnerable to disasters like Cyclone Nargis, which killed 138,000 people in 2008, finds a new study published in the journal Global Environmental Change. The research, led by a team of scientists from the National University of Singapore and Mangrove and Environmental Rehabilitation Network in Yangon, is based on remote sensing and field data.
Scientists' beef with land use decisions
(11/25/2013) When food goes to the garbage can instead of someone's stomach, it is easy to see a wasted opportunity. The resources used to grow and transport that apple or hamburger went to the landfill. The Union of Concerned Scientists (UCS) is bringing another, less visible, form of food waste to the table, the waste created by eating foods that are inefficient to produce, like beef.
Bornean elephant meets palm oil: saving the world's smallest pachyderm in a fractured landscape
(10/01/2013) In the Malaysian state of Sabah, where most conservation students are still foreigners—either European or American—Nurzahafarina Othman stands out: not only is she Malaysian, a Muslim, and a mother of a young daughter, but she's rapidly becoming a top researcher and champion for the world's smallest elephant: the Bornean elephant (Elephas maximus borneensis). Although sometimes described as a pygmy elephant, they still weigh 2,000 kilograms (4,400 pounds). The origin of these 'tiny' elephants in Malaysian Borneo have baffled scientists for decades.
Preserving forest, birds boosts coffee profit up to $300/ha by controlling pests
(09/11/2013) Birds are providing a valuable ecosystem service on coffee plantations in Costa Rica, finds a new study that quantifies the pest control benefits of preserving tree cover in agricultural areas. The study, published in the journal Ecology Letters, looked at the impact of the coffee berry borer beetle (Hypothenemus hampeii) on coffee yields. The beetle is the only insect that directly consumes coffee berries, making it a major scourge for coffee farmers around the world, costing producers some $500 million a year.
Zoo races to save extreme butterfly from extinction
(08/15/2013) In a large room that used to house aquatic mammals at the Minnesota Zoo, Erik Runquist holds up a vial and says, 'Here are its eggs.' I peer inside and see small specks, pale with a dot of brown at the top; they look like a single grain of cous cous or quinoa. Runquist explains that the brown on the top is the head cap of the larva, a fact that becomes more clear under a microscope when you can see the encased larva squirm. I'm looking at the eggs of a Poweshiek skipperling, a species that is more imperiled than pandas, tigers, or bluewhales. Once superabundant, only several hundred Poweshiek skipperlings may survive on Earth today and the eggs I'm looking at are the only ones in captivity.
Foodies eat lab-grown burger that could change the world

(08/06/2013) Yesterday at a press event in London, two food writers took a bite into the world's most unusual hamburger. Grown meticulously from cow stem cells, the hamburger patty represents the dream (or pipedream) of many animal rights activists and environmentalists. The burger was developed by Physiologist Mark Post of Maastricht University and funded by Google co-founder Sergey Brin in an effort to create real meat without the corresponding environmental toll.
Deforestation ban working in Costa Rica
(08/05/2013) Costa Rica's ban on clearing of "mature" forests appears to be effective in encouraging agricultural expansion on non-forest lands, finds a study published today in the journal Environmental Research Letters. The study, which was led by Matthew Fagan of Columbia University, found that since Costa Rica implemented its ban on conversion of mature forests in 1996, the annual rate of old-growth forest loss dropped 40 percent despite an agricultural boom in the region. The results suggest that Costa Rica is intensifying agricultural production while simultaneously sparing forests.
Coffee and climate change: an uncertain future for millions of farmers around the world

(07/29/2013) An inconvenient truth is not what most people want to hear before they've had their first cup of coffee in the morning. Our coffee break is 'me time,' and we want to enjoy it. If the temperature is too high, put some ice in your cup. But for some 26 million people around the world who make it their business to produce our coffee, change is impossible to ignore.
Dominican Republic sends bulldozers to destroy wildlife reserve, home to endangered species
(07/23/2013) Last Wednesday, bulldozers entered the Loma Charco Azul Biological Reserve (LCABR) in the Dominican Republic and began clearing vegetation for agricultural development. The move stunned local conservationists who had not been notified ahead of time of the project. Although Charco Azul Biological Reserve is home to a wealth of threatened species—including the world's largest population of the Critically Endangered Ricordi's iguana (Cyclura ricordi)—the destruction of the reserve was signed off by the Dominican Republic's Minister of the Environment, Bautista Rojas Gómez.
Crop yields no longer keeping up with population growth

(06/26/2013) If the world is to grow enough food for the projected global population in 2050, agricultural productivity will have to rise by at least 60%, and may need to more than double, according to researchers who have studied global crop yields.
Solving 'wicked problems': ten principles for improved environmental management
(06/23/2013) As agriculture continues to expand at the expense of forests in the tropics, humanity struggles to meet environmental protection goals. Despite global efforts towards sustainable agriculture and some progress towards the gazetting of protected areas, there are as yet no general and effective solutions for meeting both conservation goals and food needs, and thus the loss and degradation of natural habitats continues. The Food and Agricultural Organization (FAO) has estimated a 70% increase in food production will be needed by 2050 to feed a population that will exceed 9 billion. How can such food production be met in ways that conserve the environment while also alleviating poverty?
EU labels another pesticide as bad for bees

(06/18/2013) A widely used insect nerve agent has been labelled a "high acute risk" to honeybees by the European Food Safety Authority (EFSA). A similar assessment by the EFSA on three other insecticides preceded the suspension of their use in the European Union.
Local economy ruined by pesticide pollution in the Caribbean
(05/29/2013) On 15 April more than 100 fishermen demonstrated in the streets of Fort de France, the main town on Martinique, in the French West Indies. In January they barricaded the port until the government in Paris allocated €2m ($2.6m) in aid, which they are still waiting for. The contamination caused by chlordecone, a persistent organochlorine pesticide, means their spiny lobsters are no longer fit for human consumption. The people of neighboring Guadeloupe are increasingly angry for the same reason. After polluting the soil, the chemical is wreaking havoc out at sea, an environmental disaster that now threatens the whole economy.
U.S. loses nearly a third of its honey bees this season
(05/09/2013) Nearly a third of managed honeybee colonies in America died out or disappeared over the winter, an annual survey found on Wednesday. The decline—which was far worse than the winter before—threatens the survival of some bee colonies. The heavy losses of pollinators also threatens the country's food supply, researchers said. The US Department of Agriculture has estimated that honeybees contribute some $20bn to the economy every year.
Sugarcane production impacting local climate in Brazil
(05/01/2013) Intensification of Brazil's sugarcane industry in response to rising demand for sugar-based ethanol could have impacts on the regional climate reports a new study by researchers from Arizona State University, Stanford University and the Carnegie Institution for Science. Following the conversion of cerrado grasslands into sugarcane in Brazil, a recent study in Geophysical Research Letters found local cooling that approached 1 degree Celsius during the growing season and maximum local warming near 1 degree Celsius post-harvest.
Indigenous tribes say effects of climate change already felt in Amazon rainforest
(04/30/2013) Tribal groups in Earth's largest rainforest are already being affected by shifts wrought by climate change, reports a paper published last week in the British journal Philosophical Transactions of the Royal Society B. The paper, which is based on a collection of interviews conducted with indigenous leaders in the Brazilian Amazon, says that native populations are reporting shifts in precipitation patterns, humidity, river levels, temperature, and fire and agricultural cycles. These shifts, measured against celestial timing used by indigenous groups, are affecting traditional ways of life that date back thousands of years.
Europe bans pesticides linked to bee collapse

(04/29/2013) The EU has banned three neonicotinoid pesticides (imidacloprid, clothianidin and thiamethoxam) linked to the decline of bees for two years. The ban will apply to all flowering crops, such as corn, rape seed, and sunflowers. The move follows a flood of recent studies, some high-profile, that have linked neonicotinoid pesticides, which employ nicotine-like chemicals, to the widespread decline of bees seen both in Europe and North America.
What if companies actually had to compensate society for environmental destruction?
(04/29/2013) The environment is a public good. We all share and depend on clean water, a stable atmosphere, and abundant biodiversity for survival, not to mention health and societal well-being. But under our current global economy, industries can often destroy and pollute the environment—degrading public health and communities—without paying adequate compensation to the public good. Economists call this process "externalizing costs," i.e. the cost of environmental degradation in many cases is borne by society, instead of the companies that cause it. A new report from TEEB (The Economics of Ecosystems and Biodiversity), conducted by Trucost, highlights the scale of the problem: unpriced natural capital (i.e. that which is not taken into account by the global market) was worth $7.3 trillion in 2009, equal to 13 percent of that year's global economic output.
Up for grabs: how foreign investments are redistributing land and water across the globe
(04/18/2013) In 2007, the increased human population, increased prices in fuel and transportation costs, and an increased demand for a diversity of food products prompted a Global Food Crisis. Agricultural producers and government leaders world-wide struggled to procure stable food sources for their countries. But the crisis had impacts beyond 2007: it was also the impetus for what we now know as the global land-grabbing phenomenon.
Madagascar swamped by locust invasion

(04/17/2013) More than 60 percent of Madagascar is suffering from a massive locust infestation that is threatening crops and livestock, potentially increasing risks to native wildlife and forests from hungry farmers, warns the U.N. Food and Agriculture Organization (FAO).
Featured video: stemming human-caused fires in the Amazon

(04/09/2013) A new series of 5 films highlights how people use fire in the Amazon rainforest and how such practices can be mitigated. Collectively dubbed "Slash & Burn" each film explores a different aspect of fire-use in the Amazon. In recent years the Amazon has faced unprecedented droughts, possibly linked to climate change and vast deforestation, making the issue of human-started fires even more important.
Still hope for tropical biodiversity in human modified landscapes

(04/09/2013) As primary forests become increasingly rare and expensive to protect, many ecologists are looking to better management of Human Modified Landscapes (HMLs) to shepherd and shield biodiversity in the tropics. Secondary forests, selectively logged forests and lands devoted to sustainable agriculture already play an important role in conservation efforts. However, the idea that HMLs will serve as a "Noah's Ark" for biodiversity, is controversial.
Norwegian Pinot Noir?: global warming to drastically shift wine regions

(04/08/2013) In less than 40 years, drinking wine could have a major toll on the environment and wildlife, according to a new study in the Proceedings of the National Academy of Sciences (PNAS). The study finds that climate change will likely force many vineyards to move either north or to higher altitudes, leading to habitat loss, biodiversity declines, and increased pressure for freshwater. Some famous wine-growing areas could be lost, including in the Mediterranean, while development of new wine areas—such as those in the Rocky Mountains and northern Europe—could lead to what the the scientists describe as "conservation conflicts."
30% of Brazil's emissions from deforestation are export-driven
(04/05/2013) 2.7 billion tons of carbon dioxide emissions or 30 percent of the carbon associated with deforestation in the Brazilian Amazon between 2000 and 2010 was effectively exported in the form of beef products and soy, finds a new study published in the journal Environmental Research Letters. The research underscores the rising role that global trade plays in driving tropical deforestation.
Can we meet rising food demand and save forests?
(04/03/2013) A few weeks ago the Skoll World Forum hosted an online debate on how increased global consumption can be balanced with sustainability. The debate asks how a rapidly growing world that is ever consuming can hope to feed everyone, and at the same time address the deforestation that is emitting massive amounts of carbon into the atmosphere and destroying the world's greatest tropical forests. Many contributors made very strong points—even contradicting one another in their approaches and ideas.
Domesticated bees do not replace declining wild insects as agricultural pollinators
(04/03/2013) Sprinkled with pollen, buzzing bees fly from one blossom to another, collecting sweet nectar from brilliantly colored flowers. Bees tend to symbolize the pollination process, but there are many wild insects that carry out the same function. Unfortunately, wild insect populations are in decline, and, according to a recent study, adding more honey bees may not be a viable solution.
Is hemp the silver bullet for fighting climate change and creating green jobs?

(03/30/2013) Though Obama has frequently spoken of the need for more 'green jobs,' he has failed to acknowledge the inherent environmental advantages associated with a curious plant called hemp. One of the earliest domesticated crops, hemp is incredibly versatile and can be utilized for everything from food, clothing, rope, paper and plastic to even car parts.
Common pesticides disrupt brain functioning in bees

(03/27/2013) Exposure to commonly used pesticides directly disrupts brain functioning in bees, according to new research in Nature. While the study is the first to record that popular pesticides directly injure bee brain physiology, it adds to a slew of recent studies showing that pesticides, especially neonicotinoids, are capable of devastating bee hives and may be, at least, partly responsible for on-going Colony Collapse Disorder (CCD).
Tropical croplands expand by 48m ha in 10 years, raising environmental concerns
(03/19/2013) Croplands in the tropics expanded by an average of 4.8 million hectares per year between 1999 and 2008, increasing pressure on forest areas and other ecosystems, reports a study published in the journal PLoS ONE. The research found that soybeans and maize (corn) expanded the most of any crops in terms of absolute area, followed by rice, sorghum, oil palm, beans, and sugar cane. The countries which added the largest area of new cropland were Nigeria, Indonesia, Ethiopia, Sudan and Brazil.
Innovative idea: wildlife income may help people withstand drought in Africa

(03/18/2013) Getting local people to become invested in wildlife conservation is not always easy, especially in parts of the world where protected areas are seen as taking away natural resources from local communities. This tension lies around Gonarezhou National Park in Zimbabwe, where a growing population of livestock herders competes with wildlife.
Saving forests by putting a price on them
(03/04/2013) During the 2013 SuperBowl, the championship game of the US National Football League, a truck company aired an advertisement that likened farmers to God's favorite assistant. It suggested that when God needs something tough, or gentle, done, he calls a farmer. The narration, taken from a speech given to the Future Farmers of America in 1978 by Paul Harvey, a radio host, plays directly to the near mythical stature of farmers and ranchers in American culture and their deep connection to nature.
Scientists: stop treating population growth as a 'given' and empower women
(02/27/2013) Climate change, biodiversity loss, resource depletion, water scarcity, and land issues: almost all of the world's environmental problems are underpinned by too many people inhabiting a finite planet. A new study in the Proceedings of the Royal Society B warns that overpopulation—combined with over-consumption—is threatening to push the entire globe into "a collapse of global civilization." But cultural changes, especially more empowerment of women and access to contraceptives, may hold the key to reducing population growth and eventual sustainability.
Controversial palm oil project concession in Cameroon is 89 percent 'dense natural forest'
(02/21/2013) Satellite mapping and aerial surveys have revealed that a controversial palm oil concession in Cameroon is almost entirely covered by "dense natural forest," according to a new report by Greenpeace. The activist group alleges that the concession, owned by Herakles Farms, is under 89 percent forest cover. The U.S.-based corporation intends to build a 70,000 hectare palm oil plantation in a region surrounded by four protected areas, including Korup National Park, but has faced stiff criticism from numerous environmental groups as well as conflict with locals.
Stress makes organic tomatoes more nutritious, sweeter
(02/20/2013) Organic tomatoes are sweeter (more sugar) and more nutritious (more vitamin C and anti-oxidants) than tomatoes grown with pesticides and chemical fertilizers, according to a new study published in the open-access journal PLOS ONE. The scientists theorize that stress may be why organic farming produces a more nutritious and tastier tomato.
EU pushes ban on pesticides linked to bee downfall
(02/05/2013) Following a flood of damning research on the longterm impact of neonicotinoid pesticides on bee colonies, the EU is proposing a two year ban on the popular pesticides for crops that attract bees, such as corn, sunflower, oil seed rape, cotton. The proposal comes shortly after European Food Safety Authority (EFSA) released a report that found neonicotinoid pesticides posed a "number of risks" to bees.
From slash-and-burn to Amazon heroes: new video series highlights agricultural transformation
(01/31/2013) A new series of short films is celebrating the innovation of rural farmers in the Manu region of Peru. Home to jaguars, macaws, and tapirs, the Manu region is also one of the top contenders for the world's most biodiverse place. It faces a multitude of threats from road-building to mining to gas and oil concessions. Still the impact of smallscale slash-and-burn farming—once seen as the greatest threat to the Amazon and other rainforest—may be diminishing as farmers, like the first film's Reynaldo (see below), turn to new ways of farming, ones that preserve the forest while providing a better life overall.
Popular pesticides kill frogs outright
(01/28/2013) Commonly used agrochemicals (pesticides, fungicides and herbicides) kill frogs outright when sprayed on fields even when used at recommended dosages, according to new research in Scientific Reports. Testing seven chemicals on European common frogs (Rana temporaria), the scientists found that all of them were potentially lethal to amphibians. In fact, two fungicides—Headline and Captain Omya—wiped out the entire population of frogs at the recommended dosage. The study warns that agricultural chemicals could be having a large-scale and largely unrecorded impact on the world's vanishing amphibians.
Bolivia takes step to boost agriculture and curb surging deforestation
(01/28/2013) Bolivia has passed a land use law that aims to boost food security and slow deforestation in a region that is wracked by illegal forest clearing. Approved earlier this month, Ley 337 seeks to regulate land use in the Bolivian Amazon where deforestation for industrial agricultural production is surging. The law requires landowners who illegally deforested land prior to 2011 to either reforest or establish 'productive agriculture' on the land and pay reduced fines for past transgressions.
Living beside a tiger reserve: scientists study compensation for human-wildlife conflict in India
(01/21/2013) During an average year, 87% of households surrounding Kanha Tiger Reserve in Central India report experiencing some kind of conflict with wild animals, according to a new paper in the open-access journal PLOS One. Co-existence with protected, free-roaming wildlife can be a challenge when living at the edge of a tiger reserve. "Local residents most often directly bear the costs of living alongside wildlife and may have limited ability to cope with losses" wrote the authors of the new paper.
Can ranchers co-exist with jaguars?
(01/17/2013) Jaguar once roamed from the United States to Argentina, but today they've been eliminated from several range countries, including the United States. The chief reasons are habitat loss and direct killing by humans, putting ranchers and farmers at the heart of the issue. Both ranchers and farmers convert key jaguar habitat and kill the big cats as a threat to their livestock. However in parts of Brazil's Pantanal, some ranchers are going about their business without killing jaguars. My Pantanal, a film by Andrea Heydlauff, Vice President of the wild cat conservation group Panthera, takes a look at one particular ranch that is helping prove that jaguars and ranchers can co-exist.
New website tracks protected areas under attack
(01/16/2013) The struggle to safeguard wild lands and species doesn't end when a park or protected area is created. In fact, social scientists and conservationists are increasingly uncovering a global trend whereby even long-established protected areas come under pressure by industrial, governmental, or community interests. This phenomenon, recently dubbed PADDD (which stands for Protected Area Downgrading, Downsizing, and Degazettement), includes protected areas that see their legal status lowered (downgraded), lose a section of their land (downsized), or are abolished entirely (degazetted). Now, a new website from WWF seeks to track PADDD events worldwide.
Scientists work to discover watermelon's lost genetic diversity
(01/04/2013) A hard, white, and bitter watermelon has plant geneticists licking their lips with anticipation. The size of tennis balls, wild watermelons grow natively in southern and western Africa. Geneticists cracked open this small relative to the juicy, summertime treat to extract ancient genetic material. They are mining the fruit's DNA for useful traits such as disease resistance that cultivated, or domesticated, watermelons have lost.
Biochar: a brief history and developing future

(01/02/2013) Biochar - charcoal produced from pyrolysis of biomass - has received tremendous attention and support in recent years, and championed as one of the potentially most useful techniques for soil restoration and carbon sequestration in the modern era. Although a multitude of initiatives in biochar research and application have sprung into action many critical details remain uncertain.
Recovery of Atlantic Forest depends on land-use histories

(12/10/2012) The intensity of land-use influences the speed of regeneration in tropical rainforests, says new research. Tropical rainforests are a priority for biodiversity conservation; they are hotspots of endemism but also some of the most threatened global habitats. The Atlantic Forest stands out among tropical rainforests, hosting an estimated 8,000 species of endemic plants and more than 650 endemic vertebrates. However, only around 11 percent of these forests now remain.
Palm oil or lard?

(12/07/2012) Animal fats and margarine consumption in the United States have been largely replaced by palm oil, a plant-based oil that has similar cooking properties, but may not be as environmentally-friendly as commonly believed, argues a researcher in this week's issue of Nature.
Improving food and water efficiency a must for the next generation

(12/05/2012) This summer, while climate change silence reigned in the U.S. presidential race, the Stockholm International Water Institute's conference for World Water Week focused on the global initiatives required in order to live with its effects. The report, titled "Feeding a Thirsty World," garnered the most publicity with the assertion that agricultural water scarcity and an increasing population would force the world to reduce average meat and dairy consumption down to just 5% of all calories by 2050. At present, 20% of the average human diet is made up from animal proteins.
Forests, farming, and sprawl: the struggle over land in an Amazonian metropolis
(12/04/2012) The city of Parauapebas, Brazil is booming: built over the remains of the Amazon rainforest, the metropolis has grown 75-fold in less than 25 years, from 2,000 people upwards of 150,000. But little time for urban planning and both a spatial and mental distance from the federal government has created a frontier town where small-scale farmers struggle to survive against racing sprawl, legal and illegal mining, and a lack of investment in environmental protection. Forests, biodiversity, and subsistence farmers have all suffered under the battle for land. In this, Parauapebas may represent a microcosm both of Brazil's ongoing problems (social inequality, environmental degradation, and deforestation) and opportunity (poverty alleviation, reforestation, and environmental enforcement).
Africa's great savannahs may be more endangered than the world's rainforests
(12/04/2012) Few of the world's ecosystems are more iconic than Africa's sprawling savannahs home to elephants, giraffes, rhinos, and the undisputed king of the animal kingdom: lions. This wild realm, where megafauna still roam in abundance, has inspired everyone from Ernest Hemingway to Karen Blixen, and David Livingstone to Theodore Roosevelt. Today it is the heart of Africa's wildlife tourism and includes staunch defenders such as Richard Leakey, Michael Fay, and the Jouberts. Despite this, the ecosystem has received less media attention than imperiled ecosystems like rainforests. But a ground-breaking study in Biodiversity Conservation finds that 75 percent of these large-scale intact grasslands have been lost, at least from the lion's point of view.
Investors shouldn't ignore financial risk of environmental damage

(11/29/2012) Environmental damage poses a long-ignored risk to sovereign bonds, according to a new report by the UNEP FI (The United Nations Environment Programme Finance Initiative) and the Global Footprint Network. The report, E-RISC Report, A New Angle on Sovereign Credit Risk, finds that the overuse of natural resources and their degradation has put considerable, and largely unrecognized, risk against national economies.
Organic farming keeps carbon out of the atmosphere
(11/28/2012) With the worst effects of climate change, we are seeing how pollution hurts both human health and the environment but there is good news: a new study shows that organic farming stores more greenhouse gases in the soil than non-organic farming. By switching to organic methods, many farmers across the globe may be helping to solve the climate crisis at the same time as they improve soil quality and avoid the use of pesticides.
Photos reveal destruction of Cameroon rainforest for palm oil
(11/26/2012) Newly released photos by Greenpeace show the dramatic destruction of tropical forest in Cameroon for an oil palm plantation operated by SG Sustainable Oils Cameroon (SGSOC), a subsidiary of the U.S. company Herakles Farm. The agriculture company is planning to convert 73,000 hectares to palm oil plantations on the edge of several protected areas, but has faced considerable opposition from environmentalists and some local communities. In addition to the aerial photos, Greenpeace alleges that ongoing forest clearing by Herakles is illegal since the companies 99-year lease has yet to be fully approved by the Cameroonian government.
A new way to rescue Africa's struggling soils: Planting perennials with crops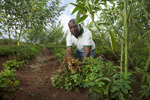 (11/20/2012) It sounds counter-intuitive: Grow more food by planting less. But it's a plan that scientists think will produce enough crops to feed Africa's quickly expanding population. African farmers who sow food crops mixed with plants called perennials—which live two years or more—can enrich nutrient-poor soils and increase their bounty, argue scientists in the Sept. 20 issue of Nature.
World Bank: 4 degrees Celsius warming would be miserable
(11/20/2012) A new report by the World Bank paints a bleak picture of life on Earth in 80 years: global temperatures have risen by 4 degrees Celsius spurring rapidly rising sea levels and devastating droughts. Global agriculture is under constant threat; economies have been hampered; coastal cities are repeatedly flooded; coral reefs are dissolving from ocean acidification; and species worldwide are vanishing. This, according to the World Bank, is where we are headed even if all of the world's nations meet their pledges on cutting greenhouse gas emissions. However, the report also notes that with swift, aggressive action it's still possible to ensure that global temperatures don't rise above 4 degrees Celsius.
Featured video: on-the-ground look at Brazil's fight against deforestation

(11/15/2012) A new video by the Guardian takes an on-the-ground look at Brazil's efforts to tackle deforestation in the Amazon. Using satellite imagery, an elite team of enforcement agents are now able to react swiftly to illegal deforestation. The crackdown on deforestation has been successful: destruction of the Amazon has slowed by around 75 percent in the last 8 years.
Hurricane Sandy pushes Haiti toward full-blown food crisis

(11/12/2012) Although Haiti avoided a direct hit by Hurricane Sandy, the tropical storm caused severe flooding across the southern part of the country decimating agricultural fields. The UN Office for the Coordination of Humanitarian Affairs now warns that 1.5 million Haitians are at risk of severe food insecurity, while 450,000 people face severe acute malnutrition, which can kill.
Over 100,000 farmers squatting in Sumatran park to grow coffee
(11/06/2012) Sumatra's Bukit Barisan Selatan National Park—home to the Critically Endangered Sumatran rhinos, tigers, and elephants—has become overrun with coffee farmers, loggers, and opportunists according to a new paper in Conservation and Society. An issue facing the park for decades, the study attempted for the first time to determine the number of squatters either living in or farming off Bukit Barisan Selatan National Park, a UNESCO World Heritage Site; the rough census—over 100,000 people—shocked scientists.
New rare frog discovered in Sri Lanka, but left wholly unprotected
(11/05/2012) Sri Lanka, an island country lying off the southeast coast of India, has long been noted for its vast array of biodiversity. Islands in general are renowned for their weird and wonderful creatures, including high percentages of endemic species—and Sri Lanka, where scientists recently discovered a new frog species, is no exception.
From 'fertilizer to fork': food accounts for a quarter of the world's greenhouse gas emissions

(11/01/2012) Growing, transporting, refrigerating, and wasting food accounts for somewhere between 19-29 percent of the world's greenhouse gas emissions in 2008, according to a new analysis by the CGIAR Research Program on Climate Change, Agriculture and Food Security (CCAFS). In hard numbers that's between 9.8 and 16.9 billion tonnes of carbon dioxide, more than double the fossil fuel emissions of China in the same year. Over 80 percent of food emissions came from production (i.e. agriculture) which includes deforestation and land use change.
New study adds to evidence that common pesticides decimating bee colonies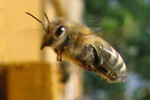 (10/24/2012) The evidence that common pesticides may be partly to blame for a decline in bees keeps piling up. Several recent studies have shown that pesticides known as "neonicotinoid" may cause various long-term impacts on bee colonies, including fewer queens, foraging bees losing their way, and in some cases total hive collapse. The studies have been so convincing that recently France banned the use of neonicotinoid pesticides. Now a new study finds further evidence of harm caused by pesticides, including that bees who are exposed to more than one chemical, i.e. neonicotinoid and pyrethroid, were the most vulnerable.
One in eight people suffer from malnutrition worldwide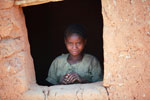 (10/16/2012) In a world where technology has advanced to a point where I can instantly have a face-to-face conversation via online video with a friend in Tokyo, nearly 870 million people, or one in eight, still suffer from malnutrition, according to a new UN report. While worldwide hunger declined from 1990 to 2007, progress was slowed by the global economic crisis. Over the last few years, numerous and record-breaking extreme weather events have also taken tolls on food production. Currently, food prices hover just below crisis levels.
Appreciating elephant individuality: a new approach to preventing conflicts with humans
(10/09/2012) To prevent conflicts between humans and elephants in developed areas, a new study shows there is much to learn from analyzing Asian elephant behavior at the individual level as opposed to population studies. Researchers have traditionally interpreted elephant behavior at the population level, looking for behavior patterns among elephants of similar ages, group sizes, and genders. Today, field researchers in India are studying elephant behavior at the individual level. Their goal is to appreciate the idiosyncrasies of individual elephants in the hopes of predicting their behavior. Nishant Srinivasaiah, of the Tata Institute of Fundamental Research and lead author of the study, told mongabay.com that it is vital "to get to know our elephants more intimately than ever before and, more importantly, to shift our focus from a population to include its individuals as well."
Roundtable on Sustainable Palm Oil hits 10 year mark
(10/04/2012) The Roundtable on Sustainable Palm Oil (RSPO) is holding its tenth annual meeting later this month. The initiative, which aims to improve the social and environmental performance of palm oil production through a certification standard, has advanced considerably during that time, moving from an idea to a reality: RSPO-certified palm oil now accounts for 12 percent of global palm oil production. Yet the RSPO is not without controversy. Some palm oil companies say its criteria are too costly to adopt and are therefore discriminatory, while environmental critics argue its bar for "sustainable" palm oil is too low and the loopholes allow producers to claim membership even if they aren't actually producing certified palm oil across all their holdings. Nonetheless the RSPO has support from many of the world's largest palm oil producers, traders, and consumers as well as the biggest NGOs.
Food prices rise as food aid needed in Middle East and Africa

(10/04/2012) Food prices increased in September on the FAO Food Price Index after two months of stability, while food aid has been urgently called for in Yemen and Syria, and concerns lingered in parts of Africa. Food prices globally rose 3 points (or 1.4 percent) to 216 points.
Livelihoods depend on the environment in the Western Ghats

(09/27/2012) In the Uttar Kannada district of the Western Ghats, the livelihood of the average individual depends largely on the well being of the environment. Six months ago, before large-scale mangrove planting of the area, if someone were to walk through the banks of the mangroves in the Western Ghats he would see many fishermen casting their long nets and wires, time and time again noticing pieces of trash such as plastic grocery bags tangled in the nets.
Learning to live with elephants in Malaysia
(09/18/2012) Humans and elephants have a lot in common: both are highly intelligent, intensely social, and both are capable of having a massive impact on their local environments. Given their similarities, it might not be surprising that elephants and human have often run afoul of one another. Conflict between these two great species has probably been going on for thousands of years, but as human populations have grown dramatically, elephant populations have been crippled and forced into smaller-and-smaller pockets. No-where is this more true than in Southeast Asia.
Bird diversity at risk if 'agroforests' replaced with farmland
(09/13/2012) Agroforests contain much higher levels of bird diversity than their open agricultural counterparts, according to new research from the University of Utah. If large forests and agroforests continue to be replaced by simple open farms, bird communities will become much less specialized and entire groups may become extinct. Important roles for birds, such as pollination, pest control or seed dispersal, may remain unfilled if ongoing trends toward open agriculture continues and biodiversity decreases.
Private reserve safeguards newly discovered frogs in Ecuadorian cloud forest
(08/28/2012) Although it covers only 430 hectares (1,063 acres) of the little-known Chocó forest in Ecuador, the private reserve las Gralarias in Ecuador is home to an incredible explosion of life. Long known as a birder's paradise, the Reserva las Gralarias is now making a name for itself as a hotspot for new and endangered amphibians, as well as hundreds of stunning species of butterfly and moth. This is because the reserve is set in the perfect place for evolution to run wild: cloud forest spanning vast elevational shifts. "The pacific slope cloud forests [...] are among the most endangered habitats in the world," explains Reserva las Gralarias' founder, Jane Lyons, in a recent interview with mongabay.com.
Mekong dam spree could create regional food crisis
(08/27/2012) Fish are a hugely important protein source for many people around the world. This is no more evident than along the lower Mekong River delta where an estimated 48 million people depend directly on the river for food and livelihoods. But now a new study in Global Environmental Change cautions that 11 planned hydroelectric dams in the region could cut vital fish populations by 16 percent while putting more strain on water and land resources.




Page 1 | Page 2 | Page 3 | Page 4 | Page 5