News articles on extreme weather

---
Mongabay.com news articles on extreme weather in blog format. Updated regularly.





Alaska roasting: new NASA map shows the Final Frontier in grip of January heatwave


(02/05/2014) Alaska got California weather at the end of January, as displayed by a new map based on data by NASA's Terra satellite's Moderate Resolution Imaging Spectroradiometer (MODIS). The U.S. state experiences one of its warmest winter periods on record during the second half of January, including some temperatures that ran 40 degrees Fahrenheit (22 degrees Celsius) above average. According to the EPA, temperatures in Alaska have risen an average of 3.4 degrees Fahrenheit (1.9 degrees Celsius) in just the last 50 years due to climate change.


World suffers warmest November on record


(12/18/2013) Last month was the warmest November on record, according to new analysis from the NOAA. Temperatures were 0.78 degrees Celsius (1.40 degrees Fahrenheit) above the average November in the 20th Century. Global temperatures are on the rise due to climate change caused primarily by burning fossil fuels, but also by deforestation and land-use change.


Top 10 Environmental Stories of 2013


(12/10/2013) 1. Carbon concentrations hit 400ppm while the IPCC sets global carbon budget: For the first time since our appearance on Earth, carbon concentrations in the atmosphere hit 400 parts per million. The last time concentrations were this high for a sustained period was 4-5 million years ago when temperatures were 10 degrees Celsius higher. Meanwhile, in the slow-moving effort to curb carbon emissions, the Intergovernmental Panel on Climate Change (IPCC) crafted a global carbon budget showing that most of the world's fossil fuel reserves must be left untouched if we are to avoid catastrophic climate change.


Philippines' delegate calls out climate change deniers after Haiyan

(11/12/2013) Yesterday, the Filipino delegate to the ongoing climate summit, Naderev 'Yeb' Saño, dared climate change deniers to take a hard look at what's happening not just in the Philippines, but the whole world. Over the weekend, the Philippines was hit by what may have been the largest typhoon to ever make landfall—Typhoon Haiyan. Reports are still coming in days later, but the death toll may rise to over 10,000 with whole cities simply swept away.


Delegate for the Philippines vows to stop eating at climate summit


(11/11/2013) Following the devastation wrought by Typhoon Haiyan—which is arguably the strongest typhoon to ever make landfall—Filipino delegate, Naderev 'Yeb' Saño, has vowed to go on a fast at the UN Climate Summit that opened today in Warsaw, Poland. Saño made the vow during a powerful speech in which he said he would fast, 'until we stop this madness.'


Climate change policy is just good economics

(09/25/2013) For the majority of the new century, Americans have largely stopped caring about the environment. In that time, America has suffered 9/11, two of the nation's four longest wars, the deepest depression in 80 years, increased inequality, and incompetent or fractured leadership. There's been a lot on the public mind.


Climate change to hurt children most

(09/25/2013) Children will bear the brunt of the impact of climate change because of their increased risk of health problems, malnutrition and migration, according to a new study published on Monday. And food prices are likely to soar as a result of warming, undoing the progress made in combating world hunger.


Worst drought in 30 years threatens millions in southern Africa with food insecurity

(08/19/2013) Around 2 million people face food insecurity in northern Namibia and southern Angola as the worst regional drought in decades takes its toll, according to the UN. Two years of failed rains have pushed families into desperate conditions in a region already known for its desert-like conditions. In Namibia alone, experts estimate that over 100,000 children under five are at risk for acute malnutrition.


Zoo races to save extreme butterfly from extinction


(08/15/2013) In a large room that used to house aquatic mammals at the Minnesota Zoo, Erik Runquist holds up a vial and says, 'Here are its eggs.' I peer inside and see small specks, pale with a dot of brown at the top; they look like a single grain of cous cous or quinoa. Runquist explains that the brown on the top is the head cap of the larva, a fact that becomes more clear under a microscope when you can see the encased larva squirm. I'm looking at the eggs of a Poweshiek skipperling, a species that is more imperiled than pandas, tigers, or bluewhales. Once superabundant, only several hundred Poweshiek skipperlings may survive on Earth today and the eggs I'm looking at are the only ones in captivity.


Climate change already pummeling U.S. according to government report

(01/14/2013) Climate change is on the march across the U.S. according to a new draft report written by U.S. government scientists with input from 240 experts. It documents increasing and worsening extreme weather, rising sea levels, and ocean acidification among other impacts. Released Friday for public review, the report will be officially launched later this year or early in 2014.


Australia reels from record heatwave, fires

(01/09/2013) Yesterday Australia recorded its highest average temperature yet: 40.33 degrees Celsius (104.59 Fahrenheit). The nation has been sweltering under an unprecedented summer heatwave that has spawned wildfires across the nation, including on the island of Tasmania where over 100 houses were engulfed over the weekend. Temperatures are finally falling slightly today, providing a short reprieve before they are expected to rise again this weekend.


Climate Summit in Doha characterized by lack of ambition


(12/09/2012) Ahead of the 18th United Nations Framework Convention on Climate Change (UNFCCC) in Doha, Qatar a variety of reports warned that the world was running out of time to avoid dangerous climate change, and that there was a widening gap between what nations have pledged to do and what the science demanded. A landmark report by the World Bank painted an almost apocalyptic picture of a world in which global temperatures have risen 4 degrees Celsius above pre-industrial levels, including unprecedented heatwaves and droughts, rising sea levels, global agriculture crises, and a stunning loss of species. In addition, scientific studies released near the two week conference found that sea levels were rising 60 percent faster than predicted, forests around the world were imperiled by increasing drought, marine snails were dissolving in the Southern Ocean due to ocean acidification, and ice melt in Greenland and Antarctica was on the rise.


Illegal logging, mining worsened impact of Philippines' killer typhoon

(12/06/2012) According to Filipino officials, rampant illegal logging and mining were likely a part of the cause for the high casualty count from Category 5 Typhoon Bopha (Pablo), especially in the Compostela Valley where government officials had warned people to stop the illegal activities. So far, 370 people have been found dead on the island of Mindanao with another 400 missing. Waters rose so high even emergency shelters were inundated.


World Bank: 4 degrees Celsius warming would be miserable


(11/20/2012) A new report by the World Bank paints a bleak picture of life on Earth in 80 years: global temperatures have risen by 4 degrees Celsius spurring rapidly rising sea levels and devastating droughts. Global agriculture is under constant threat; economies have been hampered; coastal cities are repeatedly flooded; coral reefs are dissolving from ocean acidification; and species worldwide are vanishing. This, according to the World Bank, is where we are headed even if all of the world's nations meet their pledges on cutting greenhouse gas emissions. However, the report also notes that with swift, aggressive action it's still possible to ensure that global temperatures don't rise above 4 degrees Celsius.


Obama criticized for lack of urgency on climate change

(11/15/2012) Following the devastation wrought by Hurricane Sandy—which many scientists say was likely worsened by climate change—and a long silence on the issue of global warming during the Presidential campaign, environmentalists yesterday were disappointed when re-elected President Barack Obama seemingly put action on climate change on the back burner.


Obama breaks climate silence at press conference

(11/14/2012) At a news conference today, a question by New York Times reporter Mark Landler pushed President Obama to speak at some length about climate change. In his answer, Obama re-iterated his acceptance of climate science and discussed how progress on tackling climate change might proceed in his second term, though he also noted that he wouldn't put action on the climate ahead of the economy. President Obama made a small reference to climate change in his victory speech following his historic re-election last Tuesday, but his answer today was the most the president has talked about the issue at any length since at least Hurricane Sandy.


It's not just Sandy: U.S. hit by record droughts, fires, and heatwaves in 2012


(11/05/2012) As the devastation wrought by Hurricane Sandy—killing over 100 people and producing upwards of $50 billion in damage along the U.S. East Coast—has reignited a long-dormant conversation on climate change in the media, it's important to note that this is not the only weird and wild weather the U.S. has seen this year. In fact, 2012 has been a year of record-breaking weather across the U.S.: the worst drought in decades, unprecedented heatwaves, and monster forest fires. While climatologists have long stated that it is not yet possible to blame a single extreme weather event on climate change, research is showing that rising temperatures are very likely increasing the chances of extreme weather events and worsening them when they occur.


From 'fertilizer to fork': food accounts for a quarter of the world's greenhouse gas emissions

(11/01/2012) Growing, transporting, refrigerating, and wasting food accounts for somewhere between 19-29 percent of the world's greenhouse gas emissions in 2008, according to a new analysis by the CGIAR Research Program on Climate Change, Agriculture and Food Security (CCAFS). In hard numbers that's between 9.8 and 16.9 billion tonnes of carbon dioxide, more than double the fossil fuel emissions of China in the same year. Over 80 percent of food emissions came from production (i.e. agriculture) which includes deforestation and land use change.


New York Aquarium entirely 'underwater'

(10/30/2012) Hurricane Sandy, which brought storm surges that reached 14 feet to New York City, has put the Wildlife Conservation Society's New York Aquarium "under water," according to a statement from the organization. The aquarium is located on the Coney Island boardwalk, in the heart of an area where rescue operations are currently under way to save people stranded in their homes. There are reports that flooding has reached some people's roofs.


Hours before Hurricane Sandy hit, activists protested climate inaction in Times Square


(10/30/2012) On Sunday, as Hurricane Sandy roared towards the coast of the Eastern U.S., activists took to the streets in New York City to highlight the issue of climate change. Activists organized by 350.org unfurled a huge parachute in Times Square with the words, "End Climate Silence," a message meant to call attention to the fact that there has been almost zero mention of climate change during the presidential campaign, including not a single reference to the issue in the four presidential debates.


How climate change may be worsening Hurricane Sandy


(10/29/2012) While scientists are still debating some fundamental questions regarding hurricanes and climate change (such as: will climate change cause more or less hurricanes?), there's no debating that a monster hurricane is now imperiling the U.S. East Coast. A few connections between a warmer world and Hurricane Sandy can certainly be made, however: rising sea levels are likely to worsen storm surges; warmer waters bring more rain to increase flooding; and hotter temperatures may allow the hurricane to push both seasonal and geographic boundaries.


One in eight people suffer from malnutrition worldwide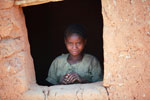 (10/16/2012) In a world where technology has advanced to a point where I can instantly have a face-to-face conversation via online video with a friend in Tokyo, nearly 870 million people, or one in eight, still suffer from malnutrition, according to a new UN report. While worldwide hunger declined from 1990 to 2007, progress was slowed by the global economic crisis. Over the last few years, numerous and record-breaking extreme weather events have also taken tolls on food production. Currently, food prices hover just below crisis levels.


Over 70 percent of Americans: climate change worsening extreme weather

(10/10/2012) According to a new poll, 74 percent of Americans agree that climate change is impacting weather in the U.S., including 73 percent who agreed, strongly or somewhat, that climate change had exacerbated record high temperatures over the summer. The findings mean that a large majority of Americans agree with climatologists who in recent years have found increasingly strong evidence that climate change has both increased and worsened extreme weather events.


Arctic sea ice is 'toast' as old record shattered

(09/19/2012) Some twenty days after breaking the record for the lowest sea ice extent, the Arctic sea ice has hit a new rock bottom and finally begun its seasonal recovery. In the end, the Arctic sea ice extent fell to just 3.4 million square kilometers (1.32 million square miles) when only a few months ago scientists were wondering if it would break the 4 million square kilometers. The speed of the sea ice decline due to climate change has outpaced all the computer models, overrun all expert predictions, and shocked even the gloomiest scientists.


Sea ice falls to record low with over two weeks of melting left

(08/27/2012) One of the most visible impacts of climate change—melting summer sea ice in the Arctic—just hit a new milestone. Scientists with the U.S. National Snow and Ice Data Center (NSIDC) have declared that this year's Arctic sea ice extent dipped below the previous record set in 2007 as of yesterday. The record is even more notable, however, as it occurred more than a fortnight before the Arctic's usual ice melt season ends, meaning the old record will likely not just be supplanted, but shattered.


Climate change may be worsening impacts of killer frog disease

(08/13/2012) Climate change, which is spawning more extreme temperatures variations worldwide, may be worsening the effects of a devastating fungal disease on the world's amphibians, according to new research published in Nature Climate Change. Researchers found that frogs infected with the disease, known as chytridiomycosis, perished more rapidly when temperatures swung wildly. However scientists told the BBC that more research is needed before any definitive link between climate change and chytridiomycosis mortalities could be made.


Extreme heatwaves 50 to 100 times more likely due to climate change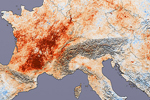 (08/05/2012) A recent rise in deadly, debilitating, and expensive heatwaves was caused by climate change, argues a new statistical analysis published in the Proceedings of the National Academy of Sciences (PNAS). Climatologists found that extreme heatwaves have increased by at least 50 times during the last 30 years. The researchers, including James Hansen of NASA, conclude that climate change is the only explanation for such a statistical jump.


Featured video: climate change bringing on the extremes

(07/24/2012) Focusing on extreme weather events in the U.S. this summer, a new compilation video highlights the connection between climate change and increasing and worsening extremes, such as heatwaves, droughts, and floods.


U.S. drought could set in motion global food crisis

(07/23/2012) The U.S. is suffering drought levels not seen in over 50 years—and drawing comparisons to the Dust Bowl—with 56 percent of the contiguous U.S. in moderate to extreme drought. Some experts fear that the drought, and resulting hikes in food prices, could propel another global food crisis like those seen in 2008 and 2010.


Deja vu: U.S. undergoes hottest 12 months on record...again and again

(07/12/2012) According to new data from the National Oceanic and Atmospheric Administration (NOAA)'s National Climatic Data Center, the last twelve months have been the warmest on record for the contiguous United States. This record, set between July 2011 through June 2012, beat the last consecutive twelve month record set only a month earlier between June 2011 and May 2012, which in turn beat the previous record holder, you guessed it: May 2011 through April 2012.


Climate change increased the probability of Texas drought, African famine, and other extreme weather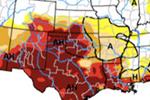 (07/11/2012) Climate change is here and its increasing the chances for crazy weather, according to scientists. A prestigious group of climatologists have released a landmark report that makes the dramatic point that climate change is impacting our weather systems—and in turn our food crops, our economies, and even our lives—here-and-now. The new report in the American Meteorological Society is first of what is intended to be an annual offering that will attempt to tease out the connections between climate change and individual extreme weather events, such as heatwaves, droughts and floods.


As U.S. sees record heat, extreme weather pummels 4 continents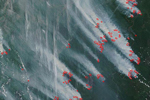 (07/10/2012) It's not only the U.S. that has experienced record-breaking extreme weather events recently, in the last couple months extreme weather has struck around the world with startling ferocity. In addition to the much-covered heatwaves, wildfires, and droughts in the U.S., killer floods struck India, the worst drought yet recorded plagued South Korea, and massive forest fires swept through Siberia to name just a few.


Scientist: 'no doubt' that climate change is playing a role in U.S. fires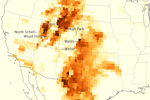 (07/02/2012) A noted climate scientist says there is 'no doubt' that climate change is 'playing a role' in this year's series of record fires in the western U.S. A massive wildfire in Colorado has forced the evacuation of 36,000 people, destroyed over 300 homes, and killed two people. The devastation wrought by the Waldo Canyon Fire even prompted a visit form U.S. President Barack Obama. But this is not the only epic fire in the U.S. this year: less than a month before the Colorado disaster, New Mexico experienced its largest fire on record in Gila Nation Forest; the conflagration burned up 247,000 acres (100,000 hectares). Other major wildfires have occurred in Utah and Wyoming, as well as other parts of New Mexico and Colorado.


As Colorado and New Mexico burn, scientists say prepare for more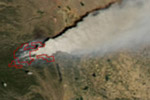 (06/12/2012) A massive wildlife in Colorado still burns after it has killed one person and damaged or destroyed over a hundred structures. The fire, the third largest in Colorado's history, has burned 39,500 acres (16,000 hectares) to date. Meanwhile in central New Mexico, another wildfire has damaged or destroyed 35 structures and burned 34,500 acres (14,000 hectares). This comes just weeks after New Mexico's largest wildfire ever—still going—burned up over 247,000 acres (100,000 hectares) of the Gila Forest. Weeks of heroic efforts by thousands of firefighters have contained this megafire by only 37 percent to date. Now, a new scientific study in Ecospshere has found that North America and Europe must prepare for even more fires as global temperatures continue to rise from climate change.


NASA image: New Mexico suffers record megafire

(06/04/2012) To date, around 250,000 acres (101,000 hectares) of the Gila Forest in New Mexico have burned in the state's largest fire ever recorded. Begun on May 16th due to lightning strikes, the unprecedented fire has likely been made possible by a combination of land-use changes, unflagging drought, and climate change.


The vanishing Niger River imperils tourism and livelihoods in the desert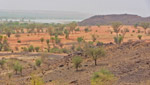 (06/04/2012) Severely affected by recent turmoil across its northern frontiers, Nigerien tourism pins hope on river valley attractions to play a major role in rebuilding its tourism industry in the upcoming years. Even though the river itself is threatened. Located in the heart of the Sahel Region, the vast desert lands of Niger have captivated European tourists seeking a taste of its immensely varied natural landscapes.


U.S. undergoes warmest 12 months yet

(05/10/2012) Americans would not be remiss in asking, "is it getting hot in here?" According to new data from the National Oceanic and Atmospheric Administration (NOAA)'s National Climatic Data Center, the last twelve months (from May 2011 through April 2012) were the warmest on record for the lower 48 U.S. states since record keeping began in the late 19th Century.


Pictures of the day: activists highlight personal impacts of climate change worldwide

(05/07/2012) On Saturday, people around the world gathered to highlight the varied impacts of climate change on their lives. Organized by 350.org, the global day of action was a call to "connect the dots" between a warming Earth and extreme weather events, such as droughts, floods, and fires among other impacts. Nearly 1,000 events were held worldwide.


Thousands worldwide to "connect the dots" between climate change and extreme weather this weekend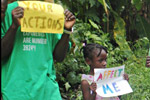 (05/03/2012) On Saturday, May 5th vulnerable populations from the United States to Bangladesh will "connect the dots" between devastating extreme weather and climate change in a global day of action organized by 350.org. The nearly 1,000 events occurring in over half of the world's nations are meant to highlight to governments, media, and the public that climate change is impacting lives through an increase in number and intensity of devastating weather events, such as droughts, heatwaves, and floods.


U.S. suffers warmest March, breaking over 15,000 record temperatures

(04/11/2012) March was the warmest ever recorded in the U.S. with record-keeping going back to 1895, according to new data by the National Oceanic and Atmospheric Administration (NOAA). But the month wasn't just a record-breaker, it was shockingly aberrant: an extreme heatwave throughout much of the eastern and central U.S. shattered 15,272 day and nighttime records across the U.S. In all March 2012 was 0.5 degrees Fahrenheit above the previous warmest March in 1910, and an astounding 8.6 degrees Fahrenheit above the 20th Century average for March in the U.S.


"Strong evidence" linking extreme heatwaves, floods, and droughts to climate change

(03/28/2012) As North America recovers from what noted meteorologist Jeff Masters has called "the most incredible spring heatwave in U.S. and Canadian recorded history," a new paper argues that climate change is playing an important role in a world that appears increasingly pummeled by extreme weather. Published in Nature Climate Change, the paper surveys recent studies of climate change and extreme weather and finds "strong evidence" of a link between a warming world and the frequency and intensity of droughts, floods, and heatwaves—such as the one that turned winter into summer in the U.S.


Tornado season likely to expand due to climate change

(03/06/2012) Last Friday, around a hundred tornadoes left a wake of destruction in the U.S., killing 39 people to date and destroying entire towns. The tragedy hit hardest in Kentucky and Indiana and experts predict the weather-disaster will cost over $1 billion. But isn't this early for tornado season? Yes, say experts, and climatologists add that while research on tornadoes and climate change is currently in its infancy, it's possible, probably even likely, that climate change is expanding tornado season in the U.S. due to the earlier arrival of spring.


NASA: 2011 ninth warmest year yet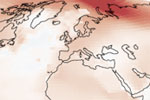 (01/23/2012) Despite being a strong La Niña year, which tends to be cooler than the average year, 2011 was the ninth warmest year on record and the warmest La Niña yet, according to a global temperature analysis by NASA. To date, nine of the world's ten warmest years have occurred since 2000 according to data going back to 1880.


Climate change media coverage drops 20 percent in 2011

(01/05/2012) Global media reporting on climate change issues was down again last year, according to a new analysis from The Daily Climate. The news organization counted around 19,000 stories on climate issues during the year written by 7,140 journalists, falling 20 percent from 2010 levels.


Top 10 Environmental Stories of 2011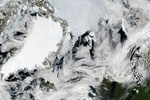 (12/22/2011) Many of 2011's most dramatic stories on environmental issues came from people taking to the streets. With governments and corporations slow to tackle massive environmental problems, people have begun to assert themselves. Victories were seen on four continents: in Bolivia a draconian response to protestors embarrassed the government, causing them to drop plans to build a road through Tipnis, an indigenous Amazonian reserve; in Myanmar, a nation not known for bowing to public demands, large protests pushed the government to cancel a massive Chinese hydroelectric project; in Borneo a three-year struggle to stop the construction of a coal plant on the coast of the Coral Triangle ended in victory for activists; in Britain plans to privatize forests created such a public outcry that the government not only pulled back but also apologized; and in the U.S. civil disobedience and massive marches pressured the Obama Administration to delay a decision on the controversial Keystone XL pipeline, which would bring tar sands from Canada to a global market.


Earth systems disruption: Does 2011 indicate the "new normal" of climate chaos and conflict?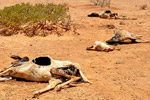 (12/21/2011) The year 2011 has presented the world with a shocking increase in irregular weather and disasters linked to climate change. Just as the 2007 "big melt" of summer arctic sea ice sent scientists and environmentalists scrambling to re-evaluate the severity of climate change, so have recent events forced major revisions and updates in climate science.


Texas loses half a billion trees to epic drought

(12/21/2011) A punishing drought in Texas has not only damaged crops, killed cattle, and led to widespread fires, but has also killed off a significant portion of the state's trees: between 100 and 500 million trees have perished to drought stress according to preliminary analysis. The estimate does not include tree mortality caused by fires. The drought has been linked to La Niña conditions, which causes drying in the Southern U.S., and has likely been exacerbated by global climate change.


Philippines disaster may have been worsened by climate change, deforestation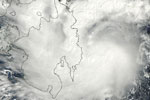 (12/20/2011) As the Philippines begins to bury more than a 1,000 disaster victims in mass graves, Philippine President Benigno Aquino has ordered an investigation into last weekend's flash flood and landslide, including looking at the role of illegal logging. Officials have pointed to both climate change and vast deforestation as likely exacerbating the disaster.


Is the Russian Forest Code a warning for Brazil?


(12/19/2011) Brazil, which last week moved to reform its Forest Code, may find lessons in Russia's revision of its forest law in 2007, say a pair of Russian scientists. The Brazilian Senate last week passed a bill that would relax some of forest provisions imposed on landowners. Environmentalists blasted the move, arguing that the new Forest Code — provided it is not vetoed by Brazilian President Dilma Rousseff next year — could undermine the country's progress in reducing deforestation.


Another record breaker: 2011 warmest La Niña year ever

(11/30/2011) As officials meet at the 17th UN Climate Summit in Durban, South Africa, the world continues to heat up. The UN World Meteorological Organization (WMO) has announced that they expect 2011 to be the warmest La Niña year since record keeping began in 1850. The opposite of El Nino, a La Niña event causes general cooling in global temperatures.



Page 1 | Page 2