News articles on extinction

---
Mongabay.com news articles on extinction in blog format. Updated regularly.






New method to measure threat of extinction could help conservationists prioritize

(04/07/2011) Researchers have developed a new method to predict how close species are to extinction. Dubbed SAFE (Species Ability to Forestall Extinction) the researchers believe the new tool, published in the Frontiers in Ecology and Environment, should help conservationists select which species to focus on saving and which, perhaps controversially, should be let go.
More biodiversity equals cleaner water, but why?

(04/07/2011) A new landmark study not only proves that adding more species to a freshwater stream linearly increases the ecosystem's ability to clean pollutants, but also shows why. The study, published in Nature found that by increasing the biodiversity of a lab controlled mini-stream from one algae species to eight caused the ecosystem to soak up nitrate pollution 4.5 times faster on average. To conduct the experiment, researchers used plastic to create 150 mini model streams. Molding the plastic, they recreated real stream-like habitats such as pools, runs, and eddies. Different species of algae gravitated toward particular mini-habitats, creating special ecological niches and allowing more of the stream to be utilized by the algae for soaking up the nitrate pollution. Less utilization of the available habitats resulted in a dirtier river and vice-versa.
Bats worth billions

(04/03/2011) US agriculture stands to lose billions in free ecosystem services from the often-feared and rarely respected humble bat. According to a recent study in Science bats in North America provide the US agricultural industry at least $3.7 billion and up to a staggering $53 billion a year by eating mounds of potentially pesky insects. Yet these bats, and their economic services, are under threat by a perplexing disease known as white-nose syndrome (WNS) and to a lesser extent wind turbines.
Climate change caused by deforestation triggers species migration

(03/23/2011) Local climate shifts caused by deforestation and land cover change are causing insects to migrate to higher — and cooler — habitats, reports a new study published in the journal Biotropica. The research has implications for predicting how species will respond to climate change.
15 conservation issues to watch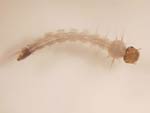 (03/14/2011) Deforestation, oil spills, coral acidification: these are just a few examples of ongoing, and well-researched, environmental changes that are imperiling the world's biodiversity. But what issues are on the horizon? At the end of 2010, experts outlined in Trends in Ecology & Evolution 15 issues that may impact conservation efforts this year and beyond, but are not yet widely known. These are issues you may never hear about it again or could dominate tomorrow's environmental headlines. "Our aim was to identify technological advances, environmental changes, novel ecological interactions and changes in society that could have substantial impacts on the conservation of biological diversity […] whether beneficial or detrimental," the authors write in the paper. Experts originally came up with 71 possible issues and then whittled it down to the 15 most important—and least known.
Fearful Symmetry—Man Made, an interview with John Vaillant, author of The Tiger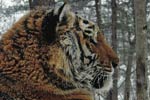 (03/14/2011) In The Tiger, John Vailliant weaves a haunting and compelling true narrative of men who live—or die—with tigers. No doubt the story itself is on-the-edge of your seat reading. As well, the book provides factual information on the 400 or so Amur Tigers remaining, and the raw milieu that is Primorye, Far East Russia—a wilderness and people unto their own. What is special, transcendent even in this story, however, murmurs uncomfortably in the background. Questions emerge from deep taiga snow, not unlike the unseen Panchelaza Tiger. What exactly is our relationship with apex predators? How do people live with them? How would you live with them in your backyard? What if your pet dog disappeared? As we ourselves are apex predators, are we wise enough, tolerant enough, compassionate enough to share this planet with them? Evidence today points to the contrary, but this can change.
Rich plant diversity leads to increased productivity, ecosystem services

(03/08/2011) A new study finds that diversity of plant species matters—big time. Analyzing nearly 600 research studies, the meta-study in the American Journal of Botany found that productivity in biodiverse plant ecosystems was 1.5 times higher than in monocultures. In other words, a prairie is more productive than a cornfield and forest more productive than a rubber plantation. The researchers warn that eroding plant diversity threatens essential ecosystems services such as food, water purification, oxygen production, carbon sequestration, and the availability of raw materials.
Reaching kids with a conservation message via animation

(03/06/2011) During the Wildlife Conservation Network's October 2010 Wildlife Expo, mongabay.com encountered an animation that powerfully illustrates the concept of biodiversity loss in less than two-and-a-half minutes. Yesterday's Zoo recounts species that have disappeared and warns that a similar fate could befall many more unless urgent conservation action is taken. The animation is being used to raise money for wildlife protection efforts. In a March Q&A with Shane DeRolf, President & Executive Producer of Yesterday's Zoo, Mongabay learned more the project.
Eastern cougar officially declared extinct

(03/02/2011) The Eastern cougar, a likely subspecies of the mountain lion, was officially declared extinct today by the US Fish and Wildlife Service, ending 38 years on the Endangered Species List (ESA). The cougar, which once roamed the Eastern US, had not been confirmed since 1930s, although sightings have been consistently reported up to the present-day.
Parks key to saving India's great mammals from extinction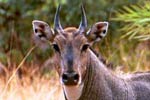 (02/24/2011) Krithi Karanth grew up amid India's great mammals—literally. Daughter of conservationist and scientist Dr. Ullas Karanth, she tells mongabay.com that she saw her first wild tigers and leopard at the age of two. Yet, the India Krithi Karanth grew up in may be gone in a century, according to a massive new study by Karanth which looked at the likelihood of extinction for 25 of India's mammals, including well-known favorites like Bengal tigers and Asian elephants, along with lesser known mammals (at least outside of India) such as the nilgai and the gaur. The study found that given habitat loss over the past century, extinction stalked seven of India's mammals especially: Asiatic lions, Bengal tigers, wild dogs (also known as dholes), swamp deer, wild buffalo, Nilgiri Tahr, and the gaur. However, increasing support of protected areas and innovative conservation programs outside of parks would be key to saving India's wildlife in the 21st Century.
Top 25 most endangered turtles: Asian species in crisis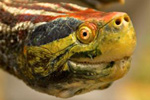 (02/23/2011) Surviving hundreds of millions of years on Earth have not saved turtles from facing extinction at human hands. A new report by the Wildlife Conservation Society (WCS) and the Turtle Conservation Coalition, identifies the world's 25 most imperiled turtles, including one that is practically assured extinction: 'Lonesome George' the last Abdington Island tortoise in the world. The list includes four turtle species from South and Central America, three from Africa, and one from Australia. But Asia is the hotbed for turtles in trouble with 17 of the top 25 species, or 68%. The numbers are even more alarming if one looks only at the top ten: eight of the top ten are in Asia, and six of these in China.
Worldwide search for 'lost frogs' ends with 4% success, but some surprises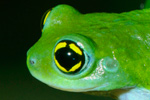 (02/16/2011) Last August, a group of conservation agencies launched the Search for Lost Frogs, which employed 126 researchers to scour 21 countries for 100 amphibian species, some of which have not been seen for decades. After five months, expeditions found 4 amphibians out of the 100 targets, highlighting the likelihood that most of the remaining species are in fact extinct; however the global expedition also uncovered some happy surprises. Amphibians have been devastated over the last few decades; highly sensitive to environmental impacts, species have been hard hit by deforestation, habitat loss, pollution, agricultural chemicals, overexploitation for food, climate change, and a devastating fungal disease, chytridiomycosis. Researchers say that in the past 30 years, its likely 120 amphibians have been lost forever.
Selling the Forests that Saved Britain

(02/15/2011) I confess that British Prime Minister David Cameron's proposal to auction off all 650,000 acres of England's national forests to the highest bidder came as a bit of a shock to me – especially as the contained such world-famous national treasures as Robin Hood's Sherwood Forest, the Forest of Dean and the New Forest. Although warned by my Irish mother that Tories can never be trusted, Mr. Cameron's passionate pledge to deliver the "greenest government ever" seemed sincere, especially given his ambitious plans to cut Britain's pollution. Anyway, even if he turned out to be as slippery as his predecessors, his deep green Liberal Democratic coalition partners would, I thought, keep the planet high on his priority list.
Not enough data on world's tropical plants to predict impact of warming world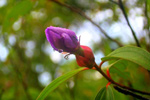 (02/14/2011) How many tropical plant species are threatened by climate change? Which plants have big enough ranges to survive a warming world, not to mention deforestation? How likely is it that the tropics are undergoing a current mass extinction? These questions may appear straight forward, but a new study in Global Change Biology finds that researchers lack the hard data necessary to come to any confident conclusions. According to the study, nine out of ten tropical plants from Africa, Asia, and South America lack the minimum number of collections needed (at least 20) to determine the species' range, and therefore predict the impact of climate change.
The ocean crisis: hope in troubled waters, an interview with Carl Safina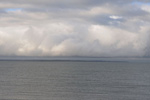 (02/07/2011) Being compared—by more than one reviewer—to Henry Thoreau and Rachel Carson would make any nature writer's day. But add in effusive reviews that compare one to a jazz musician, Ernest Hemingway, and Charles Darwin, and you have a sense of the praise heaped on Carl Safina for his newest work, The View from Lazy Point: A Natural Year in an Unnatural World. Like Safina's other books, The View from Lazy Point focuses on the beauty, poetry, and crisis of the world's oceans and its hundreds-of-thousands of unique inhabitants. Taking the reader on a journey around the world—the Arctic, Antarctic, and the tropics—Safina always returns home to take in the view, and write about the wildlife of his home, i.e. Lazy Point, on Long Island. While Safina's newest book addresses the many ways in which the ocean is being degraded, depleted, and ultimately imperiled as a living ecosystem (such as overfishing and climate change) it also tweezes out stories of hope by focusing on how single animals survive, and in turn how nature survives in an increasingly human world. However, what makes Safina's work different than most nature writing is his ability to move seamlessly from contemporary practical problems to the age-old philosophical underpinnings that got us here. By doing so, he points a way forward.
Updating the top 100 weirdest and most imperiled mammals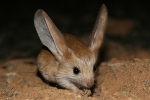 (01/24/2011) A lot can change in three years. In January 2007, the Zoological Society of London (ZSL) jumpstarted a program unique in the conservation world: EDGE, which stands for Evolutionarily Distinct and Globally Endangered, selects the species it works with not based on popularity or fund-raising potential but on how endangered and evolutionary unique (in laymen's terms: weird) they are. When EDGE first arrived in 2007, it made news with its announcement of the world's top 100 most unique and endangered mammals. While this list included a number of well-known species—such as the blue whale and the Asian elephant—it also introduced the public to many little-recognized mammals that share our planet, such as the adorable long-eared jerboa, the ancient poisonous solenodon, and the ET-like aye-aye. However, after three years the EDGE program found that their top 100 mammals list already need updating.
Photos: Scientists race to protect world's most endangered corals

(01/11/2011) As corals around the world disappear at alarming rates, scientists are racing to protect the ones they can. At a workshop led by the Zoological Society of London (ZSL), the world's foremost coral experts met in response to a decade of unprecedented reef destruction to identify and develop conservation plans for the ten most critically endangered coral species.
Harpy eagles nest in Belize for the first time in over 60 years (pictures)

(01/06/2011) Scientists have confirmed the presence of a harpy eagle nest in the Maya Mountains of Belize. The discovery represents the most northerly breeding pair in the Americas, and signals a comeback for a species which has become locally extinct in much of Central America due to human activity.
Disappearance of arctic ice could create 'grolar bears', narlugas; trigger biodiversity loss

(12/22/2010) The melting of the Artic Ocean may result in a loss of marine mammal biodiversity, reports a new study published in the journal BNature and conducted jointly by the National Oceanic and Atmospheric Association (NOAA), the University of Alaska, and the University of Massachusetts. The study is the first to project what might happen if species pushed into new habitats because of ice loss hybridize with one another, resulting in such crossbreeds as "narlugas" and "grolar bears".
Extinct giant stork towered over 'hobbits' on Flores

(12/07/2010) Scientists have discovered an extinct massive stork, standing nearly 6 feet tall (1.8 meter) and weighing 35 pounds (15 kilograms), which would have shared the island of Flores with the 'hobbits'—dwarf hominin species known as Homo floresiensis—reports the BBC. According to the researchers the meat-eating stork was big enough to prey on young Homo floresiensis, and stood about 2 and a half feet (0.8 meters) above adult hobbits.
Study: REDD could save species from extinction, if well-funded

(12/01/2010) The burgeoning global program REDD+ (Reduced Emissions from Deforestation and Forest Degradation) could do more than mitigate climate change, according to a new study in Conservation Letters by scientists with Conservation International (CI). Analyzing a sample of 2,500 forest animals, including mammals, birds and amphibians, researchers found that REDD+ could reduce the rate of extinction among these species by 46-82% over five years. The wide range in the study's findings depends on the amount of funds devoted to REDD+: more funds means greater forest preservation and, thereby, less extinction.
Ad warning of mass extinction appears in Times Square

(11/24/2010) An advertisement warning holiday pedestrians about mass extinction—and asking for their help—first appeared in Times Square this week. The ad which flashes on CBS's Super LED Screen between 7th and 8th avenues was created by US conservation organization, the Center for Biological Diversity.
Reforestation effort launched in Borneo with nearly-extinct rhinos in mind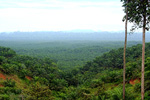 (11/18/2010) The Rhino and Forest Fund (RFF) has partnered with the Forestry Department of Sabah in northern Borneo to launch a long-term reforestation project to aid Malaysia's threatened species with particular emphasis on the Bornean rhino (Dicerorhinus sumatrensis harrissoni), one of the world's most imperiled big mammals. The reforestation project will be occurring in and adjacent to Tabin Wildlife Reserve, which is surrounded on all sides by oil palm plantations.
New bat species confirmed in Ecuador, may already be extinct

(11/16/2010) Although the first specimen was collected over 30 years ago, scientists have only now confirmed that a tiny brown bat is indeed a unique species. Named Myotis diminutus for its incredibly small size, the new bat was discovered in the Chocó biodiversity hotspot, amid the moist forests of western Ecuador.
Back from extinction: Tasmanian tiger caught on video?

(11/16/2010) A 9 second video released today on YouTube claims to show a living Tasmanian tiger. The footage was captured by Murray McAllister last year. McAllister says he has seen the believed-to-be-extinct Tasmanian tiger several times in the last few years.
Will biodiversity agreement save life on Earth?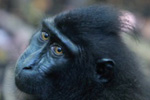 (11/07/2010) On Friday, October 29th, 193 member nations of the Convention on Biological Diversity (CBD) reached a possibly landmark agreement on saving the world's suffering biodiversity in Nagoya, Japan. The agreement was especially notable after nations failed—by all accounts—to live up to the goals from the previous CBD agreement, including stemming the global loss of biodiversity by 2010. According to scientists, the world's species continue to vanish at mass-extinction rates due to habitat loss, deforestation, overconsumption, pollution, climate change, and invasive species. To addresses this crisis the new CBD agreement sets out 20 goals for 2020. But given the global challenges in saving the world's species and the lack-of-teeth in agreement (it is strictly voluntary), will the CBD make a difference or in ten years time will goals be again unmet and life on planet Earth worse off than ever? To answer this mongabay.com turned to a number of experts in the conservation world.
Already Critically Endangered, bluefin tuna hit hard by BP oil disaster

(10/19/2010) Using satellite data from the European Space Agency, researchers estimate that over 20% of juvenile Atlantic bluefin tuna in the Gulf of Mexico were killed by the BP oil spill. Although that percentage may not seem catastrophic, the losses are on top of an 82% decline in the overall population over the past three decades due to overfishing. The population plunge has pushed the International Union for the Conservation of Nature (IUCN) to categorize the fish as Critically Endangered, its highest rating before extinction.
Video: camera trap catches bulldozer clearing Sumatran tiger habitat for palm oil

(10/14/2010) Seven days after footage of a Sumatran tiger (Panthera tigris sumatrae) was taken by a heat-trigger video camera trap, the camera captured a bulldozer clearing the Critically Endangered animal's habitat. Taken by the World Wildlife Fund—Indonesia (WWF), the video provides clear evidence of forest destruction for oil palm plantations in Bukit Batabuh Protected Forest, a protected area since 1994.
Farms in the sky, an interview with Dickson Despommier
(10/12/2010) To solve today's environmental crises—climate change, deforestation, mass extinction, and marine degradation—while feeding a growing population (on its way to 9 billion) will require not only thinking outside the box, but a "new box altogether" according to Dr. Dickson Despommier, author of the new book, The Vertical Farm. Exciting policy-makers and environmentalists, Despommier's bold idea for skyscrapers devoted to agriculture is certainly thinking outside the box.
Losing nature's medicine cabinet
(10/04/2010) In all the discussions of saving the world's biodiversity from extinction, one point is often and surprisingly forgotten: the importance of the world's species in providing humankind with a multitude of life-saving medicines so far, as well as the certainty that more vital medications are out there if only we save the unheralded animals and plants that contain cures unknown. Already, species have provided humankind everything from quinine to aspirin, from morphine to numerous cancer and HIV-fighting drugs. "As the ethnobotanist Dr. Mark Plotkin commented, the history of medicine can be written in terms of its reliance on and utilization of natural products," physician Christopher Herndon told mongabay.com. Herndon is co-author of a recent paper in the journal Biotropica, which calls for policy-makers and the public to recognize how biodiversity underpins not only ecosystems, but medicine.
Mass extinction fears widen: 22 percent of world's plants endangered

(09/28/2010) Scientific warnings that the world is in the midst of a mass extinction were bolstered today by the release of a new study that shows just over a fifth of the world's known plants are threatened with extinction—levels comparable to the Earth's mammals and greater than birds. Conducted by the Royal Botanic Gardens, Kew; the Natural History Museum, London; and the International Union for the Conservation of Nature (IUCN), the study is the first time researchers have outlined the full threat level to the world's plant species. In order to estimate overall threat levels, researchers created a Sampled Red List Index for Plants, analyzing 7,000 representative species, including both common and rare plants.
Ugandan forest being stripped for fuel wood

(09/27/2010) A new study in the open access journal of Tropical Conservation Science finds that the Kasagala forest reserve in central Uganda is losing important tree species and suffering from low diversity of species. Researchers believe that forest degradation for charcoal and firewood has put heavy pressure on this ecosystem.
Photos: 'Lost amphibian' search makes good: three 'extinct' species rediscovered

(09/22/2010) A search for 100 of the world's 'lost amphibians'—unseen for decades and in many cases supposed extinct—have turned up three species so far, one of which hasn't been recorded since the Nazis were bombing London. The lost amphibian expeditions, formed by Conservation International (CI) and the IUCN Amphibian Specialist Group (ASG), have found surviving populations of the cave splayfoot salamander (Chiropterotriton Mosaueri) in Mexico, the Mount Nimba reed frog (Hyperolius Nimbae) in the Ivory Coast, and the Omaniundu reed frog (Hyperolius sankuruensis) from the Democratic Republic of Congo.
How the overlooked peccary engineers the Amazon, an interview with Harald Beck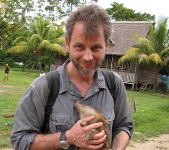 (09/20/2010) When people think of the Amazon rainforest, they likely think of roaring jaguars, jumping monkeys, marching ants, and squeezing anacondas. The humble peccary would hardly be among the first animals to cross their mind, if they even know such pig-like animals exists! Yet new research on the peccary is proving just how vital these species are to the world's greatest rainforest. As seed dispersers and seed destroyers, engineers of freshwater habitats and forest gaps, peccaries play an immense, long overlooked, role in the rainforest. "Peccaries have the highest density and biomass of any Neotropical mammal species. Obviously these fellows have quite an appetite for almost anything, but primarily they consume fruits and seeds. Their specialized jaws allow them to crush very hard seeds. The cracking sounds can be heard through the thick vegetation long before we could see them. As peccary herds bulldoze through the leaf litter in search for insects, frogs, seeds, and fruits, they destroy (i.e. snap and trample) many seedlings and saplings, sometimes leaving only the bare ground behind," Harald Beck, assistant professor at Towson University in Maryland, told mongabay.com in an interview.
Frogs and friends at risk from booming global wildlife trade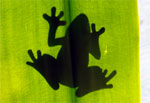 (09/08/2010) Alejandra Goyenechea, International Counsel at Defenders of Wildlife and Chair of the Species Survival Network's (SSN) Amphibian Working Group, spoke with Laurel Neme on her 'The WildLife' radio show and podcast about the global amphibian trade. In her interview, Alejandra Goyenechea discusses the benefits of frogs and the many threats – such as habitat loss, climate change, pollution, invasive species, disease, and overexploitation – to their survival. Did you know frogs indicate environmental quality, like canaries in a coal mine? Or that many have medicinal properties, like the phantasmal poison dart frog which produces a painkiller 200 times the potency of morphine?
Monster turtle killed off by man

(08/17/2010) Researchers have linked another extinction to human beings: this time of a massive prehistoric horned turtle. Prehistoric turtles in the Meiolania genus were thought to have vanished some 50,000 years ago. However, scientists have found a new species that was likely wiped out by human hunters much more recently.
Guilty verdict over euthanizing tigers in Germany touches off debate about role of zoos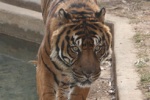 (08/11/2010) In June a German court handed down a guilty verdict to the Magdeburg Zoo director, Kai Perret, and three employees for euthanizing three tiger cubs in 2008. The zoo decided to kill the cubs when it was discovered that the cubs' father was not a 100 percent Siberian tiger (i.e. he was a mix of two different subspecies). This is generally standard practice at many zoos around the world as animals that are not 'genetically pure' are considered useless for conservation efforts. However, the court found the workers guilt of breaking animal rights laws, finding that there was "no sufficient reasons to kill less valuable, but totally healthy animals."
Nation's wealth does not guarantee green practices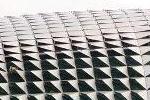 (08/11/2010) Developing countries are not the only ones that could benefit from a little environmental support. Wealthier countries may need to 'know themselves' and address these issues at home too. According to a recent study in the open access journal PLoS ONE, wealth may be the most important factor determining a country's environmental impact. The team had originally planned to study "country-level environmental performance and human health issues," lead author Corey Bradshaw, Director of Ecological Modeling and professor at the University of Adelaide, told mongabay.com. Once they began looking at the available indexes, however, they saw the need for a purely environmental analysis.
Photos: world's top ten 'lost frogs'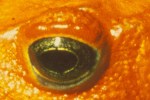 (08/09/2010) The International Union for the Conservation of Nature (IUCN) and Conservation International (CI) have sent teams of researchers to 14 countries on five continents to search for the world's lost frogs. These are amphibian species that have not been seen for years—in some cases even up to a century—but may still survive in the wild. Amphibians worldwide are currently undergoing an extinction crisis. While amphibians struggle to survive against habitat loss, climate change, pollution, and overexploitation, they are also being wiped out by a fungal disease known as chytridiomycosis.
Scientists hunt for 'lost frogs' around the globe
(08/09/2010) From now through October, teams of scientists will be scouring through leaf litters, in shallow pools, under rocks, and in tree trunks for the world's 'lost frogs'. Searching in 14 countries on five continents, the researchers are looking for some 100 species of frogs that have not been seen in decades and in some cases up to a century. While some of the species may well be extinct, researchers are holding out hope that they can find the ones that are still hanging on, albeit by a thread.
Forgotten species: the nameless giant forest snail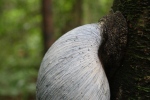 (08/04/2010) All species known to science are granted a Latin name. While this naming system is beneficent to researchers, Latin names—sad to say—don't really capture the public's attention anymore. Fortunately most species also have common names—the red fox, the pileated woodpecker, the Asian elephant, and so on. Some of these names even end up being quite wonderful: like the dusky dolphin (love the alliteration), the strawberry poison dart frog (points for creativity), the blobfish (if you see a photo you'll know why), and my all-time favorite: the goliath bird-eating spider. Although this name is slightly redundant (any spider that eats birds is goliath), I wouldn't change it for anything. However, some species, especially those less 'charismatic' ones, never get beyond their Latin name. Such is the fate of a giant forest snail known to researchers as Archachatina bicarinata and to the rest of us as...well nameless. But this begs a question: how do we save a species if we don't even name it?
Cameroon says goodbye to cheetahs and African wild dogs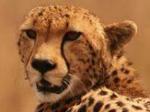 (07/28/2010) Researchers have confirmed that cheetahs (Acinonyx jubatus) and African wild dogs (Lycaon pictus) have become essentially extinct in Cameroon. A three year study by the Institute of Environmental Sciences at Leiden University in the Netherlands found that the same factors that pushed cheetahs and African wild dogs to local extinction, have also left Cameroon's other big predators hanging by a thread, including the lion, the leopard, and two species of hyena: the spotted and the striped.
Already illegal, one man tests poisoning rhino horn too

(07/28/2010) Given the epidemic of rhino poaching across Africa and Asia, which has placed four out of five species in jeopardy of extinction, one fed-up game manager wants to take the fight beyond the poachers to the consumer. Ed Hern, owner of the Lion and Rhino Park near Johannesburg, told South Africa's The Times that he has begun working with a veterinarian on injecting poison into a rhino's horn to consumers. He told The Times that people who consumed poisoned rhino horn "would get very sick or die".
Coral reefs doomed by climate change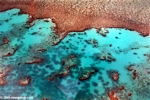 (07/22/2010) The world's coral reefs are in great danger from dual threats of rising temperatures and ocean acidification, Charlie Veron, Former Chief Scientist of the Australian Institute of Marine Science, told scientists attending the Association for Tropical Biology and Conservation meeting in Sanur, Bali. Tracing the geological history of coral reefs over hundreds of millions of years, Veron said reefs lead a boom-and-bust existence, which appears to be correlated with atmospheric carbon dioxide levels. With CO2 emissions rising sharply from human activities, reefs—which are home to perhaps a quarter of marine species and provide critical protection for coastlines—are poised for a 'bust' on a scale unlike anything seen in tens of millions of years.
Following public outcry, New Zealand drops plan to mine protected areas

(07/20/2010) The New Zealand government has caved to public pressure, announcing that it is dropping all plans to mine in protected areas. The plan to open 7,000 hectares of protected areas to mining would have threatened a number of rare and endemic species, including two frogs that are prehistoric relics virtually unchanged from amphibian fossils 150 million years old: Archey's frog (Leiopelma archeyi) and Hochstetter's frog (Leiopelma hochstetteri).
30 frog species, including 5 unknown to science, killed off by amphibian plague in Panama

(07/19/2010) With advanced genetic techniques, researchers have drawn a picture of just how devastating the currently extinction crisis for the world's amphibians has become in a new study published in the Proceedings of the Nation Academy of Sciences (PNAS). Studying frog populations using DNA barcoding in Panama's Omar Torrijos National Park located in El Copé researchers found that 25 known species and 5 unknown species have vanished since 1998. None have returned.
Australian mammals in steady decline even in large National Park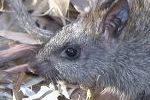 (07/19/2010) Kakadu National Park, one of the Australia's "largest and best-resourced" protected areas, is experiencing a staggering decline in its small mammal population, according to a new study published in Wildlife Research. Spanning nearly 2 million hectares—larger than Fiji—the park lies in tropical northern Australia. 'This decline is catastrophic,' John Woinarski, lead author of the study and expert on Australian mammals, told mongabay.com. 'We know of no comparable case in the world of such rapid and severe decline of a large proportion of native species in a large conservation reserve.'
Forgotten species: the cryptic Jerdon's courser

(07/06/2010) According to my Oxford English Dictionary, 'cryptic' means: 'secret, mystical; mysterious; obscure in meaning; enigmatic'. This is the perfect adjective for the rare Indian bird, Jerdon's courser (Rhinoptilus bitorquatus). 'It is not so easy to spot as it is a small bird and when you show the torch it crouches and merges with the surroundings. So we need very good trained eyes to look for them,' Dr. P. Jeganathan recently told mongabay.com.
Elle MacPherson promotes consumption of illegal rhino horn [warning: graphic image]

(07/02/2010) Despite a number of scientific studies showing that rhino horn has no curative properties, supermodel, entrepreneur, and recent host of Britain's Next Top Model, Elle Macpherson, says she ingests powdered rhino horn because: '[it] works for me'. In an interview with The Sunday Times via Twitter, Elle Macpherson says the illegal substance tastes like 'crushed bone and fungus'.
Photos: rats drive island lizard to extinction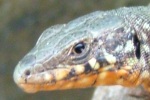 (06/29/2010) The Selmunett lizard (Podarcis filfolensis ssp. Kieselbachi) is very likely extinct, according to Maltese naturalist Arnold Sciberras. One of four subspecies of the Maltese wall lizard, the Selmunett lizard was last seen in 2005. Although the lizard's home—Selmunett Island—has long been uninhabited by people, that fact did not help save the lizard. Over-predation by introduced rats is thought to be the primary cause of lizard's extinction.




Page 1 | Page 2 | Page 3 | Page 4 | Page 5 | Page 6 | Page 7 | Page 8 | Page 9 | Page 10 | Page 11