News articles on erik meijaard

---
Mongabay.com news articles on erik meijaard in blog format. Updated regularly.






Indonesia's silent wildlife killer: hunting
(12/26/2014) By and large, Indonesia is a peaceful country. In fact, on the United Nations Office of Drugs and Crime's list of homicide rates, Indonesia ranks number 10, making Indonesians one of the least murderous people on Earth. A ban on gun ownership probably helps, although obviously there are many other ways to snuff out another person. Maybe Indonesia's general tendency to avoid conflict helps, too. Whatever the reason why Indonesians are relatively unlikely to kill each other, such favors are not extended to Indonesia's non-human wildlife. The relative safety of Indonesia's people does not guarantee similar security for its animals.
Indonesia's secret treasures: islands passed over by loggers, hunters and conservationists
(09/14/2014) As our boat sailed towards the forest-clad island, I had no idea what surprise awaited me. A few months ago I was asked to conduct a wildlife survey on a rarely visited island somewhere in Indonesia. For reasons explained below I will not disclose its name. Suffice to say it is one of the thousands of Indonesian islands without people on it. In terms of the wildlife I saw, the absence of people really showed.
Another year of fires, another year of inaction

(06/06/2014) With a 70% chance of an El Niño this year, Indonesia could soon be facing the ire of its nearest neighbors yet again as the dry season approaches with the ever present threat of vegetation fires.
Indonesia's forests increasingly empty of wildlife

(05/25/2014) Tropical rainforests are the most species-rich ecosystems in the world. Each square kilometer has hundreds of tree species, birds and mammals, and countless other creatures. The idea that these forests could be devoid of animal life therefore seems ludicrous. Still the disappearance of birds, mammals and other species is what is happening in Indonesian forests. The 'empty forest' syndrome is becoming an increasing reality in this country.
Indonesia's biological wonders are worth the fight

(05/17/2014) Environmentalists and conservation people, including myself, are a whining lot. It's our professional affliction to complain about everything that is wrong about the world's environments and the conservation of its species. Where most people would look at a landscape and see beautiful views, green trees, and big skies, we see ecological devastation in the making, the wrong birds in those trees, and the signs of changing climate.
Deforestation makes Indonesia hotter, reduces quality of life
(03/26/2014) One of the reasons I like living in the tropics is that they are perpetually warm. A pair of shorts and a light shirt will comfortably get you through the day and night in most parts of Indonesia. Still there are the occasional unpleasant extremes. Even the most cold-blooded creature will likely break into a sweat walking for more than a few minutes in the sun filtering through Jakarta's polluted skies. We consider such heat a normal part of the tropics. But is it really?
Indonesia's orangutan action plan failing to save great red apes
(03/24/2014) In December 2007, President Susilo Bambang Yudhoyono launched Indonesia's Strategy and Action Plan for National Conservation of Orangutans. Quoting the president from his speech, 'this will serve as a blueprint for our efforts to save some of our most exotic but endangered wildlife.' Furthermore, the president said that 'the Orangutan action plan formally endorses Indonesia's commitment to orangutan conservation as expressed in 2005 when Indonesia signed the Kinshasa Declaration on the Protection of Great Apes in the Democratic Republic of Congo.'
If Indonesia can't protect its orangutans, why doesn't it just 'sell' them?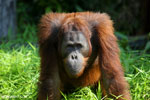 (02/23/2014) It is obvious that at the moment Indonesia neither has the political commitment nor ability to safeguard its dwindling populations of orangutans. Despite its Presidentially supported Action Plan to stabilize all remaining wild populations by 2017, orangutan habitats in Sumatra and Borneo are disappearing as rapidly as ever.
Mystery animal in Borneo not such a mystery after all, or is it?
(11/20/2012) An unknown mammal was recently killed in the Malaysian State of Sarawak. According to the Borneo Post, a Sarawak newspaper, this animal, described as mixture between a bear and a boar, had attacked two people on two different occasions before it was killed. Local people had never seen it before and had no idea what it could be. The news even made it onto the popular Discovery news website. Comments following the article made various suggestions as to the animal's identity. These ranged from binturong, the large frugivorous civet of Bornean forest to what was jokingly referred to as 'Beaboar'. A few commentaries got it right. The animal was indeed a Sunda Stink-badger, or Mydaus javanensis
The importance of recognizing viewpoints in a rapidly changing world
(08/16/2011) Is oil palm bad? Is protecting tropical forests more important than converting them for economic development? Should we spike trees to make sure no one cuts them down? Answers to these questions depend on which side of the argument you're on. But often people on either side of debates hardly know what their opponents are thinking.
Traditional Chinese medicine trade takes toll on Indonesia's geckos

(06/01/2011) The call of the tokek, or gecko, is one of the most familiar sounds in Indonesia. Next to the smell of clove cigarettes, the calls to prayer, the friendly smiles and the ferocious afternoon rainstorms, it stands as one of the most easily identifiable characteristics of the country.
Wildlife crime goes largely unpunished in Indonesia
(01/10/2011) Indonesia is famed for its wildlife diversity. Straddling the contact zone between Asia and Australia, evolution has created some of the earth's most remarkable species here. Think babirusa , Komodo dragon, orangutan and birds of paradise, and you get the picture. Indonesia is famed for its wildlife diversity. Straddling the contact zone between Asia and Australia, evolution has created some of the earth's most remarkable species here. Think babirusa, Komodo dragon, orangutan and birds of paradise, and you get the picture. Most of us also know that Indonesia has a major problem maintaining this diversity through effective conservation programs. Not a day goes by without Indonesia appearing somewhere in the world's media with a negative story on how it is managing its wildlife.