News articles on equatorial guinea

---
Mongabay.com news articles on equatorial guinea in blog format. Updated regularly.





Drill baby drill! The fate of African biodiversity and the monkey you've never heard of


(05/02/2013) Equatorial Guinea is not a country that stands very large in the American consciousness. In fact most Americans think you mean Papua New Guinea when you mention it or are simply baffled. When I left for Bioko Island in Equatorial Guinea, I also knew almost nothing about the island, the nation, or the Bioko drills (Mandrillus leucophaeus poensis). The subspecies of drill is unique to Bioko Island and encountering them was an equally unique experience. I initially went to Bioko as a turtle research assistant but ended up falling in love with the entire ecosystem, especially the Bioko drills as I tagged along with drill researchers.


'Exporting deforestation': China is the kingpin of illegal logging


(11/29/2012) Runaway economic growth comes with costs: in the case of China's economic engine, one of them has been the world's forests. According to a new report by the Environmental Investigation Agency (EIA), China has become the number one importer of illegal wood products from around the world. Illegal logging—which threatens biodiversity, emits carbon, impoverishes local communities, and is often coupled with other crimes—has come under heavy pressure in recent years from the U.S., the EU, and Australia. Each of these has implemented, or will soon implement, new laws that make importing and selling illegal wood products domestic crimes. However, China's unwillingness to tackle its vast appetite for illegal timber means the trade continues to decimate forests worldwide.


Rarest gorillas lose half their habitat in 20 years

(10/01/2012) Cross River gorillas and eastern gorillas lost more than half their habitat since the early 1990s due to deforestation, logging, and other human activities, finds a comprehensive new assessment across great apes' range in West and Central Africa.


Cute animal pictures of the day: gorilla toddler saved from illegal pet trade

(08/20/2012) A two-year-old western lowland gorilla female was recently confiscated from a beach restaurant, popular with expats, in Equatorial Guinea.


10 African countries to develop satellite-based deforestation tracking systems with help of Brazil

(07/30/2012) Ten tropical African countries will receive training and support to develop national forest monitoring systems, reports the United Nations. Brazil, which has an advanced deforestation tracking system, will guide the initiative in partnership with the Central Africa Forests Commission (COMIFAC) and the UN Food and Agriculture Organization (FAO).


Deforestation increases in the Congo rainforest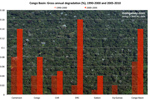 (03/20/2012) Deforestation in the Congo Basin has increased sharply since the 1990s, reports an extensive new assessment of forests in the six-nation region. Released by the Central African Forests Commission (COMIFAC) and members of the Congo Basin Forest Partnership, The State of the Forest finds that the region's annual gross deforestation rate doubled from 0.13 percent to 0.26 percent between the 1990s and the 2000-2005 period. Gross degradation caused by logging, fire, and other impacts increased from 0.07 percent to 0.14 percent on an annual basis. Despite the jump, rates in the Congo Basin remain well below those in Latin America and Southeast Asia, but the region is seen as a prime target for future agroindustrial expansion.


Congo basin rainforest countries

(01/15/2010) Payments for ecosystem services may be a key component in maintaining Central Africa's rainforests as healthy and productive ecosystems, finds a comprehensive assessment of the region's forests.


China's log imports fall 19% in first half of 2008 due to high prices

(08/27/2008) China's imports of raw logs plunged 18.7 percent by volume for the first half of 2008 due to rising prices and a cooling Chinese economy, reports the International Tropical Timber Organization.


Britain, Norway commit $210 million towards Congo rainforest conservation

(06/24/2008) The governments of Britain and Norway last week announced a $211 million (108 million) initiative to conserve rainforests in the Congo Basin. The plan calls for the use of an advanced satellite camera to monitor deforestation in the region and funding for community-based conservation projects.


Biochar fund to fight hunger, energy poverty, deforestation, and global warming

(03/10/2008) Biopact, a leading bioenergy web site, has announced the creation of a "Biochar Fund" to help poor farmers improve their quality of life without hurting the environment.


Logging roads rapidly expanding in Congo rainforest

(06/07/2007) Logging roads are rapidly expanding in the Congo rainforest, report researchers who have constructed the first satellite-based maps of road construction in Central Africa. The authors say the work will help conservation agencies, governments, and scientists better understand how the expansion of logging is impacting the forest, its inhabitants, and global climate.