News articles on environmental politics

---
Mongabay.com news articles on environmental politics in blog format. Updated regularly.





What is the Brazilian Brand?

(10/09/2010) An economic and social powerhouse, Brazil has burst forth on to the world stage with such tenacious drive and determination that observers may indeed wonder what sort of political impact the South American giant will have upon the wider region in the coming years. Though the country still faces incredible domestic challenges, the outgoing Luiz Inácio 'Lula' da Silva administration has done much to put Brazil's house in order and the president leaves office with record 80% popularity. Unlike its volatile and unstable Andean neighbors, Brazil has consolidated a credible democracy and recently concluded the first round of its presidential vote.


'Green' paper company allegedly complicit in land grabs against Chinese communities

(10/07/2010) Finnish paper company, Stora Enso, may lose its green and socially responsible reputation over a new report by Rights and Resources International (RRI) and the Rural Development Institute (RDI). The report finds that the company broke Chinese laws and even worked with middlemen who physically threatened local farmers, all in an effort to lease 120 thousand hectares for a vast eucalyptus plantation in southern China. Just last year, a lawyer working to defend farmers landed in a hospital after being beaten for his involvement.


Green political revolution in Brazil?

(10/07/2010) Green party candidate Marina Silva captured 19 percent of the vote in Brazil's presidential election over the weekend, shocking analysts and forcing a run off between Dilma Rousseff, outgoing President Lula's hand-picked successor, and José Serra.


Environmental destruction undercuts global economy to the tune of $6.6 trillion

(10/06/2010) The cost of environmental damage to the global economy hit 6.6 trillion US dollars—11 percent of the global GDP—in 2008, according to a new study by the Principles for Responsible (PRI) and UNEP Finance Initiative. If business continues as usual, the study predicts that environmental damage will cost 28 trillion dollars by 2050. The new study undercuts the popular belief that environmental health and economic welfare are at odds.


The Nestlé example: how responsible companies could end deforestation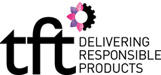 (10/06/2010) The NGO, The Forest Trust (TFT), made international headlines this year after food giant Nestlé chose them to monitor their sustainability efforts. Nestlé's move followed a Greenpeace campaign that blew-up into a blistering free-for-all on social media sites. For months Nestle was dogged online not just for sourcing palm oil connected to deforestation in Southeast Asia—the focus of Greenpeace's campaign—but for a litany of perceived social and environmental abuses and Nestlé's reactions, which veered from draconian to clumsy to stonily silent. The announcement on May 17th that Nestlé was bending to demands to rid its products of deforestation quickly quelled the storm. Behind the scenes, Nestlé and TFT had been meeting for a number of weeks before the partnership was made official. But can TFT ensure consumers that Nestlé is truly moving forward on cutting deforestation from all of its products?


Yasuni on film: could a documentary save the world's most biodiverse ecosystem?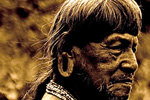 (10/04/2010) How do you save one of the most biologically and culturally diverse places in the world if most people have never heard of it? If you want a big audience—you make a film. This is what wildlife-filmmaker Ryan Killackey is hoping to do with his new movie Yasuni Man. Killackey says the film will show-off the wonders of Yasuni National Park while highlighting the complexity of its biggest threat: the oil industry. "Conceptually, the film resembles a true-life cross between the documentary Crude and the blockbuster Avatar—except it's real and it's happening now," Killackey told mongabay.com.


Obama science adviser wields evidence to undercut climate change denier

(10/04/2010) US President Barack Obama's science adviser, John Holdren, took on climate change deniers in a comprehensive, data-heavy speech last month at the Kavli Science Forum in Oslo, Norway. Proclaiming that "the earth is getting hotter", Holden went on to enumerate on the causes of climate change (human impacts) and its overall effect (not good), discussing at length the science that underpins the theory of climate change. For environmentalists and international officials frustrated with the US's slow pace on combating climate change—which is decades behind Europe's and many other nations'—Holdren touted that the Obama Administration had made progress on the issue and stated that the administration plans to pursue legislation again after a new congress is elected. However, given current predictions that Republicans will pick up seats in November, comprehensive climate and energy legislation seems unlikely since historically the majority of the GOP has been against tackling climate change.


Fighting poachers, going undercover, saving wildlife: all in a day's work for Arief Rubianto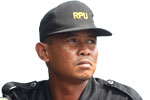 (09/29/2010) Arief Rubianto, the head of an anti-poaching squad on the Indonesian island of Sumatra best describes his daily life in this way: "like mission impossible". Don't believe me? Rubianto has fought with illegal loggers, exchanged gunfire with poachers, survived four days without food in the jungle, and even gone undercover—posing as a buyer of illegal wildlife products—to infiltrate a poaching operation. While many conservationists work from offices—sometimes thousands of miles away from the area they are striving to protect—Rubianto works on the ground (in the jungle, in flood rains, on rock faces, on unpredictable seas, and at all hours of the day), often risking his own life to save the incredibly unique and highly imperiled wildlife of Sumatra.


Mass extinction fears widen: 22 percent of world's plants endangered



(09/28/2010) Scientific warnings that the world is in the midst of a mass extinction were bolstered today by the release of a new study that shows just over a fifth of the world's known plants are threatened with extinction—levels comparable to the Earth's mammals and greater than birds. Conducted by the Royal Botanic Gardens, Kew; the Natural History Museum, London; and the International Union for the Conservation of Nature (IUCN), the study is the first time researchers have outlined the full threat level to the world's plant species. In order to estimate overall threat levels, researchers created a Sampled Red List Index for Plants, analyzing 7,000 representative species, including both common and rare plants.


Could industrial interests ruin payments for environmental services?

(09/27/2010) One of the biggest ideas in the conservation world over the past decade is Payments for Environmental Services, known as PES, whereby governments, corporations, or the public pays for the environmental services that benefit them (and to date have been free), i.e. carbon, biodiversity, freshwater, etc. For example, Reducing Emissions through Deforestation and Forest Degradation (REDD+) is the largest such proposed PES concept, yet many others are emerging. However, a new study in mongabay.com's open access journal Tropical Conservation Science argues that in order for PES to be effective—and not perversely lead to further harm—decision-makers must consider the danger of paying industrial and commercial interests versus financially supporting local populations, as originally conceived, to safeguard the environment.


Ugandan forest being stripped for fuel wood

(09/27/2010) A new study in the open access journal of Tropical Conservation Science finds that the Kasagala forest reserve in central Uganda is losing important tree species and suffering from low diversity of species. Researchers believe that forest degradation for charcoal and firewood has put heavy pressure on this ecosystem.


Nearly half of the world's wetlands used for crops

(09/27/2010) Wetlands used for crops have expanded significantly over the past eighty years. According to a new study in the open-access journal Tropical Conservation Science, wetlands being utilized for crop production has jumped from 25 percent in 1926 to 43 percent in 2006 of the world's wetlands as identified by the Ramsar Convention on Wetlands.


Threatened on all sides: how to save the Serengeti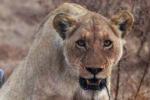 (09/27/2010) Tanzania's plan to build a road through the Serengeti has raised the hackles of environmentalists, conservationists, tourists, and wildlife-lovers worldwide, yet the proposed road is only the most recent in a wide variety of threats to the Serengeti ecosystem. A new study in mongabay.com's open-access journal Tropical Conservation Science looks at the wide variety of issues facing the Serengeti and how to save one of the world's most beloved landscapes and wildlife communities.


Financial crisis pummels wildlife and people in the Congo rainforest

(09/27/2010) Spreading over three central African nations—Cameroon, Central African Republic, and Republic of Congo—the Sangha tri-national landscape is home to a variety of actors: over 150,000 Bantu people and nearly 20,000 pygmies; endangered species including forest elephants and gorillas; and, not least, the Congo rainforest ecosystem itself, which here remains largely intact. Given its interplay of species-richness, primary rainforest, and people—many of whom are among the poorest in the world—the landscape became internationally important in 2002 when under the Congo Basin Forest Partnership (CBFP) conservation groups and development agencies agreed to work together to preserve the ecosystems while providing development in the region.


Into the Congo: saving bonobos means aiding left-behind communities, an interview with Gay Reinartz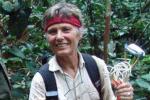 (09/23/2010) Unlike every other of the world's great apes—the gorilla, chimpanzee, and orangutan—saving the bonobo means focusing conservation efforts on a single nation, the Democratic Republic of the Congo. While such a fact would seem to simplify conservation, according to the director of the Bonobo and Congo Biodiversity Initiative (BCBI), Gay Reinartz, it in fact complicates it: after decades of one of world's brutal civil wars, the DRC remains among the world's most left-behind nations. Widespread poverty, violence, politically instability, corruption, and lack of basic infrastructure have left the Congolese people in desperate straits.


Another food goliath falls to palm oil campaign


(09/22/2010) One of the world's biggest food makers, General Mills, has pledged to source only sustainable and responsible palm oil within five years time. With this announcement, General Mills becomes only the most recent food giant to pledge to move away from problematic sources of palm oil, which is used in everything from processed foods to health and beauty products. Nestle made a similar pledge earlier this year after a brutalizing social media campaign that lasted for months while Unilever, the world's biggest palm oil buyer, has been working closely with green groups for years.


Will Brazil Change its Forest Code – and Kill the Amazon rainforest?

(09/22/2010) Many credit Brazil's 75-year old Forest Code with helping to slow destruction of the Amazon Rainforest, but an unlikely amalgamation of right-wing and left-wing politicians are trying to gut the law. In this first of two articles, Ecosystem Marketplace examines the state of the debate. In the second part, Ecosystem Marketplace takes a look at the law's implications for the Amazon – and for the forest-carbon marketplace in Brazil.


Coral reef survival depends on the super small, an interview with Forest Rohwer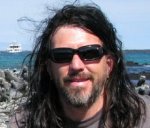 (08/30/2010) If you take a teaspoon and dip it into the ocean what will you have? Some drops of lifeless water? Only a few decades ago this is what scientists would have said, however, the development of increasingly powerful microscopes have shown us a world long unknown, which has vital importance for the survival of one of the world's most threatened and most treasured ecosystems: coral reefs. A single milliliter of water is now known to contain at least a million living microbes, i.e. organisms too small to see without a microscope. After discovering their super-abundant presence, researchers are now beginning to uncover how these incredibly tiny life-forms shape the fate of the world's coral reefs.


India's Avatar: decision coming on mine that threatens indigenous group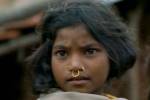 (08/17/2010) In the Indian state of Orissa a drama more wild than James Cameron's imagination has been playing out. An indigenous people, the Dongria Kondh, have spent years protesting the plans of British-based mining giant Vedanta Resources to build a 125-billion-rupee ($2.7 billion) open-cast mine on the Niyamgiri Mountain, which they have long viewed as a deity. Yesterday, the Dongria Kondh won a victory, but not the war: a four-person panel set up by the India's Environment Ministry said the mine should not go ahead as it threatens two tribal groups. Another panel with the Forestry Advisory Council (FAC) will consider this report on August 20th as Environment Minister, Jairam Ramesh, mulls whether or not to approve the mine.


The biology and conservation of declining coral reefs, an interview with Kristian Teleki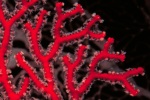 (08/15/2010) Coral reefs are often considered the "rainforests of the sea" because of their amazing biodiversity. In fact, coral reefs are one of the most diverse ecosystems on earth. It is not unusual for a reef to have several hundred species of snails, sixty species of corals, and several hundred species of fish. While they comprise under 1% of the world's ocean surface, one-quarter of all marine species call coral reefs their home. Fish, mollusks, sea stars, sea urchins, and more depend on this important ecosystem, and humans do too. Coral reefs supply important goods and services–from shoreline protection to tourism and fisheries–which by some estimates are worth $375 billion a year.


U.S. signs debt-for-nature swap with Brazil to protect forests

(08/13/2010) The United States will cut Brazil's debt payments by $21 million under a debt-for-nature that will protect the Latin American country's endangered Atlantic Rainforest (Mata Atlantica), Caatinga and Cerrado ecosystems.


APP refutes Greenpeace charges on deforestation, though audit remains absent

(08/12/2010) Asia Pulp & Paper, which has long been a target of green groups for deforestation and threatening imperiled species, is touting a new audit the pulping company says finds allegations made by environmental NGOs, including Greenpeace and WWF, are "baseless, inaccurate, and without validity". Conducted by the international accounting and auditing firm Mazars, the audit itself has not been released; however Mazars has signed off on the validity of a 24 page document entitled "Getting the Facts Down on Paper".


Guilty verdict over euthanizing tigers in Germany touches off debate about role of zoos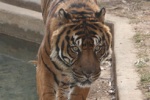 (08/11/2010) In June a German court handed down a guilty verdict to the Magdeburg Zoo director, Kai Perret, and three employees for euthanizing three tiger cubs in 2008. The zoo decided to kill the cubs when it was discovered that the cubs' father was not a 100 percent Siberian tiger (i.e. he was a mix of two different subspecies). This is generally standard practice at many zoos around the world as animals that are not 'genetically pure' are considered useless for conservation efforts. However, the court found the workers guilt of breaking animal rights laws, finding that there was "no sufficient reasons to kill less valuable, but totally healthy animals."


Nation's wealth does not guarantee green practices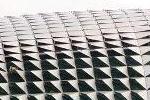 (08/11/2010) Developing countries are not the only ones that could benefit from a little environmental support. Wealthier countries may need to 'know themselves' and address these issues at home too. According to a recent study in the open access journal PLoS ONE, wealth may be the most important factor determining a country's environmental impact. The team had originally planned to study "country-level environmental performance and human health issues," lead author Corey Bradshaw, Director of Ecological Modeling and professor at the University of Adelaide, told mongabay.com. Once they began looking at the available indexes, however, they saw the need for a purely environmental analysis.


Environmental assessment for Borneo coal plant riddled with errors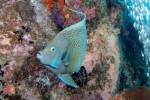 (08/03/2010) The Detailed Environmental Impact Assessment (DEIA) for a proposed coal plant in Sabah is full of holes, according to activists with the organization Green SURF (Sabah Unite to Re-Power the Future), which opposes the plant. The official environmental report from Lahad Datu Energy lists species not endemic to Borneo, mistakes the nearest ecosystem to the coal plant, and confuses indigenous groups. Even more seriously, the DEIA leaves out information on the coal plant's specifics and possible 'green' alternatives.


Scientists condemn current development plan in Kalimantan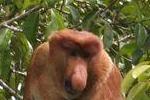 (08/02/2010) Scientists with the Association for Tropical Biology and Conservation (ATBC) have released a resolution opposing the current development plan for a road and bridge crossing Balikpapan Bay in the Indonesian state of Kalimantan. The resolution states that the plan threatens not only the fragile ecosystems within the bay, but of the nearby mangroves as well as the Sungai Wain forest and its watershed, vital for local industry and people. According to ATBC, the plan could be easily remedied by officials picking an alternate route, which is also favored by locals since it would be 80 kilometers shorter.


Longtime target of green groups, Cargill, to supply sustainably-certified palm oil to Unilever


(07/30/2010) Agriculture giant Cargill has announced an agreement to supply Unilever with 10,000 metric tons of palm oil sustainably-certified from the Round Table for Sustainable Palm Oil (RSPO). Cargill has often come under fire from green groups for being linked to the rainforest destruction. The Dutch-English company Unilever—the world's biggest buyer of palm oil—has been trying to move its palm oil sources away from deforestation with a goal of sourcing only 'sustainable' palm oil by 2015.


Visiting the Gulf: how wildlife and people are faring in America's worst environmental disaster, an interview with Jennifer Jacquet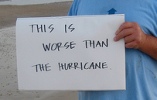 (07/29/2010) "President Obama called it 'the worst environmental disaster America has ever faced.' So I thought I should face it and head to the Gulf"—these are the opening words on the popular blog Guilty Planet as the author, marine biologist Jennifer Jacquet, embarked on a ten day trip to Louisiana. As a scientist, Jacquet was, of course, interested in the impact of the some four million barrels of oil on the Gulf's already depleted ecosystem, however she was as equally keen to see how Louisianans were coping with the fossil fuel-disaster that devastated their most vital natural resource just four years after Hurricane Katrina.


Oil devastates indigenous tribes from the Amazon to the Gulf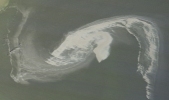 (07/27/2010) For the past few months, the mainstream media has focused on the environmental and technical dimensions of the Gulf mess. While that's certainly important, reporters have ignored a crucial aspect of the BP spill: cultural extermination and the plight of indigenous peoples. Recently, the issue was highlighted when Louisiana Gulf residents in the town of Dulac received some unfamiliar visitors: Cofán Indians and others from the Amazon jungle. What could have prompted these indigenous peoples to travel so far from their native South America? Victims of the criminal oil industry, the Cofán are cultural survivors. Intent on helping others avoid their own unfortunate fate, the Indians shared their experiences and insights with members of the United Houma Nation who have been wondering how they will ever preserve their way of life in the face of BP's oil spill.


Indigenous tribes occupy dam in Brazil, demand reparations

(07/27/2010) An indigenous group in Brazil has taken over a hydroelectric dam, which they state has polluted vital fishing grounds and destroyed sacred burial ground. They are demanding reparations for the damage done and that no more dams are built in the region without their prior consent.


If Madagascar's biodiversity is to be saved, international community must step up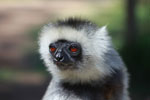 (07/27/2010) The international community's boycott of environmental aid to Madagascar is imperiling the island's unique and endangered wildlife, according to a new report commissioned by the US Agency for International Development's (USAID) Bureau of Africa. International aid to the desperately poor nation slowed to a trickle after a government coup last year, including a halt on environmental funding from the US government. Since then the island has experienced an environmental crisis: illegal loggers and traders began decimating protected areas, and the wildlife trade, including hunting endangered lemurs for bushmeat, took off.


US government fails on climate change

(07/26/2010) Not even intense international pressure, the BP oil spill, worsening floods, or the fact that the last six months have been the warmest on record globally was enough to push US climate legislation through the Senate. In the end the legislation died without a single Republican supporting it and a number of Democrats balking. Democratic Senate leader, Harry Reid, said they would continue to push climate legislation in the fall, but analysts say success then is unlikely given up-coming elections in November.


Indonesia's forests are a global heritage, says VP

(07/21/2010) The vice president of Indonesia on Wednesday urged scientists and the broader international community to help Indonesia find a balance between conservation and natural resource use.


Following public outcry, New Zealand drops plan to mine protected areas

(07/20/2010) The New Zealand government has caved to public pressure, announcing that it is dropping all plans to mine in protected areas. The plan to open 7,000 hectares of protected areas to mining would have threatened a number of rare and endemic species, including two frogs that are prehistoric relics virtually unchanged from amphibian fossils 150 million years old: Archey's frog (Leiopelma archeyi) and Hochstetter's frog (Leiopelma hochstetteri).


Oil disaster threatens Gulf of Mexico's deep water titans



(07/19/2010) As I discovered in the course of researching my book, No Rain in the Amazon: How South America's Climate Change Affects the Entire Planet (Palgrave, 2010), the oil industry has had a poor record when it comes to protecting aquatic sea life. Take for example the manatee, which has been put at risk from the Amazon to the Gulf of Mexico as a result of the oil industry. One of the most outlandish creatures on the planet, the shy and retiring manatee, which gets its name from an American Indian word meaning "Lady of the Water," was first described as a cross between a seal and hippo. The creature has a wonderfully round body, mostly black skin the texture of vinyl, a bright pink belly, a diamond-shaped tail and a cleft lip.


Illegal logging declining worldwide, but still 'major problem'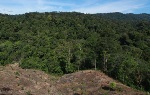 (07/15/2010) A new report by the Chatham House finds that illegal logging in tropical forest nation is primarily on the decline, providing evidence that new laws and international efforts on the issue are having a positive impact. According to the report, the total global production of illegal timber has fallen by 22 percent since 2002. Yet the report also finds that nations—both producers and consumers—have a long way to go before illegal logging is an issue of the past.


Large-scale forest destruction in Sumatra undermines Indonesia's deal with Norway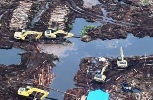 (07/13/2010) While the Indonesian government basks in a recent agreement with Norway to slow deforestation to the tune of a billion US dollars, a new report by Eyes on the Forest shows photographic evidence of largely government sanctioned deforestation that flouts several Indonesia laws. Potentially embarrassing, the report and photos reveal that two companies, Asian Pulp and Paper (APP) and Asia Pacific Resource International (APRIL), have destroyed 5 percent of Riau province's forests since 2009, including deep peatlands, high conservation value forests (HCVF), Critically Endangered Sumatran tiger habitat, and forest within the Giam Siak Kecil- Bukit Batu UNESCO Biosphere Reserve. In total, over 130,000 hectares (an area larger than Hong Kong) of mostly peat forest were destroyed for pulp.


Paying for nature: putting a price on 'ecosystem services'

(07/12/2010) Ever since humans entered the stage, nature has been providing us with a wide-variety of essential and 'free' services: food production, pollination, soil health, water filtration, and carbon sequestration to name a few. Experts have come to call these 'ecosystem services'. Such services, although vital for an inhabitable planet, have largely gone undervalued in the industrial age, at least officially. Yet as environmental crises pile one on another across the world, a growing number of scientists, economists, environmentalists, and policy-makers are beginning to consider putting a monetary value on 'ecosystem services'.


Conservation photography: on shooting and saving the world's largest temperate rainforest, an interview with Amy Gulick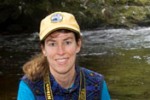 (07/11/2010) Most of the US's large ecosystems are but shadows of their former selves. The old-growth deciduous forests that once covered nearly all of the east and mid-west continental US are gone, reduced to a few fragmented patches that are still being lost. The tall grassy plains that once stretched further than any eye could see have been almost wholly replaced by agriculture and increasing suburbs. Habitats, from deserts to western forests, are largely carved by roads and under heavy impact from resource exploitation to invasive species. Coastal marine systems, once super abundant, have partially collapsed in many places due to overfishing, as well as pollution and development. Despite this, there are still places in the US where the 'wild' in wilderness remains largely true, and one of those is the Tongass temperate rainforest of Southeast Alaska.


Controversial changes to Brazilian forest law passes first barrier

(07/08/2010) An amendment to undermine protections in Brazil's 1965 forestry code has passed it first legislative barrier, reports the World Wide Fund for Nature-Brasil (WWF). Yesterday the amendment passed a special vote in the Congress's Special Committee on Forest Law Changes.


Road through the Serengeti will eventually 'kill the migration'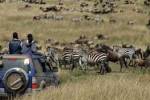 (07/08/2010) Tourists, conservationists, individuals, and tour companies have launched an international outcry against the Tanzanian authorities in response to the announcement of the planned construction of the trans-Serengeti Highway highway. There is even a Facebook group and an online petition with 5,038 signatures. But the government has responded by saying that the plans are still on course.


Top officials busted in Amazon logging raids, but political patronage may set them free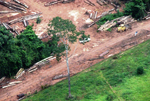 (07/08/2010) After two years of investigations, the Brazilian Federal Police arrested some of the most important politicians and authorities for illegal logging in the Amazon. Code-named Operation Jurupari, the Brazilian Federal Police uncovered a massive illegal logging scheme that resulted in the arrests of over 90 people and caused an estimated $500 million in damage to the Amazon rainforest. Over 496 square kilometers (192 square miles), an area the size of California or Spain, were affected and an estimated 1.5 million cubic meters (642 million board feet) of timber was illegally extracted. While the investigation focused on activities in the state of Mato Grosso, which is located in the southern Amazon and is one of the most deforested regions largely due to clearing land for expanding soya farms, it touched numerous others, including São Paulo, Paraná, Rio Grande do Sul, Espirito Santo, Minas Gerais and Distrito Federal.


The changing nature of illegal logging - and illegal logging investigations - in Brazil's Amazon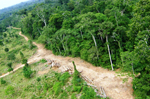 (07/08/2010) Operation Jurupari followed on several previous Brazilian Federal Police investigations into SEMA, including: Operation Curupira I (June 2005); Curupira II (August 2005); Mapinguari (2007), Arc of Fire (2008), Termes (April 2008); and Caipora (2008). It was led by Franco Perazzoni, Brazilian Federal Police "Delegado" (or chief), who, since 2006, has headed the environmental crimes unit in Mato Grosso and been responsible for about 300 investigations on environmental crimes, of which about 75% were on illegal deforestation in federal areas. The nature of the illegal deforestation has changed over the years.


Goodbye to the Gulf: oil disaster hits region's 'primary production'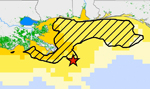 (07/08/2010) According to a new analysis by the World Resources Institute (WRI), the many ecosystem services provided by the Gulf of Mexico will be severely impacted by BP's giant oil spill. 'Ecosystem services' are the name given by scientists and experts to free benefits provided by intact ecosystems, for example pollination or clean water. In the Gulf of Mexico, such environmental benefits maintain marine food production, storm buffers, tourism, and carbon sequestration, but one of the most important of marine ecosystem services is known as 'primary production'.


Spotted uncontacted native flees, leaving dinner and dish behind

(07/07/2010) The man had set up camp and was preparing to cook live turtles for a meal when he was seen by people he did not know. He hid behind a tree and then fled from the camp into the forest, abandoning his uncooked turtles and a clay pot behind.


Violence a part of the illegal timber trade, says kidnapped activist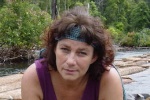 (07/07/2010) The European parliament made a historical move today when it voted overwhelmingly to ban illegal timber from its markets. For activists worldwide the ban on illegal timber in the EU is a reason to celebrate, but for one activist, Faith Doherty of the Environmental Investigation Agency (EIA), the move has special resonance. In early 2000, Doherty and an Indonesian colleague were kidnapped, beaten, and threatened with a gun by illegal loggers in Indonesian Borneo.


In the midst of marine collapse will we save our last ocean?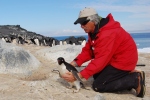 (07/05/2010) Imagine an ocean untouched by oil spills: a sea free of pollution, invasive species, dead zones, and over-exploitation; waters where marine animals exist in natural abundance and play ecological roles undimmed by mankind. Such a place may sound impossible in today's largely depleted oceans, but it exists: only discovered in 1841, the Ross Sea spreads over nearly a million kilometers adjacent to the Antarctic continent. Here killer whales, penguins, sea birds, whales, and giant fish all thrive. However, even with its status as the world's 'last ocean', the Ross Sea has not escaped human impact. Over the last 15 years commercial fisheries have begun to catch one of its most important species in the ecosystem to serve them up on the dinner plates of the wealthy.


US pledges 136 million dollars to the environment in Indonesia

(07/01/2010) The US has pledged $136 million to environment and climate change initiatives in Indonesia over the next three years reports Reuters. Earlier in the year, Norway pledged over seven times the US amount (one billion US dollars) to fight deforestation in the Southeast Asian country.


Amazon and Atlantic Forest under threat: politicians press to dilute Brazil's forestry law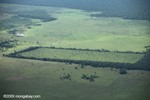 (07/01/2010) A group of Brazilian legislatures, known as the 'ruralistas', are working to change important aspects of the Brazil's landmark 1965 forestry code, undermining forest protection in the Amazon and the Mata Atlantica (also known as the Atlantic Forest) and perhaps heralding a new era of booming deforestation. The ruralistas, linked to big agribusiness and landowners, are taking aim at the part of the forestry code that requires landowners in the Amazon to retain 80 percent of their land area as legal reserves, arguing that the law threatens agricultural development.


Papua New Guinea strips communal land rights protections, opening door to big business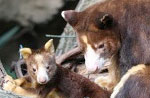 (06/30/2010) On May 28th the parliament in Papua New Guinea passed a sweeping amendment that protects resource corporations from any litigation related to environmental destruction, labor laws, and landowner abuse. All issues related to the environment would now be decided by the government with no possibility of later lawsuits. Uniquely in the world, over 90 percent of land in Papua New Guinea is owned by clan or communally, not be the government. However this new amendment drastically undercuts Papua New Guinea's landowners from taking legislative action before or after environmental damage is done. Essentially it places all environmental safeguards with the Environment and Conservation Minister.



Page 1 | Page 2 | Page 3 | Page 4 | Page 5 | Page 6 | Page 7 | Page 8 | Page 9 | Page 10 | Page 11 | Page 12 | Page 13 | Page 14 | Page 15 | Page 16 | Page 17