News articles on environmental politics

---
Mongabay.com news articles on environmental politics in blog format. Updated regularly.






Obama blocks offshore oil drilling for now

(02/11/2009) The Obama administration has shelved a plan by the Bush Administration to open U.S. coastal waters to oil and gas drilling. The proposal, put forth on the last business day of the Bush Administration, had been vehemently opposed by environmental groups.
Norway to pay Guyana to save its rainforests
(02/05/2009) Norway will provide financial support for Guyana's ambitious plan to conserve its rainforests, reports the Guyana Chronicle. Meeting in Oslo, Norway on Tuesday, Guyana President Bharrat Jagdeo and Norwegian Prime Minister Jens Stoltenberg signed a Memorandum of Understanding agreeing to establish a partnership to reduce greenhouse gas emissions from deforestation and forest degradation (REDD). The leaders will push for the incorporation of a REDD mechanism that includes low deforestation countries like Guyana in a post-2012 climate change agreement.
Cap or Tax Carbon Emissions?

(02/04/2009) Debate is raging about the relative merits of a carbon tax or a cap and trade system as the centerpiece of federal legislation to reduce emissions that fuel global warming. Here is why cap and trade must be the U.S. policy instrument of choice.
Obama pushes for better mileage standards

(01/27/2009) President Obama has moved to allow states set automobile emission rules, opening the door for more fuel efficient vehicles. Monday Obama signed a memorandum requiring the Environmental Protection Agency (EPA) to reconsider California's application to set tighter auto emissions and fuel efficiency standards than required under federal law. Should the waiver be granted, automakers would be forced to sell more fuel efficient vehicles if they want to do business in the state.
Deal on forests falls short

(12/11/2008) A deal reached Wednesday in Poznan to include forests in future climate treaties is a positive step but falls short of the progress needed to get the REDD (reducing emissions from deforestation and degradation) mechanism on track for incorporation into the framework that will succeed the Kyoto Protocol, say environmentalists speaking from the talks.
Rainforests continue to fall but hope may rest in a market solution

(12/11/2008) Environmentalists attempting to preserve the vanishing Amazon rain forest now confront a stark paradox: Never before have they succeeded in protecting so much of the world's largest tropical forest, yet never before has so much of it simultaneously been destroyed. The key question today is whether new models of conservation — including an increasingly popular, market-based program known as REDD — will be able to reverse the steady loss of tropical forests, not only in the Amazon, but also in Indonesia, Borneo, and Africa's Congo basin, where virgin woodlands continue to be razed at an unprecedented rate.
Indigenous people win voice in climate negotiations

(12/10/2008) Negotiators at U.N. climate conference have struck a deal to give forest-dependent people a voice in determining the role forest conservation will play future agreements to reduce greenhouse gas emissions, reports the Associated Press (AP). The agreement clears a key obstacle that had been blocking progress on reducing emissions from deforestation and degradation (REDD), a mechanism that would compensate tropical countries for protecting their forest cover.
In Poznan, France pushes initiative to save rainforests

(12/08/2008) As talks for incorporating forest conservation into an international climate treaty stall in Poznan, Poland due to technical debates, France has proposed an aggressive effort to address deforestation and forest degradation through the establishment of a Global Forest Carbon Mechanism (GFCM) and potential inclusion of forestry projects in the E.U.'s emissions trading scheme (ETS) beginning in 2013.
REDD faces challenges but can succeed, says report

(12/05/2008) The Center for International Forestry Research (CIFOR), a forest policy think tank, today released its assessment on the proposed REDD (reducing emissions from deforestation and degradation) mechanism for slowing climate change.
WWF criticizes Brazil's plan to cut Amazon deforestation

(12/04/2008) WWF criticized Brazil's plan to reduce Amazon deforestation to 5,740 square kilometers per year as being "short on ambition and detail". In a statement issued Wednesday, WWF said that Brazil's proposed fund for conserving the Amazon would still result in the annual loss of an area forest the size of Rhode Island.
Bank of America will no longer finance mountaintop removal coal mining

(12/04/2008) Bank of America will phase out financing for companies that practice mountaintop removal coal mining, a destructive and controversial method of coal extraction, according to a statement from the banking giant. The policy comes the day after the Environmental Protection Agency — at the behest of the Bush administration — approved a rule that will make it easier for coal companies to dump waste from mountaintop removal mining operations into streams and valleys.
Supreme Court lifts ban on sonar testing, whales lose

(11/12/2008) A Supreme Court decision will allow the Navy to continue its of sonar in training exercises off the coast of California, a defeat for environmental groups who say sonar is harmful to whales, reports the Associated Press.
In final weeks, President Bush aims to extend his environmental legacy

(11/09/2008) On Tuesday, November 4th, the people of the United States elected a new president, Senator Barack Obama. Many feel a new day is coming on a number of issues, including the environment. However the Bush Administration has 72 days left in its term and appears hopeful to use every one of those to make last-minute changes to environmental rules that will have wide-ranging impacts on the nation's endangered species, air, water, parks, and undeveloped land. As the administration has done since taking office eight years ago, it is working toward such policies—all of them controversial—to benefit industry at the cost of the environment and health safeguards.
EU's sustainable biofuels push angers Malaysia, Brazil

(11/07/2008) Eight developing countries threatened to file a World Trade Organization complaint against the E.U. for its proposed legislation to require imported biofuels to meet environmental standards, reports Reuters.
Indonesian governors agree to protect Sumatra's endangered forests

(10/09/2008) The ten governors of Sumatra — along with four federal ministers — have signed an agreement to protect forests and other ecosystems on the Indonesian island, according to WWF. The announcement is significant because Sumatra is a biodiversity hotspot — home to rare and endemic wildlife — that is under great threat from logging and expansion oil palm plantations. The island has lost 48 percent of its forest cover since 1985.
Forest conservation can fight climate change and poverty

(10/08/2008) The Forests Dialogue — a coalition consisting of more than 250 representatives of governments, forestry companies, trade unions, environmental and social groups, international organizations, forest owners, indigenous peoples and forest-community groups — has issued guiding principles for including forests in climate change negotiations.
Environment at rock-bottom of concerns for American voters

(09/26/2008) In a poll conducted by Gallup asking voters to state their top two reasons for choosing a candidate, one percent said the environment or climate change. The environment was tied with education for being the least given reason.
Cutting deforestation can fight climate change, reduce poverty and conflict

(09/24/2008) Forest conservation can play a critical role in efforts to reduce greenhouse gas emissions and alleviate poverty, said a prominent group of politicians, development experts, and environmental NGOs meeting in New York City to discuss U.S. climate policy. Organized by Avoided Deforestation Partners, an international policy group, the meeting sought to establish a strategy to highlight the global impact of deforestation and push for the inclusion of tropical forests in domestic climate policy. Attendees included leaders of WWF, the Nature Conservancy, Conservation International, World Vision, Oxfam, Mercy Corps, Care International, and the Union of Concerned Scientists; former Vice President Al Gore; Wangari Maathai, a Nobel Prize-winning activist from Kenya; Bharrat Jagdeo, president of the South American country of Guyana; and executives from a number of carbon-trading and financial firms. The event was hosted by veteran journalist Dan Rather.
Small-scale fisheries are "best hope" for sustainability in developing world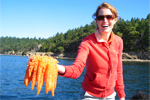 (09/08/2008) Fish stocks are declining globally. While the consumer in the industrial world has yet to feel the full impact of this decline, those in the developing world know it well. Local small-scale fishermen are catching less fish to feed growing populations. Jennifer Jacquet of the Sea Around Us Project believes the hope for sustainable seafood lies in these very fisheries.
Obama talks science: ocean health, water scarcity, climate change, and more

(09/05/2008) Presidential nominee Barack Obama recently answered fourteen science-related questions for the organization Science Debate 2008. The questions covered a wide-variety of topics, including the importance of innovation, science and math education, energy policies, national security and biosecurity, genetics research, stem cells, space exploration, health, support for research and restoring scientific integrity in the Whitehouse. Below are brief descriptions of his answers on three topics: climate change, water scarcity, and the health of marine ecosystems. Republican presidential nominee John McCain has also been sent the same fourteen questions, so far he has not responded.
Biofuels 200 times more expensive than forest conservation for global warming mitigation

(08/27/2008) The British government should end subsidies for biofuels and instead use the funds to slow destruction of rainforests and tropical peatlands argues a new report issued by a U.K.-based think tank. The study, titled "The Root of the Matter" and published by Policy Exchange, says that "avoided deforestation" would be a more cost-effective way to address climate change, since land use change generates more emissions than the entire global transport sector and offers ancillary benefits including important ecosystem services.
Scientists condemn Bush plan for endangered species

(08/27/2008) The Ecological Society of America has come down handily against the Bush Administration's proposed changes to the Endangered Species Act (ESA). The changes would eliminate the requirement for independent scientific review of federal projects, such as roads, dams, and mines, instead allowing federal agencies to conduct internal evaluations and then proceed as they see fit.
Malaysian logging scandal may delay trade negotiations with the E.U.

(08/25/2008) Sarawak's Chief Minister, Taib Mahmud, has been linked to a timber trade scheme involving illegal imports of Indonesian logs and which were then re-exported as Malaysian timber to other countries, including China, Taiwan, and Japan, reports the Indonesian newspaper Tribun Pontianak. An environmental group is using the scandal as the basis for a request for the E.U. to delay timber trade talks with Malaysia.
Presidential candidate John McCain's love-hate relationship with bears

(08/21/2008) Senator John McCain has frequently cited an earmark to a bill proving funds for a study of grizzly bears in Montana as an example of the worst pork-and-barrel spending in Washington. The study was included in an ad for McCain entitled "Outrageous" during the primaries. However, according to FactCheck.org, Senator McCain voted for the earmark he now derides.
Markets could save rainforests: an interview with Andrew Mitchell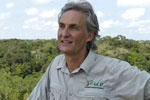 (08/17/2008) Markets may soon value rainforests as living entities rather than for just the commodities produced when they are cut down, said a tropical forest researcher speaking in June at a conservation biology conference in the South American country of Suriname. Andrew Mitchell, founder and director of the London-based Global Canopy Program (GCP), said he is encouraged by signs that investors are beginning to look at the value of services afforded by healthy forests.





No scientists necessary: Bush administration's new plans regarding endangered species

(08/13/2008) I would have thought it difficult after eight years to still be surprised by any presidential administration, but the Bush administration has proven unique. After years of delisting endangered species, refusing to list others, and slowly watering down the landmark Endangered Species Act, the Bush administration has finally come out and said it: scientists are superfluous when it comes to saving endangered species. Despite eight years of belittling scientists, I was still surprised they would insult them so blatantly.





Carbon tax will ease transition to sensible climate policy

(08/13/2008) The management of carbon dioxide and the climate represent both an economic development challenge and the ecological problem of the next hundred years. Energy use, economic success and carbon dioxide emissions are, currently, intertwined. A carbon market that represents the true cost of energy and the disposal of our waste products in the environment is a potential long-term policy mechanism for carbon dioxide management. However, the strong interconnection between carbon dioxide emissions and economic success distinguishes the carbon market from other environmental markets used to control pollution. Therefore evolution to that solution is not straightforward; there are a series of necessary steps needed to develop a market.







Brazil asks rich countries to fund Amazon conservation

(08/02/2008) Brazilian President Luis Inacio Lula da Silva officially unveiled plans to raise a $21 billion fund for protecting the Amazon rainforest. The plan, which was originally announced several months ago, aims to be funded by foreign donations. Contributors will not be eligible for carbon credits that may be generated by reductions in deforestation.







Logging company Danzer accused of tax fraud in the Congo

(07/31/2008) A major European logging company is using an elaborate profit-laundering system to smuggle timber revenue out of Africa and avoid paying taxes to the governments of the Democratic Republic of Congo (DRC) and the Republic of the Congo, alleges a new report published by Greenpeace.





Bush Administration moves to weaken endangered speices protection

(07/31/2008) The Bush administration's handling of the Endangered Species Act has put the cactus ferruginous pygmy owl in danger of extinction, according to the Centre for Biological Diversity. Even though less than 30 individuals exist in the United States—all in Arizona—the species was removed from the Endangered Species Act in 2006, after nine years of protection.




Page 1 | Page 2 | Page 3 | Page 4 | Page 5 | Page 6 | Page 7 | Page 8 | Page 9 | Page 10 | Page 11 | Page 12 | Page 13 | Page 14 | Page 15 | Page 16 | Page 17 | Page 18