News articles on environmental politics

---
Mongabay.com news articles on environmental politics in blog format. Updated regularly.






A Tasmanian tragedy? : How the forestry industry has torn an island apart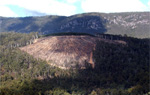 (07/02/2009) This is by no means a new battle: in fact, Tasmanian industrial foresters and environmentalists have been fighting over the issue of clearcutting the island's forests for decades. The battle—some would probably prefer 'war'—is over nothing less than the future of Tasmania. Some Tasmanians see the rich forests that surround them in terms of income, dollars and cents; they see money literally growing on trees, or more appropriately growing on monoculture plantations and government owned native forests. They see the wilderness of Tasmania as an exploitative resource.
Global warming bill passes the House

(06/26/2009) The U.S. House of Representatives passed the country's first climate change legislation 219-212 on Friday. The vote was highly partisan with Democrats generally supporting the American Clean Energy and Security Act, and Republicans mostly opposing it.
Proving the 'shifting baselines' theory: how humans consistently misperceive nature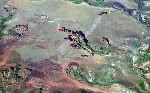 (06/24/2009) The theory of shifting baselines was first elucidated by scientists exploring urban children's perception of nature in 1995. In the same year, marine biologist Daniel Pauly coined the term 'shifting baselines'. Since then the idea of humans perceiving nature inaccurately, through 'shifting baselines', has taken the conservation world by storm: the theory appeared to describe a commonly noticed problem regarding people's view of the natural world around them. However, the theory had yet to be tested in a scientific manner: were people actually undergoing shifting baselines or was something else going on? For the first time a new paper in Conservation Letters empirically tests the shifting baselines theory.
New Yangtze River dam could doom more endangered species

(06/22/2009) Eight Chinese environmentalists and scientists have composed a letter warning that a new dam under consideration for the Yangtze River could lead to the extinction of several endangered species. The letter contends that Xiaonanhia Dam, which would be 30 kilometers upstream from the city of Chongqing, will negatively impact the river's only fish reserve. Spanning 400 kilometers in the upper Yangtze, the reserve is home to 180 fish species, including the Endangered Chinese sturgeon, and the Critically Endangered Chinese paddlefish, as well as the finless porpoise.
War and conservation in Cambodia
(06/21/2009) The decades-long conflict in Cambodia devastated not only the human population of the Southeast Asian country but its biodiversity as well. The conflict led to widespread declines of species in the once wildlife-rich nation while steering traditional society towards unsustainable hunting practices, resulting in a situation where wildlife is still in decline in Cambodia, according to a new study from researchers with the World Wildlife Fund (WWF).
Fate of world's rainforests likely to be determined in next 2 years

(06/19/2009) The fate of millions of hectares of tropical forests will probably be sealed this year and next year, reports a new set of policy papers detailing an emerging climate change mitigation mechanism known as Reducing Emissions from Deforestation and Degradation (REDD). REDD has been proposed by the U.N. and other entities as a form of carbon finance under which industrialized nations would pay tropical countries for conserving their forest cover.
Commission on Climate and Tropical Forests forms to advise Congress, Obama on forest conservation
(06/18/2009) Leaders in business, government, advocacy, conservation, global development, science and national security have formed a commission to "provide bipartisan recommendations to Congress and the President about how to reduce tropical deforestation through U.S. climate change policies," according to a statement released by the newly established group, named the Commission on Climate and Tropical Forests.
New report predicts dire consequences for every U.S. region from global warming
(06/17/2009) Government officials and scientists released a 196 page report detailing the impact of global warming on the U.S. yesterday. The study, commissioned in 2007 during the Bush Administration, found that every region of the U.S. faces large-scale consequences due to climate change, including higher temperatures, increased droughts, heavier rainfall, more severe weather, water shortages, rising sea levels, ecosystem stresses, loss of biodiversity, and economic impacts.
Canada expands park: over three times larger than Yellowstone

(06/09/2009) The government of Canada and the Dehcho First Nation announced today the expansion of Nahanni National Park from 1,865 square miles (4,830 square kilometers) to 12,000 square miles (31,080 square kilometers), over six times its original size.
UN calls for global ban on plastic bags to save oceans

(06/09/2009) The UN's top environmental official called for a global ban on plastic bags yesterday. "Single use plastic bags which choke marine life, should be banned or phased out rapidly everywhere. There is simply zero justification for manufacturing them anymore, anywhere," said Achim Steiner, executive director of the U.N. Environment Program.
Brazil to sanction illegal colonization in 230,000 sq mi of Amazon rainforest

(06/08/2009) Brazil moved a step closer to passing a controversial law that would allow landowners who illegally deforested land in the Amazon to get legal title to these holdings. Environmentalists say HB 458 — which now only needs the signature of President Lula, an avid supporter — will legitimize years of illegal colonization and may promote new deforestation.
Another milestone in Afghanistan: listing of endangered species

(06/08/2009) Thirty-three species are included in Afghanistan's first-ever listing of protected wildlife. Well-known animals like the snow leopard, wolves, and brown bears received full legal protection from hunting and harvesting alongside lesser-known species like the paghman salamander, goitered gazelle, and Himalayan elm tree. The protected species list consists of twenty mammals, seven birds, four plants, one amphibian, and one insect.
Bill Clinton speaks out for rainforests in Brazil

(06/03/2009) Former US president Bill Clinton spoke out against rainforest destruction on Monday in Brazil. Headlining the Ethanol Summit 2009 in Sao Paulo, Clinton spoke of the positive role ethanol could play in lowering carbon emissions, but not when at the expense of rainforest.
Brazil's plan to save the Amazon rainforest
(06/02/2009) Accounting for roughly half of tropical deforestation between 2000 and 2005, Brazil is the most important supply-side player when it comes to developing a climate framework that includes reducing emissions from deforestation and forest degradation (REDD). But Brazil's position on REDD contrasts with proposals put forth by other tropical forest countries, including the Coalition for Rainforest Nations, a negotiating block of 15 countries. Instead of advocating a market-based approach to REDD, where credits generated from forest conservation would be traded between countries, Brazil is calling for a giant fund financed with donations from industrialized nations. Contributors would not be eligible for carbon credits that could be used to meet emission reduction obligations under a binding climate treaty.
Political infighting in Brazil threatens the Amazon rainforest
(06/01/2009) Brazil's Environment Minister Carlos Minc accused other government agencies of working to undermine environmental laws in favor of Amazon development projects, report Reuters and the Associated Press. His charge comes a year after his predecessor, Senator Marina Silva, resigned due to the same opposition from development interests. Minc has taken an active role in battling Amazon deforestation, reducing credit access to illegal loggers and ranchers, seizing agricultural products and cattle produced on illegally deforested lands, and pushing for new protected areas. His efforts have angered powerful development interests and at times have put his at odds with President Lula, who is promoting new road and hydroelectric projects.
World governments to miss goal protecting 10 percent of every ecoregion by next year
(06/01/2009) It is unlikely that world government will keep their pledge to protect 10 percent of every ecological region by 2010, according to a new study published in Biological Conservation. This goal is just one of many agreed upon by world governments through the Convention on Biological Diversity. With less than a year to the goal's deadline, the study found that half of the world's ecoregions are currently below the 10 percent threshold.
Nike, Unilever, Burger King, IKEA may unwittingly contribute to Amazon destruction, says Greenpeace
(06/01/2009) Major international companies are unwittingly driving the deforestation of the Amazon rainforest through their purchases of leather, beef and other products supplied from the Brazil cattle industry, alleges a new report from Greenpeace. The report, Slaughtering the Amazon, is based on a three-year undercover investigation of the Brazilian cattle industry, which accounts for 80 percent of Amazon deforestation and roughly 14 percent of the world's annual forest loss. Greenpeace found that Brazilian beef companies are important suppliers of raw materials used by leading global brands, including Adidas/Reebok, Nike, Carrefour, Eurostar, Unilever, Johnson & Johnson, Toyota, Honda, Gucci, Louis Vuitton, Prada, IKEA, Kraft, Tesco and Wal-Mart, among others.
Rich countries buy up agricultural land in poor countries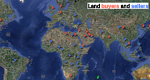 (05/26/2009) Over two-and-half million hectares in the Democratic Republic of the Congo; half a million hectares in Tanzania; and a quarter of a million hectares in Libya: these figures represent just some of the recent international land deals where wealthy countries buy up land in poorer nations for food, and sometimes biofuel, production. The controversial trend has sparked a recent report from the International Food Policy Research Institute (IFPRI) highlighting what nations have to gain—and lose—from participating in such deals.
New rainforest reserve in Congo benefits bonobos and locals

(05/25/2009) A partnership between local villages and conservation groups, headed up by the Bonobo Conservation Initiative (BCI), has led to the creation of a new 1,847 square mile (4,875 square kilometer) reserve in the Democratic Republic of Congo (DRC). The reserve will save some of the region's last pristine forests: ensuring the survival of the embattled bonobo—the least-known of the world's four great ape species—and protecting a wide variety of biodiversity from the Congo peacock to the dwarf crocodile. However, the Kokolopori Bonobo Reserve is worth attention for another reason: every step of its creation—from biological surveys to reserve management—has been run by the local Congolese NGO and villages of Kokolopori.
Six nations pledge to protect the Coral Triangle

(05/19/2009) Last Friday, six nations signed a pledge launching the Coral Triangle Initiative on Coral Reefs, Fisheries and Food Security (CTI-CFF). Indonesia, the Philippines, Timor Leste, Papua New Guinea, Solomon Islands, and Malaysia each agreed to protect the Coral Triangle, a region spanning 1.6 billion acres, half the size of the US.
Obama to increase fuel economy standard to 35 mpg by 2016

(05/18/2009) The Obama administration will direct the Environmental Protection Agency (EPA) and the Department of Transportation to raise fuel economy standards of automobiles to 35 miles per gallon by 2016, four years earlier than required under current federal law, reports the Wall Street Journal. The move is part of the administration's effort to reduce greenhouse gas emissions. Transportation accounts for nearly one third of U.S. carbon dioxide emissions.
Turkey ignores bluefin tuna quotas, further imperiling critically-endangered species

(05/12/2009) A few weeks into the bluefin tuna fishing season and Turkey has decided to go it alone. Breaking international agreements, the Turkish government has announced that it will ignore agreed-upon bluefin tuna quotas. The news is not good for the survival of the critically-endangered fish species, since Turkey operates the largest Mediterranean fleet for bluefin tuna.
The EU and Republic of Congo announce system to eradicate illegal logging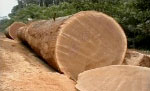 (05/11/2009) The Republic of Congo and the EU have announced a new system to ensure that by 2011 no illegal timber will reach European Union member nations from the Republic of Congo. Under the system all wood products will be required to carry a license showing that the timber was obtained legally.
As wolves face the gun, flawed science taints decision to remove species from ESA
(05/07/2009) On Monday the gray wolf was removed from the Endangered Species Act (ESA) in Idaho and Montana, two states that have protected the wolf for decades. According to the federal government the decision to remove those wolf populations was based on sound conservation science—a fact greatly disputed in conservation circles. For unlike the bald eagle, whose population is still rising after being delisted in 1995, when the wolf is removed from the ESA it will face guns blazing and an inevitable decline.
Bioelectricity bests ethanol on two fronts: land use and global warming

(05/07/2009) Yesterday the Obama Administration established a Biofuels Interagency Working Group to oversee implementation of new rules and research regarding biofuels. On the group's first day of work they would do well to look at a new study in Science Magazine comparing the efficacy of ethanol versus bioelectricity.
Canada and Britain abandon conventional coal

(04/29/2009) In an effort to curb climate change, both Britain and Canada have announced plans to stop building new conventional coal power plants, a move long-advocated by environmentalists. Both nations have turned their sights to the possibility of clean coal, a controversial and still unproven method that has divided environmentalists, scientists, and policy makers.
Obama administration overturns rule that weakened Endangered Species Act

(04/28/2009) Interior Secretary Ken Salazar announced today that the Obama administration will reverse an Endangered Species Act (ESA) regulation that allowed federal agencies to go ahead with actions that may impact endangered species without consulting with experts, essentially circumventing the role of conservation scientists in such decisions.
Starving vultures in Europe allowed to feast again

(04/26/2009) European vultures have been thrown a lifeline. Last week, Members of the European Parliament voted to change a law that had banned farmers across the continent from leaving dead livestock in the field, a major source of food for vultures.
New legislation in Brazil opens up road-paving across country, threatening Amazon

(04/21/2009) Brazil's Chamber of Deputies has approved a measure that would speed up paving roads across the country, including paving a road that environmentalists have long-fought, BR-319. Environmental groups across the nation have warned of widespread deforestation if the measure passes the Senate and is signed by the president.
Cutting greenhouse gases now would save world from worst global warming scenarios
(04/14/2009) If nations worked together to produce large cuts in greenhouse gases, the world would be saved from global warming's worst-case-scenarios, according to a new study from the National Center for Atmospheric Research (NCAR). The study found that, although temperatures are set to rise this century, cutting greenhouse gases by 70 percent the globe could avoid the most dangerous aspects of climate change, including a drastic rise in sea level, melting of the Arctic sea ice, and large-scale changes in precipitation. In addition such cuts would eventually allow the climate to stabilize by the end of the century rather than a continuous rise in temperatures.
Rainforest conservation gains in U.S. and U.N. climate proposals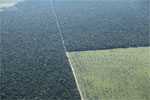 (04/14/2009) A proposed mechanism for reducing emissions from deforestation and degradation (REDD) figures prominently in the draft climate bill released last month by Congressmen Henry Waxman and Ed Markey as well as a U.N. document posted last week following a climate meeting in Bonn, Germany. Deforestation is the source of roughly 20 percent of greenhouse gas emissions from human activities.
Replacing natural experiences with technology hurts humans and the natural world

(04/02/2009) What is the difference between a robotic dog and a real one? Or a plasma screen displaying high definition images of natural splendor and a window that looks out an on actual natural scene? According to psychologists from the University of Washington the difference is massive. Writing in the journal Current Directions in Psychological Science Dr. Peter Kahn, a developmental psychologist, explores the different effects produced by humans interacting with actual nature and technological nature, i.e. technology meant to represent the natural world in some aspect.
Brazil: 'Soy King', Environment Minister strike deal on Amazon deforestation

(04/02/2009) Meeting at the Katoomba payments-for-ecosystem-services conference in Cuiaba, Brazil, Carlos Minc, Brazil's Environment Minister, and Blairo Maggi, Governor of the State of Mato Grosso and the world's largest individual soy grower, put aside their ideological differences and agreed to grant a temporary reprieve for ranchers and farmers in the Amazonian state, allowing them up to four years to reforest their holdings to bring them up to legal code. Under Brazilian law landowners in the "legal Amazon" are required to maintain 80 percent forest cover on their holdings, but in practice, the regulation is widely ignored.
Norway emerges as champion of rainforest conservation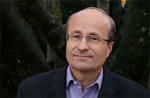 (03/19/2009) While citizens in western countries have long paid lip service to saving rainforests, Norway has quietly emerged as the largest and most important international force in tropical forest conservation. The small Scandinavian country has committed 3 billion krone ($440 million) a year to the effort, a figure vastly greater than the $100M pledged — but never fully contributed — by the United States under the Tropical Forest Conservation Act (TFCA). Norway now hopes it can help push to include forest conservation in the successor to the Kyoto Protocol by providing funding and fostering cooperation among international actors like the UN and World Bank, as well as developing countries, to fund the creation of an international architecture which makes it possible to incorporate deforestation and degradation into a post-2012 climate regime.
Historic US law now extends to illegal logging

(03/11/2009) Enacted in 1900 by William F. McKinley the Lacey Act is the oldest wildlife protection law in the US; for a over a century it has protected animals from being illegally hunted and trafficked. An amendment made last year has now extended the law to protect plants for the first time, making it possible for the US to support efforts abroad and at home to combat illegal logging.
In exchange for marriage certificate Indonesians must donate trees

(03/05/2009) An Indonesian district in West Java, Garut, has started a unique program to support reforestation. As reported by Reuters, any couple planning to get married must give ten trees to local authorities for reforestation efforts before marriage will be legally sanctioned.
Economic crisis hits conservation but may offer opportunities, says TNC president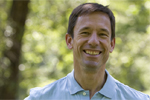 (03/03/2009) In 2008 The Nature Conservancy (TNC) surprised the conservation world when it selected Mark Tercek, an investment banker from Goldman Sachs, as its new president and CEO. But for people who have worked with Tercek, the move made strategic sense – Tercek was a leading figure in the Goldman's effort to improve its environmental record. In 2005 Tercek was appointed to head up the firm's Environmental Strategy Group, which develops and implements its environmental policy, and its Center for Environmental Markets, an initiative that examines market-based solutions to environmental challenges. In that role Tercek worked with pioneers in ecosystem services science, including Gretchen Daily of Stanford University; John Holdren, the former director of the Woods Hole Research Center and currently President Obama's chief scientific adviser; and Peter Kareiva, chief scientist at TNC.
Clinton, Obama botch opportunity on climate, forest conservation
(02/20/2009) The Obama administration squandered a chance this week to show U.S. leadership on climate and forest conservation issues, when Secretary of State Hillary Clinton, during a visit to Jakarta, failed to bring up a new Indonesian government decree allowing conversion of carbon-rich peat forests to oil-palm plantations.
Wild jaguar outfitted with radio-collar in U.S. for first time

(02/20/2009) The Department of Fish and Game in Arizona captured a jaguar south Of Tucson, Arizona and fitted it with a GPS radio collar. The jaguar, a well-documented male named 'Macho', is the first in the US to be fitted with such a collar, providing frequent updates on its movements.
Fishermen - not whales as claimed by Japan - are the cause of fisheries depletion
(02/12/2009) Fishermen calling for a resumption of whaling to restore commercial fish stocks are taking the wrong approach, argue researchers writing in the journal Science. Analyzing data on fish catch and whale abundance off the coast of northwestern Africa and the Caribbean, Leah R. Gerber and colleagues show that fishermen remove far more fish than whales consume, undermining the agreement by whaling nations that whales are driving depletion of fisheries.




Page 1 | Page 2 | Page 3 | Page 4 | Page 5 | Page 6 | Page 7 | Page 8 | Page 9 | Page 10 | Page 11 | Page 12 | Page 13 | Page 14 | Page 15 | Page 16 | Page 17 | Page 18