News articles on environmental politics

---
Mongabay.com news articles on environmental politics in blog format. Updated regularly.






Why top predators matter: an in-depth look at new research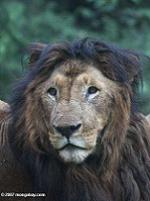 (02/02/2010) Few species have faced such vitriolic hatred from humans as the world's top predators. Considered by many as pests—often as dangerous—they have been gunned down, poisoned, speared, 'finned', and decimated across their habitats. Even where large areas of habitat are protected, the one thing that is often missing are top predators. However, new research over the past few decades is showing just how vital these predators are to ecosystems. Biologists have long known that predators control populations of prey animals, but new studies show that they may do much more. From controlling smaller predators to protecting river banks from erosion to providing nutrient hotspots, it appears that top predators are indispensible to a working ecosystem. Top predators sit at the apex of an ecosystem's food chain. Wolves in Alaska, tigers in Siberia, lions in Kenya, white sharks in the Pacific are all examples of top predators.
Will it be possible to feed nine billion people sustainably?

(01/28/2010) Sometime around 2050 researchers estimate that the global population will level-out at nine billion people, adding over two billion more people to the planet. Since, one billion of the world's population (more than one in seven) are currently going hungry—the largest number in all of history—scientists are struggling with how, not only to feed those who are hungry today, but also the additional two billion that will soon grace our planet. In a new paper in Science researchers make recommendations on how the world may one day feed nine billion people—sustainably.
Scientists call for research on geoengineering scheme to block sunlight

(01/27/2010) The idea goes something like this: nations would send megatons of light-scattering aerosol particles into the globe's upper atmosphere, significantly reducing sunlight reaching the earth and thereby immediately cooling the Earth. While the idea may sound like science-fiction—or desperate, depending on your opinion—researchers writing in Science say that it may be one of the best ways to lower the Earth's temperature. They argue that international research and field testing of the idea, known as solar-radiation management (SRM), should begin immediately.
Protest in China against sludge incinerator

(01/27/2010) Approximately 400 hundred citizens protested the proposal to build a sludge incinerator in Southern China in Foshan, according to the Guangzhou Daily and Reuters.
New report: world must change model of economic growth to avert environmental disaster

(01/25/2010) For decades industrialized nations have measured their success by the size of their annual GDP (Gross Domestic Product), i.e. economic growth. The current economic model calls for unending growth—as well as ever-rising consumerism—just to remain stable. However, a new report by the New Economics Foundation (nef) states that if countries continue down a path of unending growth, the world will be unable to tackle climate change and other environmental issues.
Photos: park in Ecuador likely contains world's highest biodiversity, but threatened by oil

(01/19/2010) In the midst of a seesaw political battle to save Yasuni National Park from oil developers, scientists have announced that this park in Ecuador houses more species than anywhere else in South America—and maybe the world. "Yasuní is at the center of a small zone where South America's amphibians, birds, mammals, and vascular plants all reach maximum diversity," Dr. Clinton Jenkins of the University of Maryland said in a press release. "We dubbed this area the 'quadruple richness center.'"
Over 15 percent of Florida panther population lost last year due to car collisions

(01/07/2010) A record number of endangered Florida panthers died this year due to car collisions, reports conservation organization, Defenders of Wildlife. Sixteen panther deaths from cars have been confirmed in 2009; an additional animal is suspected of having died from injuries due to a car in October. The mortality rate due to cars alone depletes the Florida panther population by over 15 percent. With less than 100 individuals left in the wild, every Florida panther killed before its time makes it more difficult for the animal to recover.
Scientists call for an end to mountaintop removal mining in the US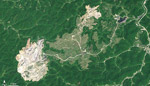 (01/07/2010) A group of scientists have called for the Obama Administration to place a moratorium on infamous mountain top mining due to "growing scientific evidence" of severe environmental degradation and serious impacts on human health, including cancer. The article, published in Science, is written by a dozen influential scientists, including hydrologists, ecologists, and engineers.
Housing developments choking wildlife around America's national parks

(01/05/2010) Housing developments within 50 kilometers (31 miles) of America's national parks have nearly quadrupled in sixty years, rising from 9.8 million housing units to 38 million from 1940 to 2000. The explosion of housing developments adjacent to national parks threatens wildlife in a variety of ways, according to a new study in the Proceeding of the National Academy of Sciences (PNAS). "We are in danger of loving these protected areas to death," says co-author Anna Pidgeon as assistant professor at the University of Wisconsin-Madison.
Bridge development in Kalimantan threatens rainforest, mangroves, and coral reef

(01/03/2010) Balikpapan Bay in East Kalimantan is home to an incredible variety of ecosystems: in the shallow bay waters endangered dugong feed on sea grasses and salt water crocodiles sleep; along the bay proboscis monkeys leap among mangroves thirty meters tall and Irrawaddy dolphins roam; beyond the mangroves lies the Sungai Wain Protection forest; here, the Sunda clouded leopard hunts, sun bears climb into the canopy searching for fruits and nuts, and a reintroduced population of orangutans makes their nests; but this wilderness, along with all of its myriad inhabitants, is threatened by a plan to build a bridge and road connecting the towns of Penajam and Balikpapan.
The real Avatar story: indigenous people fight to save their forest homes from corporate exploitation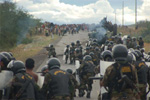 (12/22/2009) In James Cameron's newest film Avatar an alien tribe on a distant planet fights to save their forest home from human invaders bent on mining the planet. The mining company has brought in ex-marines for 'security' and will stop at nothing, not even genocide, to secure profits for its shareholders. While Cameron's film takes place on a planet sporting six-legged rhinos and massive flying lizards, the struggle between corporations and indigenous people is hardly science fiction.
Canada at Copenhagen: "delay, obstruction, and total inaction"

(12/21/2009) Canada was the biggest obstructer at the Climate Change conference in Copenhagen, according to the Climate Action Network (CAN) an organization made-up of 450 NGOs. On Friday CAN awarded Canada the 'Colossal Fossil Award' for doing the most to obstruct an ambitious climate change agreement and for doing the least to mitigate climate change.
Full Text of the Copenhagen Accord

(12/20/2009) We underline that climate change is one of the greatest challenges of our time. We emphasise our strong political will to urgently combat climate change in accordance with the principle of common but differentiated responsibilities and respective capabilities.
Uninhabited tropical island paradise seeks REDD funding to save it from loggers

(12/17/2009) Tetepare may be one of the last tropical island paradises left on earth. Headhunting and a mysterious illness drove its original inhabitants from the island two hundred years ago, making Tetepare today the largest uninhabited island in the tropical Pacific. The 120 square kilometer island (46 square miles), long untouched by industry or agriculture, is currently threatened by logging interests. However, the island is not without champions: in 2002 descendents of the original inhabitants of Tetepare formed the Tetepare Descendents Association (TDA) to preserve the island. Recently they have teamed up with the Solomon Islands Government and the Solomon Islands Community Conservation Partnership to develop financing through REDD.
Copenhagen Climate Summit: Hugo Chávez is an Inappropriate Environmental Messenger

(12/17/2009) Like him or not, one thing is for sure: the flamboyant Hugo Chávez has never shied away from the limelight. I was therefore somewhat surprised to read some initial press accounts suggesting that the Venezuelan leader might stay away from the United Nations climate summit being held in Copenhagen, Denmark. "If it's to go and waste time, it's better I don't go," he said. "If everything is already cooked up by the big [nations], then forget it." Chávez however hinted that he might change his mind if ALBA nations could reach some type of common position towards the Copenhagen summit. ALBA, an initiative designed to facilitate trade and reciprocity amongst like minded progressive regimes in Latin America, has taken up the issue of climate justice as of late. Two months ago Bolivian President and ALBA ally Evo Morales called for the creation of an actual climate justice tribunal. The Global North, Morales said, should indemnify poor nations for the ravages of climate change.
Is the US sinking climate change talks at Copenhagen?

(12/16/2009) While it's difficult to know what's truly going on inside the Bella Center at the UN Climate Change Conference in Copenhagen, a pattern seems to be emerging of the United States being unwilling to compromise on, well, anything.
Pope Benedict: environmental crisis requires review of world's economic model

(12/15/2009) Pope Benedict XVI has released a message linking world peace with preserving the environment for the World Day of Peace, which will be held on January 1st 2010. In it Benedict calls for a "long-term review" of the world's current economic model, including "[moving] beyond a purely consumerist mentality" and encouraging a more "sober lifestyle".
Climate change causing irreversible acidification in world's oceans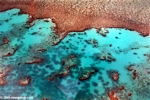 (12/15/2009) A new study from the Secretariat of the Convention on Biological Diversity has synthesized over 300 reports on ocean acidification caused by climate change. The report finds that increasing acidification will lead to irreversible damage in the world's oceans, creating a less biodiverse marine environment. Released today the report determines that the threat to marine life by ocean acidification must be considered by policymakers at the UN Climate Change Conference in Copenhagen.
Unilever suspends palm oil contract after supplier found to be destroying rainforests
(12/12/2009) The world's largest user of palm oil, Unilever, has suspended its $32.6 million contract with the Indonesian group Sinar Mas after an independent audit proved that Sinar Mas is involved in the destruction of rainforest, reports Reuters. The audit was conducted early this year after a report by Greenpeace alleged that Sinar Mas was engaged in deforestation and the draining of peatlands, both of which release significant amounts of greenhouse gases into the atmosphere. Deforestation across Indonesia and Malaysia, in part for oil palm plantations, has also added pressure on many many endangered species, including orangutans, tigers, elephants, and rhinos.
Canada's reign of shame in Copenhagen

(12/11/2009) In the first five days of Copenhagen, Canada has won a lot of awards. Only these are not positive awards for good and constructive behavior, but so-called 'fossil awards' given to the countries that most impede progress at Copenhagen by the environmental organization, Climate Action Network (CAN).
REDD may miss up to 80 percent of land use change emissions

(12/11/2009) The political definition of 'forest' used in REDD (Reduce Emissions from Deforestation and forest Degradation) threatens to undermine the program's objective to conserve ecosystems for their ability to sequester carbon, according to a new analysis by the Alternatives to Slash and Burn (ASB) Partnership for Tropical Forest Margins. In an analysis of three Indonesian provinces using REDD proposals for carbon accounting, ASB found that REDD may miss up to 80 percent of the actual emissions due to land use change. The carbon accounting problems could be fixed, according to ASB, by expanding REDD's purpose from reducing emissions linked to deforestation (considering the problematic definition of forests) to reducing emission from all land use changes that either release or capture greenhouse gases, including but not limited to forests.
Cheat sheet on climate finance

(12/11/2009) The Global Canopy Project has released a cheat sheet on proposals for financing climate change mitigation.
US provides 3 billion in subsidies for Exxon-mobil project in Papua New Guinea

(12/10/2009) While officials from around their world are working night-and-day to come up with an international agreement to combat climate change in Copenhagen, the US Export-Import Bank confirmed it will subsidize a natural gas project in Papua New Guinea to the tune of 3 billion dollars—a record for the bank.
Obama on global warming and forest protection

(12/10/2009) President of the United States, Barack Obama, was in Oslo, Norway this morning accepting the Nobel Peace Prize, which he won in part for promising to bring the United States to the negotiating table on climate change—something he has recently done.
1700 UK researchers sign statement standing behind global warming science

(12/10/2009) 1,700 British scientists have signed a statement put out by the Met Office declaring that they have the "utmost confidence" in the science behind climate change. The statement and signatures comes after emails by prominent climate change researchers were stolen from the University of East Anglia. Critics say that the emails show that the researchers have hidden and manipulated evidence. However, many scientists, including those who sent the emails, contend that statements in the emails have been taken out of context by climate change deniers and the media.
US think-tank: islands affected by global warming should wait for trickle-down money

(12/09/2009) Poor island nations threatened by rising seas should wait for money through trickle-down economics, according to the founder of the US Competitive Enterprise Institute. The Washington-based free-market think tank believes that curbing greenhouse gas emissions to combat climate change will be too costly to the US and global economies.
Cattle company bulldozing UNESCO site, threatening uncontacted natives

(12/09/2009) A Brazilian ranching company is bulldozing land within UNESCO Chaco Biosphere Reserve in Paraguay, home to the only uncontacted natives outside of the Amazon in South America. While the UNESCO status provides no legal protections to the area, it is meant as an international marker to protect the tribe of the Ayoreo-Totobiegosode and the forest they inhabit.
Islands and African nations present toughest treaty yet to combat global warming

(12/09/2009) Led by the small island state of Tuvalu, developing nations particularly vulnerable to climate change have put forward the most ambitious plan yet to mitigate climate change. Their move has split them from usual partners, such as China, India, Saudi Arabia, and South Africa, who are concerned about the economic consequences of the proposal.
Gore, Moon, and Rasmussen attempt to regain trust after 'Danish Text' leak in Copenhagen

(12/09/2009) The head of the UN, Ban-Ki Moon; the Danish Prime Minister, Lars Lokke Rasmussen; and American climate change leader, Al Gore, all attempted to downplay the leak of the 'Danish Text' which has riled developing countries due to portions of its content, such as allowing a climate fund to be controlled by the World Bank, seemingly overturning the Kyoto principle whereby developed countries are held responsible for climate change, and setting higher emission per capita standards for industrialized countries over developing countries even in forty years time.
Developed countries plan to hide emissions from logging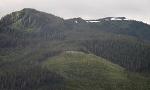 (12/09/2009) While developing countries in the tropics have received a lot of attention for their deforestation emissions (one thinks of Brazil, Indonesia, and Malaysia), emissions from logging—considered forest cover change—in wealthy northern countries has been largely overlooked by the media. It seems industrialized countries prefer it this way: a new study reveals just how these countries are planning to hide forestry-related emissions, allowing nations such as Canada, Russia, and the EU to contribute to climate change without penalty.





Nuclear option in Copenhagen?

(12/09/2009) On the first day of talks at the Climate Change Conference in Copenhagen, Kevin Conrad, Papua New Guinea's Special Envoy and Ambassador for Environment and Climate Change, surprised many by calling for a 'nuclear option'. The option would allow a document to be ratified by 75 percent of the conference's nations, rather than the usual consensus required. It is thought the nuclear option would give more power to developing countries, since they far outnumber wealthy nations at the conference.





Bangladesh tops list of most vulnerable countries to climate change

(12/09/2009) According to the Global Climate Risk Index, Bangladesh is the most vulnerable nation to extreme weather events, which many scientists say are being exacerbated by climate change. From 1990 to 2008, Bangladesh has lost 8,241 lives on average every year due to natural disasters. In addition, rising sea levels also threaten millions of Bangladeshis.




Page 1 | Page 2 | Page 3 | Page 4 | Page 5 | Page 6 | Page 7 | Page 8 | Page 9 | Page 10 | Page 11 | Page 12 | Page 13 | Page 14 | Page 15 | Page 16 | Page 17 | Page 18