News articles on environmental politics

---
Mongabay.com news articles on environmental politics in blog format. Updated regularly.






Turkish government bears down on rural resistance to mining and hydro projects
(06/22/2015) Over the past two decades, industry has encroached rapidly on Turkey's Black Sea region. Home to just 10 percent of Turkey's population of 75 million, it contains some of the country's most beautiful and biodiverse natural areas. As the threats to these places multiply, so too has the local resistance. Villagers face police force, legal hurdles, and more subtle means of suppression in their fight to protect the environment.
Can we save the Sumatran rhino? Indonesia holds out hope
(06/19/2015) 'One percent of the world's population,' veterinarian Zulfi Arsan says as he nods towards Bina, a 714-kilogram, 30-year-old female Sumatran rhinoceros leisurely crunching branches whole. A gentle and easygoing rhino, pink-hued Bina doesn't seem to mind the two-legged hominids snapping pictures and awing at her every move at the Sumatran Rhino Sanctuary.
Officials: Sumatran rhino is extinct in the wild in Sabah
(04/23/2015) There are no Sumatran rhinos left in the wild in the Malaysian state of Sabah, confirmed Masidi Manjun, the Tourism, Culture and Envi­ronment Minister, over the weekend. In 2008, conservationists estimated there were around 50 rhinos in the state. Five years later, it dropped that estimate to just ten. Now, it's admitted the awful truth: the wild rhino is very likely gone.
Killings of environmental activists jumped by 20 percent last year
(04/20/2015) The assassination, murder, and extrajudicial killing of environmental activists rose by 20 percent last year, according to a new grim report by Global Witness. The organization documented 116 killings in 2014 across 17 countries with the highest number in Brazil, which saw 29 environmental and land defenders killed.
Expert panel rebukes Japan's new whaling proposal
(04/15/2015) Last year, the International Court of Justice (ICJ) ruled that Japan must halt its whaling activities in the Southern Ocean as it found no evidence that the killing of hundreds of Antarctic minke whales was scientifically justified. The ruling sent Japan scrambling for a new plan to continue its 'scientific' whale hunt. But, now an expert panel has rebuked Japan's latest plan as well.
Employing shame for environmental change
(03/03/2015) Anyone who has ever felt the sting of shame, knows its power. Shame has long been used by societal institutions—families, communities, governments, religions—for making individuals tow the line of the majority. But a new book explores another—arguably more positive—side of shame: its potential to challenge rule-breaking and ethically-defunct corporations.
Cambodia deports activist leader...then suspends controversial dam

(02/25/2015) On Monday, Cambodia deported well-known environmental activist, Alex Gonzalez-Davidson, back to his native Spain. Co-founder of the Cambodian NGO, Mother Nature, Gonzalez-Davidson played a vital role in blocking efforts to build the Cheay Areng Dam. But a day after deporting the activist, Cambodia's Prime Minister, Hun Sen, said the country would postpone the dam until 2018.
Protected areas receive 8 billion visits a year, but still underfunded
(02/25/2015) The world loves its protected areas, according to a new study in the open access PLOS Biology. U.S. and UK researchers estimated that the world's protected areas received eight billion visits every year. Moreover, the research found that the world's 140,000 protected areas likely brought in at least $600 billion to national economies.
Are small-scale hydro projects always greener?
(02/23/2015) Rising energy demand and global efforts to mitigate climate change have made renewable energy projects increasingly attractive. One widely known and well-developed source of renewable energy is hydroelectricity. However, past environmental campaigns against large dams have resulted in policy changes in some parts of the world, leading to an increasing number of small hydropower projects.
Mining activist released after being charged with terrorism, rebellion in Ecuador

(02/11/2015) Yesterday, mining and environmental activist, Javier Ramírez, walked out of an Ecuadorian courtroom with his freedom. Ramírez, who has long fought against a massive state-owned massive copper mine in the cloud forest village of Junin, was arrested in April last year and subsequently charged with rebellion, sabotage, and terrorism among other thing.
Accounting for natural capital on financial exchanges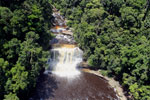 (01/26/2015) Last month, Norway's stock exchange, the Oslo Børs, introduced a way for investors to use their money to promote sustainability. A new list by the stock exchange highlights green bonds, financial products issued by companies to raise capital for environmentally friendly projects. Notably, the list requires that issuing companies obtain and publicize outside opinions on the projects' environmental features.
1,215 rhinos butchered in South Africa in 2014
(01/22/2015) 1,215: that's the total number of rhinos butchered last year in South Africa for their horns. The number represents another annual record—the seventh in a row—topping last year's total by 195 rhinos. South Africa houses the bulk of the world's rhinos (around 80 percent), but has also become the center of the illegal poaching trade.
Malta approves public referendum of bird hunt that kills over 15,000

(01/12/2015) Malta's Constitutional Court has upheld a public referendum to decide the fate of the country's controversial spring bird hunt, which kills over ten thousand migrating birds every year. The Constitutional Court threw out objections by Malta's powerful hunting lobby, and instead sided with the 11 conservation groups who organized the referendum, known as the Coalition for the Abolition of Spring Hunting—gathering 40,000 signatures from Maltese voters.
Judge protects Midwest wolves after 1,599 killed in three years

(01/06/2015) Future wolf hunting and trapping seasons in the Upper Midwest are on hold after a judge ruled the Obama Administration erred in removing the top predator from the Endangered Species Act. The ruling came nearly three years after the U.S. Fish and Wildlife Service dropped federal protections for the Great Lakes' wolf population. Since then hunters and trappers have killed 1,599 wolves.
Top 10 HAPPY environmental stories of 2014
(12/29/2014) In what was widely seen as a possible breakthrough in the battle to coordinate some kind of response to global warming, China and the U.S. announced joint actions this year. On November 12th, the world's two most powerful countries surprised pretty much everyone by announcing that they would work together to tackle the crisis.
Ecuador sends aid money back to Germany over planned rainforest visit

(12/23/2014) A visit to a rainforest slated for oil drilling has blown up into a diplomatic row between Ecuador and Germany. Ecuador has said it will no longer partner with Germany on environmental issues and will return aid money, after the South American government discovered that German legislators were attempting to visit the much-embattled Yasuni National Park.
Top 10 Environmental Stories of 2014
(12/23/2014) In 2014, the unimaginable happened: companies representing the majority of palm oil production and trade agreed to stop cutting down rainforests and draining peatlands for new oil palm plantations. After years of intense campaigning by environmentalists and dire warnings from scientists, nearly two dozen major producers, traders, and buyers established zero deforestation policies.
Children 'clean' oil spill with kitchen utensils in the Sundarbans
(12/15/2014) On December 9th, a tanker slammed into another vessel along the Shela River in the world's largest mangrove forest: the Sundarbans in Bangladesh. The tanker sank, spilling an estimated 75,000 gallons (350,000 liters) of fuel oil into waterways that are a part of a reserve for threatened Ganges river dolphins and Irrawaddy dolphins.
Green Climate Fund nears $7 billion after U.S. pledges $3 billion

(11/17/2014) The Green Climate Fund (GCF) is suddenly looking very lively after two announcements over the weekend. The U.S. has announced an initial pledge of $3 billion to the fund, while Japan pledged $1.5 billion. This more than doubles the current amount pledged to the key fund, which is now around $6.94 billion from thirteen countries. The new pledges also bring the fund much closer to an initial goal of $10-15 billion.
Prelude to Paris: China and U.S. surprise world with joint climate deal
(11/12/2014) In what will likely have major ramifications for a new climate agreement in Paris in 2015, China and the U.S. surprised everyone today by announcing a joint climate deal. At a press conference in Beijing, China President, Xi Jingping, and U.S. President, Barack Obama, outlined climate actions for both juggernauts up to 2030.
Can we stop runaway global warming? 'All we need is the will to change'
(11/03/2014) Twenty-six years after the founding of the IPCC, the Nobel Prize-winning group of scientists has released a new synthesis report that warns in its strongest tones yet that climate change must be dealt with. None of the findings are surprising—they have been released in earlier assessments throughout the year—but the terms in which they are written are the starkest yet.
Artists, musicians, writers protest government plans for massive coal plant in the Sundarbans

(10/28/2014) Over the weekend, Bangladeshi artists performed plays, sang songs, and recited poetry all in a bid to protect the Sundarbans—the world's biggest mangrove forest—from the threat of a massive coal plant. Construction is already under way on the hugely controversial Rampal coal plant, a 1,320 megawatt plant set just 14 kilometers from the edge of the Sundarbans.
Scientific association calls on Nicaragua to scrap its Gran Canal

(10/27/2014) ATBC—the world's largest association of tropical biologists and conservationists—has advised Nicaragua to halt its ambitious plan to build a massive canal across the country. The ATBC warns that the Chinese-backed canal, also known as the Gran Canal, will have devastating impacts on Nicaragua's water security, its forests and wildlife, and local people.
Push to undermine Indonesia's new president could stymie environmental progress, say NGOs
(10/17/2014) concerted push by political elites to undermine Indonesia's president before he even takes office could stymie progress on social and environmental issues in the country, say Indonesian civil society groups. On July 9, former Surakarta (Solo) and Jakarta mayor Joko 'Jokowi' Widodo beat ex-general Prabowo Subianto in Indonesia's presidential election by 8.4 million votes. Yet despite the wide margin, Jokowi has been stung by a series of political setbacks that will hinder his ability to govern once he assumes office Monday.
Chinese now emit more carbon per capita than Europeans

(09/22/2014) Last year, the people of China emitted more carbon per person than those in the EU, according this year's Global Carbon Budget. The report, updated annually, also found that global emissions jumped 2.5 percent last year and are set to hit a record high of 40 billion tonnes this year. The findings highlight how little global society has done to stem emissions, despite numerous pledges and past global agreements.
Saving the Atlantic Forest would cost less than 'Titanic'
(08/28/2014) Want to save the world's most imperiled biodiversity hotspot? You just need a down payment of $198 million. While that may sound like a lot, it's actually less than it cost to make the film, Titanic. A new study published today in Science finds that paying private landowners to protect the Atlantic Forest would cost Brazil just 6.5 percent of what it currently spends ever year on agricultural subsidies.
The Gran Canal: will Nicaragua's big bet create prosperity or environmental ruin?
(08/27/2014) A hundred years ago, the Panama Canal reshaped global geography. Now a new project, spearheaded by a media-shy Chinese millionaire, wants to build a 278-kilometer canal through Nicaragua. While the government argues the mega-project will change the country's dire economic outlook overnight, critics contend it will cause undue environmental damage, upend numerous communities, and do little to help local people.
How do we save the world's vanishing old-growth forests?
(08/26/2014) There's nothing in the world like a primary forest, which has never been industrially logged or cleared by humans. They are often described as cathedral-like, due to pillar-like trees and carpet-like undergrowth. Yet, the world's primary forests—also known as old-growth forests—are falling every year, and policy-makers are not doing enough to stop it.
Seeking justice for Corazón: jaguar killings test the conservation movement in Mexico
(07/31/2014) Eight years ago, a female jaguar cub was caught on film by a motion-triggered camera trap set in the foothills of canyons, oak forest, and scrubland that make-up the Northern Jaguar Reserve, just 125 miles south of the U.S.-Mexico border. Three years later, in 2009, the jaguar reappeared on film as an adult. They called her 'Corazón' for the distinctive heart-shaped spot on her left shoulder.
Peru slashes environmental protections to attract more mining and fossil fuel investment
(07/23/2014) In an effort to kickstart investment in mining and fossil fuels, Peru has passed a controversial law that overturns many of its environmental protections and essentially defangs its Ministry of Environment. The new law has environmentalists not only concerned about its impact on the country but also that the measures will undermine progress at the up-coming UN Climate Summit in December.
U.S should sanction Mozambique for its role in elephant, rhino poaching, urges NGOs

(07/03/2014) Two prominent NGOs U.S should sanction Mozambique for its role in elephant, rhino poaching, urges NGOsare petitioning the U.S government to slap Mozambique with trade sanctions due to the country's role in regional poaching. The groups contend that Mozambique has done little to combat both its own poaching epidemic or stop its nationals from spilling over the border to kill rhinos and elephants in South Africa and Tanzania.
Next big idea in forest conservation? Playing games to understand what drives deforestation
(06/26/2014) Dr. Claude Garcia plays games, but you won't find him betting his shirt at the casino. As leader of the Forest Management and Development Research Group at ETH Zürich, Garcia and his team use participatory modeling and role-playing games, merged with more traditional disciplinary sciences such as ecology, economics, and sociology to understand and manage complex landscape change in the tropics.
Unrelenting population growth driving global warming, mass extinction
(06/26/2014) It took humans around 200,000 years to reach a global population of one billion. But, in two hundred years we've septupled that. In fact, over the last 40 years we've added an extra billion approximately every dozen years. And the United Nations predicts we'll add another four billion—for a total of 11 billion—by century's end.
Chile drops hugely controversial mega-dam project in wild Patagonia
(06/12/2014) One of the world's most controversial mega-dam projects met its likely end this week when Chile's Committee of Ministers voted to cancel the permits for the HidroAysén project. Costing around $8 billion and expected to produce about 2.75 gigawatts, the project involved building five large dams on two wild rivers in Chile's famously-unspoiled Patagonia region.
EPA carbon proposal may be crucial step in addressing global climate change

(06/10/2014) The U.S. Environmental Protection Agency's (EPA) June 2nd regulation proposal hit all the expected chords. Following on the heels of a January regulation for new power plants, the Clean Power Plan focuses on all existing electric generation. By 2030, the plan aims to reduce 2005-level carbon dioxide emissions by 30 percent.
Greenpeace accuses controversial palm oil company and Cameroon government of illegal logging
(05/28/2014) Greenpeace has just accused one of the world's most controversial oil palm companies, Herakles Farms, of colluding with top government officials to sell off illegally logged timber to China. According to a new report, an agreement between Cameroon's Minister of Forestry and Herkales Farms—through a shell company—could torpedo the country's agreement with the EU for better timber management.
53 indigenous activists on trial for police-protester massacre in Peru
(05/15/2014) In the summer of 2009, on a highway in Peru known as Devil's Curve: everything went wrong. For months, indigenous groups had protested new laws by then President Alan Garcia opening up the Amazon to deregulated logging, fossil fuels, and other extractive industries as a part of free trade agreements with the U.S.
The remarkable story of how a bat scientist took on Russia's most powerful...and won
(04/28/2014) In a country increasingly known for its authoritarian-style crackdown on activists and dissidents, a bat scientist has won a number of impressive victories to protect the dwindling forests of the Western Caucasus. For his efforts, Gazaryan was awarded today with the Goldman Environmental Prize, often called the Nobel Prize for the environment, along with five other winners around the world.
Apocalypse now? Climate change already damaging agriculture, acidifying seas, and worsening extreme weather
(03/31/2014) It's not just melting glaciers and bizarrely-early Springs anymore; climate change is impacting every facet of human civilization from our ability to grow enough crops to our ability to get along with each other, according to a new 2,300-page report from the Intergovernmental Panel on Climate Change (IPCC). The massive report states definitively that climate change is already affecting human societies on every continent.
Europe approves vet drug that killed off almost all of Asia's vultures
(03/25/2014) When Europeans first arrived in North America, they exterminated three to five billion passenger pigeons (Ectopistes migratorius) in the short span of a century through a combination of habitat destruction and hunting. In 1914, the last living passenger pigeon perished at the Cincinnati Zoo. Despite the staggering scale of this extinction event, three species of vulture from Southeastern Asia retain the dubious distinction of having had the most rapid population crash of any avian fauna. They might not have begun with numbers as large as the passenger pigeon, but within the space of a single decade, their populations were reduced by 96 to 99 percent.
Europe votes for an Arctic Sanctuary

(03/13/2014) Yesterday, the European Parliament passed a resolution supporting the creation of an Arctic Sanctuary covering the vast high Arctic around the North Pole, giving official status to an idea that has been pushed by activists for years. Still, the sanctuary has a long road to go before becoming a reality: as Arctic sea ice rapidly declines due to climate change, there has been rising interest from governments and industries to exploit the once inaccessible wilderness for fish and fossil fuels.
The lemur end-game: scientists propose ambitious plan to save the world's most imperiled mammal family
(02/20/2014) Due to the wonderful idiosyncrasies of evolution, there is one country on Earth that houses 20 percent of the world's primates. More astounding still, every single one of these primates—an entire distinct family in fact—are found no-where else. The country is, of course, Madagascar and the primates in question are, of course, lemurs. But the far-flung island of Madagascar, once a safe haven for wild evolutionary experiments, has become an ecological nightmare. Overpopulation, deep poverty, political instability, slash-and-burn agriculture, illegal logging for lucrative woods, and a booming bushmeat trade has placed 94 percent of the world's lemurs under threat of extinction, making this the most imperiled mammal group on the planet. But, in order to stem a rapid march toward extinction, conservationists today publicized an emergency three year plan to safeguard 30 important lemur forests in the journal Science.
Over 2,500 wolves killed in U.S.'s lower 48 since 2011

(01/28/2014) Hunters and trappers have killed 2,567 gray wolves in the U.S.'s lower 48 states since 2011, according to recent data. Gray wolves (Canis lupus) were protected by the Endangered Species Act (ESA) for nearly 40 years before being stripped of their protection status by a legislative rider in 2011. Last year total wolf populations were estimated at over 6,000 in the region.
Top 10 Environmental Stories of 2013
(12/10/2013) 1. Carbon concentrations hit 400ppm while the IPCC sets global carbon budget: For the first time since our appearance on Earth, carbon concentrations in the atmosphere hit 400 parts per million. The last time concentrations were this high for a sustained period was 4-5 million years ago when temperatures were 10 degrees Celsius higher. Meanwhile, in the slow-moving effort to curb carbon emissions, the Intergovernmental Panel on Climate Change (IPCC) crafted a global carbon budget showing that most of the world's fossil fuel reserves must be left untouched if we are to avoid catastrophic climate change.
Making cap-and-trade work: the history and future of a proven program
(12/09/2013) While the merits for slowing climate change will be treated here as a given, the method for doing so looms elusive. In a recent article, I described pricing carbon through carbon taxes and carbon credits as a way to mitigate greenhouse gas emissions and slow global climate change. As there has been some emotive controversy towards both of these, I would like to analyze them more deeply, starting here with carbon credits.
Citizen groups walk out of UN Climate Summit to protest lack of ambition

(11/21/2013) Thirteen citizen groups—including Oxfam, Greenpeace, and WWF—have walked out of ongoing climate talks in Warsaw to protest what they view as a lack of ambition and long-stalled progress on combating global climate change. Nearly 200 governments are currently meeting in Warsaw, Poland at the the 19th Conference of the Parties (COP) for the UN Framework Convention on Climate Change (UNFCCC), which is meant to prepare the way for a new agreement in 2015.
UN talks tough to global coal industry
(11/19/2013) Yesterday, at the International Coal and Climate Summit—just a couple miles from the ongoing UN Climate Summit—Christiana Figueres delivered a speech unlike anything ever heard at a coal industry meeting before. Figueres, the Executive Director of the UN Framework Convention on Climate Change (UNFCCC), took time off from wrangling world leaders and officials toward a climate agreement to talk tough to an industry currently worth around $3 trillion.
Bangladesh plans massive coal plant in world's biggest mangrove forest
(11/11/2013) On October 22nd Bangladeshi and Indian officials were supposed to hold a ceremony laying the foundation stone for the Rampal power plant, a massive new coal-fired plant that will sit on the edge of the Sundarbans, the world's largest mangrove forest. However, the governments suddenly cancelled the ceremony, instead announcing that the project had already been inaugurated in early October by the countries' heads of state via a less-ornate Skype call. While the governments say the change was made because of busy schedules, activists contend the sudden scuttling of the ceremony was more likely due to rising pressure against the coal plant, including a five-day march in September that attracted thousands.




Page 1 | Page 2 | Page 3 | Page 4 | Page 5 | Page 6 | Page 7 | Page 8 | Page 9 | Page 10 | Page 11 | Page 12 | Page 13 | Page 14 | Page 15 | Page 16 | Page 17 | Page 18