News articles on environmental marketing

---
Mongabay.com news articles on environmental marketing in blog format. Updated regularly.












Corporations become prime driver of deforestation, providing clear target for environmentalists
(08/05/2008) The major drivers of tropical deforestation have changed in recent decades. According to a forthcoming article, deforestation has shifted from poverty-driven subsistence farming to major corporations razing forests for large-scale projects in mining, logging, oil and gas development, and agriculture. While this change makes many scientists and conservationists uneasy, it may allow for more effective action against deforestation. Rhett A. Butler of Mongabay.com, a leading environmental science website focusing on tropical forests, and William F. Laurance of the Smithsonian Tropical Research Institute in Panama believe that the shift to deforestation by large corporations gives environmentalists and concerned governments a clear, identifiable target that may prove more responsive to environmental concerns.
Australia's largest retailer Woolworths greenwashes rainforest destruction in Indonesia, allege activists

(07/07/2008) Despite a year of protesting, Woolworths continues to carry paper sourced from 'the worst fibre manufacturer in the world'. Woolworths Limited is Australia's largest retailer and the world's 25th largest; it is also the only Australian company to make into the top twenty-five. It is the "Wal-mart of Down-Under". And much like Wal-mart, Woolworths has attempted to become more green recently. Though, according to a recent campaign entitled "Wake Up Woolworths", this is merely the worst in greenwashing.
Indonesian palm oil firms pledge to stop clearing rainforests

(05/13/2008) Palm oil companies operating in Indonesia pledged to stop clearing forests for new plantations reports The Jakarta Post. The move is a response to growing criticism that oil palm expansion is destroying biologically-rich rainforests and contributing to global warming.
Unilever calls for ban on rainforest destruction for palm oil

(05/01/2008) Unilever, the world's largest consumer good company, will start using palm oil from certified sustainable sources this year and aims to have all its palm oil certified by 2015, according to a speech delivered today by CEO Patrick Cescau.
Unilever admits it can't trace origin of palm oil used in its products

(04/21/2008) Unilever has admitted to Greenpeace that it can't trace the origin of palm oil supplied by firms operating in Indonesia. The relevation suggests that efforts to improve the sustainability of Indonesian palm oil have stalled as large tracts of rainforest continue to fall for the establishment of new oil palm plantations on the islands of Borneo, New Guinea, and Sumatra.
Poll: Chinese more concerned about the environment than Americans

(04/07/2008) A poll released today found that 10.2 percent of the Chinese population lists environmental concerns as the nation's number one issue. It is the fourth highest concern among the Chinese after health care, employment, and the income-gap. According to the poll, the Chinese view the environment as higher than corruption, social security, housing prices, and the cost of education.
The FSC responds to its critics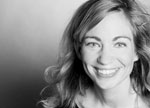 (04/07/2008) Last month, Mongabay.com reported on recent and various criticisms of the FSC (the Forest Stewardship Council). The FSC is an international organization that certifies forest products which, according to their standards, have been harvested in an environmentally-sustainable and socially-responsible manner. Response to the article was significant. It was picked up by the Ecological Internet's email campaign and was mentioned on numerous environmental web sites and blogs. At the time of the publication, the FSC had not responded to requests for comments. But in the following interview, FSC International Communications Manager Nina Haase answers each criticism separately and addresses several other issues, such as the FSC and climate change, the organization's monitoring capabilities, and its adaptation to new environmental concerns. Ultimately she responds to the big question raised by critics: is the FSC stamp still credible?
Wal-Mart pushes for greener manufacturing in China

(04/07/2008) Wal-Mart, the world's largest retailer, will hold a meeting of around 1,000 of its Chinese suppliers in an effort to reduce its environmental impact, said Lee Scott, Wal-Mart's CEO, in an interview with the Financial Times.
Nike to launch "green" eco-shoe

(02/15/2008) When Nike unveils the $185 Air Jordan XX3 this weekend at the NBA All-Star Game festivities this weekend, it will be the culmination of a company-wide effort to reduce the environmental impact of its footwear manufacturing, according to The Wall Street Journal.
Video game-makers score low on sustainability

(11/27/2007) While environmentalists, scientists, development exports, and policymakers across the political spectrum are ethusiastic about the idea of offsetting carbon emissions by preventing deforestation (a concept known as "avoided deforestation" or Reduced Emissions from Deforestation and Degradation (REDD)), the concept still faces many challenges, especially in implementation.
Big companies push energy efficiency

(09/05/2007) Some of the world's largest companies are pushing green initiatives to improve energy efficiency in office buildings reports the Wall Street Journal.
Can cattle ranchers and soy farmers save the Amazon?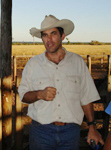 (06/06/2007) John Cain Carter, a Texas rancher who moved to the heart of the Amazon 11 years ago and founded what is perhaps the most innovative organization working in the Amazon, Alianca da Terra, believes the only way to save the Amazon is through the market. Carter says that by giving producers incentives to reduce their impact on the forest, the market can succeed where conservation efforts have failed. What is most remarkable about Alianca's system is that it has the potential to be applied to any commodity anywhere in the world. That means palm oil in Borneo could be certified just as easily as sugar cane in Brazil or sheep in New Zealand. By addressing the supply chain, tracing agricultural products back to the specific fields where they were produced, the system offers perhaps the best market-based solution to combating deforestation. Combining these approaches with large-scale land conservation and scientific research offers what may be the best hope for saving the Amazon.
Globalization could save the Amazon rainforest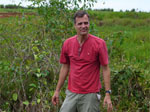 (06/03/2007) The Amazon basin is home to the world's largest rainforest, an ecosystem that supports perhaps 30 percent of the world's terrestrial species, stores vast amounts of carbon, and exerts considerable influence on global weather patterns and climate. Few would dispute that it is one of the planet's most important landscapes. Despite its scale, the Amazon is also one of the fastest changing ecosystems, largely as a result of human activities, including deforestation, forest fires, and, increasingly, climate change. Few people understand these impacts better than Dr. Daniel Nepstad, one of the world's foremost experts on the Amazon rainforest. Now head of the Woods Hole Research Center's Amazon program in Belem, Brazil, Nepstad has spent more than 23 years in the Amazon, studying subjects ranging from forest fires and forest management policy to sustainable development. Nepstad says the Amazon is presently at a point unlike any he's ever seen, one where there are unparalleled risks and opportunities. While he's hopeful about some of the trends, he knows the Amazon faces difficult and immediate challenges.
IBM launches "green" chip

(05/22/2007) IBM is touting the "green" credentials of its newest and most powerful microprocessor, the "Power6."
Indonesia to be recognized in Guinness Book of World Records for deforestation rate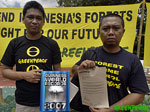 (05/04/2007) Greenpeace is using an novel marketing ploy to raise awareness about forest loss in Indonesia: the Guinness Book of World Records. The green group has convinced the publisher of to recognize Indonesia as the "country with the fastest rate of forest destruction on the planet." Indonesia's high rate of forest loss is largely the result of poor forest management and corruption. Each year thousands of hectares are illegally logged for timber and burned to establish oil palm plantations.





$25 million prize to fight global warming

(02/12/2007) Friday Sir Richard Branson and Al Gore announced the establishment of a $25 million prize for the development of a technology that fights global warming by removing carbon dioxide from the atmosphere. The prize follows in the footsteps of the X Prize, a contest that was won by the SpaceShipOne rocket plane as the first privately developed craft to reach the boundary of outer space.







Virgin's Branson commits $3 billion to fight global warming

(09/21/2006) According to BBC News, Sir Richard Branson will commit all profits from his travel firms, including airline Virgin Atlantic and Virgin Trains, over the next tend years to fight global warming. The pledge, worth some $3 billion, was made at the on the second day of the Clinton Global Initiative in New York.





Citigroup to cut carbon emissions by 10%

(01/25/2006) Demonstrating its ongoing commitment to environmental and social issues globally, Citigroup Inc. today announced a commitment to reduce its greenhouse gas emissions on a global basis by 10% by 2011.







Goldman Sachs first investment bank to adopt comprehensive environmental policy

(11/22/2005) The Rainforest Action Network (RAN) today issued a release commending Goldman Sachs for becoming the first global investment bank to adopt a comprehensive environmental policy. The policy acknowledges the scientific consensus on climate change and calls for urgent action by public policy makers and federal regulators to reduce greenhouse gas emissions.







90% of largest companies concerned about climate change

(09/18/2005) More U.S. corporations than ever before now factor climate change into the risks and opportunities faced by their businesses, according to a report released today by the Carbon Disclosure Project, a coalition of institutional investors with more than $21 trillion in assets. Increased interest from the investment community, in conjunction with related macro-economic developments, is encouraging the development of strategies to reduce greenhouse gas emissions.





Wal-Mart builds environmentally-friendly store

(07/26/2005) Wal-Mart Stores Inc.' has built an experimental environmentally friendly store in a northern suburb of Dallas, where the world's biggest -- and notoriously cost-conscious -- retailer is trying to determine whether being green can also be profitable.




Page 1 | Page 2