News articles on england

---
Mongabay.com news articles on england in blog format. Updated regularly.





Animal photos of the day: elephants in the English countryside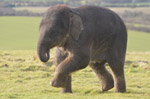 (03/14/2012) Elephants have been spotted roaming the pastoral fields of eastern England. Released for a jaunt from the Zoological Society of London's Whipsnade Zoo, a herd of Asian elephants (Elephas maximus), including a four-month-old calf named Scott, took in the scenic views of Aylesbury Vale from the Chiltern Hills. "Scott usually crashes out as soon as he's back from the walk. We put piles of hay down in the barn and he's out for the count."


Fact follows fiction: Watership Down land to make way for housing developments

(02/21/2012) In the classic novel, Watership Down, rabbits must flee their countryside home to make way for a new housing development. Now, the land that inspired author Richard Adams' much-beloved mythic tale is slated to bulldozed for 2,000 new homes. Located in the UK county of Berkshire, near the town of Newberry, the land in question is known as Sandleford Park.


Indigenous leaders take fight over Amazon dams to Europe

(03/02/2011) Three indigenous Amazonian leaders spent this week touring Europe to raise awareness about the threat that a number of proposed monster dams pose to their people and the Amazon forest. Culminating in a press conference and protests in London, the international trip hopes to build pressure to stop three current hydroelectric projects, one in Peru, including six dams, and two in Brazil, the Madeira basin industrial complex and the massive Belo Monte dam. The indigenous leaders made the trip with the NGO Rainforest Foundation UK, including support from Amazon Watch, International Rivers, and Rainforest Concern.


British government throws out plan to sell forests, apologizes

(02/17/2011) The British government, headed by Tory Prime Minister David Cameron, has tossed out a controversial proposal to sell off significant sections of its forest to the private sector. The plan came under relentless criticism, including 500,000 people who signed a petition against the proposal, and brought together a wide variety of British notables such as actress Dame Judi Dench, poet Carol Anne Duffy, and the Archbishop of Canterbury to oppose the government's plan.


Selling the Forests that Saved Britain

(02/15/2011) I confess that British Prime Minister David Cameron's proposal to auction off all 650,000 acres of England's national forests to the highest bidder came as a bit of a shock to me – especially as the contained such world-famous national treasures as Robin Hood's Sherwood Forest, the Forest of Dean and the New Forest. Although warned by my Irish mother that Tories can never be trusted, Mr. Cameron's passionate pledge to deliver the "greenest government ever" seemed sincere, especially given his ambitious plans to cut Britain's pollution. Anyway, even if he turned out to be as slippery as his predecessors, his deep green Liberal Democratic coalition partners would, I thought, keep the planet high on his priority list.


UK government plan to sell off half its forests faces stiff criticism

(11/01/2010) The UK's Department for Environment, Food, and Rural Affairs (Defra) has announced plans to sell up to 150,000 hectares of its forest to the private sector—over half of its forests in England—touching off harsh criticism from environmentalists, including the UK's Green Party.