News articles on endangered species

---
Mongabay.com news articles on endangered species in blog format. Updated regularly.






Niger creates desert park bigger than Hungary

(03/07/2012) Yesterday, the Niger government formally created the Termit and Tin Toumma National Nature and Cultural Reserve in the Sahara Desert, reports the Sahara Conservation Fund. The reserve, now one of the largest in Africa, expands existing protected areas to 100,000 square kilometers (38,610 sq. miles), an area bigger than Hungary and nearly twice the size of Costa Rica.
Cute baby animal photos of the day: baby pot-bellied seahorses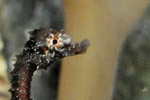 (03/05/2012) The Wildlife Conservation Society's (WCS) New York Aquarium has recently celebrated the arrival of "fry" (baby) pot-bellied seahorses (Hippocampus abdominalis). Found in the seas surrounding Australia, the pot-bellied seahorse is protected under CITES (Convention on International Trade in Endangered Species of Wild Fauna and Flora), since they are stolen from the wild for traditional medicine, decorations, and pets.
Sawfish impale, cleave prey with snout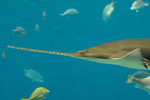 (03/05/2012) Although all seven species of sawfish are nearly extinct, scientists have spent little time studying these vanishing species. However that is changing as a new study in Current Biology sheds light on the sawfishes' most distinguishing feature: its long toothed snout, which gives the fish its name. "I was surprised to see how skilled sawfish are with their saw," said co-author Barbara Wueringer of the University of Queensland in a press release. "They use their saw to impale prey on the rostral teeth by producing several lateral swipes per second."
World's most toxic frog gets new reserve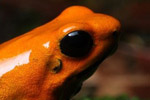 (03/05/2012) Touching a wild golden poison frog could kill you within minutes: in fact, a single golden poison frog, whose Latin name Phyllobates terribilis is even more evocative than its common one, is capable of killing 10 humans with its one milligram dose of poison. Yet the deadly nature of this tiny frog has not stopped it from nearing extinction. Now, in a bid to save the species, the World Land Trust (WLT) and Colombian NGO ProAves have teamed up to establish a 50 hectare (124 acres) reserve in the Chocó rainforest.
Military called in to stop Cameroon elephant slaughter - but may be too late

(03/05/2012) Cameroon's military has been called in to Bouba Ndjida National Park to take on foreign poachers that have slaughtered hundreds of elephants for their ivory, according to the World Wide Fund for Nature (WWF). Reports vary, but between 200-480 elephants have been killed in recent weeks in the park by what is widely assumed to be poachers from Sudan.
Investigation links APP to illegal logging of protected trees
(03/01/2012) A year-long undercover investigation has found evidence of Asia Pulp and Paper (APP) companies cutting and pulping legally protected ramin trees, a practice that violates both Indonesian and international law. Found largely in Sumatra's peatswamp forests, the logging of ramin trees (in the genus Gonystylus) has been banned in Indonesia since 2001; the trees are also listed under Appendix II of the Convention on International Trade in Endangered Species (CITES) and thus require special permits to export. The new allegations come after APP, an umbrella paper brand, has lost several customers due to its continued reliance on pulp from rainforest and peatland forests in Sumatra.
National Geographic linked to rainforest destruction
(03/01/2012) A new report by Greenpeace has found a direct link between National Geographic Society (NGS) products and rainforest destruction in Indonesia that threatens tigers and orangutans. An analysis on National Geographic books found Sumatran rainforest fiber from Asia Pulp and Paper (APP), a brand whose suppliers have been linked to rainforest destruction in Sumatra, and, in the most recent Greenpeace report, alleged illegal logging of protected rainforest trees. One of the world's largest non-profit science and educational organizations, National Geographic is known worldwide for its magazines, documentaries, and award-winning photos. The organization also has a long-standing history of championing environmental and conservation issues. However, National Geographic says it has not sourced APP paper for "several years."
Elephant death-toll rises to almost 500 in one park in Cameroon (warning: graphic photo)

(02/29/2012) Wildlife officials have found 458 dead elephants in Cameroon's embattled Bouba Ndjida National Park, reports the AFP. However officials fear the actual number is even higher around 480. Over the last six weeks a well-organized group of poachers has run free in the park, slaughtering elephants for their ivory tusks which will make their way to markets in Asia.
International Bird Area in Kenya saved from conversion into biofuel crop

(02/29/2012) A campaign by NGO Nature Kenya has saved the Dakatcha Woodland Important Bird Area (IBA) from destruction for planting biofuel crops, reports BirdLife International. Located near Kenya's eastern coastline, the forest is home to two IUCN Red List Endangered species, Clarke's weaver (Ploceus golandi) and sokoke pipit (Anthus sokokensis), both of which are imperiled by habitat loss. The plan to covert 10,000 hectares of the forest in jatropha, used for biofuels, was recently rejected by Kenya's National Environment Management Authority (NEMA).
Cute baby animal photos of the day: twin Malagasy giant jumping rats born at London Zoo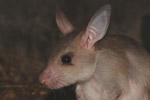 (02/28/2012) Twin Malagasy giant jumping rats (Hypogeomys antimena) were born in the Zoological Society of London's (ZSL) zoo in London this month. Found only on the island of Madagascar, also home to the world's lemurs, these rodents are the biggest on the island. These large rodents take the ecological place of rabbits in Madagascar, but unlike other rodents they form lifelong monogamous pairs and reproduce very slowly.
Paleontologists reconstruct extinct, "elegant" penguin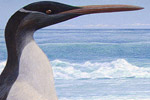 (02/27/2012) Around 25 million years ago a penguin with a long, sharp beak and massive flippers lived in a New Zealand that was almost entirely underwater. The bird, named Kairuku after a Maori word that means "diver who returns with food," was first discovered in 1977, but has only recently been reconstructed by scientists in a study in the Journal of Vertebrate Paleontology.
Cute baby animal photos of the day: twin slender lorises born at London Zoo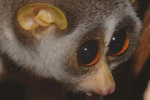 (02/27/2012) Twin grey slender lorises (Loris lydekkerianus) were born in the Zoological Society of London's (ZSL) zoo in London this month, a notable event since lorises rarely give birth to twins. Found in India and Sri Lanka, these nocturnal, big-eyed primates scour trees for insects. Although listed as Least Concern, the species is imperiled by deforestation, impacts from cats, electrocution on power lines, use in traditional medicine, and the pet trade.
Birders beware: climate change could push 600 tropical birds into extinction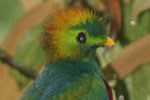 (02/21/2012) There may be less birds for birders to see in the world as the planet warms. Climate change, in combination with deforestation, could send between 100 and 2,500 tropical birds to extinction before the end of century, according to new research published in Biological Conservation. The wide range depends on the extent of climate and how much habitat is lost, but researchers say the most likely range of extinctions is between 600 and 900 species, meaning about 10-14 percent of tropical birds, excluding migratory species.
Celebrate frogs on leap day!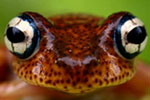 (02/20/2012) The NGO Amphibian Ark is asking frog-lovers to visit their local zoos on up-coming leap day, February 29th. Dubbed, Leaping Ahead of Extinction, the program includes 58 zoos and other amphibian breeding facilities in seventeen countries that have captive breeding populations of endangered amphibians.
Innovative conservation: wild silk, endangered species, and poverty in Madagascar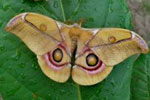 (02/20/2012) For anyone who works in conservation in Madagascar, confronting the complex difficulties of widespread poverty is a part of the job. But with the wealth of Madagascar's wildlife rapidly diminishing— such as lemurs, miniature chameleons, and hedgehog-looking tenrecs found no-where else in the world—the island-nation has become a testing ground for innovative conservation programs that focus on tackling entrenched poverty to save dwindling species and degraded places. The local NGO, the Madagascar Organization of Silk Workers or SEPALI, along with its U.S. partner Conservation through Poverty Alleviation (CPALI), is one such innovative program. In order to alleviate local pressure on the newly-established Makira Protected Area, SEPALI is aiding local farmers in artisanal silk production from endemic moths. The program uses Madagascar's famed wildlife to help create more economically stable communities.
Republic of the Congo expands park to protect fearless chimps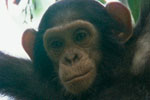 (02/16/2012) The Republic of the Congo has expanded its Nouabalé-Ndoki National Park by 37,295 hectares (144 square miles) to include a dense swamp forest, home to a population of chimpanzees (Pan troglodytes) that show no fear of humans. Known as the Goualougo Triangle, the swamp forest is also home to forest elephants (Loxodonta cyclotis) and western lowland gorillas (Gorilla gorilla gorilla). The expansion of the park to include the Goualougo Triangle makes good on a government commitment from 2001.
What a Bornean elephant wants: more protected forests and wildlife corridors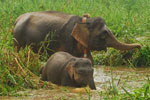 (02/16/2012) Forest fragmentation and destruction is imperiling the Bornean elephant (Elephas maximus borneensis), according to a new paper published in PLoS ONE. Using satellite collars to track the pachyderms for the first time in the Malaysian state of Sabah, scientists have found that the elephants are extremely sensitive to habitat fragmentation from palm oil plantations and logging.
New sanctuaries declared for Asia's freshwater dolphins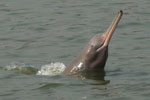 (02/15/2012) Bangladesh has declared three new sanctuaries to help protect the south Asian river dolphin (Platanista gangetica) in the Sundarbans, the world's largest mangrove forest. Split into two subspecies, the Ganges River dolphin (Platanista gangetica gangetica) and the Irrawaddy River dolphin (Platanista gangetica minor), the new sanctuaries will benefit both. Listed as Endangered by the IUCN Red List, the south Asian freshwater dolphin has disappeared from much of its habitat. Already Asia has its other freshwater dolphin species: the baiji (Lipotes vexillifer) was declared functionally extinct into 2006 after a survey of the Yangtze River failed to find a single individual.
Photo: World's smallest chameleon discovered in Madagascar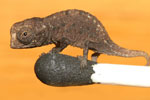 (02/15/2012) Scientists have discovered four new species of super-tiny chameleons in Madagascar, according to a new paper in PLoS ONE. The smallest of the new species, Brookesia micra, is found only on the small island of Nosy Hara and has been dubbed the smallest chameleon in the world, measuring from nose to tail 29 millimeters (1.14 inches) at its largest. Scientists believe it represents a notable example of island dwarfism.
The camera trap revolution: how a simple device is shaping research and conservation worldwide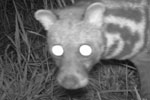 (02/14/2012) I must confess to a recent addiction: camera trap photos. When the Smithsonian released 202,000 camera trap photos to the public online, I couldn't help but spend hours transfixed by the private world of animals. There was the golden snub-monkey (Rhinopithecus roxellana), with its unmistakably blue face staring straight at you, captured on a trail in the mountains of China. Or a southern tamandua (Tamandua tetradactyla), a tree anteater that resembles a living Muppet, poking its nose in the leaf litter as sunlight plays on its head in the Peruvian Amazon. Or the dim body of a spotted hyena (Crocuta crocuta) led by jewel-like eyes in the Tanzanian night. Or the less exotic red fox (Vulpes vulpes) which admittedly appears much more exotic when shot in China in the midst of a snowstorm. Even the giant panda (Ailuropoda melanoleuca), an animal I too often connect with cartoons and stuffed animals, looks wholly real and wild when captured by camera trap: no longer a symbol or even a pudgy bear at the zoo, but a true animal with its own inner, mysterious life.
Photos of the day: Sumatran tigers celebrate Valentine's Day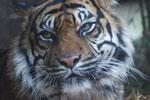 (02/14/2012) The Sumatran tigers at the London Zoo received an early Valentine treat of pillows scented with Calvin Klein's Obsession. "Tigers are territorial creatures and these strong smells encourage their natural scent-marking behaviors by making them rub themselves against the perfumed hearts," Zookeeper Teague Stubbington said in a press release. "We've tried lots of different scents and spices, and CK Obsession has proved by far to be their favorite—and as we saw today it certainly helps encourage some romance between them!"
Sumatran rhino pregnant: conservationists hope third time's the charm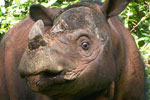 (02/07/2012) Ratu, a female Sumatra rhino (Dicerorhinus sumatrensis), is in the eleventh month of her third pregnancy raising hopes for a successful birth of one of the world's most imperiled big mammals. Ratu suffered two prior miscarriages, but researchers believe the current pregnancy—which still has four to five months to go (for a total term of around 15-16 months)—could produce what Indonesian officials have long hoped for: a bundle of joy at the Sumatran Rhino Sanctuary in Sumatra. With only around 200 Sumatran rhinos surviving today in Indonesia and Bornean Malaysia, many conservationists see such breeding efforts as the last and best chance to save the Critically Endangered species from extinction.
Vampire and bird frogs: discovering new amphibians in Southeast Asia's threatened forests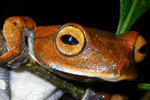 (02/06/2012) In 2009 researchers discovered 19,232 species new to science, most of these were plants and insects, but 148 were amphibians. Even as amphibians face unprecedented challenges—habitat loss, pollution, overharvesting, climate change, and a lethal disease called chytridiomycosis that has pushed a number of species to extinction—new amphibians are still being uncovered at surprising rates. One of the major hotspots for finding new amphibians is the dwindling tropical forests of Southeast Asia.
Atlantic sturgeon gains protection under the Endangered Species Act

(02/01/2012) The U.S. federal government has listed the massive and bizarre Atlantic sturgeon (Acipenser oxyrinchus) under the protection of the Endangered Species Act (ESA). Historically overfishing decimated the Atlantic sturgeon, while on-going threats include pollution and infrastructure, like dams and bridges that destroy habitat. Fishing for the Atlantic sturgeon has been banned since 1998, they are still caught as bycatch.
Forgotten species: the wild jungle cattle called banteng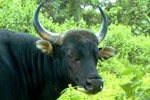 (01/31/2012) The word "cattle," for most of us, is the antithesis of exotic; it's familiar like a family member one's happy enough to ignore, but doesn't really mind having around. Think for a moment of the names: cattle, cow, bovine...likely they make many of us think more of the animals' byproducts than the creatures themselves—i.e. milk, butter, ice cream or steak—as if they were an automated food factory and not living beings. But if we expand our minds a bit further, "cattle" may bring up thoughts of cowboys, Texas, herds pounding the dust, or merely grazing dully in the pasture. But none of these titles, no matter how far we pursue them, conjure up images of steamy tropical rainforest or gravely imperiled species. A cow may be beautiful in its own domesticated sort-of-way, but there is nothing wild in it, nothing enchanting. However like most generalizations, this idea of cattle falls to pieces when one encounters, whether in literature or life, the banteng.
Saving the world's biggest river otter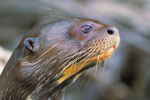 (01/30/2012) Charismatic, vocal, unpredictable, domestic, and playful are all adjectives that aptly describe the giant river otter (Pteronura brasiliensis), one of the Amazon's most spectacular big mammals. As its name suggest, this otter is the longest member of the weasel family: from tip of the nose to tail's end the otter can measure 6 feet (1.8 meters) long. Living in closely-knit family groups, sporting a complex range of behavior, and displaying almost human-like capricious moods, the giant river otter has captured a number of researchers and conservationists' hearts, including Dutch conservationist Jessica Groenendijk.
Invasion!: Burmese pythons decimate mammals in the Everglades

(01/30/2012) The Everglades in southern Florida has faced myriad environmental impacts from draining for sprawl to the construction of canals, but even as the U.S. government moves slowly on an ambitious plan to restore the massive wetlands a new threat is growing: big snakes from Southeast Asia. A new paper in the Proceedings of the National Academy of Sciences (PNAS) has found evidence of a massive collapse in the native mammal population following the invasion of Burmese pythons (Python molurus bivittatus) in the ecosystem. The research comes just after the U.S. federal government has announced an importation ban on the Burmese python and three other big snakes in an effort to safeguard wildlife in the Everglades. However, the PNAS study finds that a lot of damage has already been done.
California city bans bullfrogs to safeguard native species
(01/26/2012) Santa Cruz, California has become the first city in the U.S. to ban the importation, sale, release, and possession of the American bullfrog (Rana catesbeiana). Found throughout Eastern and Central U.S., the frogs have become an invasive threat to wildlife in the western U.S. states and Canada.
Photo of the Day: Critically Endangered brown spider monkey discovered in park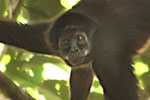 (01/26/2012) Researchers with The Wildlife Conservation Society (WCS) and Colombia's National Parks Unit have located at least two individuals of brown-spider monkey (Ateles hybridus) in Colombia's Selva de Florencia National Park. The discovery is important because its the only known population of this particular subspecies (Ateles hybridus brunneus) in a protected area.
87 marine mammals still eaten by people

(01/24/2012) Threats to marine mammals usually include climate change, drowning as by-catch, pollution, depletion of prey, but what about eating marine mammals? A new study in Biological Conservation finds that a surprising 87 marine mammals—including polar bears, small whales, and dolphins—have been eaten as food since 1990 in at least 114 countries.
Pangolins imperiled by internet trade--are companies responding quickly enough?

(01/24/2012) You can buy pretty much anything on the internet: from Rugby team garden gnomes to Mickey Mouse lingerie. In some places, consumers have even been able to purchase illegal wildlife parts, such as ivory and rhino horn. In fact, the internet has opened up the black market wildlife trade contributing to the destruction of biodiversity worldwide. Pangolins, shy, scaly, anteater-like animals in appearance, have not been immune: in Asia the small animals are killed en masse to feed rising demand for Chinese traditional medicine, placing a number of species on the endangered list.
Sumatran elephant population plunges; WWF calls for moratorium on deforestation

(01/24/2012) The Sumatran elephant subspecies (Elephas maximus sumatranus) was downgraded to critically endangered on IUCN's Red List of Threatened Species on Tuesday, prompting environmental group WWF to call for an immediate moratorium on destruction of its rainforest habitat, which is being rapidly lost to oil palm estates, timber plantations for pulp and paper production, and agricultural use.
Leatherback sea turtles granted massive protected area along U.S. west coast
(01/23/2012) The U.S. federal government has designated 108,556 square kilometers (41,914 square miles) as critical habitat for the leatherback sea turtle (Dermochelys coriacea), the largest of the world's marine turtles and one of the most endangered. The protected area, around the size of Guatemala, spans coastal sea waters from California to Washington state, but does not protect the migration routes environmentalists hoped for.
Economic slowdown leads to the pulping of Latvia's forests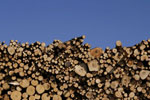 (01/23/2012) The economic crisis has pushed many nations to scramble for revenue and jobs in tight times, and the small Eastern European nation of Latvia is no different. Facing tough circumstances, the country turned to its most important and abundant natural resource: forests. The Latvian government accepted a new plan for the nation's forests, which has resulted in logging at rates many scientists say are clearly unsustainable. In addition, researchers contend that the on-the-ground practices of state-owned timber giant, Latvijas Valsts meži (LVM), are hurting wildlife and destroying rare ecosystems.
Feared extinct, obscure monkey rediscovered in Borneo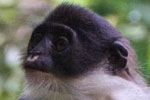 (01/20/2012) A significant population of the rarely seen, little-known Miller's grizzled langurs (Presbytis hosei canicrus) has been discovered in Indonesian Borneo according to a new paper published in the American Journal of Primatology. Feared extinct by some and dubbed one of the world's 25 most threatened primates in 2005 by Conservation International (CI), the langur surprised researchers by showing up on camera trap in a region of Borneo it was never supposed to be. The discovery provides new hope for the elusive monkey and expands its known range, but conservationists warn the species is not out of the woods yet.
Disease kills 6 million bats in North America

(01/18/2012) In just six years around six million bats have succumbed to white-nose syndrome in North America, according to U.S. federal researchers. The number, somewhere between 5.7 and 6.7 million bats, is far higher than past estimates of over a million. Showing up in 2006 in New York, the perplexing disease, which appears as white dust on bats' muzzles, wipes out populations while they hibernate.
New book series hopes to inspire research in world's 'hottest biodiversity hotspot'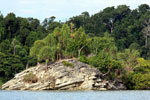 (01/17/2012) Entomologist Dmitry Telnov hopes his new pet project will inspire and disseminate research about one of the world's last unexplored biogeographical regions: Wallacea and New Guinea. Incredibly rich in biodiversity and still full of unknown species, the region, also known as the Indo-Australian transition, spans many of the tropical islands of the Pacific, including Indonesia's Sulawesi, Komodo and Flores, as well as East Timor—the historically famous "spice islands" of the Moluccan Archipelago—the Solomon Islands, and, of course, New Guinea. Telnov has begun a new book series, entitled Biodiversity, Biogeography and Nature Conservation in Wallacea and New Guinea, that aims to compile and highlight new research in the region, focusing both on biology and conservation. The first volume, currently available, also includes the description of 150 new species.
Featured video: plight of orangutans highlighted with new rock song

(01/17/2012) An Indonesian rock band, Navicula, is highlighting the plight of orangutans in their native country through a new song entitled, aptly, "Orangutan." The band has created a music video for the song, including footage of a documentary, Green: The Film that follows a starving female orangutan named Green. The band "dedicated the song to encourage people to do more in orangutan conservation, to protect this endangered species."
Photos: program devoted to world's strangest, most neglected animals celebrates five years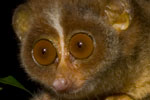 (01/16/2012) What do Attenborough's echidna, the bumblebee bat, and the purple frog have in common? They have all received conservation attention from a unique program by the Zoological Society of London (ZSL) called EDGE. Five years old this week, the program focuses on the world's most unique and imperiled animal species or, as they put it, the most Evolutionarily Distinct and Globally Endangered (EDGE) species. In the past five years the program has achieved notable successes from confirming the existence of long unseen species (Attenborough's echidna) to taking the first photos and video of a number of targeted animals (the purple frog).
Featured video: tuna industry bycatch includes sea turtles, dolphins, whales

(01/16/2012) A Greenpeace video, using footage from a whistleblower, shows disturbing images of the tuna industry operating in the unregulated waters of the Pacific Ocean. Using fish aggregation devices (FADs) and purse seine nets, the industry is not only able to catch entire schools of tuna, including juvenile, but also whatever else is in the area of the net.
Elephant poachers kill unarmed wildlife ranger in Kenya

(01/16/2012) Abdullahi Mohammed, an wildlife ranger, was killed in the line of duty in Kenya this weekend by elephant poachers. A ranger with the conservation organization Wildlife Works, Mohammed was shot by poachers in Wildlife Works Kasigau Corridor project, a REDD program (Reduced Emissions From Deforestation and Degradation).
Borneo's most elusive feline photographed at unexpected elevation

(01/11/2012) Although known to science for 138 years, almost nothing is actually known about the bay cat (Pardofelis badia). This reddish-brown wild feline, endemic to the island of Borneo, has entirely eluded researchers and conservationists. The first photo of the cat wasn't taken until 1998 and the first video was shot just two years ago, but basic information remains lacking. A new camera trap study, however, in the Kelabit Highlands of the Malaysian state of Sarawak has added to the little knowledge we have by photographing a bay cat at never before seen altitudes.
Seals, birds, and alpine plants suffer under climate change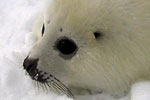 (01/11/2012) The number of species identified by scientists as vulnerable to climate change continues to rise along with the Earth's temperature. Recent studies have found that a warmer world is leading to premature deaths of harp seal pups (Pagophilus groenlandicus) in the Arctic, a decline of some duck species in Canada, shrinking alpine meadows in Europe, and indirect pressure on mountain songbirds and plants in the U.S. Scientists have long known that climate change will upend ecosystems worldwide, creating climate winners and losers, and likely leading to waves of extinction. While the impacts of climate change on polar bears and coral reefs have been well-documented, every year scientists add new species to the list of those already threatened by anthropogenic climate change.
Happy rhino news: no rhinos poached in Nepal last year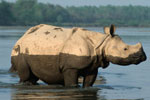 (01/10/2012) As rhinos again fell to poachers in record numbers in 2011, there was one bright-spot: Nepal. Not a single rhino was killed by poachers in the Himalayan nation, home to an estimated 534 greater one-horned rhinos (Rhinoceros unicornis), categorized as Vulnerable by the IUCN Red List. Conservationists celebrated at Chitwan National Park, which holds the vast majority of the country's rhinos.
Camera traps snap first ever photo of Myanmar snub-nosed monkey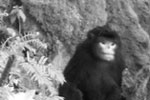 (01/10/2012) In 2010 researchers described a new species of primate that reportedly sneezes when it rains. Unfortunately, the new species was only known from a carcass killed by a local hunter. Now, however, remote camera traps have taken the first ever photo of the elusive, and likely very rare, Myanmar snub-nosed monkey (Rhinopithecus strykeri), known to locals as mey nwoah, or 'monkey with an upturned face'. Locals say the monkeys are easy to locate when it rains, because the rain catches on their upturned noses causing them to sneeze.
Animal picture of the day: the pitch-black robin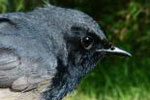 (01/09/2012) A species of robin with a black head, aptly named the blackthroat (Luscinia obscura), had rarely been seen since its first description in 1891 until last year when researchers located some of the species' breeding grounds. They documented fourteen singing males in the Quingling mountains of its native China.
How lemurs fight climate change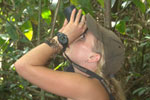 (01/09/2012) Kara Moses may have never become a biologist if not for a coin toss. The coin, which came up heads and decided Moses' direction in college, has led her on a sinuous path from studying lemurs in captivity to environmental writing, and back to lemurs, only this time tracking them in their natural habitat. Her recent research on ruffed lemurs is attracting attention for documenting the seed dispersal capabilities of Critically Endangered ruffed lemurs as well as theorizing connections between Madagascar's lemurs and the carbon storage capacity of its forests. Focusing on the black-and-white ruffed lemur's (Varecia variegata) ecological role as a seed disperser—animals that play a major role in spreading a plant's seeds far-and-wide—Moses suggests that not only do the lemurs disperse key tree species, but they could be instrumental in dispersing big species that store large amounts of carbon.




Page 1 | Page 2 | Page 3 | Page 4 | Page 5 | Page 6 | Page 7 | Page 8 | Page 9 | Page 10 | Page 11 | Page 12 | Page 13 | Page 14 | Page 15 | Page 16 | Page 17 | Page 18 | Page 19 | Page 20 | Page 21 | Page 22 | Page 23 | Page 24 | Page 25 | Page 26 | Page 27 | Page 28 | Page 29 | Page 30 | Page 31 | Page 32 | Page 33 | Page 34 | Page 35