News articles on endangered species

---
Mongabay.com news articles on endangered species in blog format. Updated regularly.





Massive shark sanctuary declared in the Coral Triangle

(11/17/2010) A shark sanctuary has been declared around the Raja Ampat islands in Indonesia. Larger than Denmark, the new sanctuary covers 17,760 square miles (46,000 square kilometers) of one of the world's richest marine biodiverse region, the Coral Triangle. Protections not only cover sharks, but dugongs, marine turtles, mobulas, and manta rays as well. In addition, reef bombing and fishing for the aquarium trade are banned.


Botanist killed in crossfire in Philippines

(11/17/2010) A local botanist was killed in crossfire between the Filipino military and suspected communist guerrillas with the New People's Army on Monday, reports the Inquirer.net.


New bat species confirmed in Ecuador, may already be extinct

(11/16/2010) Although the first specimen was collected over 30 years ago, scientists have only now confirmed that a tiny brown bat is indeed a unique species. Named Myotis diminutus for its incredibly small size, the new bat was discovered in the Chocó biodiversity hotspot, amid the moist forests of western Ecuador.


Critics say Obama slow on endangered species

(11/15/2010) The Obama Administration is lagging behind past administrations in its listing of dwindling species under the Endangered Species Act (ESA). To date the US Fish and Wildlife Service has added 51 species to the ESA since Obama's took office, according to the conservation group, Center for Biological Diversity. By contrast, the Clinton Administration averaged 65 species a year with a total of 522 species protected. Obama is more proactive than George W. Bush, however, who was seen by many critics as actively undercutting the ESA. Only one of the species protected so far by the Obama Administration is found in the continental US.


Would legalizing the trade in tiger parts save the tiger?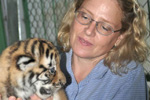 (11/15/2010) Just the mention of the idea is enough to send shivers down many tiger conservationists' spines: re-legalize the trade in tiger parts. The trade has been largely illegal since 1975 under the Convention on International Trade in Endangered Species (CITES). The concept was, of course, a reasonable one: if we ban killing tigers for traditional medicine and decorative items worldwide then poaching will stop, the trade will dry up, and tigers will be saved. But 35 years later that has not happened—far from it. "Words such as 'collapse' are now being used to describe the [tiger's] situation both in terms of population and habitat. Wild tiger numbers continue to drop so that we have about 3,500 today across 13 range states occupying just 7% of their original habitat. It's universally acknowledged that we're losing the battle," Kirsten Conrad, tiger conservation expert, told mongabay.com in a recent interview.


Thousands of marine turtles slaughtered in Madagascar for food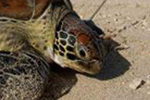 (11/14/2010) Over 10,000 marine turtles are being killed in one region of Madagascar for food every year, according to a new study in Animal Conservation. Although fishing for marine turtles is illegal, it has not stopped local artisanal fishermen from pursuing four different endangered marine turtle species. "We conducted this study because we know this small-scale, artisanal fishing is going on despite it being illegal to catch turtles under Malagasy law," Annette Broderick, from the Center for Ecology and Conservation (Cornwall) at the University of Exeter, said in a press release. "Because turtles are an endangered species, it's important for us to know what's going on in the region so we can work with the local community to find a sustainable way forward."


Chaco expedition working to "minimize the risk" of running into uncontacted natives

(11/11/2010) A joint expedition by the Natural History Museum (NHM), London and the Natural History Museum, Asuncion to study the biodiversity of the dwindling dry forests of Chaco in Paraguay have responded to recent concerns that they risk encountering uncontacted natives, which could potentially threaten the natives' lives as well as their own.


African apes threatened by rising temperatures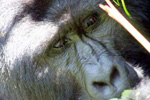 (11/10/2010) Most people wish each day had more than 24 hours. But as the planet heats up, that limited number of hours might push endangered African apes even closer to extinction by making their current habitats unsuitable for their lifestyle, according to a controversial study published on 23 July in the Journal of Biogeography.


Alleged rhino horn dealer takes his own life

(11/10/2010) The illegal trade in rhino horn doesn't just end in the deaths of thousands of rhinos. Humans, too, often lose their lives in the trade. Both those poaching rhinos and those protecting them, such as park rangers, have been killed in gun battles. But the trade ruins lives in many ways: yesterday, Tommy Fourie, 51, who allegedly sold 36 rhino hunters to a game farmer, shot himself with a hunting rifle in South Africa.


Photos: surprises discovered in tiny forest fragment surrounded by palm oil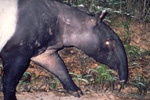 (11/10/2010) Researchers have uncovered an astounding number of species in a tiny protected forest fragment surrounded on all side by palm oil plantations in the Indonesian island of Sumatra. Researchers with the Zoological Society of London (ZSL), Queen Mary, University of London and the Durrell Institute of Conservation and Ecology (DICE – University of Kent) recorded sun bear (Helarctos malayanus), Malayan tapir (Tapirus indicus), the banded langur (Presbytis femoralis), and agile gibbons (Hylobates agilis), but most notable, was the first record ever of the Ridley's leaf-nosed bat (Hipposideros ridleyi) in Sumatra. The discoveries highlight the importance of preserving even small forest fragments surrounded by agriculture.


Saving the best for last: a journey into the final phases of orangutan rehabilitation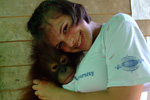 (11/08/2010) Rehabilitation is a powerful word these days. Fashionable, too. In wildlife conservation, rehabilitation can serve functions ranging from augmenting threatened animal populations to desperate attempts to save species from permanent extinction. At its base, rehabilitation consists of handling, preparing and releasing wild animals that have been in some way negatively affected by humans. Rehabilitation programs cover the globe (from cottage-scale sparrow and raccoon rescues in suburban parks to well-established raptor protection programs, wolf rehabilitation and public education about these wild predators in Colorado, semi-touristy rehabilitation centers in Thailand housing everything from gibbons to elephants, vet hospitals dedicated to flu-ridden bobtail lizards in Australia, and sexy lion and cheetah hubs in southern Africa which breed endangered serval cats). The motivations behind these programs are also diverse, but the umbrella goal is unified: to aid the continued survival, so often precarious, of animals valued by people.


Will biodiversity agreement save life on Earth?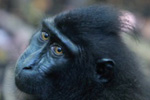 (11/07/2010) On Friday, October 29th, 193 member nations of the Convention on Biological Diversity (CBD) reached a possibly landmark agreement on saving the world's suffering biodiversity in Nagoya, Japan. The agreement was especially notable after nations failed—by all accounts—to live up to the goals from the previous CBD agreement, including stemming the global loss of biodiversity by 2010. According to scientists, the world's species continue to vanish at mass-extinction rates due to habitat loss, deforestation, overconsumption, pollution, climate change, and invasive species. To addresses this crisis the new CBD agreement sets out 20 goals for 2020. But given the global challenges in saving the world's species and the lack-of-teeth in agreement (it is strictly voluntary), will the CBD make a difference or in ten years time will goals be again unmet and life on planet Earth worse off than ever? To answer this mongabay.com turned to a number of experts in the conservation world.


Undercover for animals: on the frontline of wildlife crime in the US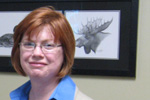 (11/03/2010) Special Agent O'Connor is a veteran wildlife law enforcement officer, with over 20 years of service under belt. She began her career in wildlife law enforcement as a Conservation Police Officer for the Illinois Department of Natural Resources, where she served for eight years. She then moved to federal wildlife law enforcement with the US Fish and Wildlife Service, where she was first posted to Ann Arbor, Michigan, and then to St. Paul, Minnesota. During that time, she investigated several major cases that led to felony convictions for violations of wildlife laws. She now serves as a training officer at the Federal Law Enforcement Training Center (FLETC), the interagency law enforcement training organization that serves 88 Federal agencies, in Georgia.


World's rarest snake making a comeback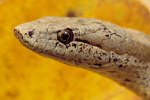 (11/02/2010) The Antiguan racer (Alsophis antiguae) shares a similar story with many highly endangered island species. Invasive mongoose killed every racer on the Caribbean island of Antigua, leaving only a small population on nearby Great Bird Island. Confined to 8 hectares, this final population was being killed-off by invasive Eurasian black rats. By the time conservationists took action, only 50 Antiguan racers survived in the world. But here's where the story turns out different: 15 years later, a partnership between six conservation groups has succeeded in raising the population tenfold to 500 snakes and expanded its territory to other islands through snake-reintroductions.


Over 20,000 pangolins illegally poached in Borneo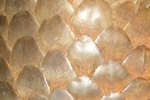 (10/28/2010) Notebooks confiscated by the Sabah Wildlife Department (SWD) reveal that 22,000 Sunda pangolins (Manis javanica) were illegally poached from May 2007 to January 2009 in the Malaysian state in northern Borneo. The number, in fact, may be significantly higher since the logbooks didn't cover over a third of the time period. The logbooks were analyzed by TRAFFIC, an organization devoted to combating the illegal trade in wildlife.


Villagers beat, ride on, and kill baby elephant

(10/28/2010) A video camera has captured villagers in the Indian state of Assam, beating, riding on, and eventually spearing a three-year-old elephant to death that had been abandoned by its herd after suffering an injury. The footage, available from New Delhi Television (NDTV) [warning: it is graphic], shows policemen standing by as the animal is killed. The incident took place a day after the Asian elephant was declared a National Heritage Animal status by Indian authorities, granting it special cultural status.


After months on the run, man-eating tiger caught

(10/28/2010) A male Bengal tiger that killed eight people was captured after a months-long chase by officials with India's Forest Department and biologists with the local conservation organization, Wildlife Trust of India (WFI), in the Indian state of Uttar Pradesh. After avoiding laced bait and tranquilizer darts, the tiger was finally trapped by officials earlier this month. Even after being tranquilized three times, the animal still lashed out, injuring several villagers who had begun throwing rocks at it. Eventually, though, the hunt for the cat ended with its capture.


Picture: new monkey discovered in Myanmar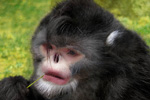 (10/26/2010) Hunters' reports have led scientists to discover a new species of monkey in the northern forests of Myanmar. Discovered by biologists from the Myanmar Biodiversity and Nature Conservation Association with support from primatologists with Fauna & Flora International (FFI) and the People Resources and Biodiversity Foundation, the strange looking primate is a member of the snub-nosed monkey family, adding a fifth member to this unmistakably odd-looking group of Asian primates. However, the species survives in only a small single population, threatened by Chinese logging and hunting.


The march to extinction accelerates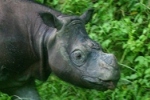 (10/26/2010) A fifth of the world's vertebrate species (i.e. mammals, birds, reptiles, amphibians, and fish) are threatened with extinction, according to a massive new study by the International Union for the Conservation of Nature (IUCN); and the situation is worsening for the world's wildlife: on average 52 species of mammals, birds, and amphibians move one category closer to extinction every year (the IUCN Red List categorizes species as Least Concern, Near Threatened, Vulnerable, Endangered, Critically Endangered, Extinct in the Wild, and then Extinct). However, the news isn't all bad. The study found that conservation action does work: in the first analysis of its kind, researchers found that the global biodiversity decline would have been 18% worse if not for conservation attention, "nonetheless," the authors—174 scientists from 38 countries—write, "current conservation efforts remain insufficient to offset the main drivers of biodiversity loss." According to the study, these drivers include agricultural expansion, logging, over-exploitation of species, and invasive species.


Elephant tromping benefits frogs and lizards

(10/25/2010) While elephants may appear destructive when they pull down trees, tear up grasses or stir up soils, their impacts actually make space for the little guys: frogs and reptiles. The BBC reports that a new study in African Journal of Ecology finds that African bush elephants (Loxodonta Africana), facilitate herpetofauna (i.e. amphibians and reptiles) biodiversity when they act as ecosystem engineers.


Photos: ants take top prize at Veolia Wildlife Environment Photography contest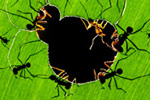 (10/21/2010) An image of nocturnal ant silhouettes systematically devouring a leaf in Costa Rica has given Hungarian photographer, Bence Máté, the much-coveted Veolia Wildlife Environment Photographer of the Year award. In addition to being named Photographer of the year, Máté also won the Erik Hosking award, given to a young photographer (ages 18-26) for a portfolio of images, for images taken in Costa Rica, Brazil, and Hungary.


Photos: three new forest frogs discovered in Tanzania

(10/19/2010) Africa's most biodiverse nation, Tanzania, has added a few more species to its dockets. Researchers have discovered three new amphibians in the always surprising Eastern Arc Mountains, a region which has supplied a number of new species recently. All three new species are members of the frog genus Callulina. Described in the Zoological Journal of the Linnean Society the researchers warn that all three of the new frogs are confined to small habitats threatened by deforestation and firewood collection.


Already Critically Endangered, bluefin tuna hit hard by BP oil disaster

(10/19/2010) Using satellite data from the European Space Agency, researchers estimate that over 20% of juvenile Atlantic bluefin tuna in the Gulf of Mexico were killed by the BP oil spill. Although that percentage may not seem catastrophic, the losses are on top of an 82% decline in the overall population over the past three decades due to overfishing. The population plunge has pushed the International Union for the Conservation of Nature (IUCN) to categorize the fish as Critically Endangered, its highest rating before extinction.


Video: camera trap catches bulldozer clearing Sumatran tiger habitat for palm oil

(10/14/2010) Seven days after footage of a Sumatran tiger (Panthera tigris sumatrae) was taken by a heat-trigger video camera trap, the camera captured a bulldozer clearing the Critically Endangered animal's habitat. Taken by the World Wildlife Fund—Indonesia (WWF), the video provides clear evidence of forest destruction for oil palm plantations in Bukit Batabuh Protected Forest, a protected area since 1994.


Humanity consuming the Earth: by 2030 we'll need two planets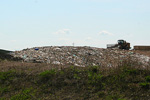 (10/13/2010) Too many people consuming too much is depleting the world's natural resources faster than they are replenished, imperiling not only the world's species but risking the well-being of human societies, according to a new massive study by the World Wildlife Fund (WWF), entitled the Living Planet Report. The report finds that humanity is currently consuming the equivalent of 1.5 planet Earths every year for its activities. This overconsumption has caused biodiversity—in this case, representative populations of vertebrate animals—to fall by 30 percent worldwide since 1970. The situation is more dire in tropical regions where terrestrial species' populations have fallen by 60 percent and freshwater species by 70 percent.


Slaughtered elephant served up at Zimbabwean rally with president

(10/12/2010) On the menu at the most recent rally for the Zimbabwe African National Union Political Front (ZANU-PF): 3 African buffalo, 3 elephants, and a lot of smaller game according to SW Radio Africa. Attended by Zimbabwe's President and founder of ZANU-PF, Robert Mugabe, the rally also celebrated the opening of the Women's Celebration Bank.


Picture: unknown carnivore discovered in Madagascar lake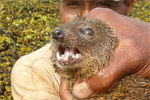 (10/10/2010) Researchers have identified a previously unknown species of carnivore lurking in one of the world's most endangered lakes. Durrell's vontsira (Salanoia durrelli), named in honor of the late conservationist and writer Gerald Durrell, was first photographed swimming in Madagascar's Lake Alaotra in 2004. Subsequent surveys by scientists at the the Durrell Wildlife Conservation Trust, the Natural History Museum, London, Nature Heritage, Jersey, and Conservation International confirmed the mongoose-like creature was indeed a new species.


Chinese court sentences rhino horn smuggler to 12 years

(10/07/2010) A traditional Chinese medicine businessman has been sentenced to 12 years in prison for attempting to smuggler rhino horn from Vietnam to China, according to Saving Rhinos which has been following the case on ChinaCourt.org.


Losing nature's medicine cabinet


(10/04/2010) In all the discussions of saving the world's biodiversity from extinction, one point is often and surprisingly forgotten: the importance of the world's species in providing humankind with a multitude of life-saving medicines so far, as well as the certainty that more vital medications are out there if only we save the unheralded animals and plants that contain cures unknown. Already, species have provided humankind everything from quinine to aspirin, from morphine to numerous cancer and HIV-fighting drugs. "As the ethnobotanist Dr. Mark Plotkin commented, the history of medicine can be written in terms of its reliance on and utilization of natural products," physician Christopher Herndon told mongabay.com. Herndon is co-author of a recent paper in the journal Biotropica, which calls for policy-makers and the public to recognize how biodiversity underpins not only ecosystems, but medicine.


Endangered species listing could hit Malaysian Borneo's timber trade

(10/04/2010) Sarawak fears its timber industry may be adversely affected by a proposal to list three genera of Dipterocarp trees as threatened, reports The Star.


1000 rare tortoises poached each week in Madagascar

(09/30/2010) One thousand endangered tortoises are being illegally collected each week in southern Madagascar, reports WWF.


Stunning toxic frog protected as a result of drug trafficking conflict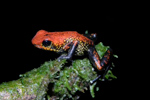 (09/29/2010) A spectacular poison dart frog on the edge of extinction in the wild has been afforded temporary protection by warring drug gangs in Colombia's Chocó region, reports ProAves. The La Brea Poison Frog (Oophaga occultator), a colorful species only documented by scientists in 1975, has suffered from unsustainable collection for the pet trade, severe deforestation for coca cultivation, and aerial spraying for coca eradication, resulting in a substantial population decline. But the species has clung to life in a deforested landscape along the Saija River in Colombian Pacific coast in part due to conflict between three armed groups which has kept collectors out of the area.


Fighting poachers, going undercover, saving wildlife: all in a day's work for Arief Rubianto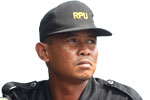 (09/29/2010) Arief Rubianto, the head of an anti-poaching squad on the Indonesian island of Sumatra best describes his daily life in this way: "like mission impossible". Don't believe me? Rubianto has fought with illegal loggers, exchanged gunfire with poachers, survived four days without food in the jungle, and even gone undercover—posing as a buyer of illegal wildlife products—to infiltrate a poaching operation. While many conservationists work from offices—sometimes thousands of miles away from the area they are striving to protect—Rubianto works on the ground (in the jungle, in flood rains, on rock faces, on unpredictable seas, and at all hours of the day), often risking his own life to save the incredibly unique and highly imperiled wildlife of Sumatra.


Rivers worldwide in peril: society treats symptoms, ignores causes


(09/29/2010) Dams, agricultural runoff, pesticides, sewage, mercury pollution from coal plants, invasive species, overconsumption, irrigation, erosion from deforestation, wetland destruction, overfishing, aquaculture: it's clear that the world's rivers are facing a barrage of unprecedented impacts from humans, but just how bad is the situation? A new global analysis of the world's rivers is not comforting: the comprehensive report, published in Nature, finds that our waterways are in a deep crisis which bridges the gap between developing nations and the wealthy west. According to the study, while societies spend billions treating the symptoms of widespread river degradation, they are still failing to address the causes, imperiling both human populations and freshwater biodiversity.


Mass extinction fears widen: 22 percent of world's plants endangered



(09/28/2010) Scientific warnings that the world is in the midst of a mass extinction were bolstered today by the release of a new study that shows just over a fifth of the world's known plants are threatened with extinction—levels comparable to the Earth's mammals and greater than birds. Conducted by the Royal Botanic Gardens, Kew; the Natural History Museum, London; and the International Union for the Conservation of Nature (IUCN), the study is the first time researchers have outlined the full threat level to the world's plant species. In order to estimate overall threat levels, researchers created a Sampled Red List Index for Plants, analyzing 7,000 representative species, including both common and rare plants.


Discovery of new population boosts almost-extinct Colombian bird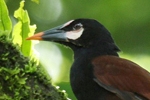 (09/28/2010) The Baudo oropendola (Psarocolius cassini) has gone from less than a dozen known individuals to nearly a hundred due to the discovery of two new colonies in northwestern Colombia by local conservation group, Fundación ProAves. However, the new colonies are located in an unprotected area currently being impacted by deforestation. George Fenwick, president of American Bird Conservancy which focuses on bird conservation, said in a press release that his organization "is thrilled to have helped fund the research expedition that led to this stunning discovery of these two new colonies of this rare bird. Now we need to work with ProAves to conserve and protect them."


Traveler caught with 200 pounds of elephant ivory in four suitcases

(09/27/2010) Customs officials found 16 pieces of cut ivory on searching a 62-year-old Malaysian man at Suvarnabhumi International Airport in Thailand in August. Recently released information shows that the traveler was carrying nearly 200 pounds (90 kilograms) of ivory in four suitcases after arriving from Addis Ababa, Ethiopia.


Tigers successfully reintroduced in Indian park

(09/27/2010) Poachers killed off the last Bengal tiger in India's Sariska Tiger Reserve in 2004. Four years later, officials transferred three tigers from Ranthambhore National Park to Sariska in an attempt to repopulate the park with the world's biggest feline. A new study in mongabay.com's open-access journal Tropical Conservation Science evaluates the reintroduction by tracking radio-collared tigers and studying their scat.


Financial crisis pummels wildlife and people in the Congo rainforest

(09/27/2010) Spreading over three central African nations—Cameroon, Central African Republic, and Republic of Congo—the Sangha tri-national landscape is home to a variety of actors: over 150,000 Bantu people and nearly 20,000 pygmies; endangered species including forest elephants and gorillas; and, not least, the Congo rainforest ecosystem itself, which here remains largely intact. Given its interplay of species-richness, primary rainforest, and people—many of whom are among the poorest in the world—the landscape became internationally important in 2002 when under the Congo Basin Forest Partnership (CBFP) conservation groups and development agencies agreed to work together to preserve the ecosystems while providing development in the region.


Into the Congo: saving bonobos means aiding left-behind communities, an interview with Gay Reinartz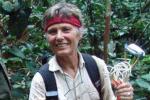 (09/23/2010) Unlike every other of the world's great apes—the gorilla, chimpanzee, and orangutan—saving the bonobo means focusing conservation efforts on a single nation, the Democratic Republic of the Congo. While such a fact would seem to simplify conservation, according to the director of the Bonobo and Congo Biodiversity Initiative (BCBI), Gay Reinartz, it in fact complicates it: after decades of one of world's brutal civil wars, the DRC remains among the world's most left-behind nations. Widespread poverty, violence, politically instability, corruption, and lack of basic infrastructure have left the Congolese people in desperate straits.


New ape species uncovered in Asia

(09/21/2010) Discovering a species unknown to science is a highlight of any biologist's career, but imagine discovering a new ape? Researchers with the German Primate Center (DPZ) announced today the discovery of a new species of ape in the gibbon family, dubbed the northern buffed-cheeked gibbon (Nomascus annamensis), according to the AFP. The new species was discovered in rainforests between the borders of Vietnam, Laos, and Cambodia: an area that contains a number of gibbon species.


How the overlooked peccary engineers the Amazon, an interview with Harald Beck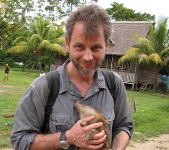 (09/20/2010) When people think of the Amazon rainforest, they likely think of roaring jaguars, jumping monkeys, marching ants, and squeezing anacondas. The humble peccary would hardly be among the first animals to cross their mind, if they even know such pig-like animals exists! Yet new research on the peccary is proving just how vital these species are to the world's greatest rainforest. As seed dispersers and seed destroyers, engineers of freshwater habitats and forest gaps, peccaries play an immense, long overlooked, role in the rainforest. "Peccaries have the highest density and biomass of any Neotropical mammal species. Obviously these fellows have quite an appetite for almost anything, but primarily they consume fruits and seeds. Their specialized jaws allow them to crush very hard seeds. The cracking sounds can be heard through the thick vegetation long before we could see them. As peccary herds bulldoze through the leaf litter in search for insects, frogs, seeds, and fruits, they destroy (i.e. snap and trample) many seedlings and saplings, sometimes leaving only the bare ground behind," Harald Beck, assistant professor at Towson University in Maryland, told mongabay.com in an interview.


Scientists warn little known gibbons face immediate extinction



(09/19/2010) It's not easy to be a gibbon: although one of the most acrobatic, fast, and marvelously loud of the world's primates, the gibbon remains largely unknown to the global public and far less studied than the world's more 'popular' apes. This lack of public awareness, scientific knowledge, and, thereby, conservation funding combined with threats from habitat loss to hunting to the pet trade have pushed seven gibbon species, known as 'crested', to the edge of extinction according to scientists attending the 23rd Congress of the International Primatological Society.


Saving wild tigers will cost $82M/year

(09/15/2010) The cost of maintaining the planet's 3,500 remaining wild tigers is around $80 million a year, according to a new study published in the journal PLoS Biology.


Goats, cats trigger near extinction of Hawaiian bird in past 7 years

(09/14/2010) A new survey by the United States Geological Survey shows the population of the Palila (Loxioides bailleui), a beautiful songbird found only in Hawaii, has fallen from 4,400 birds to 1,200 birds since 2003, a decline of nearly 75 percent. The bird is being driven toward extinction by introduced sheep and goats, which are destroying the Palila's key food source, and feral cats, which are killing off adult birds and hatchlings, according to the American Bird Conservancy.


Population of Asia's rarest waterbird 30% higher than previously thought

(09/13/2010) A record-breaking 429 White-shouldered Ibis (Pseudibis davisoni) were recorded in a new survey in Cambodia, dramatically expanding the known global population of the critically endangered bird species, reports BirdLife International.


Photos: the world's most endangered turtles

(09/10/2010) More than 40 percent of the world's freshwater turtle species are threatened with extinction, according to a new assessment by Conservation International. Turtles are threatened primarily by hunting, habitat destruction, and the pet trade, making them among the most endangered groups of animals.


Frogs and friends at risk from booming global wildlife trade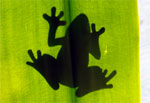 (09/08/2010) Alejandra Goyenechea, International Counsel at Defenders of Wildlife and Chair of the Species Survival Network's (SSN) Amphibian Working Group, spoke with Laurel Neme on her 'The WildLife' radio show and podcast about the global amphibian trade. In her interview, Alejandra Goyenechea discusses the benefits of frogs and the many threats – such as habitat loss, climate change, pollution, invasive species, disease, and overexploitation – to their survival. Did you know frogs indicate environmental quality, like canaries in a coal mine? Or that many have medicinal properties, like the phantasmal poison dart frog which produces a painkiller 200 times the potency of morphine?


Vultures rebound in Cambodia; only Asian country with rising population

(09/02/2010) The number of threatened vultures in Cambodia is on the rise according to a new survey by Wildlife Conservation Society (WCS) and other members of the Cambodia Vulture Conservation Project.


21% of Africa's freshwater plants and animals threatened

(09/02/2010) 21 percent of African freshwater plant and animal species are threatened with extinction, according to a five year assessment of 5,167 freshwater species by 200 scientists.



Page 1 | Page 2 | Page 3 | Page 4 | Page 5 | Page 6 | Page 7 | Page 8 | Page 9 | Page 10 | Page 11 | Page 12 | Page 13 | Page 14 | Page 15 | Page 16 | Page 17 | Page 18 | Page 19 | Page 20 | Page 21 | Page 22 | Page 23 | Page 24 | Page 25 | Page 26 | Page 27 | Page 28