News articles on elephants

---
Mongabay.com news articles on elephants in blog format. Updated regularly.






Ivory trade's shocking toll: 65% of world's forest elephants killed in 12 years (warning: graphic image)

(02/12/2014) Forest elephants have suffered unprecedented butchery for their ivory tusks over the past decade, according to new numbers released by conservationists today in London. Sixty-five percent of the world's forest elephants have been slaughtered by poachers over the last dozen years, with poachers killing an astounding nine percent of the population annually. Lesser-known than their savannah cousins, a genetics study in 2010 found that forest elephants are in fact a distinct species, as far removed from savannah elephants as Asian elephants are from mammoths. These findings make the forest elephant crisis even more urgent.
One person killed, two injured in elephant attacks in Indonesia this year
(02/12/2014) It was near dawn on Jan. 4 when a critically endangered Sumatran elephant (Elephas maximus sumatranus) destroyed a small shack near a plantation in Indonesia's Aceh province, killing a local farmer from West Aceh district and injuring his 13-year-old son. Yusmani, 59, was trampled to death while his son, Reverendi, escaped with a broken leg.
Hong Kong to destroy 4,000 dead elephants' worth of ivory
(01/24/2014) The government of Hong Kong will destroy 28 tons of ivory confiscated from traffickers, reports CNN. The announcement, which comes just weeks after China destroyed six tons of seized ivory, suggests that the leaders of the world's largest market for ivory may be getting more serious about addressing a global poaching boom, say conservationists.
China to destroy ivory stockpile

(01/03/2014) The Chinese government plans to destroy a stockpile of contraband elephant ivory and other seized wildlife products next week during a public ceremony in Guangzhou, reports the Wildlife Conservation Society (WCS).
Rainforest news review for 2013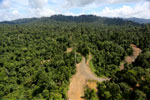 (12/26/2013) 2013 was full of major developments in efforts to understand and protect the world's tropical rainforests. The following is a review of some of the major tropical forest-related news stories for the year. As a review, this post will not cover everything that transpired during 2013 in the world of tropical forests. Please feel free to highlight anything this post missed via the comments section at the bottom. Also please note that this review focuses only on tropical forests.
Anti-elephant poaching story goes viral in China
(12/20/2013) A newspaper story about the impact of the ivory trade has gone viral in China, raising awareness among millions of Chinese, reports the Wildlife Conservation Society (WCS). The story, published November 15 in Southern Weekly, has been shared widely across Chinese web sites and social media.
Little elephant is the first scientific record of dwarfism in the wild
(12/19/2013) Biologists in Sri Lanka have published the first documented evidence of dwarfism in an adult wild animal. A male Asian elephant (Elephas maximus) measuring just over 1.5 meters (five feet) in height was seen in an aggressive encounter with another male of average size. The elephant's small stature was due to disproportionately short legs, according to the findings published in the IUCN/SSC Asian Elephant Specialist Group journal Gajah. "The 'dwarf' was by far the main aggressor in the altercation and appeared to be older than the other, a young adult," states the study. "Other than for the disproportionately short legs, morphologically and behaviorally the dwarf appeared normal."
Asian elephants depend on shifting cultivation during the dry season

(12/16/2013) Asian elephants (Elephas maximus) have co-existed with human practices for thousands of years, including shifting cultivation. Shifting agriculture encompasses a variety of different practices that involve abandoning plots for periods of time to allow natural vegetation to grow. The practice consists of cutting and burning the natural vegetation at the end of the dry season and cultivating with the rains. Harvesting is completed by the end of the wet season.
Top 10 Environmental Stories of 2013
(12/10/2013) 1. Carbon concentrations hit 400ppm while the IPCC sets global carbon budget: For the first time since our appearance on Earth, carbon concentrations in the atmosphere hit 400 parts per million. The last time concentrations were this high for a sustained period was 4-5 million years ago when temperatures were 10 degrees Celsius higher. Meanwhile, in the slow-moving effort to curb carbon emissions, the Intergovernmental Panel on Climate Change (IPCC) crafted a global carbon budget showing that most of the world's fossil fuel reserves must be left untouched if we are to avoid catastrophic climate change.
Microsoft founder funds Africa-wide elephant survey to measure ivory poachers' toll

(12/04/2013) Beginning next year, light planes and helicopters will undertake the first ever continent-wide aerial survey of Africa's vanishing elephant populations. The hugely ambitious initiative, which will count elephant herds in 13 countries, is being funded by Microsoft founder, Paul Allen, through his Paul G. Allen Family Foundation.
Sri Lankan elephant amnesty will lead to poaching, warn conservationists
(12/03/2013) Environmentalists have responded with alarm to a proposed amnesty permitting the registration of illegally captured elephants in Sri Lanka. Recent reports in Sri Lankan media have outlined the proposal, stating that during the amnesty period it would be possible to register elephant calves for a fee of about $7,600. Elephants are closely linked with Sri Lankan history and culture, and are considered sacred in both Buddhism and Hinduism. But the situation for elephants in the country is complicated.
22,000 elephants slaughtered for their ivory in 2012

(12/02/2013) As the African Elephant Summit open in Botswana today, conservationists released a new estimate of the number of African elephants lost to the guns of poachers last year: 22,000. Some 15,000 elephants killed in 42 sites across 27 countries on the continent, according to newly released data from the CITES program, Monitoring the Illegal Killing of Elephants (MIKE). But conservationists estimate another 7,000 went unreported. The number killed is a slight decrease over 2011 numbers of 25,000.
Remote sensor captures sound of ivory poacher shooting an elephant

(11/20/2013) A sensor used by researchers to capture low-frequency communication between elephants inadvertently recorded the audio of an elephant being gunned down by a poacher in Gabon, reports the Wildlife Conservation Society, which used the sound byte in a video highlighting the carnage of the ivory trade.
The mystery of the disappearing elephant tusk
(10/30/2013) Give it a few thousand years, and tusks could completely disappear from the Asian elephant (Elephas maximus). The beautifully smooth, elongated ivory incisors neatly bordering a long trunk are iconic in the public mind. The reigning hypothesis is that tusks evolved to help male elephants fight one another, as demonstrated when males compete over females in estrus. However, a recent study published in the journal Animal Behaviour has shown that tusks may not be key factors in tussles, at least as far as elephants are concerned.
New campaign: hey China, stop killing the 'pandas of Africa'
(10/29/2013) A new public-service campaign in China will ask potential ivory and rhino horn buyers to see the victims of these illicit trades in a new light: as the "pandas of Africa." The posters are a part of WildAid's 'Say No to Ivory and Rhino Horn' campaign, which was launched earlier in the year.
Advertising campaign changing minds in China on ivory trade
(10/16/2013) For three years, the International Fund for Animal Welfare (IFAW) has been running advertizing campaigns in Chinese cities to raise awareness on the true source of ivory: slaughtered elephants. A recent evaluation of the campaign by Rapid Asia found that 66 percent of those who saw the ads said they would "definitely" not buy ivory in the future.
Tanzania should implement shoot-to-kill policy for poachers, says government minister

(10/09/2013) A government minister in Tanzania has called for a "shoot-to-kill" policy against poachers in a radical measure to curb the mass slaughter of elephants. Khamis Kagasheki's proposal for perpetrators of the illicit ivory trade to be executed 'on the spot' divided opinion, with some conservationists backing it as a necessary deterrent but others warning that it would lead to an escalation of violence.
Bornean elephant meets palm oil: saving the world's smallest pachyderm in a fractured landscape
(10/01/2013) In the Malaysian state of Sabah, where most conservation students are still foreigners—either European or American—Nurzahafarina Othman stands out: not only is she Malaysian, a Muslim, and a mother of a young daughter, but she's rapidly becoming a top researcher and champion for the world's smallest elephant: the Bornean elephant (Elephas maximus borneensis). Although sometimes described as a pygmy elephant, they still weigh 2,000 kilograms (4,400 pounds). The origin of these 'tiny' elephants in Malaysian Borneo have baffled scientists for decades.
Butchering nature's titans: without the elephant 'we lose an essential pillar in the ability to wonder'
(09/12/2013) Africa's elephant poaching crisis doesn't just threaten a species, but imperils one of humanity's most important links to the natural world and even our collective sanity, according to acclaimed photographers and film-makers, Cyril Christo and Marie Wilkinson. Authors of the book Walking Thunder - In the Footsteps of the African Elephant, Christo and Wilkinson have been documenting Africa's titans in photos and film for several years. In 2011, the pair released a film Lysander's Song (named after their son an avid fan of elephants) which depicts the millennial-old relationship between humans and elephants.
600 vultures killed by elephant poachers in Namibia
(09/11/2013) As the illegal poaching of African elephants and rhinos reaches epidemic levels, other species are also suffering catastrophic losses as a direct result of poachers' behavior. A recent incident in July, where a poisoned elephant carcass led to the death of 600 vultures near Namibia's Bwabwata National Park, has highlighted how poachers' use of poison is now one of the primary threats to vulture populations.
U.S. to crush its six ton ivory stockpile

(09/10/2013) On October 8th, the Obama administration will publicly destroy its ivory stockpile, totaling some six tons, according to a White House forum yesterday on the illegal wildlife trade. The destruction of the stockpile—via crushing—is meant to send a message that the U.S. is taking a tougher stand on illegal the wildlife trade, which is decimating elephants across Africa and imperiling other animals worldwide. The U.S. remains one of the biggest destinations for ivory and other illegal animal part aside from East Asia.
Five Aceh elephants die in just six weeks

(08/14/2013) Police in Indonesia's Aceh province are investigating the killings of three critically endangered Sumatran elephants, as conflicts with humans led to a series of elephant deaths across the province last month. Five elephants have died in Aceh since late June, including two orphaned calves, highlighting the need to mitigate conflicts between elephants and local communities as deforestation drives the animals into villages and plantations in search of food.
Featured video: Sumatra's last elephants versus palm oil

(08/05/2013) A new video by The Ecologist documents the illegal destruction of the Leuser protected area in Sumatra for palm oil production, a vegetable oil which has become ubiquitous in many mass-produced foods and cosmetics. The destruction of the forest has pushed elephants and people together, leading to inevitable conflict with casualties on both sides. Elephants are increasingly viewed as agricultural pests for crop-raiding while locals—some of them squatting in protected land—lack the means and resources to keep elephants at bay. Meanwhile, palm oil plantations often see elephants as a threat to the palms.
Elephant killer gets five years in prison in the Republic of Congo

(08/01/2013) The Congolese Supreme Court has ordered Ghislain Ngondjo (known as Pepito) to five years in prison for slaughtering dozens of elephants for their ivory tusks. The five year sentence is the maximum in the Republic of Congo for poaching. Ngondjo was considered the "kingpin" of an elephant poaching group; in addition to killing pachyderms, Ngondjo recruited new poachers and made death threats to park rangers and staff in Odzala National Park.
Zoos call on governments to take urgent action against illegal wildlife trade (photos)
(07/24/2013) In a single night in March, a band of heavily-armed, horse-riding poachers slaughtered 89 elephants in southern Chad, thirty of which were pregnant females. The carnage was the worst poaching incident of the year, but even this slaughter paled in comparison to the 650 elephants killed in a Cameroon park in 2012. Elephant poaching is hitting new records as experts say some 30,000 elephants are being killed every year for their ivory tusks. But the illegal wildlife trade—estimated at $19 billion—is not just decimating elephants, but also rhinos, big cats, great apes, and thousands of lesser-known species like pangolins and slow lorises. This growing carnage recently led to representatives of over 40 zoos and dozens of wildlife programs to call on governments around the world to take immediate action on long-neglected wildlife crime.
No sweat: elephants living with people aren't stressed
(07/23/2013) Nature preserves, wildlife sanctuaries, national forests, parks, grasslands and protected areas are the cornerstones of conservation. These are the wild places where animals can still dwell, grow, and reproduce in their natural environment without any human-caused stressors. While many of these special places have facilitated leaps and bounds for wildlife conservation, the reality is that these areas are extremely limited and most plants and animals live beyond, or must migrate out of, their bounds.
Hunting, logging could threaten long-term health of Congo forests by wiping out key animals
(07/23/2013) Unsustainable hunting of forest elephants, gorillas, forest antelopes, and other seed-dispersers could have long-term impacts on the health and resilience of Congo Basin rainforests, warns a study published today in a special issue of the journal Philosophical Transactions of The Royal Society B. Conducting a review of more than 160 papers and reports on trends in wildlife populations, hunting, and land use in the Congo Basin, an international team of researchers conclude that unless effective management plans are put into place, hunting pressure in the region is likely to increase, with knock-on ecological effects.
Deforestation rate falls in Congo Basin countries
(07/22/2013) Deforestation has fallen in Congo Basin countries over the past decade despite a sharp increase in the rate of forest clearing in the Democratic Republic of the Congo, according to a new study published in the Philosophical Transactions of the Royal Society B as part of a set of 18 papers on the region's tropical forests. The special issue, which was put together by Oxford University's Yadvinder Malhi, covers a range of issues relating to the rainforests of the Congo Basin, including deforestation, the impacts of global change, the history and key characteristics of the region's forests, and resource extraction, among others.
Elephant killers should be brought to justice, Indonesia's president tweets [WARNING: brutally graphic images]
(07/20/2013) Indonesia's president spoke out against the killing of a critically endangered Sumatran elephant (Elephas maximus sumatranus) last week, using his Twitter account to urge local authorities to take action in the case. The large male elephant was found dead last Saturday morning near Rantau Sabon village in Indonesia's Aceh province. The elephant's face was crushed, its tusks had been removed and taken and its trunk was detached from its body. Photos of the grisly scene were quickly circulated via social media, generating over 10,000 mentions on Twitter less than 24 hours after the animal was found, prompting a response from the president and other high-level officials.
Baby elephant safe in new home after standoff with Aceh village
(07/15/2013) Abdul Thaleb could not hold back tears as he watched rescuers prepare Raju, a baby Sumatran elephant (Elephas maximus sumatranus) likely no more than a few weeks old, for the six-hour journey from Aceh's Blang Pante village to the Saree Elephant Conservation Center (PKG), which would be his new home. Thaleb had been caring for Raju since villagers found the baby elephant alone without its mother in a nearby forest on June 18. For ten days, he had been feeding the still-nursing calf by hand, fashioning makeshift bottles from plastic bags and purchasing baby formula with donations and money from his own pocket.
Obama to take on elephant and rhino poaching in Africa

(07/03/2013) Barack Obama launched a new initiative against wildlife trafficking on Monday, using his executive authority to take action against an illegal trade that is fueling rebel wars and now threatens the survival of elephants and rhinoceroses. The initiative, announced as the president visited Tanzania on the final stop of his African tour, was the second time in a week Obama has used an executive order to advance environmental policy, after announcing a sweeping new climate change plan.
New forensic method tells the difference between poached and legal ivory

(07/01/2013) Forensic-dating could end a major loophole in the current global ban on ivory, according to a new paper in the Proceedings of the National Academy of Sciences (PNAS). Scientists have developed a method to determine the age of ivory, allowing traders to tell the difference between ivory taken before the ban in 1989, which is still legal, and recently-poached ivory.
Building a new generation of local conservationists: how improving education in Uganda may save one of the world's great forests
(06/20/2013) Conservation work is often focused on the short-term: protecting a forest from an immediate threat, saving a species from pending extinction, or a restoring an ecosystem following degradation. While short-term responses are often borne of necessity, one could argue that long-term thinking in conservation and environmental work (as in all human endeavors) is woefully neglected, especially in the tropics. This is why programs like the Kasiisi Project are so important: by vastly improving education for primary kids near a threatened park in Uganda, the project hopes to create a "generation of committed rural conservationists," according to founder and director, Elizabeth Ross.
African militias trading elephant ivory for weapons
(06/05/2013) The Lord's Resistance Army (LRA) is using lucrative elephant poaching for ivory to fund its activities, according to a report published on Tuesday. Eyewitness accounts from park rangers, Lord's Resistance Army (LRA) escapees and recent senior defectors report that the fugitive warlord Joseph Kony, who is wanted by the international criminal court for war crimes and crimes against humanity, ordered African forest elephants to be killed in Garamba national park in the Democratic Republic of Congo (DRC) and the tusks sent to him.
Kenya getting tough on poachers, set to increase fines and jail time

(05/29/2013) The Kenyan parliament has approved emergency measures to tackle the on-going poaching crisis: last week Kenyan MPs approved legislation that should lead to higher penalties for paochers. The emergency measure passed just as Kenya Wildlife Service's (KWS) is pursuing a gang of poachers that slaughtered four rhinos over the weekend. Both rhinos and elephants have suffered heavily as poaching has escalated in Kenya and beyond.
Featured video: a glimpse into the life of Cambodia's Asian elephant

(05/29/2013) The Cambodian Government's Forestry Administration has recently teamed up with the Wildlife Conservation Society (WCS) in order to peer into the daily lives of the country's Asian Elephants (Elephas maximus). Through the use of camera traps, the organizations caught an intimate glimpse of the regular, day-to-day behavior of these animals.
Prince Charles: take the war to the poachers

(05/22/2013) Prince Charles has warned that criminal gangs are turning to animal poaching, an unprecedented slaughter of species that can only be stopped by waging war on the perpetrators, in the latest of a series of increasingly outspoken speeches about the environment. Addressing a conference of conservationists at St James's Palace in London, the Prince of Wales announced a meeting of heads of state to take place this autumn in London under government auspices to combat what he described as an emerging, militarized crisis.
Elephants massacred for ivory in Central African Republic

(05/10/2013) Dozens of elephants have been slaughtered in the Dzanga Bai World Heritage Site in the Central African Republic just days after conservationists warned about an impending threat from the movement of 17 heavily armed poachers. The massacre occurred at a site renowned as 'village of elephants', where tourists and scientists have for decades observed wild elephants congregating at a large clearing to feed on minerals.
17 poachers allegedly enter elephant stronghold in Congo, conservationists fear massacre
(05/07/2013) Local researchers and wildlife guards say 17 armed elephant poachers have gained access to Dzanga Bai, a large waterhole and clearing where up to 200 forest elephants visit daily in the Central African Republic (CAR)'s Dzanga-Ndoki National Park. WWF, which works in the region but has recently evacuated due to rising violence, is calling on the CAR government to rapidly mobilize its military to stop another elephant bloodbath in central Africa. Elephants are being killed across their range for their ivory, which is mostly smuggled to East Asia.
A Tale of Two Elephants: celebrating the lives and mourning the deaths of Cirrocumulus and Ngampit
(05/07/2013) On March 21st, the organization Save the Elephants posted on their Facebook page that two African elephants had been poached inside a nearby reserve: "Sad news from the north of Kenya. Usually the national reserves are safe havens for elephants, and they know it. But in the last two weeks two of our study animals have been shot inside the Buffalo Springs reserve. First an 18 year-old bull called Ngampit and then, yesterday, 23 year-old female called Cirrocumulus (from the Clouds family)."
Emergency: large number of elephants being poached in the Central African Republic (warning: graphic image)
(04/25/2013) WWF and the Wildlife Conversation Society (WCS) are issuing an immediate call for action as they report that poachers are killing sizable numbers of forest elephants near the Dzanga-Sangha protected areas in the Central African Republic (CAR). The two large conservation groups have evacuated their staff from the area after a government coup, but local rangers are still trying to determine the scale of the killing while defending remaining elephants. In total the conservation groups believe the parks are home to over 3,000 elephants.
Unidentified toxin caused the deaths of Borneo elephants

(04/18/2013) After three months, officials still don't know for certain what killed at least 14 Bornean elephants (Elephas maximus borneensis) in the Malaysian state of Sabah. However tests do indicate that the herd perished from a "caustic intoxicant," possibly ingested accidentally or just as easily intentionally poisoned. A distinct subspecies, Bornean elephants are the world's smallest with a population that has fallen to around 2,000 on the island.
An insidious threat to tropical forests: over-hunting endangers tree species in Asia and Africa
(04/04/2013) A fruit falls to the floor in a rainforest. It waits. And waits. Inside the fruit is a seed, and like most seeds in tropical forests, this one needs an animal—a good-sized animal—to move it to a new place where it can germinate and grow. But it may be waiting in vain. Hunting and poaching has decimated many mammal and bird populations across the tropics, and according to two new studies the loss of these important seed-disperser are imperiling the very nature of rainforests.
Infamous elephant poacher turns cannibal in the Congo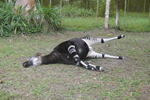 (04/03/2013) Early on a Sunday morning last summer, the villagers of Epulu awoke to the sounds of shots and screaming. In the eastern reaches of the Democratic Republic of the Congo, that can often mean another round of violence and ethnic murder is under way. In this case, however, something even more horrific was afoot.




Page 1 | Page 2 | Page 3 | Page 4 | Page 5 | Page 6 | Page 7