News articles on el nino

---
Mongabay.com news articles on el nino in blog format. Updated regularly.






NASA data: 1997 all over again for Indonesia?
(05/14/2014) The latest data from NASA shows that conditions developing in the tropical Pacific are eerily similar to those in 1997, when El Niño wreaked havoc across Indonesia, spurring a severe drought that exacerbated massive peatland and forest fires which spread choking haze across much of South and Southeast Asia.
Earth has fourth warmest March on record as forecasters see possible El Nino rising

(04/23/2014) Last March was the fourth warmest on record, according to new data from the National Oceanic and Atmospheric Administration (NOAA). Overall, temperatures were 0.71 degrees Celsius (1.28 degrees Fahrenheit) above the 20th century average during March. Looking at the first three months of 2014, this year is the seventh warmest on record to date.
Amazon deforestation could cause droughts in California
(11/08/2013) Complete deforestation of the Amazon rainforest could reduce rainfall in the Pacific Northwest by up to 20 percent and snowpack in the Sierra Nevada by up to 50 percent, suggests new research published in the Journal of Climate. The study is based on high resolution computer modeling that stripped the Amazon of its forest cover and assessed the potential impact on wind and precipitation patterns. While the scenario is implausible, it reveals the global nature of the ecological services afforded by the world's largest rainforest.
Borneo's forests face dire future from global warming

(07/18/2012) Already wracked by extensive deforestation and forest degradation, the future looks grim for Borneo's tropical rainforests, reports a new study published in the Journal of Geophysical Research-Biogeosciences.
Climate change may fuel increase in warfare, finds study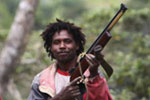 (08/24/2011) Civil war is twice as likely in tropical countries during particularly hot and dry years, according to a new study in Nature. The researchers found that El Niño conditions, which generally cuts rainfall and raises temperatures in the tropics, may have played a factor in one-fifth of the world's total conflicts during the past 50 years. El Niño conditions occur every 3-7 years. While the study did not examine global climate change in conjunction with conflict, the study links a warmer world to a more conflict-prone one, as least in the tropics.
Colossal coral bleaching kills up to 95 percent of corals in the Philippines

(09/23/2010) It is one of the most worrisome observations: fast massive death of coral reefs. A severe wide-scale bleaching occurred in the Philippines leaving 95 percent of the corals dead. The bleaching happened as the result of the 2009-2010 El Niño, with the Indian Ocean and Southeast Asia waters experiencing significant thermal increase especially since the beginning of 2010.
Alternative Climate Summit, Machu Picchu, and El Niño: Destroyer of Civilizations

(04/23/2010) As an alternative climate summit gets underway in the Bolivian city of Cochabamba, many in the Andean region are wondering how they will cope with El Niño, a cyclical meteorological phenomenon in which Pacific surface temperatures rise and have repercussions on weather around the world. El Niño takes place irregularly about every two to seven years and lasts from twelve to eighteen months.
El Niño in Venezuela: Hugo Chávez's "Katrina" Moment?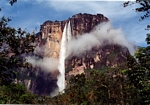 (03/22/2010) Venezuelan President Hugo Chávez has been in power for more than ten years, during which time he has deflected numerous electoral challenges, a recall effort, a coup d'etat and even an oil lock out. A politically adroit statesman, he has demonstrated enormous staying power throughout all these political crises. Yet, Chávez's luck may have finally run out: a devastating El Niño-linked drought has recently ravaged Venezuela and the government has been forced to undertake conservation measures for water and electricity. Hardly amused, some are holding Chávez responsible for the energy crunch and the drought could exact a heavy toll on the Venezuelan president in September's legislative elections.
Is El Niño back?

(07/28/2009) Ocean temperatures in the central and eastern Pacific have shifted into El Niño conditions, increasing the likelihood of anomalously dry conditions in Southeast Asia and other unusual weather patterns, according to the National Oceanic and Atmospheric Administration (NOAA) Climate Prediction Center.
Fire contributes 20% of global warming emissions

(04/23/2009) Fire accounts for roughly half of greenhouse gas emissions from deforestation and about twenty percent of total emissions from human activities, report researchers writing in the journal Science. The estimates — based on analysis of fire's impact on emissions of carbon dioxide, nitrous oxide, and methane; albedo or the reflectivity of Earth's surface; and release of aerosols and other particulates — suggest fire plays a major large role in climate than conventionally believed.
New fire record for Borneo, Sumatra shows dramatic increase in rainforest destruction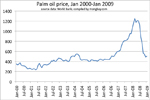 (02/22/2009) Destruction of rainforests and peatlands is making Indonesia more susceptible to devastating forest fires, especially in dry el Niño years, report researchers writing in the journal Nature Geoscience. Constructing a record of fires dating back to 1960 for Sumatra and Kalimantan (on the island of Borneo) using airport visibility records to measure aerosols or "haze" prior to the availability of satellite data, Robert Field of the University of Toronto and colleagues found that the intensity and scale of fires has increased substantially in Indonesia since the early 1990s, coinciding with rapid expansion of oil palm plantations and industrial logging.
Drought and deforestation in southeast Asia linked to climate change

(12/09/2008) Researchers have linked drought and deforestation in southeast Asia to climate change. Analyzing six years of climate and fire data from satellites, Guido van der Werf and colleagues report that burning of rainforests and peatlands in Indonesia, Malaysia, and Papua New Guinea released an average of 128 million tons of carbon (470 million tons of carbon dioxide - CO2) per year between 2000 and 2006. Fire emissions showed highly variability during the period, but were greatest in dry years, such as those that occur during El Niño events. Borneo was the largest source of fire emissions during the period, averaging 74 million tons per year, followed by Sumatra, which showed a doubling in emissions between 2000 and 2006.
Global warming - not el Nino - drove severe Amazon drought in 2005

(02/20/2008) One of the worst droughts on record in the Amazon was caused by high temperatures in the Atlantic rather than el Nino. The research, published in Philosophical Transactions of the Royal Society B, suggests that human-driven warming is already affecting the climate of Earth's largest rainforest.
La Nina may be coming

(09/07/2007) Scientists with NOAA's Climate Prediction Center are predicting that another La Nina event is on its way, according to the latest monthly El Nino/Southern Oscillation (ENSO) Diagnostic Discussion.
Globalization could save the Amazon rainforest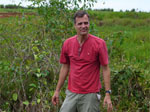 (06/03/2007) The Amazon basin is home to the world's largest rainforest, an ecosystem that supports perhaps 30 percent of the world's terrestrial species, stores vast amounts of carbon, and exerts considerable influence on global weather patterns and climate. Few would dispute that it is one of the planet's most important landscapes. Despite its scale, the Amazon is also one of the fastest changing ecosystems, largely as a result of human activities, including deforestation, forest fires, and, increasingly, climate change. Few people understand these impacts better than Dr. Daniel Nepstad, one of the world's foremost experts on the Amazon rainforest. Now head of the Woods Hole Research Center's Amazon program in Belem, Brazil, Nepstad has spent more than 23 years in the Amazon, studying subjects ranging from forest fires and forest management policy to sustainable development. Nepstad says the Amazon is presently at a point unlike any he's ever seen, one where there are unparalleled risks and opportunities. While he's hopeful about some of the trends, he knows the Amazon faces difficult and immediate challenges.
Hurricanes occur during cool periods as well

(05/28/2007) A team of scientists have found evidence of intense hurricane activity during both cool and warm periods reports The New York Times. The findings suggest that factors other than sea temperature play a role in the formation and intensity of tropical storms.
Climate change may decimate Indonesia's food supplies, worsen fires
(04/30/2007) Climate change could worsen food shortages in Indonesia by delaying the onset of monsoon rains reports a new study published in Proceedings of the National Academy of Sciences (PNAS). The findings suggest that the country could face increasing risk of drought and forest fire if nothing is done to control rising greenhouse gas emissions.
Amazon rainforest fires date back thousands of years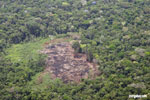 (03/14/2007) Fires are nothing new to the Amazon reports a study published in the journalBiotropica. Analyzing soils in the eastern Amazon, a team of scientists led by David S. Hammond of NWFS Consulting, has found evidence of forest fires dating back thousands of years. While the origin of these fires is unclear, the authors propose intriguing scenarios involving pre-Colombian human populations and ancient el Nino events which could have so dried rainforest areas that they became more prone to forest fires.
Saved by el Nino! Warm Pacific means fewer hurricanes

(11/30/2006) El Nino's to blame for the quiet 2006 hurricane season according to researchers at the U.S. National Oceanic and Atmospheric Administration (NOAA). While some climate scientists forecast a big hurricane year in 2006, the official six-month season produced only nine tropical storms and hurricanes, below the average of 11. For the first time since 1997, there were no Category 4 or 5 hurricanes, the strongest type of storm. 2005 saw the worst hurricane season on record with 28 storms including 3 category 5 storms: Hurricanes Katrina, Rita, and Wilma. Hurricane Katrina caused some $80 billion in damage as it destroyed the city of New Orleans.
Weak El Nino returns to the Pacific

(10/05/2006) NASA satellite data indicates El Nino has returned to the tropical Pacific Ocean, although in a relatively weak condition that may not persist and is currently much less intense than the last major El Niño episode in 1997-1998.
La Nina will not affect 2006 Atlantic hurricanes

(05/04/2006) NASA oceanographers agree that the recent La Nina in the eastern Pacific Ocean is not expected to have an effect on the Atlantic hurricane season this year. That's good news, because normally a La Nina tends to increase Atlantic hurricane activity and decrease Pacific Ocean hurricanes.
Pacific wind pattern driving el Nino slows due to global warming

(05/03/2006) Global warming has caused a key wind circulation pattern over the Pacific Ocean to weakened by 3.5 percent since the mid-1800s and scientists warn that it be further diminished by another 10% by 2100. The study, published in the May 4 issue of Nature, says that the weakening of the Walker circulation could could alter climate -- including el Nino and La Nina events -- and the marine food chain across the entire Pacific region. The Walker circulation, an atmospheric circulation of air at the equatorial Pacific Ocean which spans almost half the circumference of Earth, pushes the Pacific Ocean's trade winds from east to west, generating rainfall in Indonesia while creating ocean upwelling off the coast of South America that nourishes marine life.
Tropics Play Active Role In Controlling Earth's Climate

(10/12/2005) Researchers from the Universitat Autonoma de Barcelona and Durham University (UK) have discovered that a million years ago, global climate changes occurred due to changes in tropical circulation in the Pacific similar to those caused by El Nino today. Changes in atmospheric circulation caused variations in heat fluxes and moisture transport, triggering a large expansion of the polar ice sheets and a reorganisation of the Earth's climate. The discovery, published in Geology, shows that local climate changes in the tropics can create more global climate changes, and emphasises the hypothesis that the tropics play a more active role than was thought in controlling the Earth's climate.