News articles on economics

---
Mongabay.com news articles on economics in blog format. Updated regularly.





Industrialized countries outsource CO2 emissions to China

(06/22/2007) Facing criticism as it surpasses the U.S. as the world's largest producer of carbon dioxide, China says that industrialized countries are hypocritical for criticizing its greenhouse gas emissions while buying its products, according to the Associated Press. China argues that developed countries are effectively outsourcing emissions by shifting manufacturing to its factories.


$100 billion invested in renewable energy in 2006

(06/20/2007) $100 billion poured into renewable energy and energy efficiency in 2006, a 25 percent jump from 2005, reports a new analysis by the UN Environment Programme (UNEP).


Nobel prize winner debates future of nuclear power

(06/07/2007) Two renowned energy experts sparred in a debate over nuclear energy Wednesday afternoon at Stanford University. Amory Lovins, Chairman and Chief Scientist of the Rocky Mountain Institute, an energy think tank, argued that energy efficiency and alternative energy sources will send nuclear power the way of the dinosaurs in the near future. Dr. Burton Richter, winner of the 1976 Nobel Prize in physics, said that nuclear would play an important part of the future energy portfolio needed to cut carbon emissions to fight global warming.


Can cattle ranchers and soy farmers save the Amazon?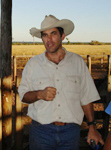 (06/06/2007) John Cain Carter, a Texas rancher who moved to the heart of the Amazon 11 years ago and founded what is perhaps the most innovative organization working in the Amazon, Alianca da Terra, believes the only way to save the Amazon is through the market. Carter says that by giving producers incentives to reduce their impact on the forest, the market can succeed where conservation efforts have failed. What is most remarkable about Alianca's system is that it has the potential to be applied to any commodity anywhere in the world. That means palm oil in Borneo could be certified just as easily as sugar cane in Brazil or sheep in New Zealand. By addressing the supply chain, tracing agricultural products back to the specific fields where they were produced, the system offers perhaps the best market-based solution to combating deforestation. Combining these approaches with large-scale land conservation and scientific research offers what may be the best hope for saving the Amazon.


Globalization could save the Amazon rainforest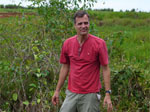 (06/03/2007) The Amazon basin is home to the world's largest rainforest, an ecosystem that supports perhaps 30 percent of the world's terrestrial species, stores vast amounts of carbon, and exerts considerable influence on global weather patterns and climate. Few would dispute that it is one of the planet's most important landscapes. Despite its scale, the Amazon is also one of the fastest changing ecosystems, largely as a result of human activities, including deforestation, forest fires, and, increasingly, climate change. Few people understand these impacts better than Dr. Daniel Nepstad, one of the world's foremost experts on the Amazon rainforest. Now head of the Woods Hole Research Center's Amazon program in Belem, Brazil, Nepstad has spent more than 23 years in the Amazon, studying subjects ranging from forest fires and forest management policy to sustainable development. Nepstad says the Amazon is presently at a point unlike any he's ever seen, one where there are unparalleled risks and opportunities. While he's hopeful about some of the trends, he knows the Amazon faces difficult and immediate challenges.


HSBC invests $100M in global warming research

(05/30/2007) HSBC announced Wednesday it would spend $100 million on climate change research. The investment, which will go to the Climate Group, Earthwatch Institute, Smithsonian Tropical Research Institute (STRI) and WWF over a five year period, is the largest donation ever made by a British company.


HSBC puts $100 towards global warming research

(05/30/2007) HSBC announced Wednesday it would spend $100 million on climate change research. The investment, which will go to the Climate Group, Earthwatch Institute, Smithsonian Tropical Research Institute (STRI) and WWF over a five year period, is the largest donation ever made by a British company.


Extortion or global warming mitigation?

(05/24/2007) Marketwatch reported more details on Ecuador's proposal to forgo development of Amazonian oil fields in exchange for payments from industrialized nations. Last month Ecuadorian President Rafael Correa said that if the South American country is compensated with half of the forecasted lost revenues, it will not exploit oil in Yasuni National Park, setting aside the area for wildlife and indigenous people. Correa said the cost would be about $350 million per year.


Plan to bring lions, elephants to U.S. excludes Africans


(05/22/2007) Writing in the June 2007 Scientific American one of the scientists who helped put forth a radical proposal to reintroduce historical megafauna -- including camels, cheetah, elephants, and lions -- revisits the scheme, reviewing its basic points and refuting some of the criticism the plan received from the general public and other conservation biologists.


CO2 emissions growth surges as global energy efficiency falls

(05/21/2007) Worldwide growth in carbon dioxide emissions has doubled since the close of the 1990s, reports a study published in the early on-line edition of the Proceedings of the National Academy of Sciences. The findings suggest that the global economy is more dependent on fossil fuels than ever before, with carbon intensity--the amount of carbon needed to produce a unit of economic output--decreasing after a period of increases.


High corn price mean pigs eat candy bars, french fries

(05/20/2007) Near record high prices for corn mean that farmers are feeding their pigs people food according to an article in The Wall Street Journal.


Improving energy efficiency will require overcoming market distortions

(05/20/2007) In a new study, McKinsey&Company, one the world's most respected management consulting firms, reports that the world should be able to cut energy demand growth by half over the next 15 years without compromising economic growth. However it says that market forces along will not drive the transition--targeted policies will be needed to overcome present market failures and policy distortions.


Citigroup commits $50 billion to fight global warming

(05/13/2007) Citigroup said last week that it plans to spend $50 billion towards mitigating climate change, mostly through investments in clean energy and 'alternative technology' over the next 10 years.


Ecosystems are capital assets argues report

(05/07/2007) Global ecosystems should be treated as capital assets argues a new report released today by the World Resources Institute (WRI). The new WRI report examines trends revealed in the 2005 Millennium Ecosystem Assessment (MA) by the U.N. and puts forth an agenda for business, governments, and civil society to reverse ecosystem degradation.


Cost of stabilizing climate 0.1% per year


(05/04/2007) The Intergovernmental Panel on Climate Change (IPCC) released its long awaiting installment on climate change mitigation, arguing that the costs of offsetting global warming will be much lower than some claim. The IPCC estimates that emissions can be reduced rapidly using existing technology at a cost of 3 percent of GDP, or 0.12 percent per year over the next 25 years, though new technologies could further reduce this cost. While the projections are encouraging, they may be conservative. Some analysts, including the well-respected Amory Lovins of the Rocky Mountain Institute, have calculated that emissions targets that would stabilize the climate could be achieved at no net cost and possibly even a profit. Even McKinsey & Company, a leading management consulting firm, agrees, putting the net cost of reducing emissions by 46 percent at zero.


Cleantech investment booms, but energy tech bubble looms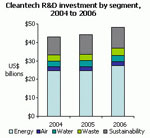 (04/30/2007) Investors are pouring money into clean technology, with spending on R&D rising to $48 billion in 2006, up 9% from 2005, reports a new study by Lux Research, an emerging technology research and advisory firm. However, the report warns that the energy technology sector is showing signs of a bubble, with initial public offering (IPO) values and venture capital deployments more than doubling last year.


Tradable biodiversity rights can help to conserve species richness

(03/02/2007) The decline in biodiversity compels us to look at the sustainable use of living resources in a different manner. To conserve biodiversity, the social and economic aspects of the use of biodiversity must be taken into account, in addition to the ecological aspects. From this perspective it then becomes clear, for example, that the portion of the world population that lives in poverty is incapable of contributing to the conservation of biodiversity. In their daily search for food, energy and shelter, they simply cannot pay attention to this aspect. Professor Steven De Bie made this point during his acceptance of the endowed chair in the Sustainable Use of Living Resources on 1 March at Wageningen University. To compensate for this decline in biodiversity in the poorer regions, De Bie proposes establishing tradable 'biodiversity rights'.


Human ecological footprint to grow 34% by 2015 finds study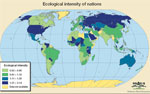 (02/08/2007) Population size and affluence are driving environmental degradation according to a new study published in the current edition of the journal Frontiers in Ecology. The authors say other widely cited drivers of environmental stress -- urbanization, economic structure, age distribution -- actually have relatively little impact.


American industry jumps on global warming bandwagon

(01/23/2007) On the eve of President Bush's State of the Union address, American industry is fast-jumping on the global warming bandwagon, according to an article in today's issue of The Wall Street Journal. Yesterday the CEOs of 10 major corporations asked Congress to implement binding limits on greenhouse gases this year, arguing that voluntary efforts to fight climate change are inadequate.


Global warming cap to cost U.S. 0.26% of GDP says Energy Department

(01/23/2007) A proposed cap-and-trade system to curb U.S. greenhouse-gas emissions will cost the U.S. economy 0.26 percent of annual GDP according to a new study by the Department of Energy's Energy Information Agency (EIA). The EIA says that the plan would lead to higher energy prices inlcuding a 5 percent rise in the price of gasoline, an 8 percent climb in the price of heating-oil an 11 percent increase in the price of natural gas and electricity.


Does green investing pay as well as conventional investing?

(12/18/2006) Socially responsible investing is now a major Wall Street trend. But the real question is this: Can you make as much dough when you're being virtuous?


Shift toward toward service-based economy won't end global warming

(11/02/2006) The shift toward a service-based economy won't automatically reduce the amount of greenhouse gases in the air, a University of Minnesota researcher has found. His research contradicts assumptions about global warming often preferred by some economists and national policy experts.


Avoided deforestation could send $38 billion to third world under global warming pact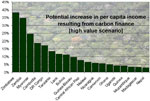 (11/01/2006) Avoided deforestation will be a hot point of discussion at next week's climate meeting in Nairobi, Kenya. Already a coalition of 15 rainforest nations have proposed a plan whereby industrialized nations would pay them to protect their forests to offset greenhouse gas emissions. Meanwhile, last month Brazil -- which has the world's largest extent of tropical rainforests and the world's highest rate of forest loss -- said it promote a similar initiative at the talks. At stake: potentially billions of dollars for developing countries. When trees are cut greenhouse gases are released into the atmosphere -- roughly 20 percent of annual emissions of such heat-trapping gases result from deforestation and forest degradation. Avoided deforestation is the concept where countries are paid to prevent deforestation that would otherwise occur. Policymakers and environmentalists alike find the idea attractive because it could help fight climate change at a low cost while improving living standards for some of the world's poorest people and preserving biodiversity and other ecosystem services. A number of prominent conservation biologists and development agencies including the World Bank and the U.N. have already endorsed the idea.


Animal pollinators responsible for 35 percent of world food crop

(10/25/2006) A new study calculates that 35 percent of the world's crop production is dependent on pollinators, like bats, bees, and birds. The research suggests that biodiversity loss could directly impact global food crops.


World Bank says carbon trading will save rainforests

(10/24/2006) Monday the World Bank endorsed carbon trading as a way to save tropical rainforests which are increasingly threatened by logging, agricultural development, subsistence agriculture, and climate change itself. The World Bank report comes on the heels of a proposal by a coalition of developing countries to seek compensation from industrialized countries for conserving their rainforests to fight global warming. Brazil is expected to announce a similar plan at upcoming climate talks in Nairobi.


Brazil proposes compensation plan for rainforest conservation

(10/16/2006) Last month Brazil proposed the establishment of a fund to compensate developing countries that reduce deforestation, a move that follows a similar initiative by a coalition of developing countries led by Papua New Guinea and Costa Rica. The scheme could help cut greenhouse gas emissions that result from forest clearing and conversion. Deforestation currently is responsible for 20-25 percent of such heat-trapping emissions.


Unchecked global warming will cost trillions says report

(10/14/2006) A new Friends of the Earth-backed report by economists at Tufts University's Global Development and Environment Institute says that global warming could cost trillions of dollars should temperature increases exceed two degrees centigrade (3.6 degrees Fahrenheit)


Insurance industry needs to do more to fight global warming

(10/13/2006) The insurance industry needs to do more to address the growing impact of climate-change induced damaged according to a report issued this week by insurance giant Allianz and environmental group WWF.


Shell estimates cost of fighting climate change at 0.3% GDP

(10/13/2006) A new report by Shell Oil estimates that the cost of fighting climate change in the Britain by 2010 would be equivalent to just 0.3 percent of GDP. The report also says that the effort to address climate change could be worth £30bn ($56 billion) to businesses in the UK.


Privatize the Amazon rainforest says UK minister

(10/02/2006) At a summit this week in Mexico, David Miliband, Britain's Environment Secretary, will propose a plan to "privatize" the Amazon to allow the world's largest rainforest to be bought by individuals and groups, according to a report in the Telegraph newspaper online. The scheme, which has been endorsed by Prime Minister Tony Blair, would seek to protect the region's biodiversity while mitigating greenhouse gas emissions to fight global warming.


Boreal forests worth $250 billion per year worldwide

(09/25/2006) Boreal forests provide services worth $250 billion per year globally according to estimates by Canadian researchers. Mark Anielski, an Edmonton economist, says that environmental services from the boreal -- including carbon capture and storage, water filtration and waste treatment, biodiversity maintenance, and pest control -- are worth about $160 per hectare, or $93 billion per year in Canada alone.


Global Warming to Have Significant Impact on California

(07/31/2006) A new report from the state of California warns that climate change could have a significant impact on the state's economy and the health of its residents. The release of the report comes on the day that British Prime Minister Tony Blair and California governor Arnold Schwarzenegger signed a climate pact agreeing to reduce greenhouse gas emissions.


Arguing climate change to an energy executive

(07/25/2006) Earlier this month I had the opportunity to make a pitch to "Mike," a top executive of a major energy company, about climate change and green energy. Mike said he didn't believe humans are influencing climate or that green energy is a key factor in the future business of his firm, "EnergyCo." I tried to persuade him otherwise, not by focusing on the science of climate change but on economics and market opportunities. It's not that science isn't important--I just didn't want to get caught up in an argument about core beliefs, which is akin to arguing over religion.


Pine plantations may be contributing to global warming

(07/24/2006) The increasing number of pine plantations in the southern United States could contribute to a rise in carbon dioxide levels in the atmosphere, a new study reports. This is important because carbon dioxide is a key greenhouse gas, one that is linked to global warming. Landowners in the South are turning stands of hardwood and natural pine trees into pine plantations because pine is a more lucrative source of lumber. But pine plantations don't retain carbon as well as hardwood or natural pine forests, said Brent Sohngen, a study co-author and an associate professor of agricultural, environmental and development economics at Ohio State University.


Tropical Asia needs to act to save biodiversity, say scientists

(07/22/2006) A group of scientists urged governments of tropical Asia to take steps to stem biodiversity loss across the region. At the annual meeting for the Association for Tropical Biology and conservation, hosted at the Tropical Botanical Garden (XTBG) of the Chinese Academy of Sciences in the Yunnan province of China, scientists said that population growth and booming economic expansion are fueling illegal logging, wildlife poaching, and habitat destruction. The scientists noted that populations of elephants, rhinoceroses, tigers, sun bears, orangutans, and other species unique to tropical Asia have fallen significantly in recent years as a result of these activities.


Bicycle riders worse for the environment than car drivers?

(07/22/2006) A new paper argues that bicycling may be more damaging to the environment than driving a car, but not for the reason you might think. Karl T. Ulrich, a professor at the Wharton School of the Business at the University of Pennsylvania, argues that there are environmental costs associated with increased longevity of those who engage in physical activity. Ulrich reasons that because cyclers live longer they will produce more carbon emissions over the course of their extended life.


Economists ignoring threat of climate change says Royal Society

(07/20/2006) Economists need to play "a bigger and more constructive role in dealing with the threat of climate change" said Martin Rees, president of the Royal Society, the academy of sciences of the United Kingdom.


United States economy becomes more carbon efficient

(06/21/2006) The state of Nevada had the largest increase in carbon emissions between 1990 and 2001 according to mongabay.com's analysis of figures released by the Energy Information Administration. Carbon dioxide emissions climbed 47 percent during the period, while the state's economy grew by 85 percent and its population increased by 73 percent. The figures show that Nevada, like the rest of the United States, is becoming getting more out of its carbon dioxide emissions than it did in 1990. Overall the United States was about 20 percent more carbon dioxide efficient in 2001 than in 1990, with each metric ton of carbon dioxide generating from $1,614 to 1,724 worth of gross domestic product.


Venture Capitalists, China and Green Technology

(05/24/2006) A Bay Area venture capitalist with a storied past, has set his sights on "green technology" and ultimately China, after some compelling remarks from state representatives at a recent conference. Early this spring, Chinese officials named solar and clean coal technologies as two of their three pre-eminent priorities for investment and development in the near future. For a country with burgeoning energy needs surpassing what power is presently available, this is both realistic and positive news for environmentalists and economists alike. Hoping to capitalize, John Doerr and his associates are now funneling cash into the emergent green technology sector, which he, and an increasing number of other investors believe to be the next big thing.


US has low-cost alternatives to oil; peak oil frenzy and human-induced climate change avoidable says Columbia University

(05/14/2006) Surging oil prices have fueled calls for the United States to develop new sources of affordable and secure domestic energy. While renewable energy -- especially biofuels, wind power, and solar technologies -- is an area of particular interest, researchers from the Earth Institute at Columbia University say that the U.S. already has relatively low-cost alternatives to imported oil, including coal, tar sands, and oil shale. These resources can be extracted and used at a lower cost to the environment than some might expect. In a report published in the most recent issue of Brookings Papers on Economic Activity, Klaus S. Lackner and Jeffrey D. Sachs argue that "coal alone could satisfy the country's energy needs of the twenty-first century." They say that "coal liquefaction, or the process of deriving liquid fuels from coal, is already being used in places and with expanded infrastructure could provide gasoline, diesel fuel and jet fuel at levels well below current prices." Further, Sachs and Lackner suggest that "environmental constraints such as increased carbon dioxide emissions arising from greater use of coal and other fossil fuels could be avoided for less than 1 percent of gross world product by 2050," a sum far less than others have estimated.


Carbon prices tumble 65 percent

(05/04/2006) Carbon prices tumbled 65 percent as a number of European countries announced lower than expected carbon emissions in 2005, suggesting there will be a surplus of pollution-permitting carbon credits. Several important conservation initiatives are based on the concept of a market where industrialized countries buy carbon emissions credits from developing nations in exchange for forest protection


Monkeys indicate economic decision-making may be innate

(05/03/2006) New research out of Yale University argues that monkeys and humans exhibit similar economic biases, suggesting that economic decision-making have deeper roots that many economists suspect. The Yale researchers found that monkeys conducting business-like activities - including trading and gambling - behave in ways that closely mirror human behvaioral inclinations.


Why is palm oil replacing tropical rainforests?

(04/25/2006) In a word, economics, though deeper analysis of a proposal in Indonesia suggests that oil palm development might be a cover for something more lucrative: logging. Recently much has been made about the conversion of Asia's biodiverse rainforests for oil-palm cultivation. Environmental organizations have warned that by eating foods that use palm oil as an ingredient, Western consumers are directly fueling the destruction of orangutan habitat and sensitive ecosystems. So, why is it that oil-palm plantations now cover millions of hectares across Malaysia, Indonesia, and Thailand? Why has oil palm become the world's number one fruit crop, trouncing its nearest competitor, the humble banana? The answer lies in the crop's unparalleled productivity. Simply put, oil palm is the most productive oil seed in the world. A single hectare of oil palm may yield 5,000 kilograms of crude oil, or nearly 6,000 liters of crude.


Recent Coral Bleaching at Great Barrier Reef

(04/05/2006) An international team of scientists are working at a rapid pace to study environmental conditions behind the fast-acting and widespread coral bleaching currently plaguing Australia's Great Barrier Reef. NASA's satellite data supply scientists with near-real-time sea surface temperature and ocean color data to give them faster than ever insight into the impact coral bleaching can have on global ecology. Australia's Great Barrier Reef is a massive marine habitat system made up of 2,900 reefs spanning over 600 continental islands. Though coral reefs exist around the globe, researchers actually consider this network of reefs to be the center of the world's marine biodiversity, playing a critical role in human welfare, climate, and economics. Coral reefs are a multi-million dollar recreational destinations, and the Great Barrier Reef is an important part of Australia's economy.


Insects worth $57 billion to US economy

(04/01/2006) A new study says insects are worth at least $57 billion to the American economy. In the April 2006 issue of BioScience, John E. Losey of Cornell University and Mace Vaughan of the Xerces Society for Invertebrate conservation estimate the value of ecological services provided by insects. Looking at just four services--dung burial, control of crop pests, pollination, and wildlife nutrition--Losey and Vaughan calculate that the annual value of insects in these roles is at least $57 billion in the United States.


Slowing global warming may be less costly than initially thought

(03/09/2006) Preventing carbon dioxide levels from rising to potentially dangerous levels could cost less far less than originally projected--less 1 percent of gross world product as of 2050--but a major shift in the way energy is found, transformed, transported and used will be necessary to prevent a severe energy crisis within the next century, say researchers from the The Earth Institute.


Medicinal value of chocolate explored by scientists

(02/09/2006) The cocoa plant (Theobroma cacao) holds tremendous potential to impact public health and improve the socioeconomic and ecological landscape of the countries where it's grown, according to leading world scientists who convened at the National Academies today to examine the latest scientific advances in cocoa research.


Coral reefs and mangroves have high economic value

(01/24/2006) Protecting coral reefs and mangrove forests makes economic sense according to a new report by the United Nations Environment Programme (UNEP). The report argues that conserving these ecosystems for the services they provide--from fisheries protection to erosion control to a source for medical compounds--is cost-effective relative to destroying them and substituting their role with man-made structures.


China and India Key to Ecological Future of the World, Says Report

(01/12/2006) Earth lacks the energy, arable land and water to enable the fast-growing economies of China and India to attain Western levels of resource consumption according to a new report released by the Worldwatch Institute .


2005 had worst weather-related economic losses in history

(12/07/2005) This year witnessed the largest financial losses ever as a result of weather-related natural disasters linked by many to human action, more than $200 billion compared to $145 billion in 2004, the previous record, according to statistics presented to the United Nations Climate Change Conference currently meeting in Montreal, Canada.



Page 1 | Page 2 | Page 3 | Page 4 | Page 5 | Page 6 | Page 7 | Page 8 | Page 9