News articles on economics

---
Mongabay.com news articles on economics in blog format. Updated regularly.





REDD will fail if needs of forest communities aren't addressed

(12/07/2007) Initiatives to reduce emissions by reducing tropical deforestation (REDD) will fail unless policymakers adequately address the underlying drivers of forest degradation and destruction, argues a new report published by the Center for International Forestry Research (CIFOR).


Merrill Lynch announces carbon credits-for-forest conservation partnership

(12/06/2007) Merrill Lynch is working with Carbon conservation, an ecosystem services firms, to explore opportunities in avoided deforestation and integrated sustainable land management. The partnership was announced Thursday in Bali, Indonesia, where more than 10,000 policymakers, scientists, and activists are meeting to discuss a post-Kyoto framework on limiting climate change.


conservation promotes larger fish stocks and higher profits for fishermen

(12/06/2007) Using conservation techniques can promote larger fish stocks and higher profits for fishermen, reports a study published in the journal Science. The research suggests that industry opposition to lower catches in the short term, may be misguided.


Rare gorillas use weapons to attack forest-intruding humans

(12/05/2007) Following the first documented cases of the Cross River gorillas -- world's most endangered gorilla -- throwing sticks and clumps of grass when threatened by people, the Wildlife conservation Society (WCS) has announced new research to better protect the species from poaching and encroachment.


Tropical forests face huge threat from industrial agriculture

(12/05/2007) With forest conversion for large-scale agriculture rapidly emerging as a leading driver of tropical deforestation, a new report from the Woods Hole Research Center (WHRC) suggests the trend is likely to continue with Brazil, the Democratic Republic of the Congo, Indonesia, Peru, and Colombia containing 75 percent of the world's forested land that is highly suitable for industrial agriculture expansion. Nevertheless the study identifies forests that may be best suited (low population density, unsuitable climate and soils) for "Reduced Emissions from Deforestation and Degradation" (REDD) initiatives which compensate countries for preserving forest lands in exchange for carbon credits.


Returns from carbon offsets could beat palm oil in Congo DRC

(12/04/2007) A proposal to pay the Democratic of Congo (DRC) for reducing deforestation could add 15-50 percent to the amount of international aid given to the warn-torn country, reports a new study published by scientists at the Woods Hole Research Center (WHRC). The funds would help alleviate rural poverty while cutting emissions of greenhouse gases and protecting threatened biodiversity.


Amazon deforestation could be eliminated with carbon priced at $3

(12/04/2007) The Amazon rainforest could play a major part in reducing greenhouse gas emissions that result from deforestation, reports a new study published by scientists at the Woods Hole Research Center, the Instituto de Pesquisa Ambiental da Amazônia, and the Universidade Federal de Minas Gerais. At a carbon price of $3 per ton, protecting the Amazon for its carbon value could outweigh the opportunity costs of forgoing logging, cattle ranching, and soy expansion in the region. 2008 certified emission-reduction credits for carbon currently trade at more than $90 per ton ($25 per ton of CO2).


Could the carbon market save the Amazon rainforest?

(11/29/2007) The global carbon market could play a key role in saving the Amazon from the effects of climate change and economic development, which could otherwise trigger dramatic ecological changes, reports a new paper published in Science. The authors argue that a well-articulated plan, financed by carbon markets, could prevent the worst outcomes for the Amazon forest while generating economic benefits for the region's inhabitants.


U.S. wildlife refuges generate 4x return on investment

(11/28/2007) National wildlife refuges generate about $4 in economic activity for every $1 the government spends, according to a study released by the U.S. Fish and Wildlife Service Tuesday.


Can wildlife conservation banking generate investment returns?

(11/27/2007) A commercial venture in the Malaysian rainforest will seek to generate competitive returns on investment by protecting wildlife. The scheme -- signed by the Sabah government and Sydney-based New Forests Pty Ltd -- will establish a wildlife habitat conservation bank to manage the 34,000 ha Malua Forest Reserve on the island of Borneo.


Dutch bank arranges carbon-conservation deal in the Amazon rainforest

(11/27/2007) Dutch bank Rabobank will launch the first-ever carbon credits project in the Xingu region of the Brazilian Amazon, reports The Financial Times.


Is the oil-palm industry using global warming to mislead the public?

(11/23/2007) Members of the Indonesian Palm Oil Commission are distributing materials that misrepresent the carbon balance of oil-palm plantations, according to accounts from people who have seen presentations by commission members. These officials are apparently arguing that oil-palm plantations store and sequester many times the amount of CO2 as natural forests, and therefore that converting forests for plantations is the best way to fight climate change. In making such claims, these Indonesian representatives evidently are ignoring data that show the opposite, putting the credibility of the oil-palm industry at risk, and undermining efforts to slow deforestation and rein in greenhouse gas emissions.


Oil palm does not store more carbon than forests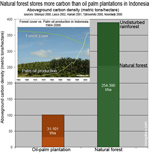 (11/08/2007) Officials from the Indonesian ministry of agriculture and the palm oil industry are distributing materials that misrepresent the carbon balance oil palm plantations, according to accounts from people who have seen presentations by members of the Indonesian Palm Oil Commission. Ministry of agricultural officials are apparently arguing that oil palm plantations store and sequester many times the amount of CO2 as natural forests and therefore converting forests for plantations is the best way to fight climate change. In making such claims, these Indonesian officials are ignoring data that show the opposite, putting the credibility of the oil palm industry at risk, and undermining efforts to slow deforestation and reign in greenhouse gas emissions.


Climate change will impact U.S. economy

(10/16/2007) Climate change will have a significant economic impact on the United States, reports a new study published by researchers from the University of Maryland. The report, The U.S. Economic Impacts of Climate Change and the Costs of Inaction, aggregates and analyzes previous economic research in order to develop a better estimate of the costs of climate change.


World Bank offers $300M for forest conservation, emissions reductions

(10/15/2007) Tropical forest countries will be eligible for payments for preventing deforestation under a program unveiled last week by the World Bank.


Carbon for forests will help Aceh recover from war, tsunami

(09/18/2007) Carbon credits through forest conservation will play an important role in Aceh's recovery from decades of civil war and the devastating 2004 tsunami, which left more than 167,000 people dead and 500,000 homeless in the Indonesia province, said Aceh governor Irwandi Jusuf in meeting in San Francisco.


Do Costa Rica's payments for environmental services work?

(09/17/2007) While Costa Rica is now known as a world leader for conservation policies and ecotourism, the Central American country had some of the world's highest deforestation rates prior to establishing its reputation. Clearing for cattle pasture and agriculture destroyed much of the country's biodiverse rainforests in the 1960s and 1970s.


Carbon tax, not subsidies, will spur nuclear power

(09/09/2007) A U.S. carbon tax, not government subsidies, should be used to spur investment in nuclear power, says The Economist.


Can remittances and globalization help the environment?

(09/05/2007) Globalization and other economic trends appear to be helping the degraded forests of El Salvador recover, reports new research that evaluated the impact of global trade, land policy changes, and remittances on forest cover. The study, by Susanna B. Hecht of University of California at Los Angeles and Sassan S. Saatchi of the California Institute of Technology, used socioeconomic data, land-use surveys, and satellite imagery to document significant increases in the area of El Salvador covered by both light woodlands and forest since peace accords were signed in the warn-torn country in 1992.


Is peat swamp worth more than palm oil plantations?

(07/16/2007) Could peat swamp be worth more intact for their carbon value than palm oil plantations for their oil? Quick analysis suggests yes, though binding limits on emissions will be needed to trigger the largest ever flow of money from the industrialized world to developing countries. At stake: the bulk of the world's biodiversity.


Procter & Gamble looks to poor markets for growth

(07/15/2007) Procter & Gamble Co. is aggressively expanding into "bottom of the pyramid" markets in an effort to grow sales, reports Monday's edition of The Wall Street Journal. The consumer products giant is formulating products specifically for some of the world's poorest people.


Indonesia's peat swamps worth $39B/year

(07/11/2007) Indonesia's peat swamps are worth $39 billion in carbon credits per year, according to rough calculations by Bloomberg.


First U.S. test of ecological services payment underway

(06/27/2007) Farmers in Jamestown, R.I., are being paid by local residents to delay haying their fields until after birds have completed nesting in a unique test to establish investment markets for ecological services.


Industrialized countries outsource CO2 emissions to China

(06/22/2007) Facing criticism as it surpasses the U.S. as the world's largest producer of carbon dioxide, China says that industrialized countries are hypocritical for criticizing its greenhouse gas emissions while buying its products, according to the Associated Press. China argues that developed countries are effectively outsourcing emissions by shifting manufacturing to its factories.


$100 billion invested in renewable energy in 2006

(06/20/2007) $100 billion poured into renewable energy and energy efficiency in 2006, a 25 percent jump from 2005, reports a new analysis by the UN Environment Programme (UNEP).


Nobel prize winner debates future of nuclear power

(06/07/2007) Two renowned energy experts sparred in a debate over nuclear energy Wednesday afternoon at Stanford University. Amory Lovins, Chairman and Chief Scientist of the Rocky Mountain Institute, an energy think tank, argued that energy efficiency and alternative energy sources will send nuclear power the way of the dinosaurs in the near future. Dr. Burton Richter, winner of the 1976 Nobel Prize in physics, said that nuclear would play an important part of the future energy portfolio needed to cut carbon emissions to fight global warming.


Can cattle ranchers and soy farmers save the Amazon?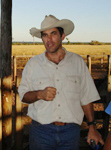 (06/06/2007) John Cain Carter, a Texas rancher who moved to the heart of the Amazon 11 years ago and founded what is perhaps the most innovative organization working in the Amazon, Alianca da Terra, believes the only way to save the Amazon is through the market. Carter says that by giving producers incentives to reduce their impact on the forest, the market can succeed where conservation efforts have failed. What is most remarkable about Alianca's system is that it has the potential to be applied to any commodity anywhere in the world. That means palm oil in Borneo could be certified just as easily as sugar cane in Brazil or sheep in New Zealand. By addressing the supply chain, tracing agricultural products back to the specific fields where they were produced, the system offers perhaps the best market-based solution to combating deforestation. Combining these approaches with large-scale land conservation and scientific research offers what may be the best hope for saving the Amazon.


Globalization could save the Amazon rainforest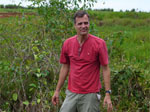 (06/03/2007) The Amazon basin is home to the world's largest rainforest, an ecosystem that supports perhaps 30 percent of the world's terrestrial species, stores vast amounts of carbon, and exerts considerable influence on global weather patterns and climate. Few would dispute that it is one of the planet's most important landscapes. Despite its scale, the Amazon is also one of the fastest changing ecosystems, largely as a result of human activities, including deforestation, forest fires, and, increasingly, climate change. Few people understand these impacts better than Dr. Daniel Nepstad, one of the world's foremost experts on the Amazon rainforest. Now head of the Woods Hole Research Center's Amazon program in Belem, Brazil, Nepstad has spent more than 23 years in the Amazon, studying subjects ranging from forest fires and forest management policy to sustainable development. Nepstad says the Amazon is presently at a point unlike any he's ever seen, one where there are unparalleled risks and opportunities. While he's hopeful about some of the trends, he knows the Amazon faces difficult and immediate challenges.


HSBC invests $100M in global warming research

(05/30/2007) HSBC announced Wednesday it would spend $100 million on climate change research. The investment, which will go to the Climate Group, Earthwatch Institute, Smithsonian Tropical Research Institute (STRI) and WWF over a five year period, is the largest donation ever made by a British company.


HSBC puts $100 towards global warming research

(05/30/2007) HSBC announced Wednesday it would spend $100 million on climate change research. The investment, which will go to the Climate Group, Earthwatch Institute, Smithsonian Tropical Research Institute (STRI) and WWF over a five year period, is the largest donation ever made by a British company.


Extortion or global warming mitigation?

(05/24/2007) Marketwatch reported more details on Ecuador's proposal to forgo development of Amazonian oil fields in exchange for payments from industrialized nations. Last month Ecuadorian President Rafael Correa said that if the South American country is compensated with half of the forecasted lost revenues, it will not exploit oil in Yasuni National Park, setting aside the area for wildlife and indigenous people. Correa said the cost would be about $350 million per year.


Plan to bring lions, elephants to U.S. excludes Africans


(05/22/2007) Writing in the June 2007 Scientific American one of the scientists who helped put forth a radical proposal to reintroduce historical megafauna -- including camels, cheetah, elephants, and lions -- revisits the scheme, reviewing its basic points and refuting some of the criticism the plan received from the general public and other conservation biologists.


CO2 emissions growth surges as global energy efficiency falls

(05/21/2007) Worldwide growth in carbon dioxide emissions has doubled since the close of the 1990s, reports a study published in the early on-line edition of the Proceedings of the National Academy of Sciences. The findings suggest that the global economy is more dependent on fossil fuels than ever before, with carbon intensity--the amount of carbon needed to produce a unit of economic output--decreasing after a period of increases.


High corn price mean pigs eat candy bars, french fries

(05/20/2007) Near record high prices for corn mean that farmers are feeding their pigs people food according to an article in The Wall Street Journal.


Improving energy efficiency will require overcoming market distortions

(05/20/2007) In a new study, McKinsey&Company, one the world's most respected management consulting firms, reports that the world should be able to cut energy demand growth by half over the next 15 years without compromising economic growth. However it says that market forces along will not drive the transition--targeted policies will be needed to overcome present market failures and policy distortions.


Citigroup commits $50 billion to fight global warming

(05/13/2007) Citigroup said last week that it plans to spend $50 billion towards mitigating climate change, mostly through investments in clean energy and 'alternative technology' over the next 10 years.


Ecosystems are capital assets argues report

(05/07/2007) Global ecosystems should be treated as capital assets argues a new report released today by the World Resources Institute (WRI). The new WRI report examines trends revealed in the 2005 Millennium Ecosystem Assessment (MA) by the U.N. and puts forth an agenda for business, governments, and civil society to reverse ecosystem degradation.


Cost of stabilizing climate 0.1% per year


(05/04/2007) The Intergovernmental Panel on Climate Change (IPCC) released its long awaiting installment on climate change mitigation, arguing that the costs of offsetting global warming will be much lower than some claim. The IPCC estimates that emissions can be reduced rapidly using existing technology at a cost of 3 percent of GDP, or 0.12 percent per year over the next 25 years, though new technologies could further reduce this cost. While the projections are encouraging, they may be conservative. Some analysts, including the well-respected Amory Lovins of the Rocky Mountain Institute, have calculated that emissions targets that would stabilize the climate could be achieved at no net cost and possibly even a profit. Even McKinsey & Company, a leading management consulting firm, agrees, putting the net cost of reducing emissions by 46 percent at zero.


Cleantech investment booms, but energy tech bubble looms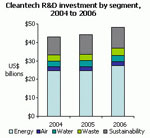 (04/30/2007) Investors are pouring money into clean technology, with spending on R&D rising to $48 billion in 2006, up 9% from 2005, reports a new study by Lux Research, an emerging technology research and advisory firm. However, the report warns that the energy technology sector is showing signs of a bubble, with initial public offering (IPO) values and venture capital deployments more than doubling last year.


Tradable biodiversity rights can help to conserve species richness

(03/02/2007) The decline in biodiversity compels us to look at the sustainable use of living resources in a different manner. To conserve biodiversity, the social and economic aspects of the use of biodiversity must be taken into account, in addition to the ecological aspects. From this perspective it then becomes clear, for example, that the portion of the world population that lives in poverty is incapable of contributing to the conservation of biodiversity. In their daily search for food, energy and shelter, they simply cannot pay attention to this aspect. Professor Steven De Bie made this point during his acceptance of the endowed chair in the Sustainable Use of Living Resources on 1 March at Wageningen University. To compensate for this decline in biodiversity in the poorer regions, De Bie proposes establishing tradable 'biodiversity rights'.


Human ecological footprint to grow 34% by 2015 finds study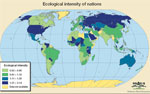 (02/08/2007) Population size and affluence are driving environmental degradation according to a new study published in the current edition of the journal Frontiers in Ecology. The authors say other widely cited drivers of environmental stress -- urbanization, economic structure, age distribution -- actually have relatively little impact.


Global warming cap to cost U.S. 0.26% of GDP says Energy Department

(01/23/2007) A proposed cap-and-trade system to curb U.S. greenhouse-gas emissions will cost the U.S. economy 0.26 percent of annual GDP according to a new study by the Department of Energy's Energy Information Agency (EIA). The EIA says that the plan would lead to higher energy prices inlcuding a 5 percent rise in the price of gasoline, an 8 percent climb in the price of heating-oil an 11 percent increase in the price of natural gas and electricity.


American industry jumps on global warming bandwagon

(01/23/2007) On the eve of President Bush's State of the Union address, American industry is fast-jumping on the global warming bandwagon, according to an article in today's issue of The Wall Street Journal. Yesterday the CEOs of 10 major corporations asked Congress to implement binding limits on greenhouse gases this year, arguing that voluntary efforts to fight climate change are inadequate.


Does green investing pay as well as conventional investing?

(12/18/2006) Socially responsible investing is now a major Wall Street trend. But the real question is this: Can you make as much dough when you're being virtuous?


Shift toward toward service-based economy won't end global warming

(11/02/2006) The shift toward a service-based economy won't automatically reduce the amount of greenhouse gases in the air, a University of Minnesota researcher has found. His research contradicts assumptions about global warming often preferred by some economists and national policy experts.


Avoided deforestation could send $38 billion to third world under global warming pact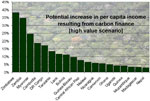 (11/01/2006) Avoided deforestation will be a hot point of discussion at next week's climate meeting in Nairobi, Kenya. Already a coalition of 15 rainforest nations have proposed a plan whereby industrialized nations would pay them to protect their forests to offset greenhouse gas emissions. Meanwhile, last month Brazil -- which has the world's largest extent of tropical rainforests and the world's highest rate of forest loss -- said it promote a similar initiative at the talks. At stake: potentially billions of dollars for developing countries. When trees are cut greenhouse gases are released into the atmosphere -- roughly 20 percent of annual emissions of such heat-trapping gases result from deforestation and forest degradation. Avoided deforestation is the concept where countries are paid to prevent deforestation that would otherwise occur. Policymakers and environmentalists alike find the idea attractive because it could help fight climate change at a low cost while improving living standards for some of the world's poorest people and preserving biodiversity and other ecosystem services. A number of prominent conservation biologists and development agencies including the World Bank and the U.N. have already endorsed the idea.


Animal pollinators responsible for 35 percent of world food crop

(10/25/2006) A new study calculates that 35 percent of the world's crop production is dependent on pollinators, like bats, bees, and birds. The research suggests that biodiversity loss could directly impact global food crops.


World Bank says carbon trading will save rainforests

(10/24/2006) Monday the World Bank endorsed carbon trading as a way to save tropical rainforests which are increasingly threatened by logging, agricultural development, subsistence agriculture, and climate change itself. The World Bank report comes on the heels of a proposal by a coalition of developing countries to seek compensation from industrialized countries for conserving their rainforests to fight global warming. Brazil is expected to announce a similar plan at upcoming climate talks in Nairobi.


Brazil proposes compensation plan for rainforest conservation

(10/16/2006) Last month Brazil proposed the establishment of a fund to compensate developing countries that reduce deforestation, a move that follows a similar initiative by a coalition of developing countries led by Papua New Guinea and Costa Rica. The scheme could help cut greenhouse gas emissions that result from forest clearing and conversion. Deforestation currently is responsible for 20-25 percent of such heat-trapping emissions.


Unchecked global warming will cost trillions says report

(10/14/2006) A new Friends of the Earth-backed report by economists at Tufts University's Global Development and Environment Institute says that global warming could cost trillions of dollars should temperature increases exceed two degrees centigrade (3.6 degrees Fahrenheit)



Page 1 | Page 2 | Page 3 | Page 4 | Page 5 | Page 6 | Page 7 | Page 8 | Page 9 | Page 10