News articles on economics

---
Mongabay.com news articles on economics in blog format. Updated regularly.





Economic crisis hurts forestry sector, sustainability initiatives

(03/16/2009) The global economic crisis has slowed demand for timber products and may undermine efforts to improve the environmental performance of forestry, reports the U.N. Food and Agriculture Organization (FAO) in its biannual "State of the World's Forests 2009", released today.


Clean energy investment moving too slowly to avoid irreversible climate change

(03/04/2009) Stalled clean energy investment due to the current recession makes severe climate change more likely, according to a new report by analysts with New Energy Finance (NEF).


What does slowing economy mean for rainforest conservation?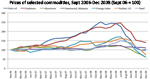 (01/26/2009) Plunging commodity prices may offer a reprieve for the world's beleaguered tropical forests. The global economic downturn has caused demand for many commodities to plummet. The resulting decline in the prices of timber, energy, minerals and agricultural products may do what conservationists have largely failed to achieve in recent years: slow deforestation. Fueled by surging demand from China and other emerging economies, and boosted by the convergence of food and energy markets in response to American and European incentives for biofuels, the worldwide commodity boom over the past few years helped trigger a land rush that precipitated the conversion of natural forests for farms, plantations, and ranches. At the same time, high prices for metals, fossil fuels, and other industrial resources drove a global search for exploitable reserves, many of which lie in tropical forest countries. Now that the bonanza is unwinding, with prices for everything from palm oil to bauxite to crude oil cratering, the incentives to clear forests are retreating. Developers large and small are abandoning projects and forgoing planned expansion around the world.


Climate change is a bigger economic risk than banking crisis

(10/30/2008) Unmitigated climate change will hurt the global economy more than the current banking crisis, said a leading environmental economist.


Geoengineering schemes need ranking system to avoid wasting money, destroying the planet

(10/26/2008) Schemes to alter Earth's climate on a planetary scale should be ranked according to their efficacy, cost, risks and their rate of mitigation, argues a new editorial published in Nature Geoscience. With so-called geoengineering proposals proliferating as concerns over climate change mount, Philip Boyd of New Zealand's NIWA warns that "no geo-engineering proposal has been tested or even subjected to preliminary trials". He says that despite widespread media attention, scientists have yet to even come up with a way to rank geoegineering schemes for their efficacy, cost, associated risk, and timeframe. Thus is it unclear whether ideas like carbon burial, geochemical carbon capture, atmospheric carbon capture, ocean fertilization, cloud manipulation, "space sunshades", or strategically-placed pollution can be effective on a time-scale relevant to humankind, economical, or even safe.


Green New Deal will spark global economy, create jobs

(10/22/2008) A "Global Green New Deal" that focuses the world economy "towards investments in clean technologies and 'natural' infrastructure such as forests and soils is the best bet for real growth, combating climate change and triggering an employment boom," according to a new initiative led by the United Nations Environment Programme (UNEP).


Rich countries driving pollution in poor countries

(10/22/2008) Rich countries are driving pollution in poor countries through mining of raw materials and outsourcing of industrial manufacturing, reports a new report from environmental NGOs Blacksmith and Green Cross Switzerland.


Globalization drives a bubble in Indonesia's seaweed market

(10/21/2008) International demand and rampant speculation drove excess in Indonesia's emergent seaweed market, reports The Wall Street Journal.


Financial crisis could pave way for greener economy inspired by nature

(10/20/2008) Biomimicry — the use of nature to inspire design — could serve as a model for a greener economy that rises out of the ashes of the financial crisis, said experts meeting at a sustainability conference in the San Francisco Bay Area. Speaking at the three-day Bioneers conference in San Rafael, Janine Benyus, a leading voice in the emerging field of biomimicry, said that nature offers lessons that can be applied to build better and more sustainable products and services as well as economic models.


Challenges of starting a green business

(10/20/2008) While green design offers the potential to greatly improve the sustainability of new goods and services without sacrificing performance, developing and bringing such products to market is a challenge, said a panel of innovators from companies using nature as inspiration for new technologies. Speaking at the 2008 Bioneers conference in San Rafael, California, Stephen Dewar of WhalePower, Charles Hamilton of Novomer, and Jay Harman of PAX Scientific told biomimicry expert Jane Benyus that radically new approaches to solving design and engineering problems is often met with skepticism from the existing market.


Company that turns CO2 into eco-friendly plastic gets new CEO

(10/20/2008) Novomer, a firm developing biodegradable plastics using carbon dioxide instead of petroleum as a feedstock, today announced the appointment of Jim Mahoney as its new chief executive officer and the relocation of company headquarters from Ithaca, N.Y. to Boston, Mass.


Continued focus on economic growth will doom the planet say ecologists

(10/15/2008) An economy that focuses on economic growth above all else will lead to "disaster", argues a series of editorials published in this week's issue of New Scientist magazine. Citing the current financial crisis, where governments have signaled their fear of anything that threatens growth by pouring hundreds of billions of dollars into failing banks and financial institutions, a group of economists question the logic of an economic system built on the assumption of growth based on continued exploitation of Earth's finite resources.


Mangroves are key to healthy fisheries, finds study

(07/21/2008) Mangroves serve as a critical nursery for young marine life and therefore play an important role in the health of fisheries and the economic well-being of fishermen, report researchers writing in the early online edition of the Proceedings of the National Academy of Sciences.


Why Europe torpedoed the REDD forests-for-carbon credits initiative

(03/05/2008) Reducing emissions from deforestation and forest degradation (REDD) has been widely lauded as a mechanism that could fund forest conservation and poverty alleviation efforts while fighting climate change. At the December U.N. climate meeting in Bali, delegates agreed to include REDD in future discussions on a new global warming treaty — a move that could eventually lead to the transfer of billions of dollars from industrialized countries to tropical nations for the purpose of slowing greenhouse gas emissions by reducing deforestation rates. conservationists and scientists applauded the decision.


American demand for gas, big cars begins to wane

(03/03/2008) With crude oil today setting an inflation-adjusted record high, the Wall Street Journal reports that Americans are cutting back on gasoline consumption.


Is Guyana's logging deal in its best interests?

(02/21/2008) In January Guyana awarded U.S. timber firm Simon & Shock International a 400,000-hectare (988,400-acre) logging concession near the Brazilian border. Final approval hinges on the completion of an environmental impact survey and a tree inventory. While Simon & Shock International says it plans to conduct selective logging, the firm has not announced whether it will seek Forest Stewardship Council certification, a mark for responsibly-harvested timber. Is there an alternative that can improve the lot for the average Guyanese? There may be. Last fall Guyana's President, Bharrat Jagdeo, hinted at the potential of using the country's forests as a giant carbon offset to counter climate change.


World fertilizer prices surge 200% in 2007, hurting the poor

(02/20/2008) World fertilizer prices surged by more than 200 percent in 2007, as farmers sought to maximize corn production for ethanol, according to the International Center for Soil Fertility and Agricultural Development (IFDC). Poor African farmers were hardest hit by the increase.


Carbon traders, not conservationists, could save Cameroon rainforest

(02/15/2008) The government of Cameroon is looking to lease 830,000 hectares of biodiverse tropical forest to conservationists for an annual sum of $1.6 million. The problem? No conservation groups are interested. Apparently the asking price is too high, according to The Economist.


How much would it cost to end Amazon deforestation?

(01/27/2008) With Brazil last week announcing a significant jump in Amazon deforestation during the second half of 2007, the question emerges, how much would it cost to end the destruction of Earth's largest rainforest?


55% of the Amazon may be lost by 2030

(01/23/2008) Cattle ranching, industrial soy farming, and logging are three of the leading drivers of deforestation in the Brazilian Amazon. As commodity prices continue to rise, driven by surging demand for biofuels and grain for meat production, the economic incentives for developing the Amazon increase. Already the largest exporter of beef and the second largest producer of soy - with the largest expanse of "undeveloped" but arable land of any country - Brazil is well on its way to rivaling the U.S. as the world's agricultural superpower. The trend towards turning the Amazon into a giant breadbasket seems unstoppable. Nevertheless the decision at the U.N. climate talks in Bali to include "Reducing Emissions From Deforestation and Degradation" (REDD) in future climate treaty negotiations may preempt this fate, says Dr. Daniel Nepstad, a scientist at the Woods Hole Research Institute.


Rich countries grow at ecological expense of poor countries

(01/21/2008) The costs of environmental degradation caused by rich countries are disproportionately falling on the world's poorest countries, reports an analysis published in the journal Proceedings of the National Academy of Sciences.


Bali delegates agree to support forests-for-climate (REDD) plan

(12/16/2007) Delegates meeting at the U.N. climate conference in Bali agreed to include forest conservation in future discussions on a new global warming treaty, reports the Associated Press. The move could lead to the transfer of billions of dollars -- in the form of carbon credits -- from industrialized countries to tropical nations for the purpose of slowing greenhouse gas emissions by reducing deforestation rates. Deforestation presently accounts for roughly 20 percent of anthropogenic emissions worldwide.


Bloomberg calls for a carbon tax

(12/13/2007) New York City mayor and potential U.S. presidential candidate Michael Bloomberg said that carbon cap-and-trade schemes are vulnerable to "special interests, corruption, inefficiencies," and should be replaced by straight carbon taxes, reports the Associated Press.


Communities must benefit for forest carbon schemes to be effective

(12/13/2007) Much has been promised by what avoided deforestation carbon credits can do to support forest protection, increase tax revenues, and develop sustainable rural economies in our Zamrud Khatulistiwa or Emerald on the Equator.


U.S. hijacks climate talks, kills rainforest conservation plan

(12/11/2007) The United States again wrought havoc at UN Climate Change talks. In the early morning hours of talks, as diplomats faced exhaustion, the United States pulled the equivalent of a diplomatic nuclear option, scuttling frantic global efforts to save tropical forests.


U.S. contributes $0 to World Bank's new $300m forest carbon fund

(12/11/2007) At U.N. climate talks in Bali, the World Bank officially unveiled its $300 million Forest Carbon Partnership Facility, a scheme that will offer tropical countries carbon offset credits to preserve forests.


10% of global CO2 emissions result from swamp destruction

(12/10/2007) More than 10 percent of annual carbon dioxide emissions result from the degradation and destruction of peat swamps, reports the first comprehensive global assessment on the links between peatland degradation and climate change.


REDD will fail if needs of forest communities aren't addressed

(12/07/2007) Initiatives to reduce emissions by reducing tropical deforestation (REDD) will fail unless policymakers adequately address the underlying drivers of forest degradation and destruction, argues a new report published by the Center for International Forestry Research (CIFOR).


Merrill Lynch announces carbon credits-for-forest conservation partnership

(12/06/2007) Merrill Lynch is working with Carbon conservation, an ecosystem services firms, to explore opportunities in avoided deforestation and integrated sustainable land management. The partnership was announced Thursday in Bali, Indonesia, where more than 10,000 policymakers, scientists, and activists are meeting to discuss a post-Kyoto framework on limiting climate change.


conservation promotes larger fish stocks and higher profits for fishermen

(12/06/2007) Using conservation techniques can promote larger fish stocks and higher profits for fishermen, reports a study published in the journal Science. The research suggests that industry opposition to lower catches in the short term, may be misguided.


Rare gorillas use weapons to attack forest-intruding humans

(12/05/2007) Following the first documented cases of the Cross River gorillas -- world's most endangered gorilla -- throwing sticks and clumps of grass when threatened by people, the Wildlife conservation Society (WCS) has announced new research to better protect the species from poaching and encroachment.


Tropical forests face huge threat from industrial agriculture

(12/05/2007) With forest conversion for large-scale agriculture rapidly emerging as a leading driver of tropical deforestation, a new report from the Woods Hole Research Center (WHRC) suggests the trend is likely to continue with Brazil, the Democratic Republic of the Congo, Indonesia, Peru, and Colombia containing 75 percent of the world's forested land that is highly suitable for industrial agriculture expansion. Nevertheless the study identifies forests that may be best suited (low population density, unsuitable climate and soils) for "Reduced Emissions from Deforestation and Degradation" (REDD) initiatives which compensate countries for preserving forest lands in exchange for carbon credits.


Returns from carbon offsets could beat palm oil in Congo DRC

(12/04/2007) A proposal to pay the Democratic of Congo (DRC) for reducing deforestation could add 15-50 percent to the amount of international aid given to the warn-torn country, reports a new study published by scientists at the Woods Hole Research Center (WHRC). The funds would help alleviate rural poverty while cutting emissions of greenhouse gases and protecting threatened biodiversity.


Amazon deforestation could be eliminated with carbon priced at $3

(12/04/2007) The Amazon rainforest could play a major part in reducing greenhouse gas emissions that result from deforestation, reports a new study published by scientists at the Woods Hole Research Center, the Instituto de Pesquisa Ambiental da Amazônia, and the Universidade Federal de Minas Gerais. At a carbon price of $3 per ton, protecting the Amazon for its carbon value could outweigh the opportunity costs of forgoing logging, cattle ranching, and soy expansion in the region. 2008 certified emission-reduction credits for carbon currently trade at more than $90 per ton ($25 per ton of CO2).


Could the carbon market save the Amazon rainforest?

(11/29/2007) The global carbon market could play a key role in saving the Amazon from the effects of climate change and economic development, which could otherwise trigger dramatic ecological changes, reports a new paper published in Science. The authors argue that a well-articulated plan, financed by carbon markets, could prevent the worst outcomes for the Amazon forest while generating economic benefits for the region's inhabitants.


U.S. wildlife refuges generate 4x return on investment

(11/28/2007) National wildlife refuges generate about $4 in economic activity for every $1 the government spends, according to a study released by the U.S. Fish and Wildlife Service Tuesday.


Can wildlife conservation banking generate investment returns?

(11/27/2007) A commercial venture in the Malaysian rainforest will seek to generate competitive returns on investment by protecting wildlife. The scheme -- signed by the Sabah government and Sydney-based New Forests Pty Ltd -- will establish a wildlife habitat conservation bank to manage the 34,000 ha Malua Forest Reserve on the island of Borneo.


Dutch bank arranges carbon-conservation deal in the Amazon rainforest

(11/27/2007) Dutch bank Rabobank will launch the first-ever carbon credits project in the Xingu region of the Brazilian Amazon, reports The Financial Times.


Is the oil-palm industry using global warming to mislead the public?

(11/23/2007) Members of the Indonesian Palm Oil Commission are distributing materials that misrepresent the carbon balance of oil-palm plantations, according to accounts from people who have seen presentations by commission members. These officials are apparently arguing that oil-palm plantations store and sequester many times the amount of CO2 as natural forests, and therefore that converting forests for plantations is the best way to fight climate change. In making such claims, these Indonesian representatives evidently are ignoring data that show the opposite, putting the credibility of the oil-palm industry at risk, and undermining efforts to slow deforestation and rein in greenhouse gas emissions.


Oil palm does not store more carbon than forests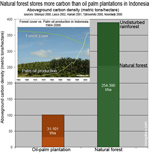 (11/08/2007) Officials from the Indonesian ministry of agriculture and the palm oil industry are distributing materials that misrepresent the carbon balance oil palm plantations, according to accounts from people who have seen presentations by members of the Indonesian Palm Oil Commission. Ministry of agricultural officials are apparently arguing that oil palm plantations store and sequester many times the amount of CO2 as natural forests and therefore converting forests for plantations is the best way to fight climate change. In making such claims, these Indonesian officials are ignoring data that show the opposite, putting the credibility of the oil palm industry at risk, and undermining efforts to slow deforestation and reign in greenhouse gas emissions.


Climate change will impact U.S. economy

(10/16/2007) Climate change will have a significant economic impact on the United States, reports a new study published by researchers from the University of Maryland. The report, The U.S. Economic Impacts of Climate Change and the Costs of Inaction, aggregates and analyzes previous economic research in order to develop a better estimate of the costs of climate change.


World Bank offers $300M for forest conservation, emissions reductions

(10/15/2007) Tropical forest countries will be eligible for payments for preventing deforestation under a program unveiled last week by the World Bank.


Carbon for forests will help Aceh recover from war, tsunami

(09/18/2007) Carbon credits through forest conservation will play an important role in Aceh's recovery from decades of civil war and the devastating 2004 tsunami, which left more than 167,000 people dead and 500,000 homeless in the Indonesia province, said Aceh governor Irwandi Jusuf in meeting in San Francisco.


Do Costa Rica's payments for environmental services work?

(09/17/2007) While Costa Rica is now known as a world leader for conservation policies and ecotourism, the Central American country had some of the world's highest deforestation rates prior to establishing its reputation. Clearing for cattle pasture and agriculture destroyed much of the country's biodiverse rainforests in the 1960s and 1970s.


Carbon tax, not subsidies, will spur nuclear power

(09/09/2007) A U.S. carbon tax, not government subsidies, should be used to spur investment in nuclear power, says The Economist.


Can remittances and globalization help the environment?

(09/05/2007) Globalization and other economic trends appear to be helping the degraded forests of El Salvador recover, reports new research that evaluated the impact of global trade, land policy changes, and remittances on forest cover. The study, by Susanna B. Hecht of University of California at Los Angeles and Sassan S. Saatchi of the California Institute of Technology, used socioeconomic data, land-use surveys, and satellite imagery to document significant increases in the area of El Salvador covered by both light woodlands and forest since peace accords were signed in the warn-torn country in 1992.


Is peat swamp worth more than palm oil plantations?

(07/16/2007) Could peat swamp be worth more intact for their carbon value than palm oil plantations for their oil? Quick analysis suggests yes, though binding limits on emissions will be needed to trigger the largest ever flow of money from the industrialized world to developing countries. At stake: the bulk of the world's biodiversity.


Procter & Gamble looks to poor markets for growth

(07/15/2007) Procter & Gamble Co. is aggressively expanding into "bottom of the pyramid" markets in an effort to grow sales, reports Monday's edition of The Wall Street Journal. The consumer products giant is formulating products specifically for some of the world's poorest people.


Indonesia's peat swamps worth $39B/year

(07/11/2007) Indonesia's peat swamps are worth $39 billion in carbon credits per year, according to rough calculations by Bloomberg.


First U.S. test of ecological services payment underway

(06/27/2007) Farmers in Jamestown, R.I., are being paid by local residents to delay haying their fields until after birds have completed nesting in a unique test to establish investment markets for ecological services.



Page 1 | Page 2 | Page 3 | Page 4 | Page 5 | Page 6 | Page 7 | Page 8 | Page 9