News articles on east africa

---
Mongabay.com news articles on east africa in blog format. Updated regularly.






How a text message could save an elephant or a rhino from a poacher

(01/15/2013) Soon a text message may save an elephant's or rhino's life. The Kenya Wildlife Service (KWS) is implementing a new alarm system in some protected areas that will alert rangers of intruders via a text message, reports the Guardian. Elephants and rhinos have been killed in record numbers across Africa as demand for illegal rhino horns and ivory in Asia has skyrocketed.
Kenya suffers it worst elephant poaching incident yet

(01/08/2013) Over the weekend Kenya suffered its single worst elephant poaching incident when poachers killed an entire family of elephants. In all, eleven elephants were gunned down and had their tusks removed. Among the dead was a two-month-old calf. The elephants were killed in Tsavo East National Park.
Animals of the Masai Mara - book review

(01/06/2013) Animals of the Masai Mara is the first illustrated guidebook to the Masai Mara region along the Kenya and Tanzania border. This is the world famous region of wildebeest migrations, large felines, towering African elephants, fascinating cultures, and great flora and fauna diversity. This is the guidebook for every child, and child inside of us, between the ages of 5 and 105 that has ever dreamt of learning about the fascinating animals seen on a safari in Africa.
Why it's time to ban the ivory trade for good [Graphic images: viewer discretion advised]
(12/12/2012) This week the Kenya Wildlife Service (KWS) announced a 14% decline in elephants in the Samburu/Laikipia ecosystem over the last 4 years. The decline has occurred in a population whose natural growth rate was measured at 5.3% between 2002 and 2008 according to the previous survey, suggesting that over 300 elephants are dying annually in the Samburu and Laikipia's landscape, denting the poster child image of one of Kenya's most important wildlife landscapes. Poaching and drought are the main causes of mortality in this population. The impact of poaching on tourism cannot be ignored, heavily armed bandits threaten more than elephants, if we can't protect elephants how can we protect international tourists? But it's the long term consequence that are of greater concern.
Poaching in Serengeti seems worth the risk

(12/10/2012) Illegal hunting in Tanzania's Greater Serengeti Ecosystem (GSE) remains a prevalent activity for local people, despite government regulation and grassroots movements to prevent it. A new paper from mongabay.com's open-access Tropical Conversation Science examines the factors that drive poachers to continue their activities, despite the high costs involved. By interviewing citizens involved with illegal hunting in the Western part of the Serengeti, they were able to identify key risks that are faced by the hunters as well as the perceived gains of a successful hunt.
New inroads made into bushmeat consumption in Tanzania

(12/10/2012) Bushmeat consumption, or "wildlife hunted for human consumption," poses a significant threat to wildlife conservation all across the globe. But in Eastern Africa—where savannah grasslands flourish and big game roam free within 'protected' reserves—one may be forgiven to think that poaching does not occur here: but it does.
Vanishing corridors: trying to keep big animals on the move across Tanzania
(12/10/2012) One of the biggest challenges for big African wildlife like lions, elephants, and buffalo is movement across native habitat that is increasingly being encroached on by humans. Animals find their movement restricted by roads, fences, and property boundaries which fragment the landscape. Without safe, smart, and well-maintained corridors between designated wildlife areas, animals can get cut off from resources needed for survival and from potential mates (putting genetic health at risk), even while conflicts with humans become more frequent.
Lion population falls 68 percent in 50 years
(12/04/2012) African lions, one of the most iconic species on the planet, are in rapid decline. According to a new study in Biodiversity Conservation, the African lion (Panthera leo leo) population has dropped from around 100,000 animals just fifty years ago to as few as 32,000 today. The study, which used high resolution satellite imagery to study savannah ecosystems across Africa, also found that lion habitat had plunged by 75 percent.
Wolves, mole rats, and nyala: the struggle to conserve Ethiopia's highlands
(11/20/2012) There is a place in the world where wolves live almost entirely off mountain rodents, lions dwell in forests, and freshwater rolls downstream to 12 million people, but the place—Ethiopia's Bale Mountains National Park—remains imperiled by a lack of legal boundaries and encroachment by a growing human population. "Much of the land in Africa above 3,000 meters has been altered or degraded to the point where it isn't able to perform most of the ecosystem functions that it is designed to do. Bale, although under threat and already impacted to a degree by anthropogenic activities, is still able to perform its most important ecosystem functions, and as such ranks among only a handful of representative alpine ecosystems in Africa."
Cell phones help decipher malaria transmission in Kenya
(11/19/2012) Malaria parasites can stow away silently in a person's bloodstream. Without any symptoms to betray them, their human host can unwittingly transport the parasites hundreds or thousands of miles. Tracking them has been nearly impossible, especially in poor countries. Now, researchers have harnessed a new tool: the burgeoning number of cell phone users in Africa, which help trace how malaria spreads.
Mountain gorilla population up by over 20 percent in five years

(11/13/2012) A mountain gorilla census in Uganda's Bwindi Impenetrable National Park has a population that continues to rise, hitting 400 animals. The new census in Bwindi means the total population of mountain gorillas (Gorilla beringei beringei) has reached 880—up from 720 in 2007—and marking a growth of about 4 percent per year.
Photos: Mozambique creates Africa's biggest marine protected area
(11/13/2012) Last week, the East African nation of Mozambique announced it was protecting 10,411 square kilometers (4,020 square miles) of coastal marine waters, making the new Marine Protected Area (MPA) the biggest on the continent. The protected area, dubbed the Primeiras and Segundas Archipelago ("First" and "Second" islands), includes ten islands as well as mangrove forests, rich coral reefs, and seagrass ecosystems.
Cute animal picture of the day: baby giraffe

(11/12/2012) Reticulated giraffes (Giraffa camelopardalis reticulata), one of nine subspecies, are found in Somalia, Kenya, and Ethiopia. The world's tallest land animal, giraffes can stand as high as 5–6 meters (16–20 feet).
Artificial 'misting system' allows vanished toad to be released back into the wild
(11/01/2012) In 1996 scientists discovered a new species of dwarf toad: the Kihansi spray toad (Nectophrynoides asperginis). Although surviving on only two hectares near the Kihansi Gorge in Tanzania, the toads proved populous: around 17,000 individuals crowded the smallest known habitat of any vertebrate, living happily off the moist micro-habitat created by spray from adjacent waterfalls. Eight years later and the Kihansi spray toad was gone. Disease combined with the construction of a hydroelectric dam ended the toads' limited, but fecund, reign.
Mysteries surrounding the legendary and vanishing oriental bald ibis
(10/31/2012) In a remote corner of the Ethiopian highlands in January 2011, the bright tropical light combined with the fresh and thin air at 3,600 metres. The Ethiopian bird-watching guide and conservationist, Yilma Dellelegn, from the Ethiopian Wildlife Society, was startled when he spotted two un-ringed young bald ibises, together with two ringed and well known adult females (Zenobia and Salam) at their wintering site. Considering the dwindling numbers, two unaccounted for young birds, literally popping out of the blue, were a great surprise—and precious! The sighting had the potential to raise intriguing geographic and behavioral questions: in fact, the riddle of the migration and wintering strategy of the oriental northern bald ibis (Geronticus eremita) was still half way from being solved.
Illegal hunting threatens iconic animals across Africa's great savannas, especially predators
(10/25/2012) Bushmeat hunting has become a grave concern for species in West and Central Africa, but a new report notes that lesser-known illegal hunting in Africa's iconic savannas is also decimating some animals. Surprisingly, illegal hunting across eastern and southern Africa is hitting big predators particularly hard, such as cheetah, lion, leopard, and wild dog. Although rarely targets of hunters, these predators are running out of food due to overhunting and, in addition, often becoming victims of snares set out for other species.
Authorities confiscate 600 dead elephants' worth of ivory in Hong Kong

(10/22/2012) Hong Kong authorities have confiscated two massive shipments of elephant tusks, totaling 1,209 tusks, stemming from Kenya and Tanzania. Representing over 600 poached elephants, the shipments are estimated to be worth $3.4 million on the black market. African elephants are being decimated for their tusks in recent years with heavily-armed and well-connected poachers—backed by criminal syndicates—killing off whole herds in some cases.
In midst of rhino poaching epidemic, Lewa Wildlife Conservancy has happy problem: too many black rhinos
(10/02/2012) So far this year, South Africa has lost 430 rhinos to poachers, more than one animal a day. The epidemic of rhino poaching, fueled by demand for black-market powdered rhino horn in Vietnam and China, is decimating rhino species worldwide. In fact, last year saw the official extinction of two rhino subspecies: the Vietnamese rhino (Rhinoceros sondaicus annamiticus), a subspecies of the Javan, and the western black rhino (Diceros bicornis longipes), a subspecies of the black. However there is one place where rhinos still thrive. The Lewa Wildlife Conservancy in Kenya has found itself with a unique, but happy, problem: they have so many black rhinos, which are considered Critically Endangered by the IUNC Red List, that they need to move some to stop rhino-fights. In other words, their rhino population has hit its limit for the 25,000 hectare (62,000 acre) nonprofit protected area.
World Bank agrees to fund project related to controversial Gibe III dam

(09/27/2012) Originally refusing to provide funding to Ethiopia's controversial Gibe III hydroelectric dam, the World Bank has now announced plans to fund the power lines that will carry generated electricity away from it. In their official statement they report that the lines will "connect Ethiopia's electrical grid with Kenya's, create power-sharing between the two countries, reduce energy costs, promote sustainable and renewable power generation [and] better protect the region's environment...eventually benefiting 212 million people in five countries."
Bushmeat consumption differs between communities in Tanzania

(09/17/2012) Bushmeat consumption depends on the make-up of individual communities, according to a new study in the open access journal Tropical Conservation Science. By interviewing indigenous groups and refugees living near two protected areas in western Tanzania, researchers found that consumption rates differed significantly, likely based on costliness and access.
Picture of the day: baby Grevy's zebra

(09/10/2012) Not only is the Grevy's zebra (Equus grevyi) the biggest of the three zebra species, it is also the world's largest wild horse species. Once roaming throughout the horn of Africa, today the species is confined to a few populations in Kenya and Ethiopia.
Picture of the day: Yao Ming with baby elephant orphaned by ivory trade

(08/27/2012) Former NBA Basketball player and Olympian, Yao Ming is taking his first trip through Africa in order to see the on-the-ground impacts of the black-market ivory and rhino trades in East Asia. Ming, who stands 7-and-a-half feet (2.3 meters), has become not only well-known for his athletic prowess, but also his devotion to endangered wildlife.
Elephant ancestors and Africa's Bigfoot: new initiative works to preserve a continent's wildest tales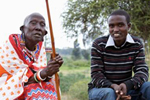 (08/20/2012) Paula Kahumbu, the Executive Director of WildlifeDirect and a 2011 National Geographic Emerging Explorer, is on a mission to reconnect young Africans with the natural world through storytelling. In a new initiative dubbed Africa's Wildest Stories, Kahumbu and others are recording the wit and wisdom of African elders in Kenya as they share their love of nature and the way in which Africans, for millennia, have co-existed with their environment and its astounding wildlife.
King of the jungle: lions discovered in rainforests

(08/13/2012) Calling the African lion (Panthera leo) the 'king of the jungle' is usually a misnomer, as the species is almost always found in savannah or dry forests, but recent photos by the Germany-based Nature and Biodiversity Conservation Union (NABU) document lions in Ethiopian rainforests. Taken in the Kafa Biosphere Reserve, the photos show a female lion hiding out in thick montane jungle.
Forest cover falls 9% in East Africa in 9 years
(07/31/2012) Forest cover in East Africa has dropped by 9.3 percent from 2001-2009, according to a new paper published in the open-access journal PLoS ONE. Looking at 12 countries in the region, the scientists found that, worryingly, forests were particularly hard hit near protected areas. Usually thought of as a region of vast savannas, such as the Serengeti, East Africa is also home to incredibly biodiverse tropical forests, including coastal forests, rich montane forests, and the eastern portion of the Congo Rainforest.
Climate change increased the probability of Texas drought, African famine, and other extreme weather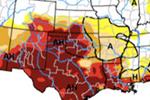 (07/11/2012) Climate change is here and its increasing the chances for crazy weather, according to scientists. A prestigious group of climatologists have released a landmark report that makes the dramatic point that climate change is impacting our weather systems—and in turn our food crops, our economies, and even our lives—here-and-now. The new report in the American Meteorological Society is first of what is intended to be an annual offering that will attempt to tease out the connections between climate change and individual extreme weather events, such as heatwaves, droughts and floods.
Poaching in the Serengeti linked to poverty, high legal hunting prices

(07/09/2012) In the effort to protect the Serengeti—arguably Africa's most famous ecosystem—one of the major problems is the bushmeat trade. Population growth, little available protein, poverty, and a long-standing history of hunting has led many communities to poach wildlife within Serengeti National Park. Interviewing over a thousand community members in the western Serengeti, scientists found that community members are largely aware that wildlife hunting is illegal and that conservation of wild species is important, but hunt animals anyway partly out of necessity.
Ten African nations pledge to transform their economies to take nature into account

(06/11/2012) Last month ten African nations, led by Botswana, pledged to incorporate "natural capital" into their economies. Natural capital, which seeks to measure the economic worth of the services provided by ecosystems and biodiversity—for example pollination, clean water, and carbon—is a nascent, but growing, method to curtail environmental damage and ensure more sustainable development. Dubbed the Gaborone Declaration, the pledge was signed by Botswana, Liberia, Namibia, Mozambique, Rwanda, Gabon, Ghana, Kenya, South Africa, and Tanzania following a two day summit.
Blue tarantula, walking cactus, and a worm from Hell: the top 10 new species of 2011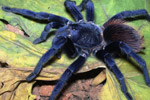 (05/23/2012) A sneezing monkey, a blue tarantula, and an extinct walking cactus are just three of the remarkable new species listed in the annual Top Ten New Species put together by the International Institute for Species Exploration at Arizona State University. This year's list includes a wide-variety of life forms from fungi to flower and invertebrate to primate.
Charting a new environmental course in China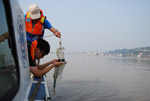 (05/21/2012) Founded in 1951, The Nature Conservancy (TNC) works in more than 30 countries and has projects in all 50 of the United States. The Conservancy has over one million members, and has protected more than 119 million acres of wild-lands and 5,000 miles of rivers worldwide. TNC has taken an active interest in China, the world's most populated nation, and in many important ways, a critical center of global development. The following is an interview with multiple directors of The Nature Conservancy's China Program.
David vs. Goliath: Goldman Environmental Prize winners highlight development projects gone awry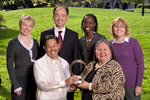 (04/16/2012) A controversial dam, a massive mine, poisonous pesticides, a devastating road, and criminal polluters: many of this year's Goldman Environmental Prize winners point to the dangers of poorly-planned, and ultimately destructive, development initiatives. The annual prize, which has been dubbed the Green Nobel Prize is awarded to six grassroots environmental heroes from around the world and includes a financial award of $150,000 for each winner.
Cute animal picture of the day: endangered baby giraffe

(03/29/2012) A baby Rothschild's giraffe (Giraffa camelopardalis rothschildi) was recently born at the Wildlife Conservation Society's (WCS) Bronx Zoo. The subspecies was classified as Endangered in 2010 with a wild population of less than 700 individuals in Kenya and Uganda.
"Strong evidence" linking extreme heatwaves, floods, and droughts to climate change

(03/28/2012) As North America recovers from what noted meteorologist Jeff Masters has called "the most incredible spring heatwave in U.S. and Canadian recorded history," a new paper argues that climate change is playing an important role in a world that appears increasingly pummeled by extreme weather. Published in Nature Climate Change, the paper surveys recent studies of climate change and extreme weather and finds "strong evidence" of a link between a warming world and the frequency and intensity of droughts, floods, and heatwaves—such as the one that turned winter into summer in the U.S.
Photos: the aye-aye of frogs rediscovered after 62 years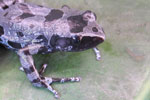 (03/27/2012) A pair of researchers have rediscovered a long-lost frog in the tiny African country of Burundi. Known as the Bururi long-fingered frog (Cardioglossa cyaneospila), the species hadn't been seen for over 60 years—since the Soviet Union tested its first nuclear weapon in 1949—but was rediscovered in Bururi Forest Reserve.
Animal picture of the day: a baby bongo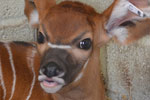 (03/22/2012) A female bongo (Tragelaphus eurycerus) was born at the Zoological Society of London's Whipsnade Zoo last month. "The calf and her mum are happy to sit with other members of the group and the calf is not always found with mum—babysitting is common with the bongo," Mark Holden, Africa section leader at ZSL Whipsnade Zoo, said in a press release.
Legal case against Serengeti road moves forward

(03/21/2012) A regional case against the construction of a proposed road through Serengeti National Park has moved to trial after a judge with the East African Court of Justice (EACJ) threw out concerns by Tanzania reports the Daily Nation. The government of Tanzania has proposed a controversial highway that would bifurcate the northern part of the Serengeti National, only to see their plans stalled by a lawsuit filed by the Kenyan-based NGO, Africa Network for Animal Welfare (ANAW), which argues that the road could have massive consequences for the entire Serengeti ecosystem, a view shared by many scientists.
Solitary male monkeys cause crop damage in Uganda

(03/19/2012) Solitary male red-tailed monkeys (Cercopithecus ascanius) cause significant damage to cocoa crops in Uganda, according to a new study in mongabay.com's open access journal Tropical Conservation Society (TCS). Researchers examined crop raiding by social groups of red-tailed monkeys and lone males, only to discover that solitary males caused significantly more damage to cocoa crops than the average group member. The research may have implications for how to mitigate human-wildlife conflict in the area.
Chimp conservation requires protecting fragmented river forests in Uganda

(03/19/2012) Forest fragments along riversides in Uganda may make good habitats for chimpanzees but remain unprotected, according to a new study in mongabay.com's open access journal Tropical Conservation Society (TCS). Researchers surveyed a riverine forest known as Bulindi in Uganda, in-between Budongo and Bugoma Forest Reserves, to determine if it was suitable for the long-term survival of eastern chimpanzee (Pan troglodytes schweinfurthii) populations.
Africa Wildlife Foundation faces lawsuit from indigenous community in Kenya

(03/12/2012) Africa Wildlife Foundation (AWF), the conservation nonprofit based in Washington, DC, is facing a lawsuit by Kenya's Samburu tribe over alleged unlawful evictions. The hearing, originally scheduled for January 23, has now been postponed to later this month. The dispute is over an area of land in Laikipia District in Kenya, one of Africa's most wildlife rich areas. Until recently, it was also the homeland of some 2,000 semi nomadic members of the Samburu tribe. At least according to the Samburu.
International Bird Area in Kenya saved from conversion into biofuel crop

(02/29/2012) A campaign by NGO Nature Kenya has saved the Dakatcha Woodland Important Bird Area (IBA) from destruction for planting biofuel crops, reports BirdLife International. Located near Kenya's eastern coastline, the forest is home to two IUCN Red List Endangered species, Clarke's weaver (Ploceus golandi) and sokoke pipit (Anthus sokokensis), both of which are imperiled by habitat loss. The plan to covert 10,000 hectares of the forest in jatropha, used for biofuels, was recently rejected by Kenya's National Environment Management Authority (NEMA).
Possible embezzlement halts WWF-run REDD project in Tanzania

(02/29/2012) Two conservation and community projects in Tanzania have been halted after the World Wide Fund for Nature (WWF) reported possible corruption. WWF is running the projects with funds from the Norwegian government. One of the projects is a pilot REDD project, a program to reduce greenhouse gas emissions from deforestation and forest degradation in tropical, developing countries.
Delayed response to Somalia famine cost thousands of lives

(01/18/2012) A hesitant response by the international community likely led to thousands of unnecessary deaths in last year's famine in East Africa finds a new report released by Oxfam and Save the Children. The report, entitled A Dangerous Delay, says that early warning systems worked in informing the international community about the likelihood of a dire food crisis in East Africa, however a "culture of risk aversion" led to months-long delays. By the time aid arrived it was already too late for many. The British government has estimated somewhere between 50,000 and 100,000 people perished in the famine, half of whom were likely children under five.
Elephant poachers kill unarmed wildlife ranger in Kenya

(01/16/2012) Abdullahi Mohammed, an wildlife ranger, was killed in the line of duty in Kenya this weekend by elephant poachers. A ranger with the conservation organization Wildlife Works, Mohammed was shot by poachers in Wildlife Works Kasigau Corridor project, a REDD program (Reduced Emissions From Deforestation and Degradation).
Bycatch-reducing fish trap wins $20,000

(01/11/2012) An innovative fish trap that allows small non-target fish to escape won a new content by RARE Conservation and National Geographic to fund solutions to overfishing. Developed through studies in Curaçao and Kenya with the Wildlife Conservation Society, the trap has gaps for juvenile fish to swim out of reportedly reducing bycatch by 80 percent. The entry won a $20,000 grant.
Eco-toilets help save hippos and birds in Kenya
(01/04/2012) It may appear unintuitive that special toilets could benefit hippos and other wetland species, but the Center for Rural Empowerment and the Environment (CREE) has proven the unique benefits of new toilets in the Dunga Wetlands on Lake Victoria's Kenyan side. By building ecologically-sanitary (eco-san) toilets, CREE has managed to alleviate some of the conflict that has cropped up between hippos and humans for space.
Top 10 Environmental Stories of 2011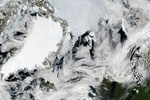 (12/22/2011) Many of 2011's most dramatic stories on environmental issues came from people taking to the streets. With governments and corporations slow to tackle massive environmental problems, people have begun to assert themselves. Victories were seen on four continents: in Bolivia a draconian response to protestors embarrassed the government, causing them to drop plans to build a road through Tipnis, an indigenous Amazonian reserve; in Myanmar, a nation not known for bowing to public demands, large protests pushed the government to cancel a massive Chinese hydroelectric project; in Borneo a three-year struggle to stop the construction of a coal plant on the coast of the Coral Triangle ended in victory for activists; in Britain plans to privatize forests created such a public outcry that the government not only pulled back but also apologized; and in the U.S. civil disobedience and massive marches pressured the Obama Administration to delay a decision on the controversial Keystone XL pipeline, which would bring tar sands from Canada to a global market.




Page 1 | Page 2 | Page 3 | Page 4 | Page 5