News articles on earth science

---
Mongabay.com news articles on earth science in blog format. Updated regularly.






NASA: Arctic Ocean circulation reversal not due to global warming

(11/13/2007) A study published in Geophysical Research Letters shows that weakening of the Arctic Oscillation results from a cyclical process rather than climate change. The results suggest not all the large changes seen in Arctic climate in recent years are a result of long-term trends associated with global warming.
Weathering technology could mitigate global warming

(11/08/2007) Researchers at Harvard University and Pennsylvania State University have invented a technology, inspired by nature, to reduce the accumulation of atmospheric carbon dioxide (CO2) caused by human emissions.
Climate sensitivity to rising CO2 levels still uncertain

(10/25/2007) Climate sensitivity to increasing concentrations of greenhouse gases is still largely uncertain and researchers will likely not be able to further refine their estimates on future climate scenarios, say two University of Washington scientists writing in this week's issue of the journal Science.
Northwest Passage now open for business

(09/15/2007) Melting sea ice has opened the Northwest Passage in the Arctic to navigation, reports the European Space Agency. The clearing allows direct access between the North Pacific and North Atlantic and could eventually be a cheaper shipping route that the Panama Canal.
Arctic sea ice thickness only half of 2001 level

(09/14/2007) Arctic sea is thinning and disappearing, report German researchers. An Alfred-Wegener-Institute for Polar and Marine Research expedition to the North Polar Sea found that large areas of the Arctic sea-ice are only one meter thick this year -- half the thickness found in 2001. The findings support concerns that large expanses of polar ice could soon disppaear from the Arctic during summer months.
Arctic sea ice melts to all-time record low

(09/12/2007) Sea ice cover in the Arctic Ocean is presently 20 percent below its all time lowest extent and may decline further before winter, said scientists from the National Snow and Ice Data Center in Boulder (NSIDC).
8.2 magnitude earthquake hits Indonesia, minor tsunami reported

(09/12/2007) An 8.2 magnitude earthquake struck Indonesia Wednesday at 6:10 pm local time. The epicenter was located 130 km (80 miles) southwest of Bengkulu, Sumatra and 620 km (385 miles) west-northwest of Jakarta at a depth of 30 km (18.6 miles). There were no immediate reports of damage or casualties.
Two-thirds of polar bears at risk of extinction by 2050

(09/07/2007) Two-thirds the world's polar bears could be threatened with extinction by 2050 due to melting sea ice, said U.S. government scientists Friday. U.S. Geological Survey scientists said that the United States (the north coast of Alaska) and Russian would likely lose all of their polar bear populations. The only bears expected to survive would be those in the northern Canadian Arctic islands and the west coast of Greenland. Overall, bears are forecast to lose 42 percent of the Arctic range they need to hunt and breed during summer months.
Felix Death Toll Washes Up on Coastline

(09/07/2007) Nicaraguan and Honduran officials have announced that upwards of 100 people are confirmed dead, and another 120 still unaccounted for after Hurricane Felix made landfall earlier this week.
La Nina may be coming

(09/07/2007) Scientists with NOAA's Climate Prediction Center are predicting that another La Nina event is on its way, according to the latest monthly El Nino/Southern Oscillation (ENSO) Diagnostic Discussion.
Experts forecast large decline in Arctic sea ice

(09/07/2007) Summer sea ice off Alaska's north coast will likely shrink to nearly half the area it covered in the 1980s by 2050, report scientists from the National Oceanic and Atmospheric Administration. The loss of ice would have a significant impact on mammals dependent on sea ice, including polar bear and walrus.
Future Ice Age Put on the Back Burner

(08/30/2007) Dr Toby Tyrrell of the University of Southampton's School of Ocean and Earth Science at the National Oceanography Centre, Southampton has published a report in the latest edition of New Scientist magazine laying out his research that future ice-ages -- an evolutionary imperative for the planet earth -- could be pushed back some half a million years.
Could a hurricane hit California?

(08/20/2007) San Diego has been hit by hurricanes in the past and could be affected by such storms in the future according to data from the National Oceanic and Atmospheric Administration (NOAA). While a hurricane in San Diego would likely produce significantly less damage than Hurricane Katrina in New Orleans, it could still exact a high cost to Southern California especially if the region was caught off guard.
Earthquakes can break speed limit

(08/15/2007) Earthquakes can move faster than previously thought with rupture rates well exceeding the conventional 3 kilometeres per second, reports Oxford University professor Shamita Das writing in the journal Science. The finding suggests that earthquakes in the world's largest quake zones may be capable of more destruction than earlier projections.
Antarctic Bottom Water has warmed since 1992

(08/14/2007) Deep ocean waters near Antarctica have warmed significantly since 1992, though variable temperatures may it difficult to determine whether it is a trend, reports a new study published in Geophysical Research Letters.
European heat waves double in length since 1880

(08/11/2007) The most accurate measures of European daily temperatures ever indicate that the length of heat waves on the continent has doubled and the frequency of extremely hot days has nearly tripled in the past century. The new data shows that many previous assessments of daily summer temperature change underestimated heat wave events in western Europe by approximately 30 percent.
Controversy over flawed NASA climate data changes little

(08/11/2007) NASA corrected an error on its U.S. air temperature data after a blogger, Steve McIntyre of Climate Audit, discovered a discrepancy for the years 2000-2006. The revised figures show that 1934, not 1998, was America's hottest year on record. The change has little affect on global temperature records and the average temperatures for 2001-2006 (at 0.66 C) is still warmer than 1930-1934 (0.63 C) in the United States.
U.S. government weather agency cuts hurricane outlook

(08/10/2007) The U.S. National Oceanic and Atmospheric Administration on Thursday reduced its forecast for the number of tropical storms and hurricanes expected during the 2007 Atlantic season. NOAA said it now expected between 13 and 16 named storms, with seven to nine becoming hurricanes and three to five of them classified as "major" hurricanes (categories 3, 4, or 5).
Global warming will slow, then accelerate reports ground-breaking model

(08/09/2007) Global warming will slow during the next few years but then accelerate with at least half of the years after 2009 warmer than 1998, the warmest year on record, reports a new study that is the first to incorporate information about the actual state of the ocean and the atmosphere, rather than the approximate ones most models use. The research, published by a team of scientists from the Hadley Center in the United Kingdom, appears in the current issue of the journal Science.
7.4 magnitude earthquake hits Indonesia

(08/08/2007) A 7.4 magnitude earthquake hit Indonesia's West Java on Thursday, causing widespread panic according to Reuters. There are no immediate reports of damage or casualties.
Jet stream drives summer temperature, plankton growth in Oregon

(08/06/2007) Short-term shifts in the jet stream off the Oregon coast drive changes in ocean temperature and plankton growth during summer months, reports a new study published in the early online edition of the journal Proceedings of the National Academy of Sciences. The findings are significant because they could help improve weather prediction and bolster understanding of ocean food chains along the northwestern United States. Plankton are the base of the food chain for important ocean fisheries in the region.
Sunspot activity linked to rainfall in Africa

(08/06/2007) A new study reveals correlations between plentiful sunspots and periods of heavy rain in East Africa. Intense rainfall in the region often leads to flooding and disease outbreaks.
Melting glaciers and ice cap will drive sea level rise

(07/19/2007) Melting glaciers and ice caps will contribute more to global sea level rise this century than the melting of the Greenland and Antarctic ice sheets, reports a study published in the current issue of Science.
Hurricanes can help coral reefs

(07/17/2007) A close call with a hurricane can be beneficial to a stressed coral reef, reports a study published in Proceedings of the National Academy of Sciences (PNAS).
Hurricanes may help cool climate

(05/31/2007) Tropical cyclones and hurricanes play an important role in the ocean circulation patterns that transport heat and maintain the climate of North America and Europe, report researchers from Purdue University.
Monsoon pattern linked to climate change

(05/31/2007) Researchers have constructed a 155,000 record of monsoon history. The findings could help climatologists better understand the impact of climate change on monsoon patterns, which play a critical role in agriculture for hundreds of millions of people.
9 Atlantic hurricanes expected in 2007

(05/31/2007) Hurricane forecaster William M. Gray of the Colorado State University updated his hurricane predictions for the 2007 storm season, expecting 17 named storms and nine hurricanes in the Atlantic basin. The forecasts were unchanged from his last bulletin.
Hurricanes occur during cool periods as well

(05/28/2007) A team of scientists have found evidence of intense hurricane activity during both cool and warm periods reports The New York Times. The findings suggest that factors other than sea temperature play a role in the formation and intensity of tropical storms.
Climate shift in East Africa due to geology, not global climate change
(05/11/2007) A shift towards a drier climate in East Africa may be due to geological changes like the emergence of the Rift Valley, not global climate change suggests research published in the current issue of the journal Nature. Dr. Bonnie Jacobs, Chair of Environmental Science Program at Southern Methodist University (SMU) in Dallas, Texas, reports that the rise of the high Ethiopian plateau may have caused dramatic shifts in the region's vegetation.
Ocean 'burps' may have ended last ice ages

(05/10/2007) A University of Colorado at Boulder-led research team tracing the origin of a large carbon dioxide increase in Earth's atmosphere at the end of the last ice age has detected two ancient 'burps' that originated from the deepest parts of the oceans.
Global carbon cycle is key to understanding climate change

(05/09/2007) Despite its importance to mankind, the global carbon cycle is poorly understood. With concerns over climate change mounting, it becomes all the more imperative to understand how carbon is absorbed by the Earth's oceans, vegetation, and atmosphere.
North Atlantic circulation may be more sensitive to Greenland melting than thought

(05/08/2007) According to two international-research studies on the last ice age, studies with the participation of Dr Rainer Zahn, research professor in the ICREA at the UAB Institute of Environmental Science and Technology (ICTA), before the great ice sheets of the Arctic Ocean began to melt, early sporadic episodes of melting of the old ice sheet which covered the British Isles had already begun to affect the circulation of the ocean currents, which played a key role in the climatic stability of the planet. Based on this observation, scientists consider that the acceleration of the melting of the Greenland ice cap could play an important role in the future stability of ocean circulation and, hence, in the development of climate change.
Venus, Mars reveal climate change examples

(04/26/2007) Earth sits between two worlds that have been devastated by climate catastrophes. In the effort to combat global warming, our neighbours can provide valuable insights into the way climate catastrophes affect planets.
Volcanoes linked to massive global warming event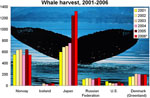 (04/26/2007) Scientists have linked a sharp spike in ocean temperatures 55 million years ago to massive volcanic eruptions that created the North Atlantic Ocean when Greenland and northwestern Europe separated.
Soybeans may worsen drought in the Amazon rainforest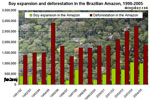 (04/18/2007) The rapid expansion of soybean cultivation in the Amazon may be having a larger impact on climate than previously believed, according to research published last week in Geophysical Research Letters. Using experimental plots in the Amazon, a team of scientists led by Marcos Costa from the Federal University of Vicosa in Brazil found that clearing for soybeans increases the reflectivity or albedo of land, reducing rainfall by as much as four times relative to clearing for pasture land.





Wind shear could reduce future hurricane activity

(04/17/2007) The debate over the impact of global warming on hurricane intensity rages on with a new study published April 18 in Geophysical Research Letters. The research, conducted by Gabriel A. Vecchi of the National Oceanic and Atmospheric Administration (NOAA) and Brian J. Soden of the University of Miami, suggests that an increase in vertical wind shear in the tropical Atlantic and East Pacific Oceans could inhibit the formation and intensification of hurricanes. The authors note that increased vertical wind shear has historically been associated with reduced hurricane activity and intensity.




Page 1 | Page 2 | Page 3 | Page 4 | Page 5 | Page 6 | Page 7 | Page 8 | Page 9 | Page 10 | Page 11