News articles on earth science

---
Mongabay.com news articles on earth science in blog format. Updated regularly.






Booming populations, rising economies, threatened biodiversity: the tropics will never be the same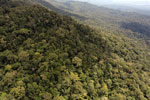 (07/07/2014) For those living either north or south of the tropics, images of this green ring around the Earth's equator often include verdant rainforests, exotic animals, and unchanging weather; but they may also be of entrenched poverty, unstable governments, and appalling environmental destruction. A massive new report, The State of the Tropics, however, finds that the truth is far more complicated.
Amazon's flood/drought cycle becoming more extreme, less predictable
(05/14/2013) The Amazon River's hydrological cycle has become more extreme over the past two decades with increasing seasonal precipitation across much of the basin despite drier conditions in the southern parts of Earth's largest rainforest, finds a new study published in Geophysical Research Letters. The research analyzed monthly Amazon River discharge at Óbidos, a point that drains 77 percent of the Amazon Basin, and compared it with regional precipitation patterns.
Mount Everest glaciers have shrunk 13% in 50 years

(05/13/2013) Glaciers in the Mount Everest region have shrunk by 13 percent and the snow-line has shifted 180 meters (590 feet) higher during the past 50 years, according to a study that will be presented this week at a conference organized by the American Geophysical Union.
Warnings of global ecological tipping points may be overstated
(03/05/2013) There's little evidence that the Earth is nearing a global ecological tipping point, according to a new Trends in Ecology and Evolution paper that is bound to be controversial. The authors argue that despite numerous warnings that the Earth is headed toward an ecological tipping point due to environmental stressors, such as habitat loss or climate change, it's unlikely this will occur anytime soon—at least not on land. The paper comes with a number of caveats, including that a global tipping point could occur in marine ecosystems due to ocean acidification from burning fossil fuels. In addition, regional tipping points, such as the Arctic ice melt or the Amazon rainforest drying out, are still of great concern.
Paradigm shift needed to avert global environmental collapse, according to author of new book The Blueprint: Averting Global Collapse
(01/10/2013) Global strategist, trained educator, and international lecturer Daniel Rirdan set out to create a plan addressing the future of our planet. His book The Blueprint: Averting Global Collapse, published this year, does just that. "It has been a sixty hour a week routine," Rirdan told mongabay.com in a recent interview. "Basically, I would wake up with the burden of the world on my shoulders and go to sleep with it. It went on like this for eighteen months." It becomes apparent when reading The Blueprint that it was indeed a monumental undertaking.
Forests worldwide near tipping-point from drought
(11/23/2012) Forests worldwide are at 'equally high risk' to die-off from drought conditions, warns a new study published this week in the journal Nature. The study, conducted by an international team of scientists, assessed the specific physiological effects of drought on 226 tree species at 81 sites in different biomes around the world. It found that 70 percent of the species sampled are particularly vulnerable to reduction in water availability. With drought conditions increasing around the globe due to climate change and deforestation, the research suggests large swathes of the world's forests — and the services they afford — may be approaching a tipping point.
Geology has split the Amazon into two distinct forests
(01/19/2012) The common view of the Amazon is that it is one massive, unbroken forest. This impression is given by maps which tend to mark the Amazon by a large glob of green or even by its single name which doesn't account for regional changes. Of course, scientists have long recognized different ecosystems in the Amazon, most especially related to climate. But a new study in the Journal of Biogeography has uncovered two distinct forest ecosystems, sharply divided, caused by million of years of geologic forces.
The Global Carbon Cycle: a book review

(09/19/2011) The Global Carbon Cycle, by Dr. David Archer, is an excellent primer on the global carbon cycle. An easily readable format, this lightweight book is an excellent companion to those who need a quick on-the-go reference or for those who need a compendium for their office or lab. With chapters on the basic carbon cycle, geologic carbon cycle, unstable ice age carbon cycle, present and future carbon cycle, and methane, The Global Carbon Cycle is an authoritative book with numerous examples explaining scientific phenomena associated the global carbon cycle.
Google Earth enhances oceans' layer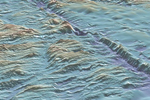 (06/08/2011) How do you celebrate World Oceans Day? Well, if you're Google you make the oceans of the world's most impressive interactive digital globe, Google Earth, come alive. With oceanographers at Columbia University's Lamont-Doherty Earth Observatory, Google Earth has fine-tuned its oceans' resolution in selected areas from 1 kilometer to just 100 meters.
Climate change and deforestation pose risk to Amazon rainforest
(05/20/2011) Deforestation and climate change will likely decimate much of the Amazon rainforest, says a new study by Brazil's National Institute for Space Research (INPE) and the UK's Met Office Hadley Centre. Climate change and widespread deforestation is expected to cause warmer and drier conditions overall, reducing the resistance of the rainforest ecosystem to natural and human-caused stressors while increasing the frequency of extreme rainfall events and droughts by the end of this century. While climate models show that higher temperatures resulting from global climate change will threaten the resilience of the Amazon, current deforestation is an immediate concern to the rainforest ecosystem and is likely driving regional changes in climate.
List of the strongest and deadliest earthquakes

(02/27/2010) On February 27, 2010 a magnitude 8.8 earthquake struck Maule, Chile causing widespread damage and casualties. The quake ranks as one of the ten strongest earthquakes ever recorded.
Desertification threatens 38 percent of the world

(02/10/2010) Over one third of the world's land surface (38 percent) is threatened with desertification, according to a new study published in theInternational Journal of Life Cycle Assessment. The study found that eight of fifteen eco-regions are threatened by desertification, including coastal areas, the prairies, the Mediterranean region, the savannah, the temperate steppes, the temperate deserts, tropical and subtropical steppes, and the tropical and subtropical deserts.
Underwater rocks could be used for massive carbon storage on America's East Coast

(01/05/2010) Considering it is unlikely that global carbon emissions will start dropping anytime soon, researchers are beginning to look at other methods to combat climate change. One of these is to hook polluting power plants up to massive carbon sinks where instead of the carbon going into the atmosphere it would be stored away in rocks. The process is known as carbon capture and storage or CCS. But before one can even debate the pros and cons of setting up CCS, scientists must see if high-quality sites exist.
Catastrophic sea level rise could occur with only two degrees Celsius warming

(12/17/2009) Allowing the climate to rise by just two degrees Celsius—the target most industrialized nations are currently discussing in Copenhagen—may still lead to a catastrophic sea level rise of six to nine meters, according to a new study in Nature. While this rise in sea levels would take hundreds of years to fully occur, inaction this century could lock the world into this fate.
Goodbye, snows of Kilimanjaro
(11/02/2009) The most recent survey among the ice fields atop Mount Kilimanjaro found that the ice atop Africa's most famous mountain could be gone in twenty years—and maybe even sooner. Published in the Proceedings of the National Academy of Science the study was conducted by a team of researchers who first measured the glaciers in 2000. They discovered that between 1912 and 2007, 85 percent of the ice that covered Mount Kilimanjaro vanished. When using 2000 as baseline the mountain has lost 26 percent of its ice.
Satellite lasers show melting of Greenland, Antarctic worse than expected

(09/23/2009) Researchers examining 43 million satellite measurements of Antarctica's thinning ice sheets and 7 million of Greenland's, show that the ice is melting faster than expected. Published in Nature the research is the most comprehensive picture to date of the melting glaciers, allowing scientists to better predict how sea levels may rise.
Air pollution in China reduces rainfall

(08/31/2009) Air pollution in eastern China over the past half century has reduced rainfall and exacerbated the risk of drought and crop failures, reports a study published in the Journal of Geophysical Research.
Record global ocean temperature in July

(08/19/2009) The world's ocean surface temperature was the warmest on record for July, breaking the previous record set in 1998, reports NOAA's National Climatic Data Center. At 62.56°F (16.99°C), ocean temperatures were 1.06°F (0.59°C) above the 20th century average.
Large Trees Declining in Yosemite

(08/07/2009) A recent study by the U.S Geological Survey (USGS) indicates a substantial decline in the number of large-diameter trees in Yellowstone National Park. Between the 1930s and the 1990s there was a 24% decline in large diameter trees.
Imbalance in Earth's Biogeochemical Cycles

(08/05/2009) Scientists are currently meeting at the 94th annual Ecological Society of America (ESA) symposium in New Mexico to discuss, among other topics, the massive upset of the natural biogeochemical cycles of the Earth System.
Is El Niño back?

(07/28/2009) Ocean temperatures in the central and eastern Pacific have shifted into El Niño conditions, increasing the likelihood of anomalously dry conditions in Southeast Asia and other unusual weather patterns, according to the National Oceanic and Atmospheric Administration (NOAA) Climate Prediction Center.
Global ocean temperatures at warmest level since 1880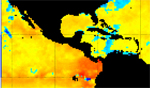 (07/21/2009) Global ocean temperatures rose to the warmest on record, according to data released last week by the National Oceanic and Atmospheric Administration (NOAA). The combined average global land and ocean surface temperature for June was second-warmest since global recording-keeping began in 1880. NOAA also reported a return of el Niño, raising the prospect of dryness—and risk of forest fires—in Southeast Asia.
Global warming could turn forests from sink to source of carbon emissions
(04/16/2009) Rising temperatures could reverse the role forests play in mitigating climate change, turning them into net sources of greenhouse gases, reports a new assessment by the International Union of Forest Research Organizations (IUFRO). The report, titled "Adaptation of Forests and People to Climate Change – A Global Assessment" and authored by 35 forestry scientists, examined the potential impacts of climate change across the world's major forest types as well as the capacity of forest biomes to adapt to climate shifts. Among the conclusions: a 2.5-degree-C rise in temperatures would eliminate the net carbon sequestering function of global forests. Presently forests worldwide capture about a quarter of carbon emissions.
How satellites are used in conservation
(04/13/2009) In October 2008 scientists with the Royal Botanical Garden at Kew discovered a host of previously unknown species in a remote highland forest in Mozambique. The find was no accident: three years earlier, conservationist Julian Bayliss identified the site—Mount Mabu—using Google Earth, a tool that's rapidly becoming a critical part of conservation efforts around the world. As the discovery in Mozambique suggests, remote sensing is being used for a bewildering array of applications, from monitoring sea ice to detecting deforestation to tracking wildlife. The number of uses grows as the technology matures and becomes more widely available. Google Earth may represent a critical point, bringing the power of remote sensing to the masses and allowing anyone with an Internet connection to attach data to a geographic representation of Earth.
Experts forecast probability of global warming tipping points

(03/16/2009) The probability of Earth's climate passing a "tipping point" that could result in large impacts within the next two centuries is greater than 50 percent, according to research published in Proceedings of the National Academy of Sciences
Carbon dioxide monitoring satellite crashes immediately after launch

(02/24/2009) The Orbiting Carbon Observatory, a $273 million satellite that would have collected measurements of carbon dioxide (CO2) in Earth's atmosphere to help better forecast the climate impacts of changes in CO2 levels, crashed about three minutes after launch, reports NASA. Researchers say the accident is a major setback for science.
Global warming to strengthen Arctic storms

(02/05/2009) Arctic storms could worsen due to climate change, putting fisheries, oil and gas exploration, and sea lanes at risk, warn researchers writing in the journal Climate Dynamics.
Glaciers decline in ice mass for 18th straight year

(01/30/2009) Glaciers worldwide lost ice mass for the 18th consecutive year due to warming temperatures and reduce snowfall, reports the University of Zurich's World Glacier Monitoring Service. Alpine glaciers lost on average 1.3 meters of thickness in 2006 and 0.7 meters in 2007, extending an 11.3-meter (36-foot) retreat since 1980.
Many global warming impacts may be irreversible in next 1000 years

(01/27/2009) Even if greenhouse gas emissions were to cease today, many of the forecast impacts of climate change are already irreversible for at least the next 1000 years, report researchers writing in the journal Proceedings of the National Academy of Sciences.
Antarctica shows net warming over past 50 years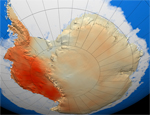 (01/22/2009) Despite a cooling trend in the East Antarctic Ice Sheet, Antarctica has experienced net warming over the past 50 years, report researchers writing in the January 22 edition of Nature. Analyzing data from satellites and weather stations authors led by Eric Steig of the University of Washington (UW) found that "warming in West Antarctica exceeded one-tenth of a degree Celsius per decade for the last 50 years and more than offset the cooling in East Antarctica", according to a statement from UW.
Observed sea level rise, ice melt far outpaces projections
(12/17/2008) Sea levels will rise faster than previously estimated due to rapid melting of glaciers and ice sheets, according to a U.S government report released at the annual meeting of the American Geophysical Union in San Francisco. The report, titled Abrupt Climate Change, incorporates research published since last year's Intergovernmental Panel on Climate Change (IPCC) report, which drew largely from studies dating up to 2006. Most significantly, Abrupt Climate Change suggests that IPCC estimates for future sea level rise (18-58 cm) are conservative, noting that recent observations on sea level rise and loss of sea ice are far outpacing previous projections.





Climate change will transform the chemical-makeup of the ocean

(12/11/2008) By studying the ocean's past, scientists have discovered that climate change has a much larger affect on ocean chemistry than expected. The study, published in Science, reveals that 13 million years ago climate change significantly altered the chemical composition of the oceans. Such changes in the ocean's chemical makeup today could have a great impact on marine life, already stressed by overfishing and pollution.





Water vapor will amplify global warming

(11/17/2008) The heat-amplifying effect of water vapor in the atmosphere could more than double the climate warming caused by increased carbon dioxide levels, report researchers using NASA data.





Solar cells, flat-panel screens are source of potent greenhouse gas

(10/23/2008) Atmospheric concentrations of nitrogen trifluoride — a gas used in the manufacture of liquid crystal flat-panel displays, thin-film photovoltaic cells and microcircuits — are at least four times higher than previously estimated, reports a new study published in the journal Geophysical Research Letters.





Arctic sea ice falls to second lowest on record

(09/16/2008) Arctic sea ice retreated to the second lowest level on record but remains about 9 percent above the low set last September, reports the NASA and the National Snow and Ice Data Center in Boulder, Colorado.





Earth already committed to 2.4-degree C rise from climate change

(09/15/2008) As of 2005 the Earth was already committed to rise of global mean temperatures by 2.4°C (4.3°F), concludes a new study published in the journal Proceedings of the National Academy of Sciences (PNAS). The conclusion is significant because the Intergovernmental Panel on Climate Change (IPCC) has warned that a rise in global temperature by 1 to 3°C will lead to catastrophic consequences, including "widespread loss of biodiversity, widespread deglaciation of the Greenland Ice Sheet, and a major reduction of area and volume of Hindu-Kush-Himalaya-Tibetan glaciers, which provide the head-waters for most major river systems of Asia." These glaciers, predicted to shrink considerably in the next few decades, provide food and water to over two billion people.







NASA: Sea ice melt opens the Northwest and Northeast Passage

(09/09/2008) An image released by NASA shows that Arctic sea ice has retreated to the point where both the Northwest Passage around North America and the Northern Sea Route around Russia are open simultaneously. The occurrence marks the first time on record that both passages have been open.







Canada's ice shelves lost 23% of their area this summer

(09/03/2008) A 19-square-mile (50 sq km) chuck of ice shelf broke off from Canada's Ellesmere Island in the northern Arctic, reports the Associated Press. The Manhattan-sized ice shelf is now adrift in the Arctic Ocean. It is the largest of more than 83 sq mi (214 sq km) of ice shelf that has broken up in the Canadian Arctic this year.







Scientist forecast 4 Atlantic hurricanes in September

(09/02/2008) Prominent hurricane researchers are forecasting five tropical storms in the Atlantic for September, including four hurricanes. Two of these are expected to be "major" — category 3 or greater. Retired Colorado State University climatologist William Gray and Philip J. Klotzbach, who has taken over Gray's role as lead hurricane forecaster, estimate that Atlantic storms in September will be twice as active as normal.





Past decade is warmest in at least 1300 years

(09/01/2008) A reconstruction of surface temperatures over the past two thousand years provides further evidence that the northern hemisphere is now warmer than at any time in at least 1300 years. The research, published in the online edition of the Proceedings of the National Academy of Sciences, in the Northern Hemisphere are higher than those of the Medieval warm period.





Melting permafrost will be major driver of global warming

(09/01/2008) The thawing of permafrost in northern latitudes will become a major source of greenhouse gas emissions, according to a new study that more than doubles previous estimates of the amount of carbon stored in the frozen soils of Alaska and Siberia.





Could hurricane Gustav be stopped or diverted?

(08/31/2008) With Gustav threatening to become the second major hurricane to hit New Orleans in three years, the question emerges, is there something that could be done to redirect or at least diminish storms from major population areas? In short, the answer is no, although someday there may be ways to reduce the intensity of these tropical storms. In the meantime, the best option is to avoid new construction in hurricane-prone regions.







Smoke from Amazon fires reduces local rainfall

(08/14/2008) Smoke released by fires set to clear the Amazon rainforest inhibit the formation of clouds, thereby reducing rainfall, report researchers writing in the journal Science. The study provides clues on how aerosols from human activity influence cloud cover and ultimately affect climate.





Global warming increases "extreme" rain storms

(08/07/2008) Global warming is increasing the incidence of heavy rainfall at a rate greater than predicted by current climate models have predicted, reports a new study published in the journal Science. The findings suggest that storm damage from precipitation could worsen as greenhouse gas concentrations continue to rise.







Deepest-ever lake dive searches for new energy sources

(07/29/2008) Russian scientists have reached the bottom of Lake Baikal, the world's deepest lake, to take samples of gas hydrate deposits. Russia hopes the methane-rich deposits could someday be exploited as an energy source.





















No longer a fan of Earth Day

(05/01/2008) After April 22nd of this year, I am no longer a fan of Earth Day. It has become a strange pseudo-holiday that allows individuals, governments, corporations, and the media to focus a miniscule spotlight on our environmental crises, and then breathe a sigh of relief over the following days and weeks as they to go back to their old ineffectual ways. It is a day to stem the guilt of the sorry state of our natural—and 'civilized'—world. It is not a day where environmental education actually reaches the masses, or when people wake to the need—not the luxury—to change our ways. It is the opposite: a chance to feel good about our time's greatest crisis.









Ozone-hole recovery may spur Antarctic warming

(04/24/2008) A full recovery of the stratospheric ozone hole could strongly modify climate change in the Southern Hemisphere and possibly amplify warming of the Antarctic continent, a new study finds.





Sunshine worsens Arctic sea ice melt

(04/21/2008) Arctic sea ice is increasingly vulnerable to sunny days, concludes new research published in the journal Geophysical Research Letters.





Black carbon pollution has big impact on climate

(03/24/2008) Black carbon, a form of particulate air pollution most often produced from biomass burning, cooking with solid fuels and diesel exhaust, has a warming effect in the atmosphere three to four times greater than prevailing estimates, according to scientists in an upcoming review article in the journal Nature Geoscience.





Cretaceous sea levels were 550 feet higher than today

(03/06/2008) Sea levels were 550 feet (170 m) higher in the late Cretaceous period, about 80 million years ago, than today, shows a new reconstruction of historic ocean basins published in the journal Science. The authors say the work may help model current global warming-driven sea level change.





How Old Is the Grand Canyon?

(03/06/2008) The Grand Canyon began to open at least 17 million years ago, report researchers writing in the journal Science.







Amazon rainfall linked to Atlantic Ocean temperature

(02/25/2008) Climate models increasingly forecast a dire future for the Amazon rainforest. These projections are partly based on recent research that has linked drought in the Amazon to sea surface temperatures in the tropical Atlantic. As the tropical Atlantic warms, the southern Amazon -- the agricultural heartland of Brazil -- may see higher temperatures and less rainfall.









How will global warming affect marine food chains?

(02/17/2008) Rising temperatures and acidity of the world's oceans due to human emissions of carbon dioxide is putting marine food webs at risk warned a researcher speaking at a press briefing at the annual meeting of the American Association for the Advancement of Science in Boston.





Why are oceans at risk from global warming?

(02/17/2008) Climate change is putting the world's oceans at risk by increasing the temperature and acidity of seawater, and altering atmospheric and oceanic circulation, warned a panel of scientists this week at the American Association for the Advancement of Science (AAAS) annual meeting in Boston.





Lake Mead could be dry up by 2021

(02/12/2008) There is a 50 percent chance Lake Mead, a key source of water for millions of people in the southwestern U.S., will be dry by 2021 if climate changes as expected and future water usage is not curtailed, a new study finds.





Natural ocean thermostat may protect some coral reefs

(02/07/2008) Natural processes may prevent oceans from warming beyond a certain point, helping protect some coral reefs from the impacts of climate change, new research finds. The study provides evidence that an ocean "thermostat" may be helping regulate sea-surface temperatures in a biologically diverse region of the western Pacific.







NASA: Rain falls more often during the week than weekends

(02/04/2008) Storms in the southeastern United States generate more rainfall during the work week than on weekends, report NASA scientists. The pattern can be attributed to lower atmospheric pollution from humans on Fridays, Saturdays and Sundays. Atmospheric particulates have been linked to rainfall.





Largest body of geologists issues warning on global warming

(01/24/2008) A statement newly released by the world's largest scientific society of Earth and space scientists--the American Geophysical Union, or AGU--updates the organization's position on climate change: the evidence for it, potential consequences from it, and how to respond to it.





Greenland ice sheet melting hits record in 2007

(12/11/2007) The 2007 melt extent on the Greenland ice sheet broke the 2005 summer melt record by 10 percent, making it the largest ever recorded there since satellite measurements began in 1979, according to a University of Colorado at Boulder climate scientist.







Melting of Greenland ice sheet could alter warming trend

(12/06/2007) A massive release from freshwater from the glacial Lake Agassiz 8,200 years ago triggered dramatic cooling in the North Atlantic region, report researchers writing in Science. The sudden and intense cooling, which ended the stable climate that had characterized the Holocene warm period, could have future implications for the melting of Greenland's ice sheet.







Tropics are expanding

(12/03/2007) Climate change has caused a widening of Earth's tropical belt, according to a new study published in a new scientific journal, Nature Geoscience. "Remarkably, the tropics appear to have already expanded -- during only the last few decades of the 20th century -- by at least the same margin as models predict for this century," said the scientists who conducted the research.





Photo: Mexico's Popocatepetl volcano erupts

(12/03/2007) Mexico's Popocatepetl volcano erupted several times on Saturday, December 1, ejecting steam and ash, according to Mexico's National Disaster Prevention Center (CENAPRED).





Hurricane Katrina released large amounts of carbon by destroying 320m trees

(11/15/2007) The destruction of 320 million large trees by Hurricane Katrina reduced the capacity of forests in the Southern United States to soak up carbon, reports a new study published in the journal Science. The research shows that hurricanes and other natural disturbances "can affect a landscape's potential as a 'carbon sink' because the dead vegetation then decays, returning carbon to the atmosphere, and because the old vegetation is replaced by smaller, younger plants."




Page 1 | Page 2 | Page 3 | Page 4 | Page 5 | Page 6